The onset of the global pandemic magnified the role of home in our lives. It made it abundantly clear we might have to rely on our interiors much more than before. And while the benefits of biophilic design have been appreciated for a long time, the ability to bring the notion of the outdoors inside is now more vital than ever, as it helps create residential spaces that echo the sensation of being in nature. A quality that is essential in times when contact with nature can be limited.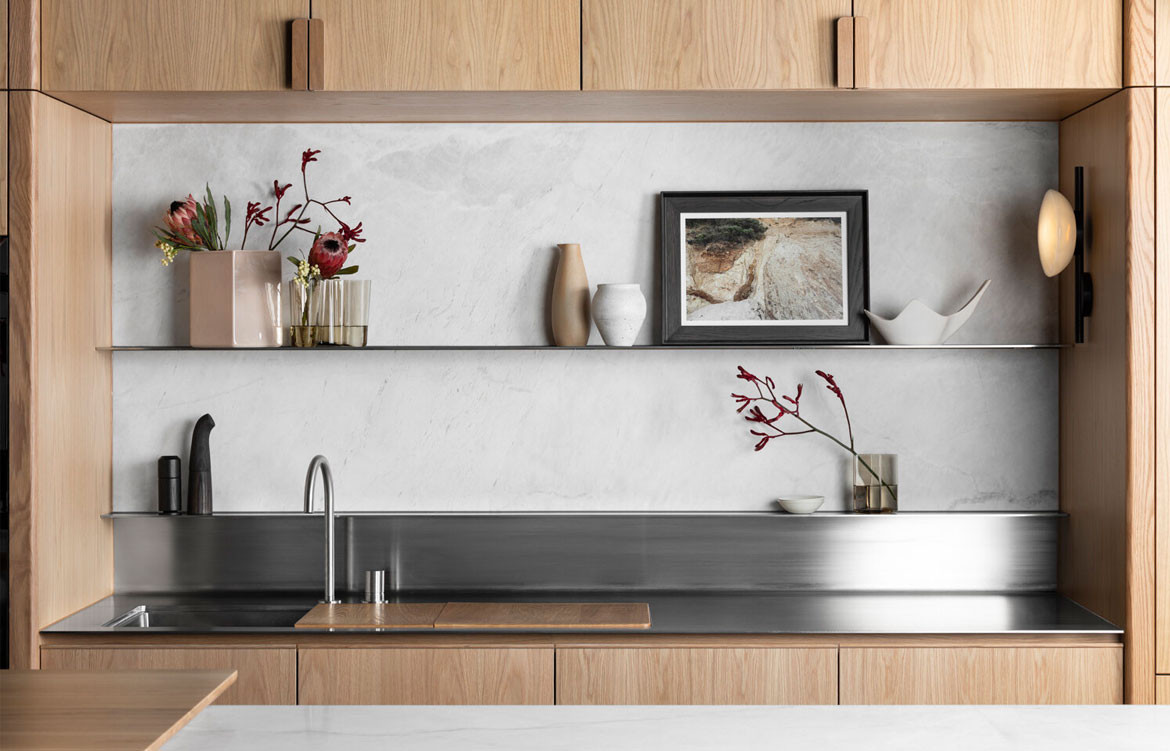 With its concept deeply rooted in the Australian landscape, EDIT invites the outdoors into the kitchen space. 'The relationship between the words 'edit' and 'tide' made me think about the places where land and water meet, and how the colours in the landscape could inform the palette for the kitchen,' Kylie Forbes, Creative Director at Cantilever, explains the inspiration behind the design process which – much like the ebb and flow of a tide – was an exploration of possibility, its reduction and repetition. The kitchen manufacturer teamed up with Kett, a furniture design studio known to draw inspiration from the country. 'A lot of the inspiration comes from a walk along the beach or through a forest. Today, we all rely on the emotions that one takes from nature in our homes because we all yearn for that connection back to place,' Justin Hutchinson, Kett's Design Director, describes – referring to his commitment to emulating both the visual aspect of the Australian landscape and the emotion of it, too.
Those inspirations have evolved into an engaging and tactile kitchen that uses natural materials and palettes. From the selection of Australian and international natural stones, steel and ceramic to the stained veneer and solid timber detailing – the natural look creates a palpable connection to the outdoors; and the refined aesthetic guarantees the longevity of its unpretentious appeal.
In creating EDIT's natural and timeless charm, Cantilever refined some of their existing design elements – like the sink or ingenious incorporation of the chopping board into the countertop surface. Alongside the tried and tested classics, Cantilever introduces a selection of new solutions that accentuate the kitchen's organic identity – and further boost its intuitive functionality. The solid timber finger pull elevates the tactile experience of interacting with drawers and cabinets, mirroring the rounded edges visible in other kitchen elements such as the ceramic countertops or the solid timber table sitting atop the island. The new, contrasting slimline steel shelving options further expand Cantilever's design language complementing the visible grain of the veneer throughout.
Out of the combination of natural materials, organic colour palettes, and tactile design emerges a kitchen that not only emulates the Australian landscape but also offers intuitive functionality bound to stand the test of time.
Cantilever
cantileverinteriors.com/edit-kitchen
---