The brief for Patom Organic Living was straightforward and this building offers an elegantly simple, (but not simplistic) response. Nita Yuvaboon and Prow Puttorngul, the founders of architecture practice Nitaprow were asked to create a largely transparent space that functioned as a showroom and a café for Patom's organic body care products whilst maximising outdoor green space to accommodate a weekend farmers' market and workshops for sustainable living.
Located in a prime Bangkok neighbourhood, this small wood-framed glass building sits on a raised mound covered by wild grass and ferns, its glass transparency softened by the lush surroundings. "We were consciously designing with the brand's sustainable value in mind," says Prow. "The building is a carefully crafted organic product. A modern concept of the brand that aligns with the building's environmentally conscious materials, composed in a modern glass box."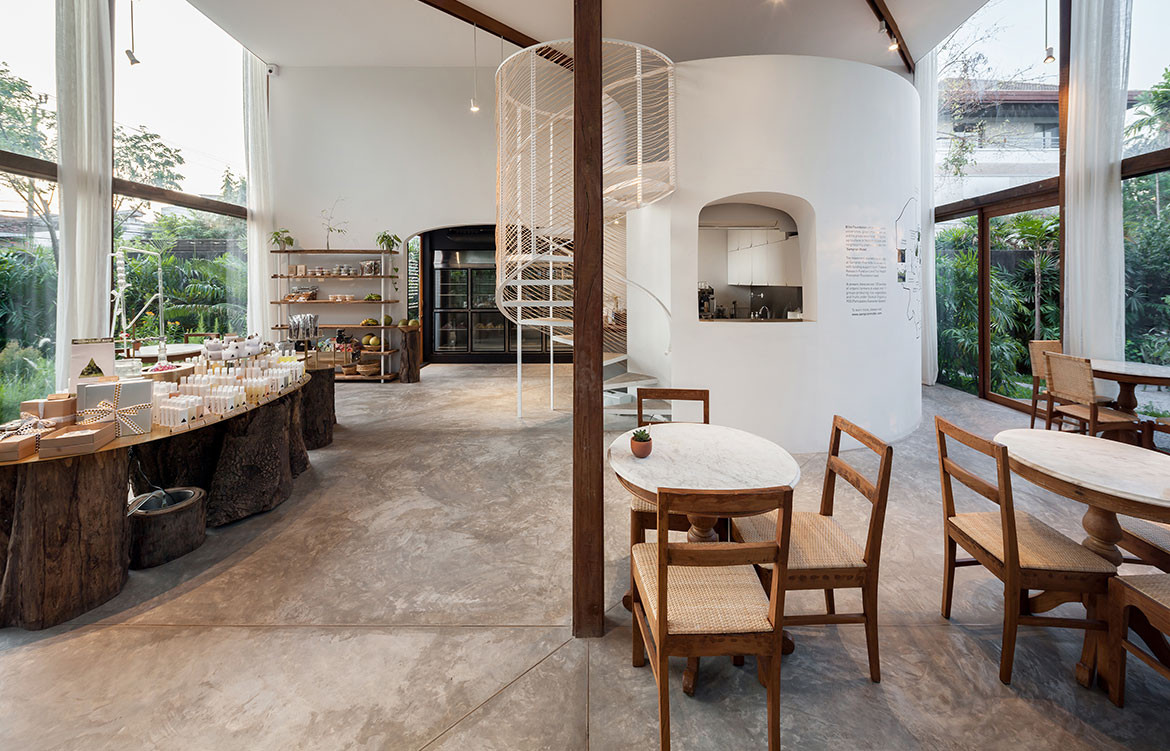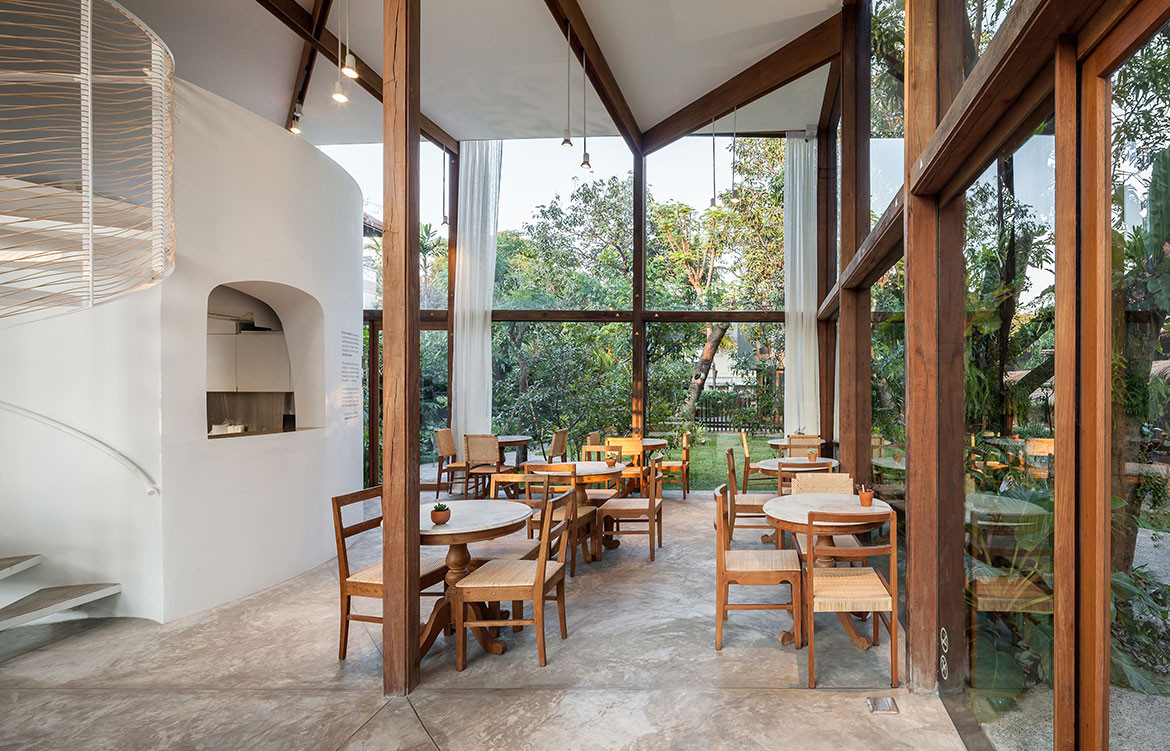 As a result all the structural posts and beams are made of reclaimed Redwood and Tabak Wood which were recovered from the owner's old and abandoned houseboat. In addition, fallen tree trunks collected at the owner's farm have been given a new lease on life as the bases of the brass display tables. Café furniture was refurbished from the client's unused teak furniture collection.
The strongest architectural element in the space is the composition of wood posts and the ceiling pattern. "These owe their visual reference to the scenic view of coconut trees and palm trees at Patom's Organic farm," explains Puttorngul. "Their tall slender trunks with branches that radiate around the trees' zenith, form an inspiring gesture which initiated the design of the ceiling's structural layout and the central wood post of the building."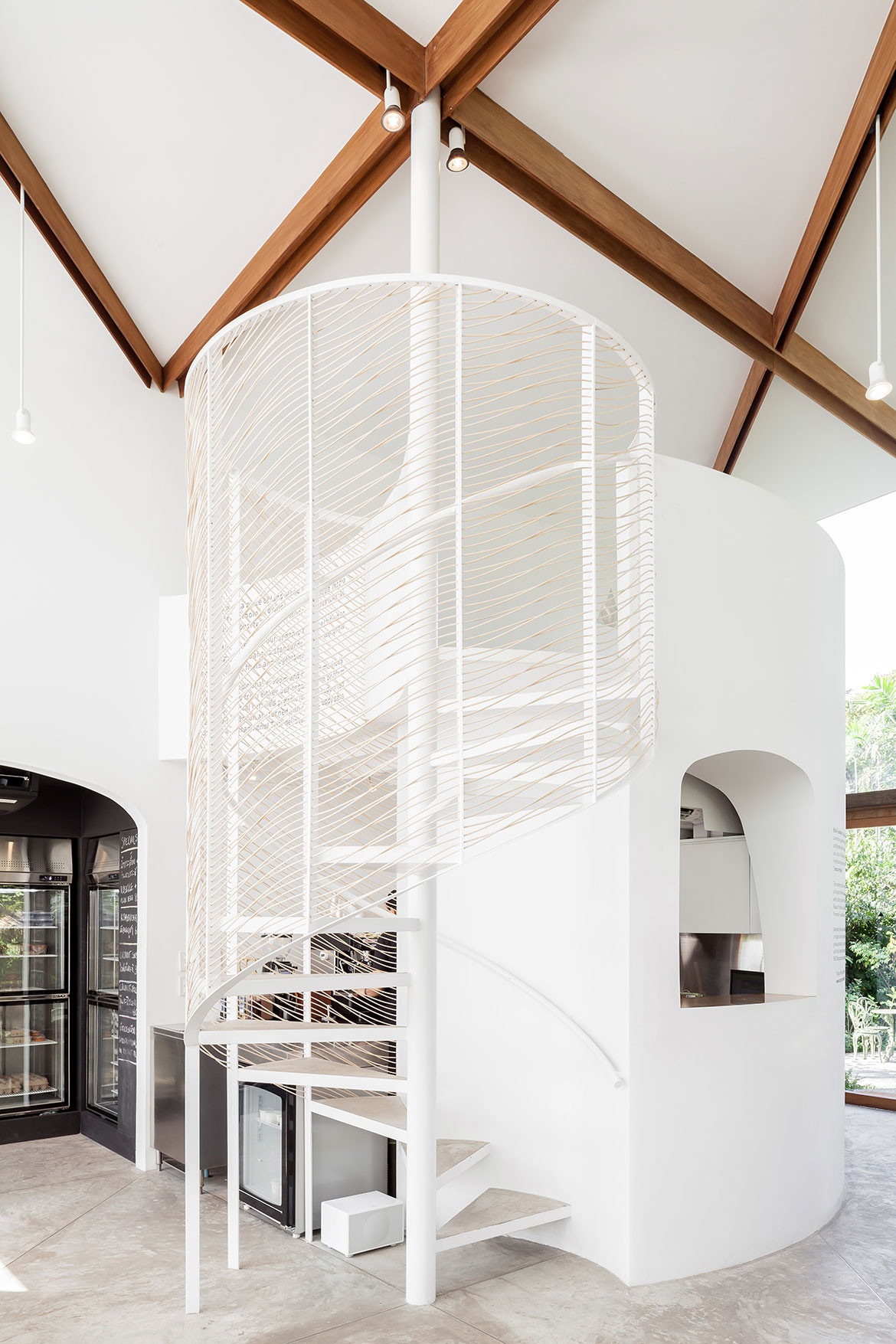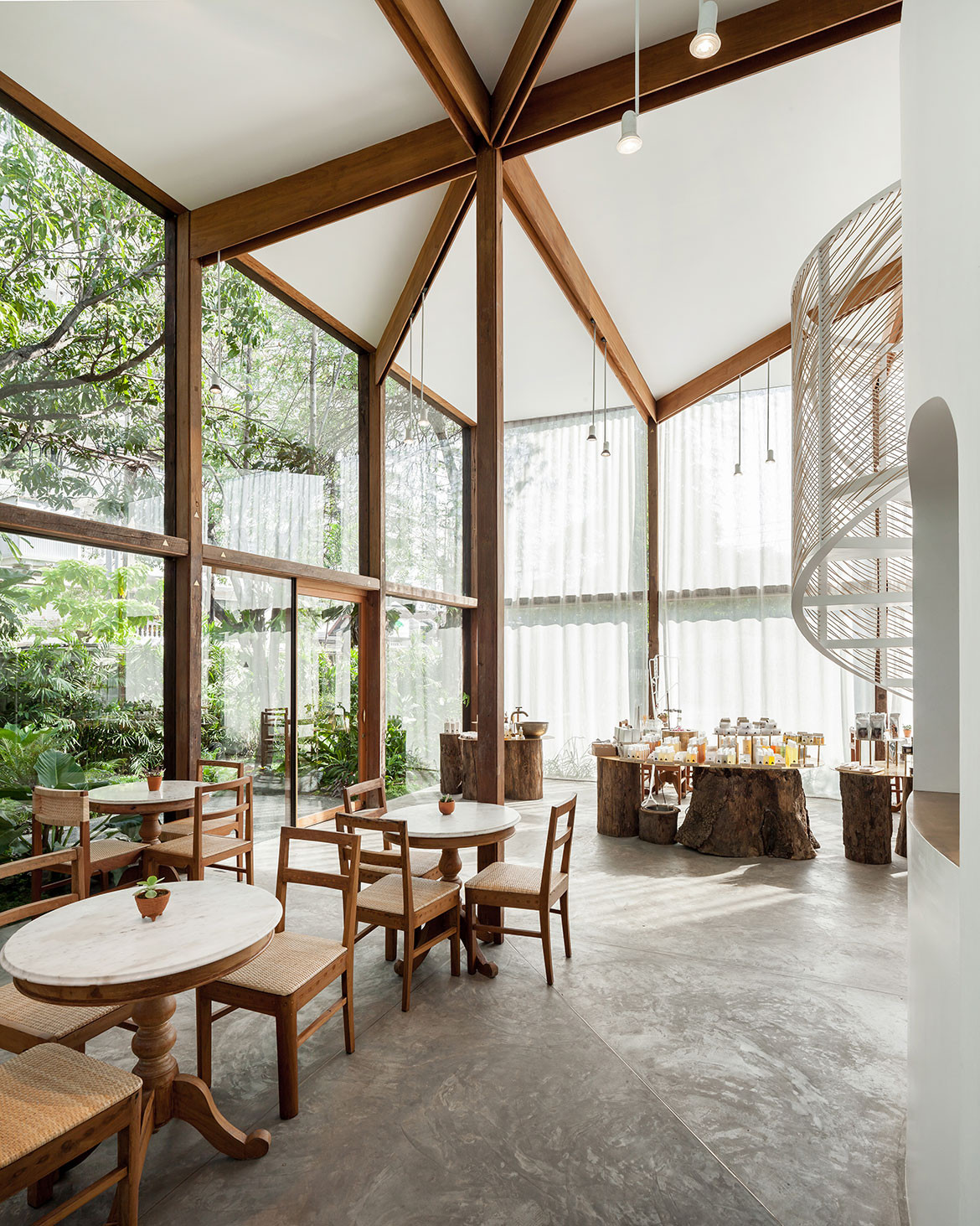 The team have artfully paired the aged timber with lots of clear glass, resulting in a well balanced contrast in materiality. "The building's transparency and its modest size set out to unveil the expanse of the lush garden around," Prow continues, "which in turn create a setting where passersby can catch a clear glimpse of the livelihood inside this glass enclosure."
Nitaprow
nitaprow.com
Photography by Ketsiree Wongwan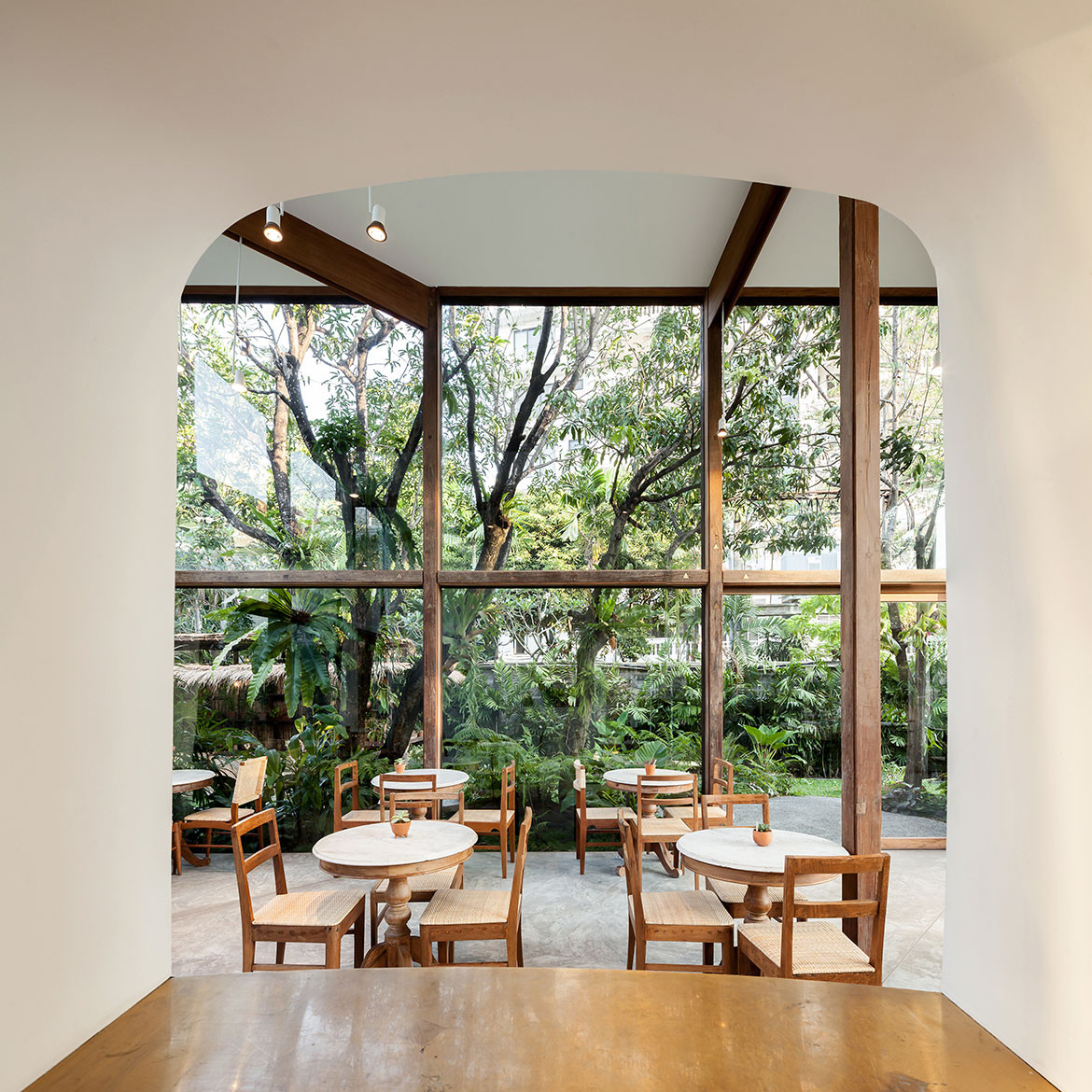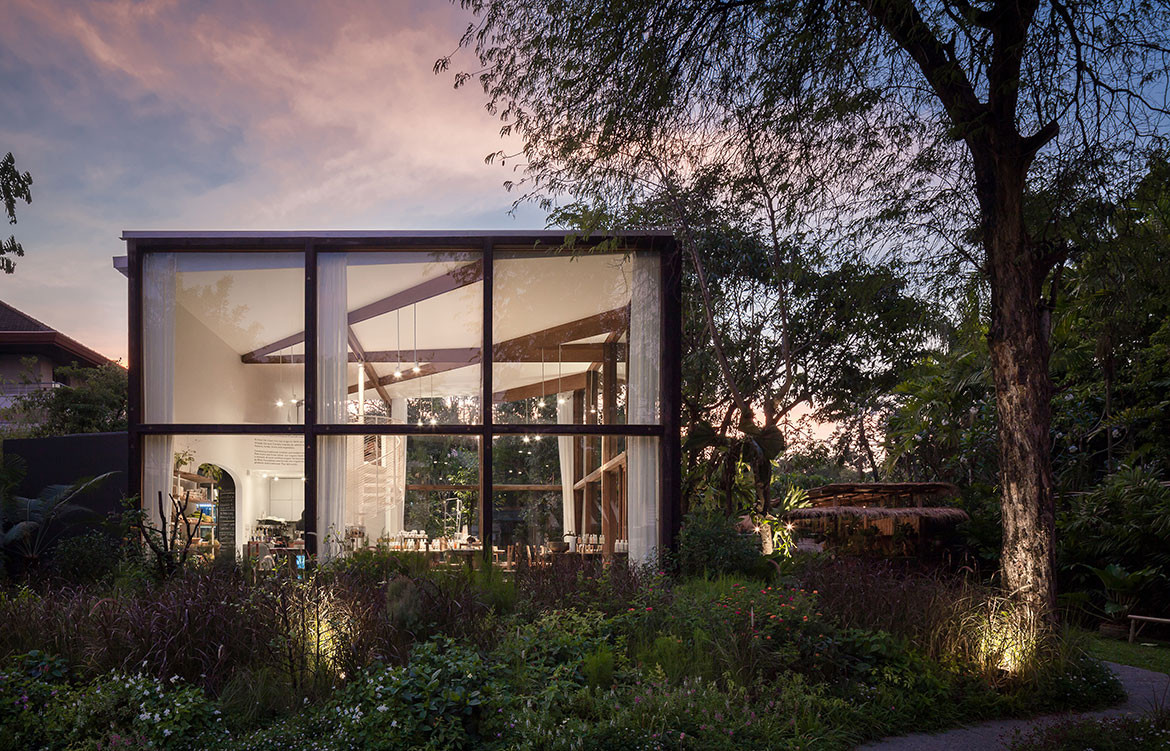 We think you might also like Caroma on Collins by Archier
Tags: : Patom Organic Living, cafe, Caroma, Elana Castle, Ketsiree Wongwan, Nita Yuvaboon, Nitaprow, Prow Puttorngul, Redwood, showroom, sustainable living, Tabak Wood, Teak
---