Uniquely Australian bathroom designs are those that draw on that which this vast, diverse country has to offer. From natural landscapes to free-flowing indoor/outdoor connections. From materials that offer a nod to the abundant earth, to hues that are inspired by wilderness.
Form, function and forward-thinking are all words that spring to mind when we think of Australian bathroom designs unique to our region. Not only does Australia house some of the most globally innovative designers, but it's those designers that offer a unique style perfectly reflective of the country's inimitable way of life. Here, we've carefully curarted and exclusive list of just five examples.
Grant House Austin Maynard Architects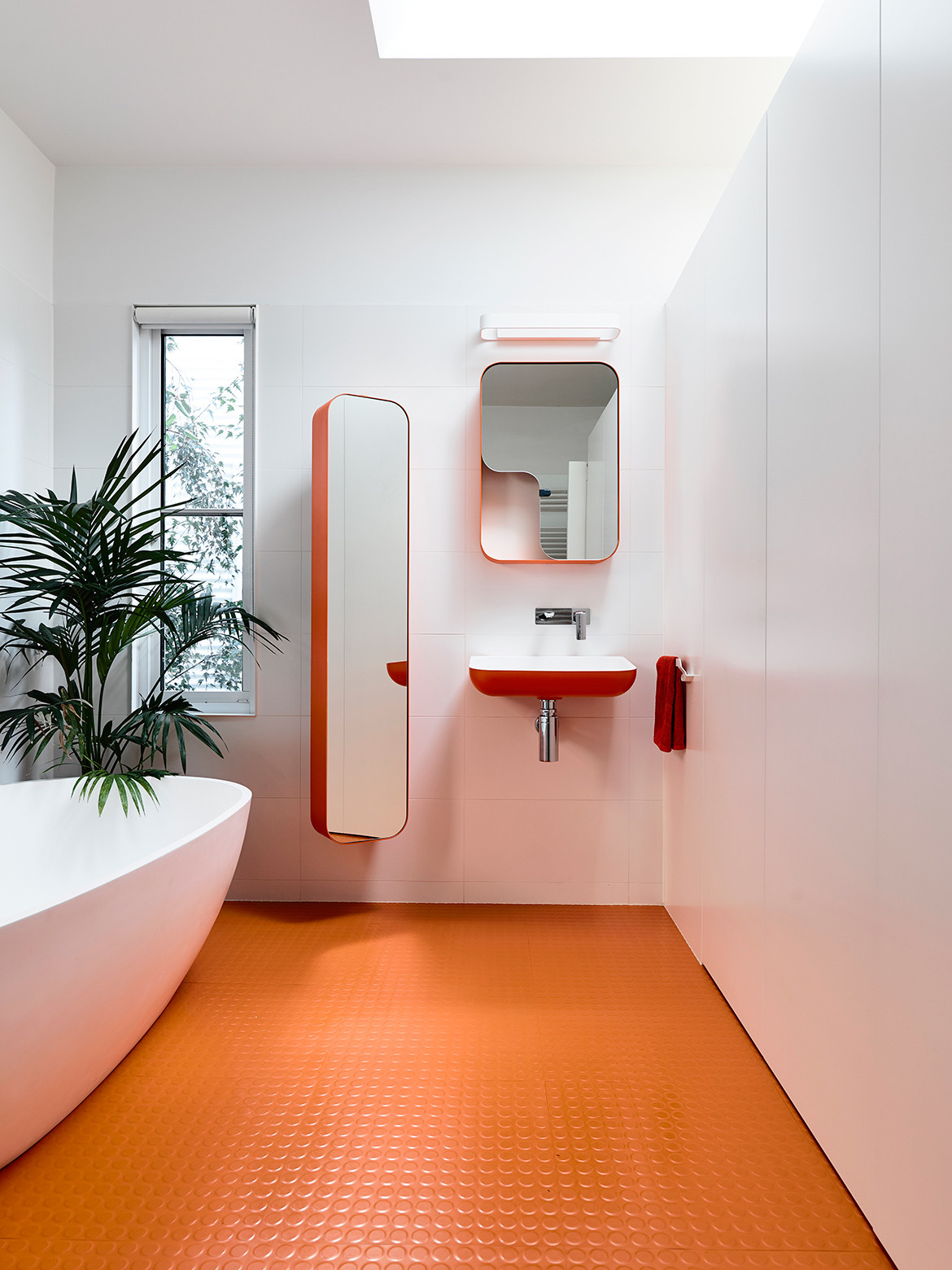 This bathroom from Austin Maynard Architects expertly showcases functional fun. The use of colour feels like a nod to Australia's richly hued earth, and an ode to mid-century modernism at once.
"The bathroom is playful yet relaxed, informal and functional – not filled with overly fancy or unnecessary things," says Mark Austin, co-director of Maynard Architects. "White wall tiles were selected to disappear, allowing the orange in the floor and fittings to be the main focus. The owners wanted something bright and we worked through the colour scheme and materials together and settled on an orange rubber floor and the Tulip range fittings in orange from Arblu."
Austin Maynard Architects
Maynardarchitects.com
Photography by Derek Swalwell
Cape Tribulation by M3 Architecture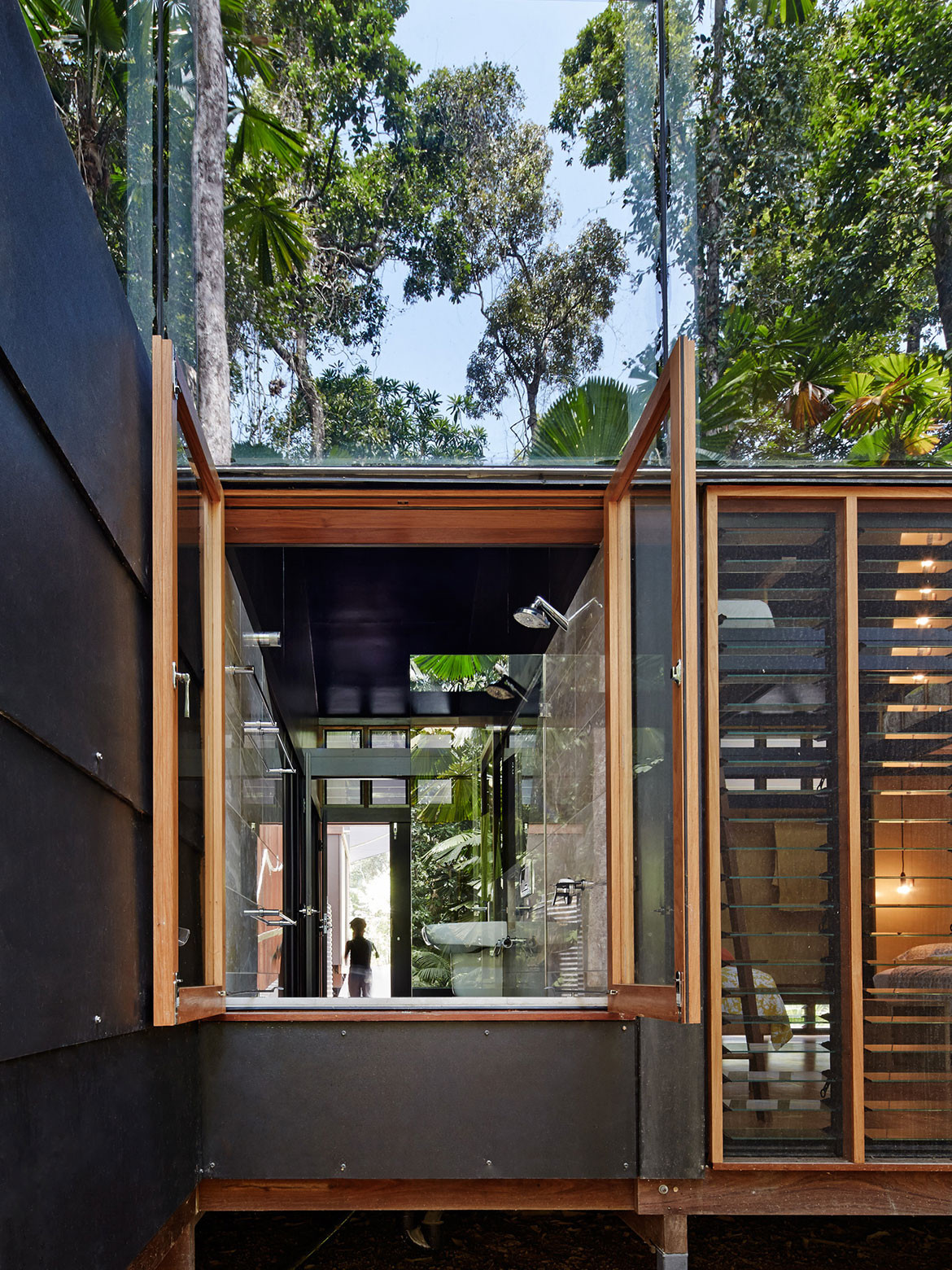 This home is privy to some of the most fascinating natural environments on the planet. Bordered by coastline and beach on one side at Cape Tribulation, and an ancient landscape in the form of the Daintree Rainforest on the other.
This abode perfectly adapts to its place on the earth. Perhaps showcased best in the bathroom design. There is free-flow through the space, natural outlooks, and materials that beautifully enhance the private, wild moments witnessed here.
The clever use of mirrored glass facilitates views outwards, but it simultaneously reflects back out into the forest for privacy. Black cladding and timber allow the home to retreat into the shadows of the canopy effortlessly. This house is also completely off-the-grid, paying respect to the ancient ecosystem surrounding it by slotting in thoughtfully.
M3 Architecture
m3architecture.com
Photography by Peter Bennetts
Tregonging House and Studio by Rama Architects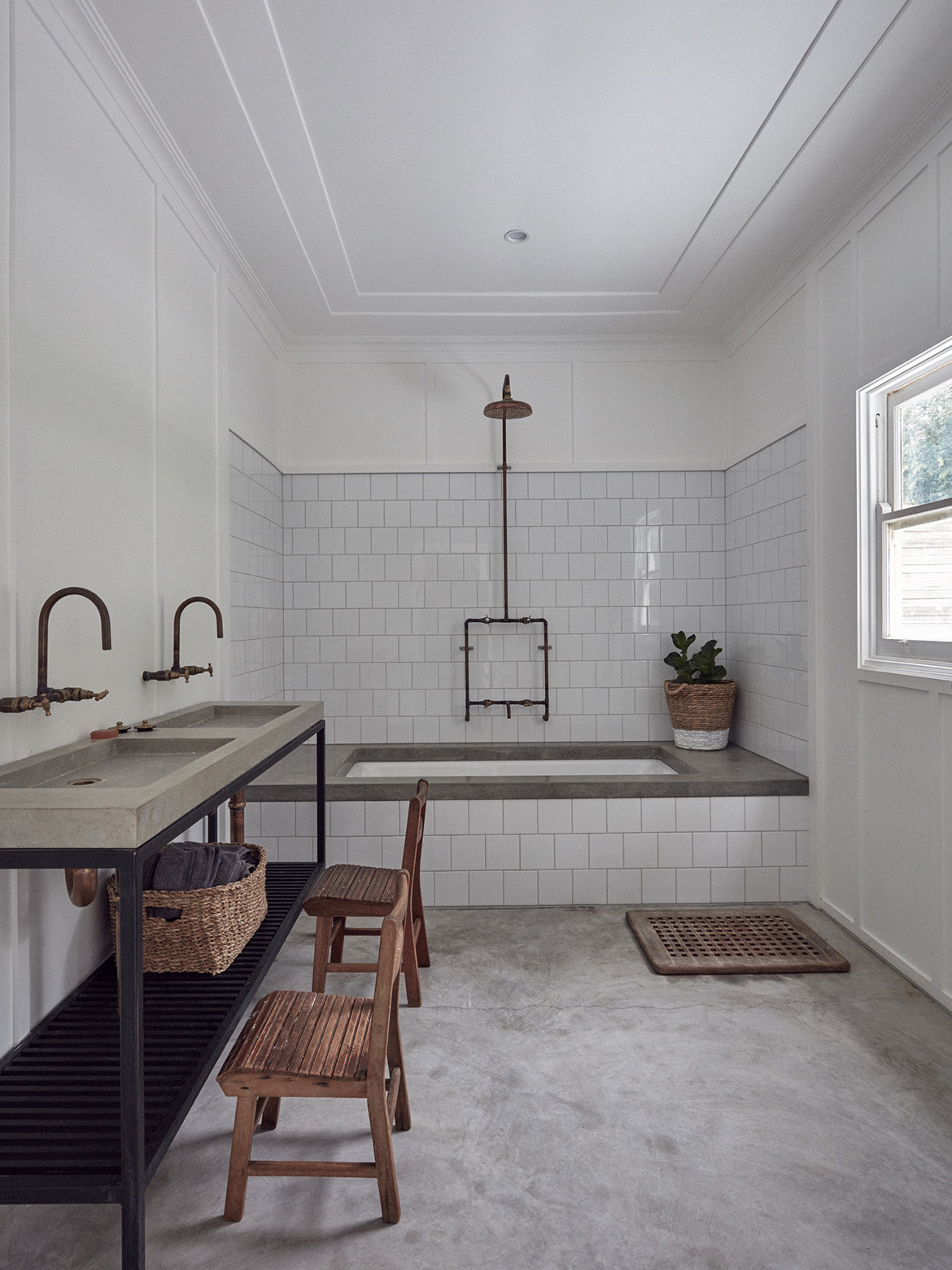 There are three bathrooms in the Tregonging House by Rama Architects and each one offers a nod to the uniqueness of Australian bathroom designs. First, there is pared back beauty. Then there is unrivalled access to nature in the form of an open-roofed shower, and lastly there is history woven into the materials used.
"The intent of this bathroom was to be robust, void of glitz, and functional," explains Daniel Raymond, director of Rama Architects, "and where beauty comes from is the patina of the natural materials used in its configuration. Burnished concrete floor toppings, custom-made concrete benchtops, gloss white square subway tiles, custom-made copper and brass tapware. We drew inspiration from the visual language and character inherent within the original Avalon Fibro Beach Shack and played with raw materials with a mix of industrial and minimal detailing.
Rama Architects
ramaarchitects.com
Williams Building Company
williamsbuildingco.com
Photography by Toby Peet
Elmore Residence by Flack Studio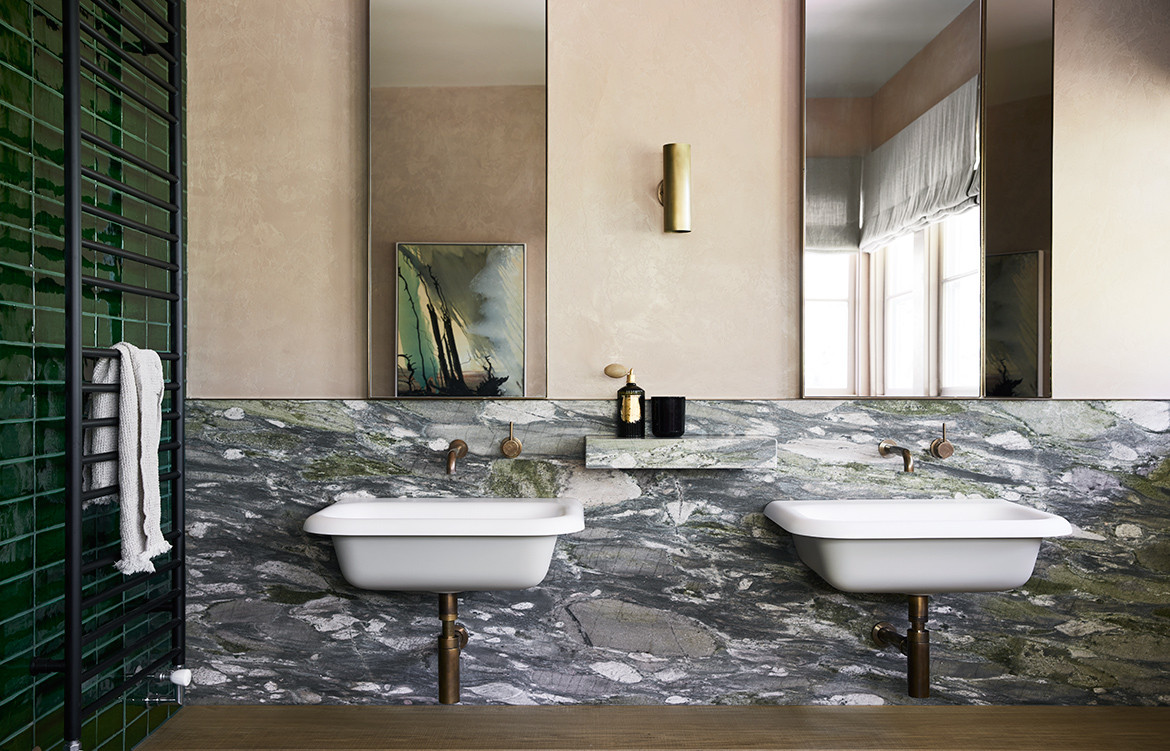 This house designed by Flack Studio finds a beautiful way of combining old with new. Fittings and fixtures speak of bygone eras, yet the home works like a well-oiled tap with all its mod-cons.
Colours and materials reflect some of Australia's most abundant landscapes, reminding us of seascapes, lush vegetation, and dusky planes. Muted pastels pair with rich glossy emerald tones married by the marbled splashback that reminds us of dappled landscapes.
Fine linens, brass tapware and glossy tiles hark of luxuriant European bathrooms, yet this space still feels uniquely Australian with its use timber and marble. A double vanity, beautifully concealed fittings, and a standalone bathtub hint at modern luxury.
Flack Studio
Flackstudio.com.au
Bay View House by Wolf Architects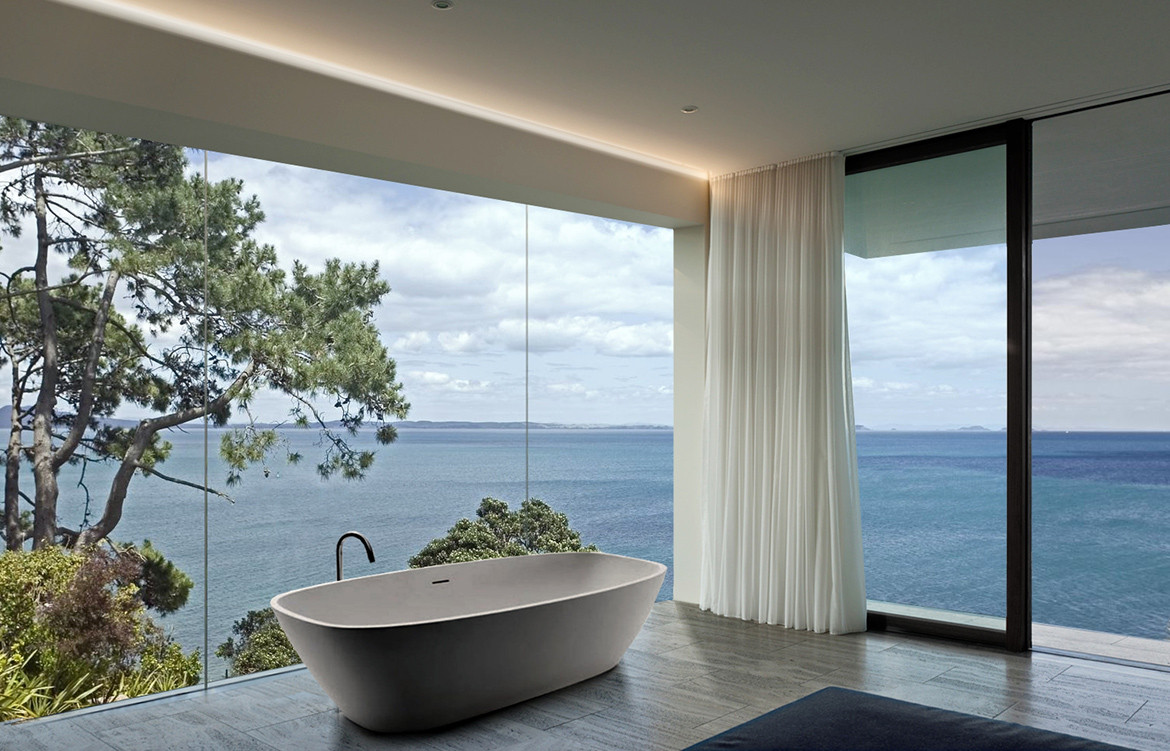 Given this beautiful country is bordered by vast stretches of ocean, a bath with a view of the sea seems to embody Australian design particularly eloquently. The Australian way of life inarguably embraces an ocean-side living spectacle and there is a connectedness here – both to the ocean and individuals that live in the space – that is rare.
"Australia is still a wide open country and nature is in abundance," explains Taras Wolf of Wolf Architects. "Our Bathrooms always try capture the outdoors in some way so that you feel like you're a part of nature.
"We also know that people spend a lot more time in their bathrooms than they realise so we wanted to make those moments somehow more interesting and enjoyable. That's why many of our bathrooms are open to the bedroom so that one person shaving or brushing their teeth could still be connected and engaged with another person watching TV in bed.
"Most of our inspiration comes from how the clients live," continues Taras. "If they are messy for example, it's our challenge to celebrate that in a way that makes the messiness still look good and practical. We don't try to bend our clients to be neat if that's not in their nature."
Wolf Architects
Wolfarchitects.com.au
Photography by Wolf Architects
We think you might also like to discover these five sustainable, affordable Australian furniture brands
---