Have you ever enjoyed a holiday so much you thought you just might move there one day? I'd hazard a guess to say we all have. I'd hazard a second guess and suggest not many of us have actually followed through. That, however, was simply not the case for Alan and Toni, residents of Barwon Heads House and clients of Lovell Burton Architecture.
Admittedly, it may have taken them some time. They'd been living and working nearby in Geelong, Victoria, for 25 years and for the last ten holidaying with their children (who have since grown up and moved out) on this piece of land in coastal Barwon Heads; not far from the Bass Strait and the mouth of the Barwon River. Up until recently, they would stay in a small cabin that existed on site.
Three years ago they engaged the newly established architectural practice of Stephanie Burton (their daughter) and Joseph Lovell, Lovell Burton, to design a residence that allowed them to relocate full time and see them eventually into retirement. One year ago, Alan and Toni moved in.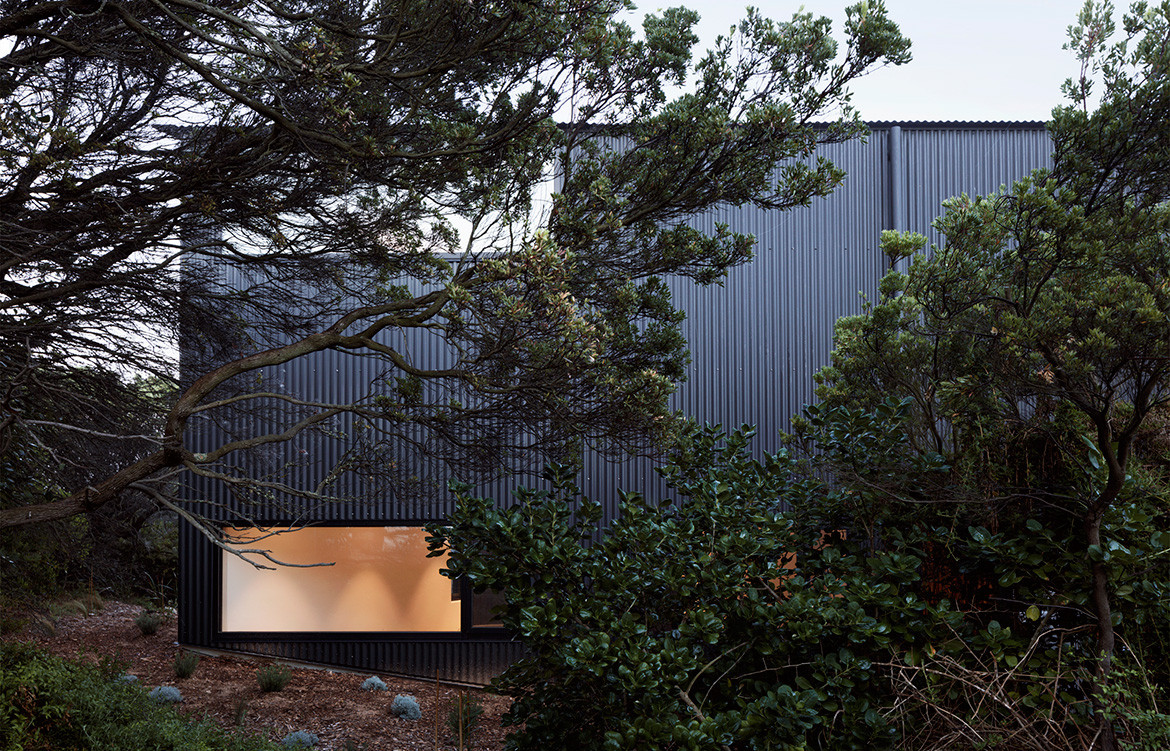 The brief to Lovell Burton was multi-fold. They wanted a house that could expand to comfortably accommodate their children and their children's children when they came to visit, and efficiently contract back when it was just the two of them; a residence that allowed them to feel connected to the surrounding landscape without being subjected to it; a home that reflected and facilitated their hobbies, interests and life experiences; and finally a home that allowed them to age in place.
One of the biggest challenges for Lovell Burton – but also one of the practice's most notable successes – was marrying a harsh, protective shell of an exterior to warm, soft interior architecture. Barwon Heads House is situated in amongst thick natural vegetation: Moonah, Tea Tree, Boobialla and general dune scrub. It's also very close to a very windy beach, so the architecture had to – and does – balance connection and protection from the outdoors. "That is one of the more interesting tensions in its design," says Stephanie. "You've got really beautiful views out to the southwest, but that's where the [dominant] weather comes from. You want an outdoor lifestyle but it needs to protect because it's extremely exposed."
The outer shell protects the building from natural climatic conditions such as strong southwesterly winds. Not to mention the reality of being located in a bushfire zone and extreme temperatures (by Australian standards) on both ends of the spectrum.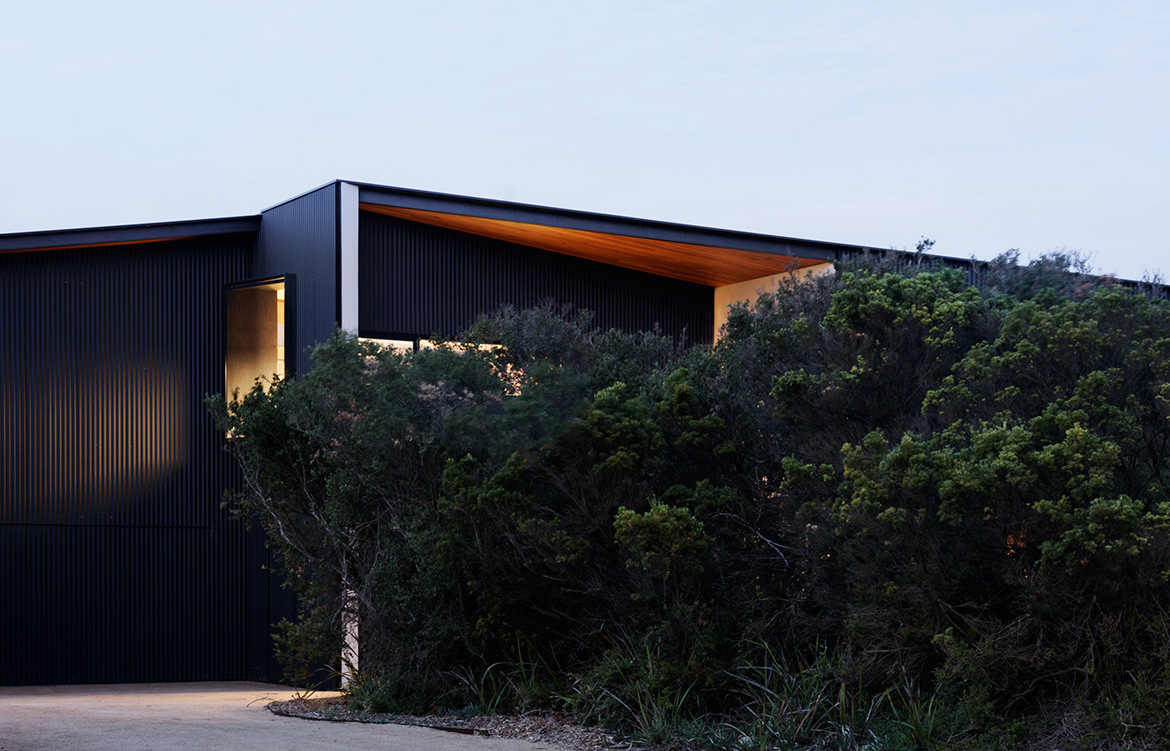 Steel was avoided where possible (because of its corrosive tendencies when used in coastal conditions) and corrugated aluminium cladding was celebrated. "We used corrugated [aluminium cladding] because it reduced any sub-framing or sub-structure to the metal clip," says Joseph. Reverse-lock veneer walls regulate the thermal performance of the building and save for the depths of winter the hydronic underfloor heating is rarely used. Stephanie points out that the winter performance of Barwon Heads House has exceeded the expectations of clients and architects alike.
Inside, Alan and Toni enjoy a warm and textural interior from where they can voyeuristically enjoy and observe wild weather. Dark staining on the vertical timber boards inside was chosen for its ability to frame and pronounce the views outwards. This contrasts with lighter Cedarwood boards used on the horizontal planes which are recycled from the old cabin.
"From the client's perspective, that was the main component of the brief: celebrating the view out of the building," says Joseph. "We tried to implement the two different colours to accentuate that view and aspect."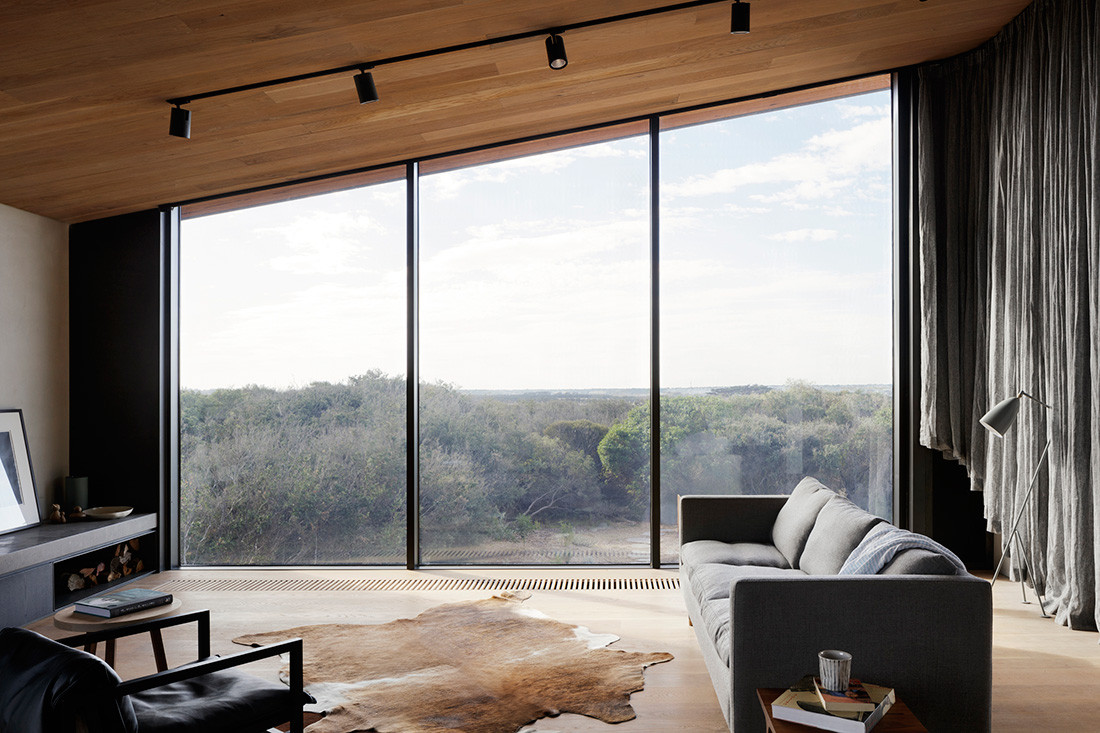 Equally important was the configuration of the site and its ability to shut down areas when they aren't in use. Barwon Heads House is split between the ground and first floors, with both levels able to run independently of the other. Alan and Toni live on the upper floor year-round with the ground floor completely closed off:  neither a drain on resources nor a burden of maintenance.
During the summer months when the extended family is most likely to come and visit, they are able to self-sufficiently inhabit the ground floor. More than anything, it was important that the residence not feel vast and empty whenever it wasn't fully occupied. "It needs that kind of ad-hoc feature," says Stephanie. "We've tried to divide it to cater to those two competing needs."
"There are distinct access points between the upper and the lower floor: the kids [the adult kids] can drift in and out as they want, and the parents can live upstairs predominantly. Then they meet out in the garden together,"
adds Joseph.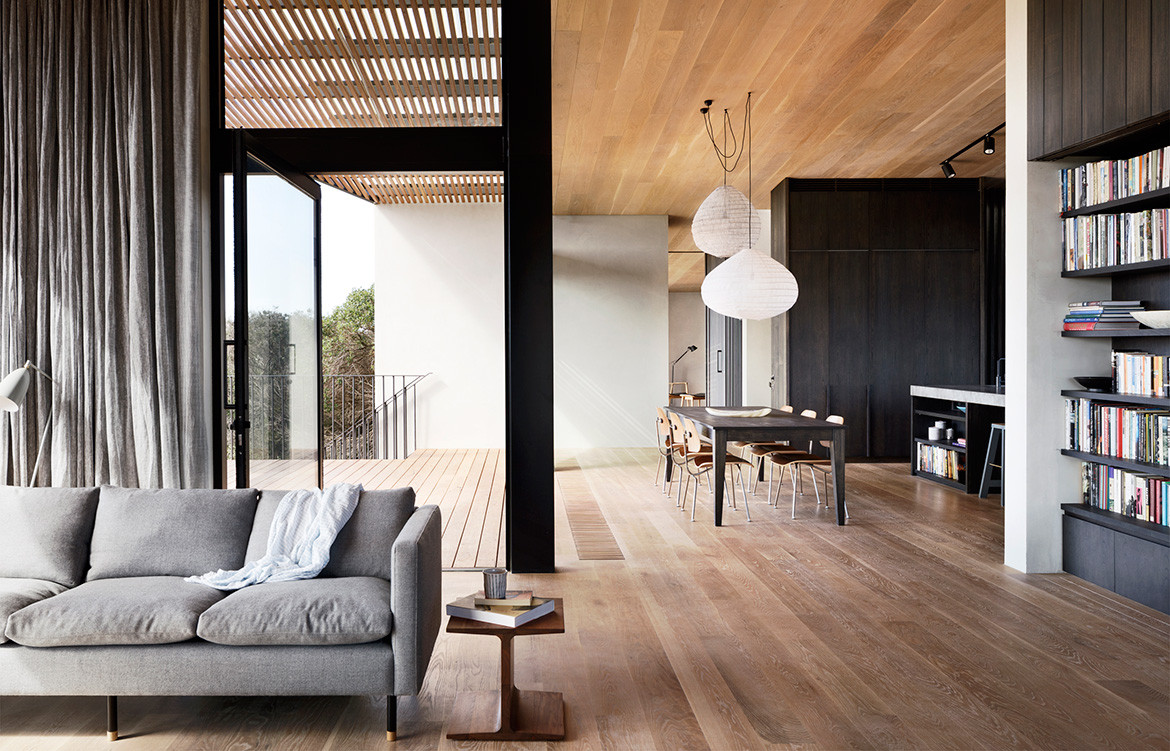 It was integral that Alan and Toni feel connected to the outdoors, despite living on the first floor. As such, the dining and living area has thus been arranged fluidly around a first-floor deck that, despite being raised and at risk of being exposed to the elements, is in a protected, northeasterly nook of the building.
"There was a desire from Alan and Toni to frame the view quite panoramically. We tried to do that a little bit more dynamically," says Stephanie. "We staggered the form down the site in a way that defends against the southwesterly wind. Then we opened up to the north and the east so there is a protected outdoor deck on both the upper and lower levels."
Ultimately, the clients are able to enjoy a connection to the surrounding landscape and topography without being at its mercy.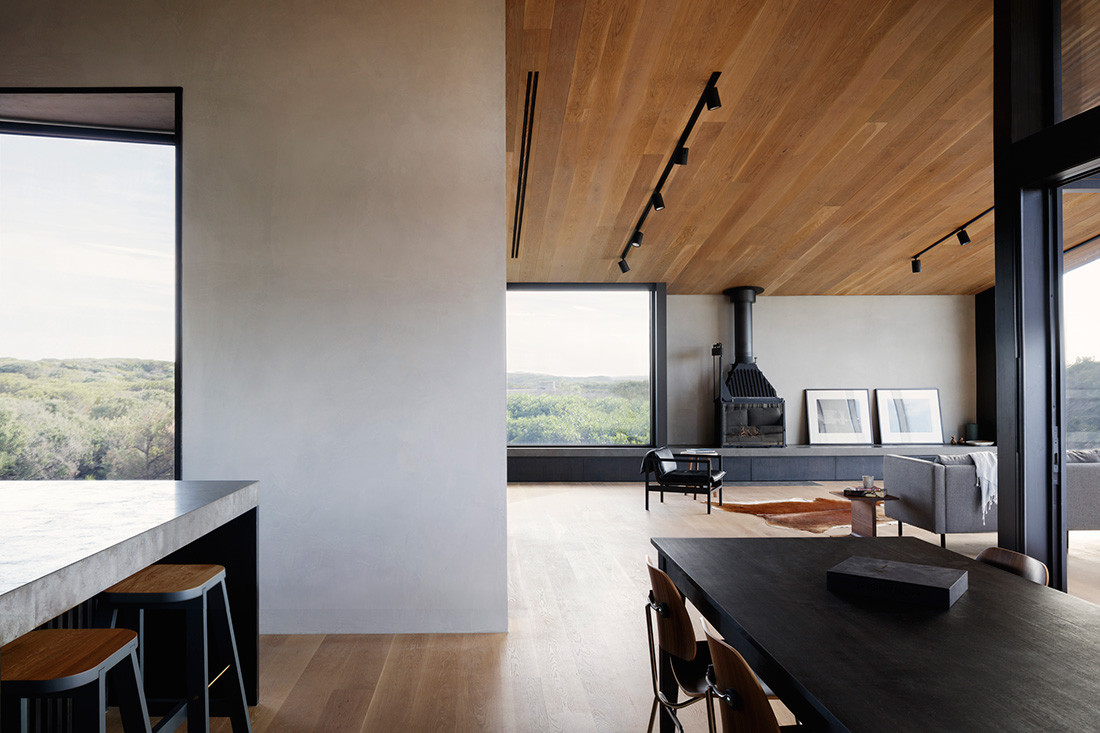 A year since the project was complete and it's natural for all parties involved to forget the challenges encountered along the way: namely, the re-navigation of a parent-child relationship to that of professional and client. Depending on which way – even which day – you look at it, working with family could be a blessing or a curse. Luckily for Lovell Burton, it was predominately positive. The familial nature of the relationship meant Stephanie and Joseph were comfortable enough to push and challenge their clients and their pre-existing notions of what it meant to live on that site.
"As a young practice, the majority of your first commissions come out of friends and family. In some ways, I think they're the most challenging jobs. It's emotionally cloudy," says Stephanie. "At the same time, that is the nature of building a house: it's quite intimate.
Lovell Burton
lovellburton.com
Photography Rory Gardiner
Dissection Information
Solid American Oak Danish White hard wax oil by WOCA
Cladding and roofing in black anodized corrugated aluminium by Archclad
Andorra limestone benchtops by Eco Outdoor
Mosa ceramic tiles from Design Republic
Dining table from Thonet
Eames molded plywood dining from Luke Furniture
Hiroshima sofa from Luke Furniture
Hepburn bed from Luke Furniture
Paris Au Mois pendant lights from Hub Furniture
Tolomeo wall lights from Artemide
Wall tapware, shower and bath mixers from Brodware Yokata
Aged brass from Mary Noall
Franke Oxygene black kitchen mixer with pullout from E&S Trading
Globe Bench basin from Apaiser
Soka freestanding bath with mercury finish from Apaiser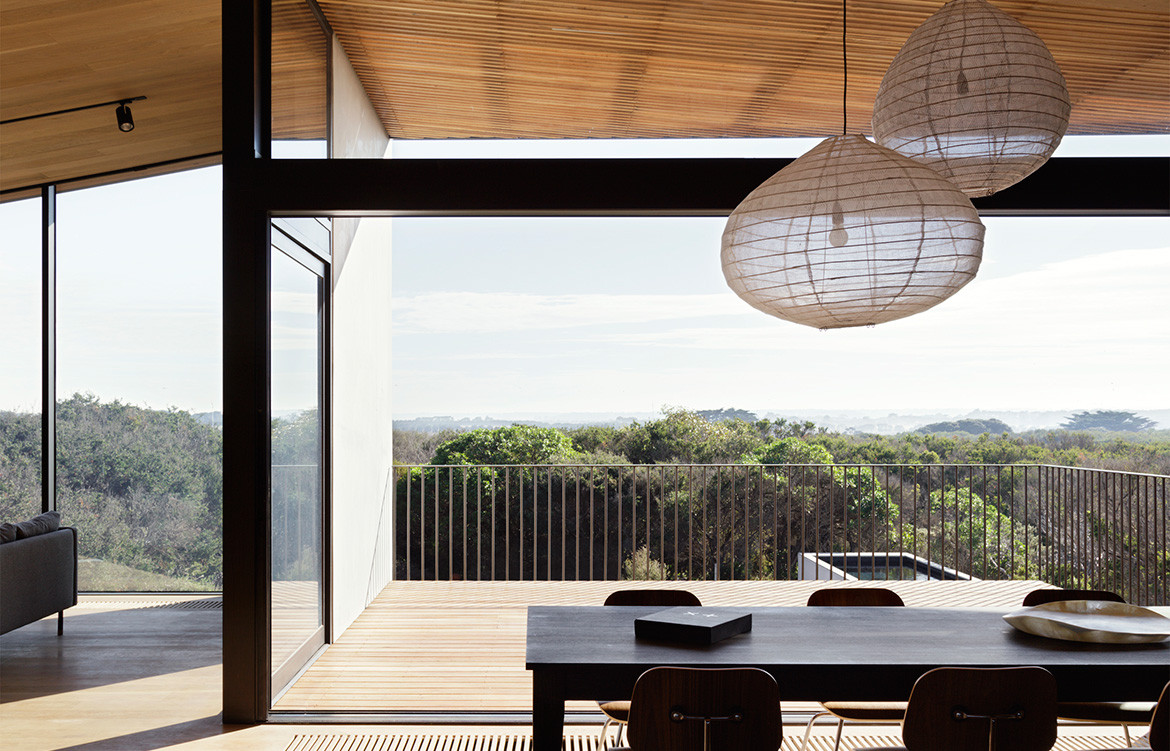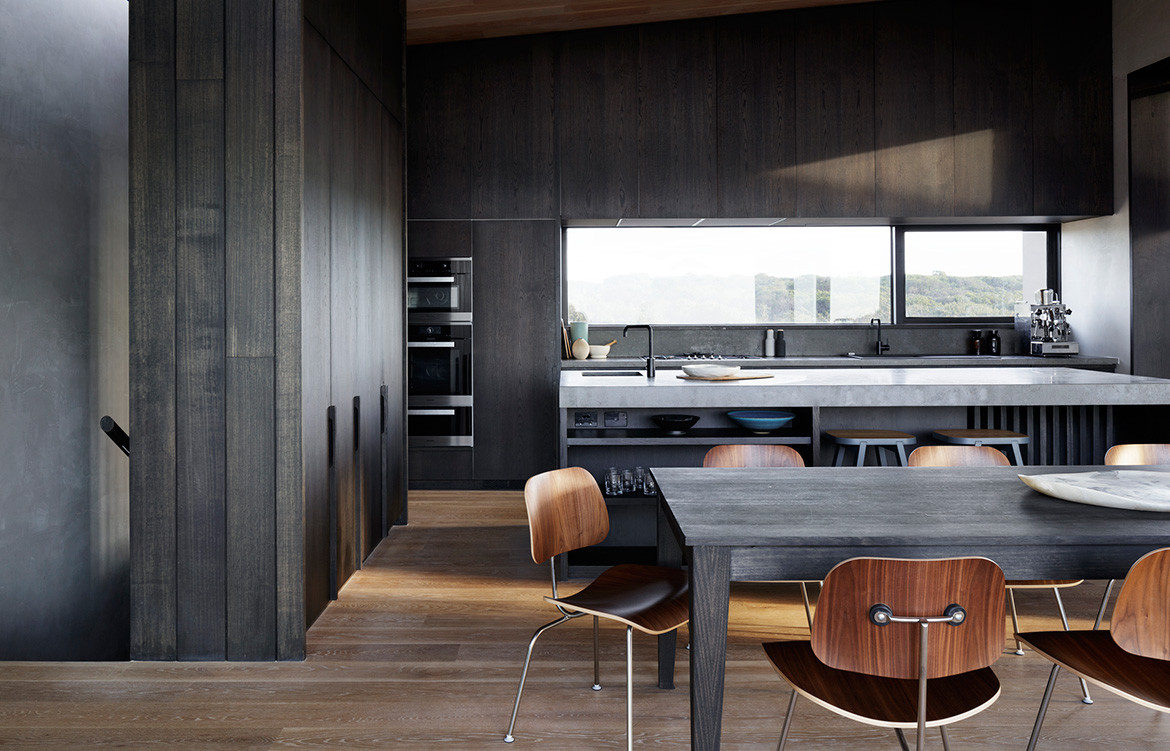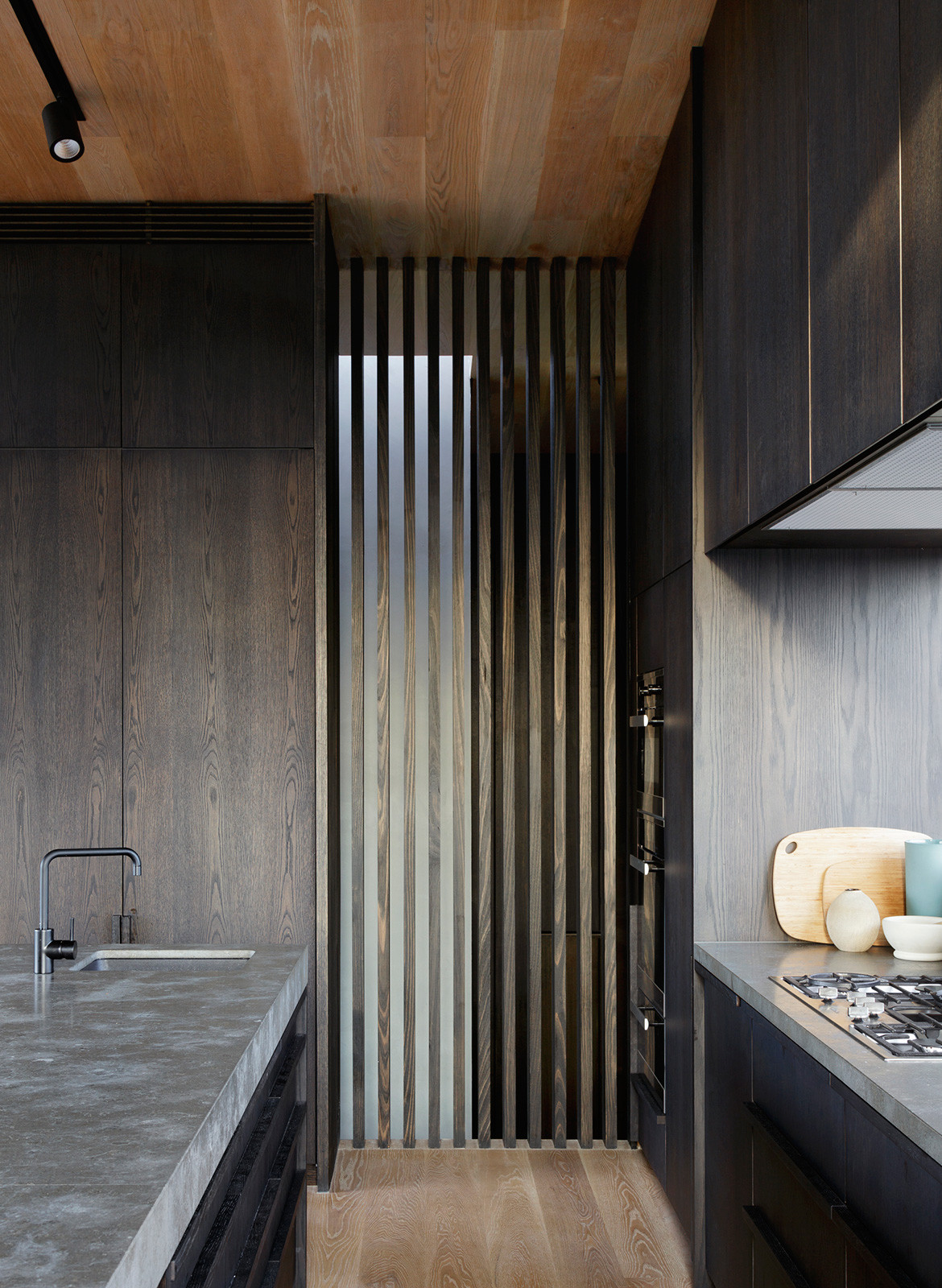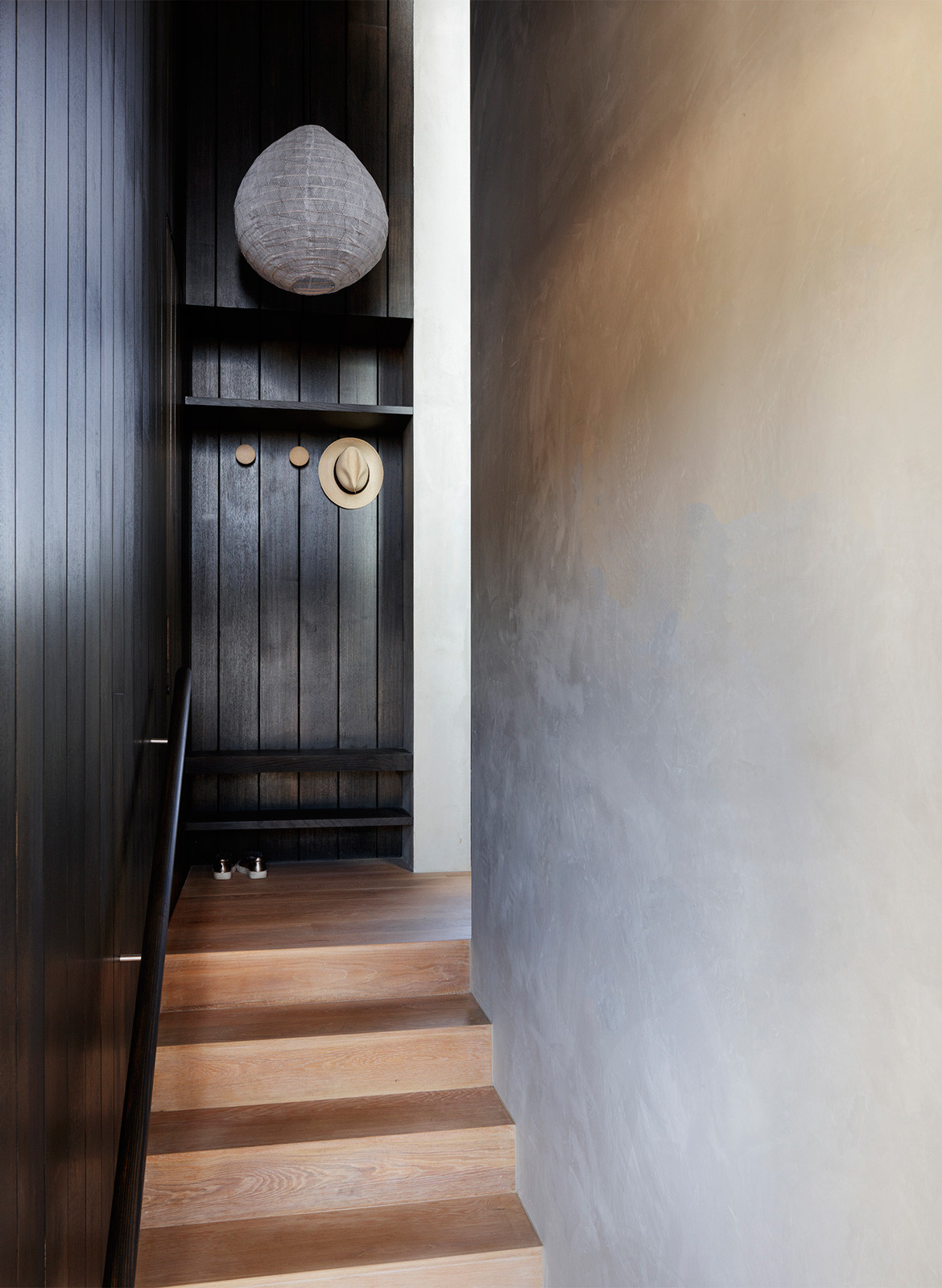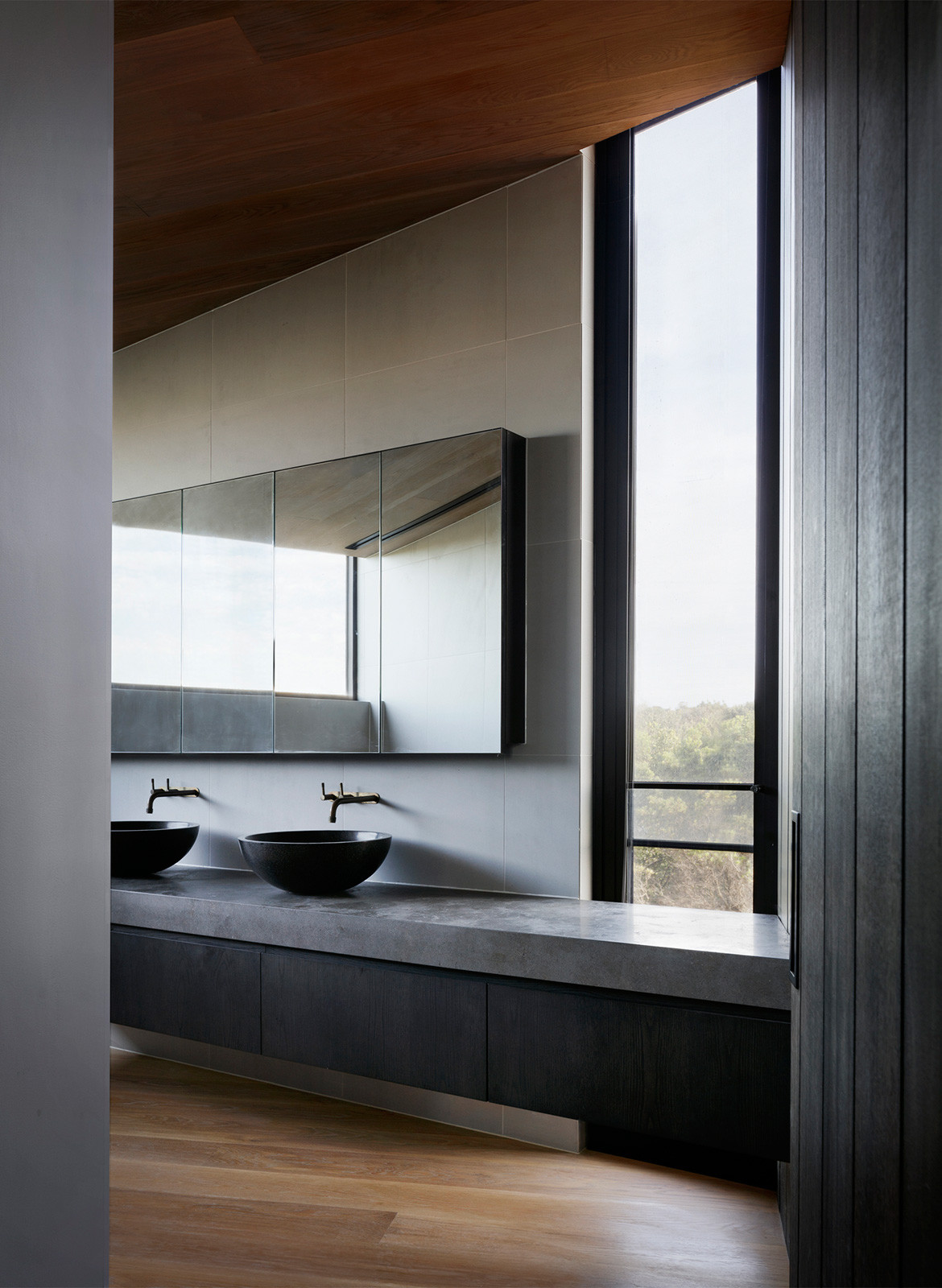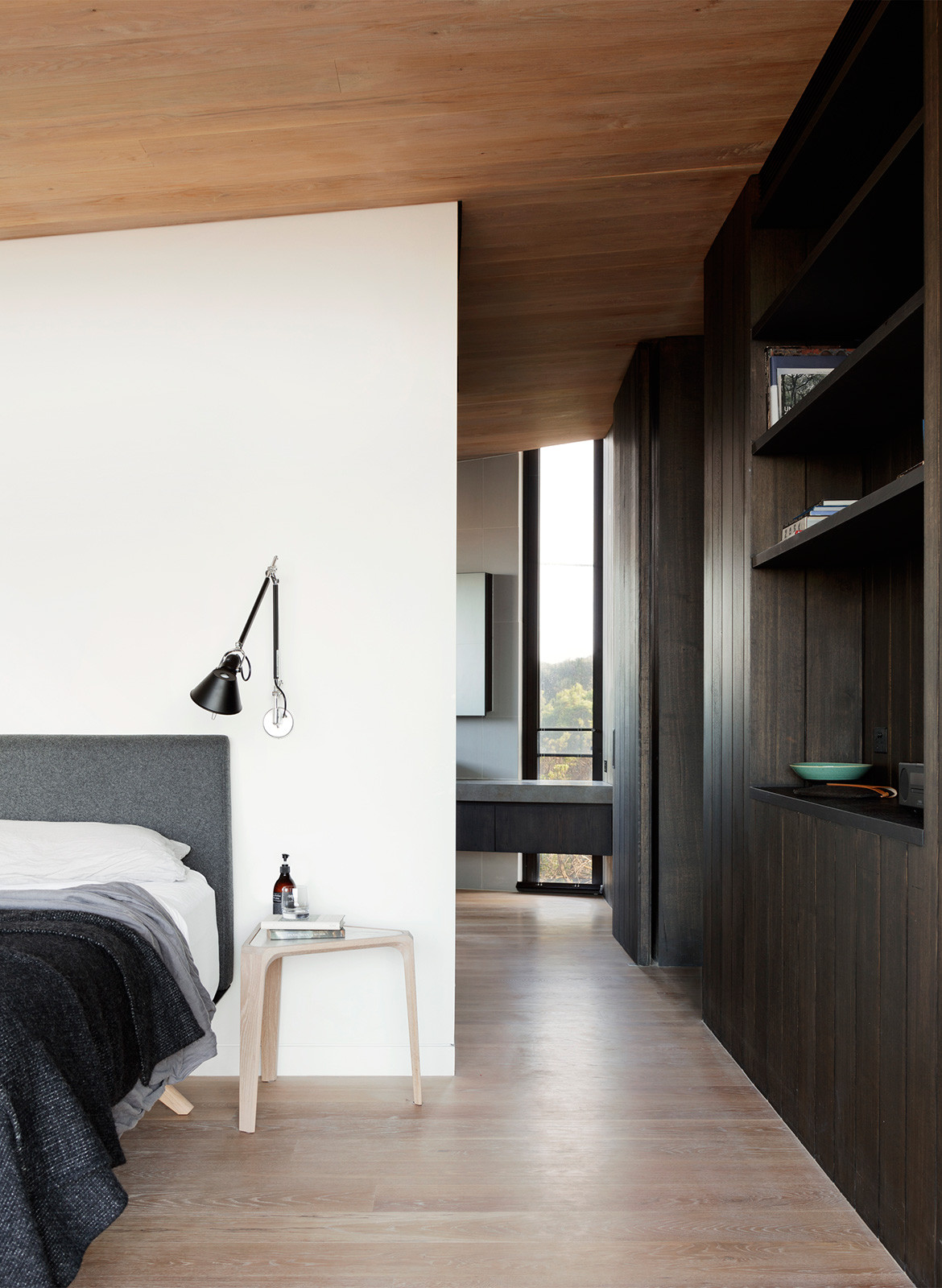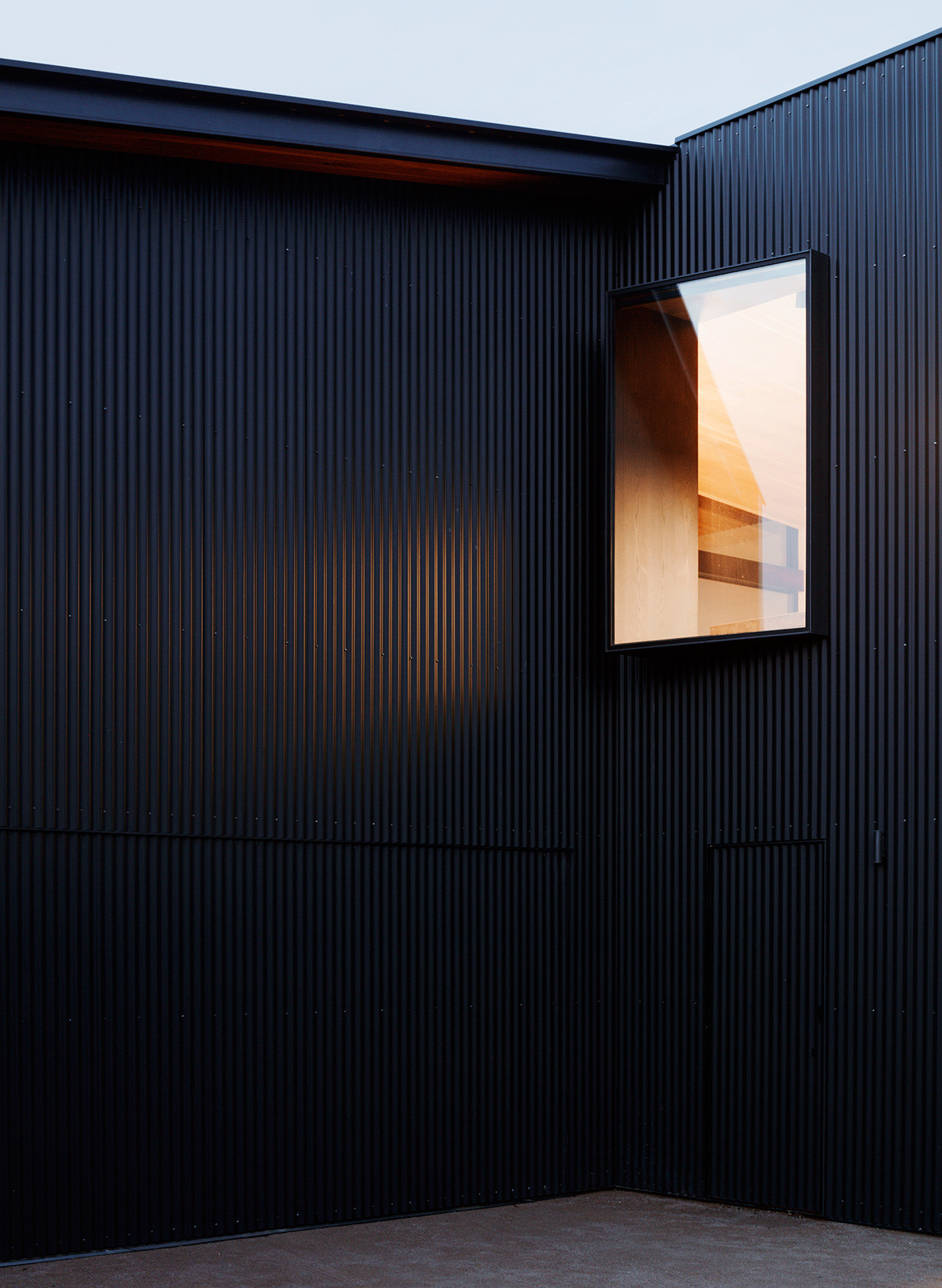 We think you might also like Sunrise Beach House by MCK Architects
Tags: apaiser, Archclad, artemide, Barwon Heads, Bass Straits, Coastal Design, Design Conscious, Design Republic, E&S Trading, Eco Outdoor, Habitus #43, Holly Cunneen, hub furniture, Interior Architecture, Joseph Lovell, Lovell Burton Architecture, Luke Furniture, Mary Noall, Residential Architecture, Rory Gardiner, Stephanie Burton, Thonet, victoria, WOCA, Yokata
---