Tamarama Beach in Sydney is a deep and narrow sandy bay carved out of the coast between Bondi and Bronte. Overlooking Tamarama from the surrounding cliffs, Tama's Tee House, designed by Luigi Rosselli Architects, reinterprets the traditional beachside vernacular with robust materials and sculpted forms.
Tama's Tee House is home to a family of beach lovers who enjoy entertaining. They engaged Luigi Rosselli to create a light-filled, practical home for socialising, entertaining, study and relaxation. The design team retained the large sandstone wall and garage of the existing home – "a tacky red-brick house built sometime in the 1970s or '80s," says project architect Raffaello Rosselli – and constructed the new house on this foundation. The T-shaped structure at the front of the house (and its namesake) supports the weight of the building over the void of the garage space. "It provided an elegant solution that avoided over-engineering and maximised the space in the house," Raffaello explains.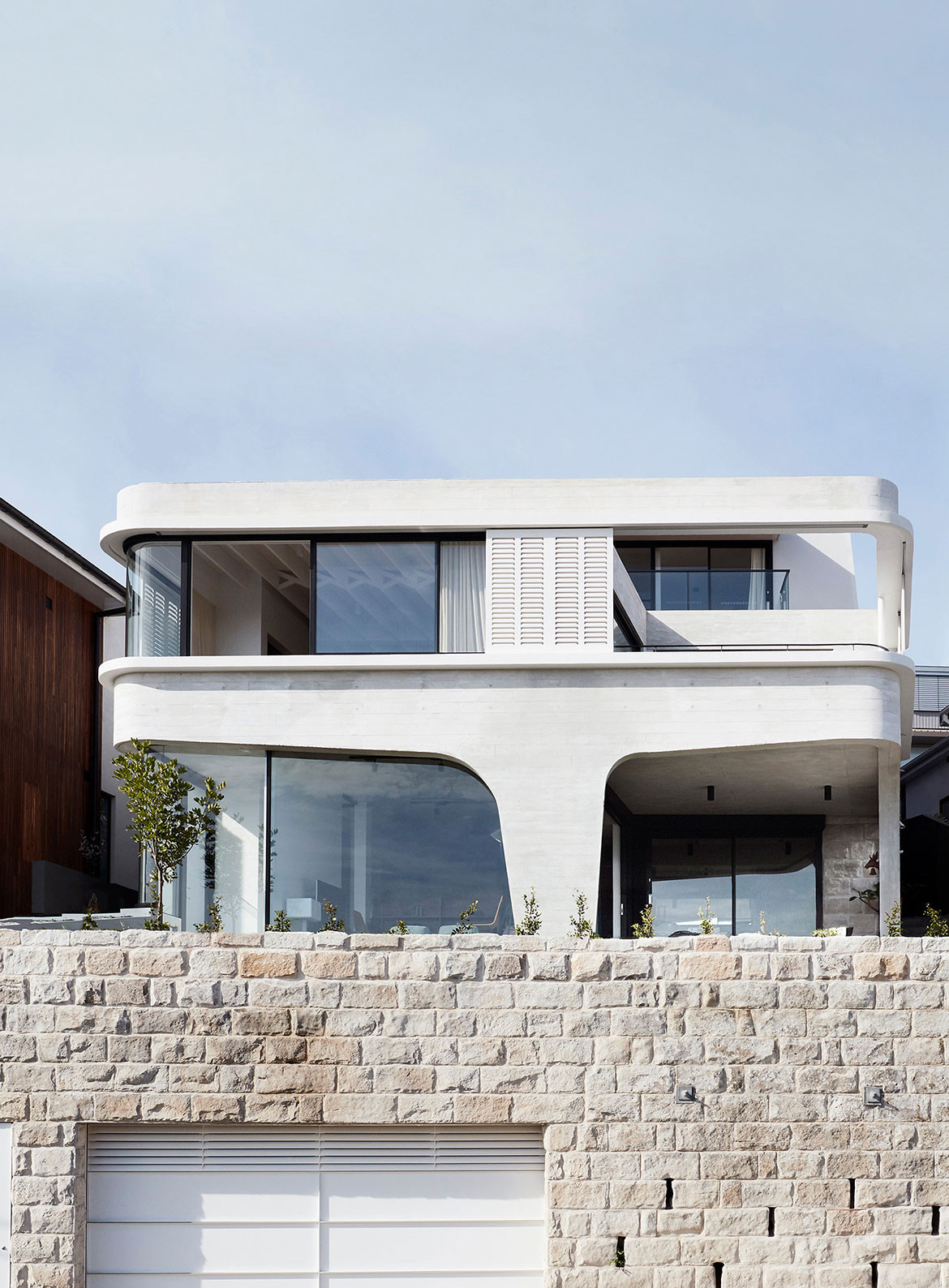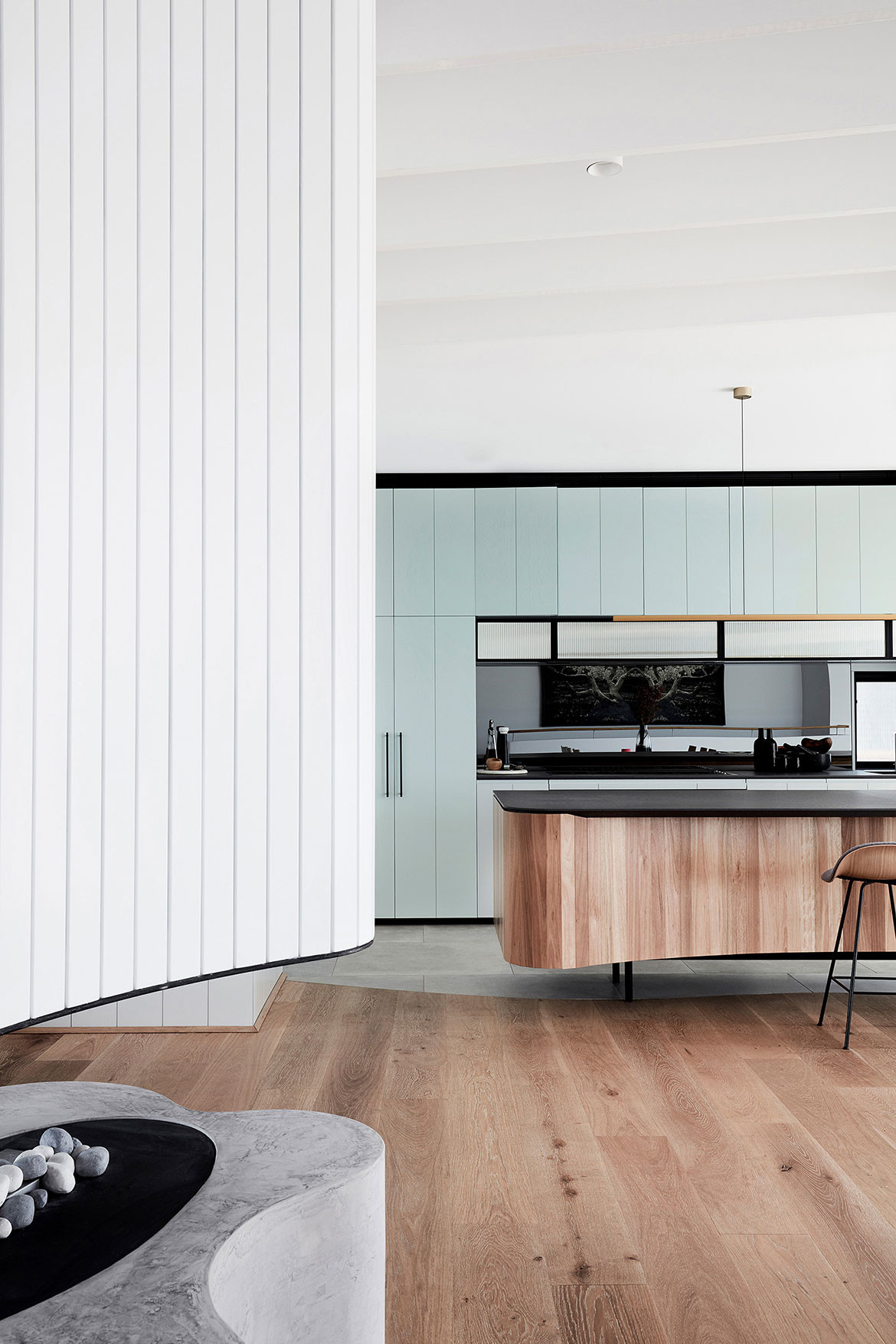 Built over four levels (including the garage), the house adapts to the hillside. The guest bedroom and rumpus room are on the lower level, while the main floor stretches the length of the house. Living, dining and kitchen open to a terrace and northeast views of the beach, and a sculpted fireplace provides a division for the family room behind. A sheltered courtyard on the southeast side is protected from strong coastal winds and surrounded by the library/music room and bedroom suite at the rear. The top floor is set back, with the master bedroom, ensuite and terrace at the front, and another bedroom suite at the back.
The material palette explores the concept of a modern beach house with robust and natural materials and visible construction techniques. Outside, timber-grained concrete provides the structure and evokes the traditional weatherboard aesthetic; inside, the exposed ceiling joists in the living area highlight the elegance of the traditional criss-cross braces. The off-white concrete curves at the corners and is chiselled at the junctions, framing the glazing, terraces and view from either inside or out. "The off-white cement delivers a beachy luminous glow that will, with time, acquire a patina of tan and microorganism growth for the better," Raffaello says.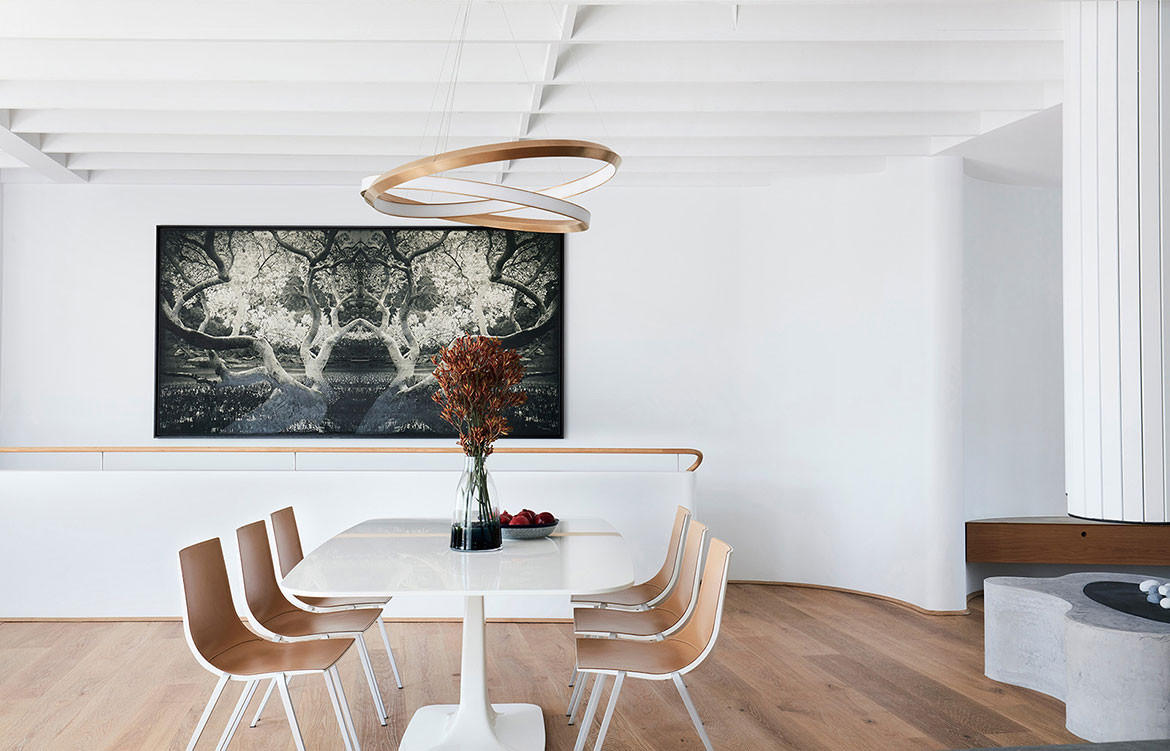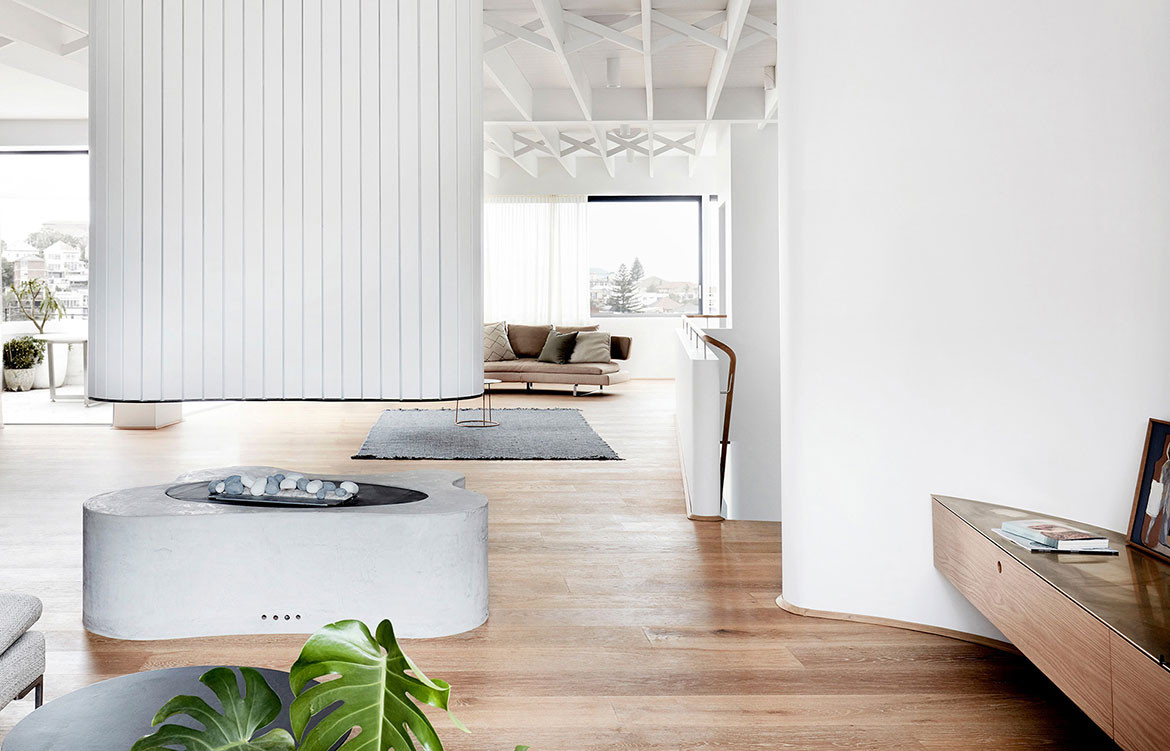 The interior is open, light and breezy with materials and elements that are a modern interpretation of the beachside vernacular. "Open plan, inside-outside flow and seamless design are all buzzwords for contemporary architecture and particularly suitable for the Sydney coastal climate," Raffaello says. "However, such concepts require a layering of filters: doors, curtains and shutters." To create this layering, CNC-routed marine plywood shutters slide in front of the windows and terrace to provide shade, protection or privacy, and the family room is separated with a curving, central fireplace suspended over a masonry base.
Indeed, much like Tamarama Beach and the sculpted bodies it attracts, Tama's Tee House has chisels and curves in all the right places.
Luigi Rosselli Architects
luigirosselli.com
Photography by Prue Ruscoe & Edward Birch
Dissection Information
Legler Basket Chairs from Spence & Lyda
Oyster Chair By Pierre Paulin
Nodi Ribbed Wool Rug from Spence & Lyda
Sepia Grande Eterno engineered boards by Tongue N Groove
Mantis floor lamp designed by Bernard Schottlander from Spence & Lyda
Fireplace from Roscharch Blotch
Oracle pendant by Christopher Boots
Painting by Joshua Yeldham (dining room)
Reconstituted stone benchtop from Stone Italiana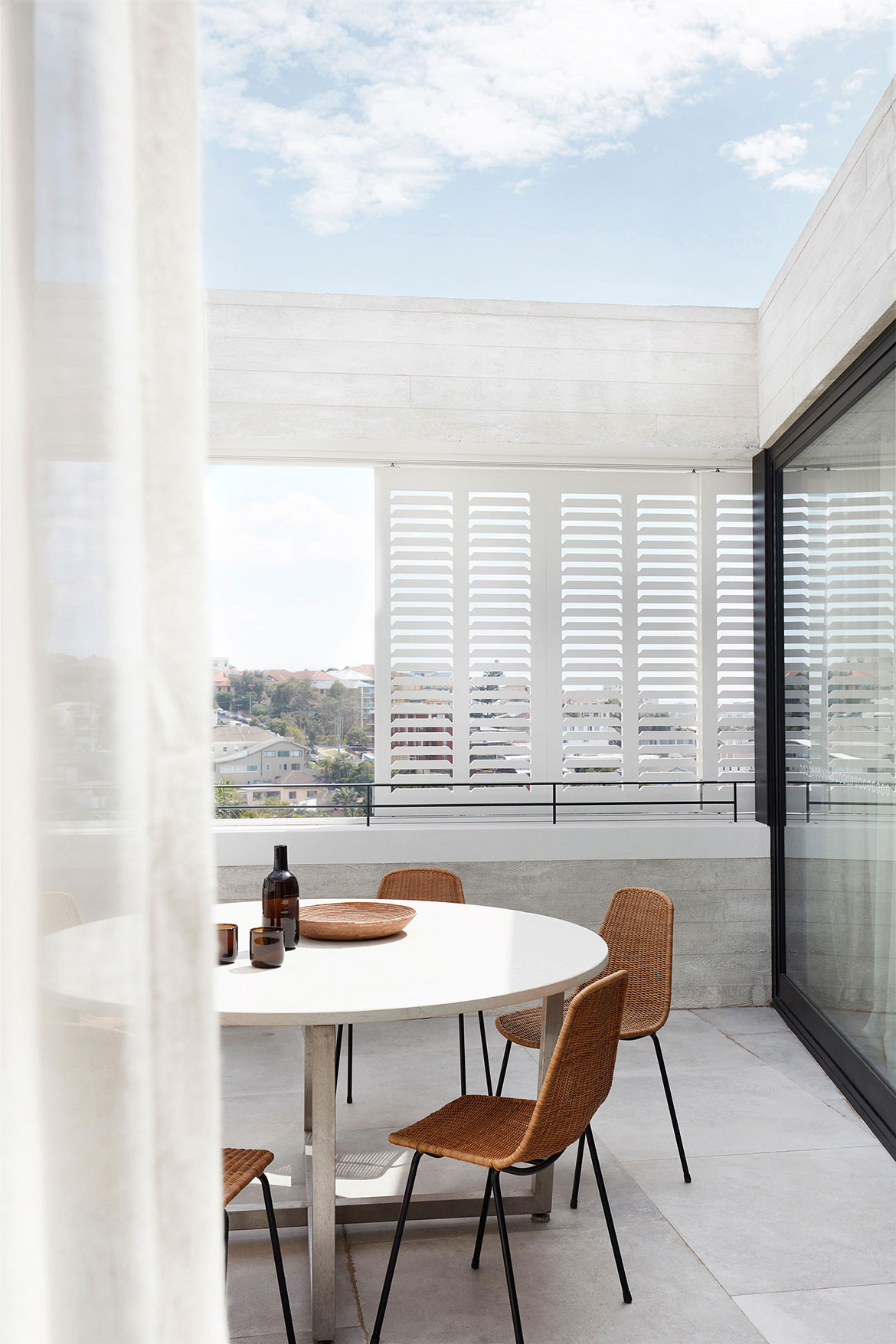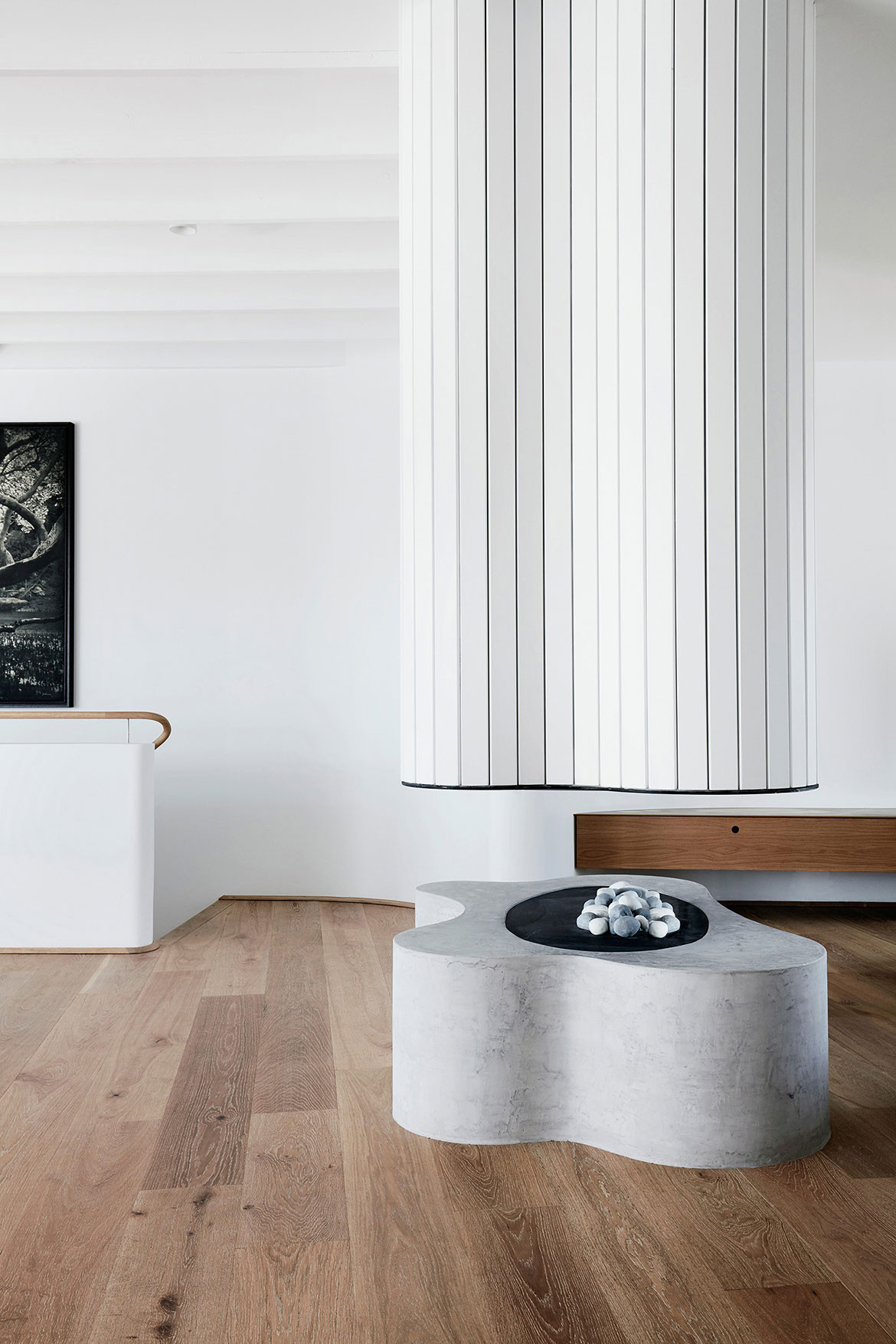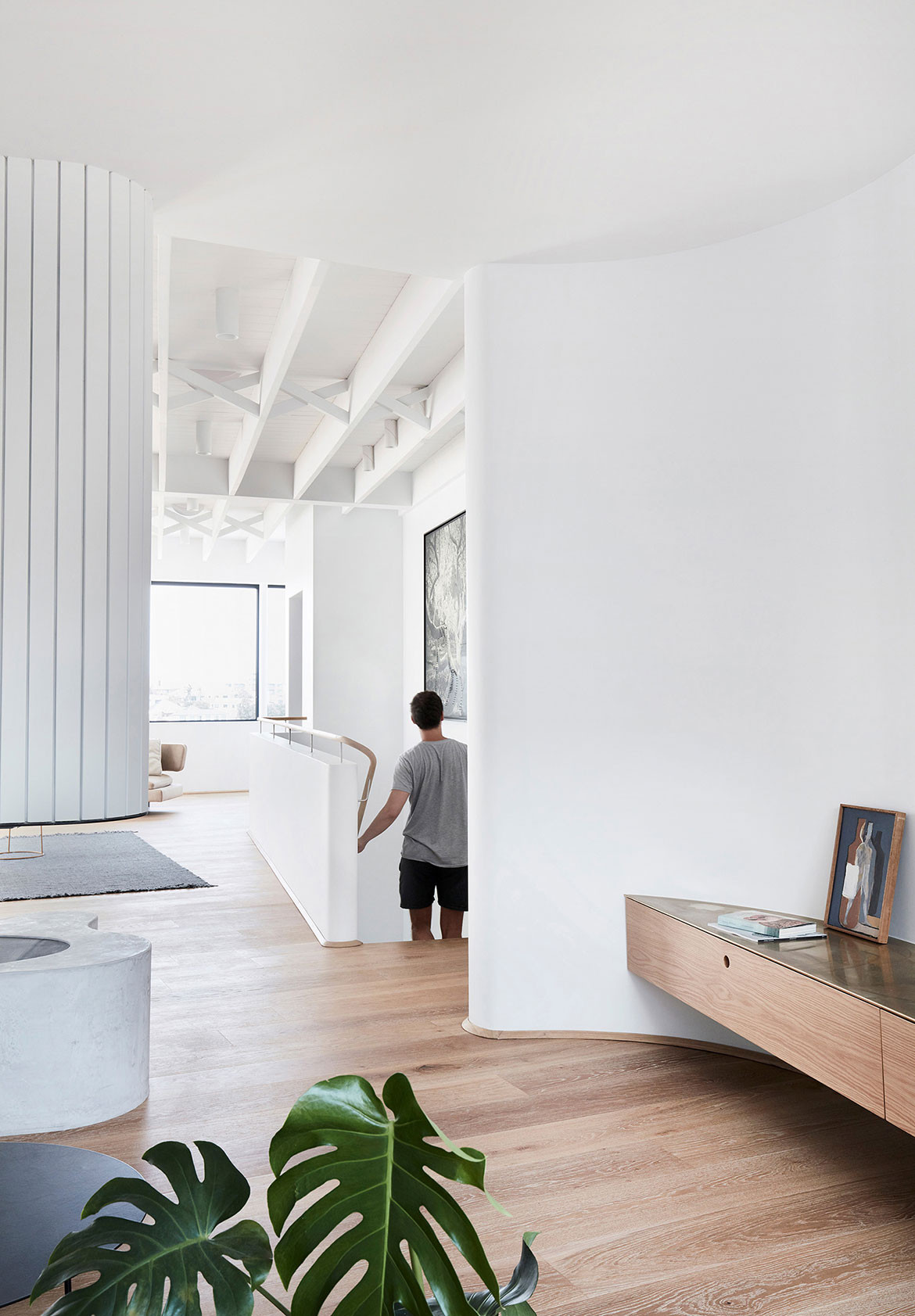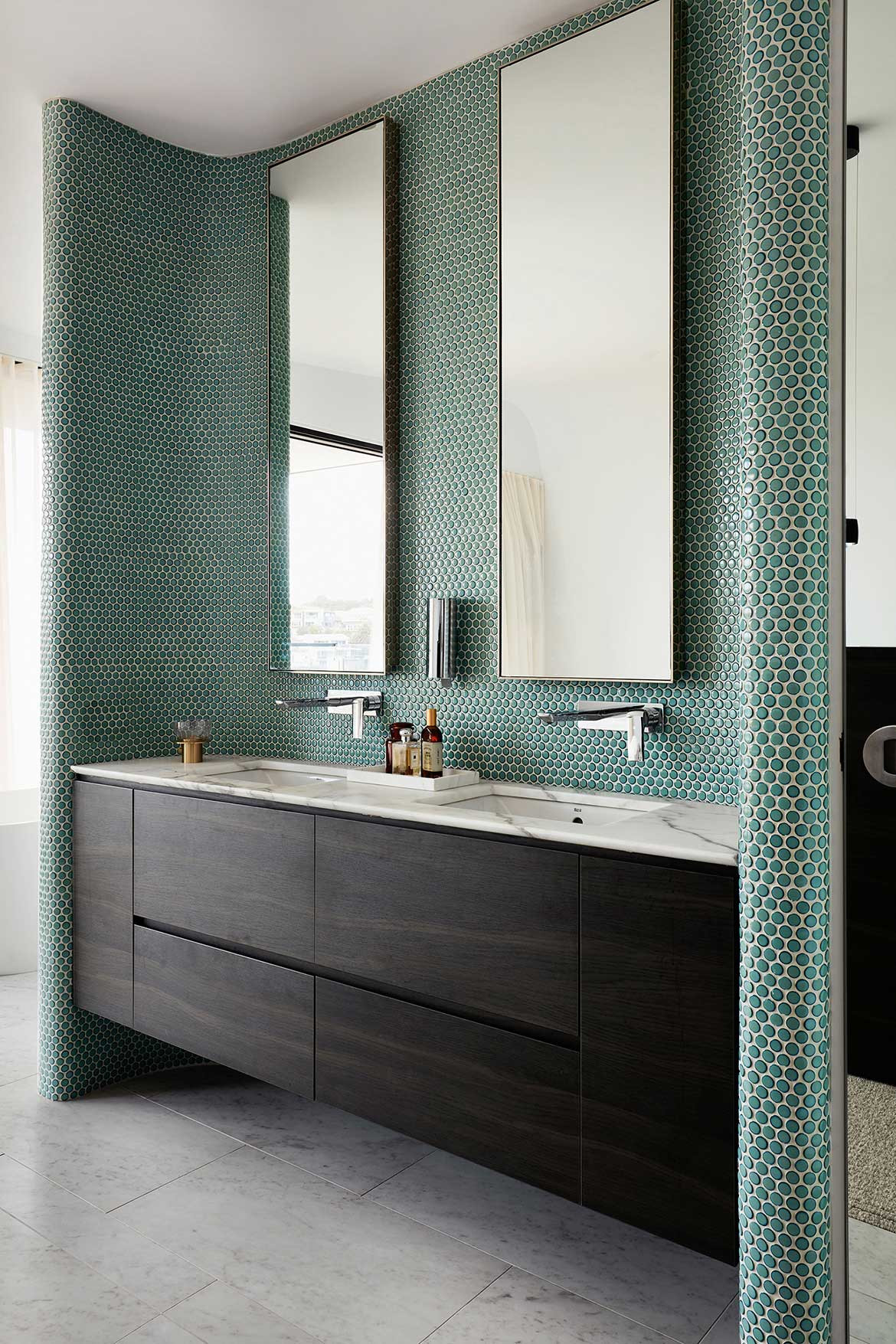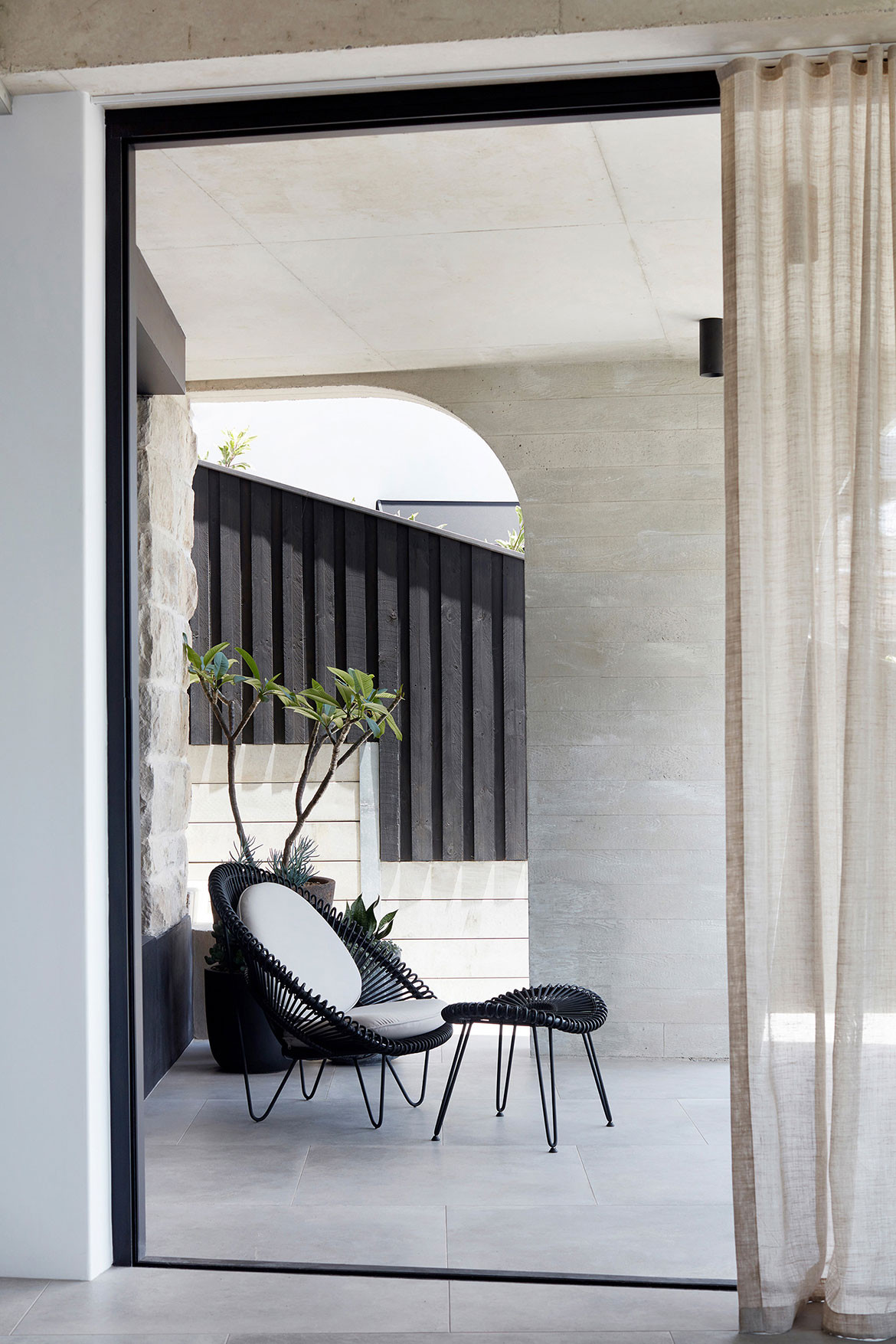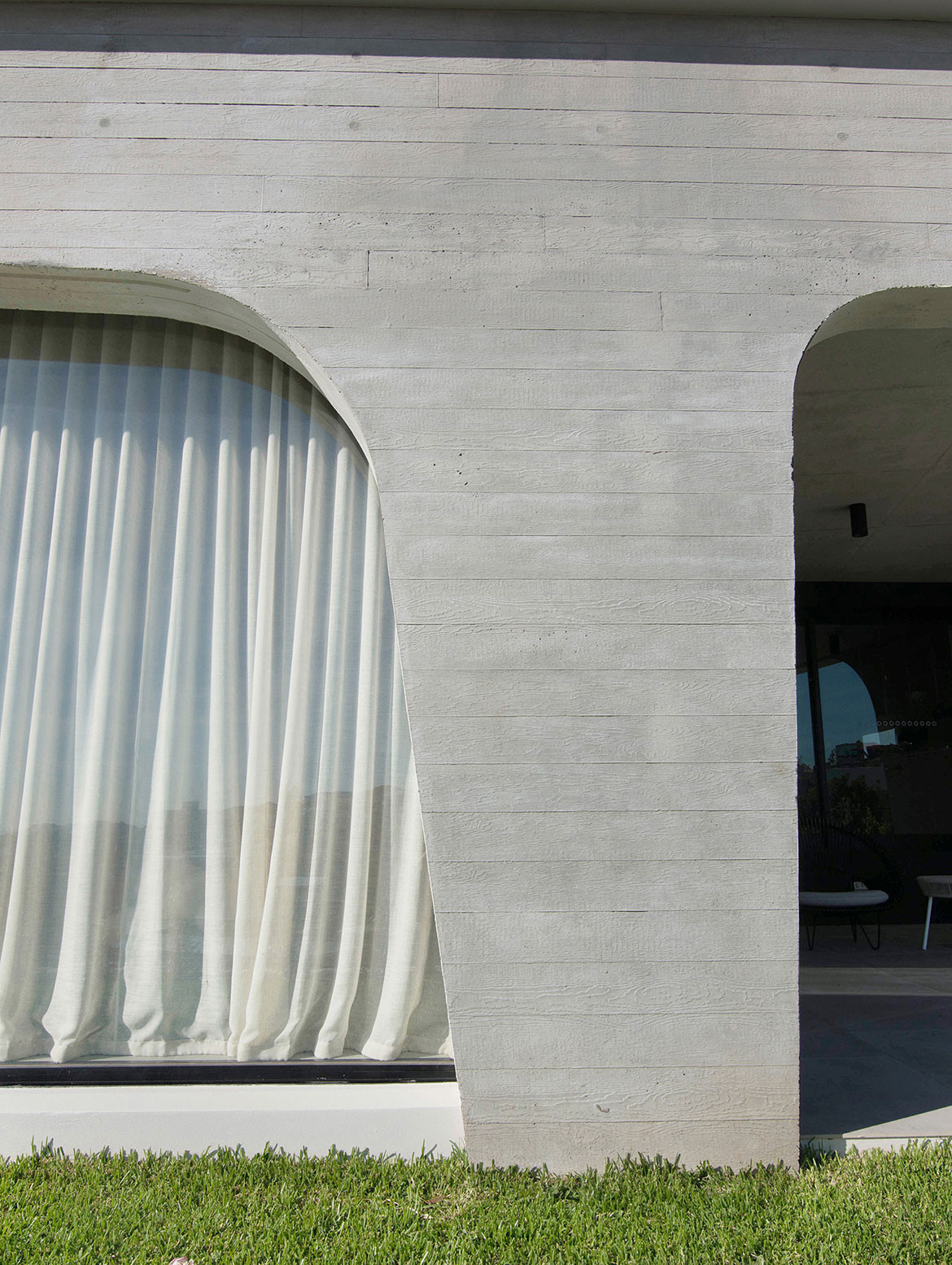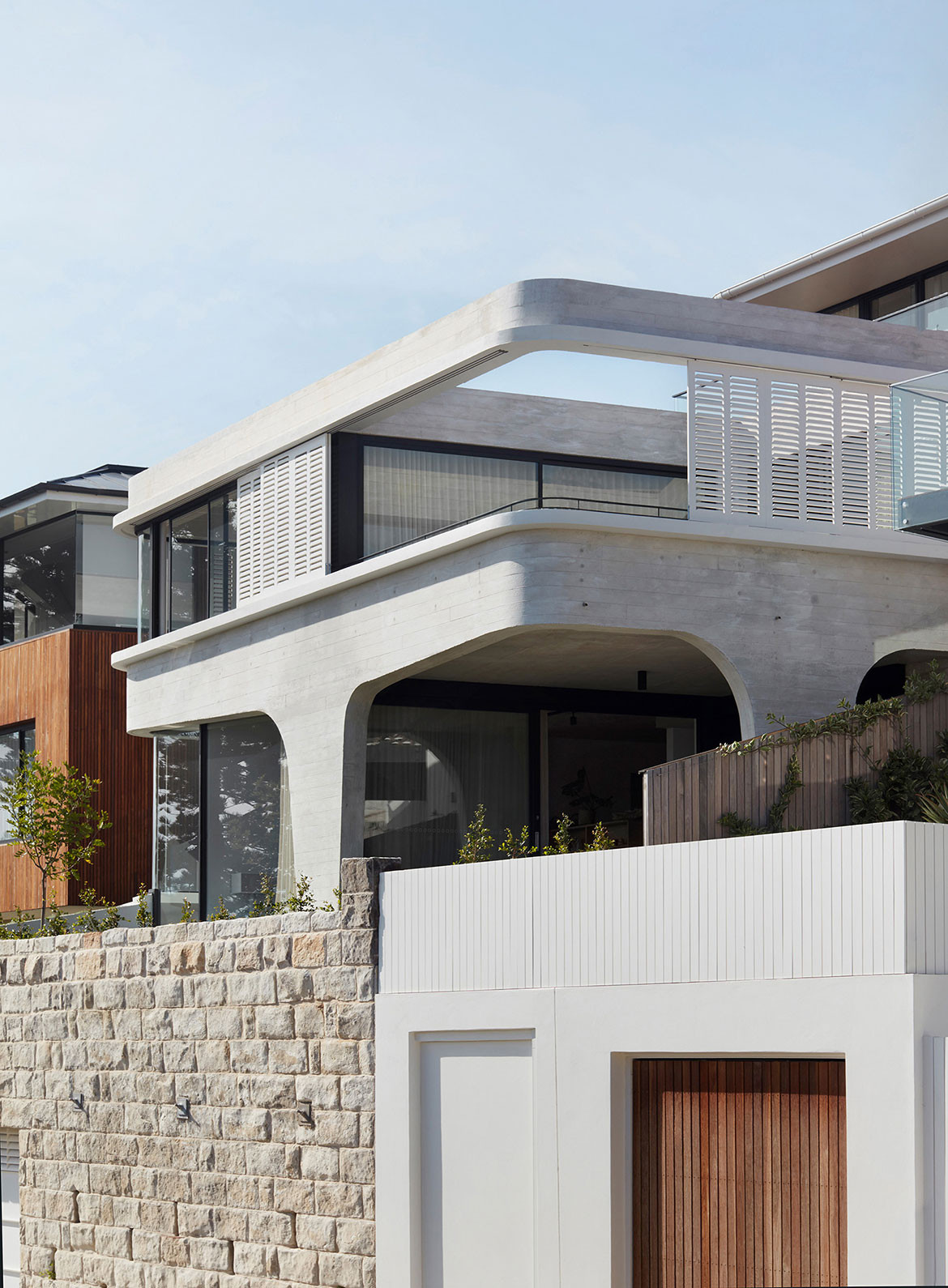 We think you might also like Cascading Apartments by Luigi Rosselli Architects and Alwill Interiors
Tags: Architecture, Bernard Schottlander, Christopher Boots, design, Edward Birch, joshua yeldham, Luigi Rosselli Architects, Pierre Paulin, Prue Ruscoe, rebecca gross, residential, Roscharch Blotch, Spence & Lyda, Spence and lyda, Stone Italiana, Sydney, Tamarama, Tongue n Groove
---