Canvas House in Singapore is a collaboration between Ministry of Design and Figment. Their challenge was to design the blurred line of time, conserving the past while simultaneously creating space for present and future.
The heritage shophouse has been transformed into co-living accommodation for expats. Four characterful suites, each with ensuite and desk, offer peaceful privacy to residents while communal lounges and the rooftop garden welcome gathering.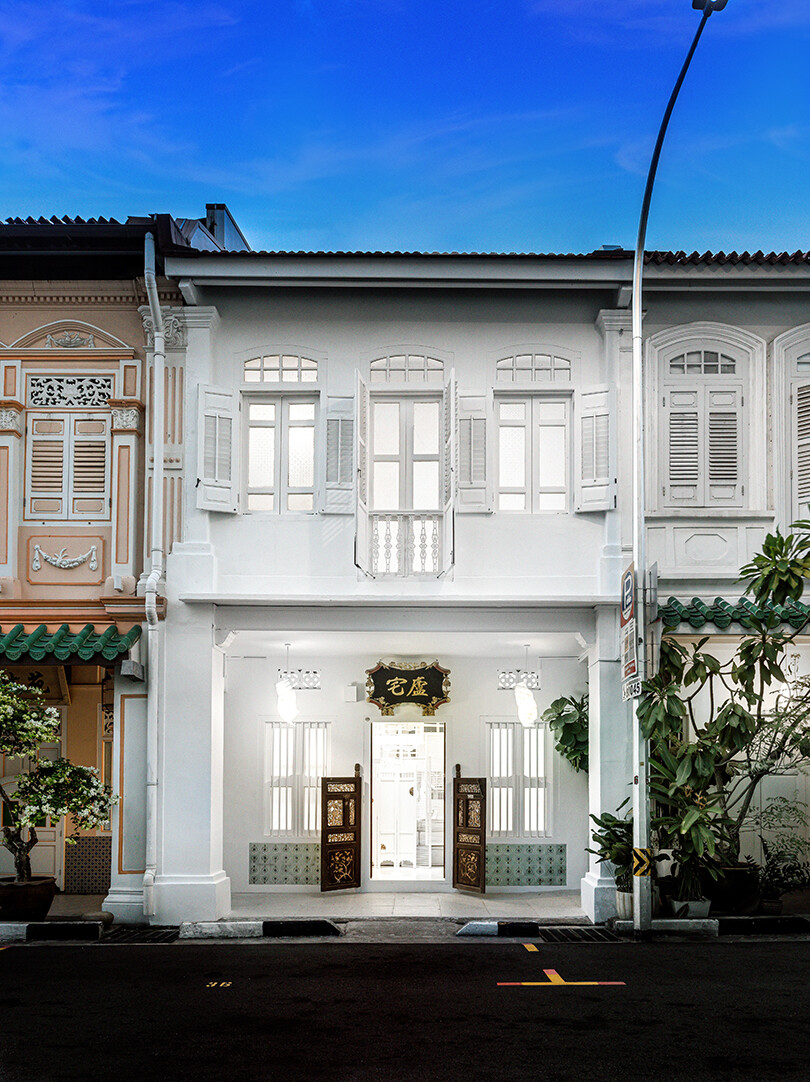 Rich ornate timber doors contrast the white external façade. Upon entering, the chaos from outside tapers away as the eyes adjust to the blanketed white of the interior.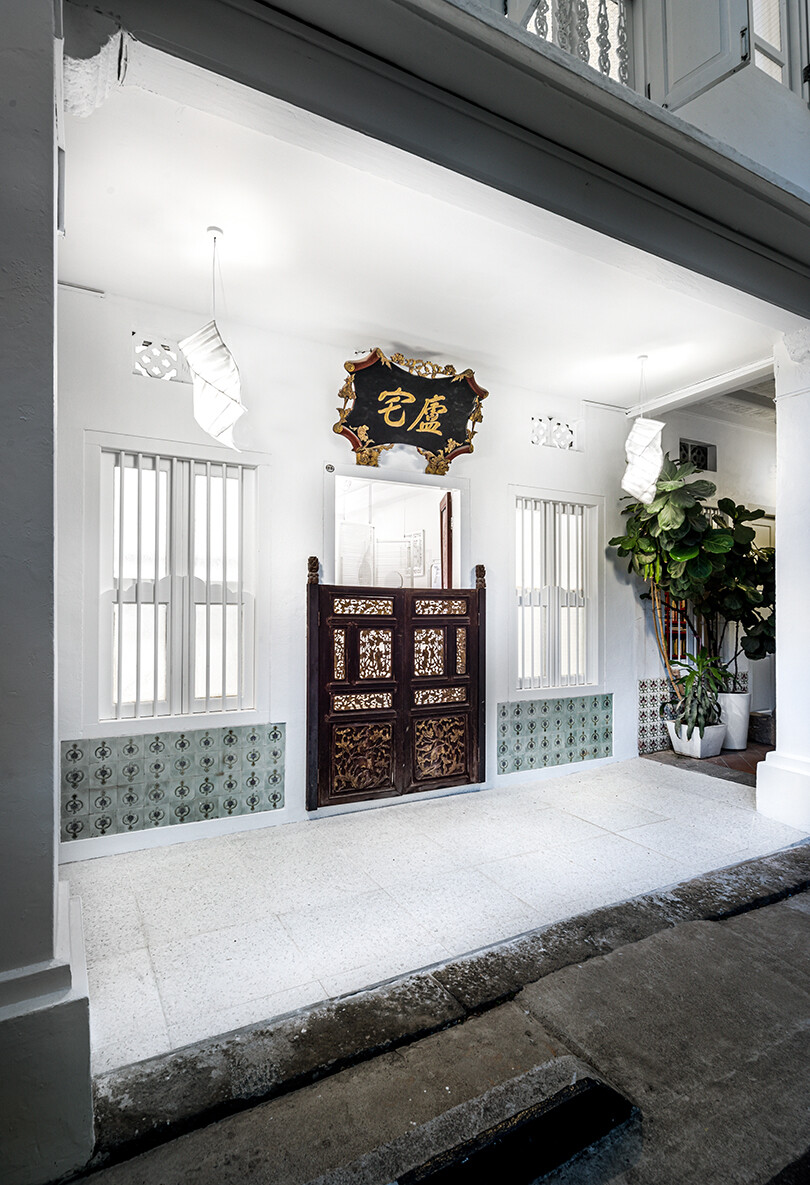 The team consider historic dwellings as "repositories for memories". This notion of time is translated in the design through layering that visually represents transitions.
Curated circular reveals of lit brickwork on the walls and timber on the stairs provide portholes through the white canvas of present-day from its history. A launchpad for the design approach, Jefferson's quote has been crafted into a blue and blood-orange neon artwork, diffusing light onto the crisp white reflective floor.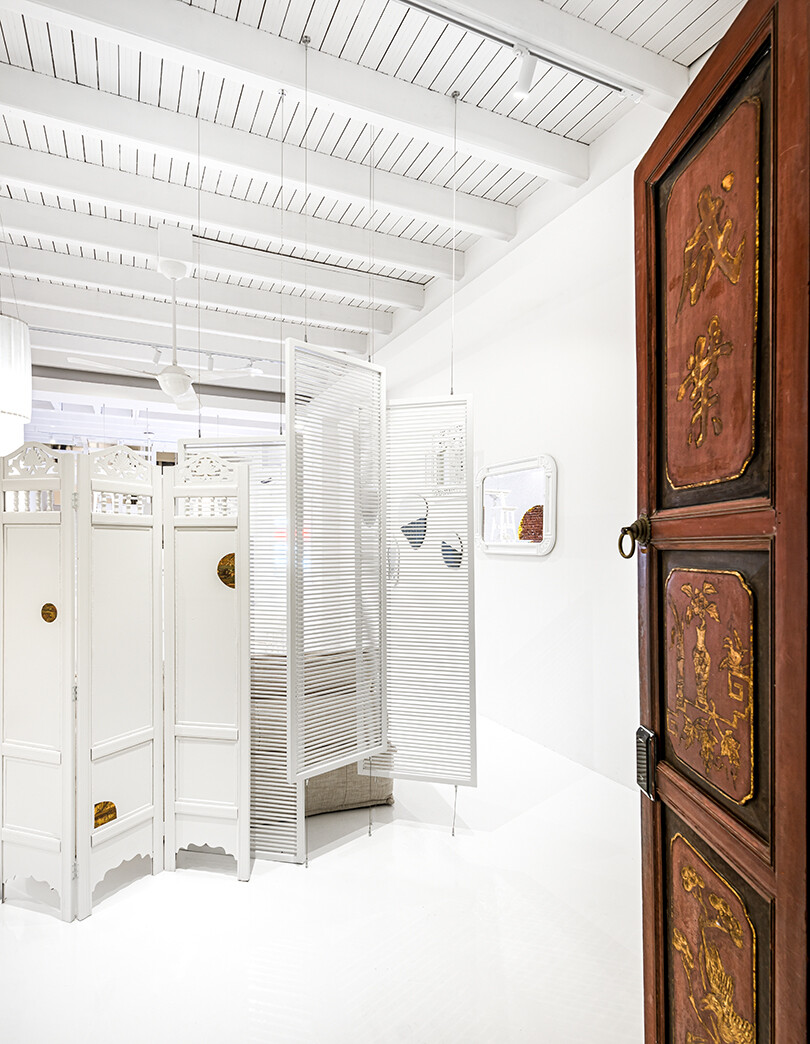 The hero is the blank canvas itself, the seemingly simple application of white – everywhere. Upcycled decorative furnishings are painted white. Floors and ceilings are white, while the white stairways float in space casting tones of shadowy white.
Boundaries between objects are ambiguous, like an Escher drawing that floats in space gradually morphing unconventionally.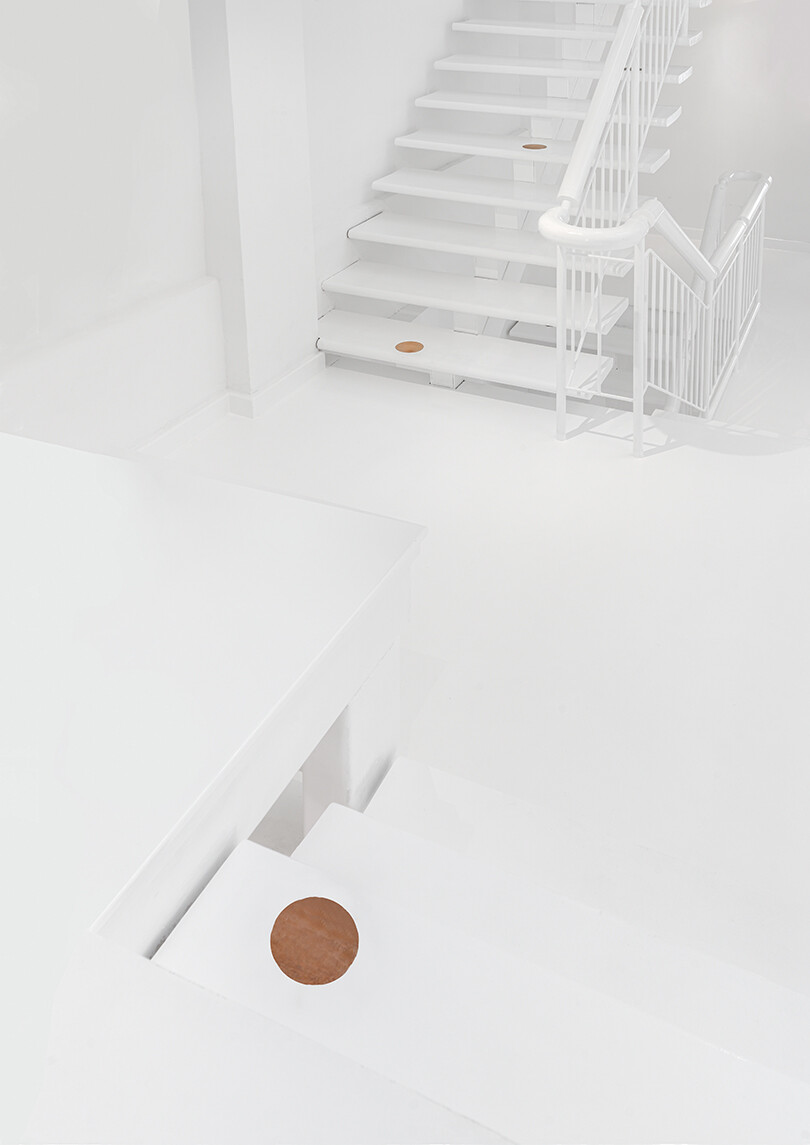 Line, light and texture frame aspects, navigating the white space. Perpendicular lines, from ceiling floorboards to room dividers, delineate zones of the interior. Geometric shapes of revealed oaky floorboards beneath beds are intended as a shadow of the past on the present.
A gallery wall of mirrors reflects mini compositions that the naked eye alone could not compose. Interior windows offer vignettes of neighbouring spaces while exterior windows frame the outdoors as artworks. Light is celebrated through the work of local artist Kang, whose organic cocoon-like light forms hang in the living room and atrium.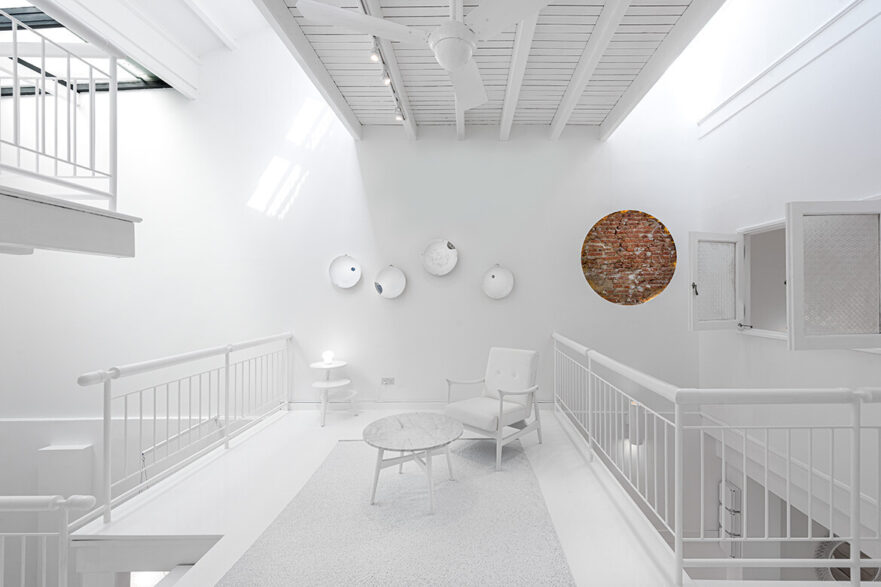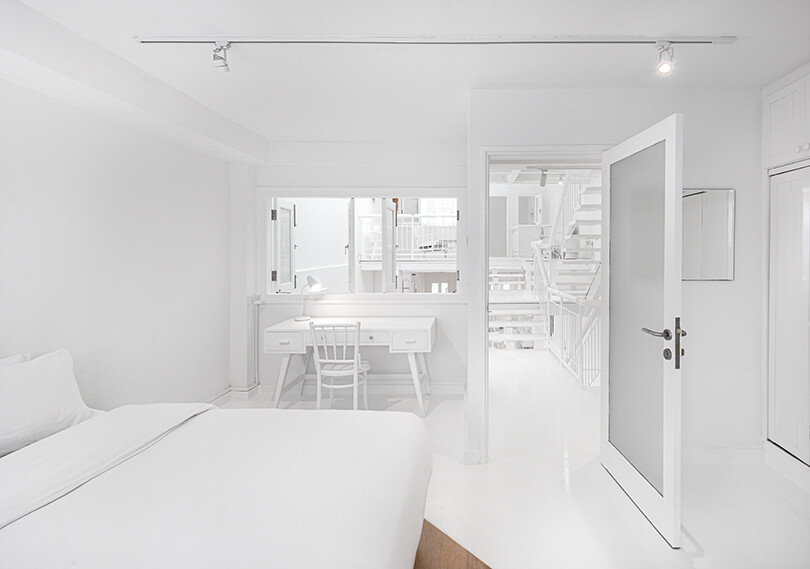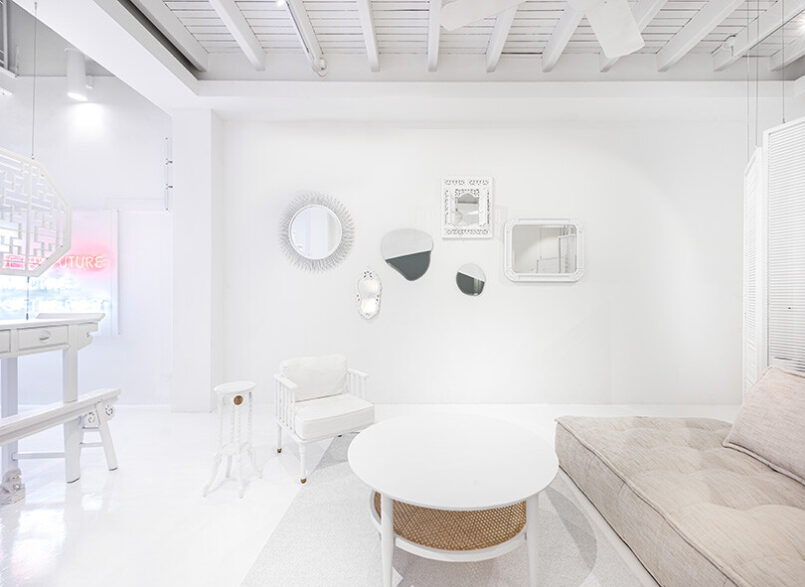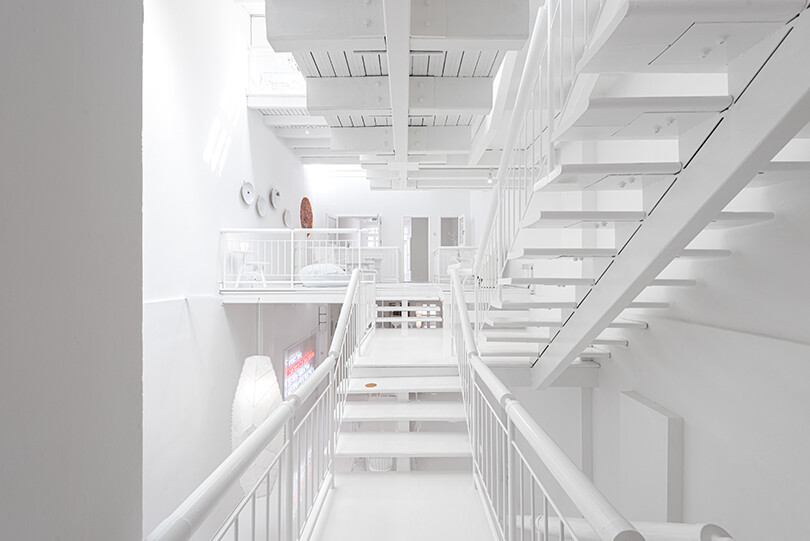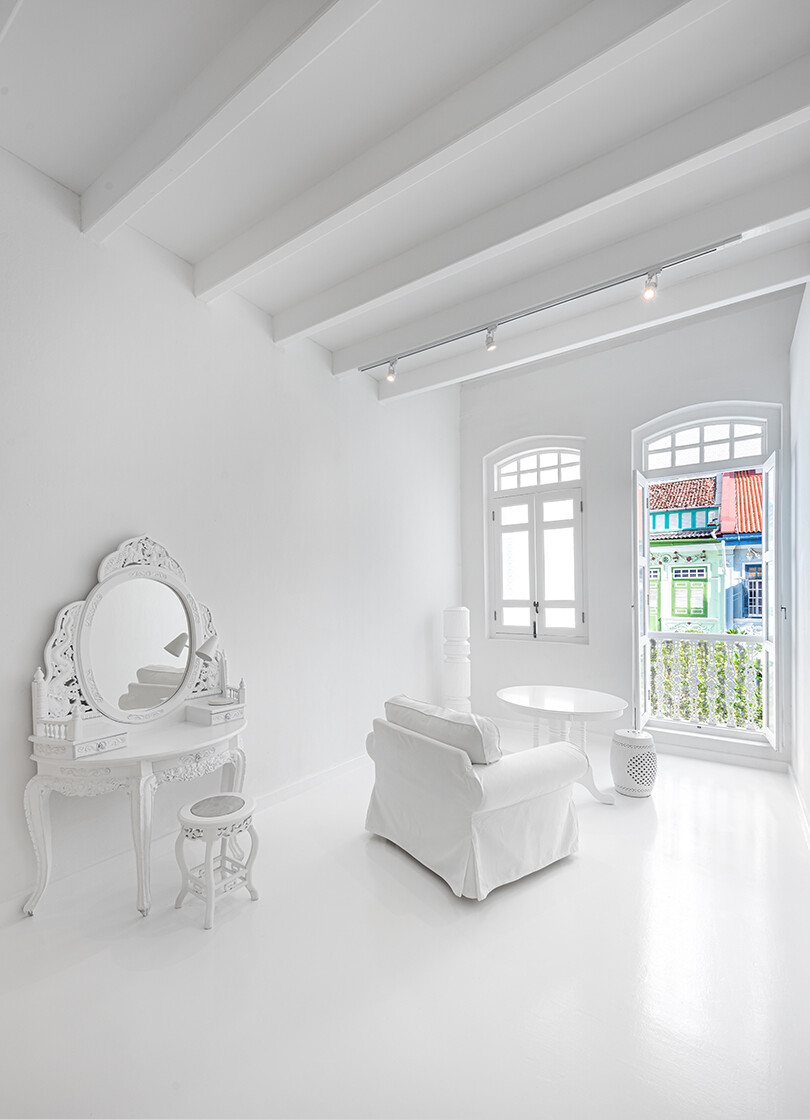 Canvas House, through a neoteric use of white, instils a calming sense of infinity where past, present and future possibilities entwine. In doing so, this is a place that whispers to residents to let go — remembering the past, living in the present and dreaming of the future.
Project details
Architecture & interiors – Ministry of Design
Photography – Edward Hendricks
We think you might like this project, The Prestige Hotel, also by Ministry of Design
---