When the residents of Salmon Avenue, Steven and Ainsley, decided their "forever house" was to be a new residence made from concrete, their research led them to the director of FGR Architects, Feras Raffoul, who had designed and built his own concrete and glass house.
Feeling they were on "the same wavelength" kept the brief simple. "We pretty much asked for a concrete home that's light and bright – then we were happy to let Feras do his thing," says Ainsley.
"My home is an example of experimenting with concrete and seeing where the whole idea of a peeled back palette takes things. This is a more evolved version – it's series two," Feras says. One key design ambition was to give the clients privacy from the street. Set foot inside and the emphasis turns to visual connectivity, light and acoustic privacy for the occupants, explains Feras.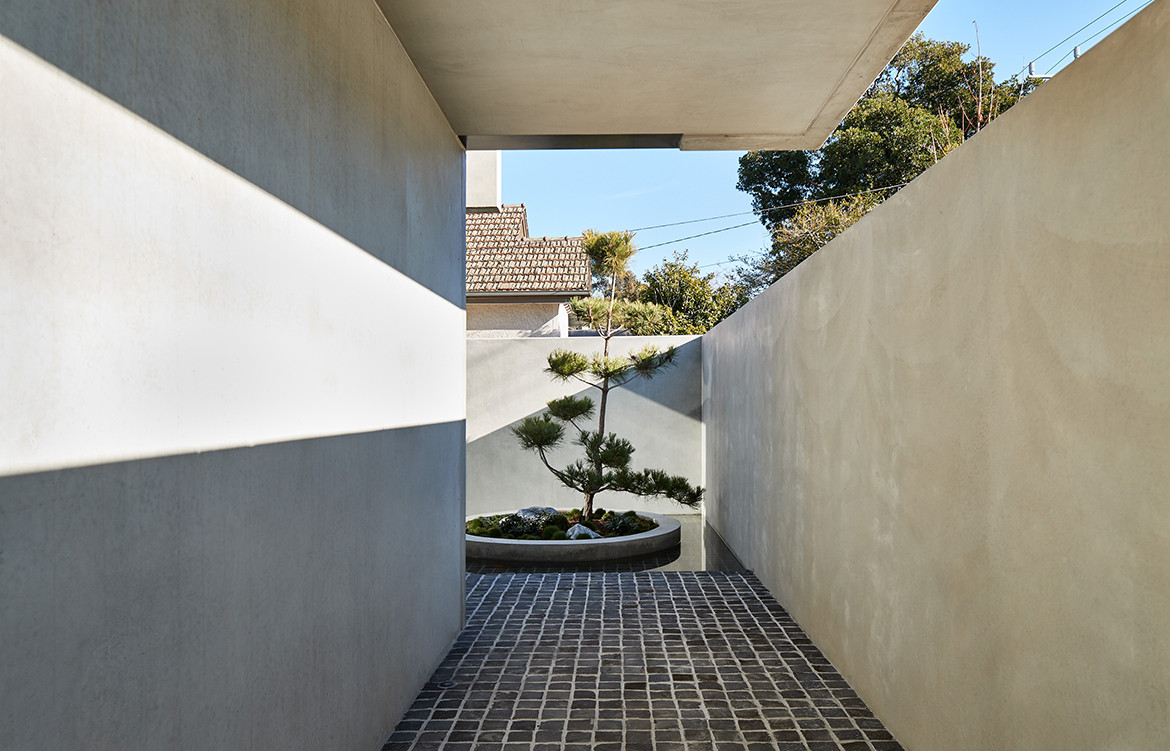 Structurally, 80 per cent of the couple's new home is concrete and glazing softened by timber cabinetry and greenery, much of which will mature over time. Gallery-like in feel and generosity, FGR Architects designed and built Salmon Avenue around the needs of the family of four.
According to Feras, a house should "mould itself around" the respective living and entertaining requirements of the kids growing up and of the parents. And it does. "The house works perfectly for our family," says Ainsley. "When the kids are little – being able to see them from wherever you are is important."
Salmon Avenue exploits the 55-metre long site, running from the north edge to the parklands on the southern boundary. Living quarters are housed in the front square element with a downstairs guest room and three bedrooms upstairs, each with a personal bathroom.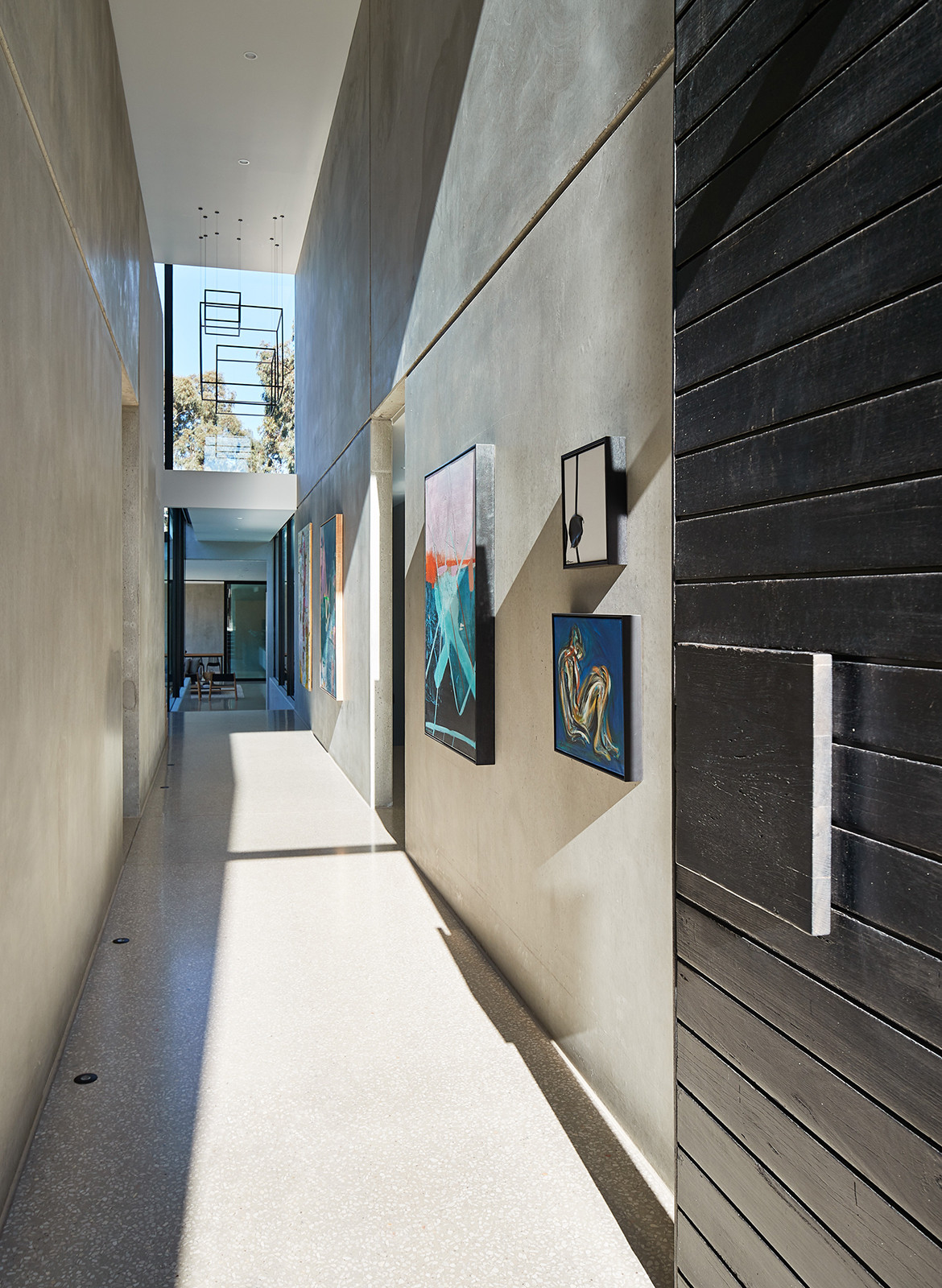 A walkway links the private spaces to a rear linear element, the entertaining quarters. "This is where we live, it's the heart of the home," says Steven. For FGR Architects, overcoming the 3-metre drop that is almost one full floor level, from one end of the block to the other, was one of the project's biggest design challenges. That was in part resolved using a transition space with a second lounge/rumpus room to one side and a laundry with its own service yard tucked away on the other.
The expansive entertaining area, which flows freely between the kitchen (the home's "epicentre"), meals, living and alfresco areas, opens directly onto the pool and garden. In contrast to the new residence, the family had previously been living in a small house. "The kids were ecstatic and would literally run laps from the front door and down to the dining table," recalls Ainsley.
"Having 180-degree visual connection from the kitchen to all spaces means I can organise dinner while the kids are in the pool or the rumpus room and take comfort that I can see them." As the consummate entertaining spaces for hosting large gatherings with extended family, the 4.5-metre long island bench makes a ready grazing station on one half and bar station on the other.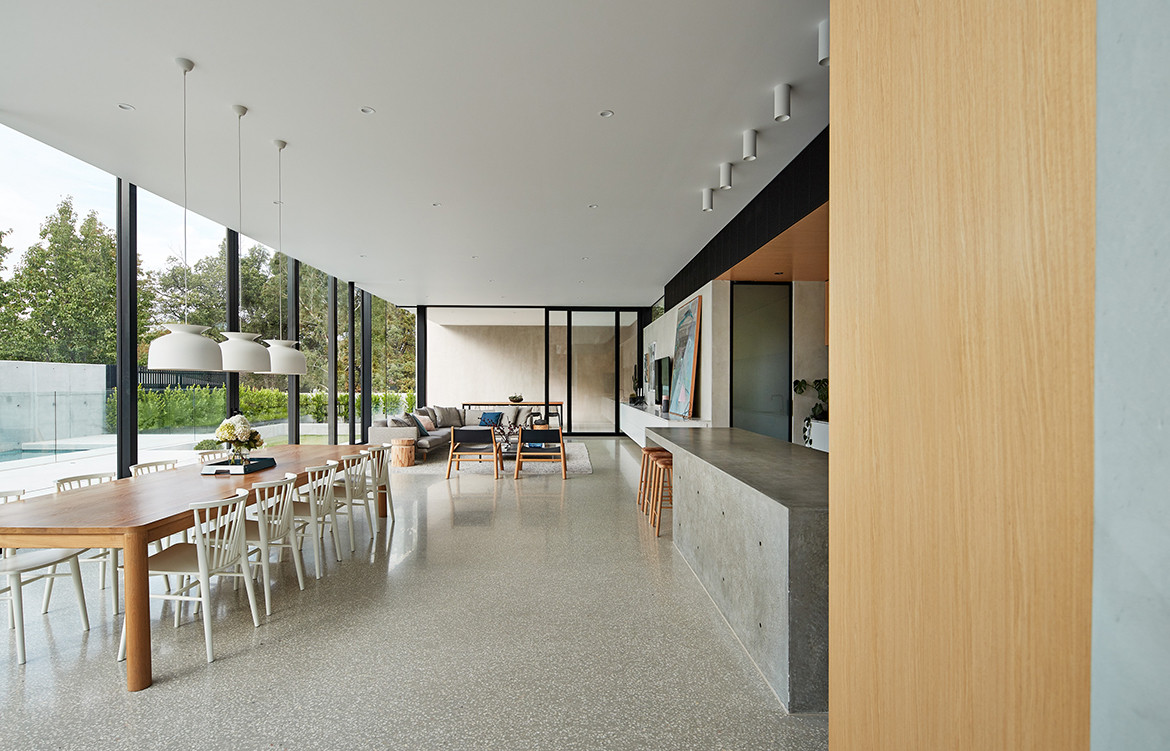 Low maintenance was a must. "I don't want to be home cooking and cleaning all day, I wanted the house to be easy to live in – so that when people come over, this is the way it is," says Ainsley. Delivering that aspiration is the self-cleaning oven, an integrated fridge, day-to-day appliances concealed in a galley-style pantry (stage left off the kitchen), copious storage for "bits and bobs" and having all the bedrooms upstairs.
FGR Architects not only ensured that the home is robust and family friendly but also offers many opportunities for sanctuary. Steven loves watching TV from the beanbag by the pool or hanging out by the fire pit of a summer's evening. For Ainsley, it's a tie between retreating to the master bedroom's mesmerising views on a weekend or enjoying the entertaining spaces.
Perceptions around concrete being cold to live with are dismissed here. "Visitors to the house see the concrete façade and they're not sure what to expect, but with the windows, timber and soft furnishings it's surprising how warm the house is," says Ainsley.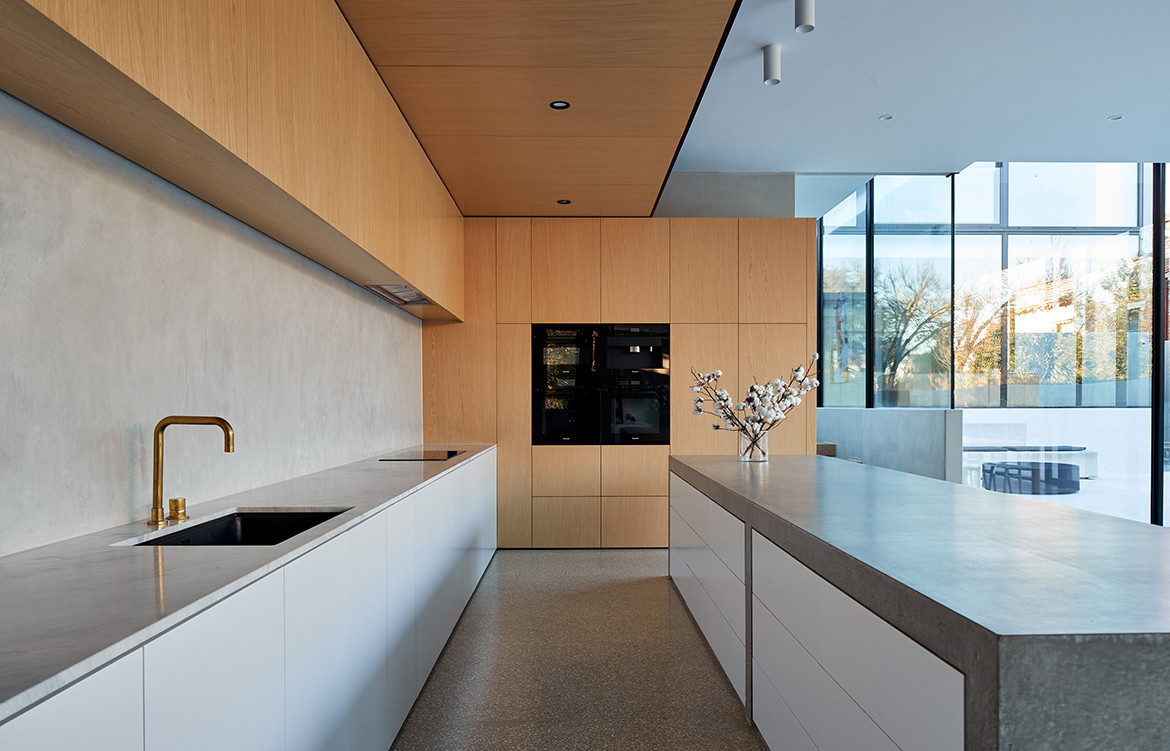 Past experience as a fashion retail manager has instilled conviction in her tastes and preferences.  "I have a strong sense of knowing what I like and what I don't like," she continues. "While some people might be overwhelmed by all of the concrete, for us, it was like, give us a concrete jungle, the more concrete the merrier. I think concrete is very organic – you can pare it back with beautiful more refined elements to balance each other out."
A printer by trade, Steven is a stickler for quality materials and perfect finishes. The build was a collaboration between AMPM Projects and FGR Architects, with Steven and Ainsley heavily involved in all aspects of the construction and finishes.
Building a concrete home is not for overthinkers, cautions Feras. "Concrete is an unforgiving product, you don't get to procrastinate – you have to make decisions early, be comfortable about it and move on."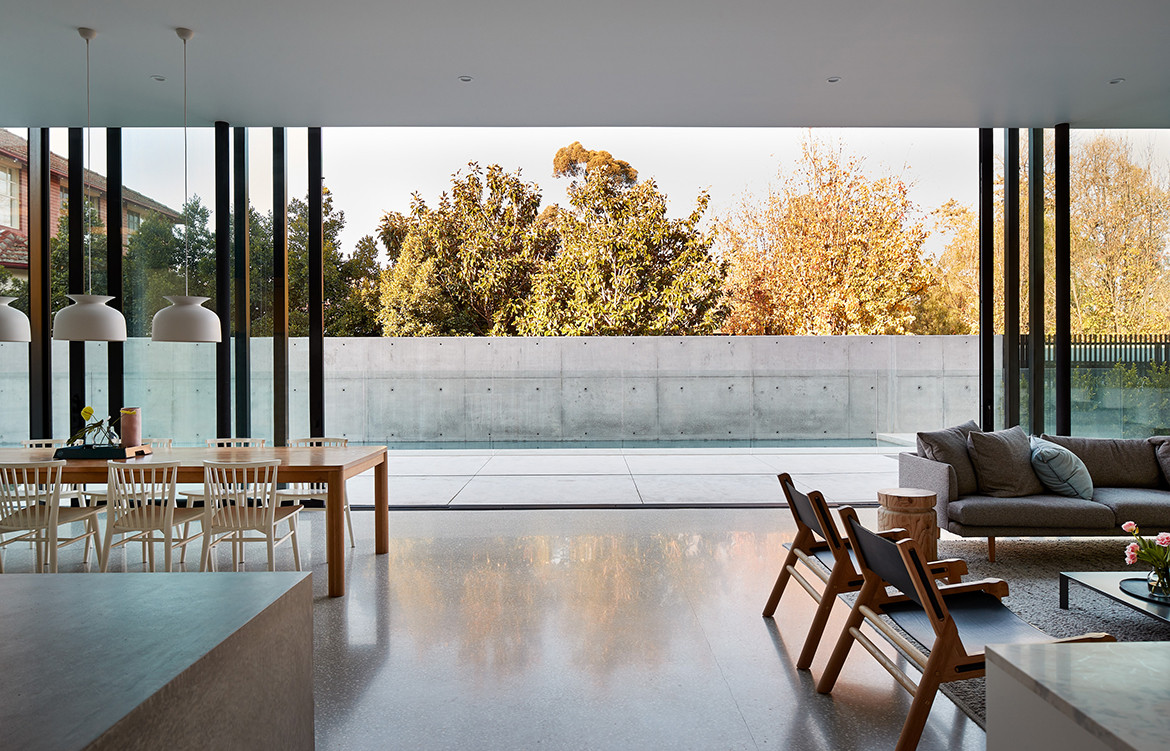 Four custom made, oversized, precast concrete panels for the passage walls run horizontally, a method that eliminated extraneous lines. "That's the intention of the alchemist – to allow you to enjoy the surface area and have fewer items intruding on your eye space," points out Feras.
Another prime example of the fastidious detailing was ensuring all electrical conduit had been allowed for within the precast walls prior to installation which resulted in recessed power points and light switches without visible cables. "It's a lot of work to get there, but once you execute you get a really clean result," says Feras.
Synonymous with FGR Architects ethos, the home explores the application of one material like concrete to the nth degree – from a wall, floor and even a ceiling application – and then infilling the gaps in between with glazing, joinery and blinds.
Fundamentally, the occupants are provided with a base palette to create their own tone within the space. "In 10 years time, you could take all the furniture out and put a new infill here for a totally different feel," says Feras.
While Steven and Ainsley have built houses with a modern slant before, they admit their experiment with concrete has taken their love of minimalist style to the next level.
FGR Architects
fgrarchitects.com.au
Photography by Peter Bennetts
Dissection Information
Polished concrete flooring by UltraGrind
Engineered oak flooring supplied by Woodcut
Elba marble benchtops from Artedomus
Bathroom Corian benchtops supplied by A Series
Charred timber door from EcoTimber
Nook sofa,  Harvest armchair, Wilfred armchair and Alby ottoman from Jardan
Rug from Armadillo & Co
Linen from Cultiver, Kip&Co and Adairs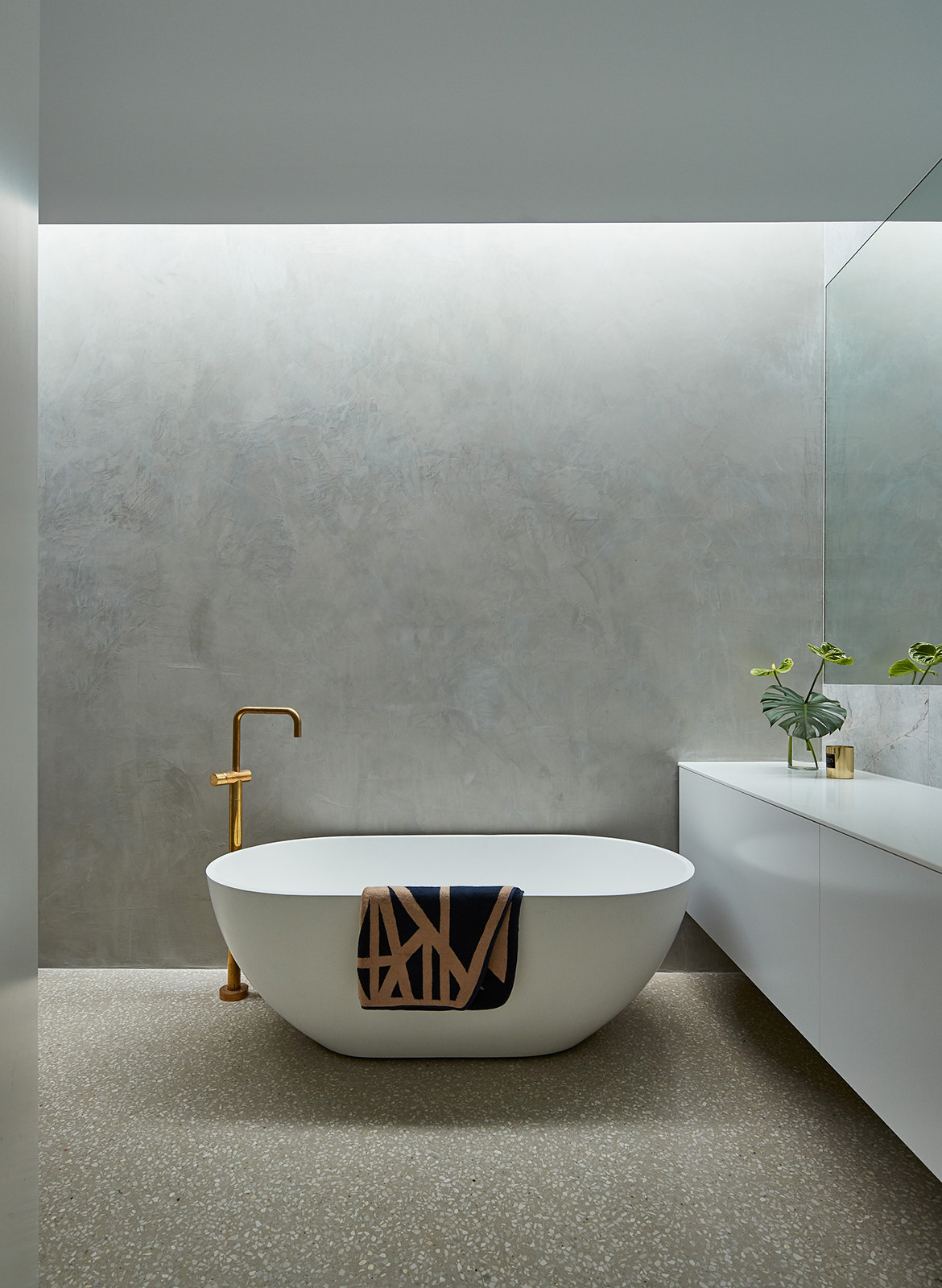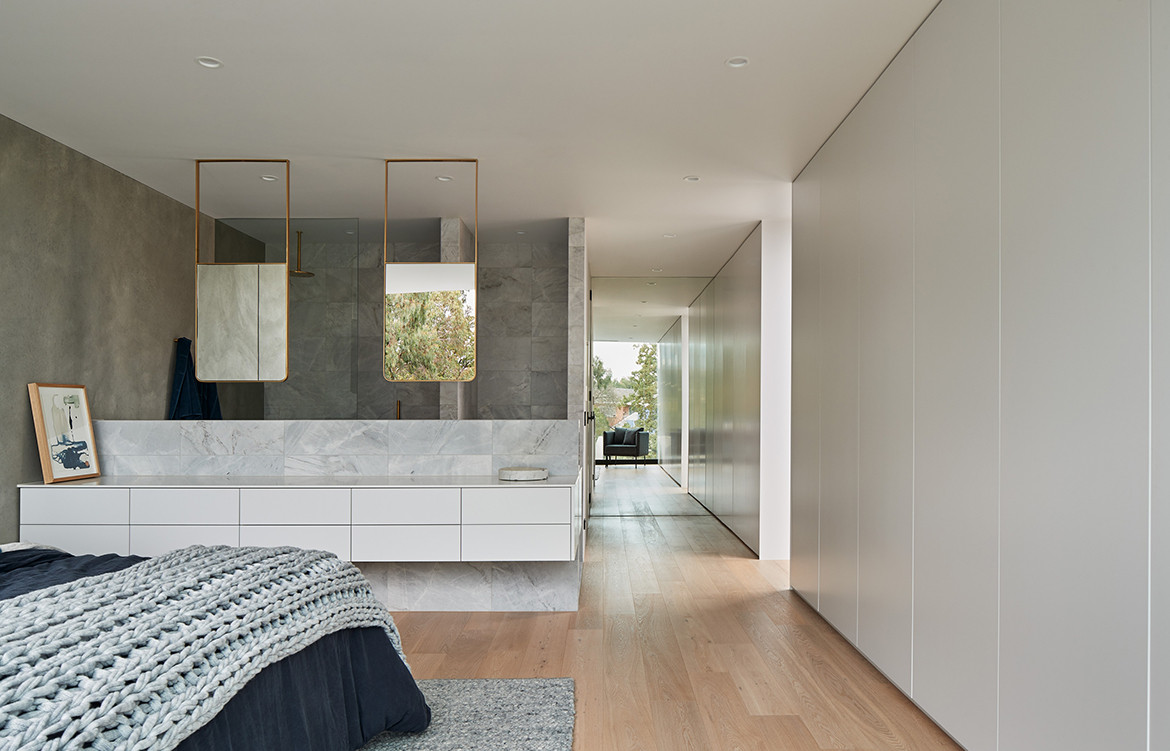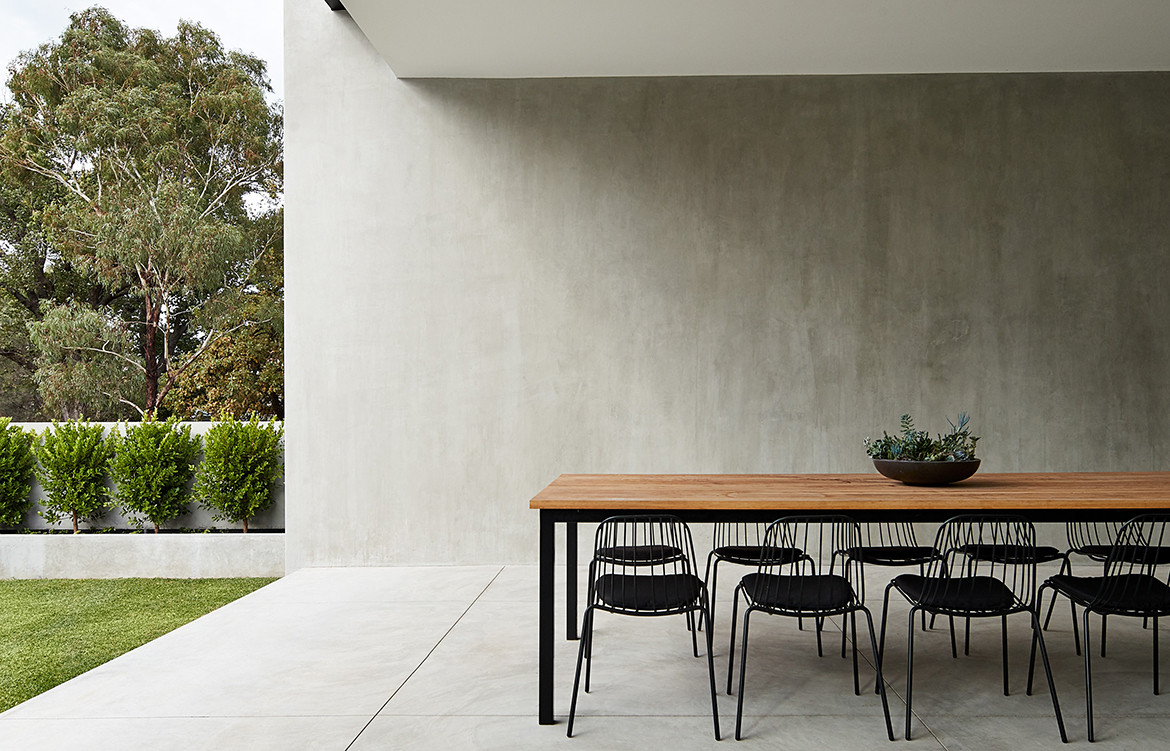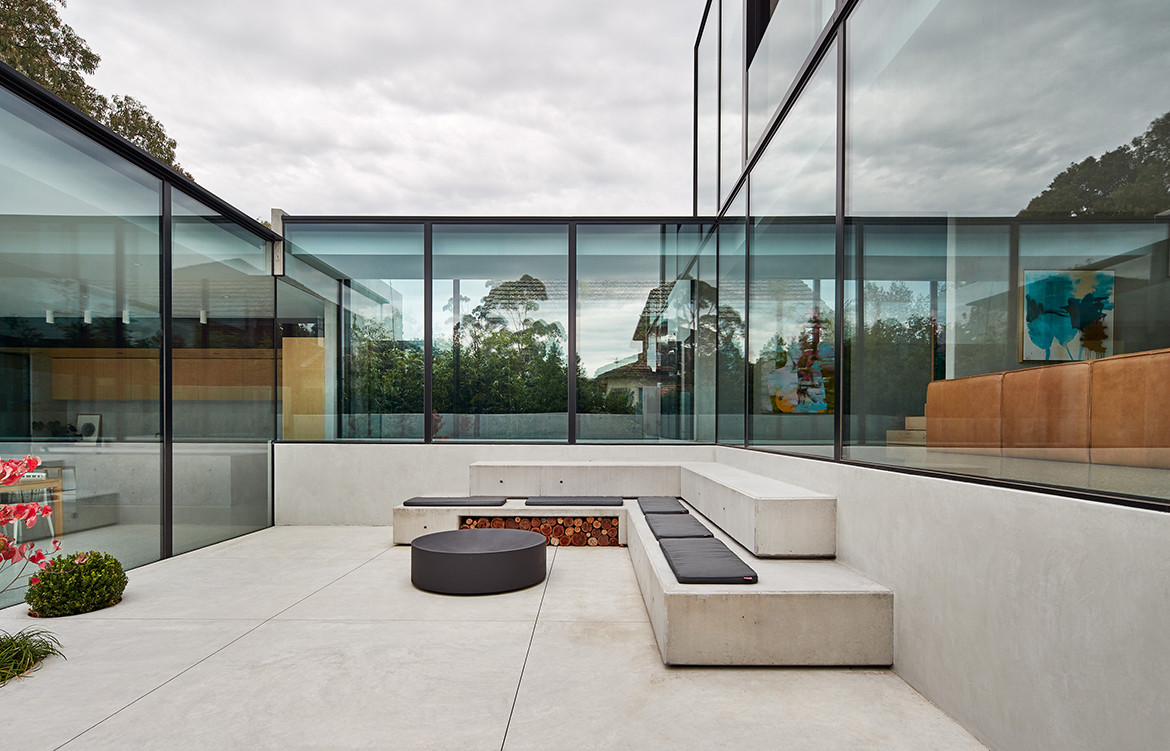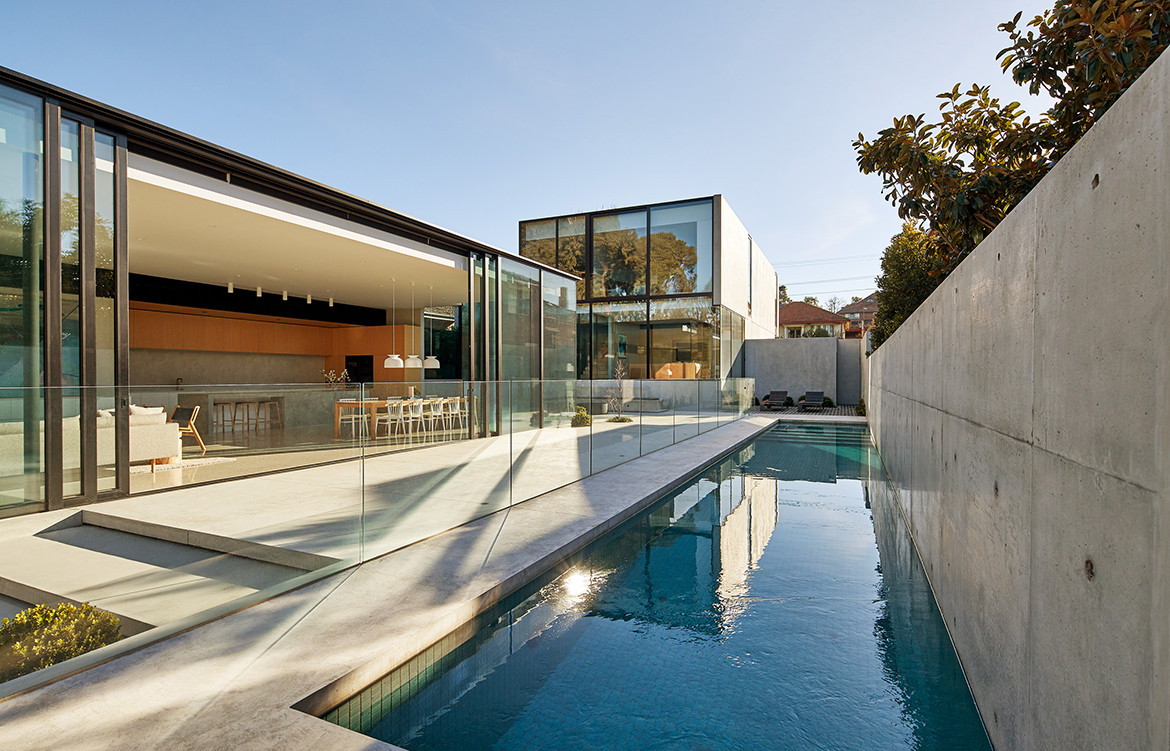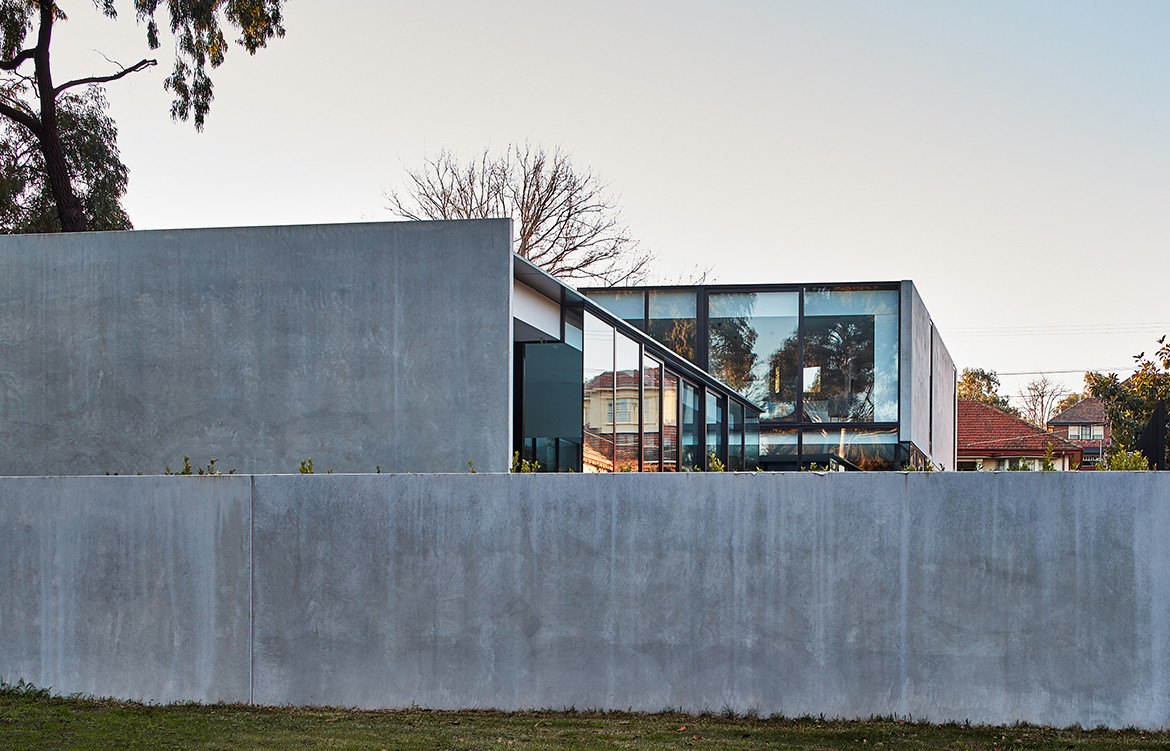 We think you might also like Full Circle by X+O in Ubud, Bali. 
---