The Gap Bushland House is home to a retired couple who engaged Arcke to design a comfortable, compact house that took advantage of views and the natural breeze on the elevated block of land. Located on a sloping site in The Gap on Brisbane's city fridge, the house is bordered by extensive natural bushland and has a unique microclimate and bushfire (BAL-19) overlay. Arcke designed an L-shaped house with passive solar design and tactile materiality to create engagement with the house, climate and land. "The building truly responds to and connects with the landscape in a symbiotic coexistence," says Matt Kennedy, founder of Arcke. "In some places, the house embeds itself within the landscape, whilst in others, the house floats lightly above the ground."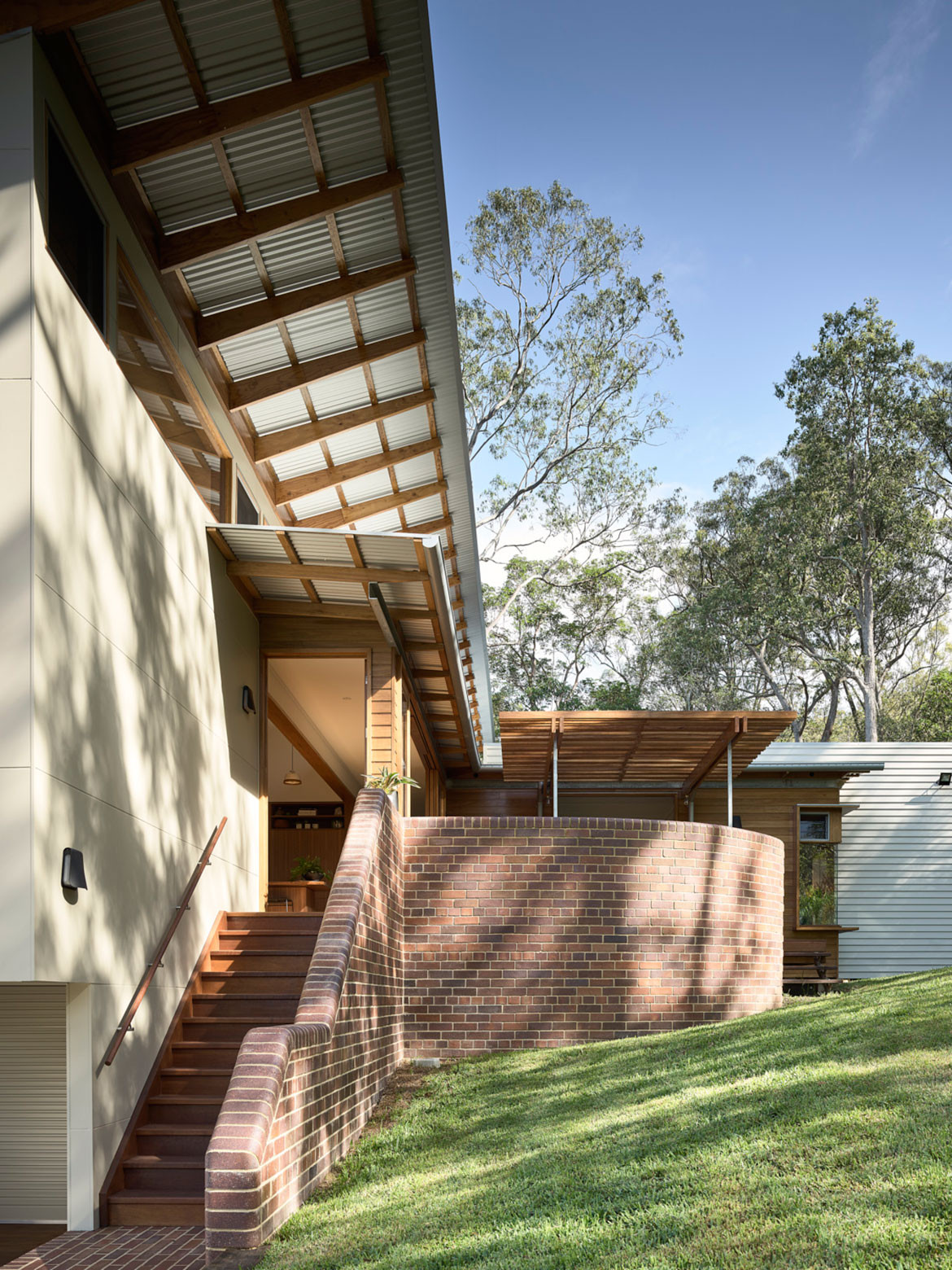 A crafted brick path leads to the entry of the house, transitioning into a timber staircase with a brick-wall bannister. The earthy, tonal hue of the brickwork reflects the colours of the land and the smooth, rounded corners of the brick wall invite tactile engagement. The brick wall curves gently around a timber deck at the corner and anchors the house to the site.
The L-shaped house is designed to harness the prevailing breeze and winter solar gain. The north-south wing accommodates bedrooms and bathrooms and has a close-up view of the surrounding bush. The east-wing wing is long, slender platform with living, dining and kitchen, and has the sense of floating over the land. South-facing windows frame views of the valley, and the narrow width allows light penetration and cross ventilation. Mimicking the slope of the site, the pitched roof rises to the north with high louvres to purge hot air, and eaves to protect the interior against summer heat, while allowing winter sun in. "The incorporation of well-considered passive design principles tailormade to the site means that air-conditioning is rarely required," Matt says.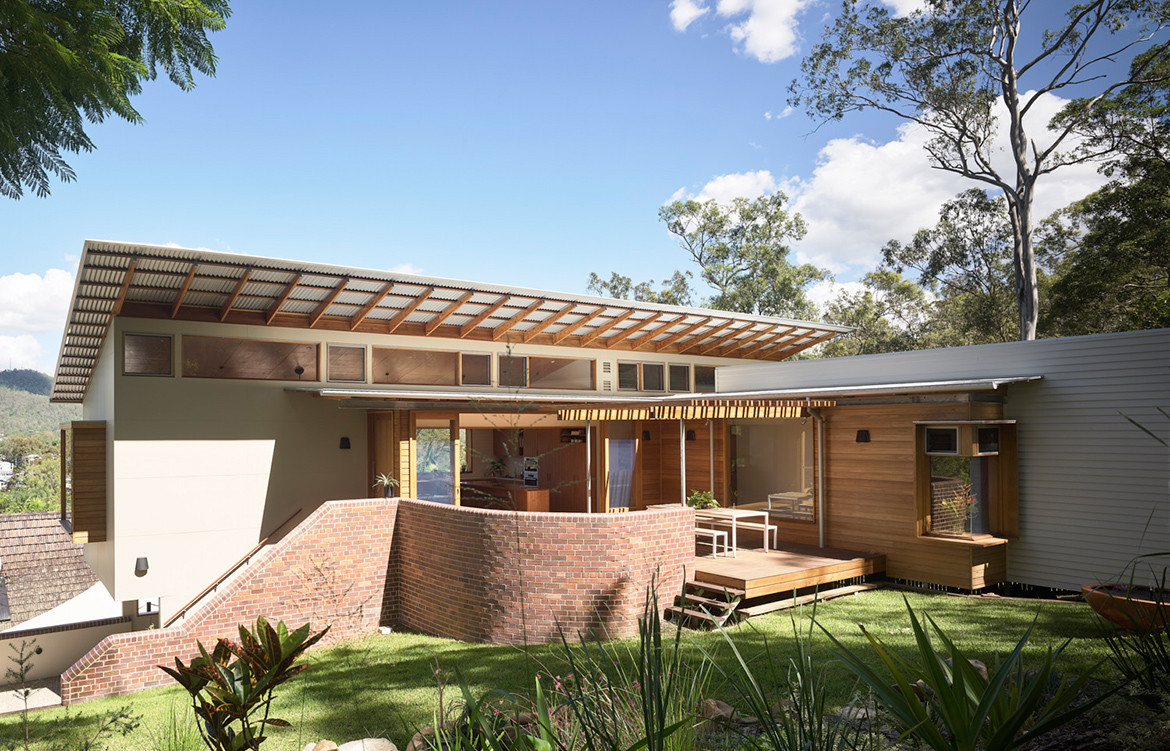 A 20-metre clearance zone between the bush complies with BAL-19 requirements, as do the specially designed windows that resist ember attack. "The most challenging aspect was how to preserve the open nature of the house and good cross ventilation and light, whilst simultaneously meeting the requirements of relevant Australian standards and alike where all operable windows required screening," says Matt. The large external sliding windows have a parallel sliding screen to obstruct embers and burning debris, while the timber frames retain the warmth and tactility of the material palette.
Like the brick wall and timber frames, the interior palette encourages engagement with the materials of the house. Ply ceilings, timber joinery and sustainably and locally sourced blackbutt timber provide textural warmth, and green bathroom tiles are fresh interpretation of the bushland surroundings. "Movement into and through The Gap Bushland House is a joyous engagement with landscape," says Matt.
Arcke
arcke.com.au
Bluebird DC (Builder)
bluebirddc.com.au
Photography by Scott Burrows
Dissection Information
Kitchen benchtop made of recycled blackbutt
Tiles by Classic Ceramics
Haiku Fans by Big Ass Fans
Kav Ceramic Pendants by Dezion Design above kitchen island
Droplet Pendant by Viktor Legin in living room
Timber Wall Lights in stairwell by Pierre and Charlotte
Downlights from Brightgreen
Tapware by Astrawalker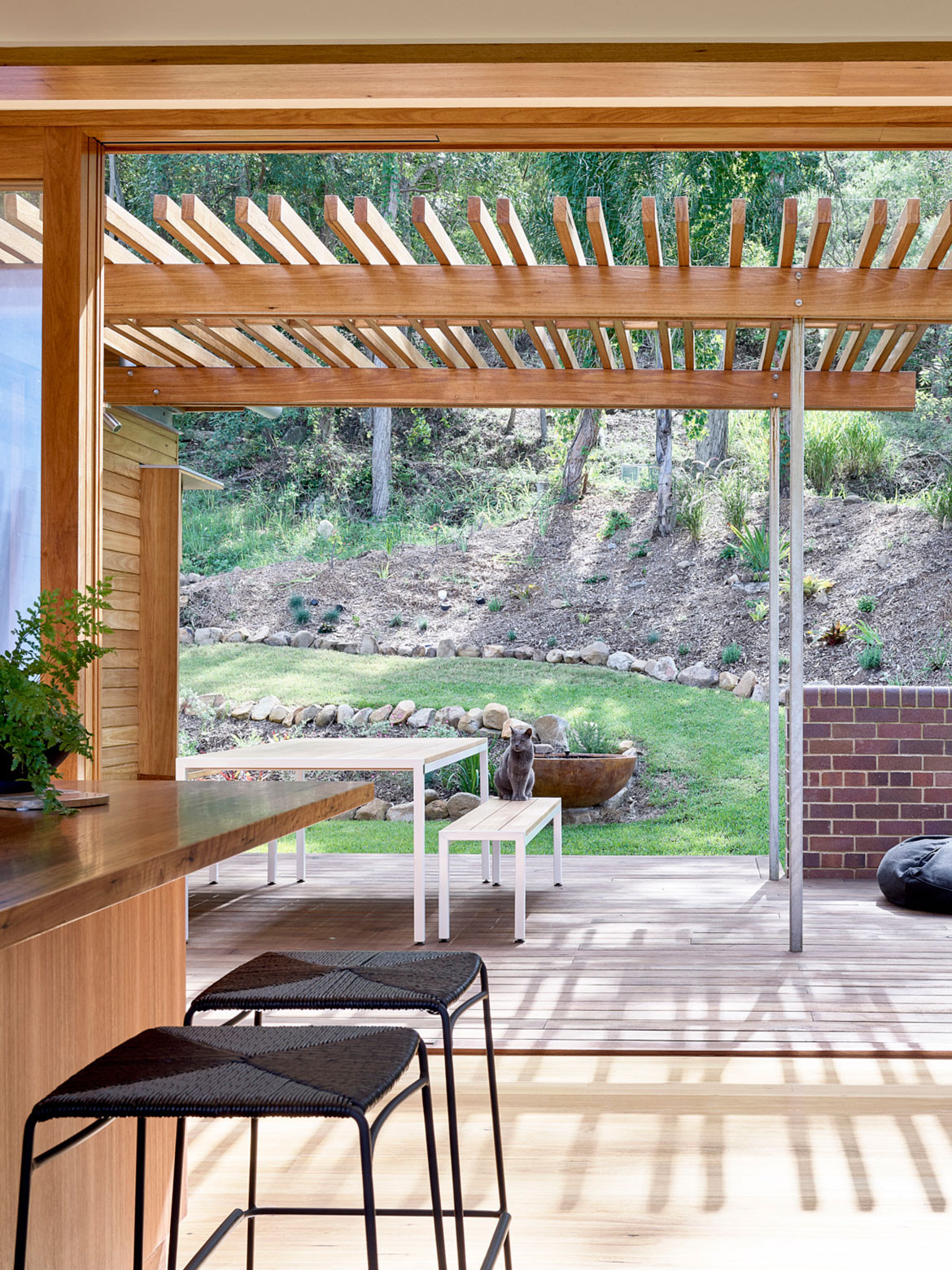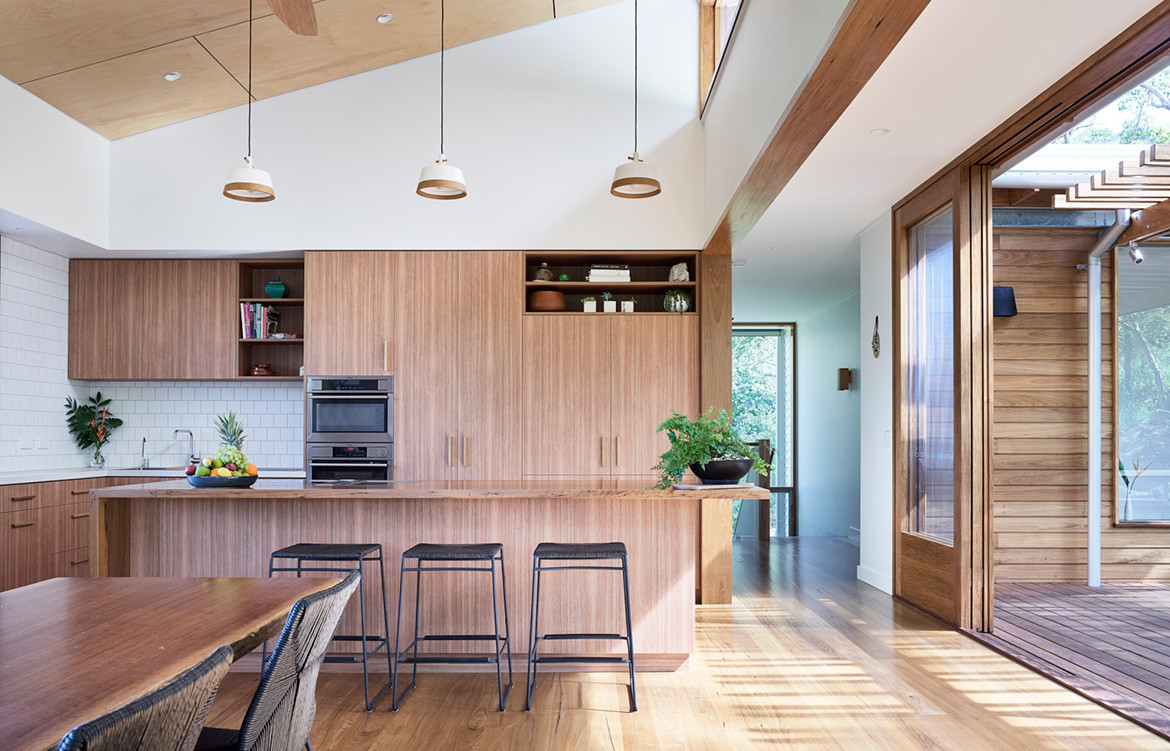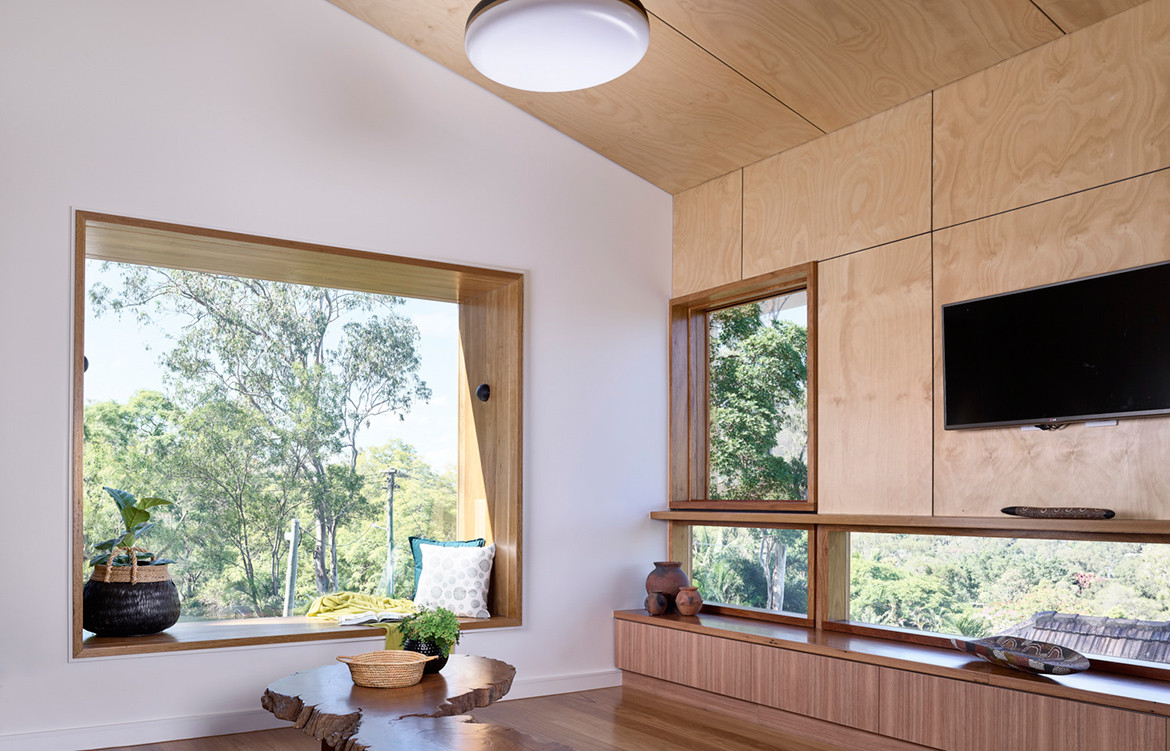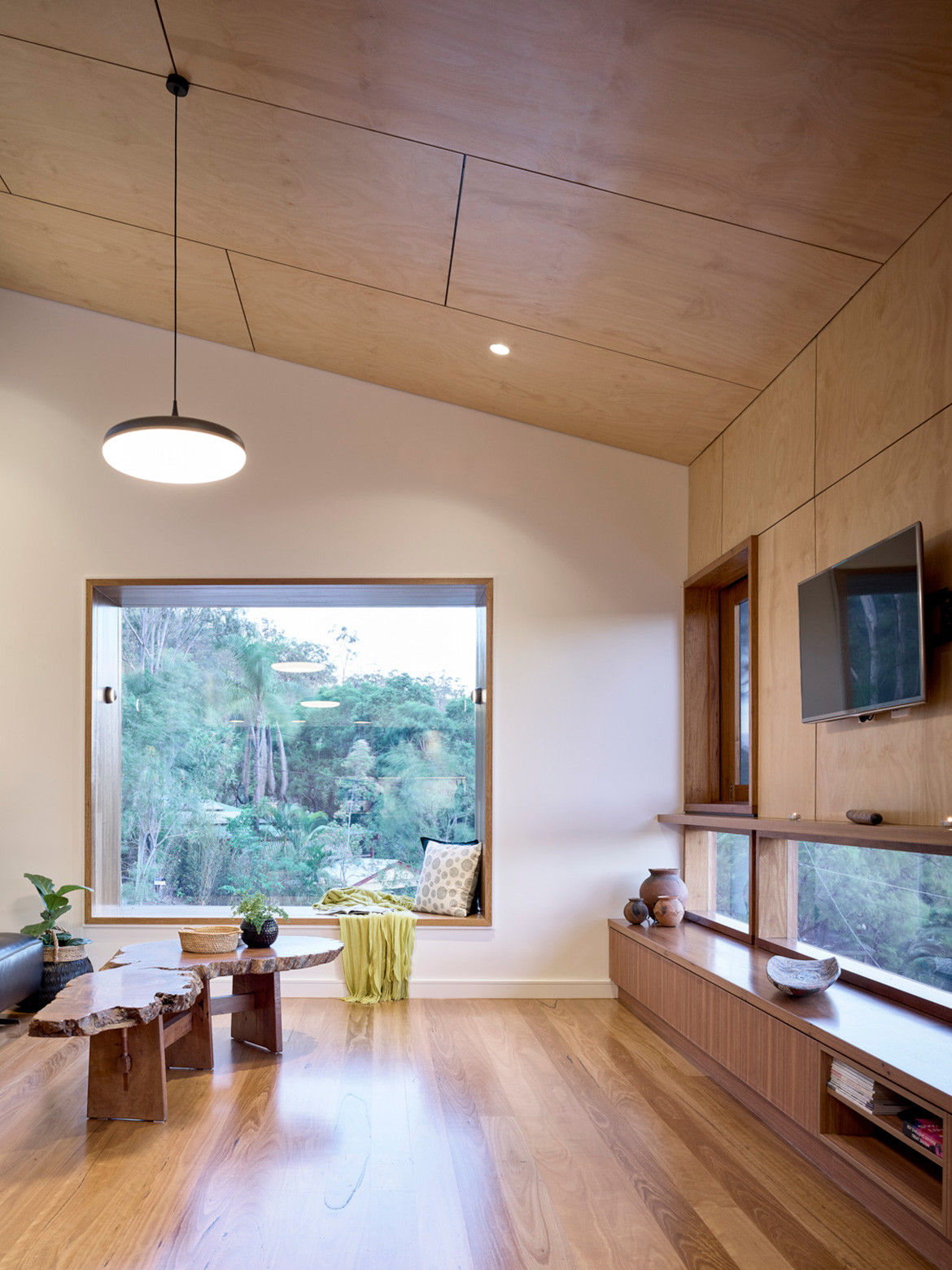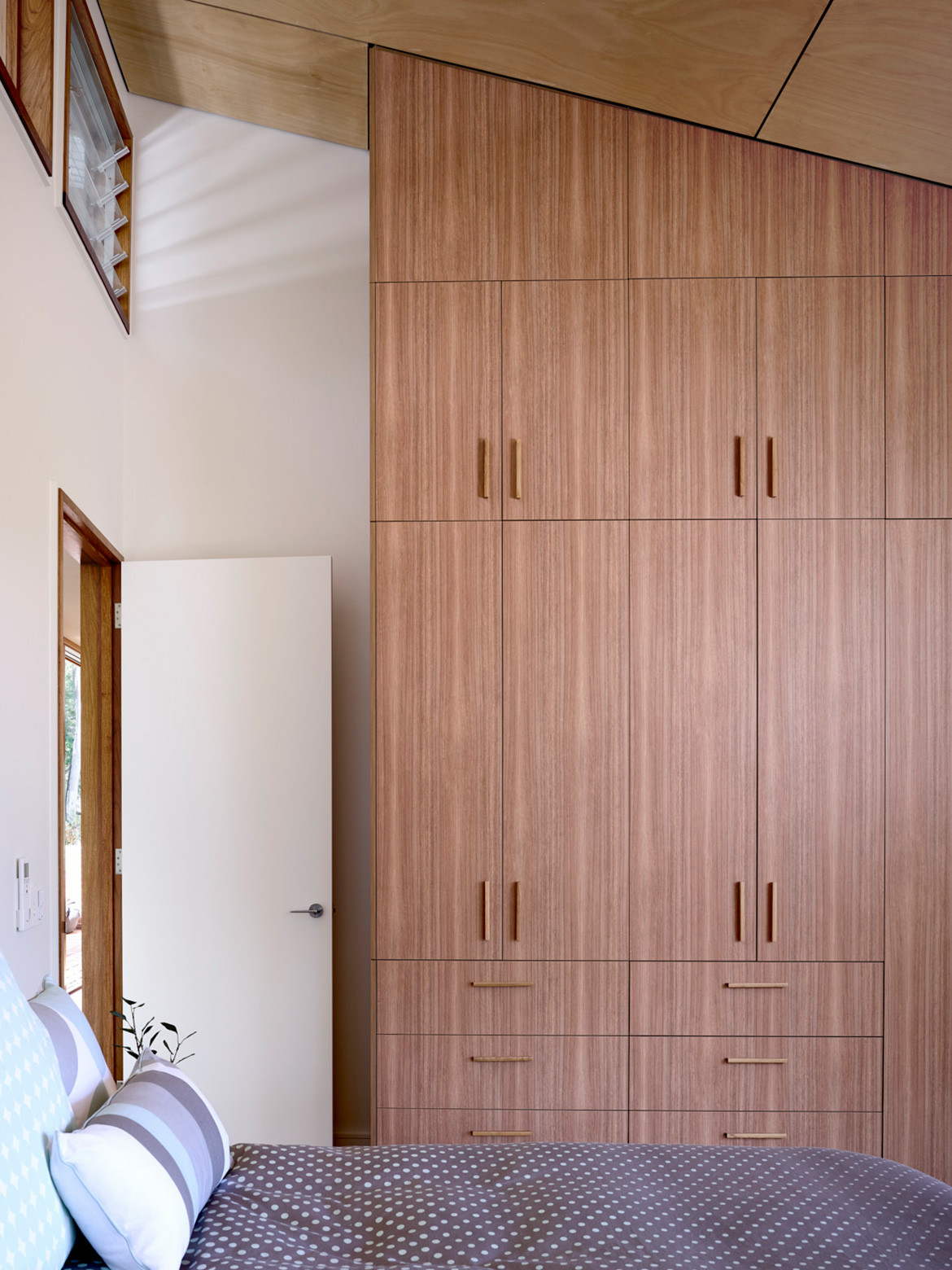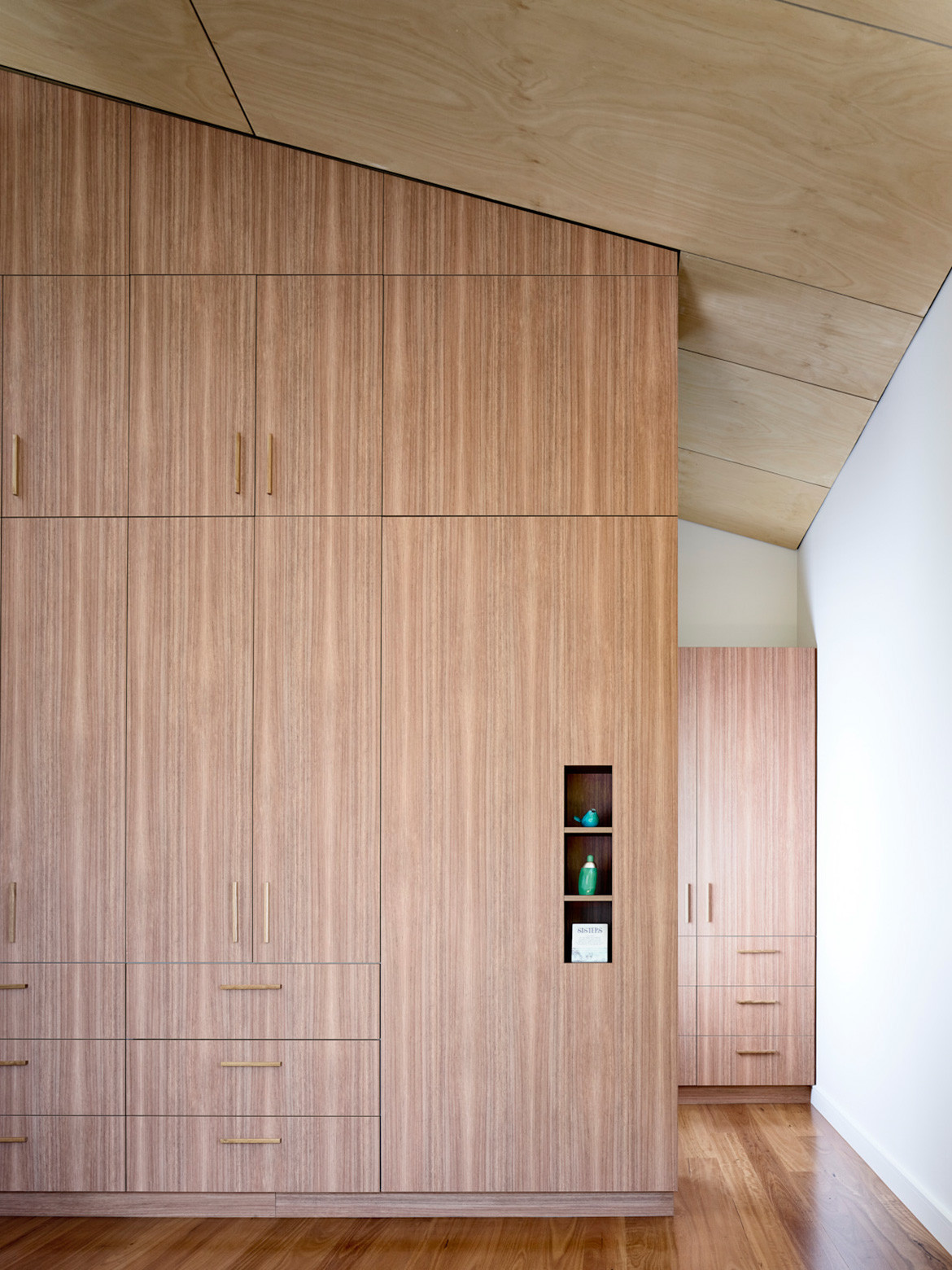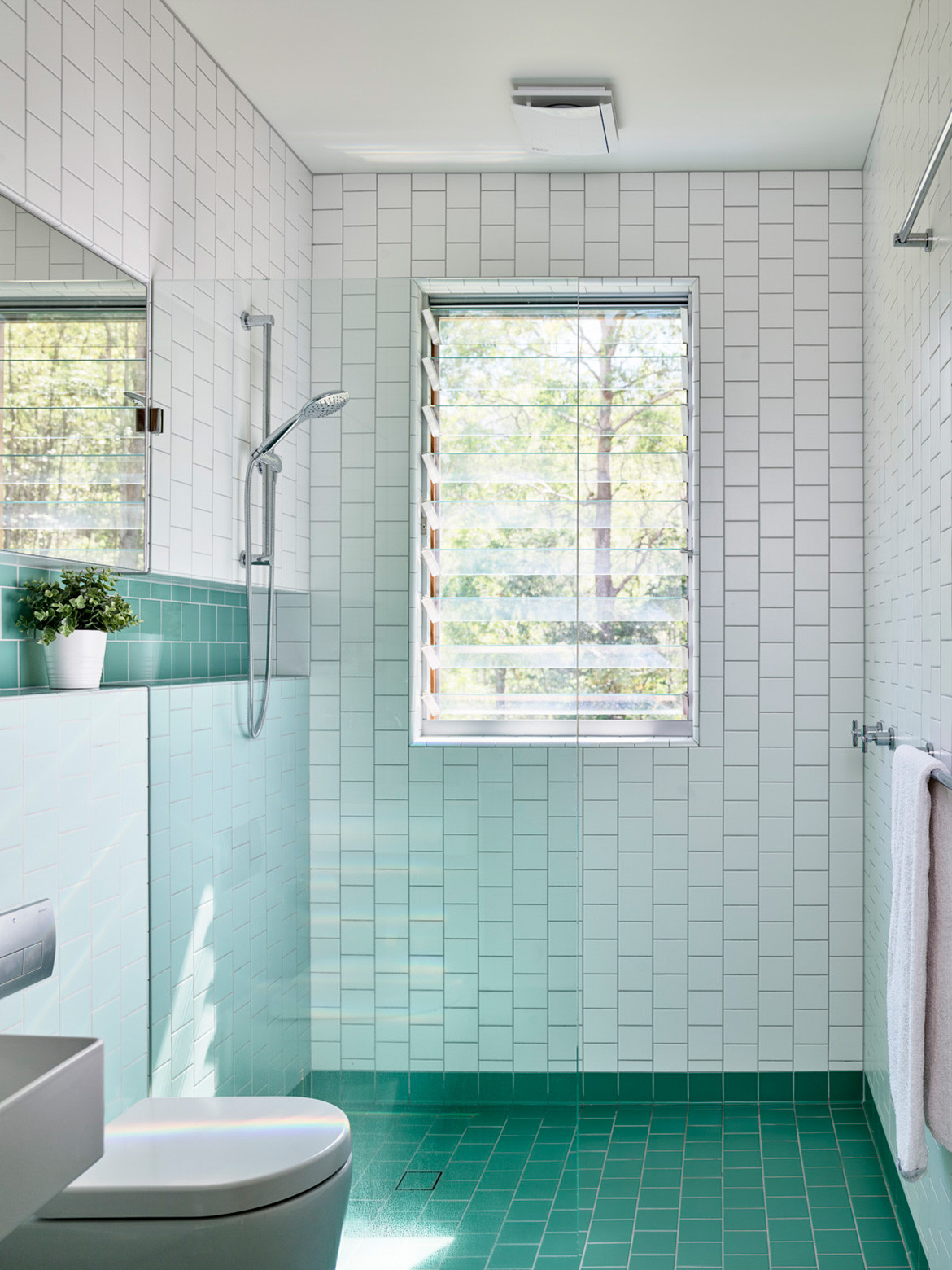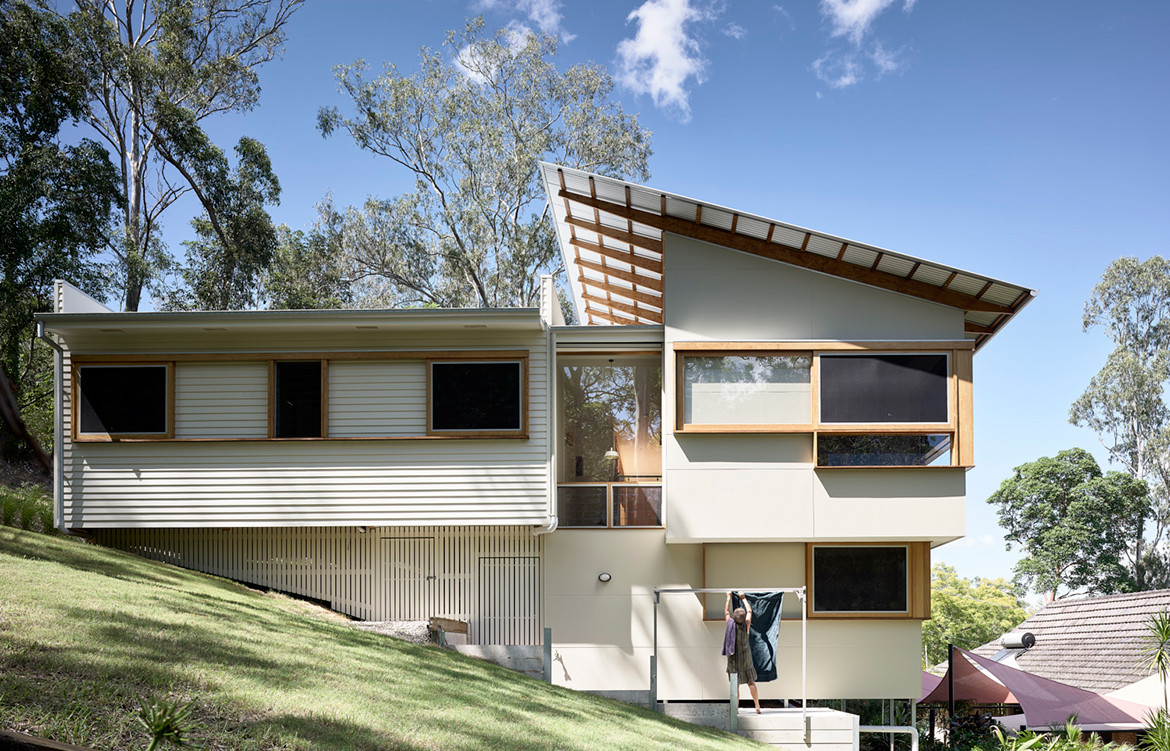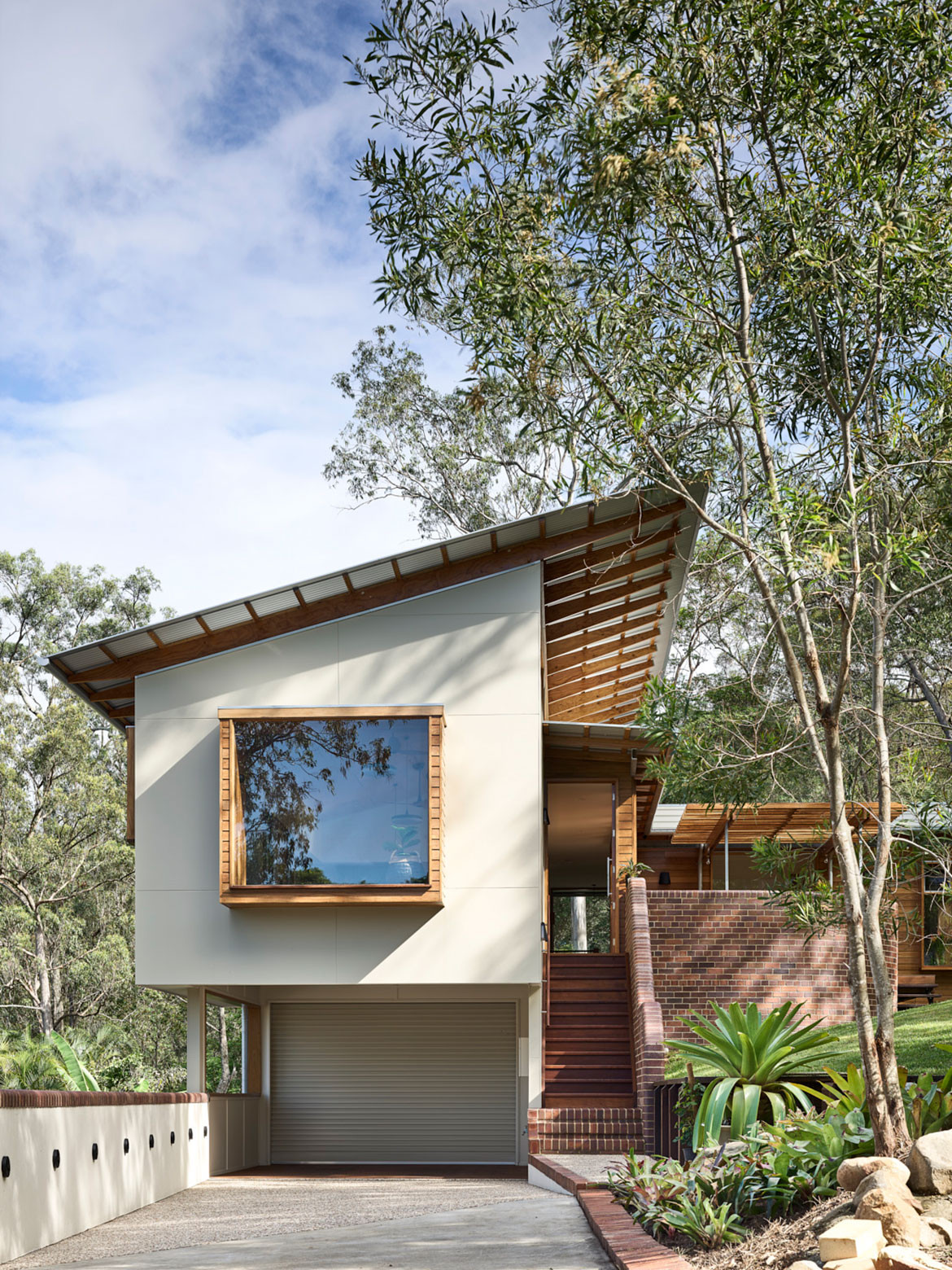 We think you might also like His-Hers House by FMD Architects
Tags: Architecture, Arcke, Bluebird DC, Brisbane, bushfire, design, Gap Bushland House, Matt Kennedy, passive solar design, rebecca gross, residential, Scott Burrows, sustainable
---