Spread over 650 square metres, the flagship beauty salon RLDA designed for Ambika Pillai in New Delhi's South Extension combines a disparate palette of wood, steel, wool and glass. The space is a combination of mezzanine and double height volumes, purpose built for specific salon treatments.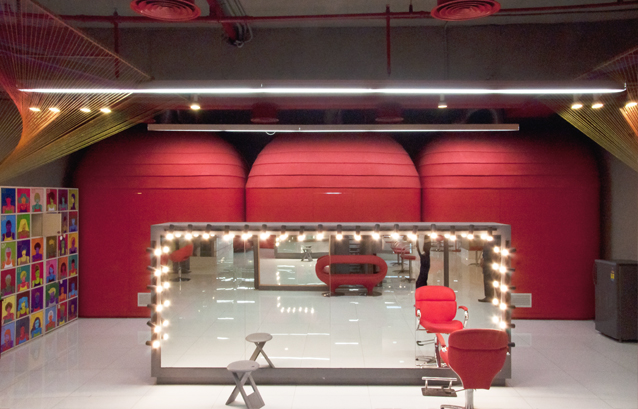 Individually varied and collectively orchestrated through both material and planar elements, the spatial sequence has been choreographed to create a user experience that rests at the confluence of art, architecture and an industrial aesthetic.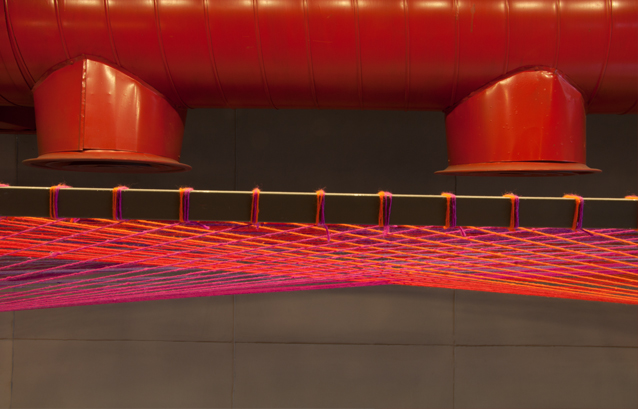 The salon is instantly recognizable by its three, poster-red pods at the far end and the centrally located mezzanine, which organizes the space into a series of independent and self-sustaining functional bands. Saturated red air-conditioning ducts set against a receding exposed concrete roof are interspersed with the building's sprinkler systems, and the linear fluorescent lights span the various functional bands below them, creating a coherent visual and architectural vocabulary.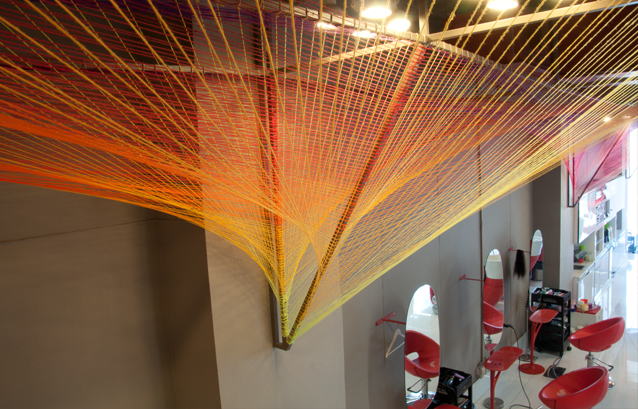 Alluding to an aesthetic that is more characteristic of industrial spaces and processes, the salon's design and spatial layout is heavily informed by a desire for procedural efficiency. As with many factories, the detailing of the space was minimal but purposeful. However the deliberate act of articulating key constructional moments in the design infuses the space with a deep sense of artisanal luxury. Crisp and exacting, the architectural detail unites the otherwise nondescript space and the illustrative exuberance of the graphic work on the glass partitions and colourful thread installation.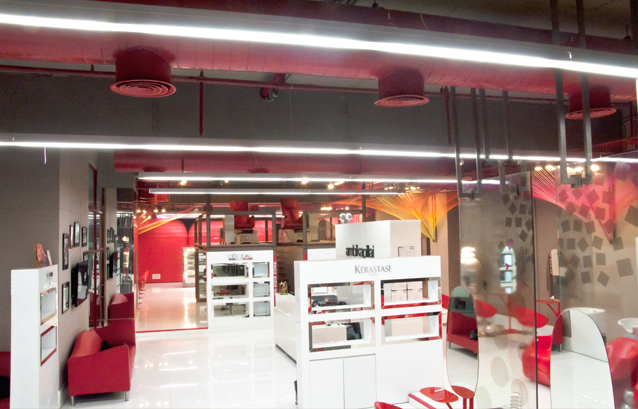 The icy white tile flooring helps reflect natural light from the building's glass curtain wall deep into the space and provides a neutral setting for the graphically charged illustrations on the glass panels and locker systems. The vibrant and geometrically complex thread work installation, the immediately comprehensible illustrations and graphic design along with the engaging spatial layout and the visual articulation of the mechanical and electrical systems creates an industrial aesthetic deeply infused with an artisanal quality. Collectively, these elements render the space dynamic, while the judicious mix of perceptual complexity and immediate comprehensibility make for a salon that constantly stimulates the imagination.
---