Paying homage to the environment, Forest Villa not only sits serenely on its site but becomes a part of the natural landscape that surrounds it. As a man-made structure, this home designed by HAS Design and Research is serene, pared back and minimal and showcases nature through its form and aesthetic.
Forest Villa is positioned on a site area of 310-square-metres and has a total build of 545-square-metres with three levels above and two basement areas. The home is located on the outskirts of Hefei, China, near Dashu Mountain National Forest Park and its design, sympathetic to its surrounds, is a place where the residents can escape city life and be at one with nature.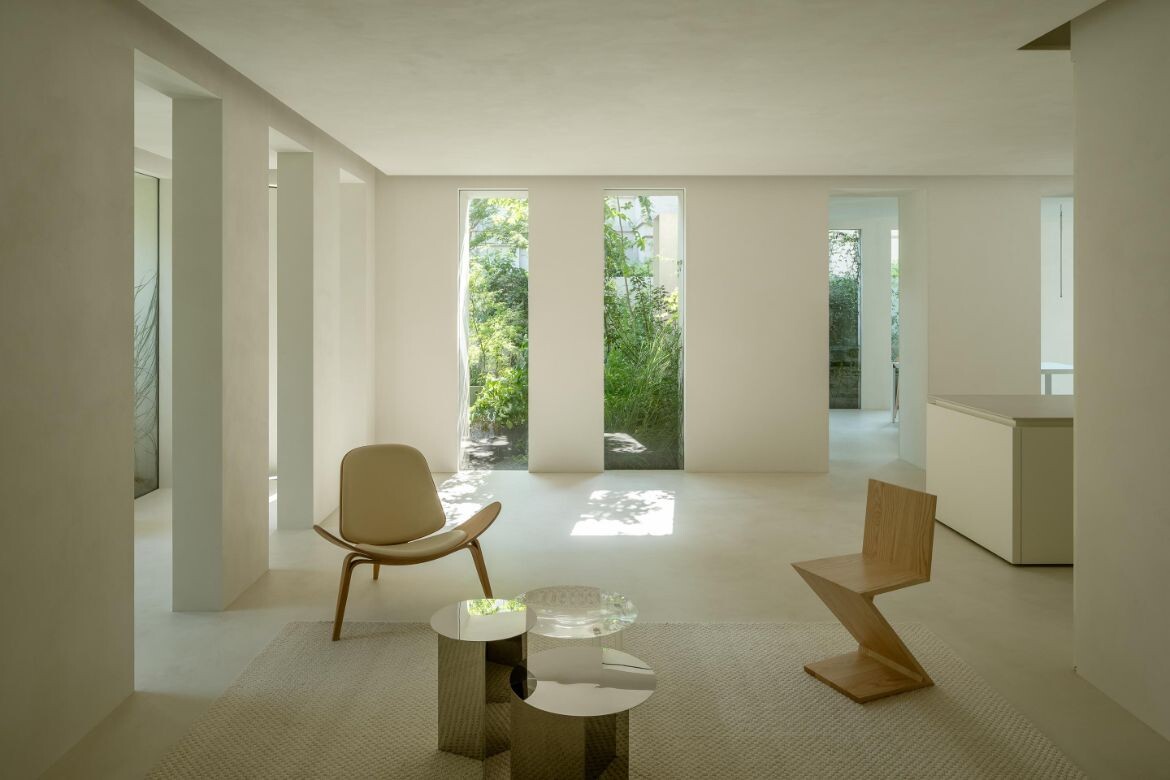 Principals of HAS Design and Research, Jenchieh Hung and Kulthida Songkittipakdee and their team Atithan Pongpitak and Zhihui Jiang, have created a single residence informed by three elements, the shell, the hole and a void. The building's façade has been created using a sequence of shells that frame the outside view. The shells strengthen the connection between the interior and exterior, much like a Chinese garden, but they also create shadows and control excessive light from the west.
In the foyer, a large number of holes overlap and evoke the idea of trees in the forest that sit together randomly, close and apart, and the living and dining spaces with a generous void, become an axis or transitional space for the residents.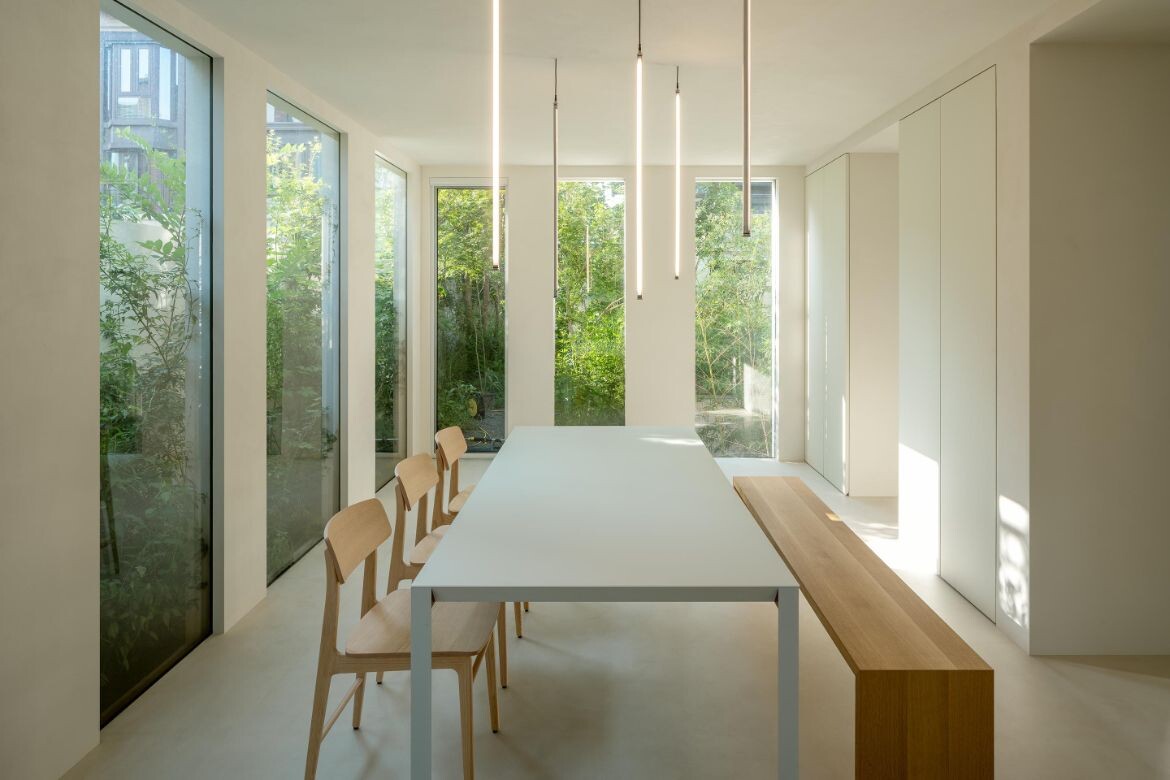 On the third level, the shell, hole and void strategy are continued, through the inclusion of moveable panels that can change the space according to need, the time of day or season. As the panels are opened in the morning, sunlight and air flow through; in the afternoon the panels can be half closed to filter the sunlight for a place of meditation, yoga and Tai Chi; while at night, the closed panels offer sanctuary for reading and relaxing. This is an ever-changing space that can re-align to the resident's requirements.
While the upper levels of the home are light-filled and open, the underground floors have been conceived more as a rock cave with thick walls and holes that provide a place of security but also spirituality. While this is more a closed and cossetting space, an open skylight courtyard creates a connection to the sky above and also visually brings the surrounding forest inside.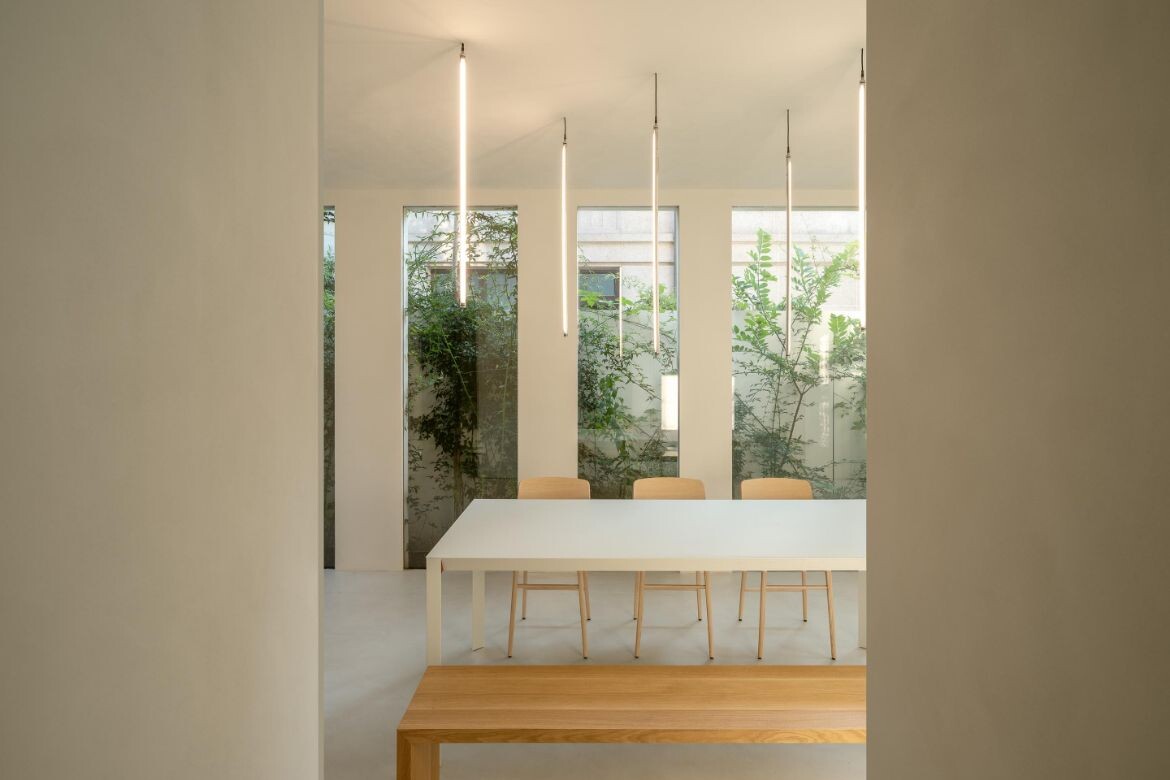 Furnishings have been perfectly placed, are minimal and refined and the colour palette is simply the white of the rendered structure and the multitude of greens from the natural landscape. This is a home that has been designed, where less is more. In its clean aesthetic, it becomes a place that is at one with nature and creates a sense of spirituality and respite for those within its walls.
As is usual with HAS Design and Research, the central idea of a project has been re-thought and re-created through the lens of space and time. With Forest Villa, re-inventing the idea of the traditional home has been beautifully conceived as a new spatial form that is spacious and free-flowing.
This is a home that is thoughtful and layered and has been realised through attention to detail and expert craftsmanship. Forest Villa sits beside a forest and becomes a partner to the natural world, but it also stands proud as an exemplary design for living.
Project details
Architecture and interiors – HAS Design and Research
Photography – Fangfang Tian
Dissections
FURNITURE
Zig Zag Chair by Gerrit Rietveld. Mirrored Slit Side Table by HAY. Prado Settee by Ligne Roset. Eames LC lounge chair.