Homage to Oscar from Luigi Rosselli Architects is a restoration of a George Reeves house in Bellevue Hill built in 1962. With influences from Brazilian architects, Oscar Niemeyer and Lúcio Costa, Luigi Rosselli shares, "[George] felt an affinity to subtropical architecture which is very open, voluminous, organic."
The architects wanted to ensure the build was honouring the Brazilian modern architecture influence of Oscar Niemeyer, hence the name: Homage to Oscar. Luigi explains, "we think that was the inspiration for the original architect, and we kept quite clear in our mind that was going to be the guiding motif."
The architects didn't want to change too much, and the alterations were mindful of the client's brief: to create an open family home. They also realised they would need to refinish everything to improve the quality of construction.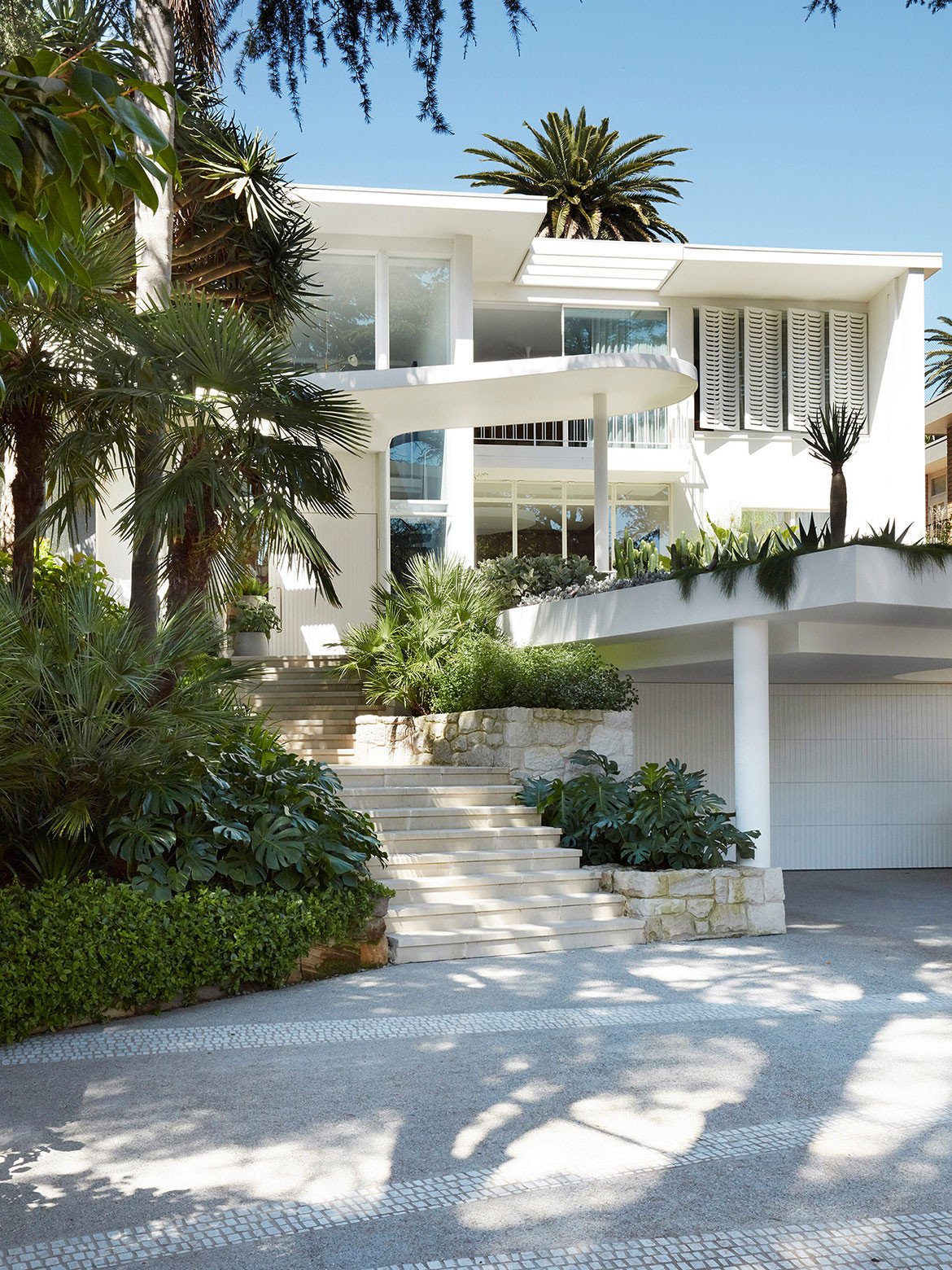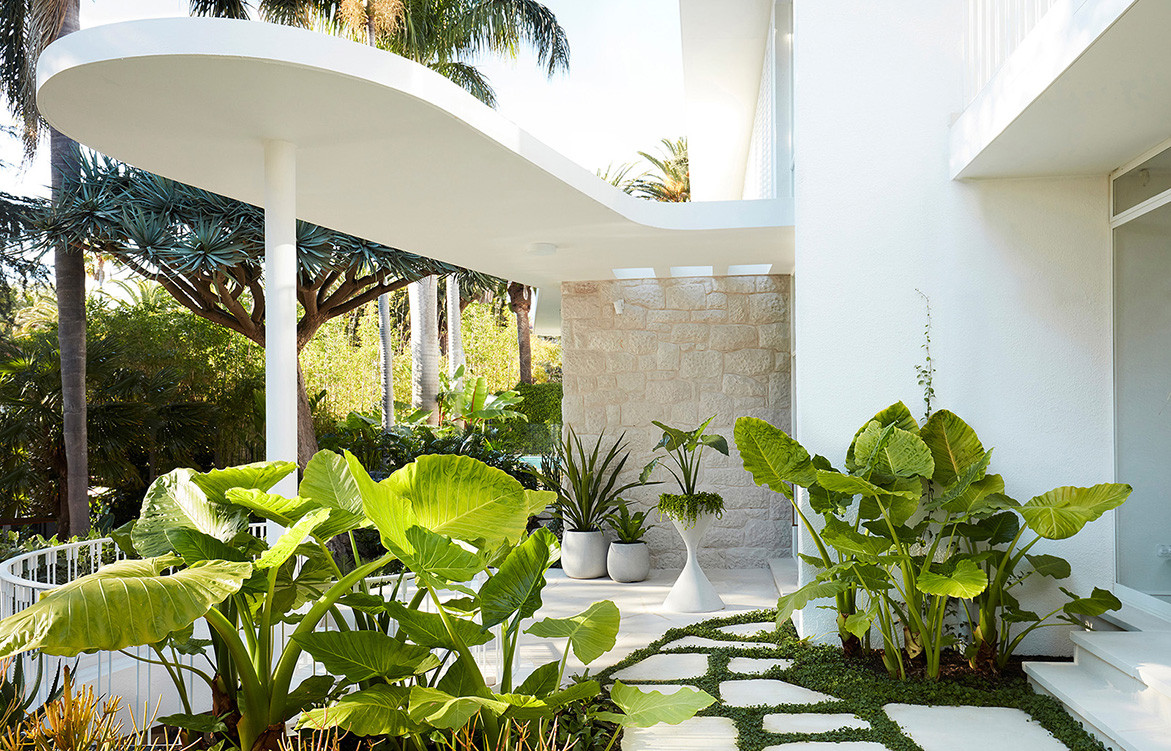 They started by moving a wall to open up the living space, opening the kitchen to the whole house. However, the benefits of the house with its former staff quarters, meant an entire hidden area could be used for the pantry and a veggie patch and herb garden which leads into the laundry, a mess room, and a little study for the children to do homework – which connects to the garage by one of the circular staircases.
The other grand staircase in the house, with blue-black granite steps, was updated with a new gold handrail. "You had to keep the good bits and just remove the bad ones – that was a continuous exercise though the build," says Luigi. Another example of this was the outdoor fireplace: the architects placed the original plans on a photocopier and blew it up by 50 per cent so it was finally useable.
Another element of the brief was an all-white aesthetic; the architects worked closely with the interior designer, Romaine Alwill, to add textures and pieces that enhance the architecture and surrounding tropical garden from Will Dangar brought in the colour.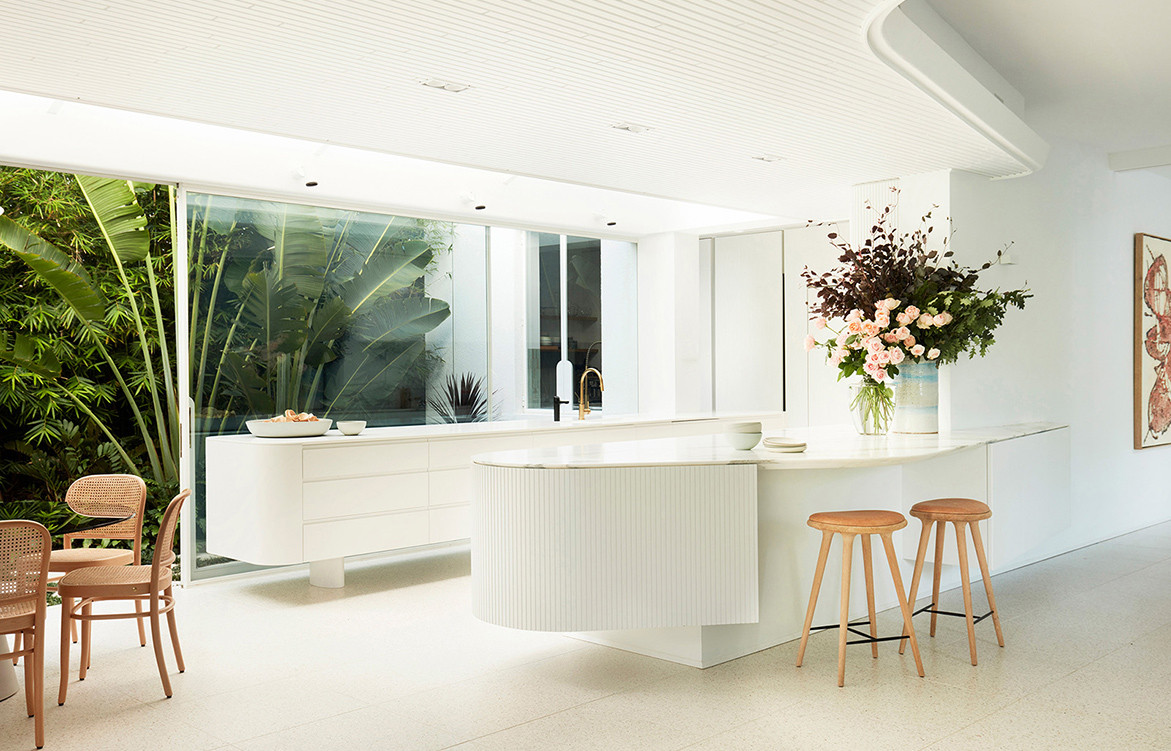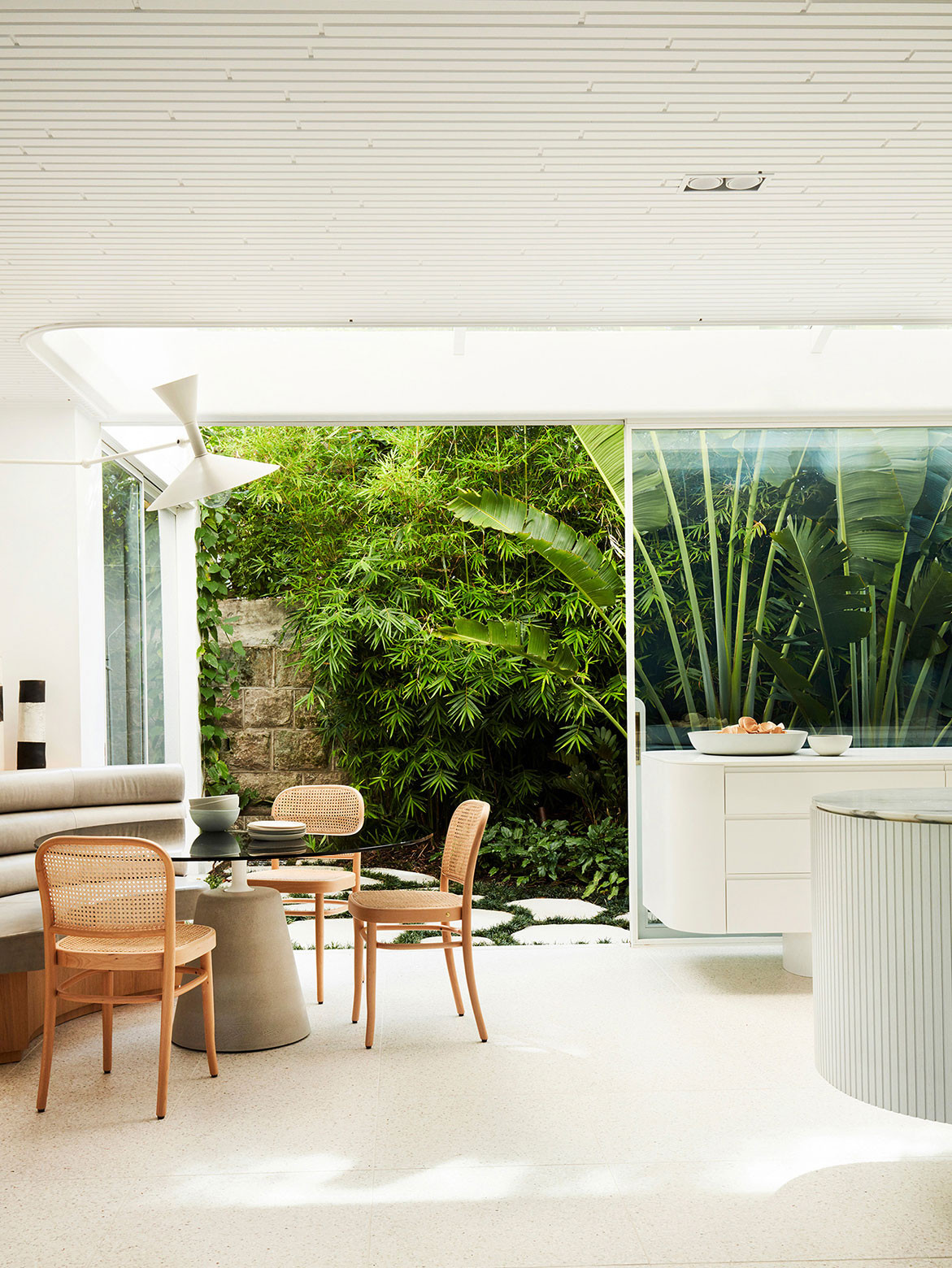 Sustainability and passive elements were essential to the house with its ample indoor/outdoor living. The walls become huge glass windows that can be opened for cross-ventilation; for this reason, the architects reduced the air conditioning unit so it can never be set to one fixed temperature. Luigi adds, "it's just not that kind of house to have all the windows shut."
They also removed tonnes of paving, made the pool smaller, and covered the roof with solar panels. In the bedrooms that faced north, they put bespoke electrical shutters over the windows and added high-performance glass.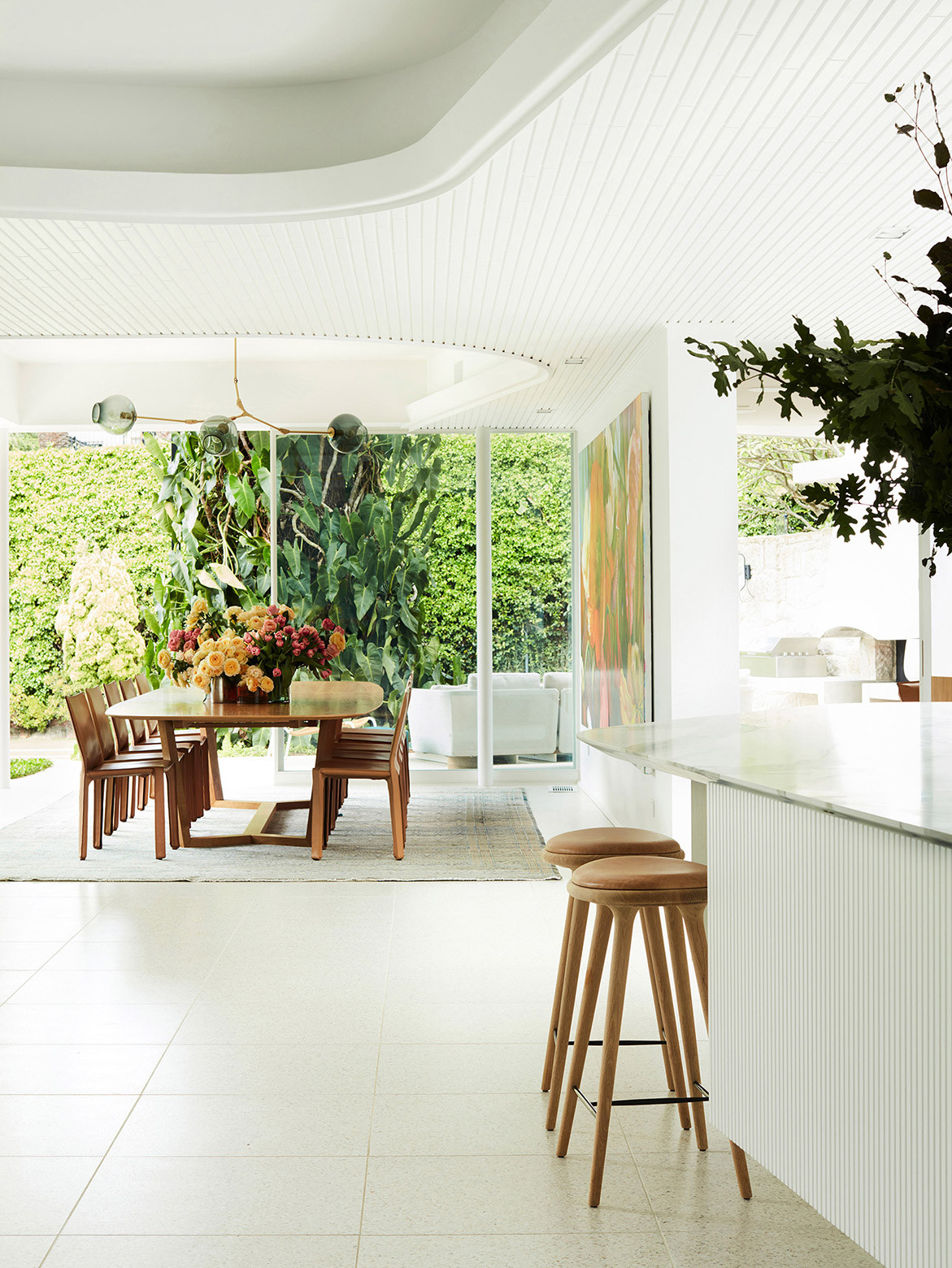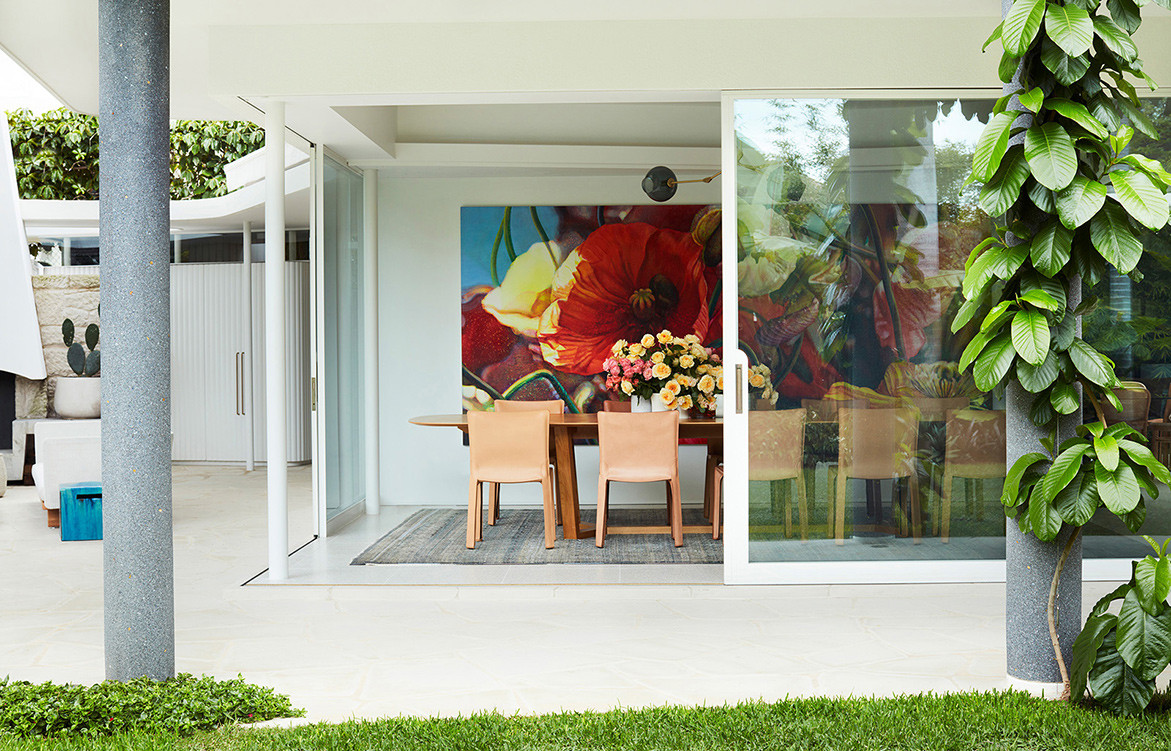 The master bedroom can also be completely opened up to a balcony overlooking the garden, with ten metres of windows. "You open the windows if you feel like sleeping outside, it's like camping basically," concludes Luigi.
Luigi Rosselli Architects
luigirosselli.com
Photography by Prue Ruscoe
Dissection Information
Window Design from Enviro Window Design
Tiles from Artedomus
Lights from Lidsey Adelman
Stone surfaces from Fibonacci Stone
Timber supplied by Woodstock Resources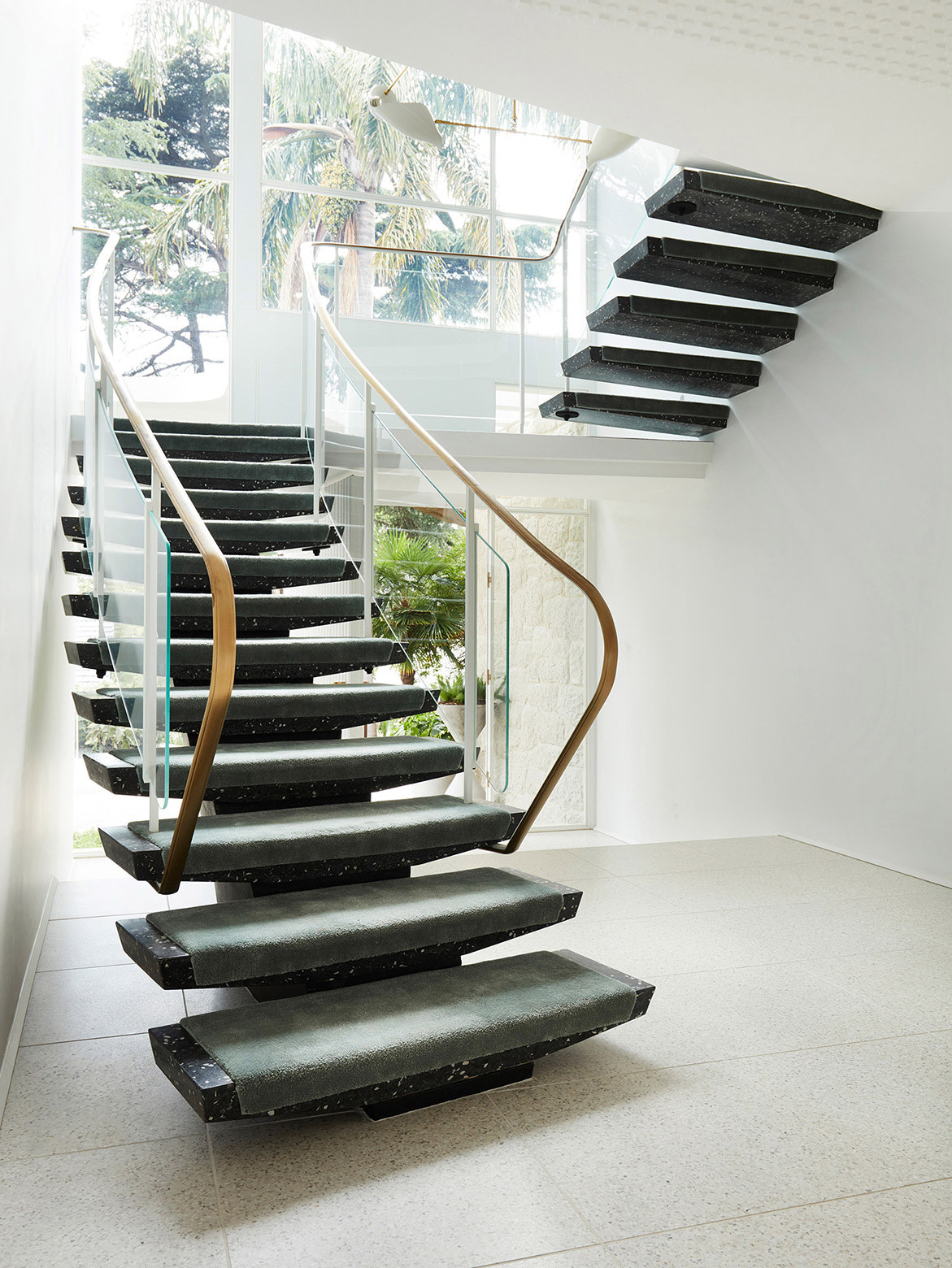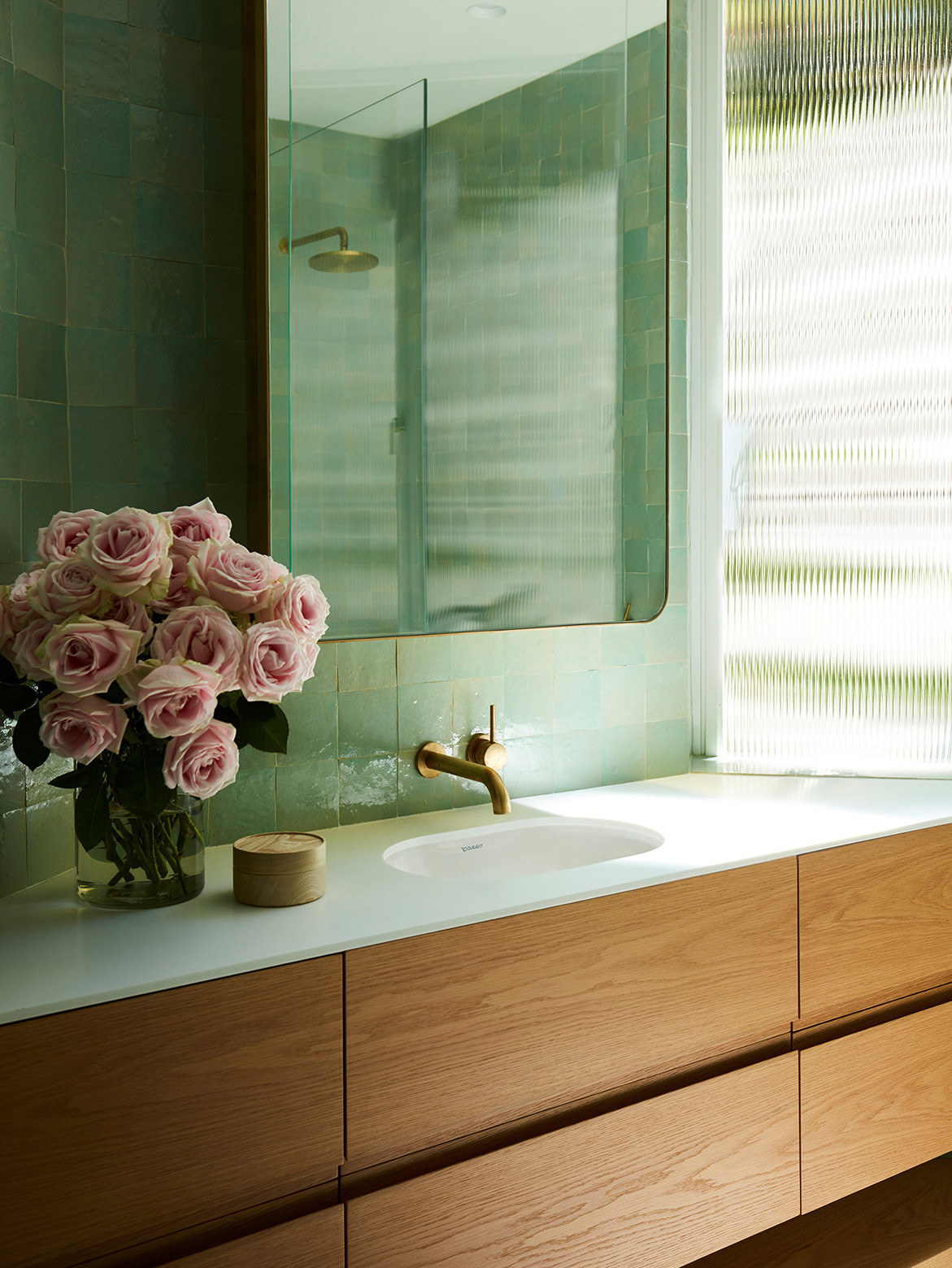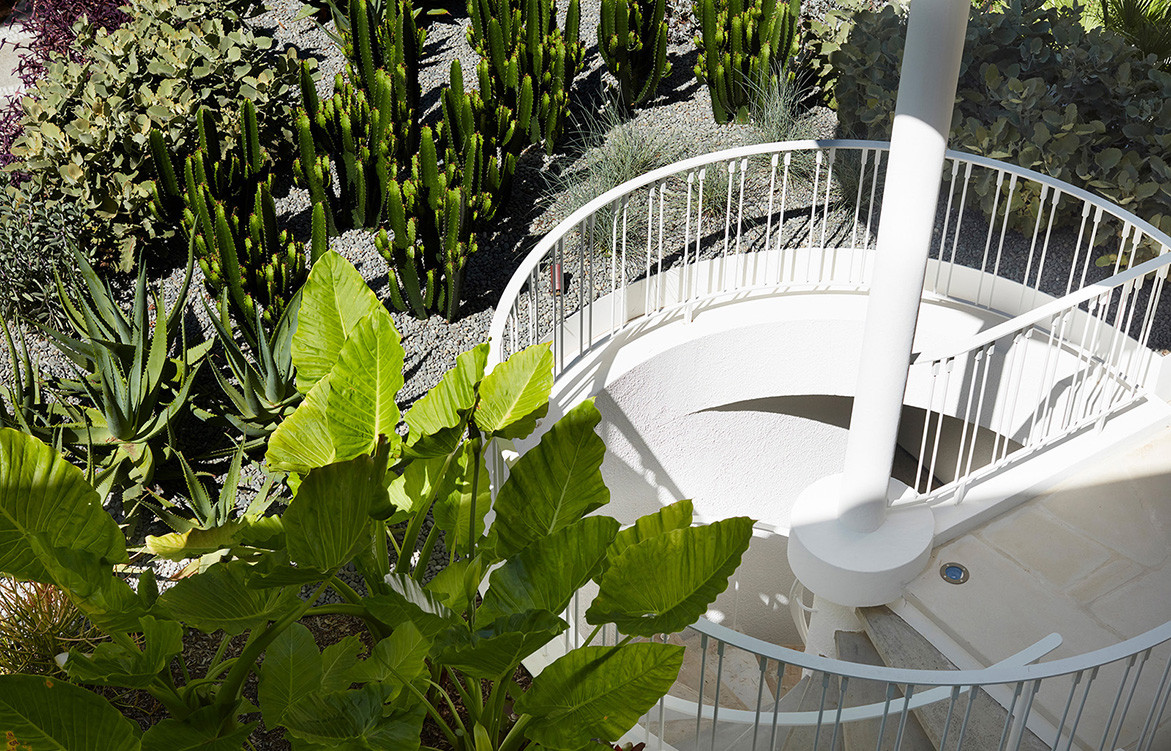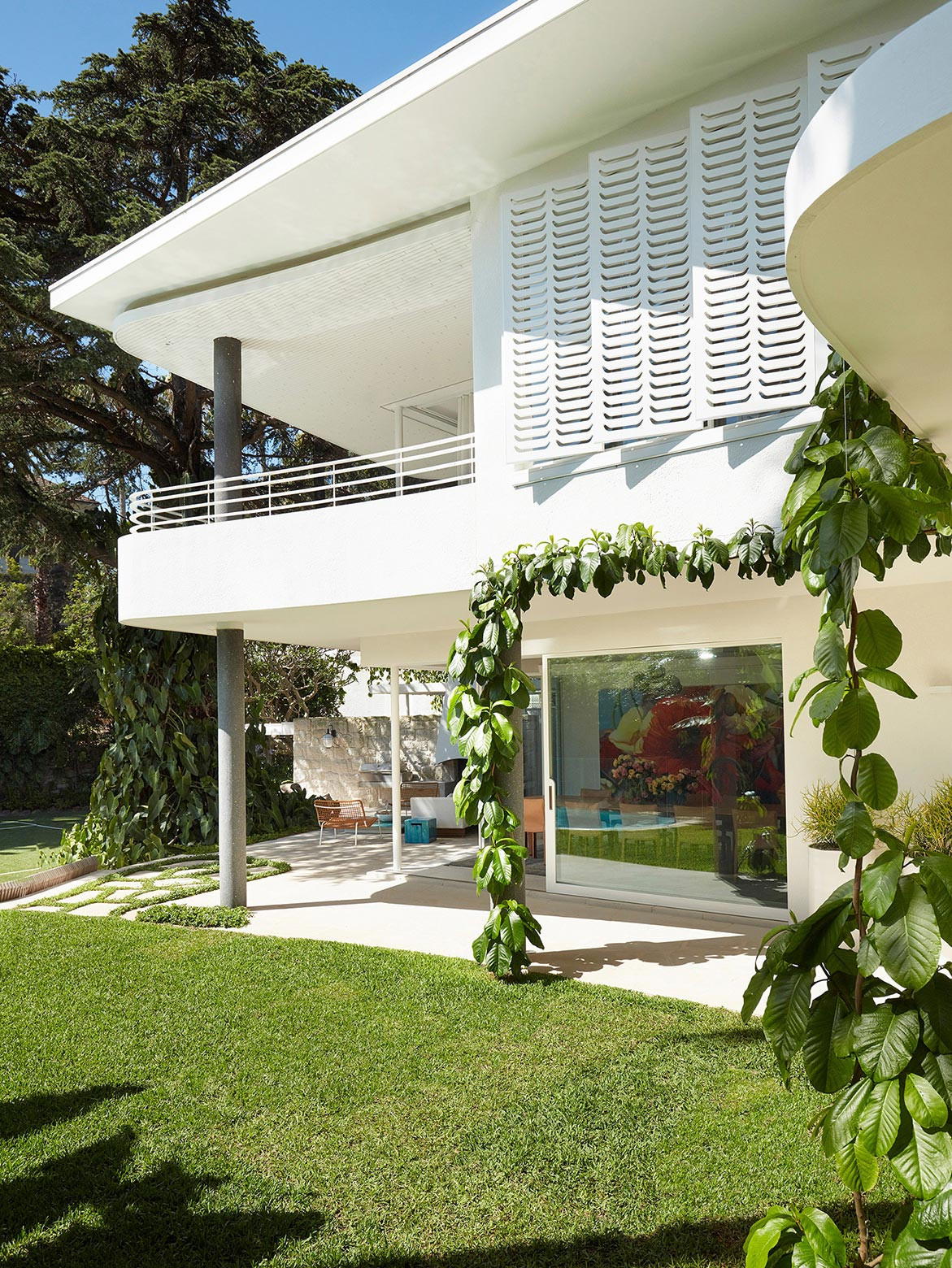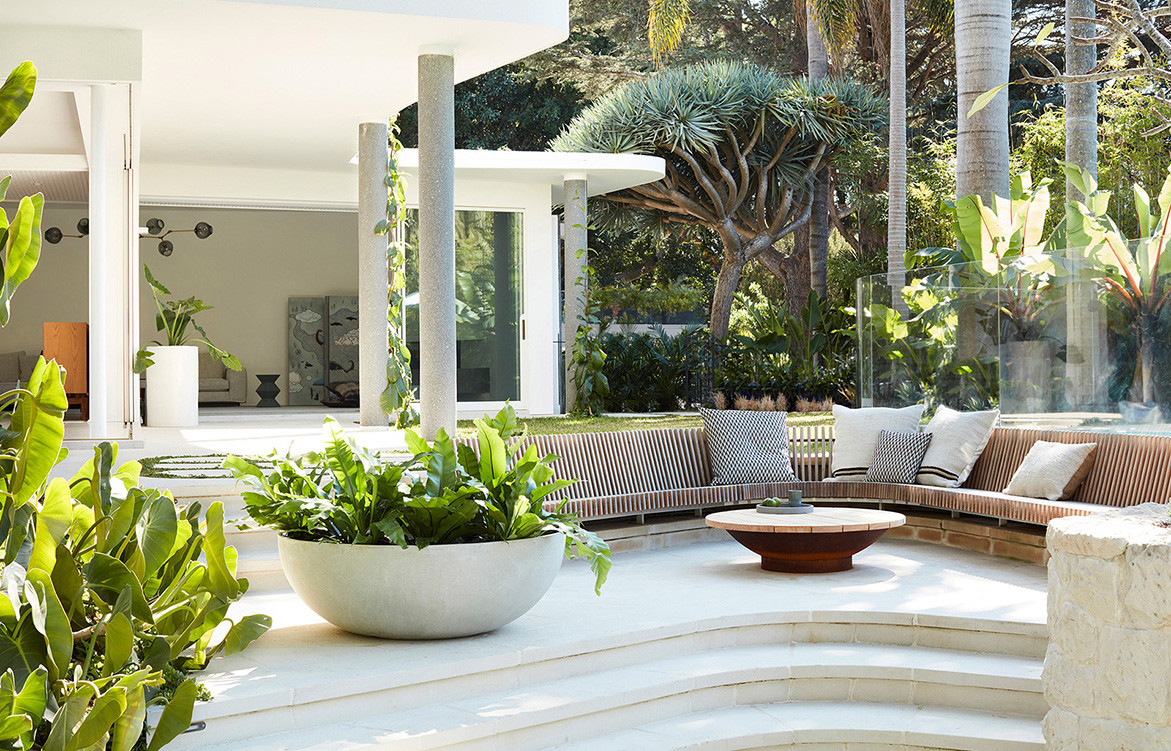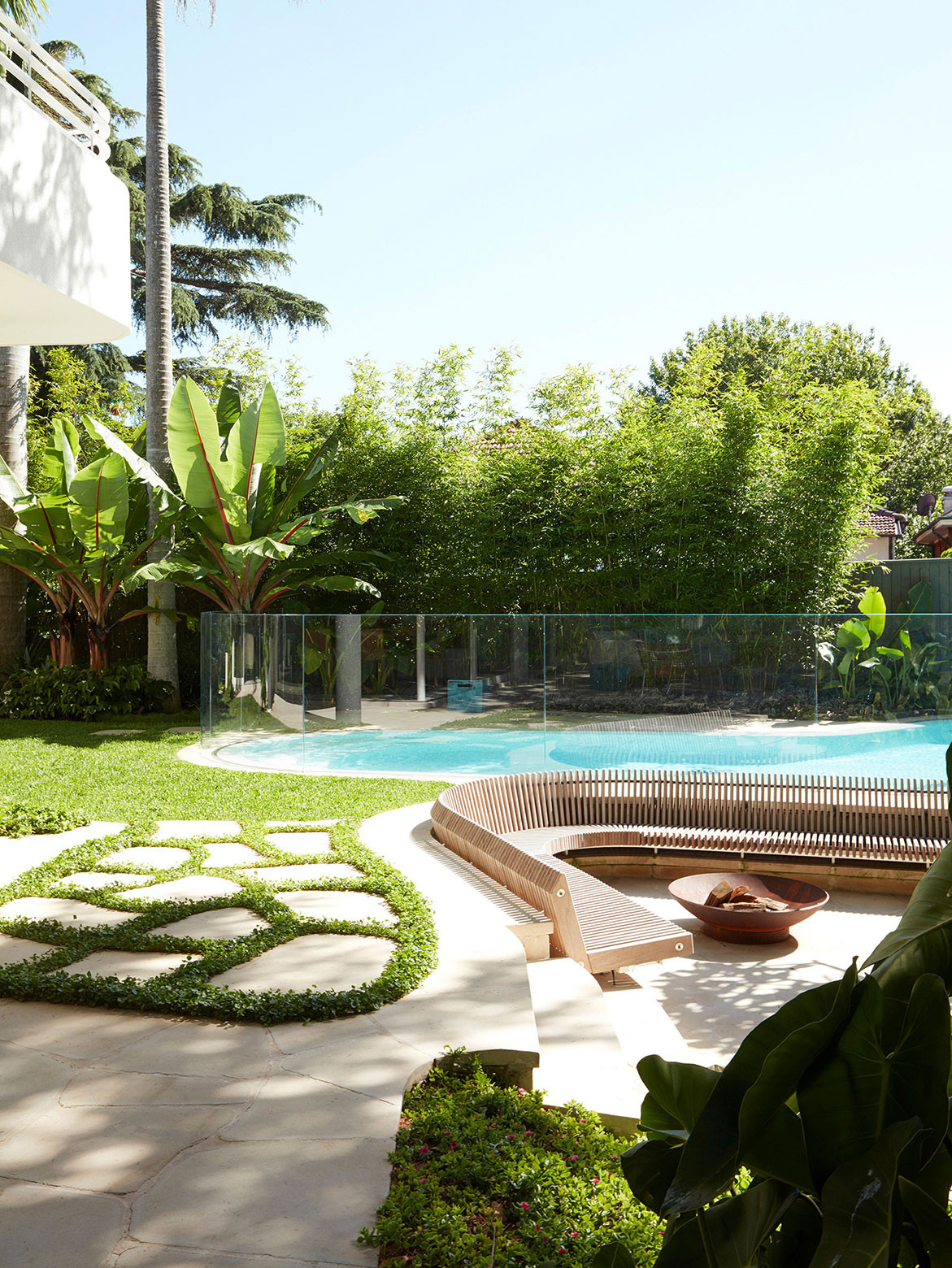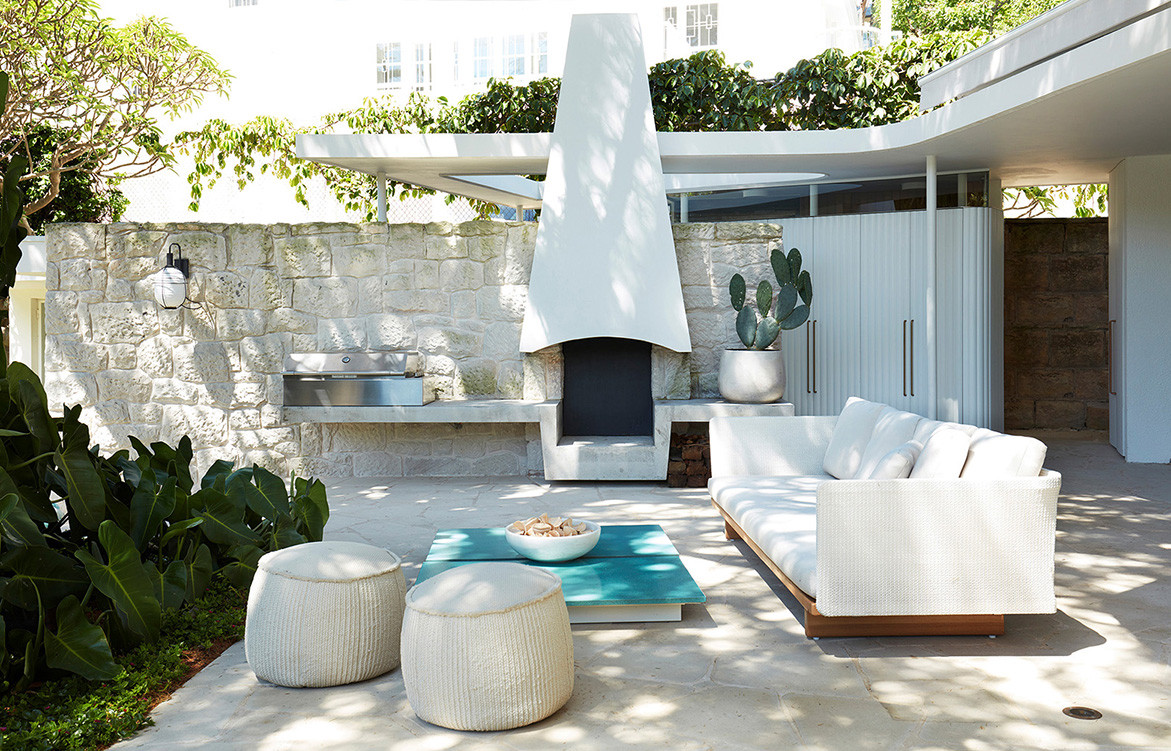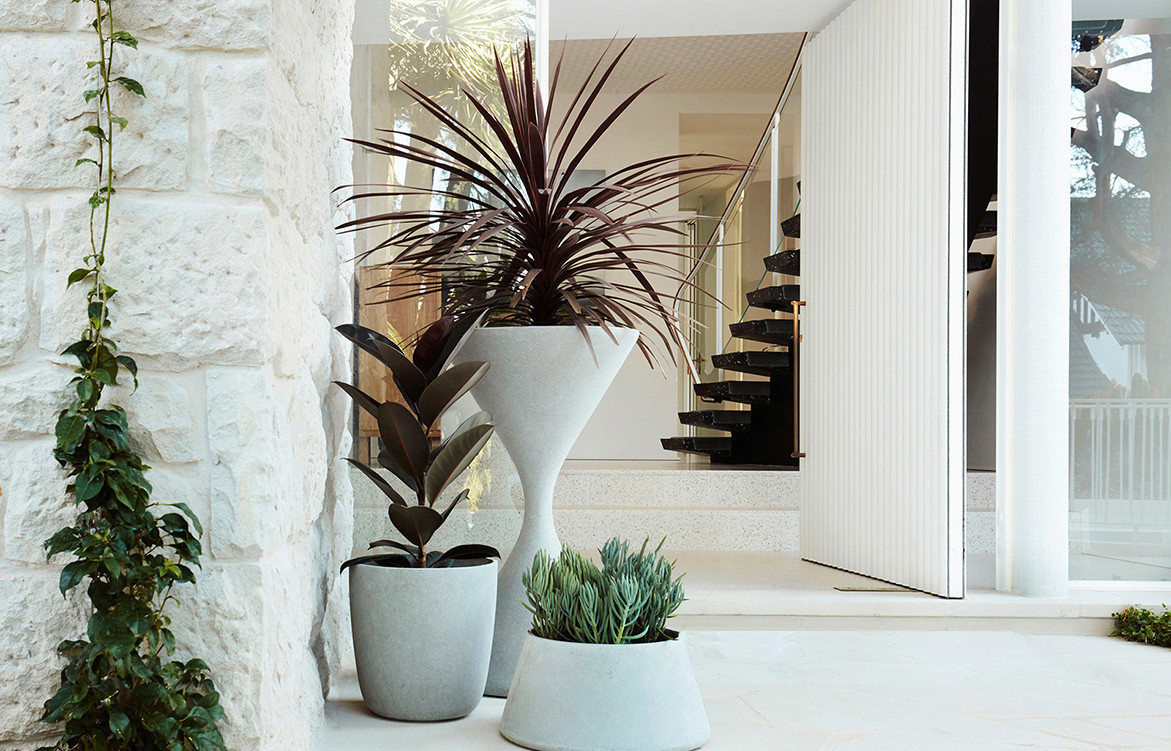 We think you might also like Luigi Rosselli at home
Tags: All-White, Architecture, Artedomus, Australia, Bellevue Hill, Emma-Kate Wilson, Enviro Window Design, Fibonacci Stone, George Reeves, Homage to Oscar, Lidsey Adelman, Luigi Rosselli Architects, Modernist architecture, Oscar Niemeyer, Post-war architecture, Romaine Alwill, Sustainable Architecture, Sydney, Topical Garden, Will Dangar, Woodstock Resources
---