Set in the hills of the Sunshine Coast hinterland, the white corrugated walls of Atelier Chen Hung's (A-CH) Yandina Sunrise home are bordered by a perimeter of lofty woodlands.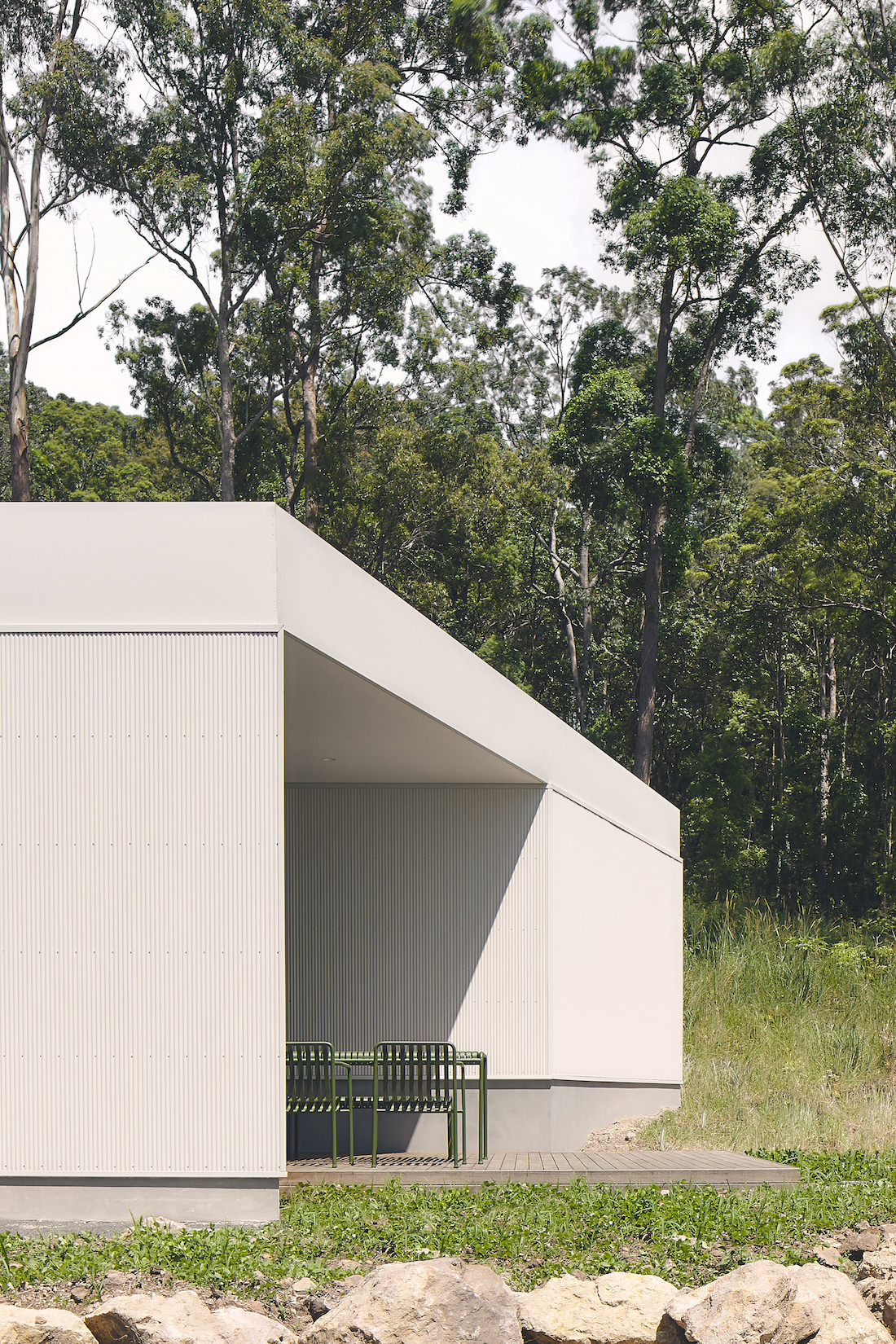 The small scale two-bedroom house, purpose built for a pilates practitioner, is designed to work harmoniously with the surrounding landscape, incorporating man-made with the natural environment. Located on a sloping track of land, the house is internally tiered to move softly upwards, alongside the hill it's built on.
Abundant windows make the most of the surrounding view east over the owner's family-owned tomato greenhouse farm and north through a natural view corridor that looks over the hinterland of Yandina.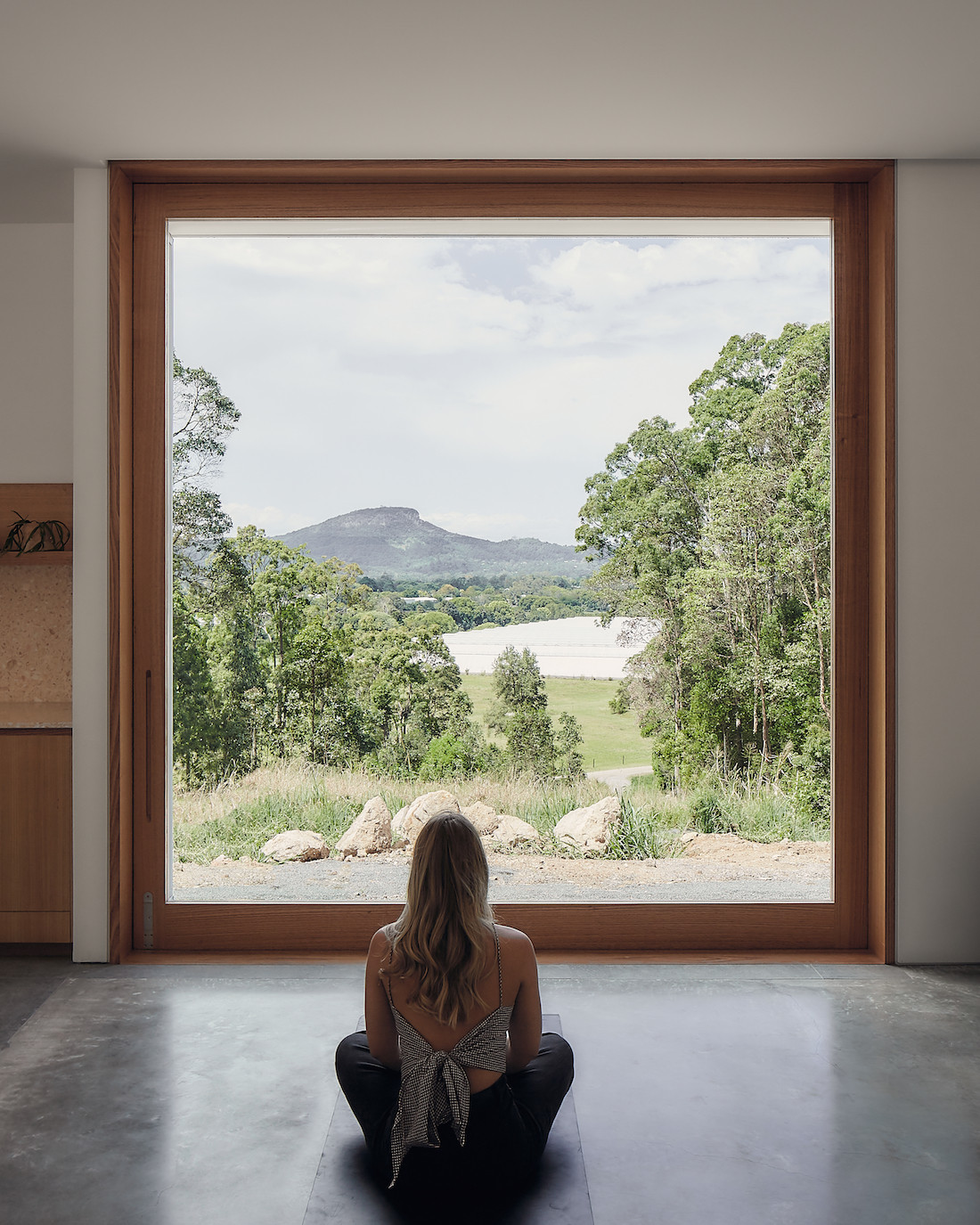 "It is important for the client to maintain connections with the family farm and the surrounding landscape where the site-specific conditions established the key parameters in the strategic planning," says A-CH.
True to their history of designing highly refined, functional spaces that are responsive to client briefs, A-CH took cues from the owner's nearby farm. By using materials that are ubiquitous in industrial settings, such as the polished concrete floors and the corrugated metal exterior, the designers referenced the simplicity of the farm and its agricultural buildings.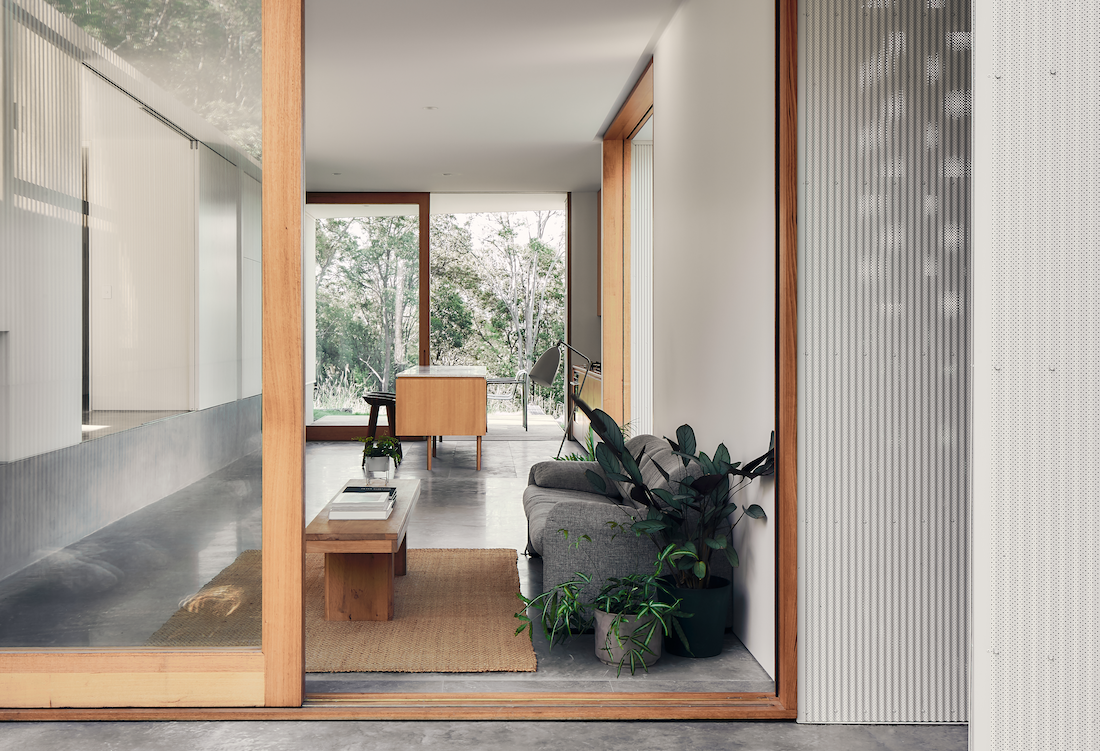 Designed as an oblique prism to maximise the best views from inside, the exterior corrugated cladding of white folds transitions from perforated to solid, allowing shadows to move around the building throughout the day, bringing an evolving sculptural quality to the residence.
Inside, spaces are subtly delineated by changes in the floor. The owner's proclivity for viewing the sunrise sees the bed faced eastwards, lending the home its name, and elevated on a section of the polished concrete floor, creating a specified sleeping nook.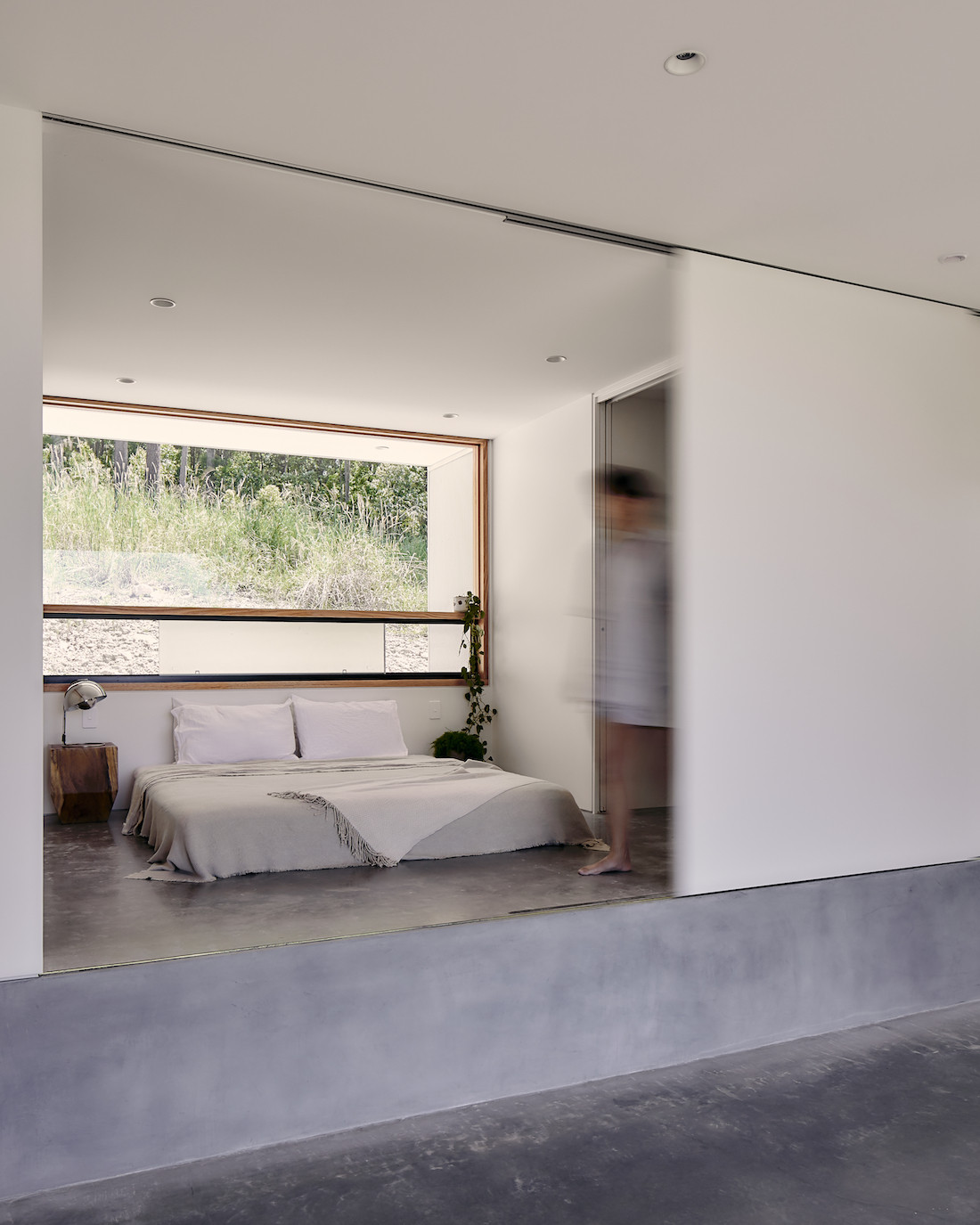 The kitchen sits on the lower tier with the lounge and dining spaces, clearly demarcating the communal zones from the sleeping. Soft pink and beige nougat-like terrazzo is paired with warm Victorian Ash in the kitchen, where the limestone floor creates another subtle divide.
Three floor-to-ceiling sliding doors, each roughly three metres tall, open around the living and dining areas, allowing air flow and a natural connection with the exterior landscape.
"The project focuses on what is essential to elevate one's quality of life in a compact footprint, enriched by meaningful connections to moments in time and place," says A-CH.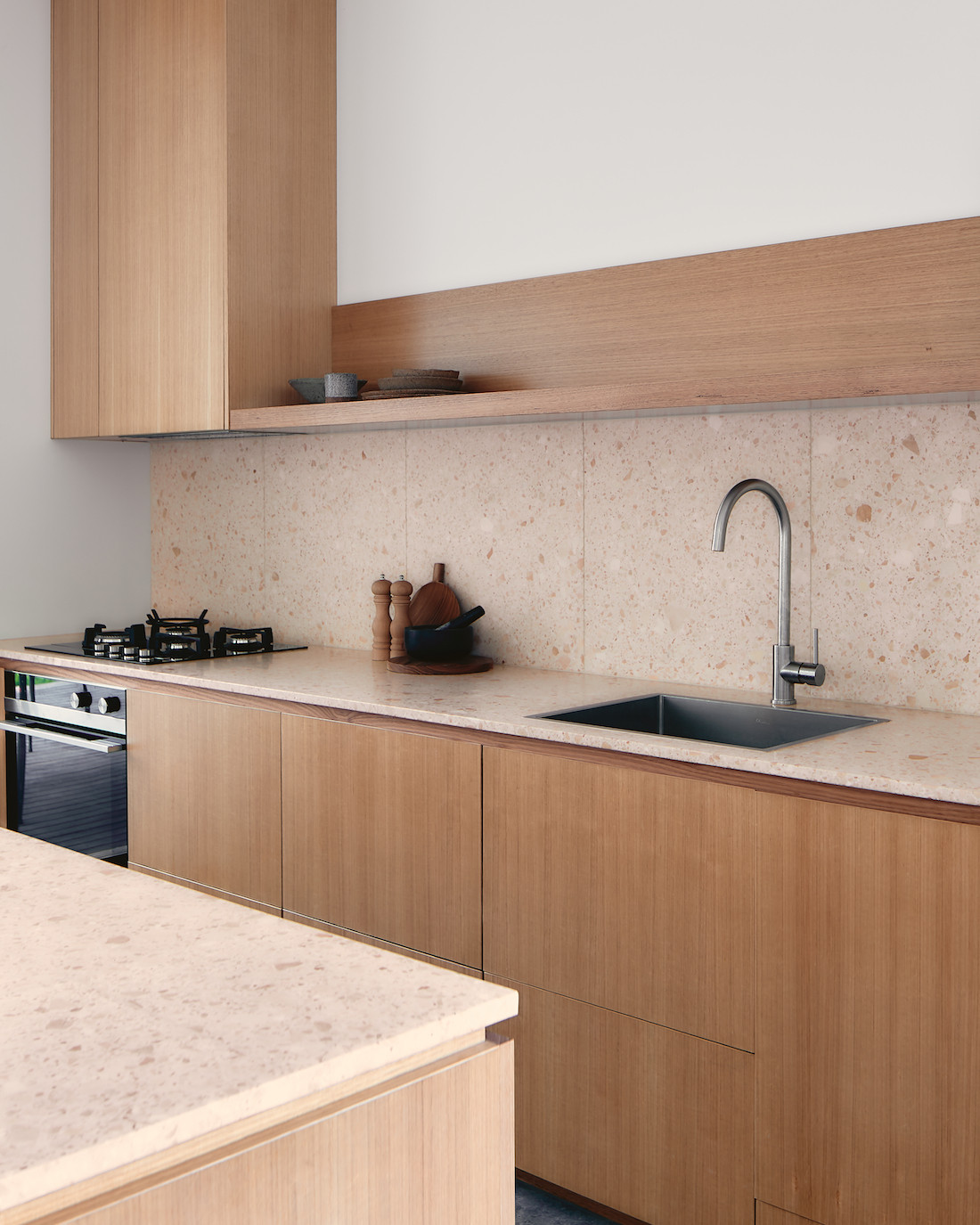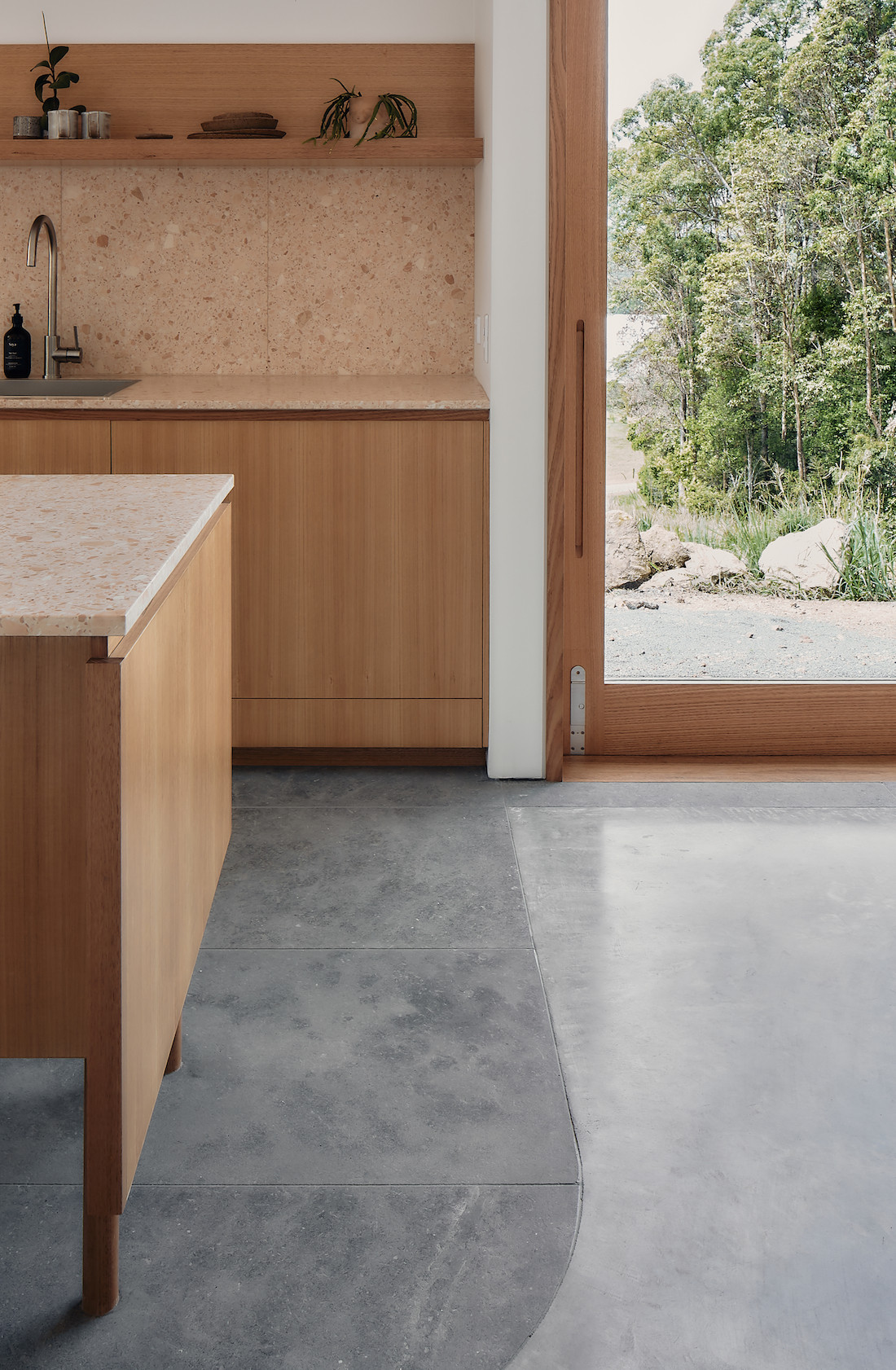 Project Details
Architect: Atelier Chen Hung
Contractor: GTO Building
Structural Engineer: Structures
Photographer: James Hung
Want more Sunshine Coast content? You might enjoy A Champion for Change.
Tags: A-CH, Atelier Chung Heung, corrugated exterior, Sunshine Coast hinterland, Yandina
---