For Wenny Gao and Lisa Bai, co-founders of Beijing-based design practice GB Space, interior design is all about creating truly immersive spatial experiences. Through their practice, Wenny and Lisa look to break the traditional limits of interior design, using materials and multiple media to create innovative spatial atmospheres. This ethos shines through in the immaculate, minimalist interiors of La Chansonnière, an immersive dining experience for those looking to pamper their palates with a night of fine French cuisine.
The design inspiration for La Chansonnière stems from the moment the tastebuds are invigorated by the taste of delicious food; saliva begins to ripple throughout the mouth. Streams of fabric are suspended from the ceiling, forming curves akin to that of waves, rippling gently in the breeze. Curtains of the same fabric are superimposed to increase the sense of spatial depth and demarcate a central dining scene. The curved lines overhead are subtly reiterated by the fine metal lines running through the flooring of white terrazzo underfoot.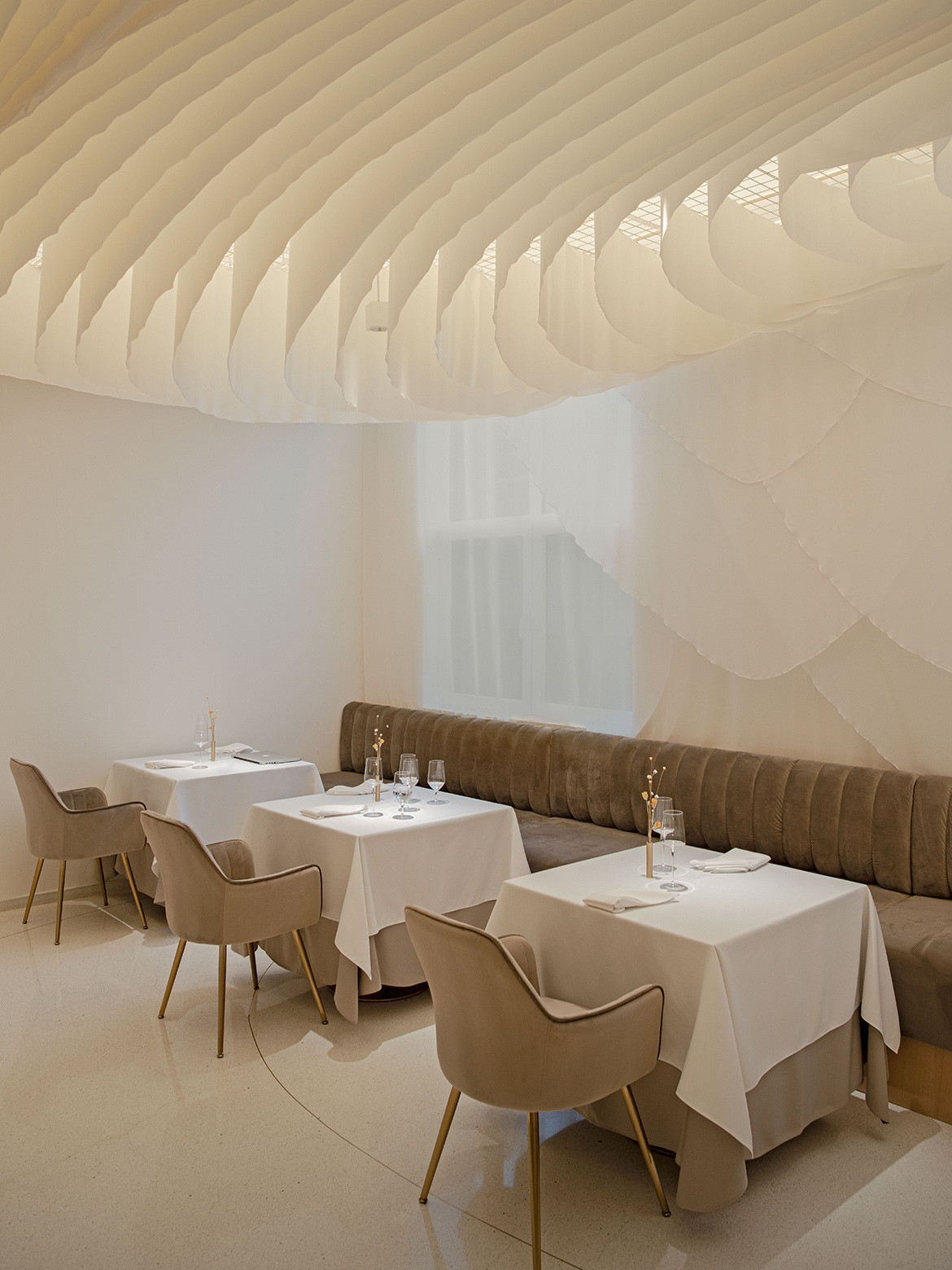 GB Space's thoughtful floorplan for La Chansonnière forms a variety of dining scenes catering to different seating arrangements. With capacities ranging from 2 to 12 guests, these dining scenes are delicately demarcated by GB Space's choice of materiality, bringing about an enhanced sense of dimension to the minimalist space. The central scene of La Chansonnière's 305 square metre area is distinguished by its wooden herringbone floor parquetry and the translucent material that drapes from the ceiling around it.
A private room offers an immersive dining experience for larger groups through the use of new media. Content is projected onto a grand length of table in accordance with the courses of delectable French cuisine, as they are served. The tasting menu is made all the more experiential paired with a considered wine program produced in collaboration with esteemed consultant sommelier, Mei You. Incorporating these wines into La Chansonnière's interior design is a virtually invisible wine rack, in which the bottles appear to float suspended in the air.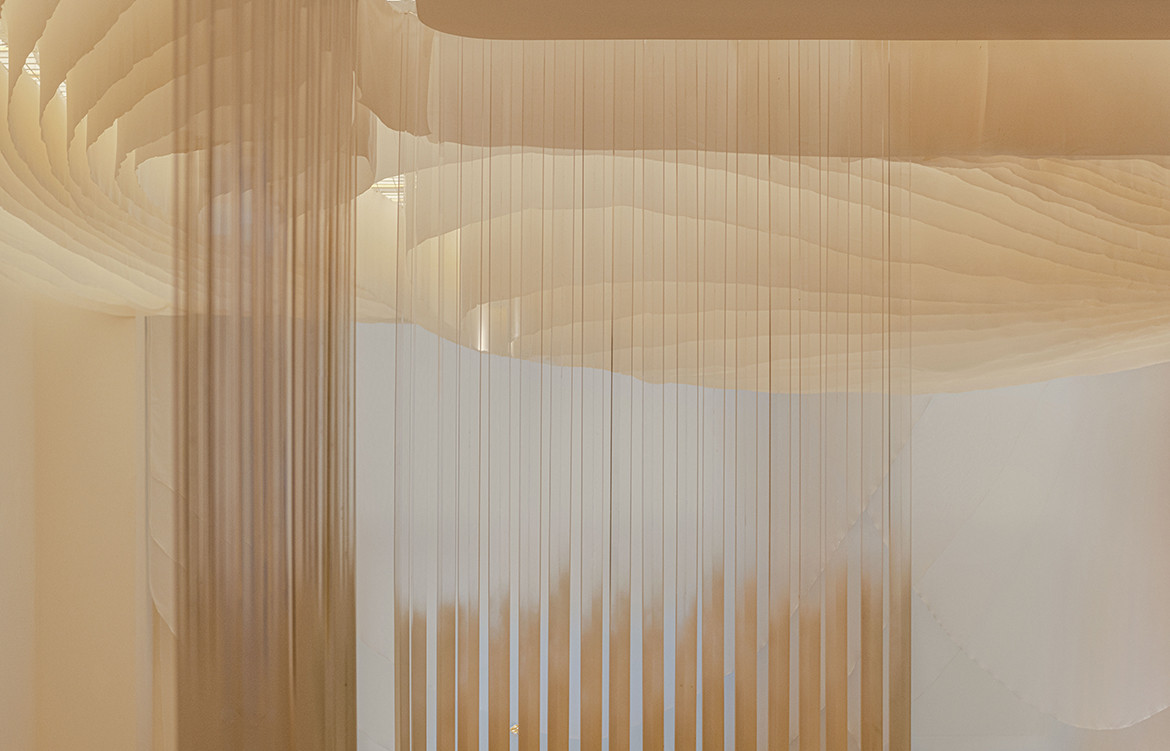 The white-on-white of La Chansonnière's immaculate interiors give the restaurant the gravitas with which all fine dining establishments seek to be imbued. Soft velvets and decorative accents of gold and cream make for a more indulgent ambiance in an otherwise stark-white space. Strategic spotlights amplify the space, illuminating the waves of fabric cascading from the ceiling, giving La Chansonnière an ethereal glow.
Next time you happen to be in Beijing and searching for a place to pamper your palates, La Chansonnière indeed fits the bill with its poetic expression of taste and space.
GB Space
gbspace.cn
Photography by Wang Ning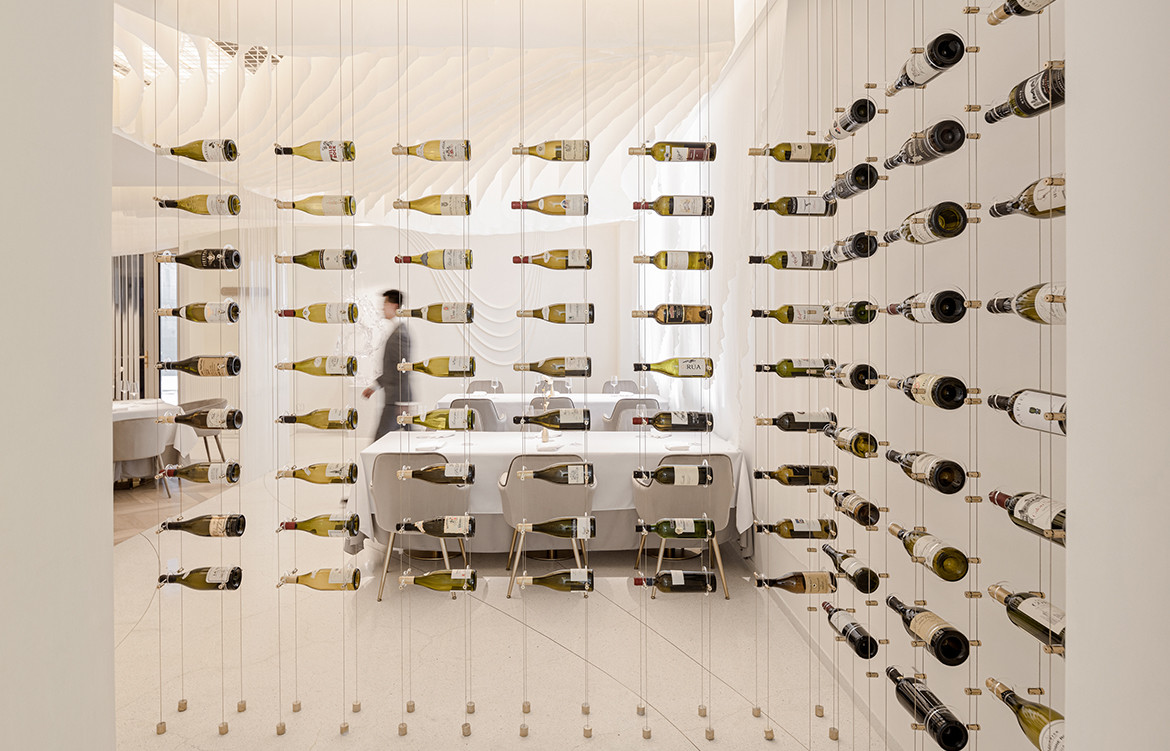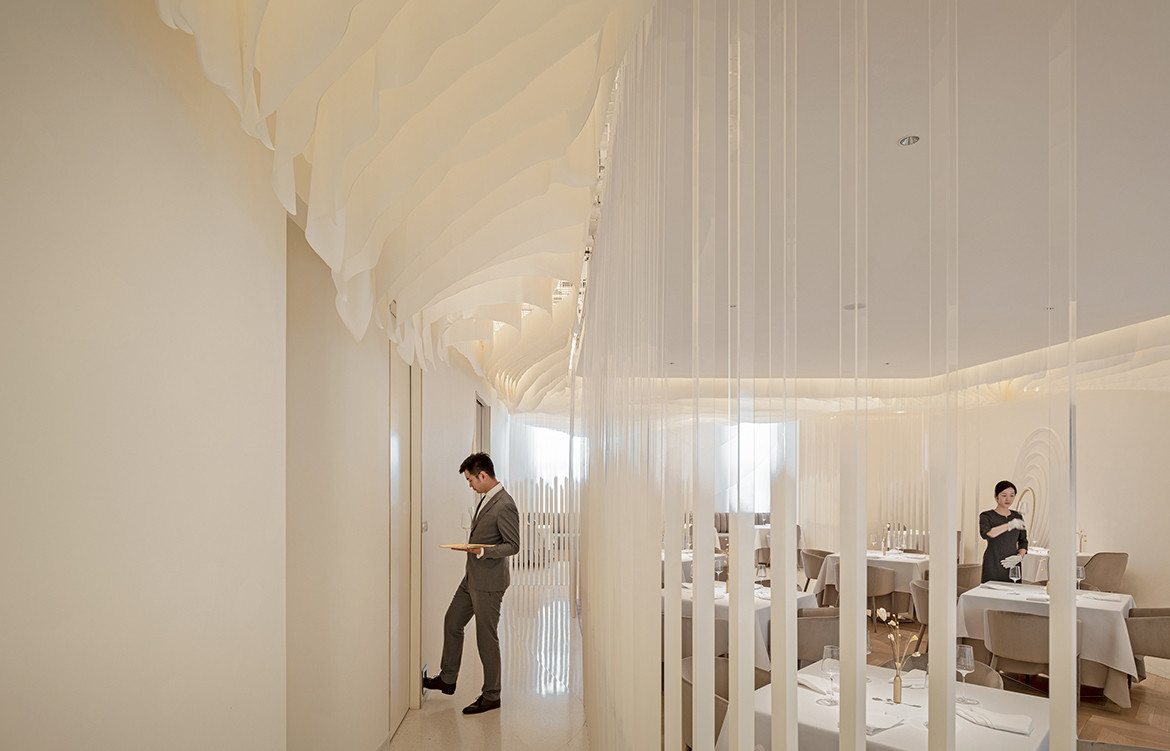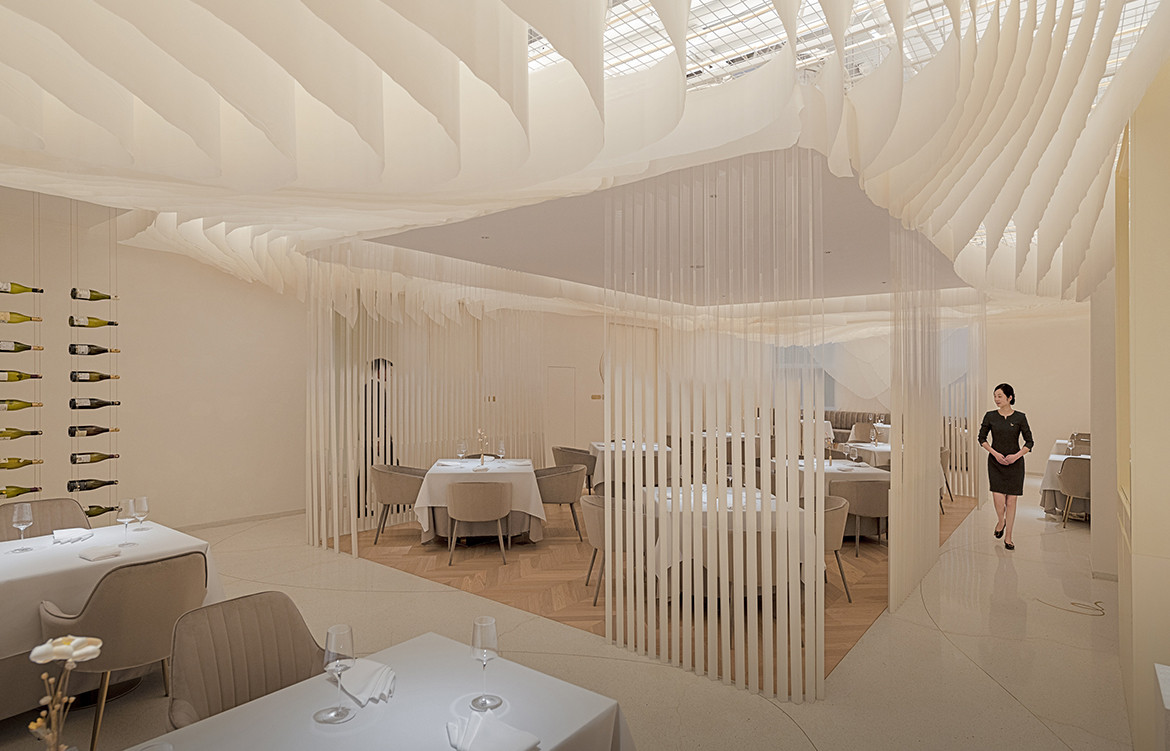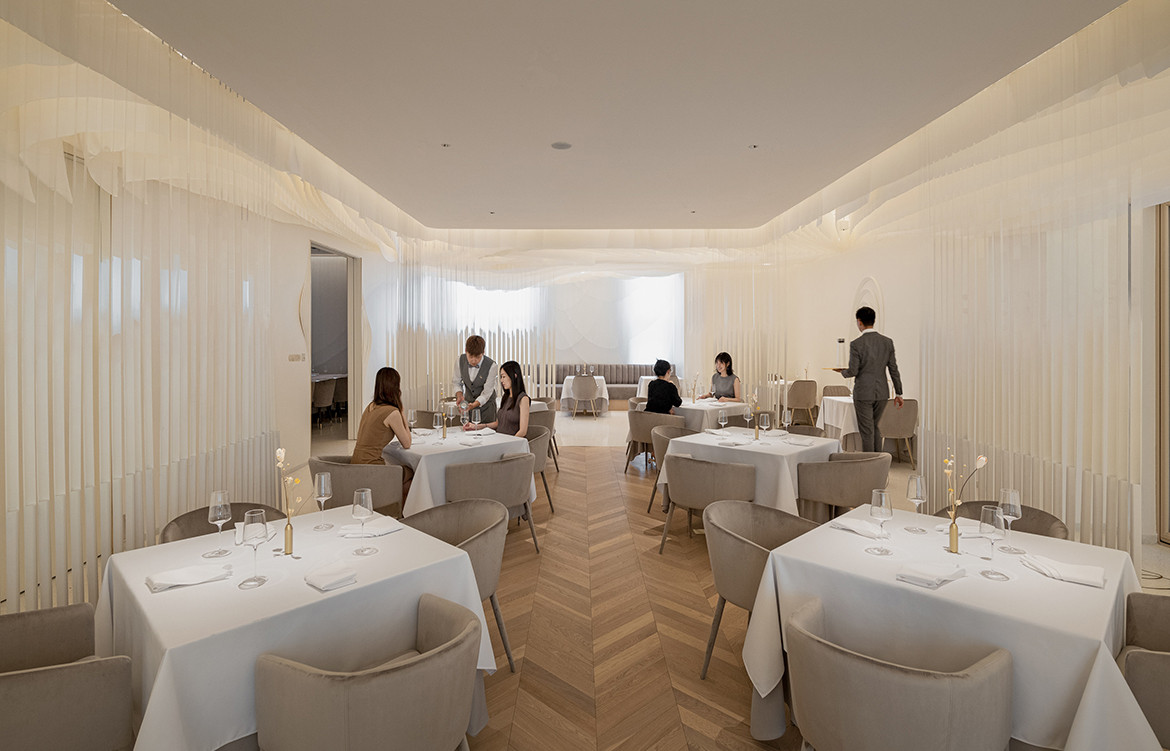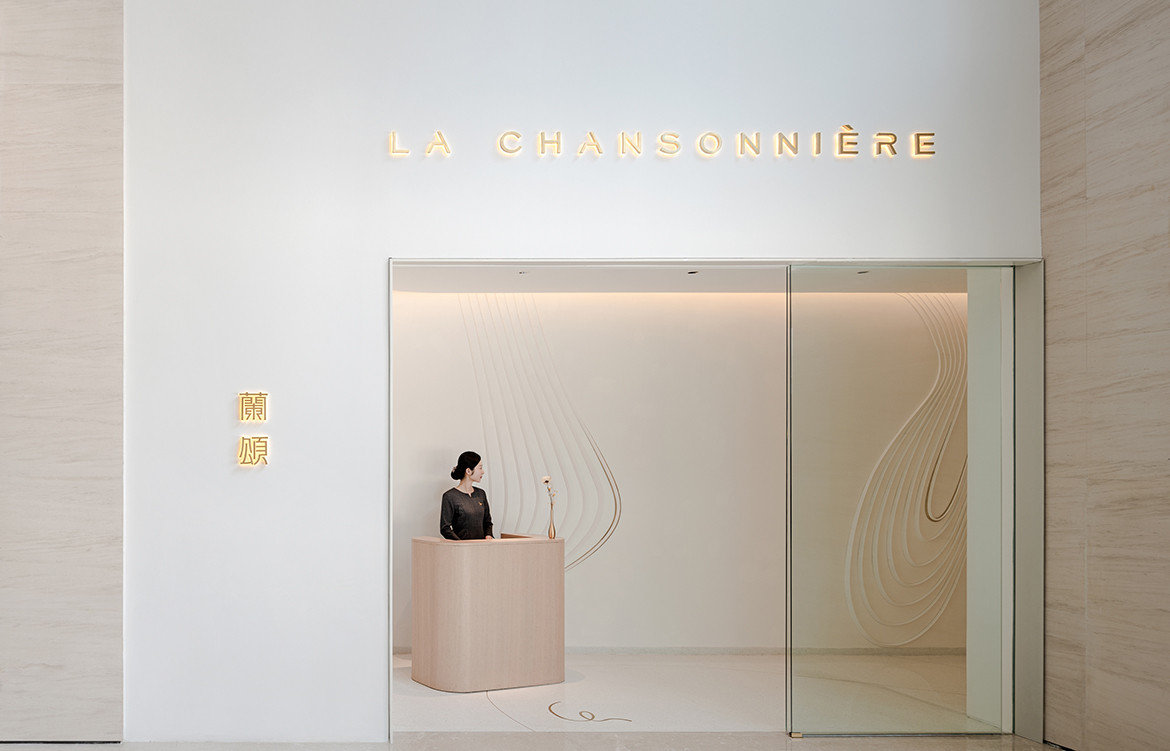 We think you might also like Merah by One Design Office
Tags: acrylic, Bai Yang, beijing, experiential design, Fine Dining, French restaurant, Gao Wenyu, GB SPACE, hospitality, immersive dining, Interior Design, La Chansonnière, Lisa Bai, metal, minimalist, terrazzo, textile, Vicki Wilson, wallpaper, Wang Nang, Wenny Gao, wood, Zhang Jing
---