Hospitality design often seeks to evoke another place or time, while also embodying the local context. That's certainly the case at Fonda Bondi designed by Studio Esteta, where Mexican cuisine and local hospitality are served up in a fun, bright and youthful space. "The refined design is layered with conceptual intent, inspired by the ideals of modern Mexican architecture and a sympathetic and contextual approach to the beachside suburb of Bondi," says Sarah Cosentino of Studio Esteta.
In Mexico, a traditional fonda is a home that opens its doors to the local community, like an unofficial restaurant. Studio Esteta has imbued Fonda Bondi – the first Fonda location outside of Melbourne – with the local and casual feel of a traditional fonda to create a warm and inviting setting.
Two recessed alcoves in the façade of Fonda Bondi allow for outdoor seating on the tiled pavement. Large glass windows foster a connection between indoor and outdoor areas, and the front bar is a buzzing space, much like the Hall Street location. There is table seating and communal dining in the front section; booth seating with undulating timber seats in the middle section; and a plant-filled sanctuary with banquette seating at the rear. The vegetation contributes to the fresh look and feel of Fonda and obscures views of the adjacent building and residential street.
Studio Esteta, looking to Mexican Architecture for inspiration, couldn't do so without looking to the works of renowned Mexican architect Luis Barragán, "particularly his use of raw textures, bold colours and simple but striking forms," Sarah says. Indeed, as Barragán has described: "At all times in my work, I had in mind the horizontal and vertical planes and angles of intersection. This explains the frequent use of the cube in my architecture."
At Fonda Bondi, the colour palette is inspired by Bondi and Mexico and expresses the youthful personality of the Fonda brand. The light and bright powder blue tones are evocative of the beach, while the nude, terracotta and rust colours are derived from Mexico. These colours have been used to define functional spaces: utility and service areas, including the bar, kitchen and bathrooms, are housed within the terracotta-coloured interior space, while the façade and dining room walls are powder blue. Horizontal planes are evident in the leather backrest of the seating; square tiles clad the bar, tables and wall; partitions and bathroom doors have rounded forms.
This is layered with the textures of rendered wall finishes, rattan screens, warm timbers, speckled terrazzo and encaustic tiles. Cacti inject a further touch of Mexico, as does the "mi casa, su casa" neon sign on the wall, which captures the intention and atmosphere of the space.
Studio Esteta
studioesteta.com.au
Photography by Tessa Ross-Phelan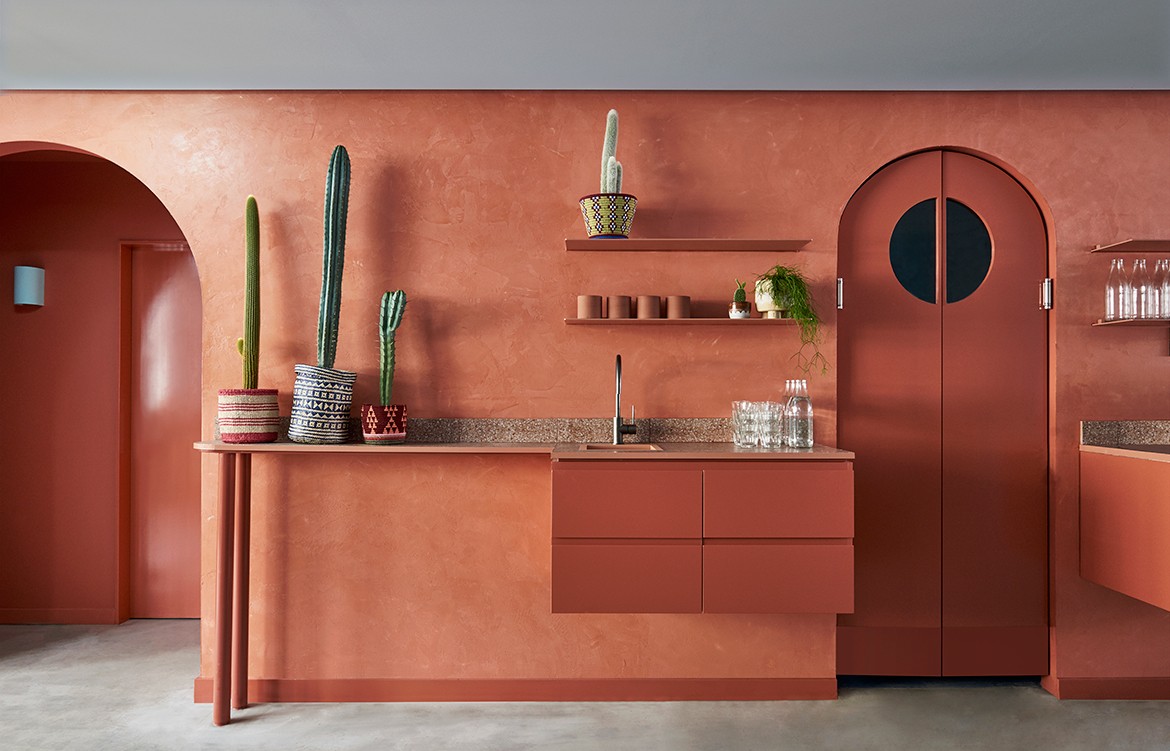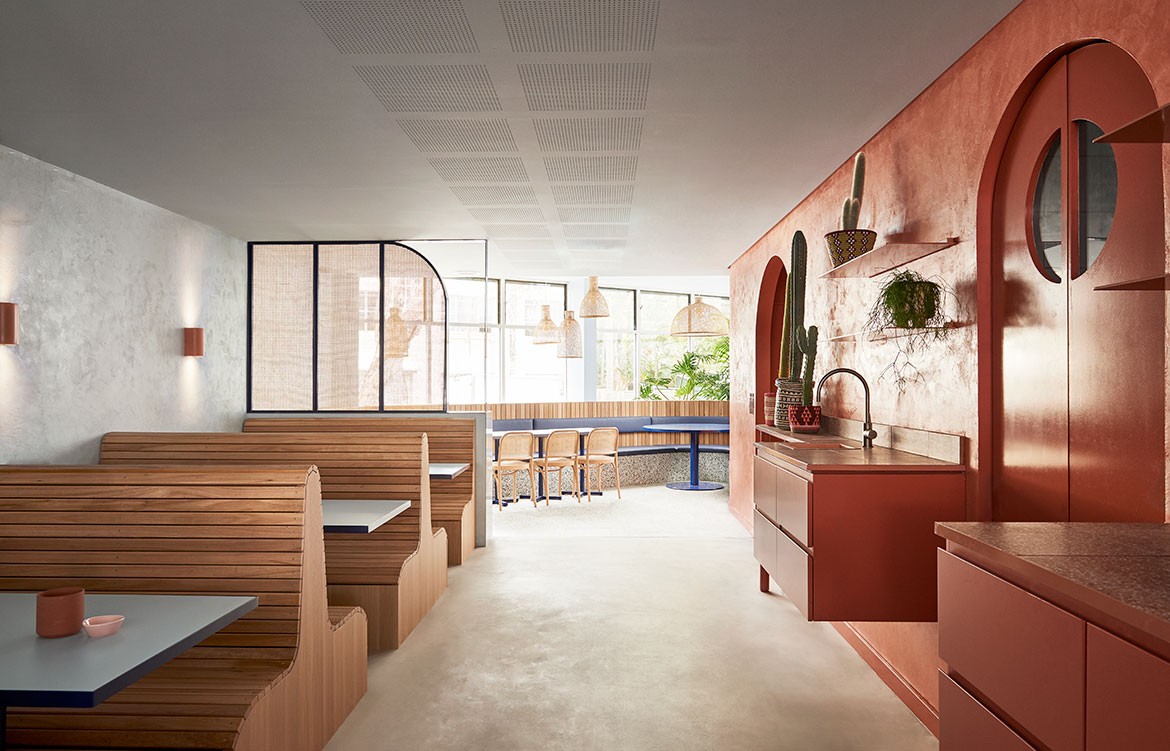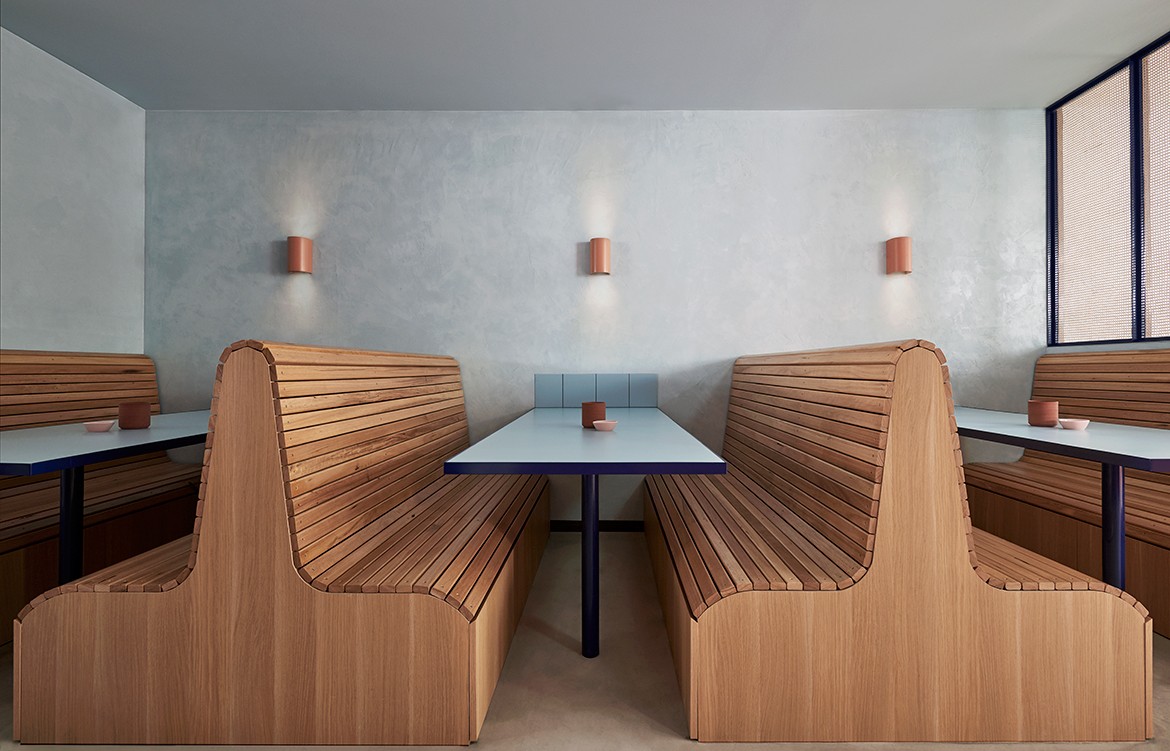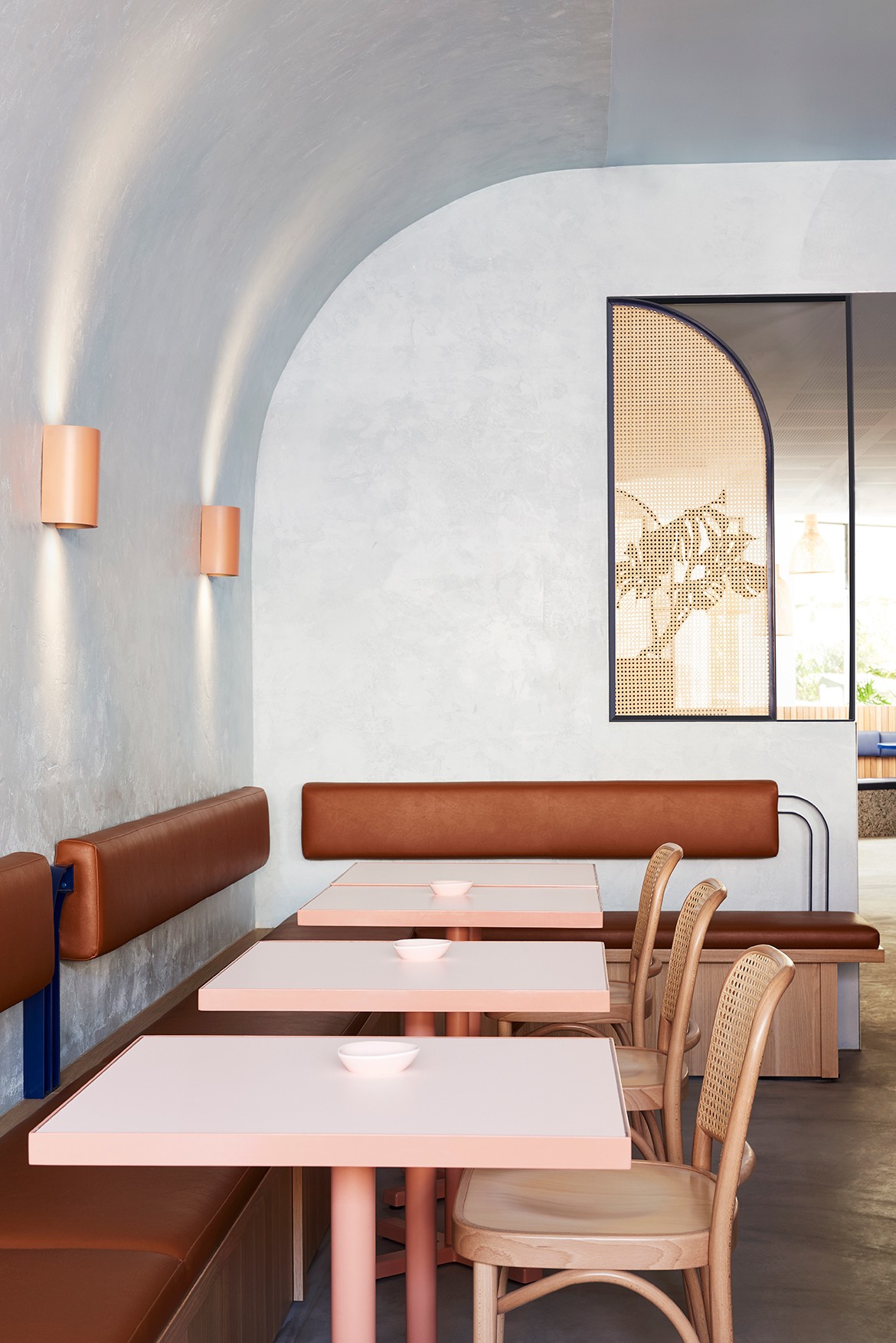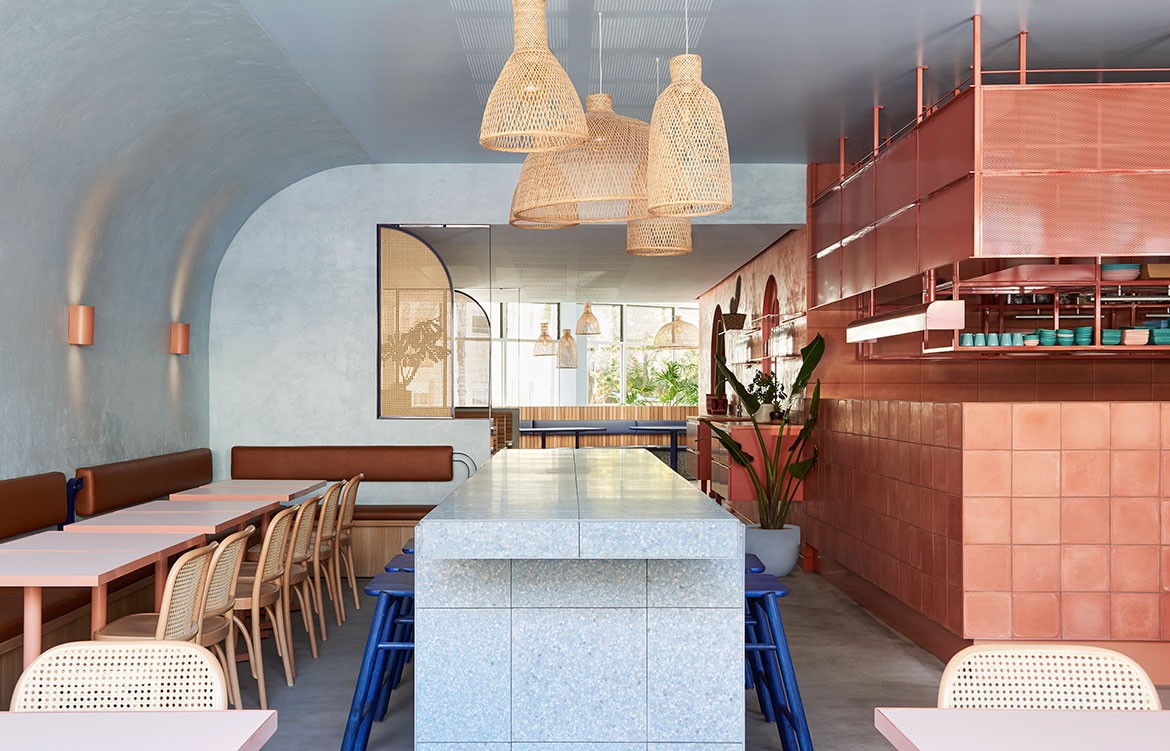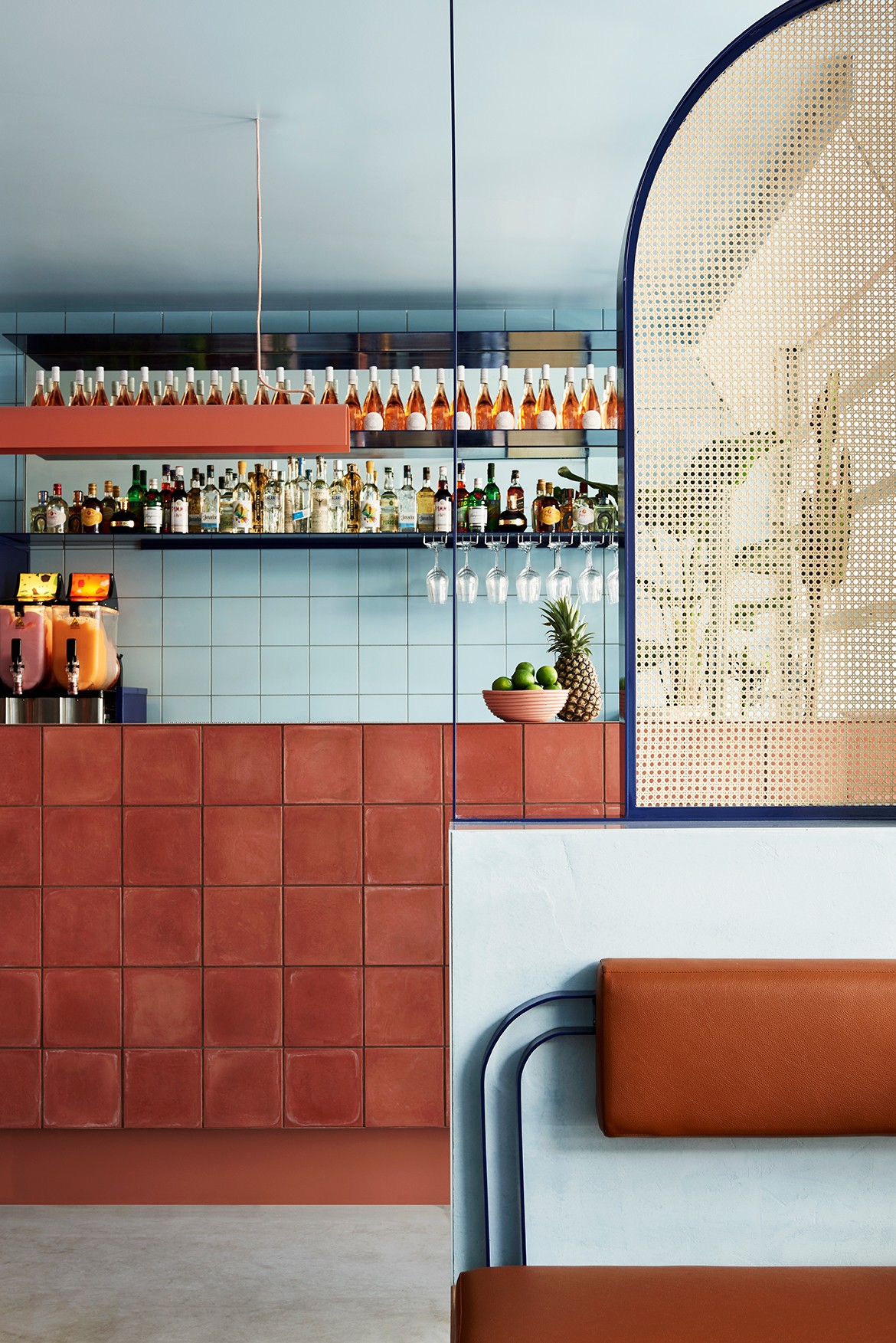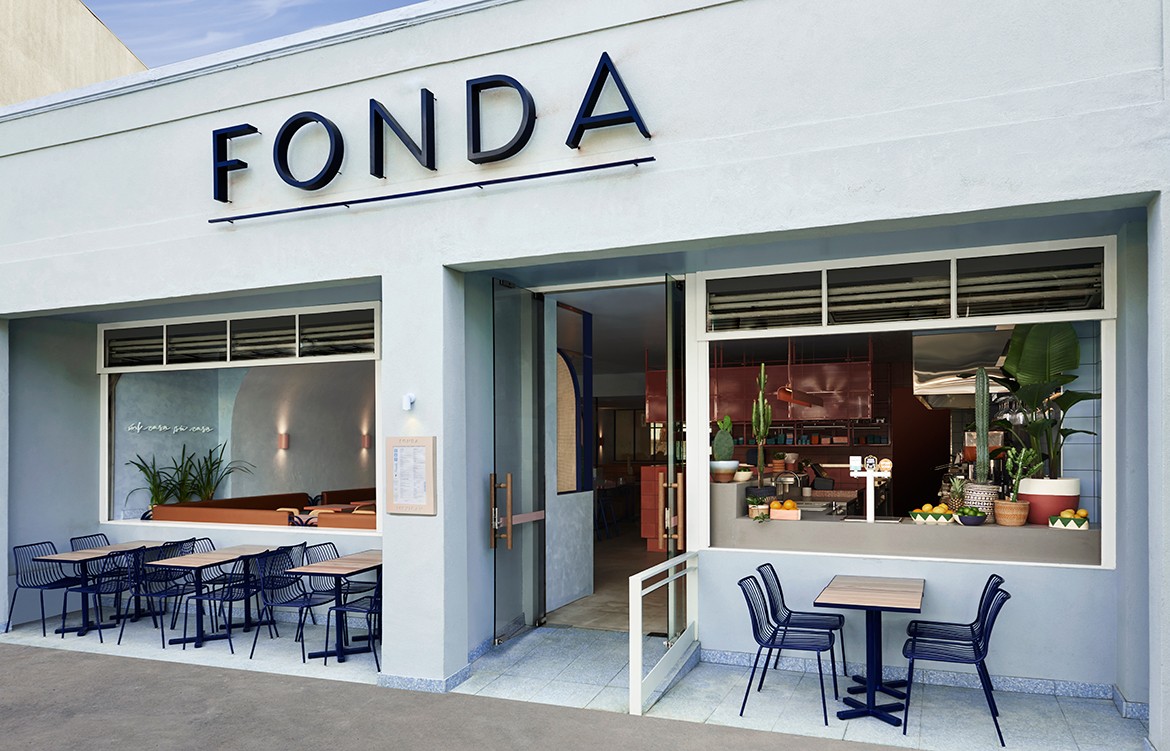 We think you might also like Fonda, Collingwood, by ST Style
Tags: Architecture, bondi, Cosentino, design, Fonda, hospitality, rebecca gross, Studio Esteta, Sydney
---