For those visiting this house in Melbourne's southeastern suburbs, few, if any, would be aware that this single-fronted Victorian terrace was renovated twice over a 10-year-period. Architect and interior designer Fiona Dunin, director of FMD Architects, was commissioned by the current owner, then single, to renovate and extend his terrace, leaving the façade and the first two rooms, intact. "We're surrounded by charming period cottages, so it didn't make sense to 'make a statement' in this streetscape," says Fiona.
Ten years ago the terrace was updated, with new built-in joinery for the two bedrooms, upgrading services and polishing the home's original timber floors. FMD Architects also put in a new kitchen including an angular mirrored undercroft to the kitchen's central island bench to magnify the open plan kitchen and lining area. FMD continues to incorporate angular joinery and mirrored surfaces in its practice today. "It's important to be able to reflect light, particularly when a house is quite modest in size," says Fiona, pointing out the footprint of the site, approximately 6×31-metres.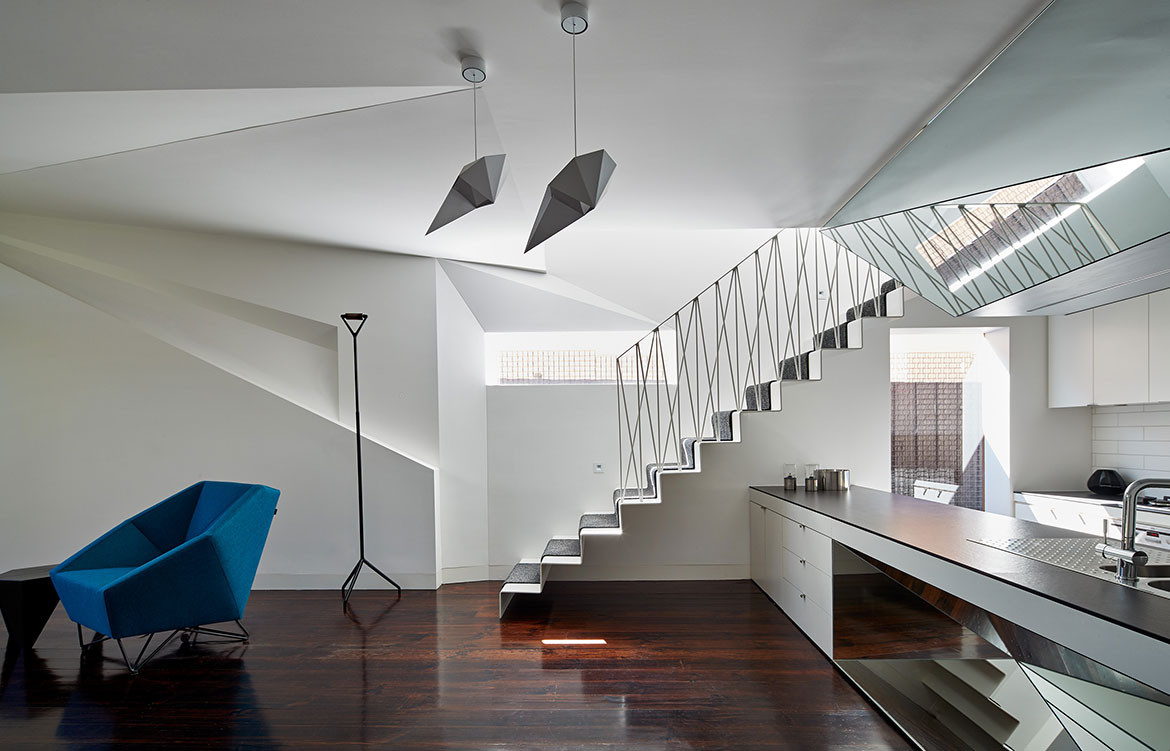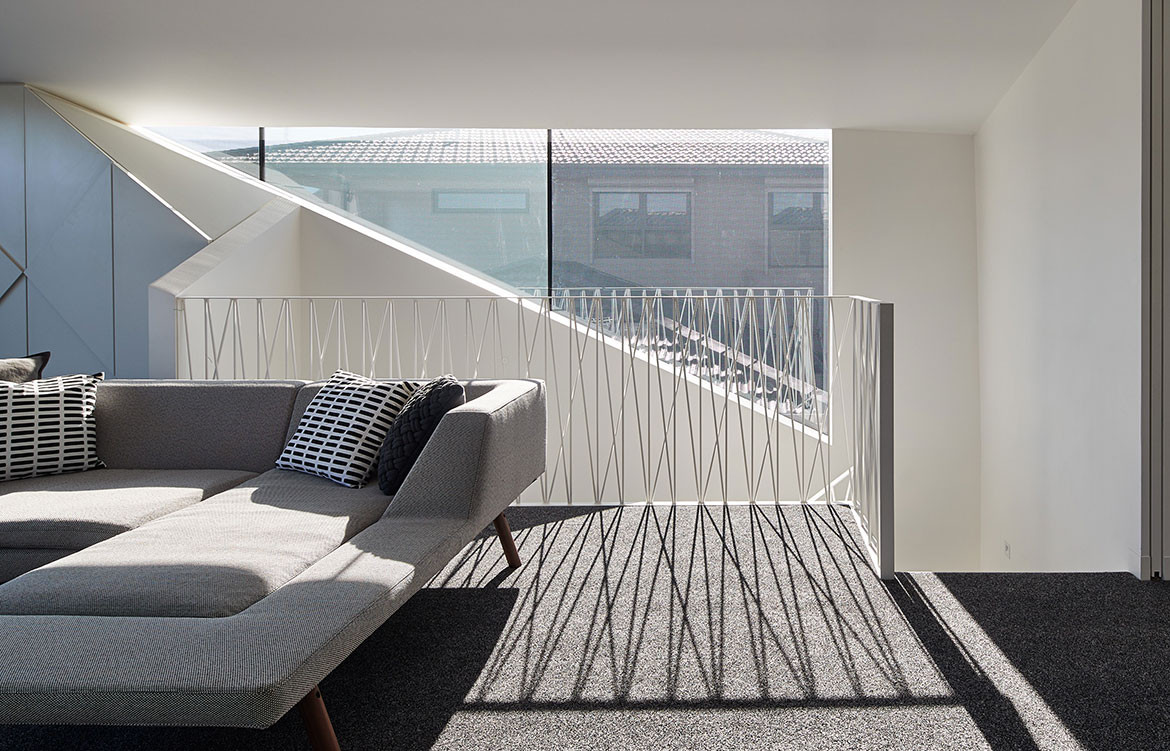 The more recent renovation, commissioned by the same owner who has since married and has a child, was for an additional bedroom and a second living zone. "Our clients had become attached both to their house and the area," says Fiona, who incorporated virtually all the features from the initial renovation, including the angled mirror below the central island bench. One of the few pieces of joinery to go was a full height cupboard in the kitchen, with a powder-coated steel staircase 'carved' into this area.
Upstairs, there's now a main bedroom, ensuite and a second living area, leading to a north-facing terrace with an angular perforated steel screen/balustrade. Angles feature extensively in the built-in cocktail bar in the second living area/parents retreat, as well as in the dressing area, with its angular window.
"We retained as much of the original design as possible, updating where needed," says Fiona, pointing out the new black ceramic benchtop in the kitchen, together with the deep laminate drawers. Although appearing as part of the second stage of the renovation, Fiona designed the angular wall niche in the main living area 10 years ago. "The lesson for those concerned about things feeling 'dated' is to be quite adventurous. Design for yourself and not be preoccupied by following trends," says Fiona, as a parting note.
FMD Architects
fmdarchitects.com.au
Photography by Peter Bennetts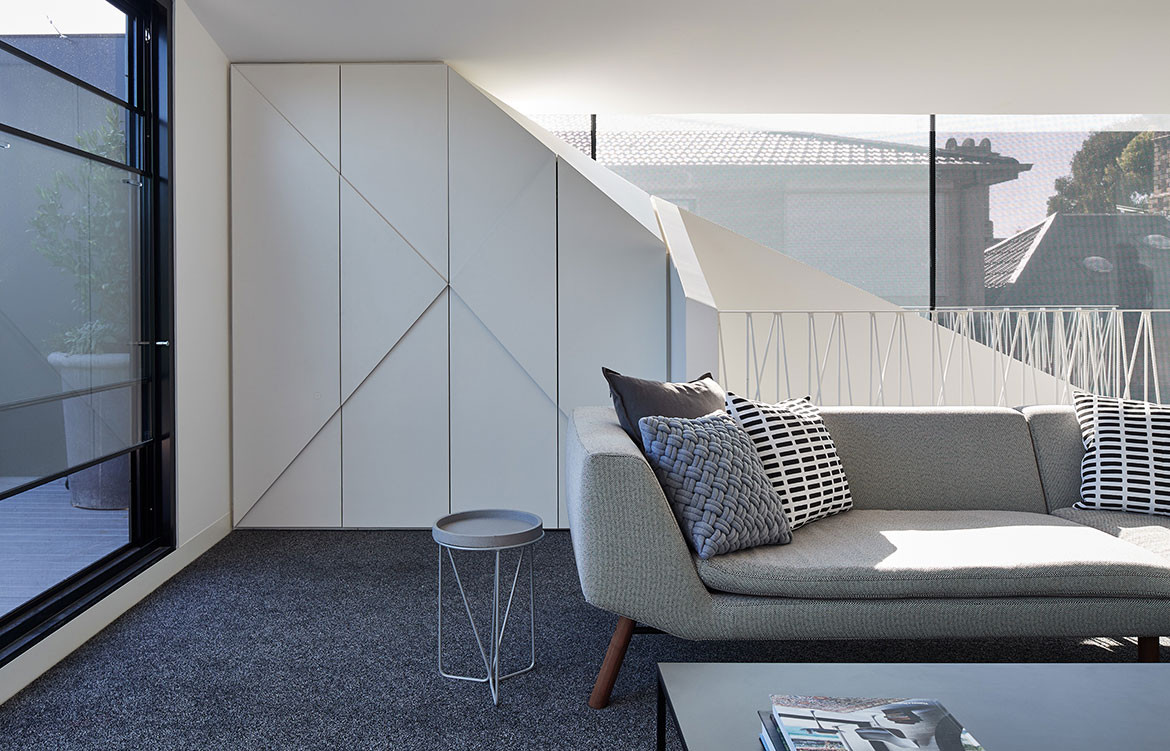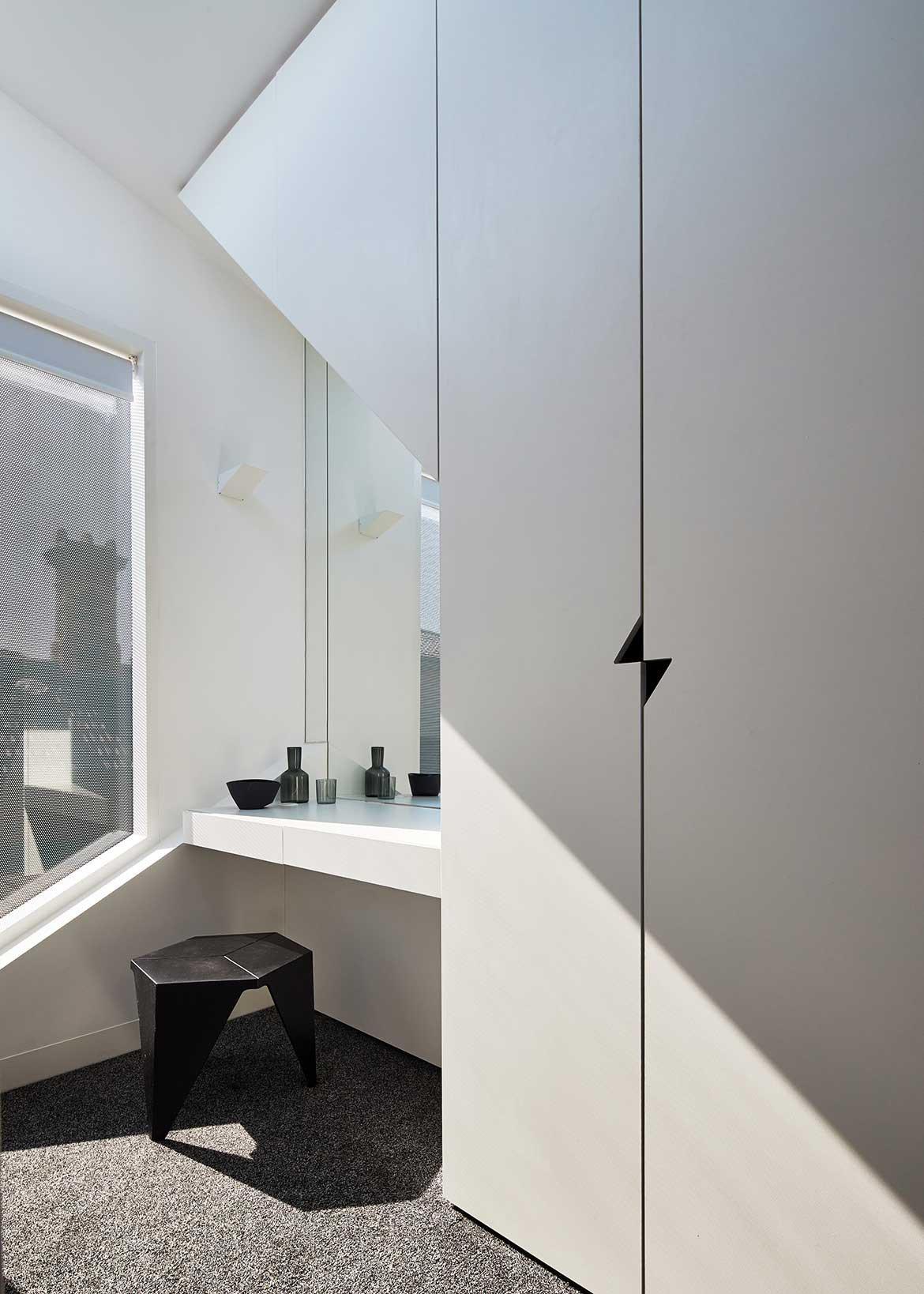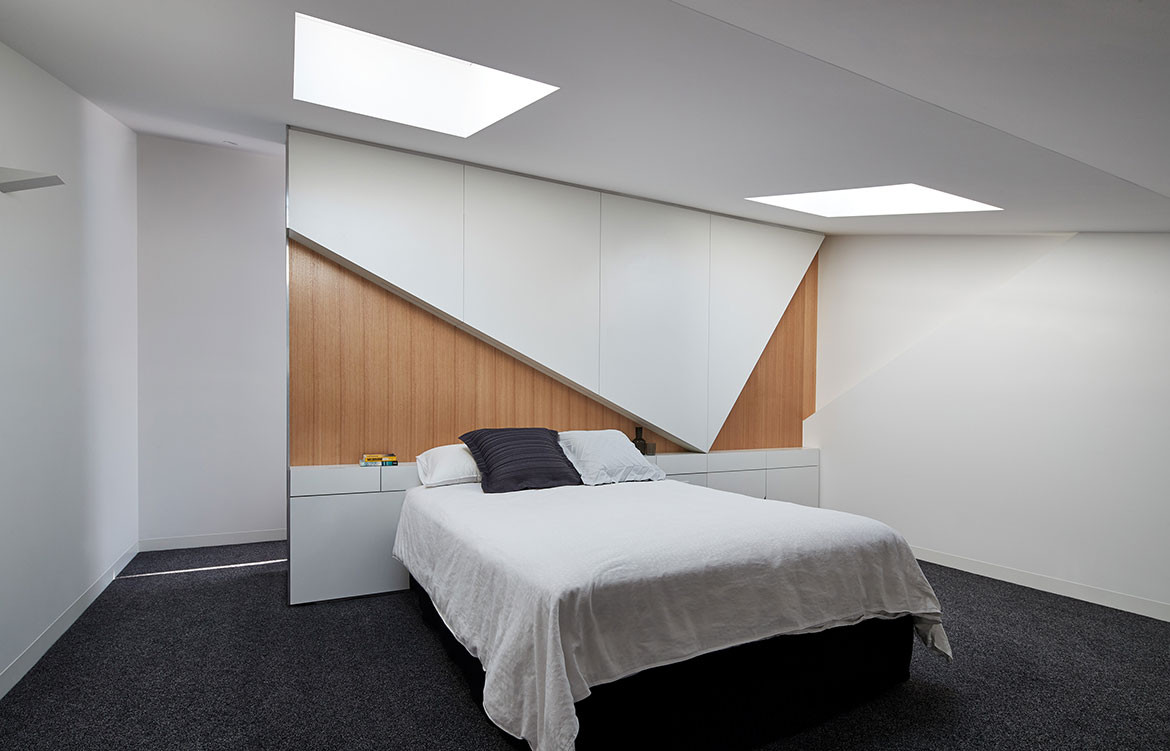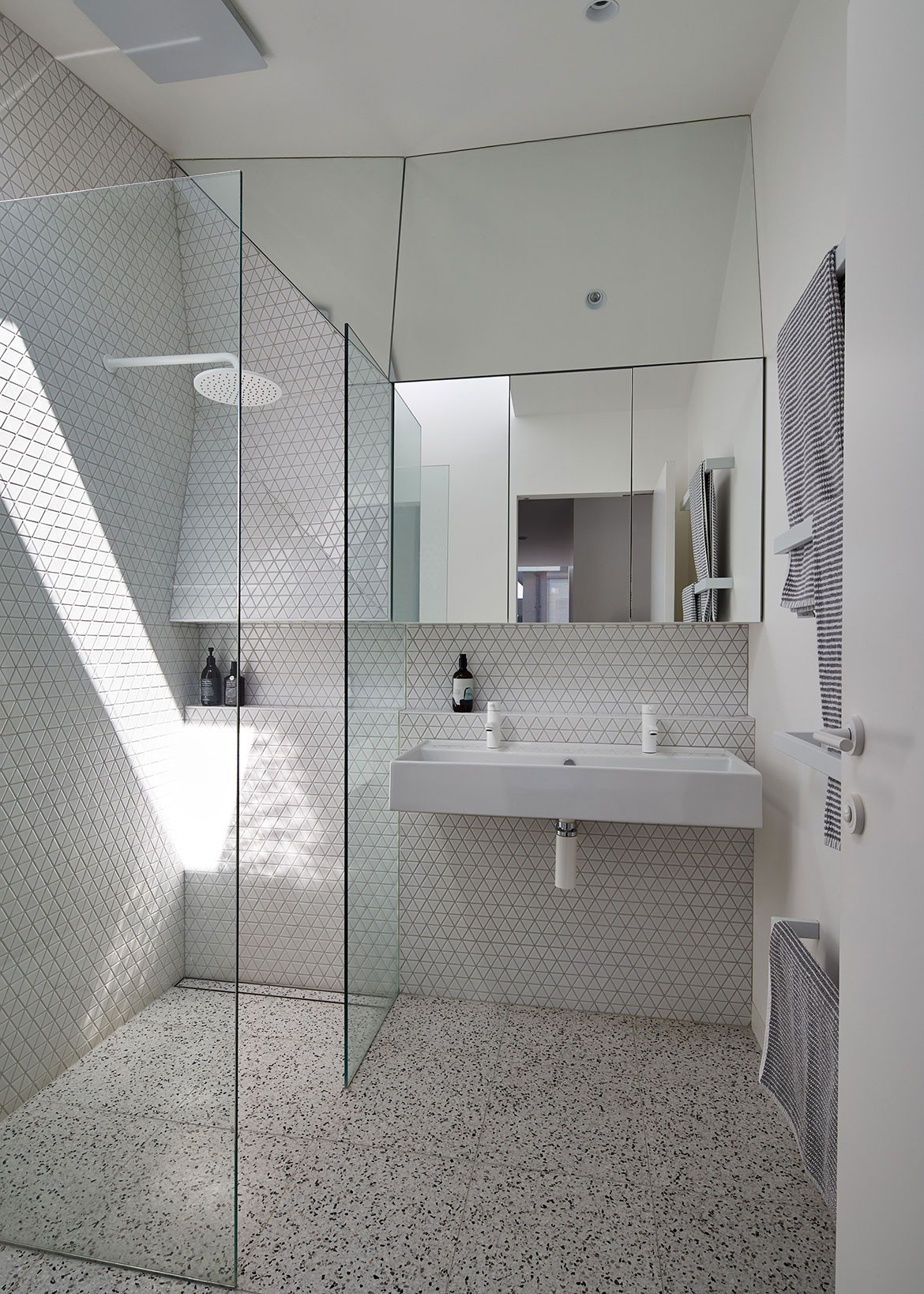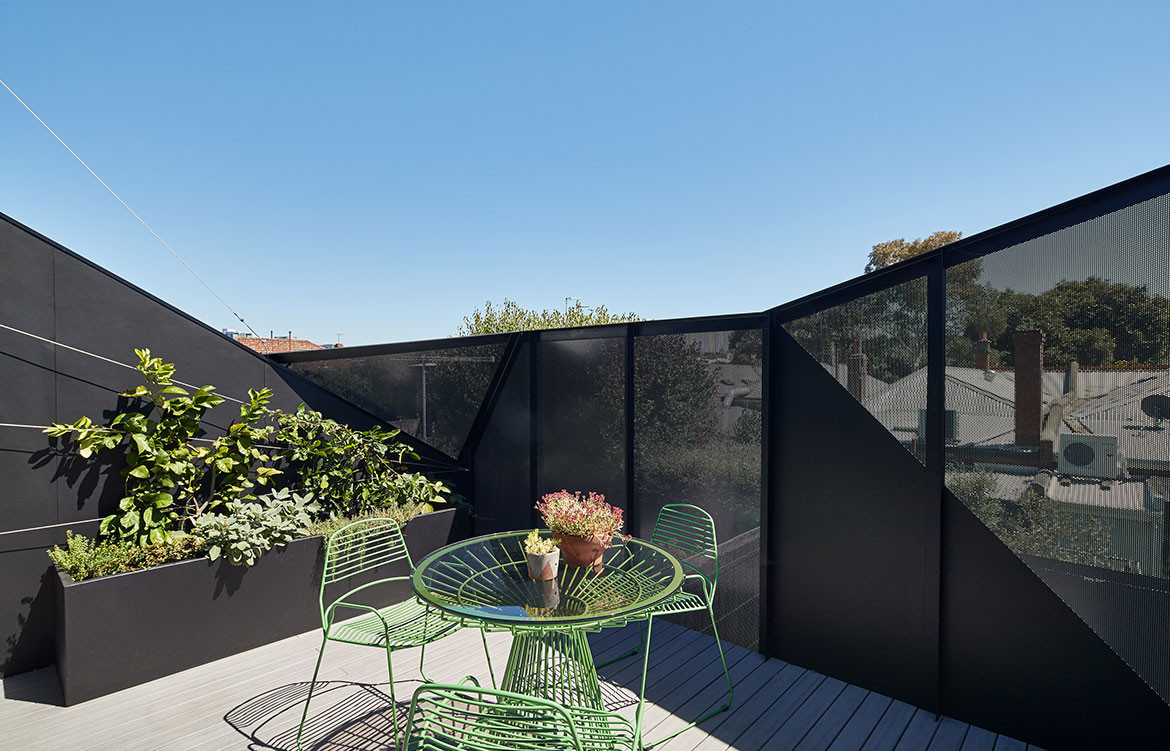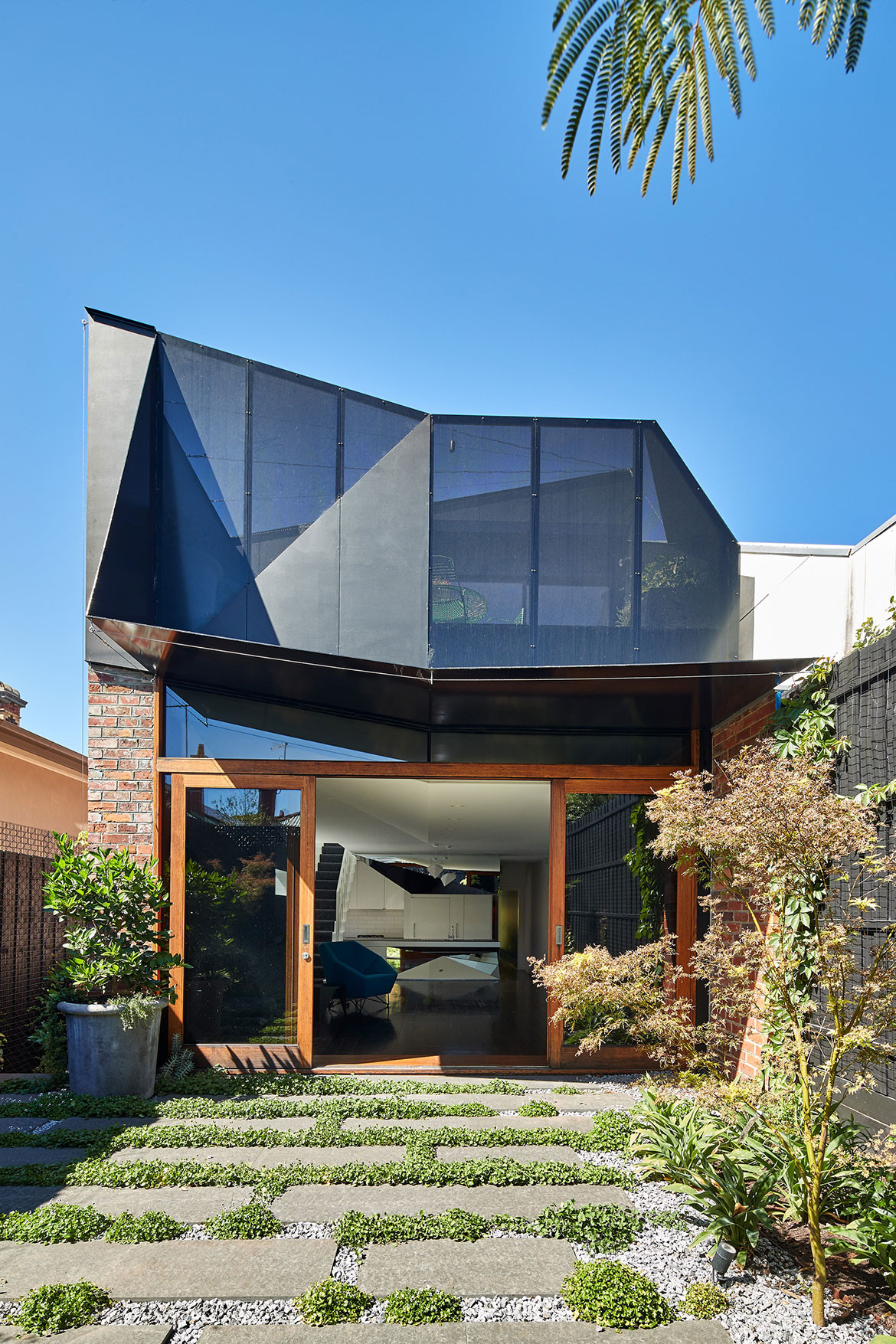 We think you might also like Kelvin House by FMD Architects
Tags: angular joinery, architect, cottage, Fiona Dunin, FMD architects, inner-city, INTERIOR DESIGNER, Melbourne, mirrored surfaces, Residential Architecture, Stephen Crafti, terrace
---