Since its imperial origins, Hyderabad has cultivated a vibrant and organic urban culture. Once home to the Asaf Jahi dynasty, and now recognised as an international hub for technology and innovation, Hyderabad hosts a thriving population of local and migrant artisans, academics, financiers, and pioneers. Amidst all the excitement of India's fifth most populous city, CollectiveProject have created a private weekender for a local couple who love to entertain.
Perched atop a steeply sloped and rugged site, overlooking the Durgam Cheruvu Lake, Lakehouse by CollectiveProject is at once secluded from urban life, while embedded in the heart of Hyderabad. Thanks to its topography, the site has prime views across the water to a nature preserve and the contrasting density of HiTec City, a 150-acre tech park that has become a prominent part of the urban landscape.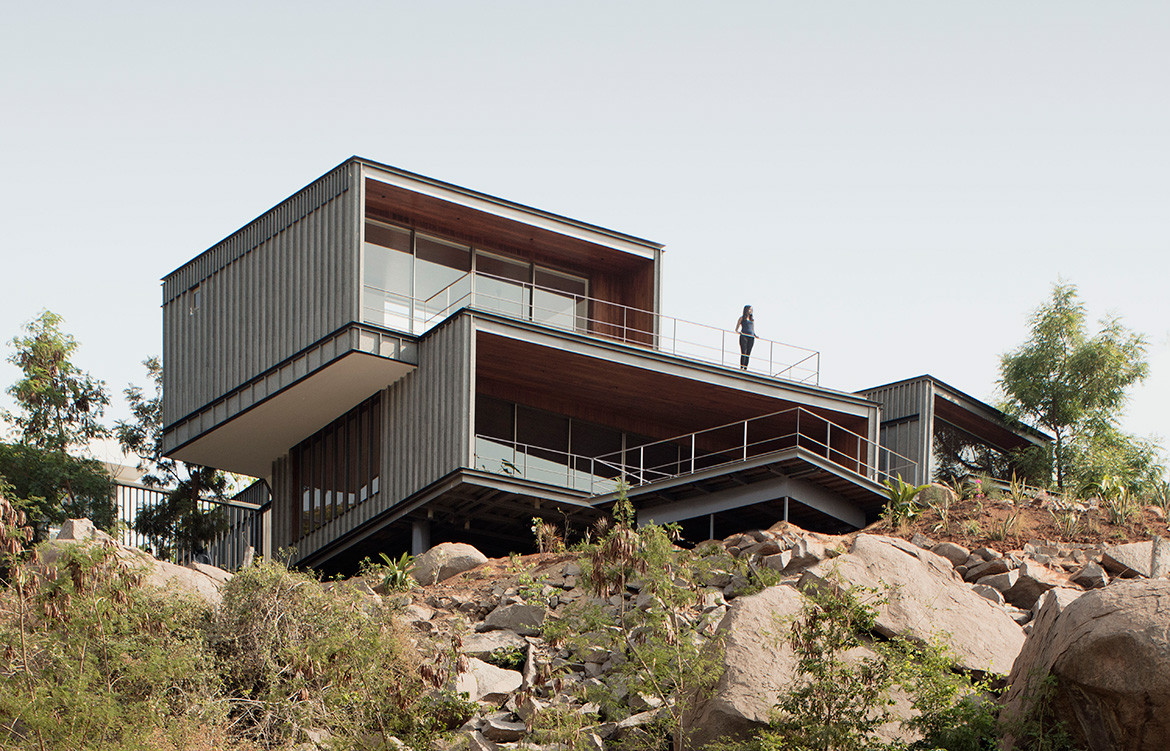 Contrary to Hyderabad's standard architectural response to level and clear the site, the Lakehouse hovers above ground, allowing the natural terrain to take pride of place amongst the architectural experience. CollectiveProject have masterfully harnessed tension between heavy and light to establish a strong material and spatial logic. The vast stone-clad volumes of Lakehouse float upon the dry and jagged landscape, showcasing the skill and precision of the masons who executed the stonework – a humble nod to Hyderabad's legacy of artisanship.
Lakehouse's landscaping highlights the transition between wet and dry as an integral part of the experiential narrative. From the road, the building appears solid and heavy, concealing the panoramic view, surrounded by lush flora and fauna that are foreign to the hot and dry climate of the city. As one journeys through the building, the verdant planting falls behind, and the dry, rocky landscape of Hyderabad reveals itself along with the extraordinary panoramic view.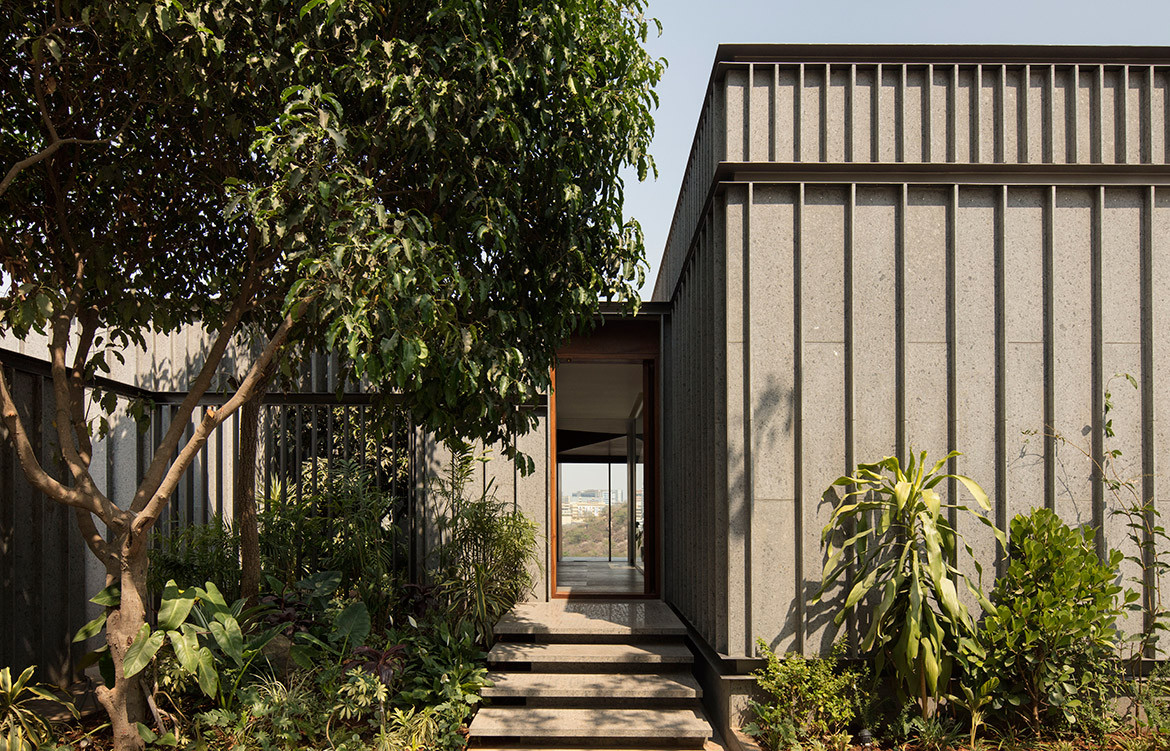 Facing the lake, the building opens with a massing parti pris of three large teakwood portals that rotate and shift to frame unique views. Along the road and sides, the lightweight steel structure is clad with slabs and thin ribs of local grey granite. The resulting effect is a subtle play of light and shadow, while maintaining privacy from neighbouring properties.
The teakwood cladding of the three lake-facing external portals is continued throughout the interior walls and ceiling, blurring the lines between inside and out. Full height wooden screens provide a tactile accent and allow for immediate, filtered views to the small gardens and the city yonder.
CollectiveProject
collective-project.com
Photography by Benjamin Hosking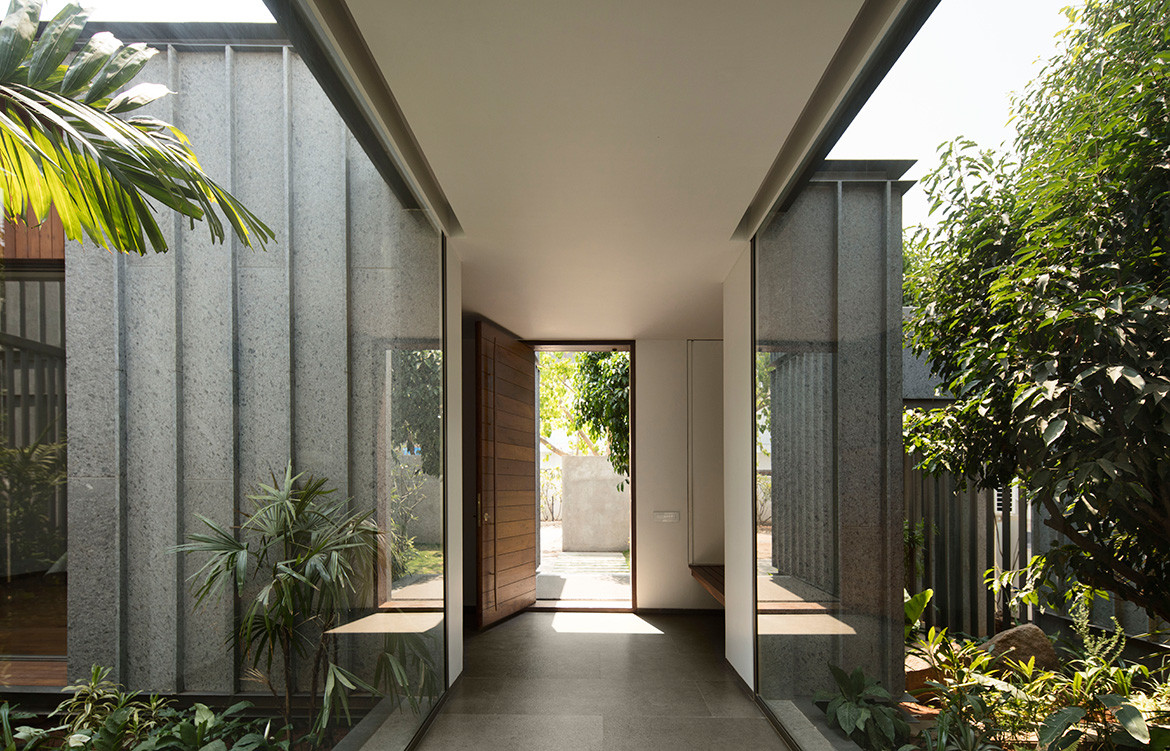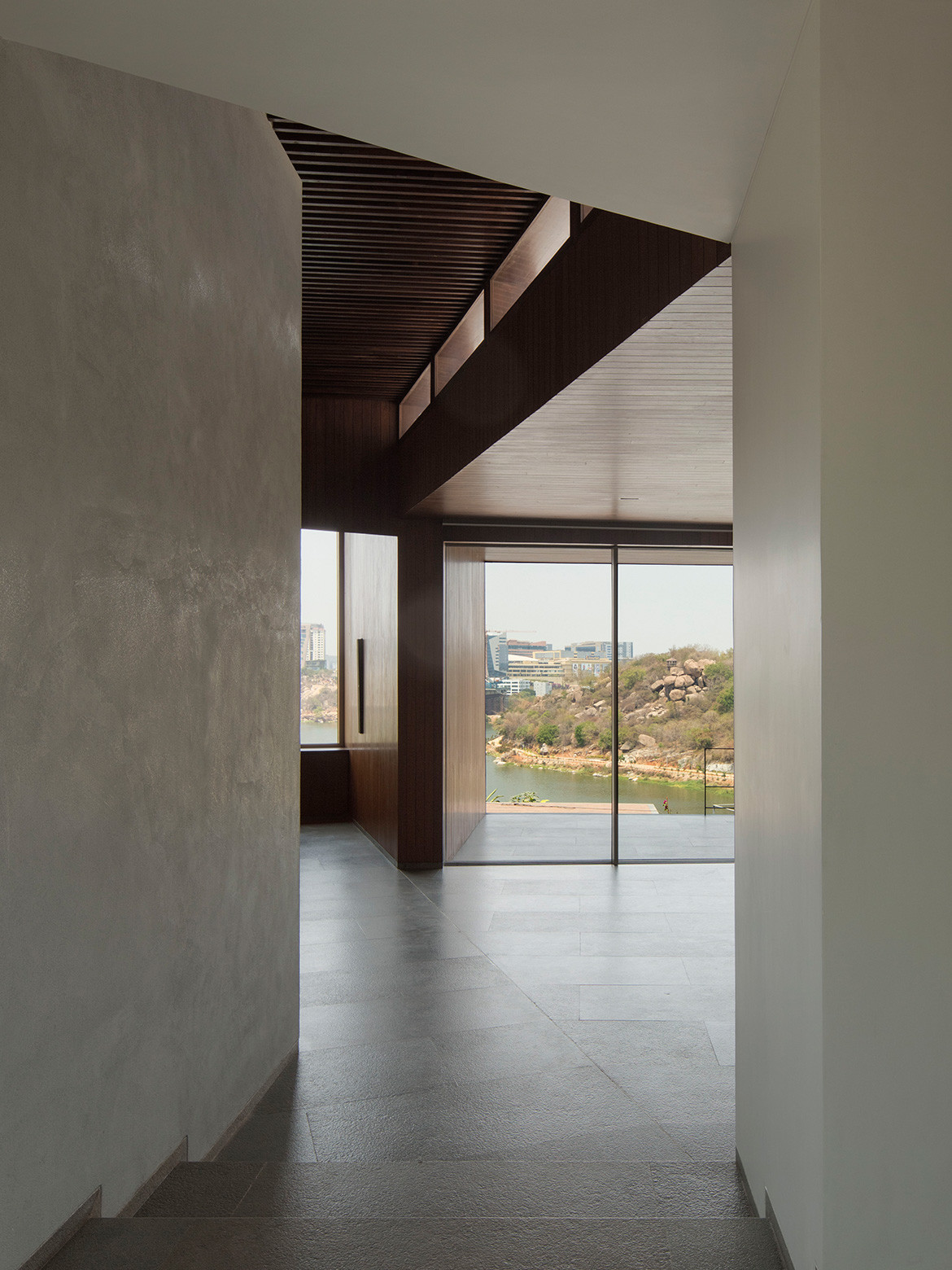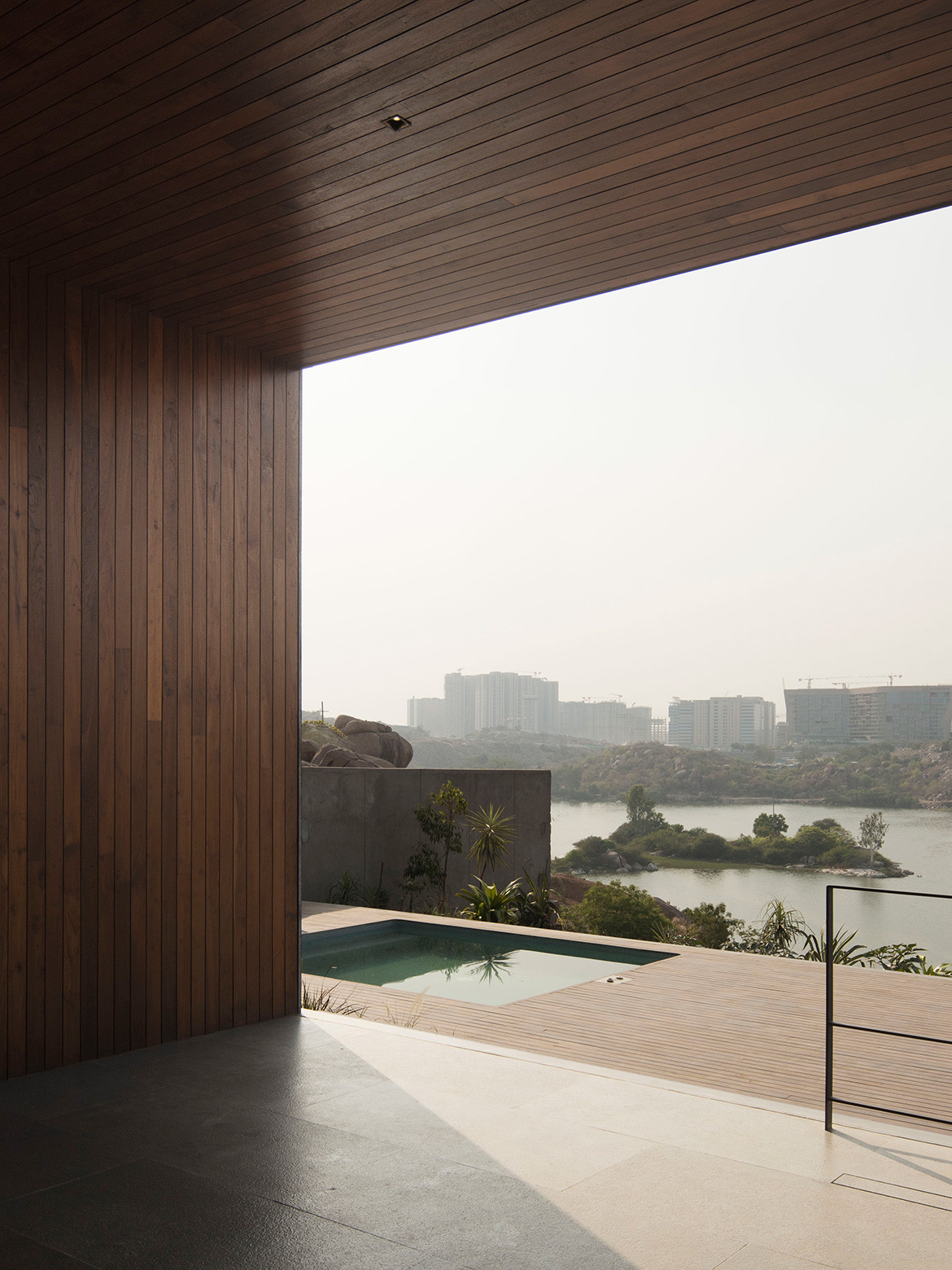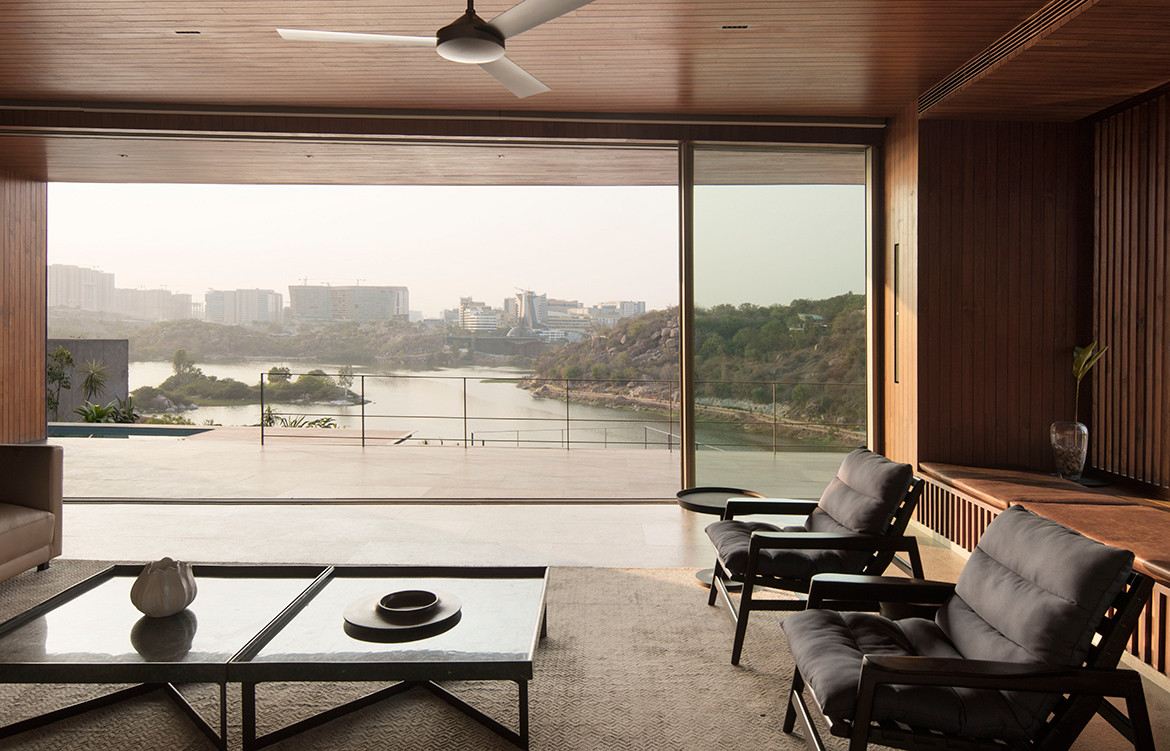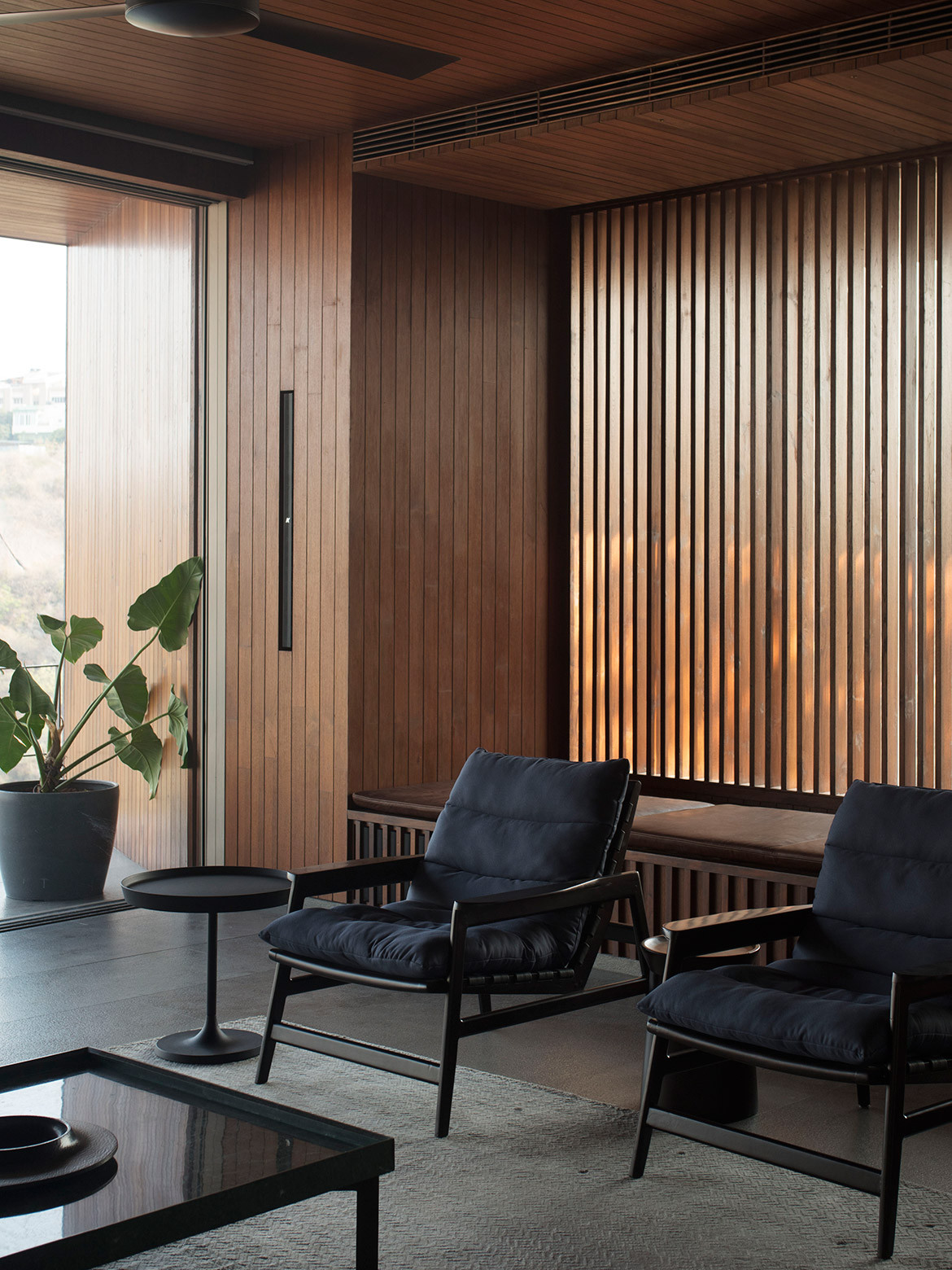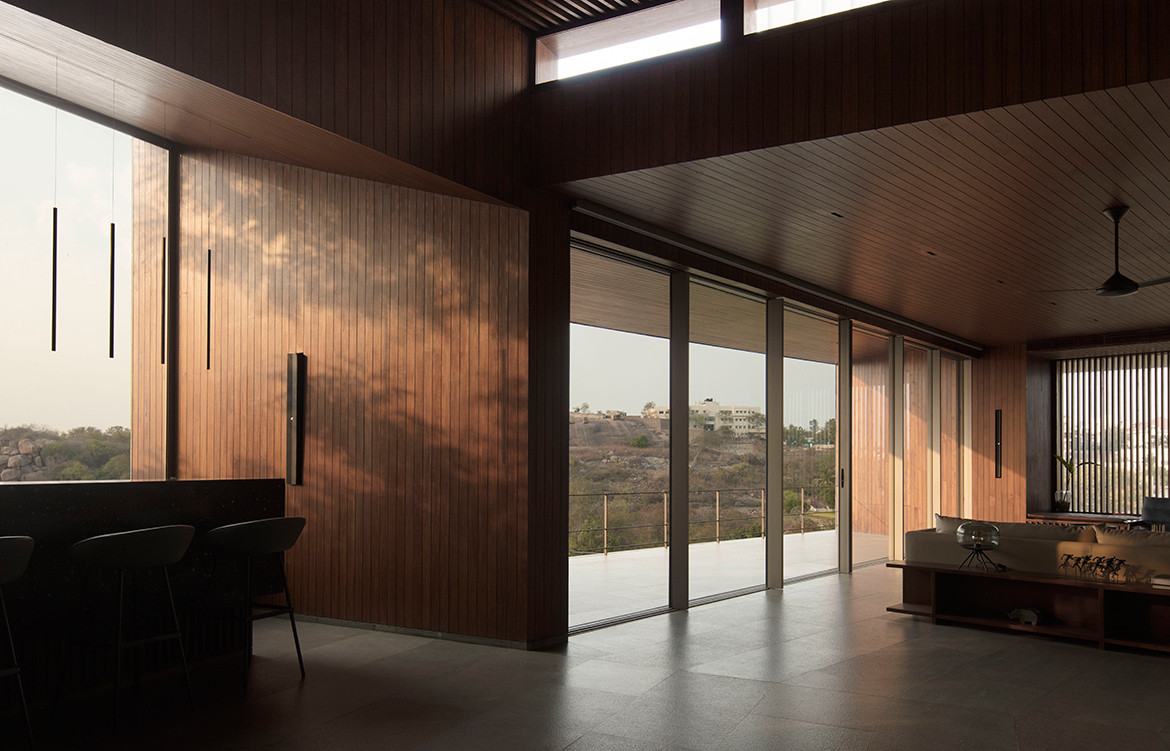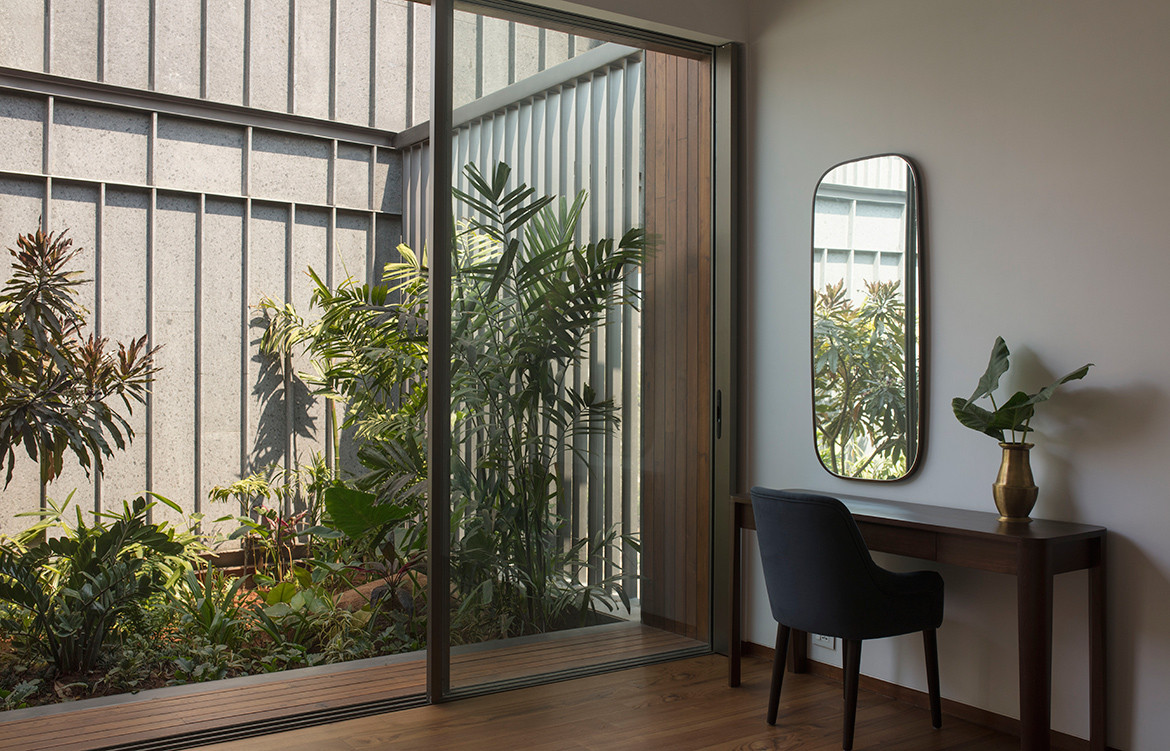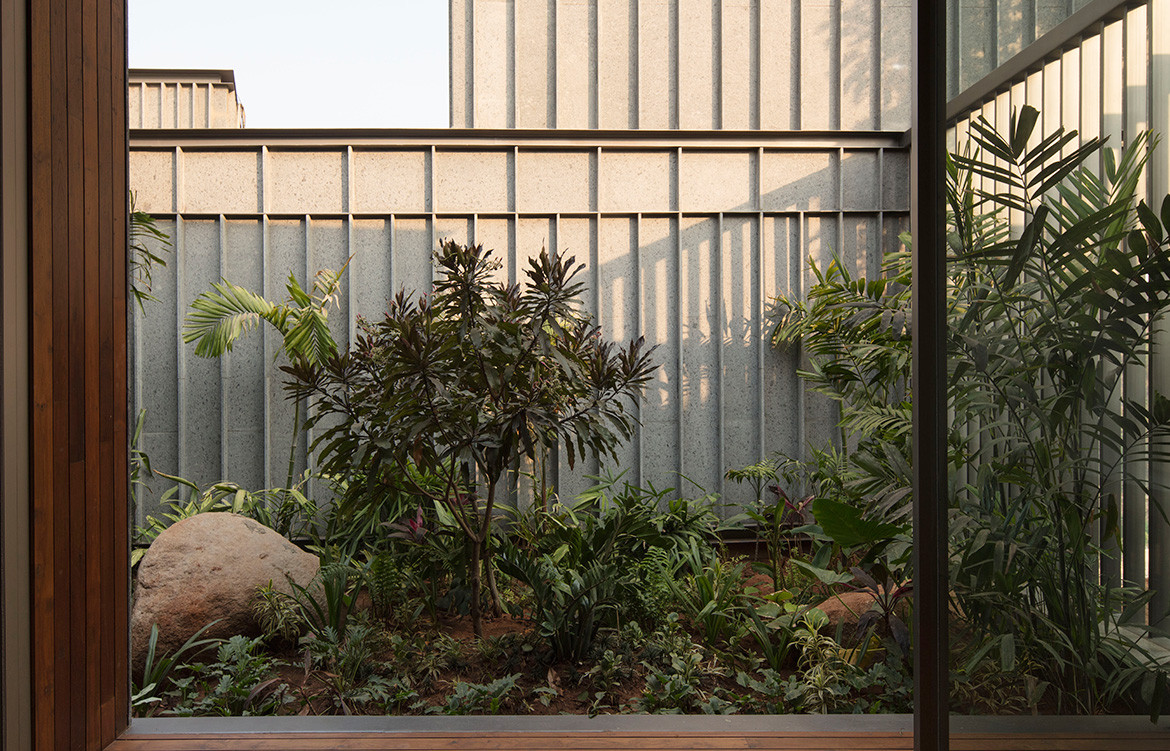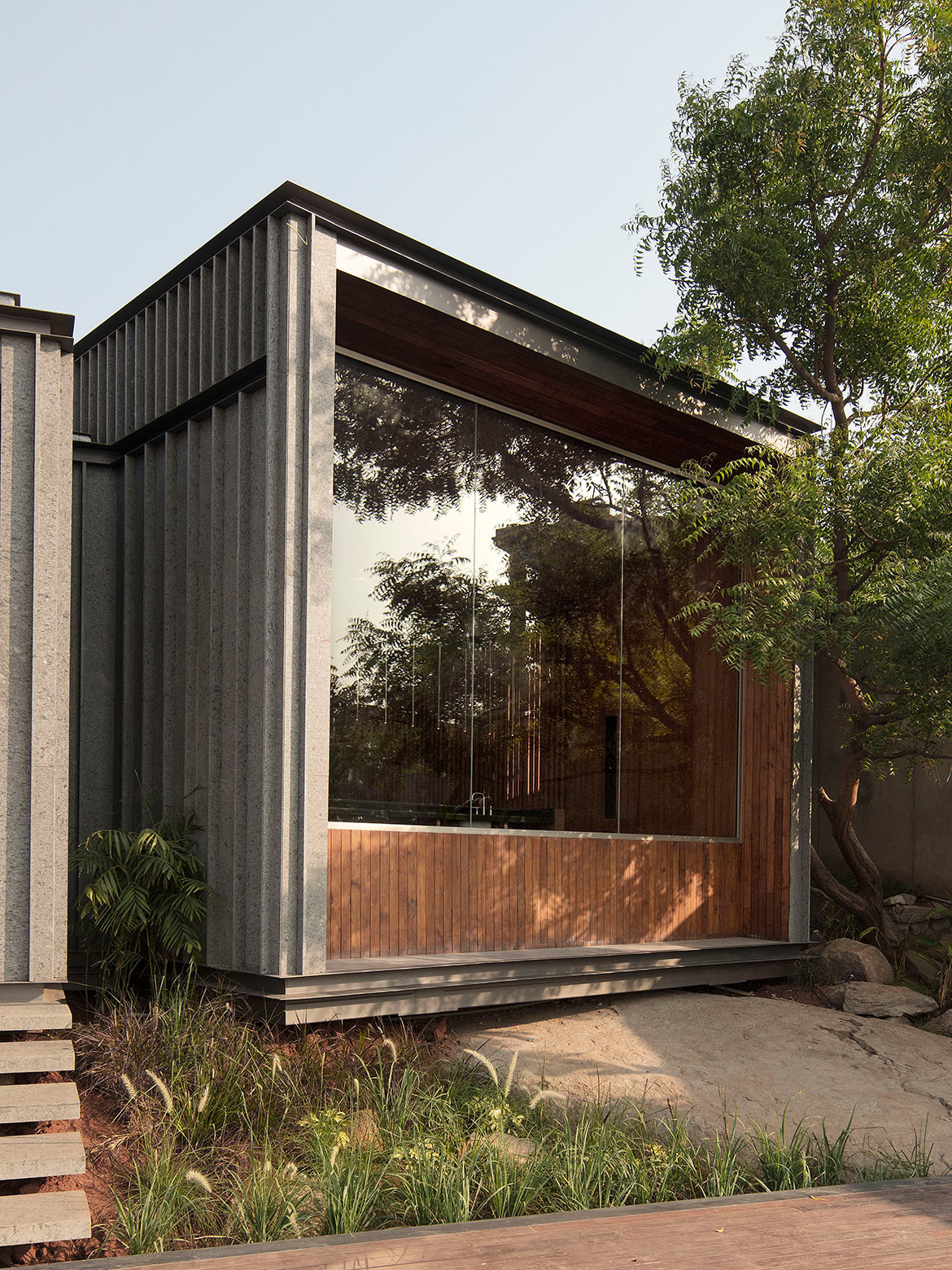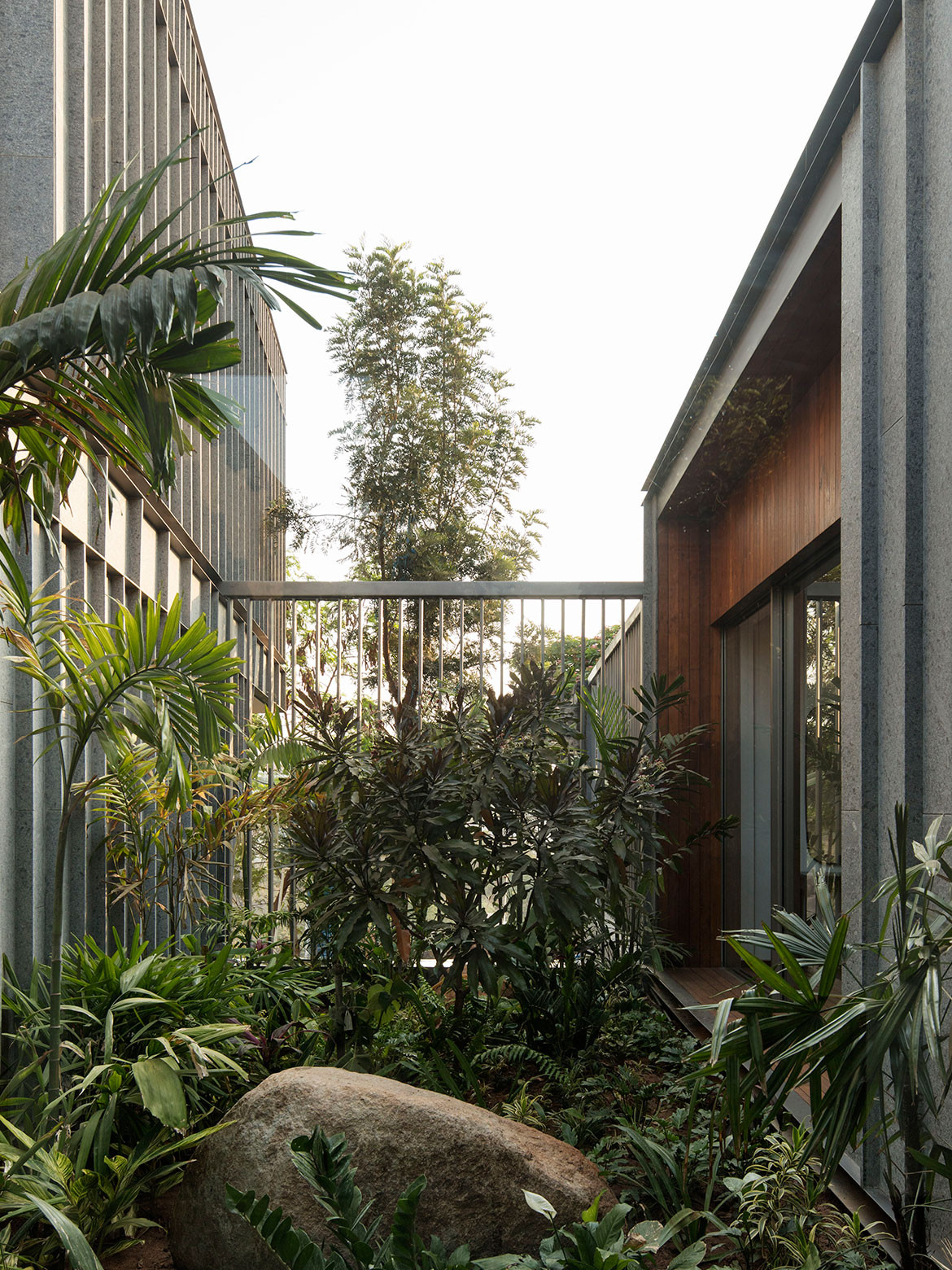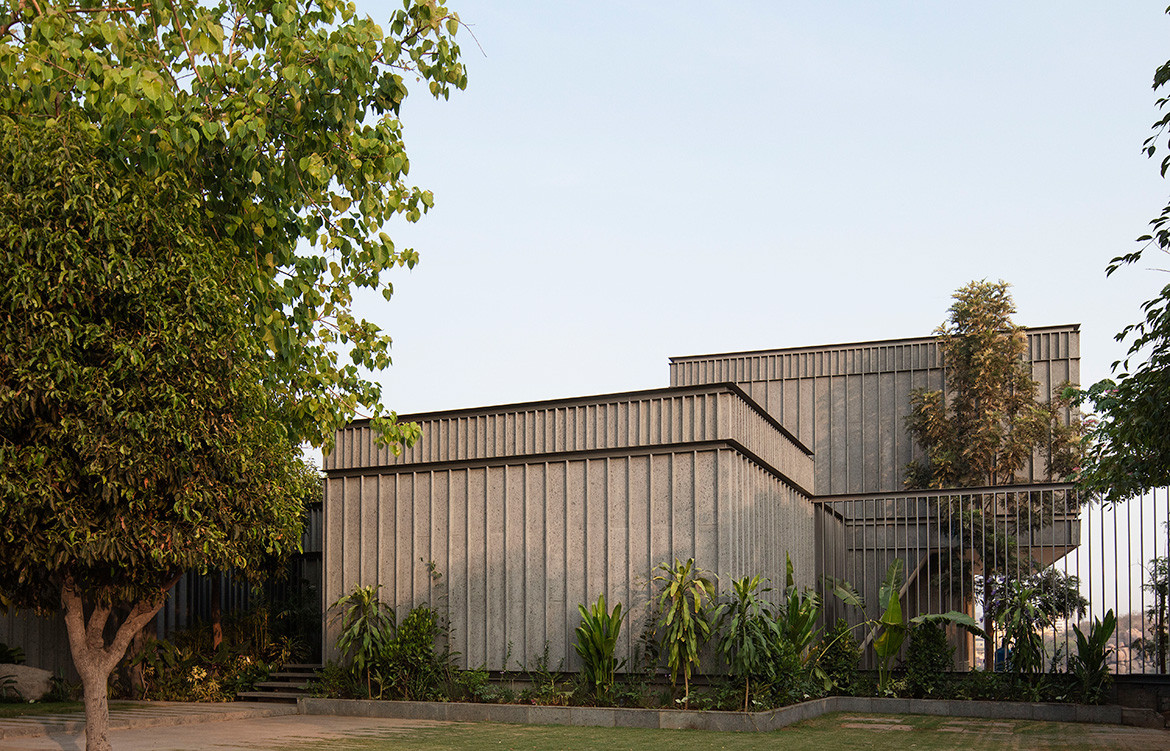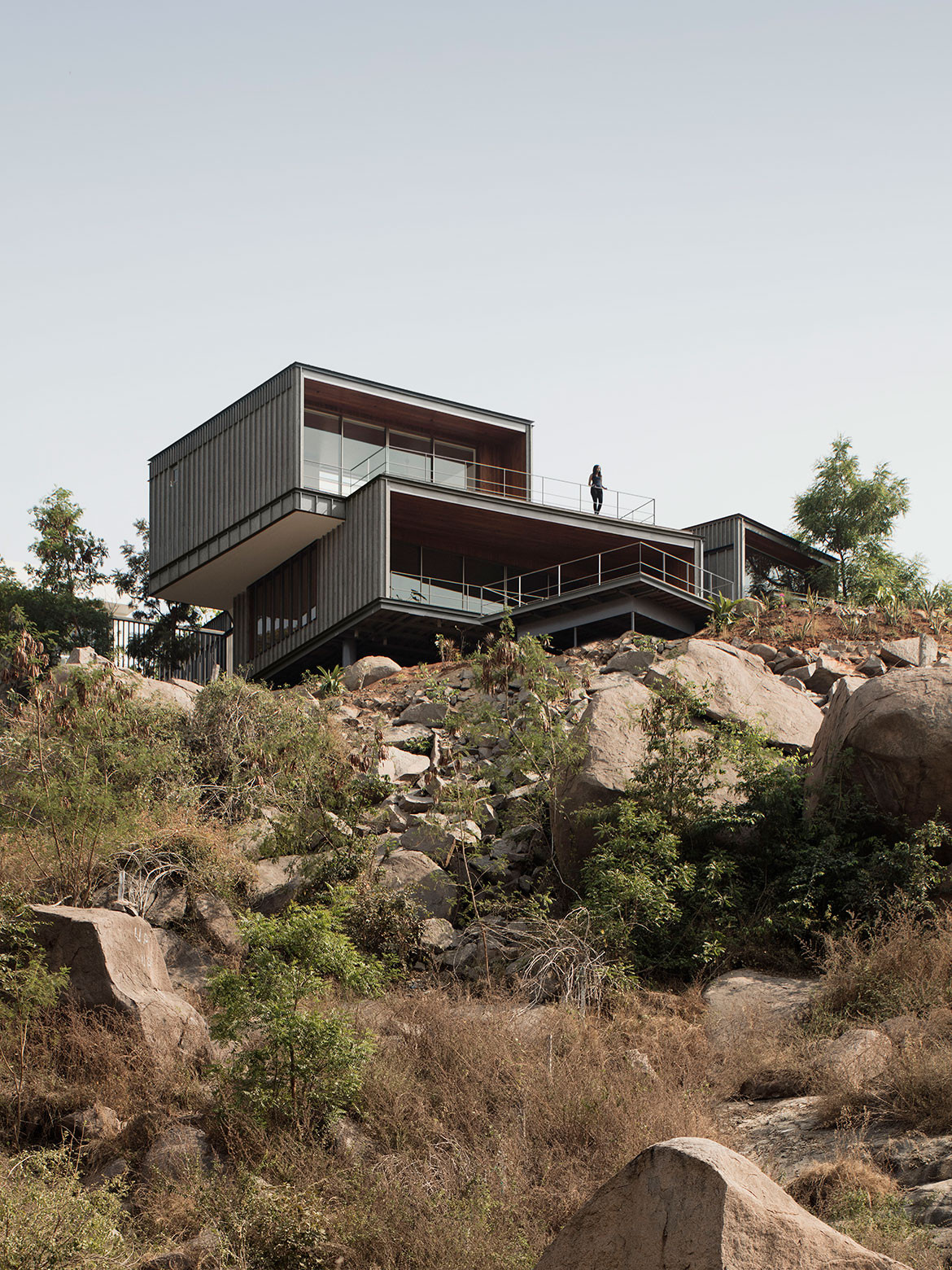 We think you might also like Soul Garden by Spacefiction Studio
Tags: Asaf Jahi dynasty, Benjamin Hosking, CollectiveProject, Durgam Cheruvu Lake, habitus abroad, HiTec City, Hyderabad, India, Indian Architecture, Lakehouse, Residential design, stone cladding, teakwood, urban residence, Vicki Wilson
---