As an architect and furniture maker, Adam Markowitz is a powerhouse. Add to this that he is an extraordinarily nice person and you have the complete package for design and life.
His talent propels him to great heights and, through his latest project, not only has he created an exemplary home for his client, but he has delivered a timeless design that is sympathetic to both site and landscape.
Markowitz's architectural design journey has taken a circuitous route and is one of continual learning. Having studied architecture, he was all set to pursue his chosen career. However, things took a different direction when he discovered a passion for making and began studying woodwork in the evenings.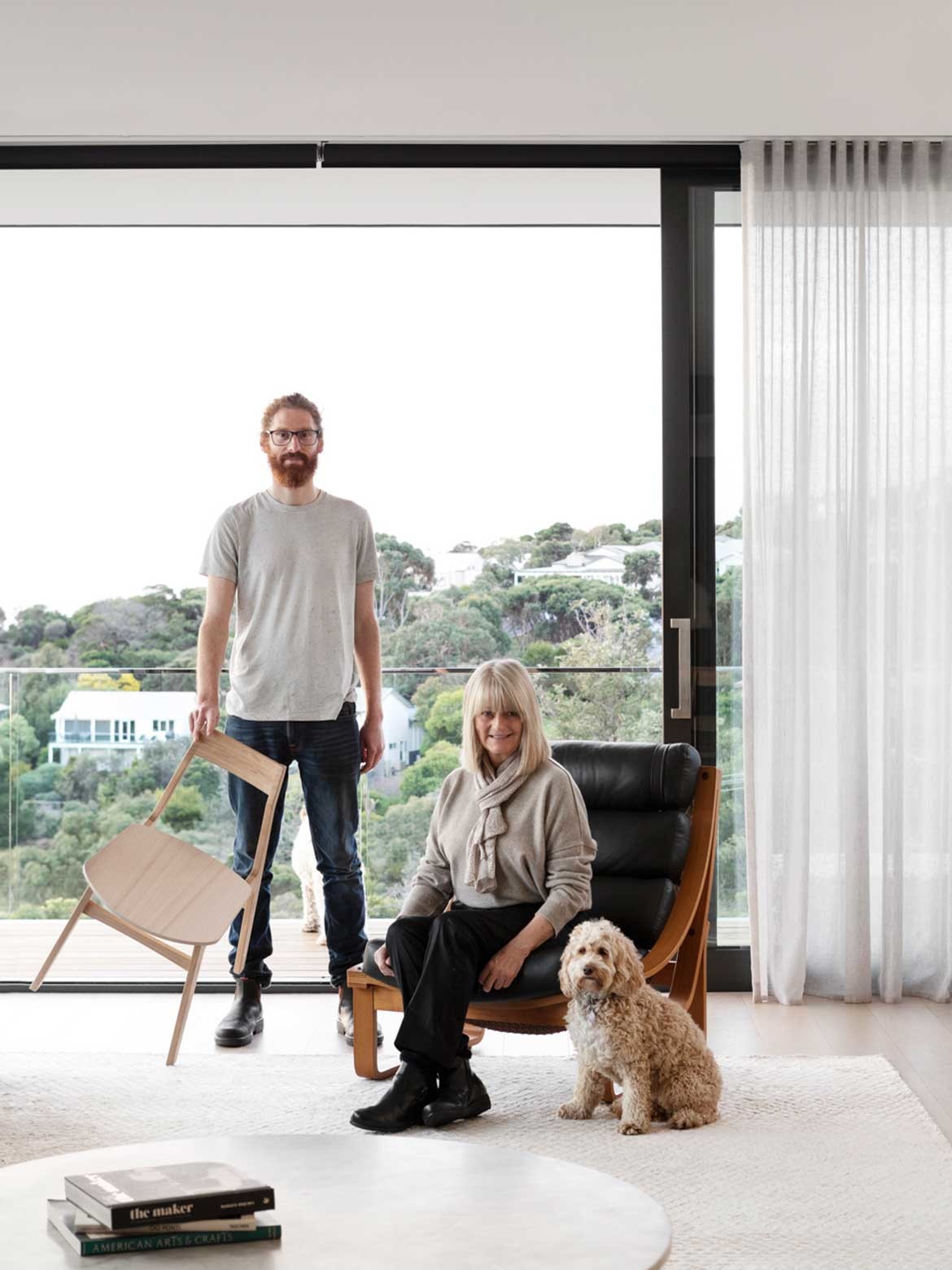 With a desire to explore craft, he moved to Tasmania to further his education and then travelled to Denmark to refine his technique. Returning to Melbourne, he attained his architecture registration and worked in a small practice concurrently exploring furniture-making.
It was a hobby that paid off when in 2014, Markowitz received the Emerging Design Award – Furniture accolade at VIVID for his beautifully crafted Fred table.
While furniture design and manufacturing were uppermost in his mind at this time, a fortuitous friendship made in Tasmania with Ross Bakker brought architecture back into Markowitz' life.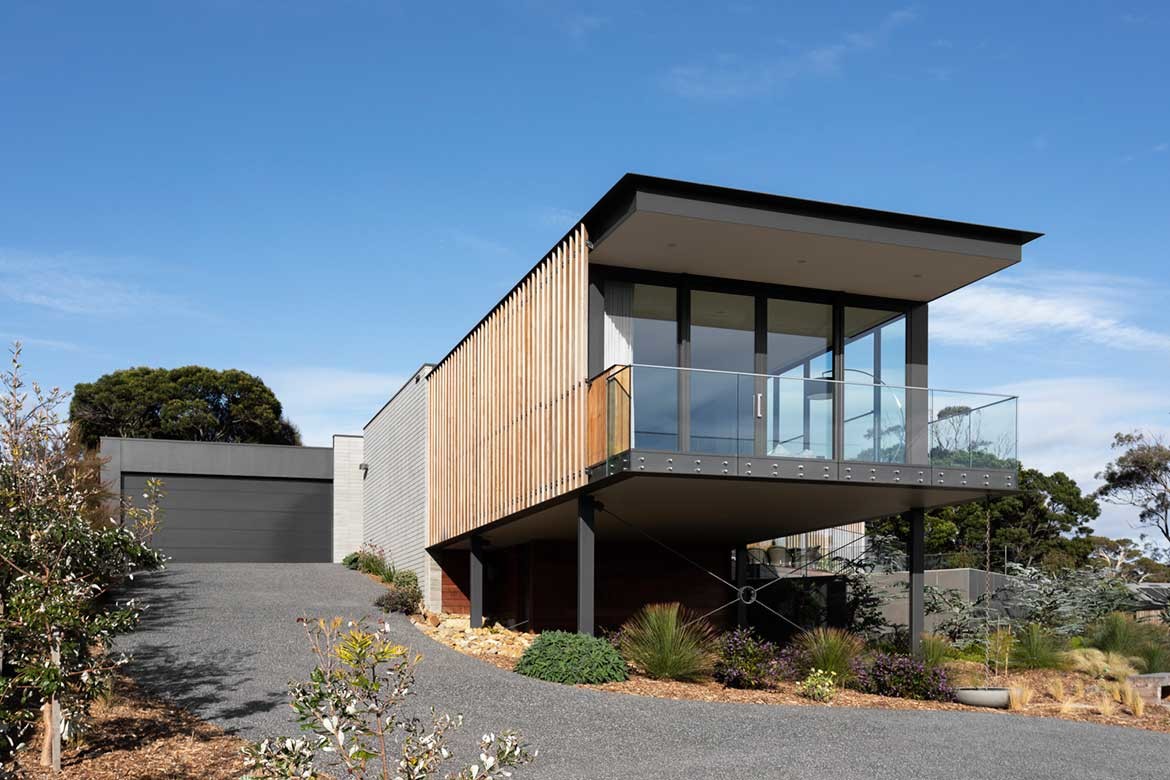 As a builder of note on Melbourne's Mornington Peninsula, Bakker was well-placed to introduce Markowitz to his world and together they created his own house – Markowitz as architect and Bakker as builder. Soon commissions were rolling in and Markowitz was back in the midst of architecture, designing houses.
Enter Monica Lee and the opportunity to create Lowen House. Introduced by Bakker, Markowitz met Lee (a seasoned interior designer herself) to talk about her proposed new home.
Lee's family history was of great interest, as Monica Lee is the daughter of furniture designer Fred Lowen of Fler and Tessa Furniture fame. As an icon of Australian design, Lowen was instrumental in creating some of Australia's most loved, high-end furniture pieces and is remembered today as a pioneer of Australian mid-century design.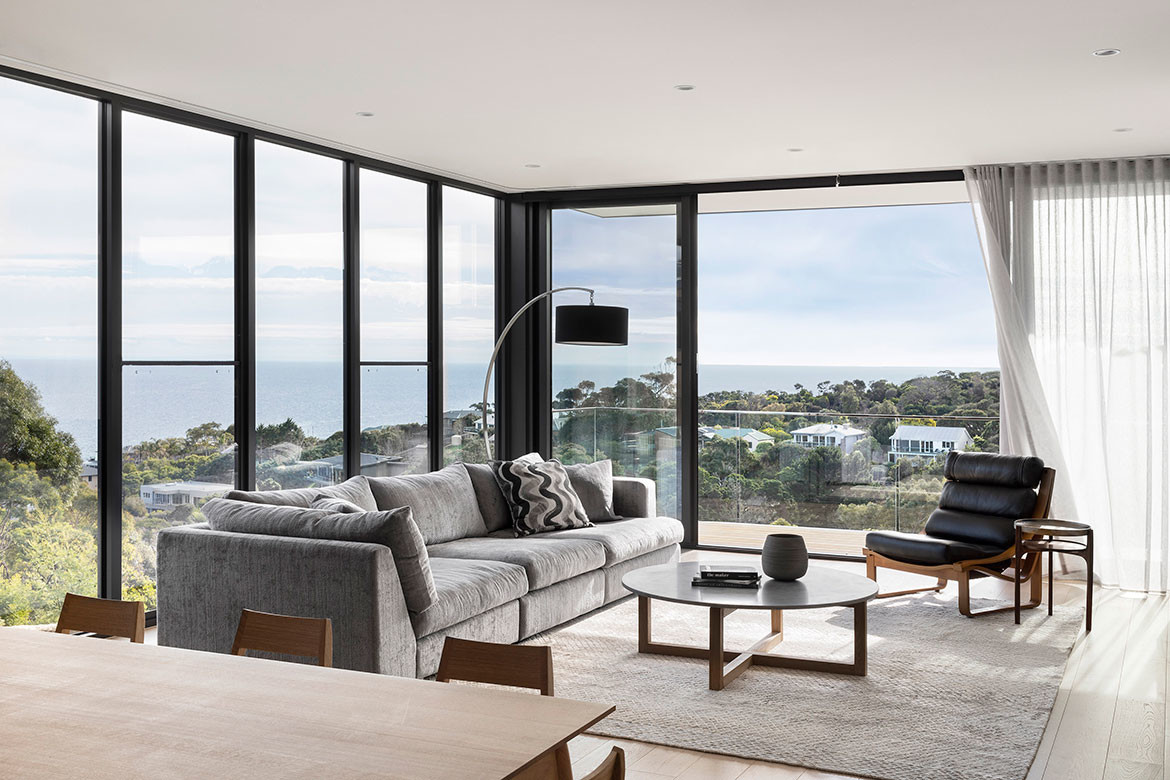 The initial brief was for a two-storey home, to make the most of the spectacular views, and the design also needed to accommodate a large family and many friends.
The deep, sloping site was more than challenging with enormous boulders set into and below the ground, which made excavation an expensive and challenging option. With this in mind, Markowitz presented two iterations of the brief – firstly, a two-storey design and then a single-level house that would echo the idea of two storeys to capture the wonderful views.
It was the single-storey design that Lee decided on. With enormous submerged boulders on the site, Markowitz worked with this impediment by creating a design of two pavilions or wings placed at an acute angle to each other. One on the ground, the other on stilts above ground in the treetops to capture the vista.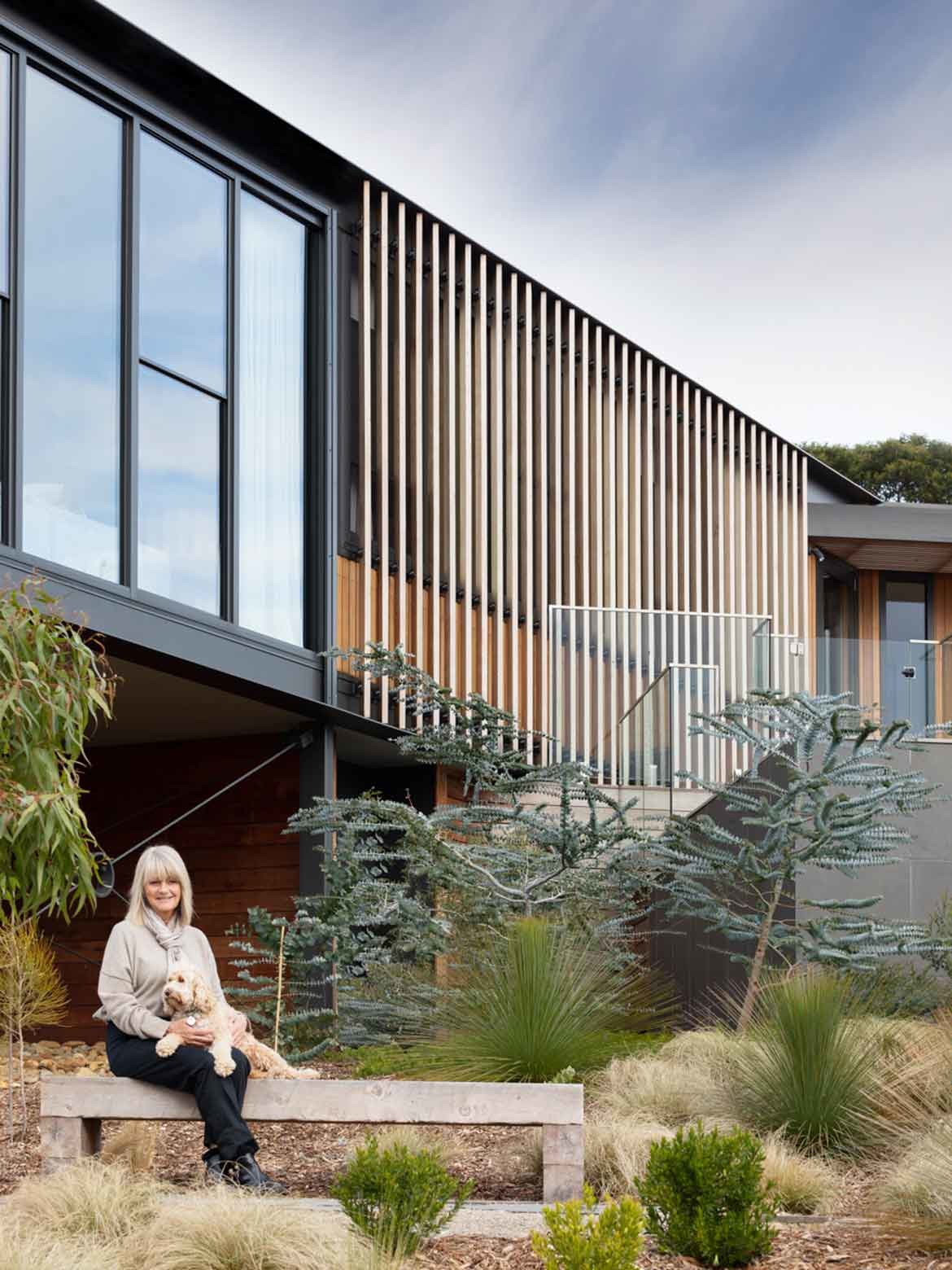 Collaborating with engineer Paul Deery, the stilts were strategically positioned around the boulders and the only real area requiring blasting and excavation is at the entrance where the two wings of the house intersect.
Although the home is large it is also a place for Lee to be at one with herself. Cleverly, Markowitz's design of pavilions allows for two styles of living.
The grounded wing can be self-contained for one person with entertaining areas, a main bedroom suite and access to the patio, garden and pool. The other pavilion is for family and guests with bedrooms and a study where life in the treetops provides outstanding ocean views.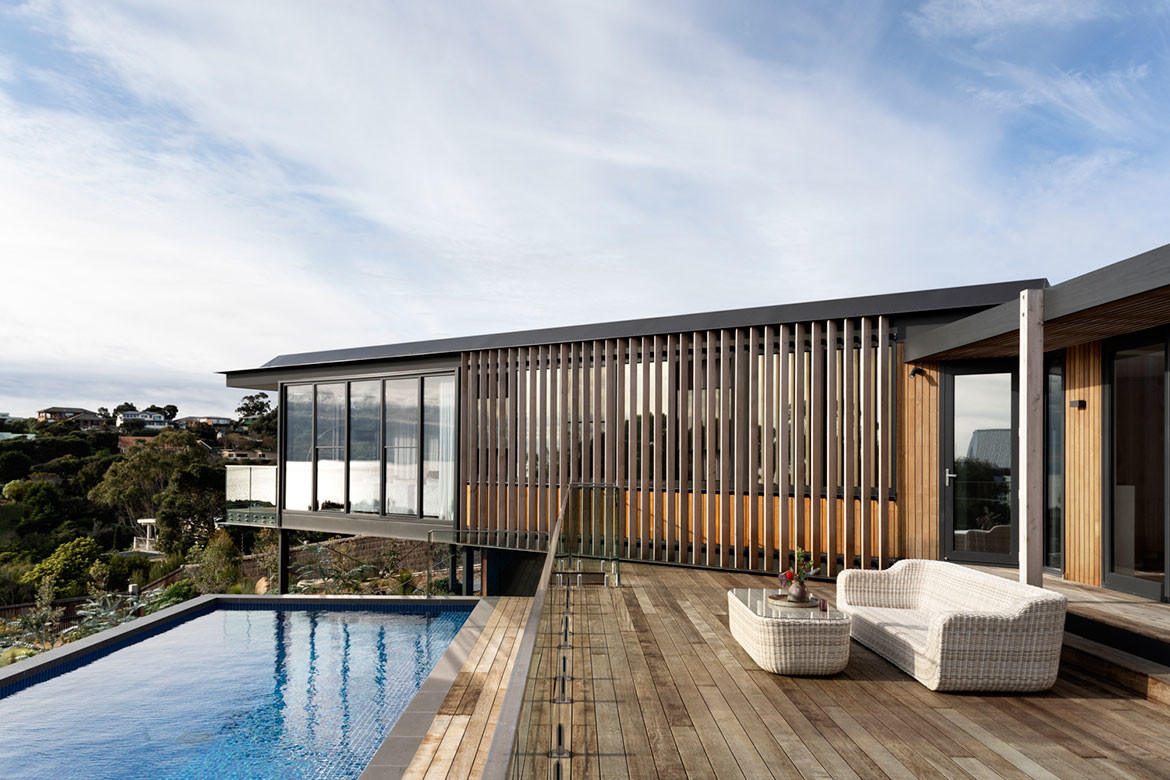 As a gardener, it was important for Lee to have access to the garden and natural landscape. By providing connection to ground level, Lee can step from the interior to the exterior with ease, and the approach also accommodates a wheelchair-bound family member.
The materiality used is limited, steel portal frames with stilts that touch the ground lightly (not slabs) and glazing and timber to soften the language of the steel and glass.
Sun baffles of western red Cedar have been attached to the façade on the very sunny western side of the structure, angled to deflect and moderate heat. The exterior has been clad in timber and there are Cypress timber posts and a pergola.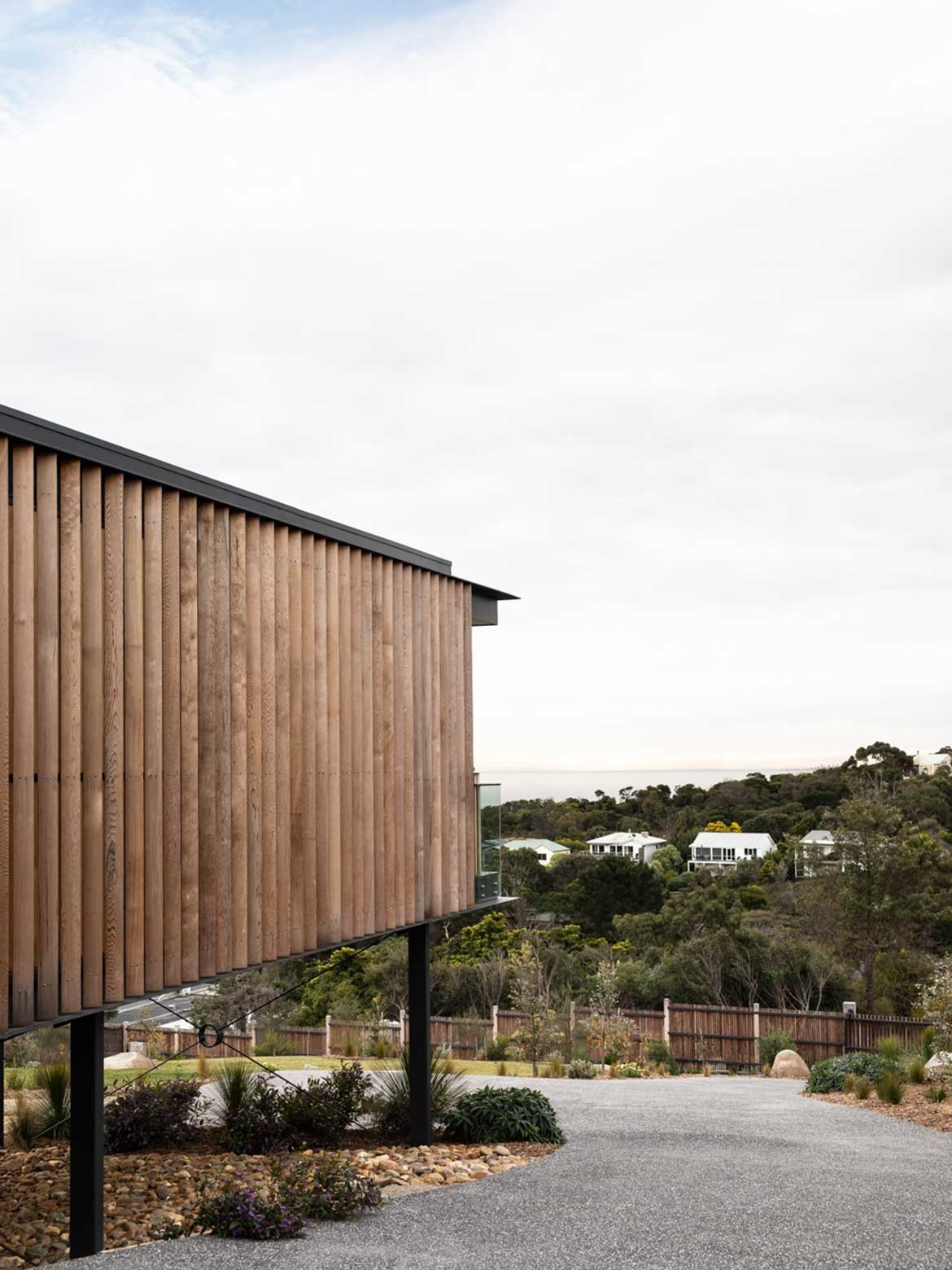 The colour palette is concise and reflects the materials but also the landscape, with earthy tones, warm browns, muted greys, neutrals and slashes of black.
As expected, the interior pays homage to fine furniture with a T4 lounge chair prominently placed in recognition of Lee's father. Interestingly, it was one of the last pieces to roll off the Tessa factory floor before the plant closed in 2019.
There are also furnishings designed by Markowitz – Flea dining chairs, a Fred table, an Assegai Pendant light over the kitchen bench and a Two Hands side table (designed in collaboration with Cone11 Ceramics).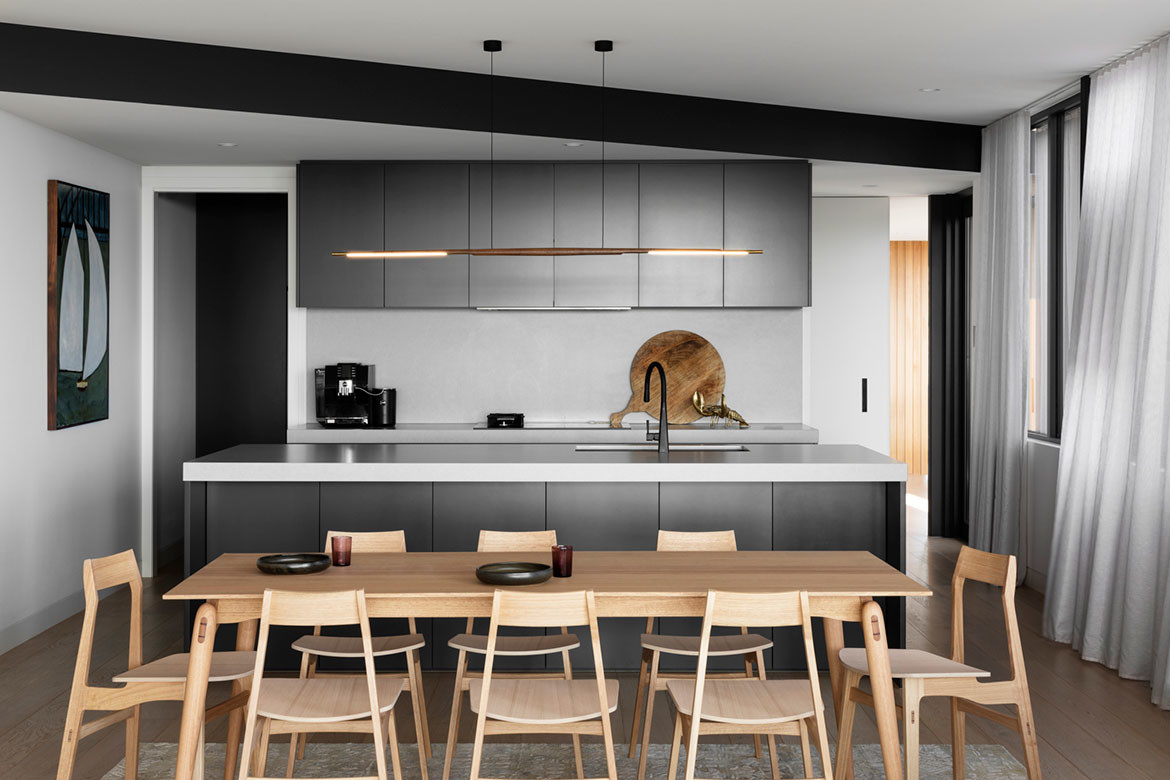 As resolved as the interior may be, those stunning vistas take your breath away – and not only views of the water, but also the boulder-strewn landscape which is visible from the main bedroom suite.
Lowen House has been a labour of love for all concerned – from the concept and design of the home, through to the detailing and the fine craftsmanship of the build.
Lee sums up how she feels about her home, saying: "I love living here. For me, the part of the house that I love the most is the shape of the two pavilions, which creates a connection between the living space of the kitchen, dining and living room, the deck and the pool.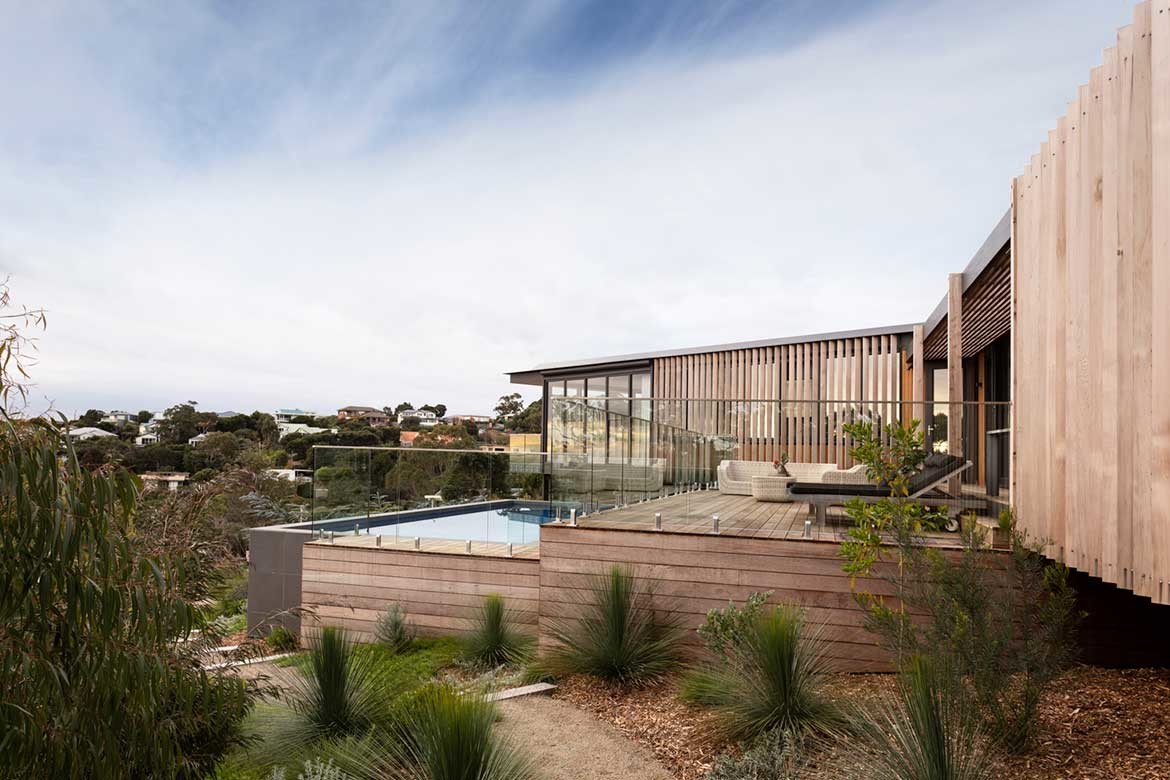 "When you have a normal rectangular shape and the pool is out the front, you don't get that sort of cocooned feeling that I have here, created by the not quite right-angle shape. It means you can connect, be outside with the family around the pool, and you're connected to the inside. It just works so well and it's all been enhanced by a fantastic native garden."
One happy client living in a bespoke home created by a thoughtful and dedicated architect. Markowitz has brought to Lowen House all the care and meticulous design that it takes to create a piece of furniture.
Project details
Architecture, interiors and selected furniture and lighting – Markowitz Design
Photography – Martina Gemmola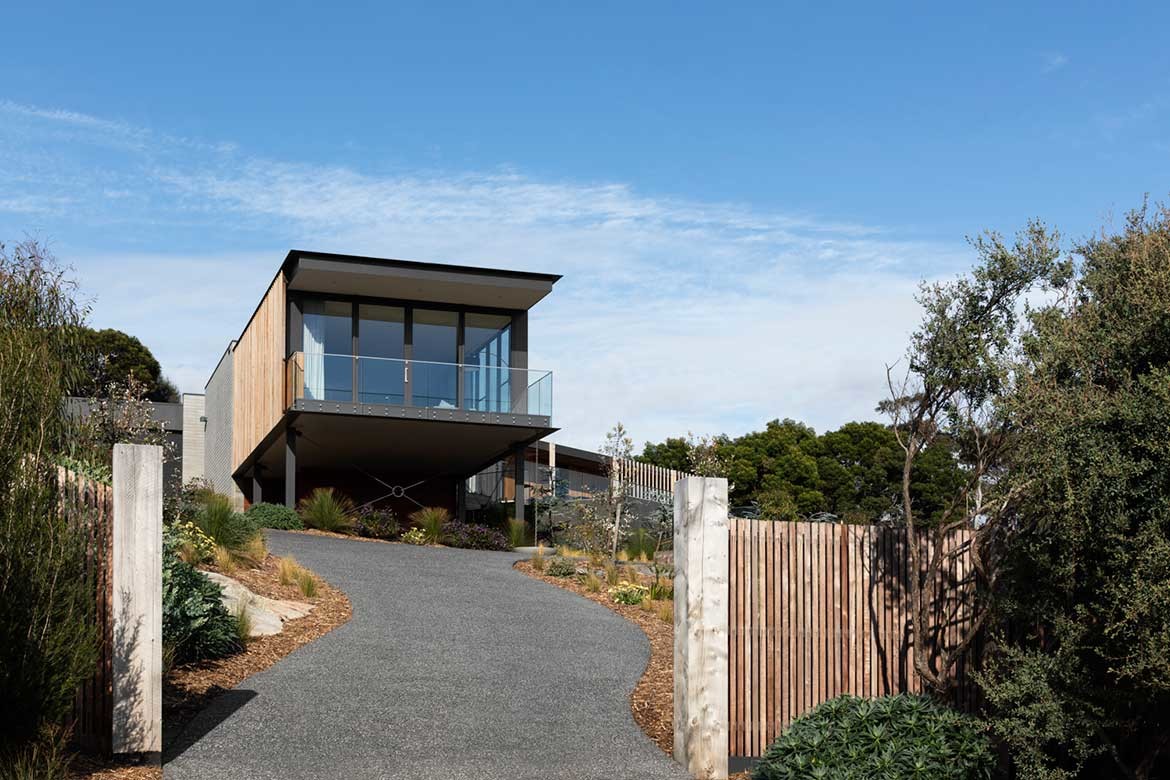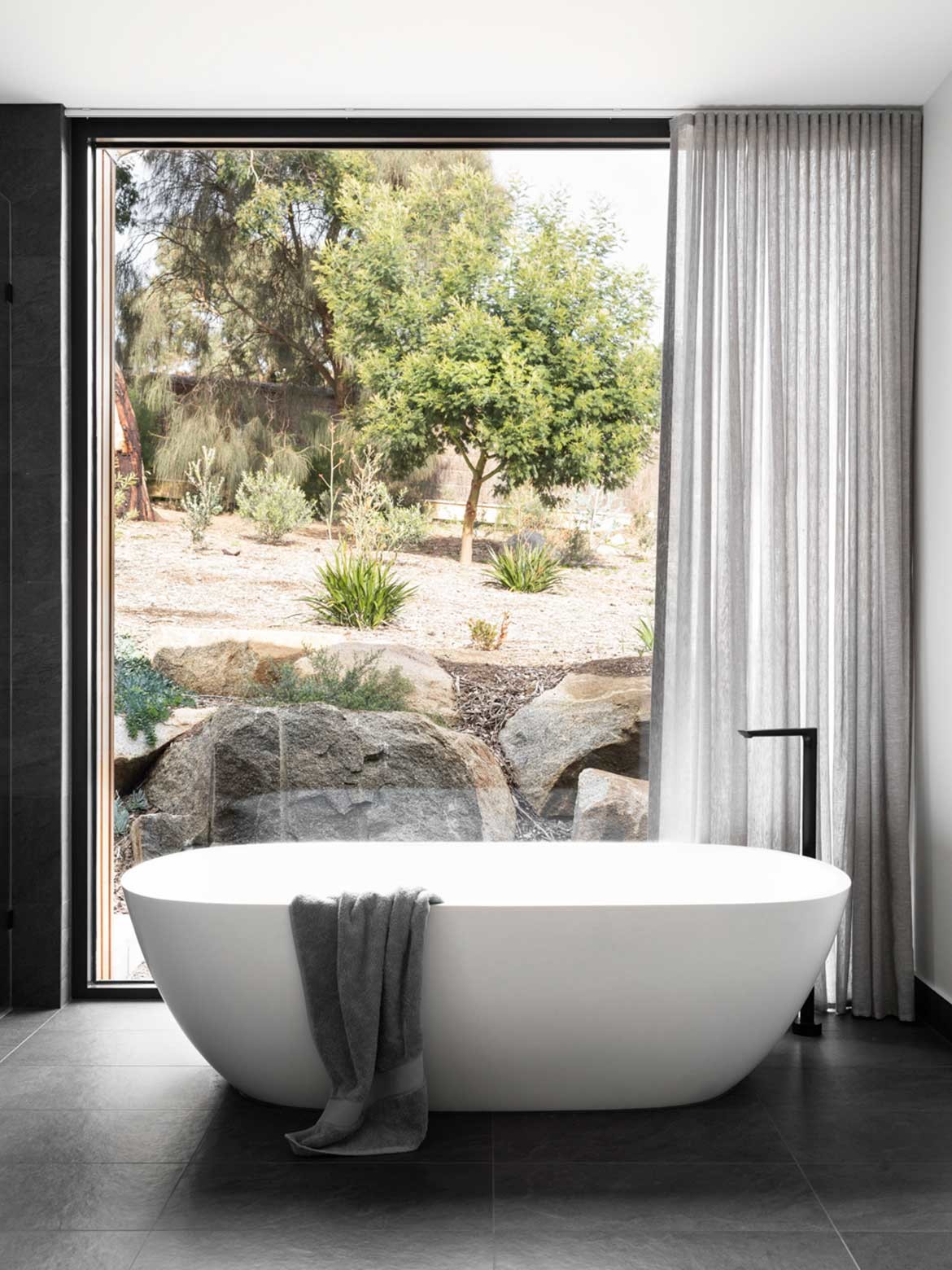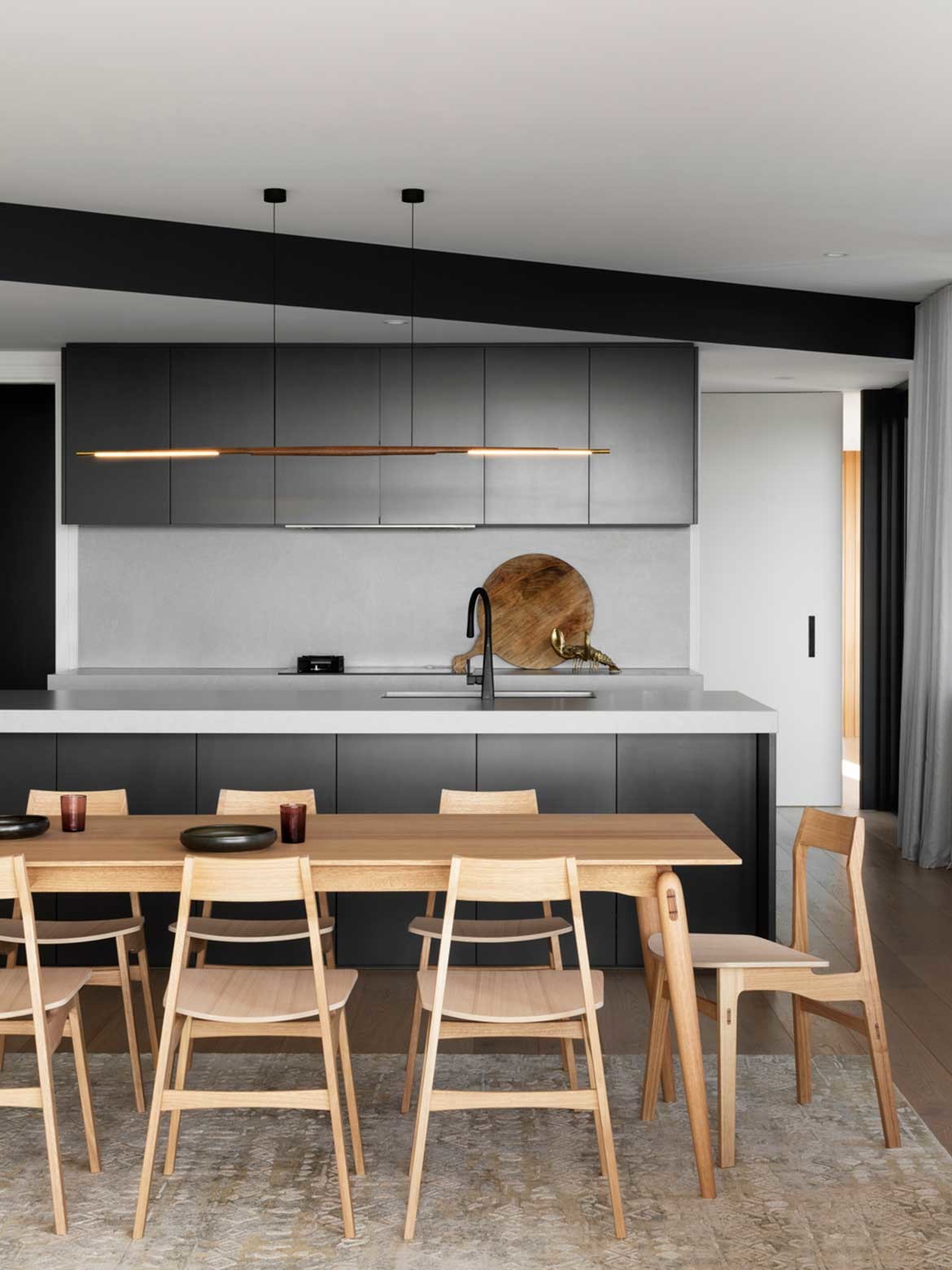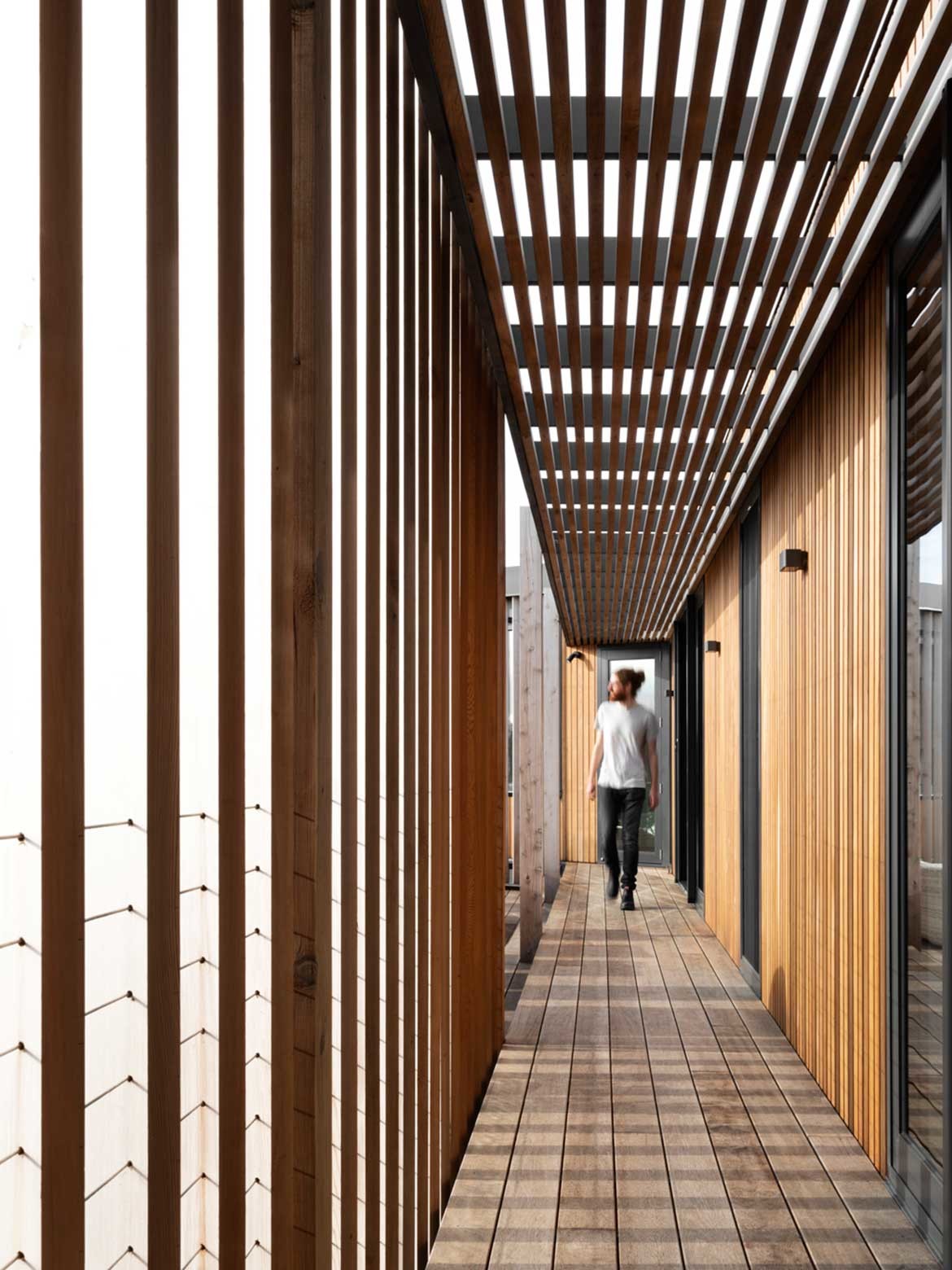 ---