Re-imagining the average design of a duplex, MOWA Architects has created two homes that make quite the impression on their suburban streetscape.
As passionate and innovative architects, Isaac and Jacob Smeke, Principals, MOWA Architects (MOWA) and joint-leads on the project, have designed Duplexity, two duplexes co-joined but each with a separate roof. The homes are also distinguishable for their imposing mirrored motif façades and their colours, one dark, the other light. These are homes that take the design of the normal duplex to the next level with original architecture and an exciting internal floor plan.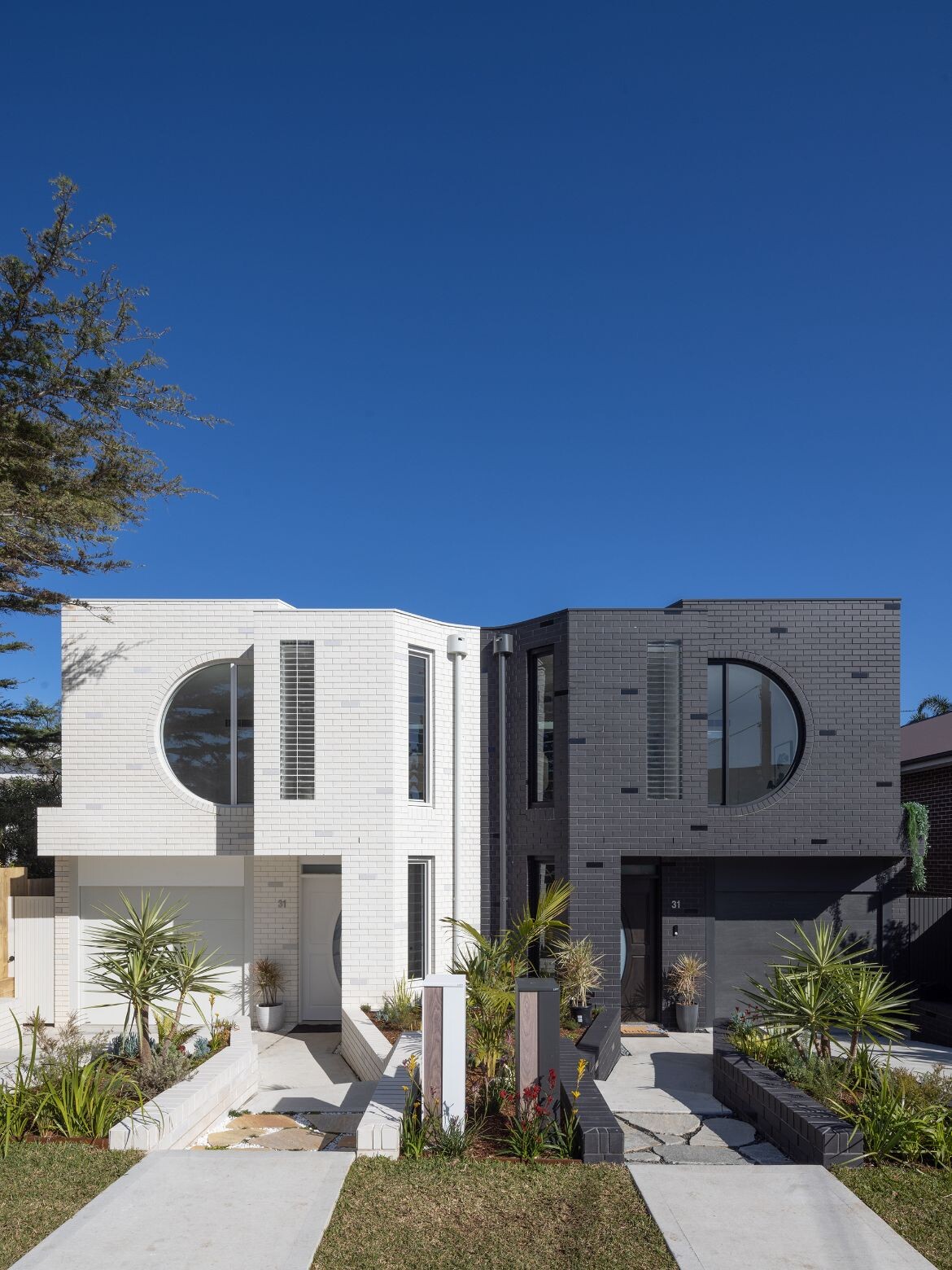 The project came to MOWA through the client, a developer. With a limited budget and the obvious constraint of a north-south site, the architects decided to make something quite singular and then divide it in two. The key material that informs the design is brick. In fact, five different types of brick have been utilised – matte and glazed in both black and white and one transparent.
The exterior design is complex and required expert tradespeople who, with absolute attention to detail, have translated the concept into a beautiful brick reality. There is not one brick out of place and the sweeping circularity of the façade and the walls of the internal courtyard are a credit to Steve Jeavons and his team from J&O Bricklaying and the leadership of Tal Barhom Principal, Veriview, who is a passionate builder, supportive of challenging the status quo in the creation of good design.
While brick has been employed for the structure of the homes, there is a limited palette within, polished concrete floors and white painted gyprock. However, it is the use of the gyprock that is moulded and curved that makes each interior sing. The aesthetic created is smooth and contemporary, pared back and, dare I say, luxurious.
The curve is utilised on walls and in the stairs with a solid wrap-around balustrade that connects the two levels of each home and there are voids that create interest and provide a largesse of space. Multiple skylights have also been included and this guarantees that natural light penetrates the entirety of each home – something that is usually lacking in conventional duplex design.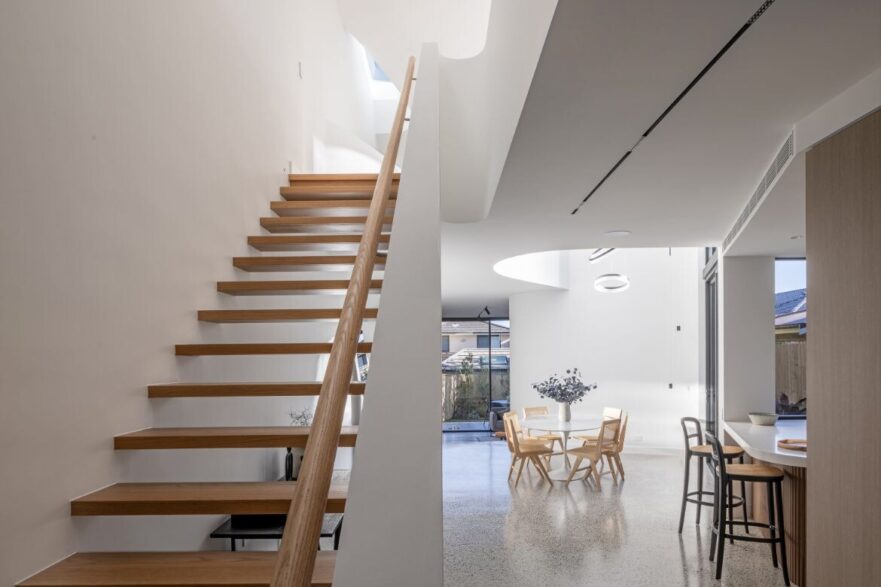 To ensure that there is natural ventilation and as much light as possible in the homes, the courtyards have been placed not at the rear as is usual but in the middle of each floorplan. This also brings the outside in and extends the internal living space for residents.
Each duplex has three bedrooms, four bathrooms and the main suite on the upper level with living and entertaining open plan rooms on the ground floor. The floorplates vary with one duplex 202-square-metres and the other 195-square-metres but both seem more spacious than their actual size. The beautiful staircase is a feature of the interior in both homes and in all their white glory, each becomes the focal point, rather as a sculpture than a vertical connector between spaces.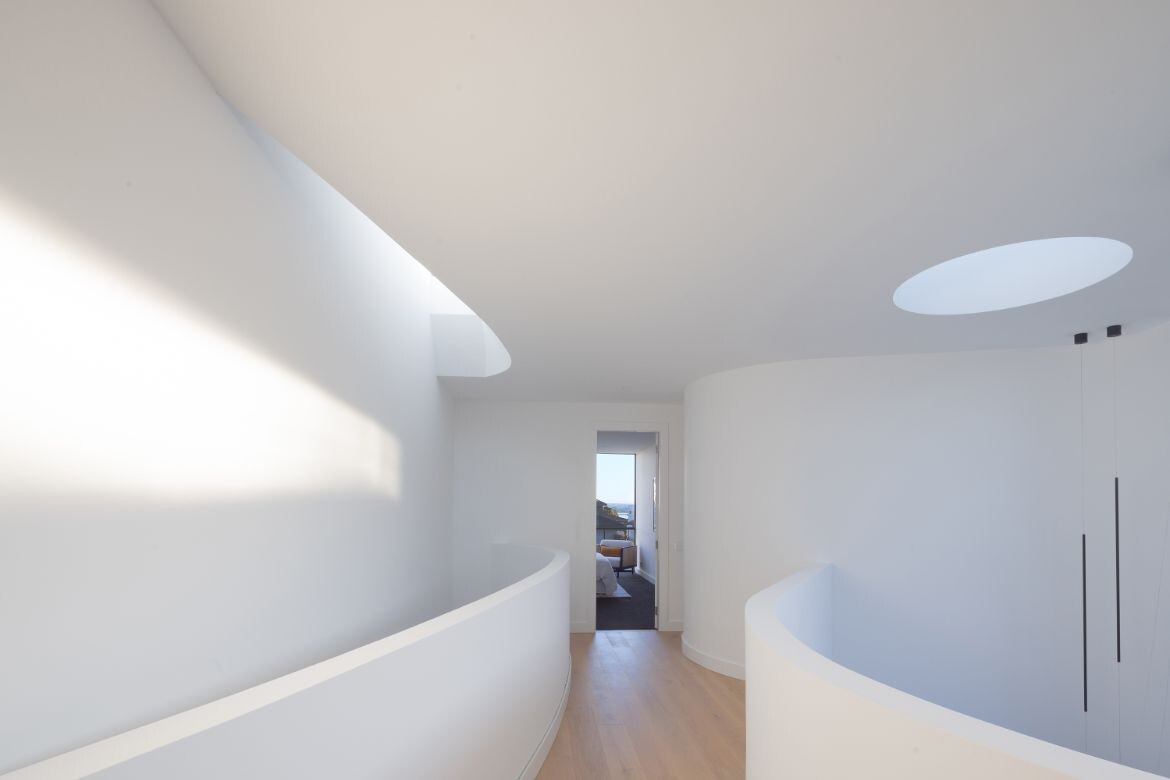 It's always good to be recognised for your work when designing a home and the proof of success is a happy client and, in the case of Duplexity, also a satisfied resident. For the Smekes', it was the fact that when sold, each home brought the highest price in the suburb to date but best of all was the interaction with one of the buyers, as Isaac Smeke explains, "I was contacted by a lady who asked if I was the architect of her home. I said yes and she told me that she had paid a deposit to move to a home for the over 55s, after looking to buy in the area for many years and not finding a place. However, once she saw one of the duplexes was for sale, she had to view it, changed her mind and bought it! Later on, she invited me to have coffee, as Jacob was in our studio in Mexico City, and insisted that I stay for two hours so that I could see how the sun travelled over the house and the light changed. She said that sometimes she would just sit and contemplate. She loves it – isn't that beautiful?!"
There is no doubt that a limitless budget can help achieve great architecture and design however, with constraints, an architect is required to dig deep into his or her talent and push the imagination to greater heights.
With Duplexity, the Smekes and their team at MOWA, have created homes that provide exceptional amenities but also feed the artistic soul. Light and bright, dramatic and dark, these two duplexes become an architectural yin and yang, both in harmony and balance yet dependent on each other.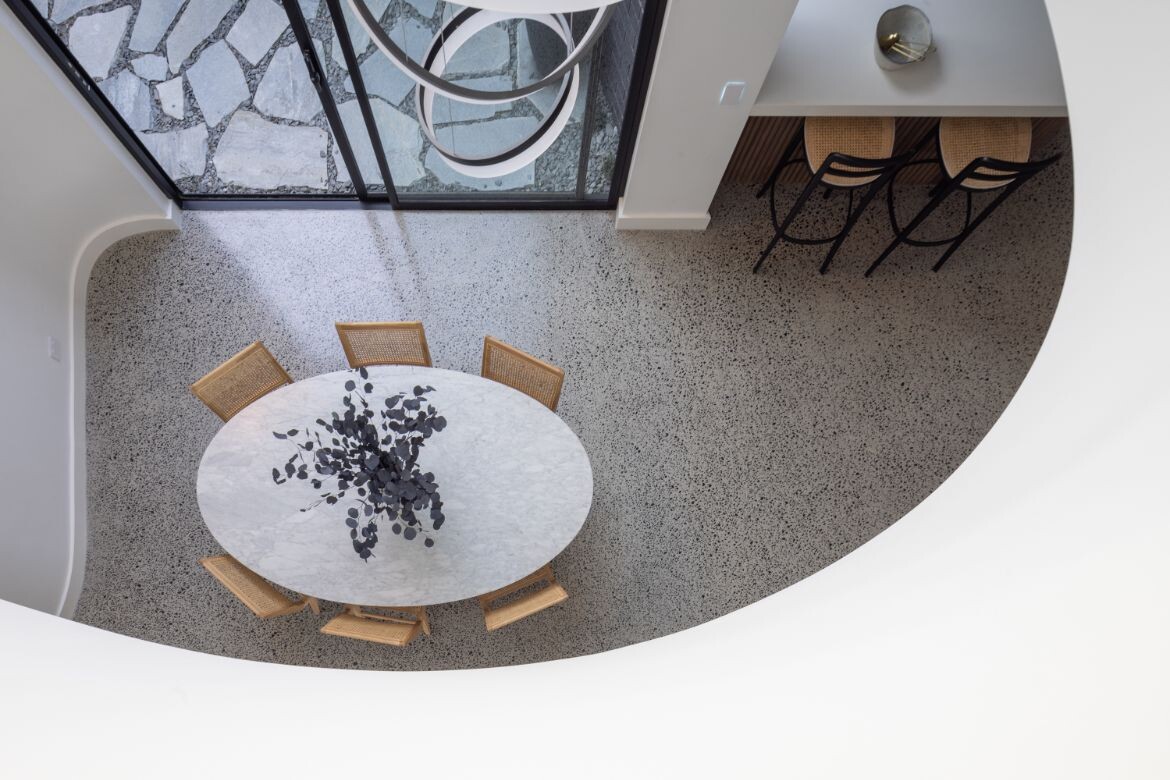 As Isaac Smeke reflects, "In this case we wanted to add to the context by giving individuality to each dwelling, making both look as separate entities, allowing to create a reference point for the street and setting a precedent of a new area, instead of trying to mimic what is there. We believe that each building must represent its time and place."
With this modern and refined offering, Duplexity indeed represents our time and the place of design in residential architecture. By taking creativity further and ensuring that great workmanship translates an inventive design, this project is one that sets a new standard in duplex design.
Project details
Architecture and interiors – Mowa Architects
Photography – Sara Vita
Builder – Veriview
Bricklayer – J&O Bricklaying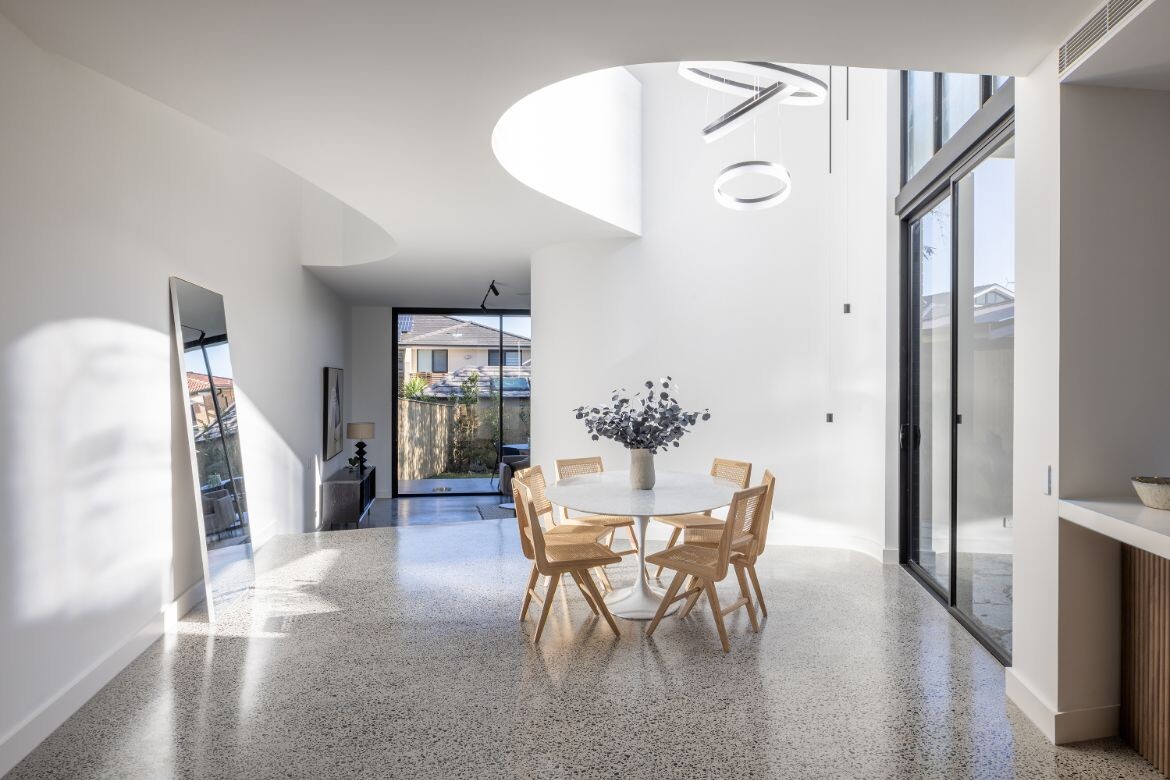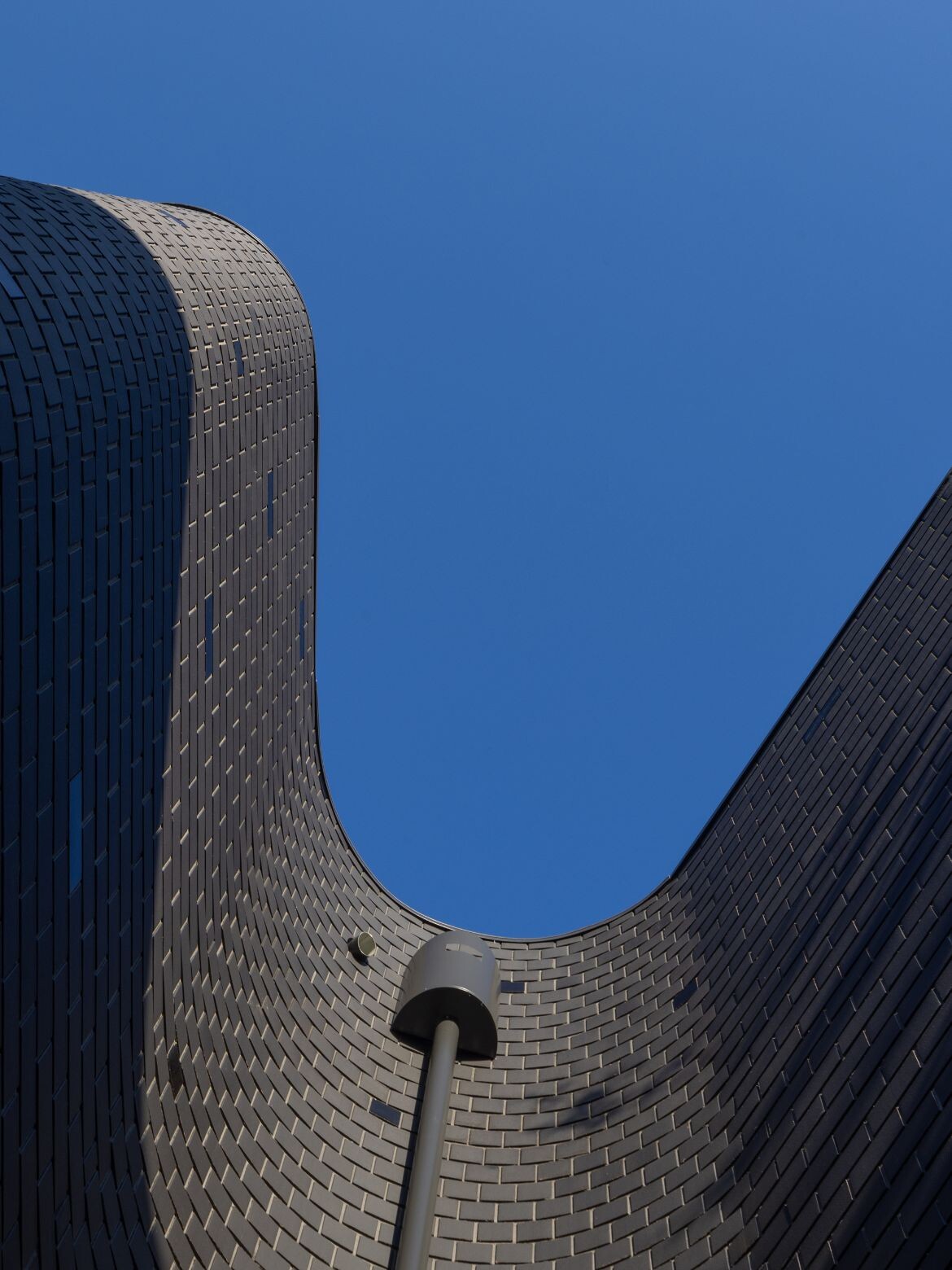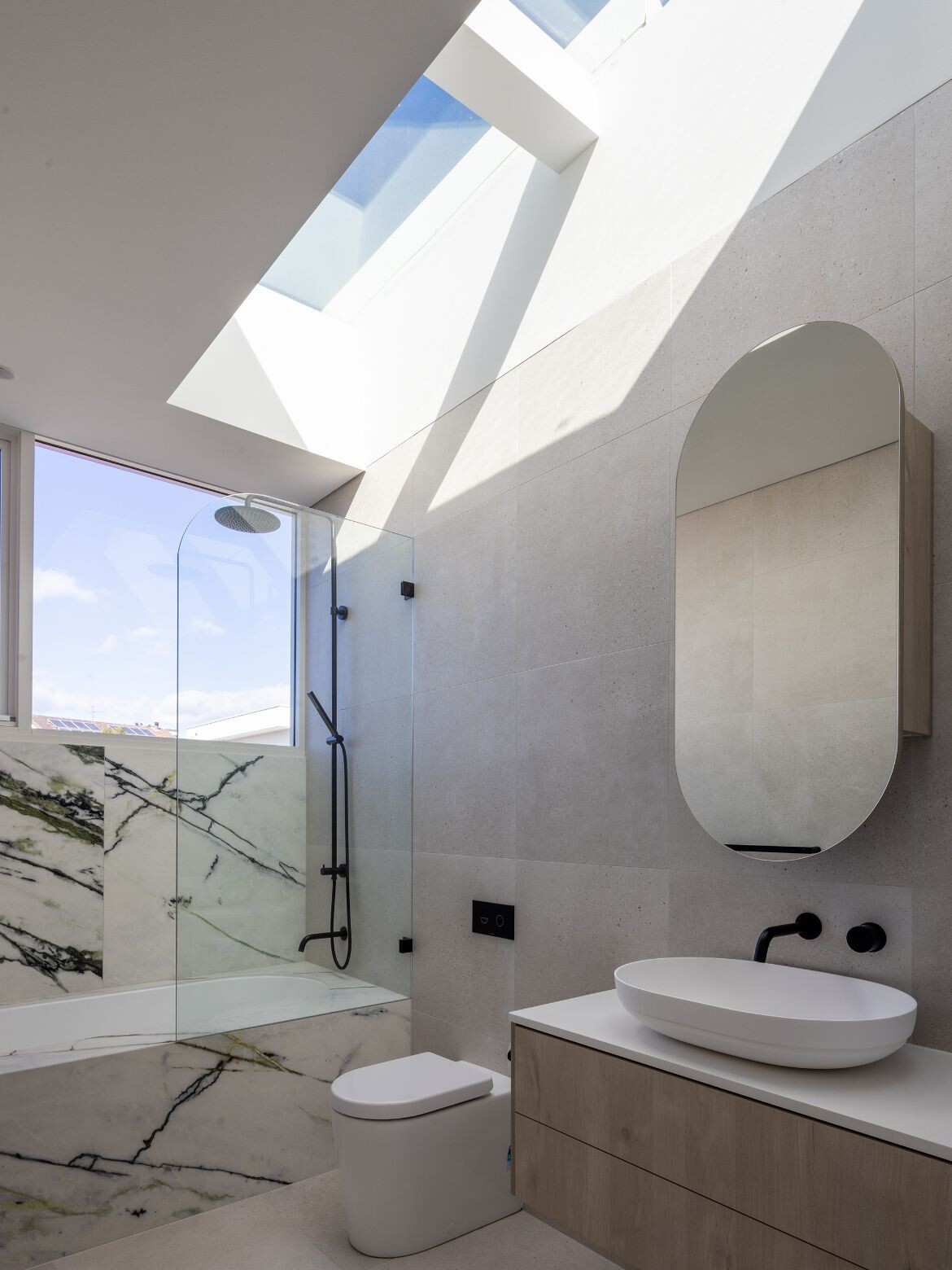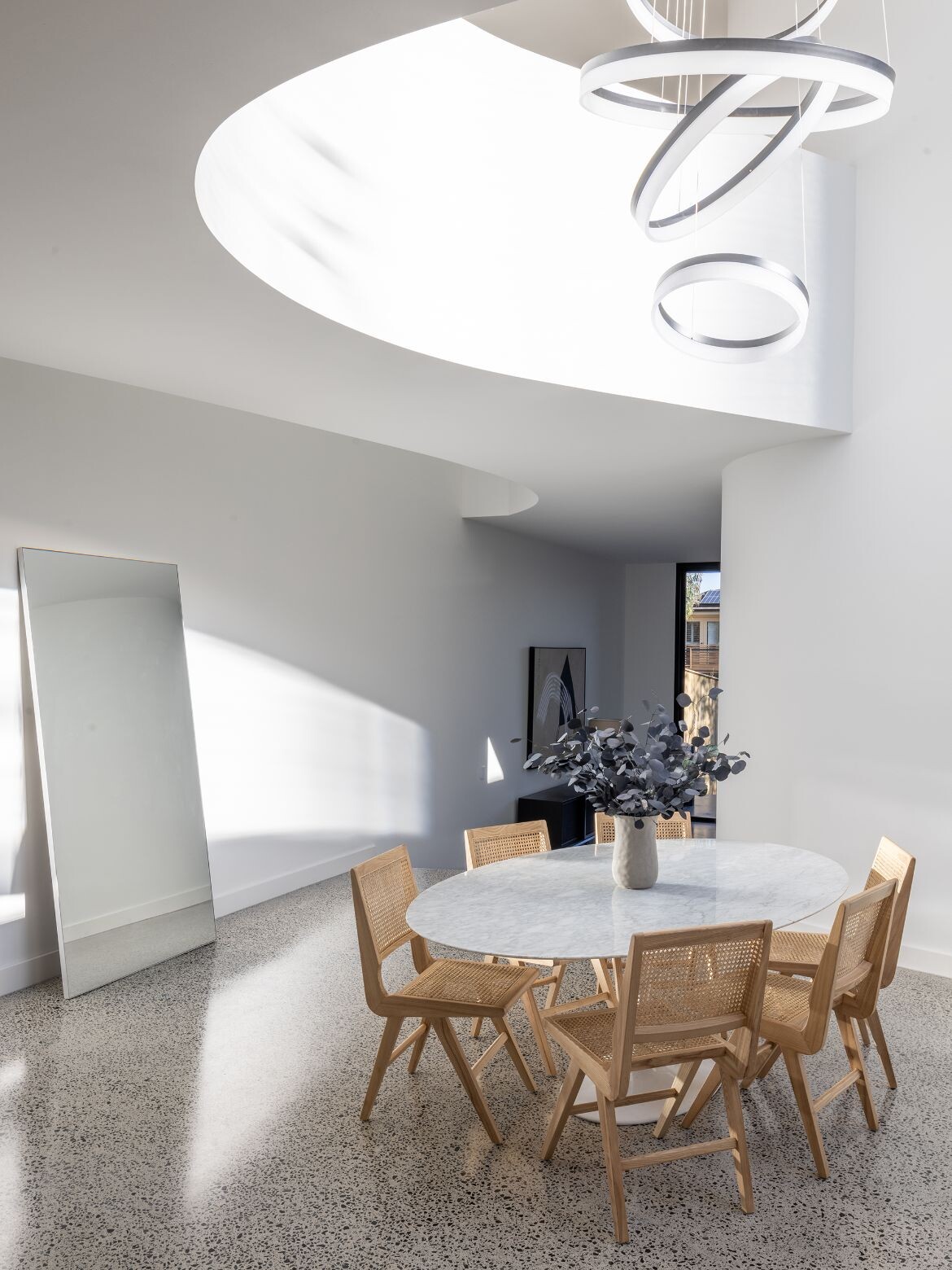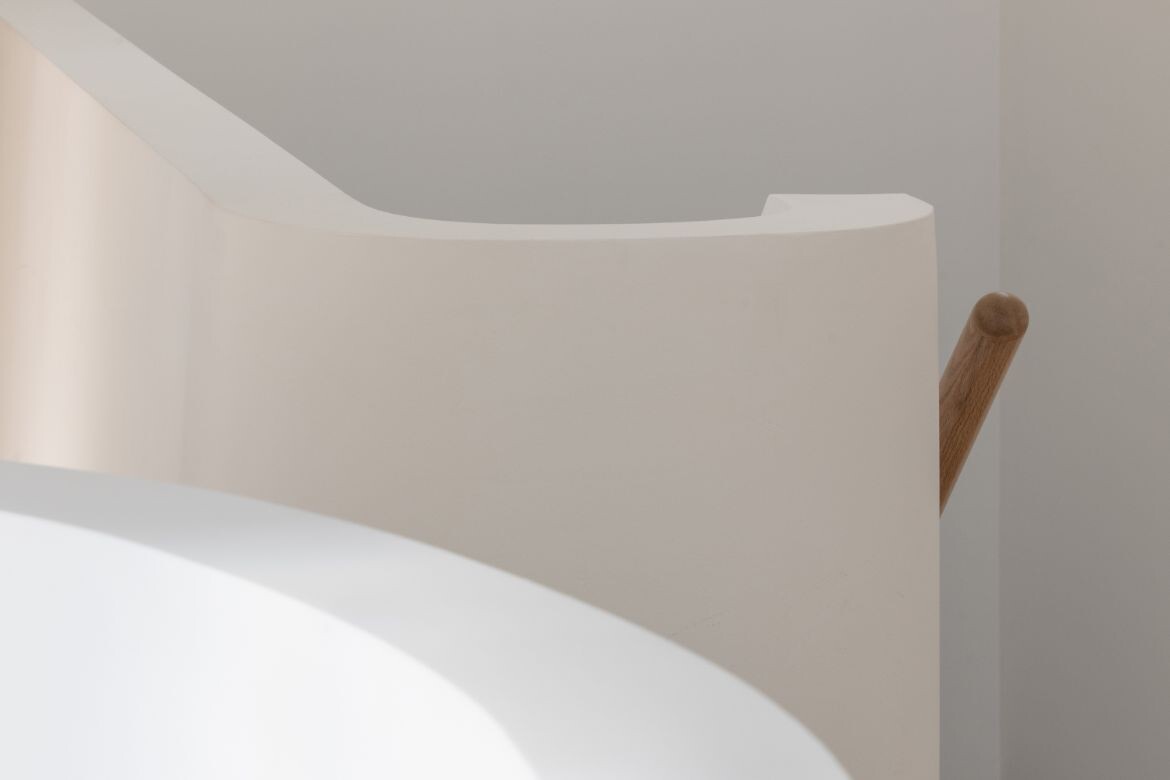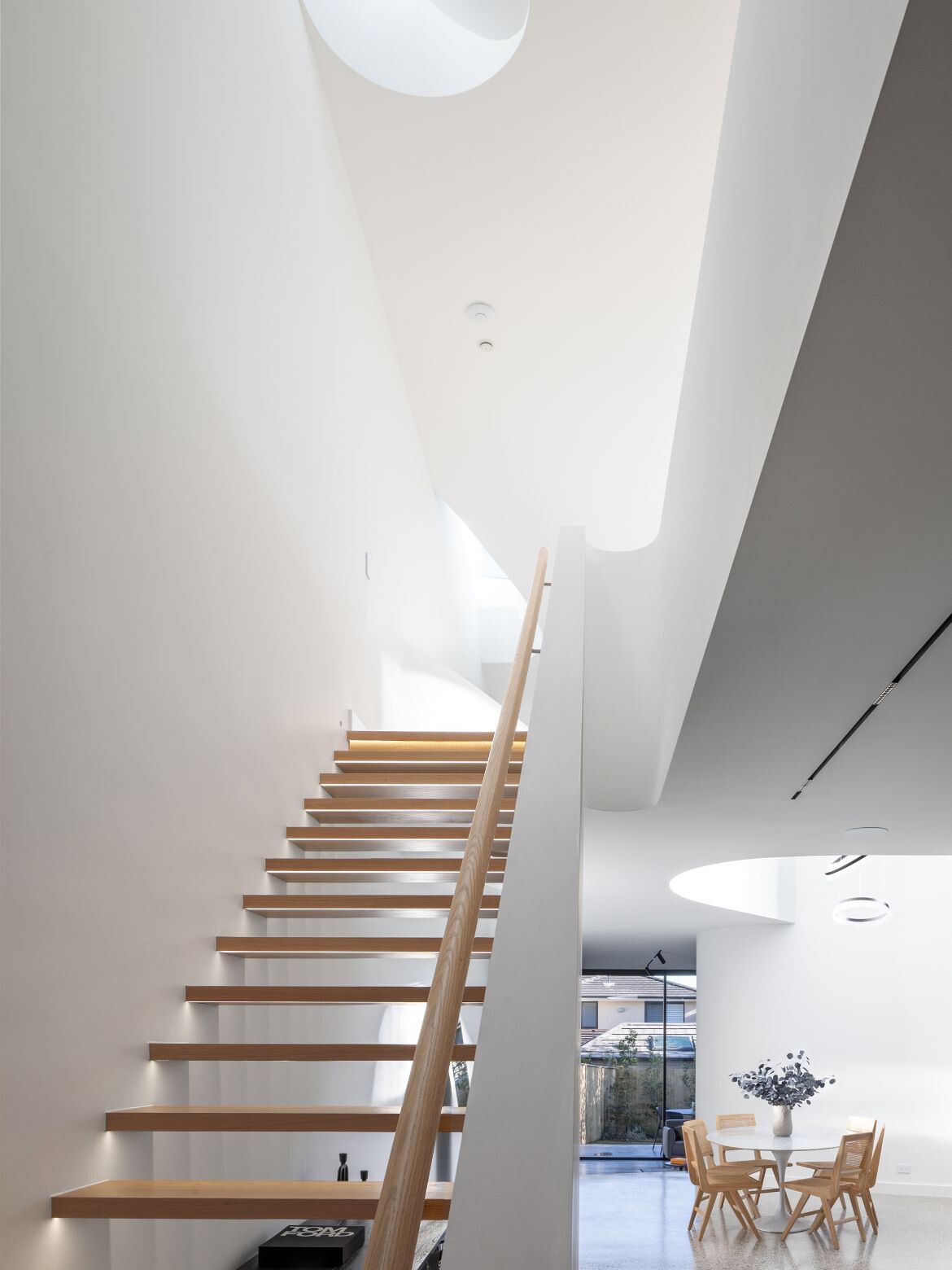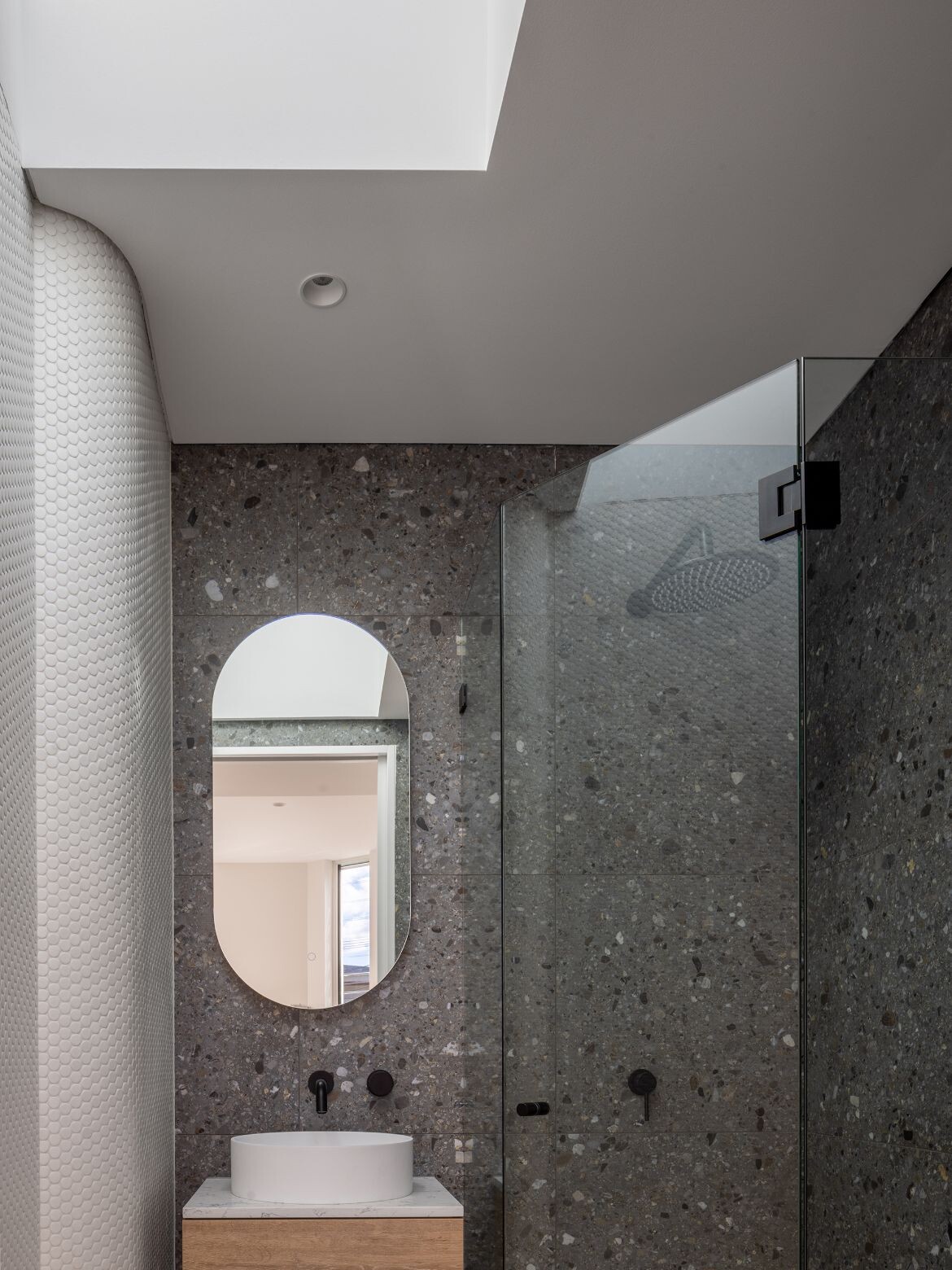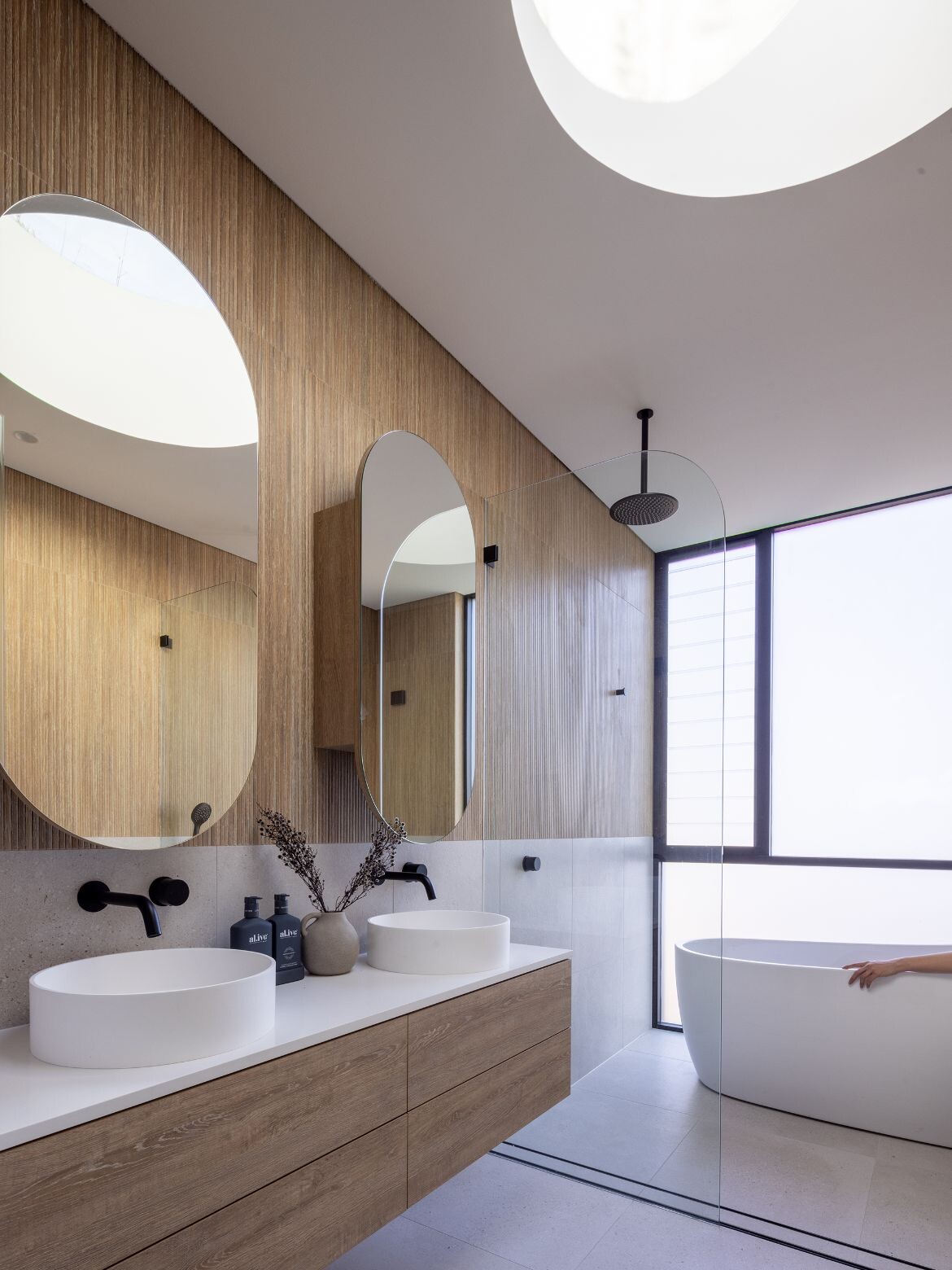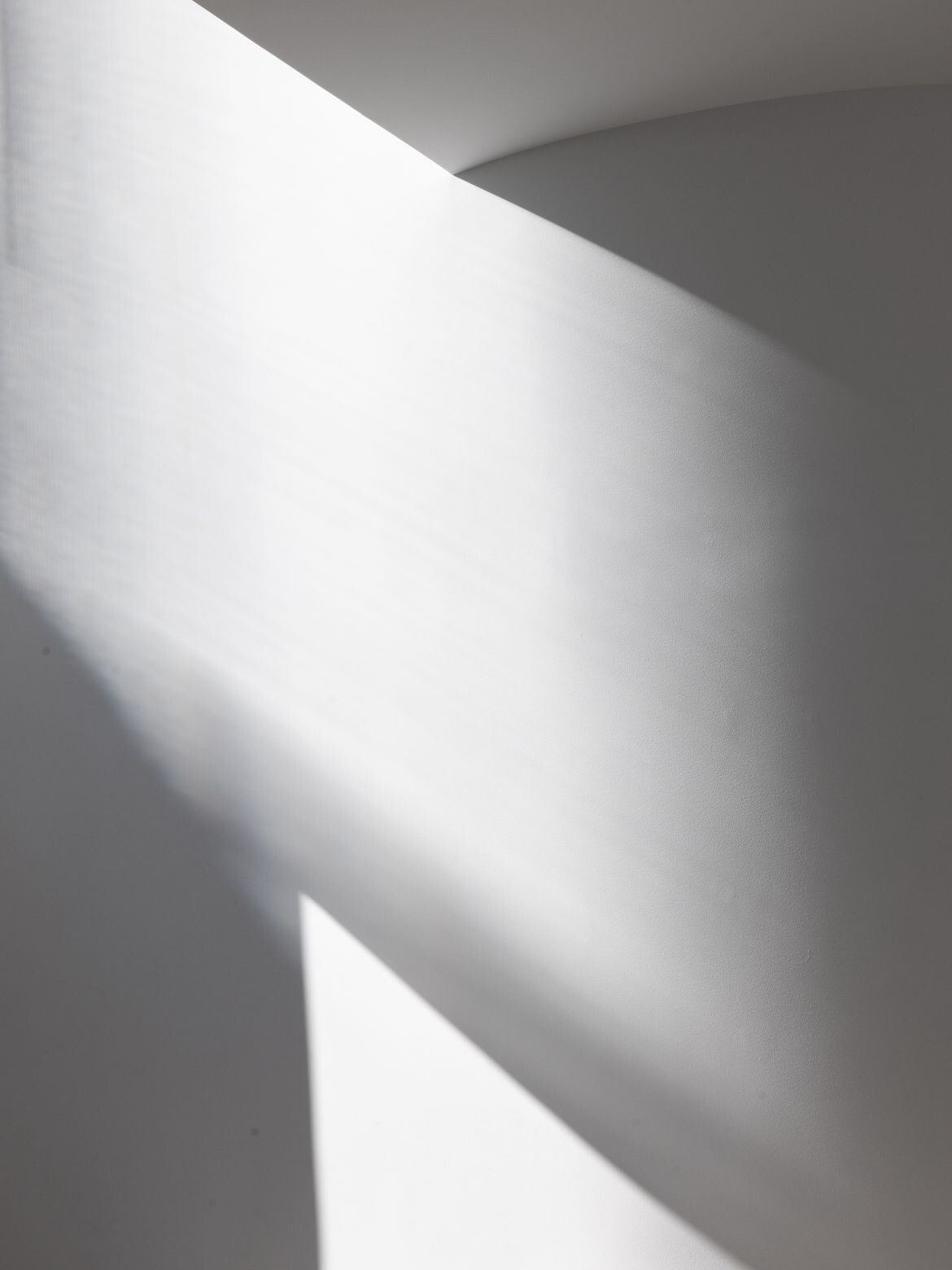 ---