Conceived by Copenhagen-based OEO Studio the renovation of this 200-square-metre apartment in the Opus Arisugawa Terrace & Residence defines the term Japandi.
Not to be confused with Japonisme, which is the French equivalent, Japandi is an awful sounding word, but useful in addressing the style that has been steadily growing since Danish designers first started visiting Japan in 1845. That said, there is also a parallel to be found between the tenets of Bauhaus and the Japanese aesthetics of asceticism.
Effectively combining Wabi-Sabi from Japan with Hygge from Denmark, the aesthetic of each is defined by minimalism, natural materials, simplicity of form and a neutral palette. In both the essence of colour is derived from nature with the Scandinavian tones of pale timber and lime meeting the Japanese penchant for earthy tones of clay and olive.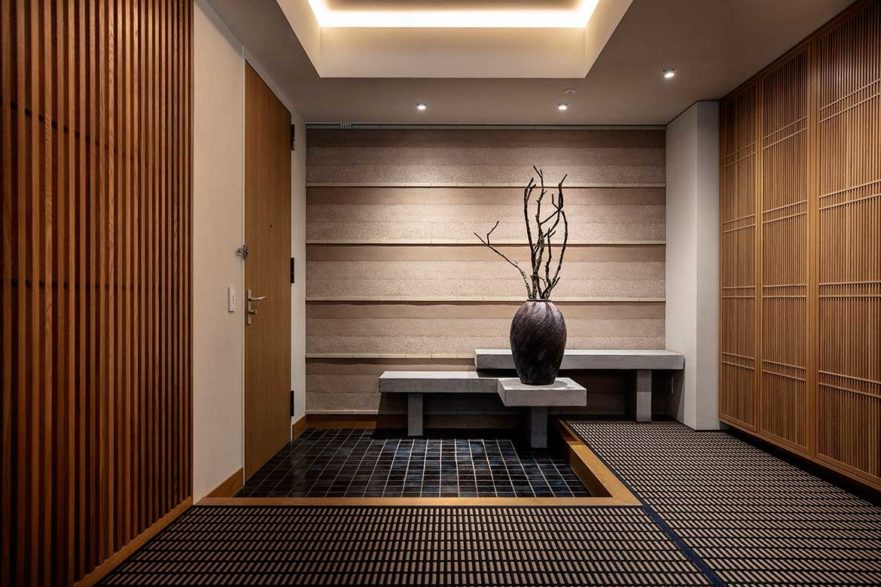 For the apartment, both cultures provide impetus within a palette of natural materials and tones. Japanese Oya stone, for example, is used on columns to subtly emphasise the demarcation between the living area and the open kitchen. However, it is the use of textural nuance that sets the project apart. Rugs made of paper yarn from Finnish birch trees, for example, offer warmth to the entrance, while the patterns are derived from Japanese textiles.
These give way to a natural stone floor, which in turn gives way to timber. In the lounge area, the combination of natural surfaces is continued with timber furnishings such as the Jari table from Kruger and Frama AML stool. These are then countered by the soft curving forms of the Taylor Sofa (Stellar Works) and Pacha Lounge Chair from Gubi.
The artwork too has been carefully considered with tonally neutral meditations by Finish artist Jaakko Mattila and Danish photographer Søren Rønholt. Ceramics by Michael Verheyden and Christian Bruun add both sculptural and textural variations.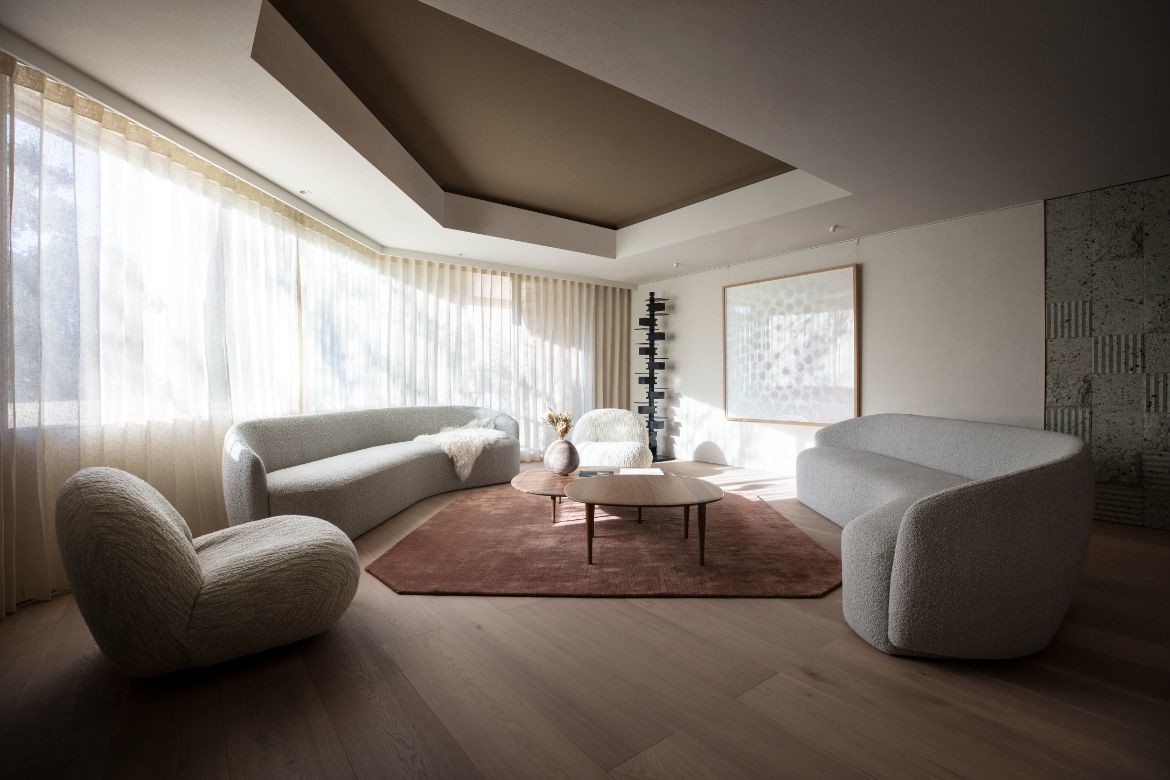 Treading between contemporary and traditional rooms, a slated feature wall allows the entrance room to be open or closed within the open-plan space. Effectively the arrival is into a traditional room of slatted timber. However, closer inspection reveals a room of nuance where a rammed earth walls deliberately blur the boundary between indoors and out.
Here the motif of the paper floor disrupts the norms of jute flooring with its strict geometries. A custom coat rack is sculpturally realised as a geometric within the tighter geometric patterns of walls and floors, while a large Unika Vase by Christian Bruun lends a gallery-like experience to this room. Once the slatted timber screen is opened however, the apartment's contemporary interior is revealed.
Designed by OEO Studio and crafted in Denmark by long-time collaborator Hvalsøe, the kitchen is effectively a bespoke piece of crafted furniture, it is also incredibly beautiful with floating timber cabinetry and lovely long clean lines. A collection of Asahiyaka ceramics and objects from Kaikado are elegantly presented as is the Y model pendant light from Anour.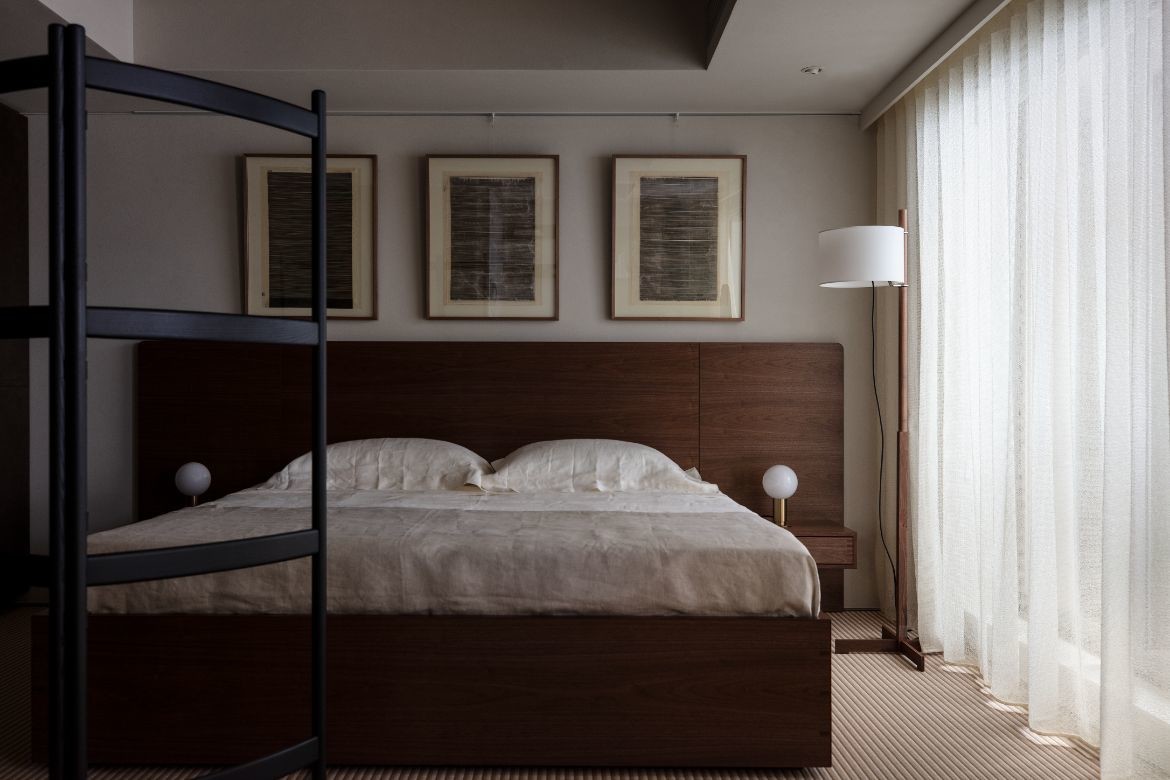 Natural stone is a dominant material for the bathrooms with custom basins paired with delicately variegated stone that extends to the ceiling. The ensuite bathroom is particularly interesting with a large hinoki timber Kaku bath from Hinokisoken. Fittings are minimal and black from Vola.
Clumsy descriptor aside, the pairing of Japanese and Scandinavian aesthetics and design is one of calm beauty that clearly addresses our increasing need for a haven.
Founded by Thomas Lykke and Anne-Marie Buemann in 2003, OEO Studio is a Copenhagen-based interdisciplinary design studio with a project office in central Tokyo, Japan. The studio's work spans the fields of product design, residential architecture, hospitality, commercial interiors, creative direction, and design strategy.
Their work ranges from the interiors of Michelin-starred restaurants to aspirational objects that have earned their place in the permanent collections of the Victoria and Albert Museum in London, at the Cooper Hewitt Smithso­nian Design Museum in New York, at the Musée des Arts Déco­ratifs in Paris and the Design Museum in Copenhagen.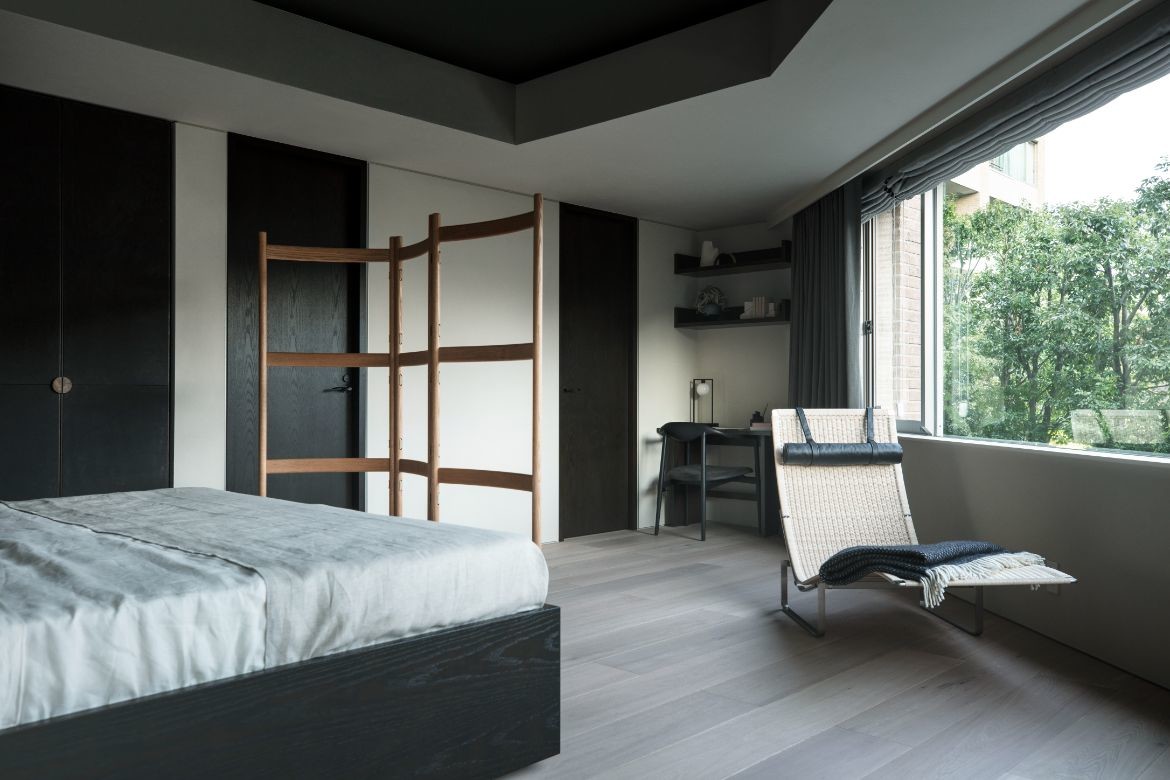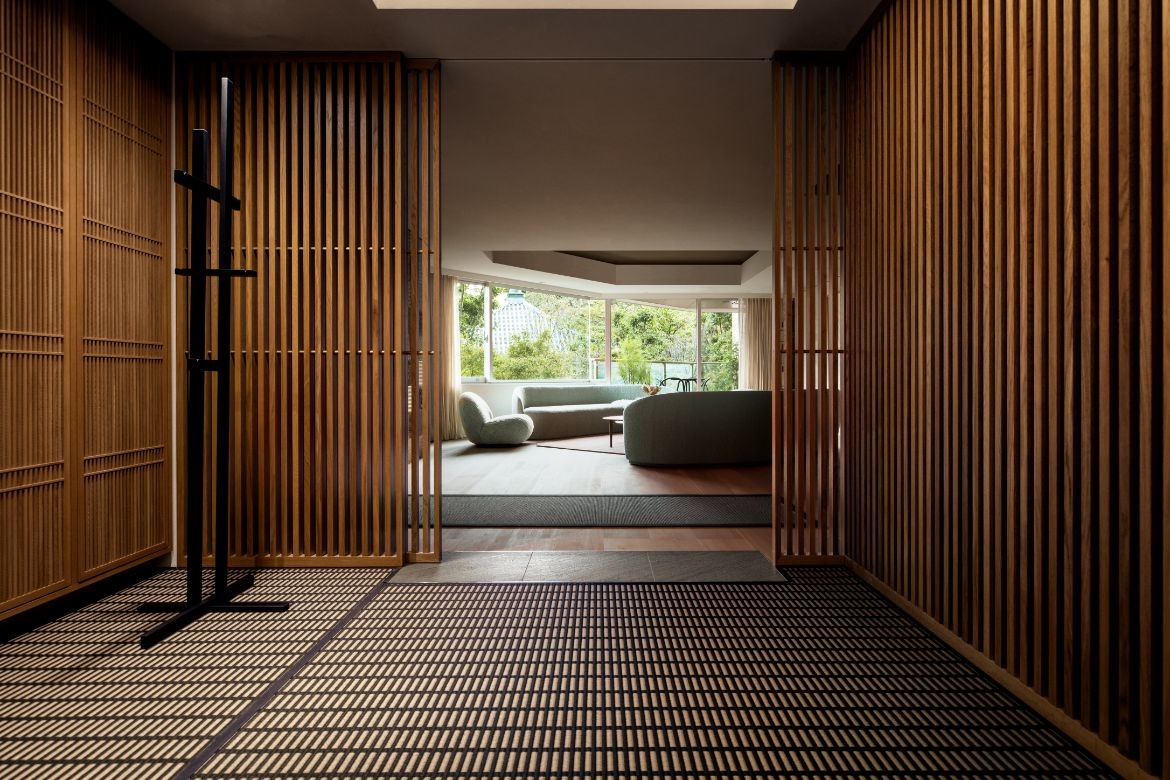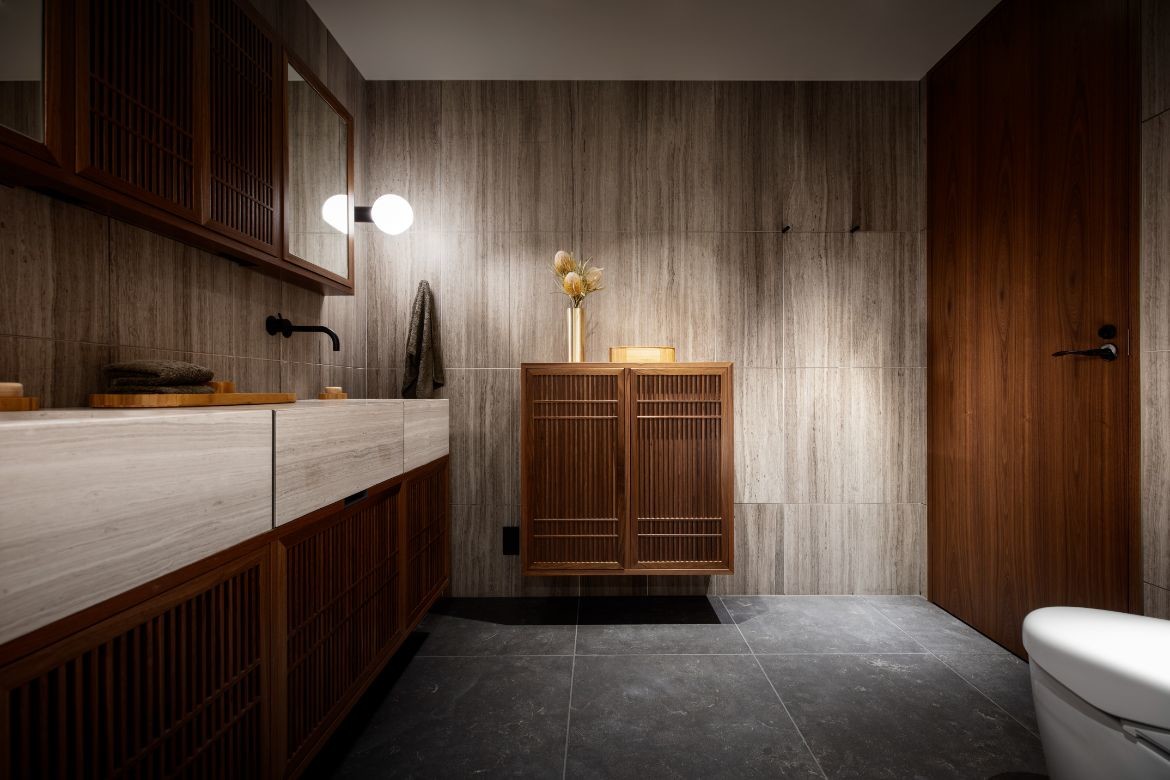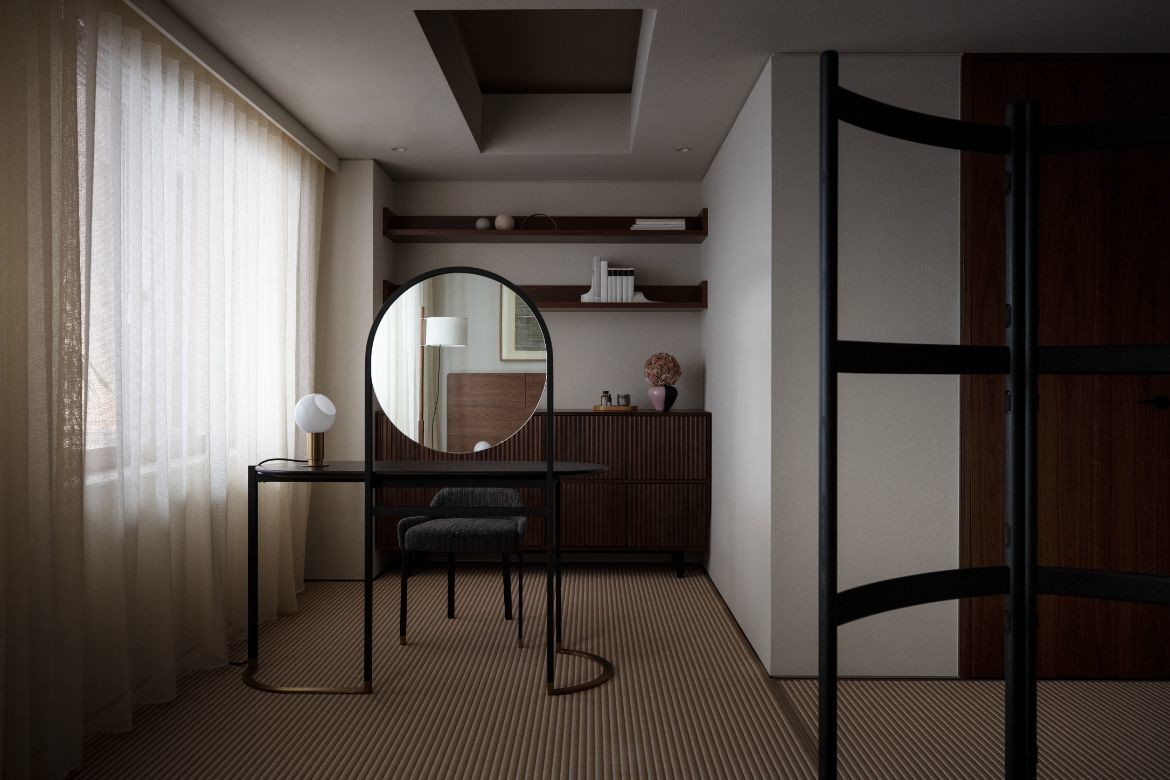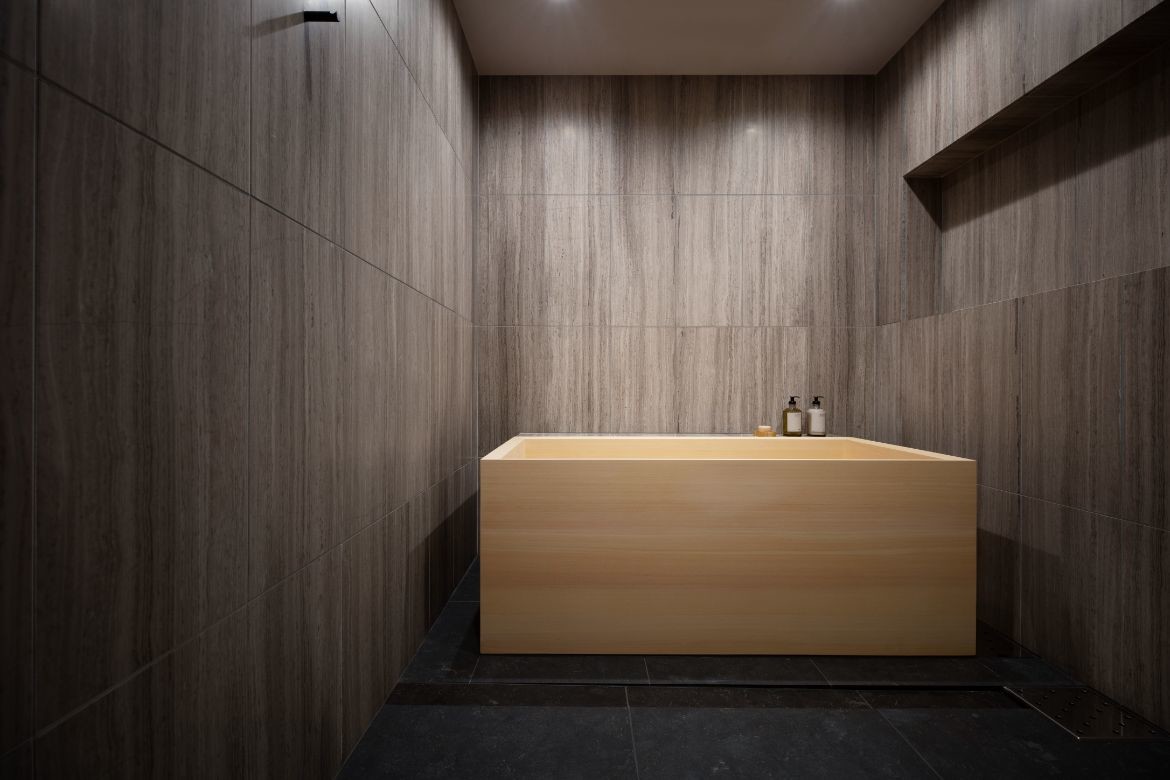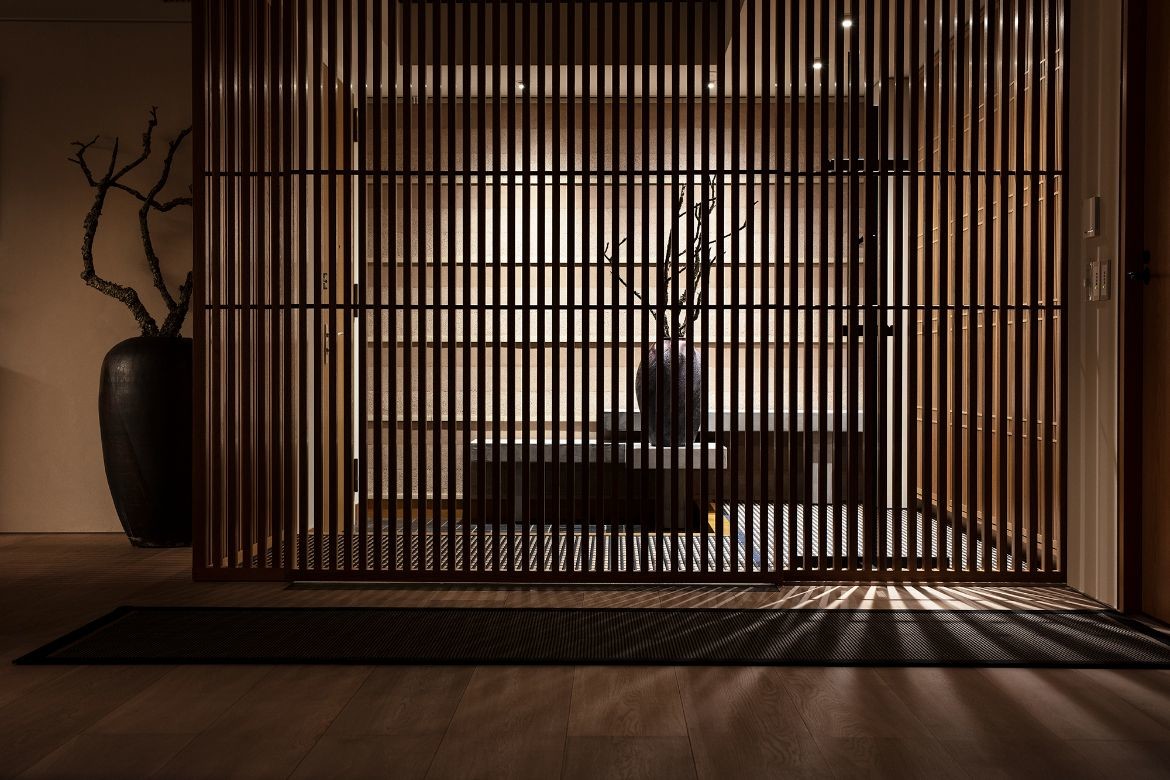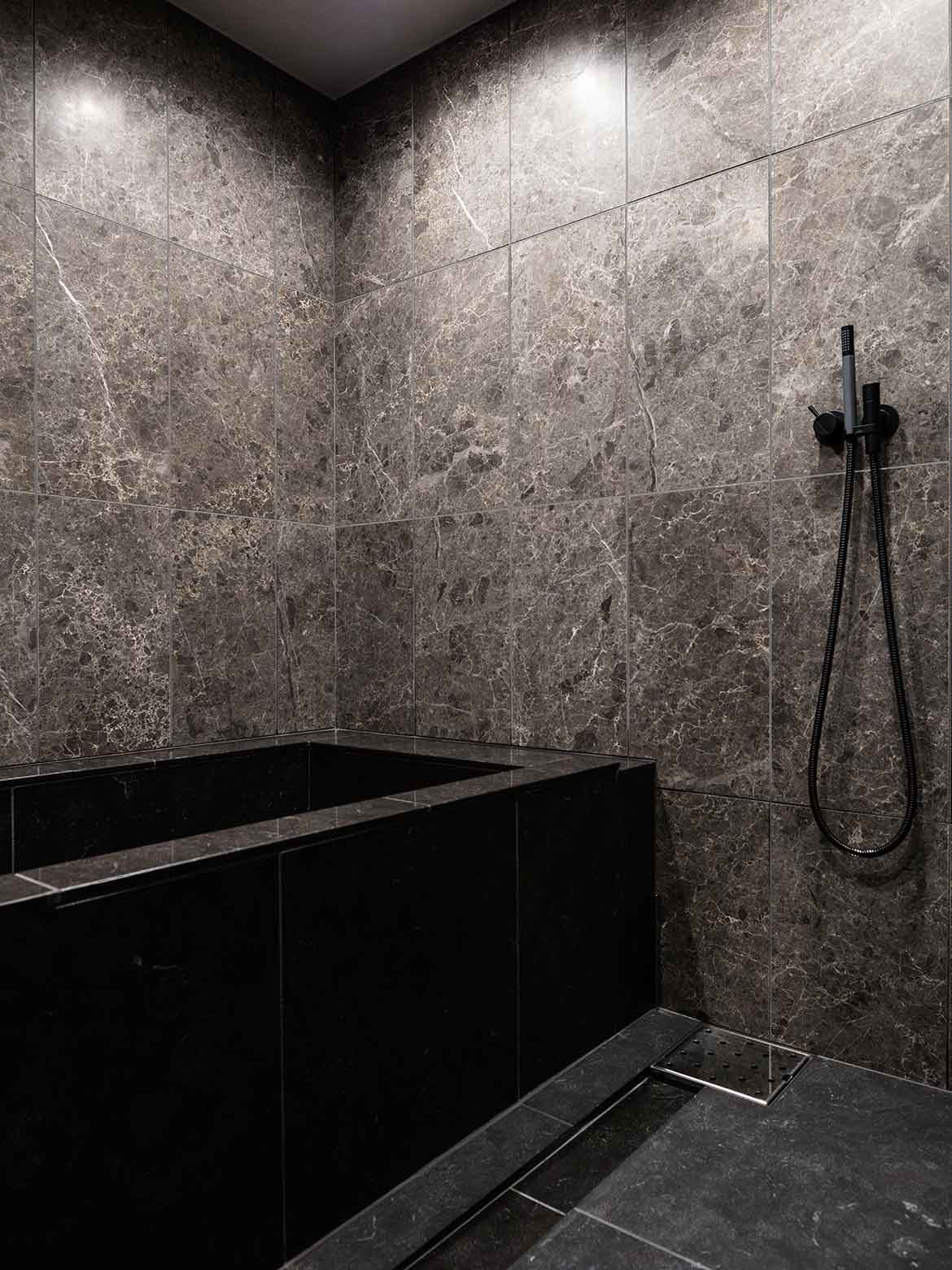 Project details
Design – OEO Studio
Photography – Michinori Aoki
We think you might like this story about Carr's design for a multi-residential apartment building.
---