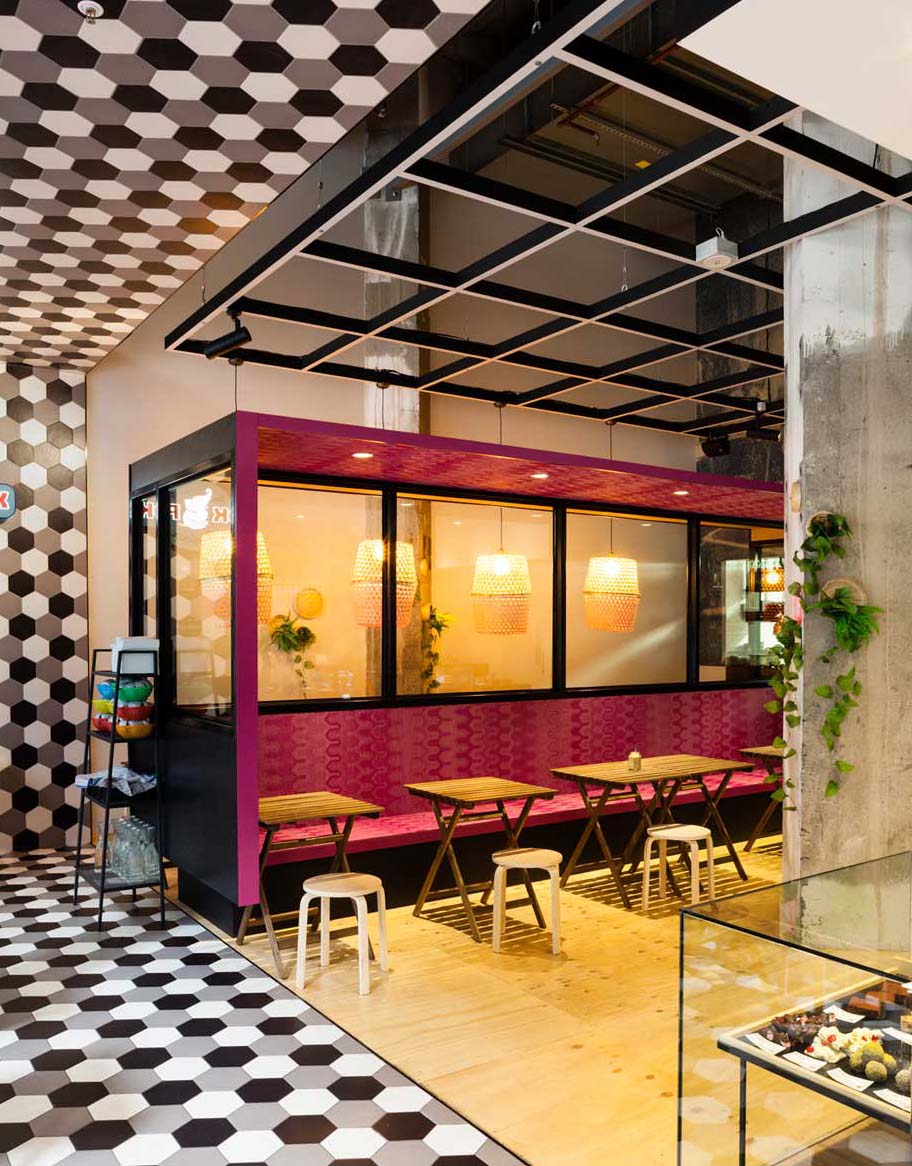 Q: Tell us a little about Pok Pok Jnr and its place within the local hospitality scene.
Pok pok – an already established restaurant in the docklands – it's intention – to bring Thai street food from Bangkok to Melbourne.
The new Pok Pok Junior restaurant is nestled within a variety of other cafés and restaurants in the new St James place plaza at 555 Bourke street. In my opinion it serves the best cafe in the strip in terms of taste and interiors. An absolute need for anyone to eat a meal there. The flavours and menu options are worth the trip – soon to be open for night trade and serving liquor.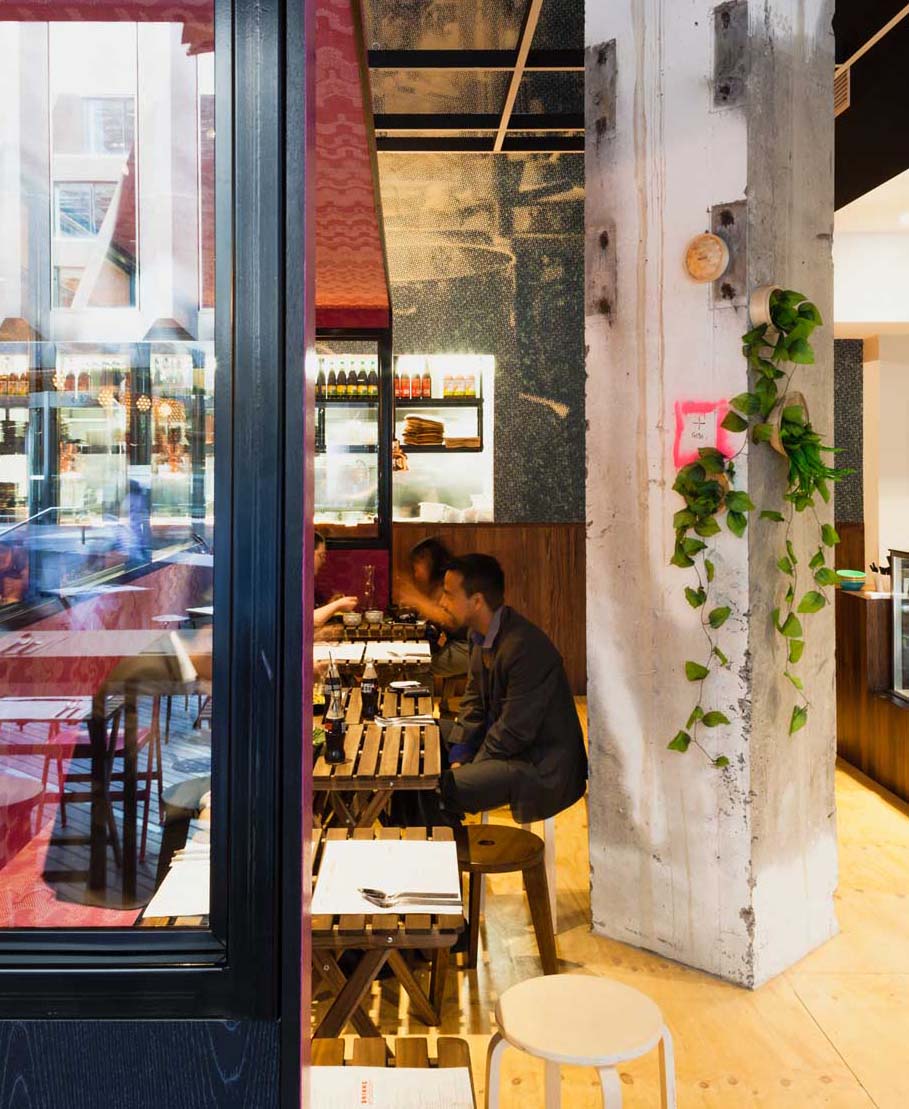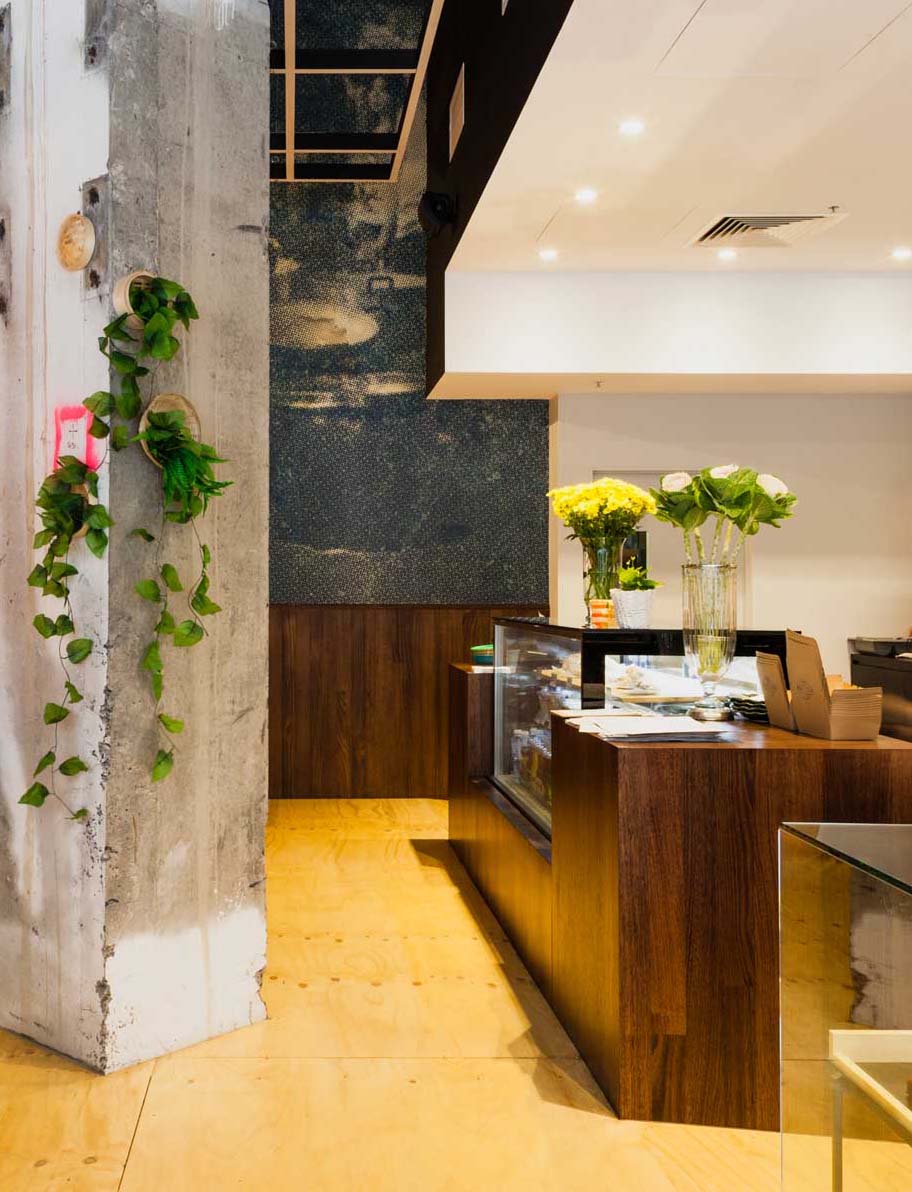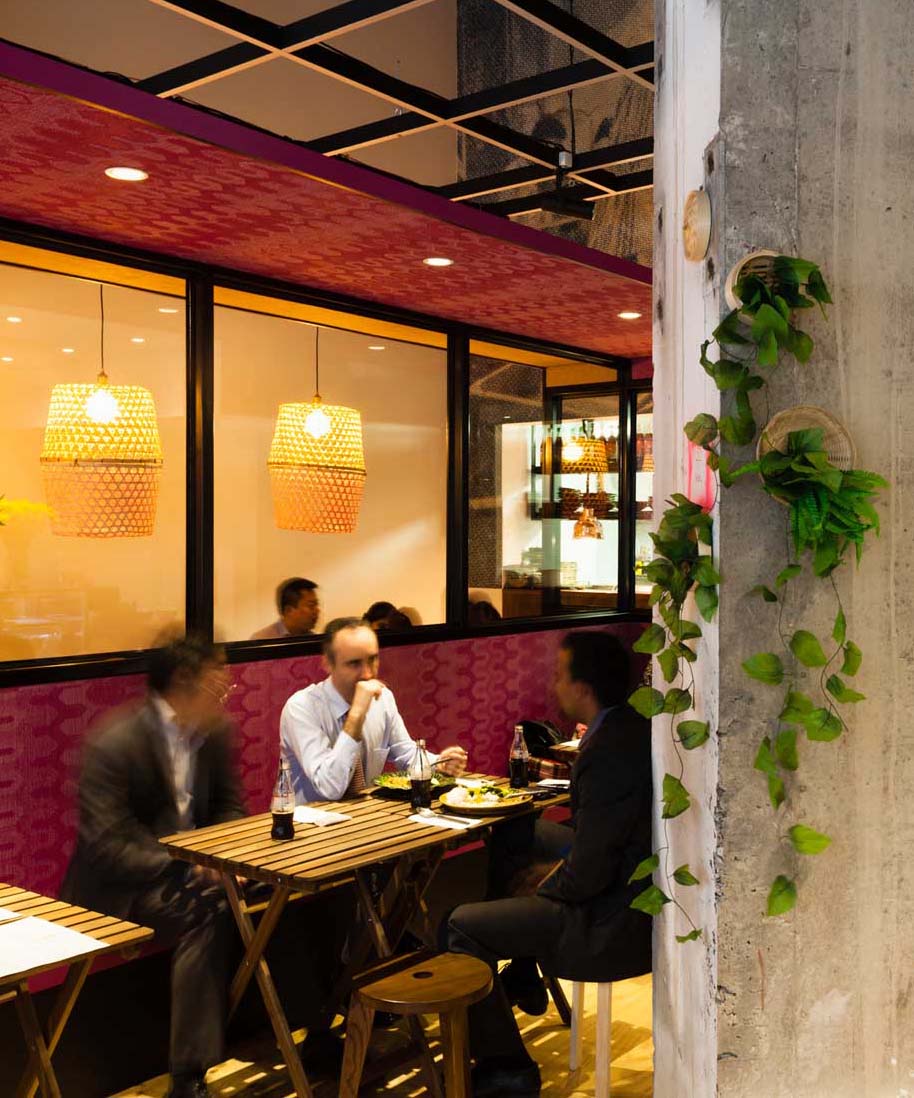 Q: Tell us about the brief for the project and G.A.B.B.E.'s conceptual and design response.
Well the clients came to us with the hope to create a sister restaurant to it's existing and already established Pok Pok cafe in the docklands… for this new restaurant, which they decided to call Pok Pok Junior, they specifically asked to create a place that was reflective of their restaurant concept – bringing Bangkok's Thai street food to Melbourne. They used words such as raw, rustic, relaxed and inviting.
From this I decided I want to bring in inspirations and elements from the local markets and stores in Thailand. I looked at areas in Bangkok for e.g the Chatachuk Market stalls and authentic side street food stalls to draw my main inspiration and to tell the story.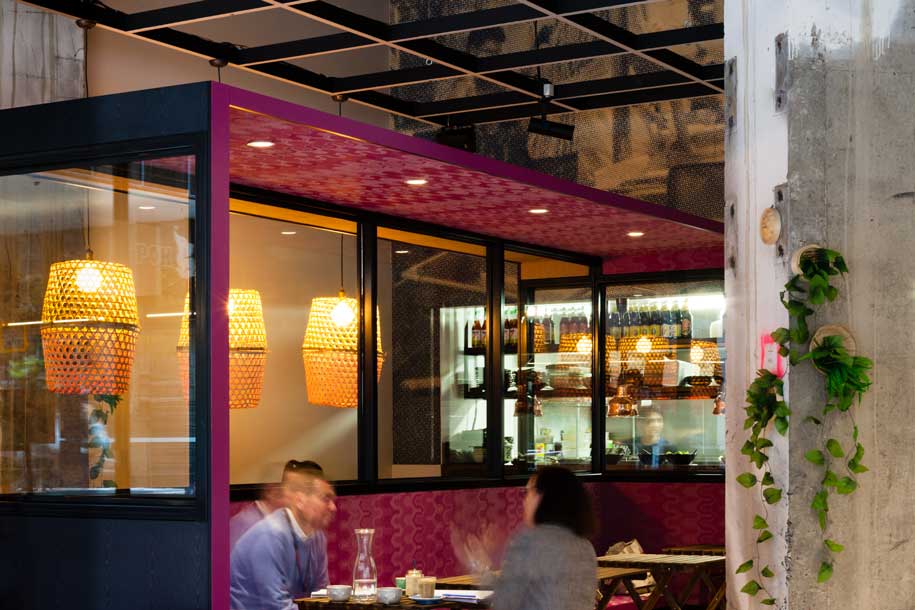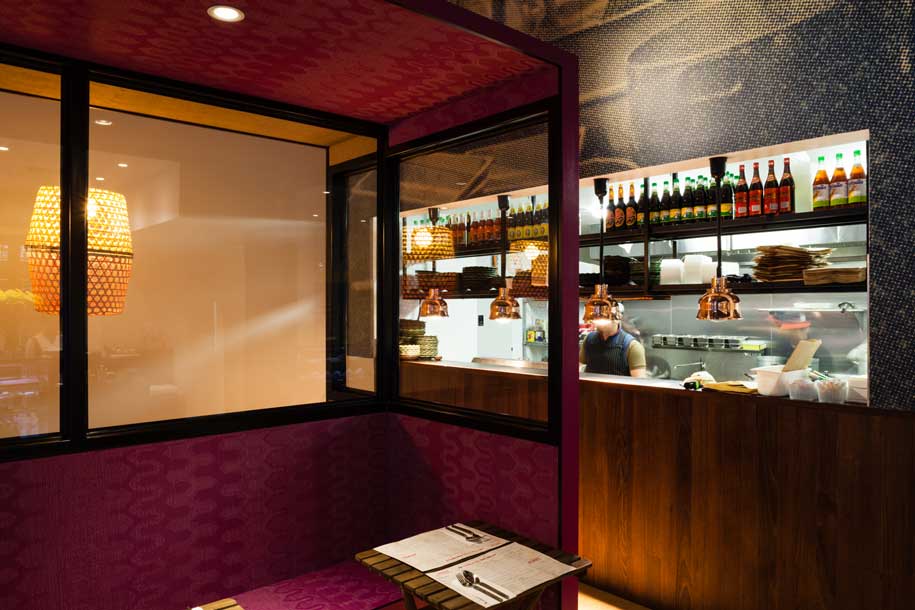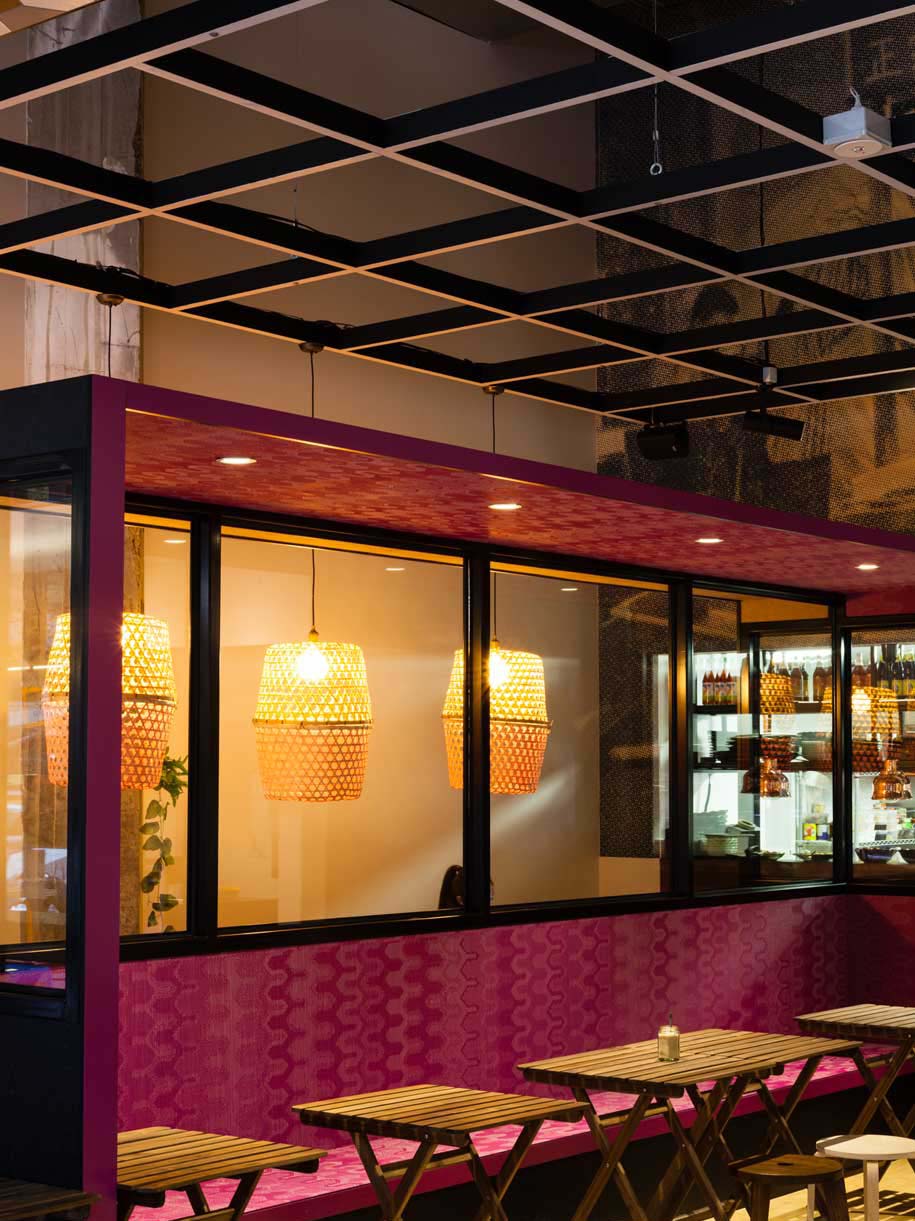 Q: I really like the extension of flooring onto the walls – tell me a little about this?
We wanted to make an impact on entry however nothing too empowering. We decided on a hexagonal tile pattern as a visual element to create a clear distinct between the entry zone and the rest of the patron area. To further dramatise this area we created a Lower ceiling bulkhead and through the combination of this lower height and the wrapping of the tiles – floor wall and ceiling- we were successful in achieving this drama.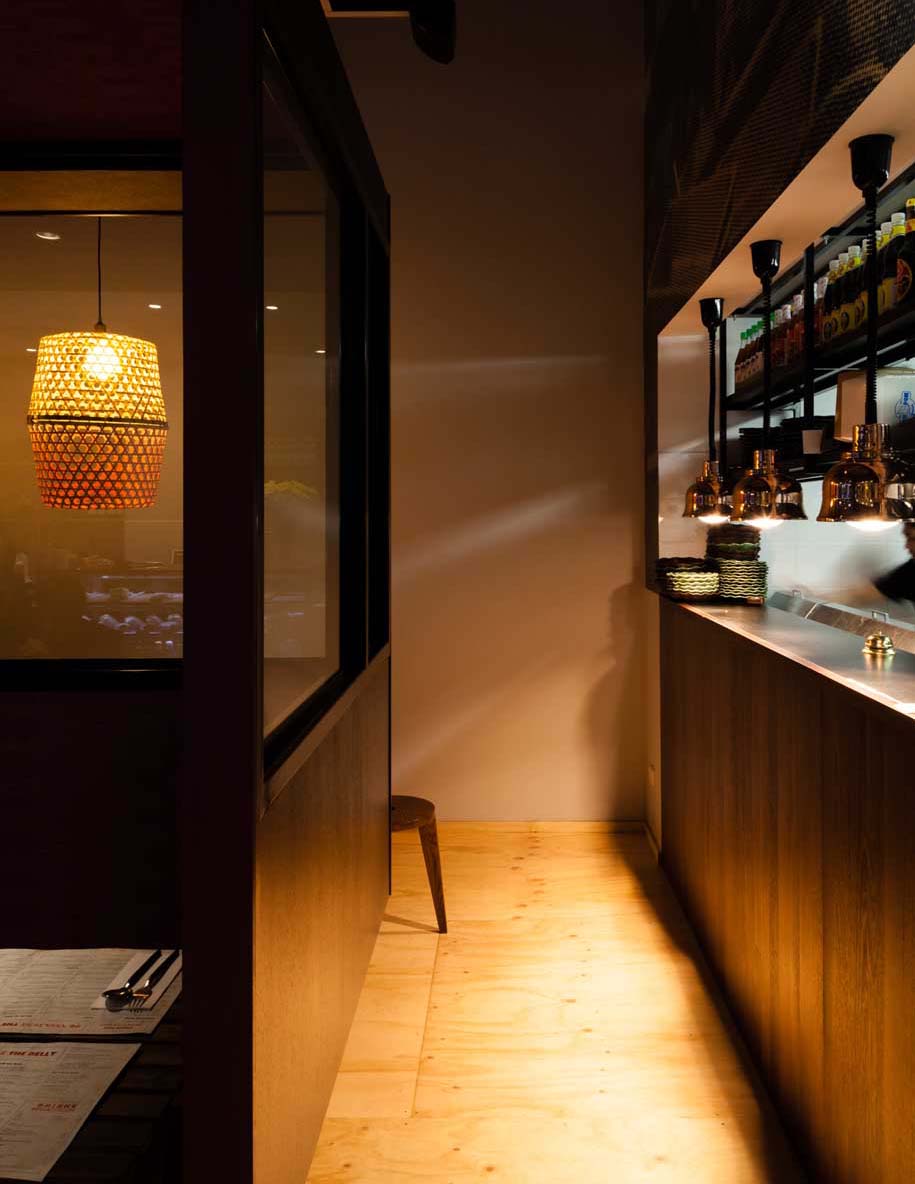 Q: Can you expand on the experience you were looking to create within the restaurant and how you achieved this?
I didn't want to recreate a Thai market place, yet rather combine elements from these local signatures and reference them throughout the design.
I specifically focused on how the locals of Thailand gather on plastic or wooden stools on the street side to eat their quick meals which was a focal image I wanted to create in the cluster of the stools by the large shelter seating units
I looked at common materiality within Thailand – hessian; which is often used as fabrics for walls in Bangkok markets as well as the woven plastic seen in their large market bags or fans – I used a woven vinyl Bolon material to represent this.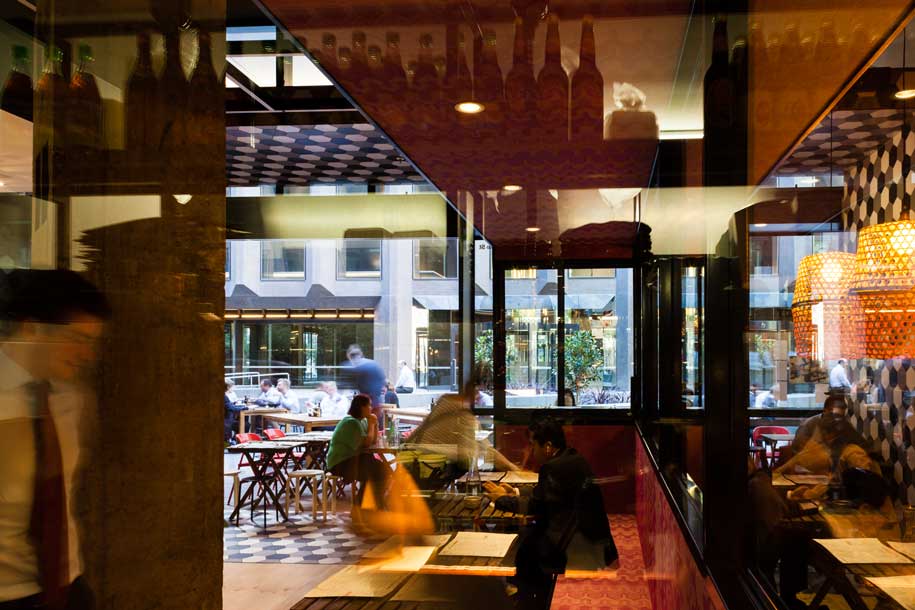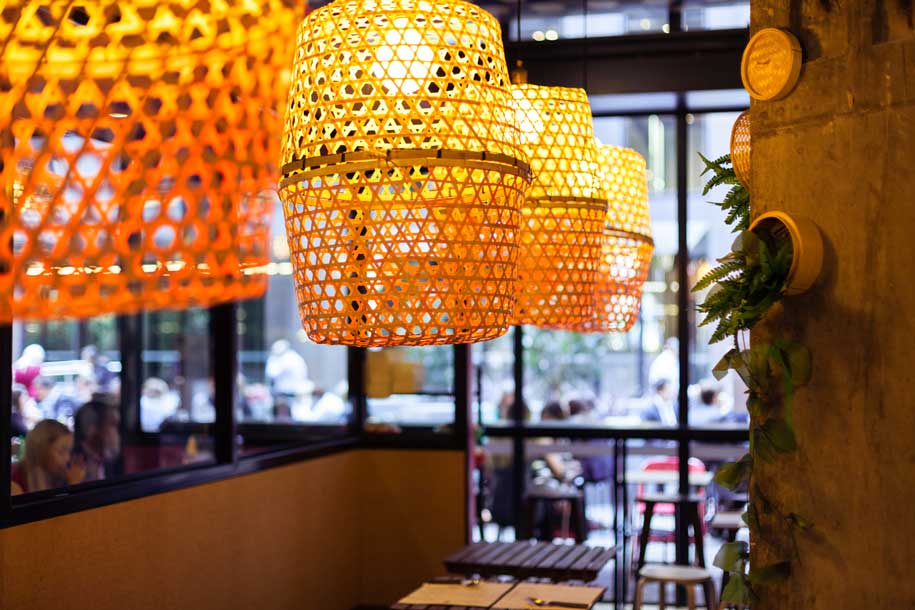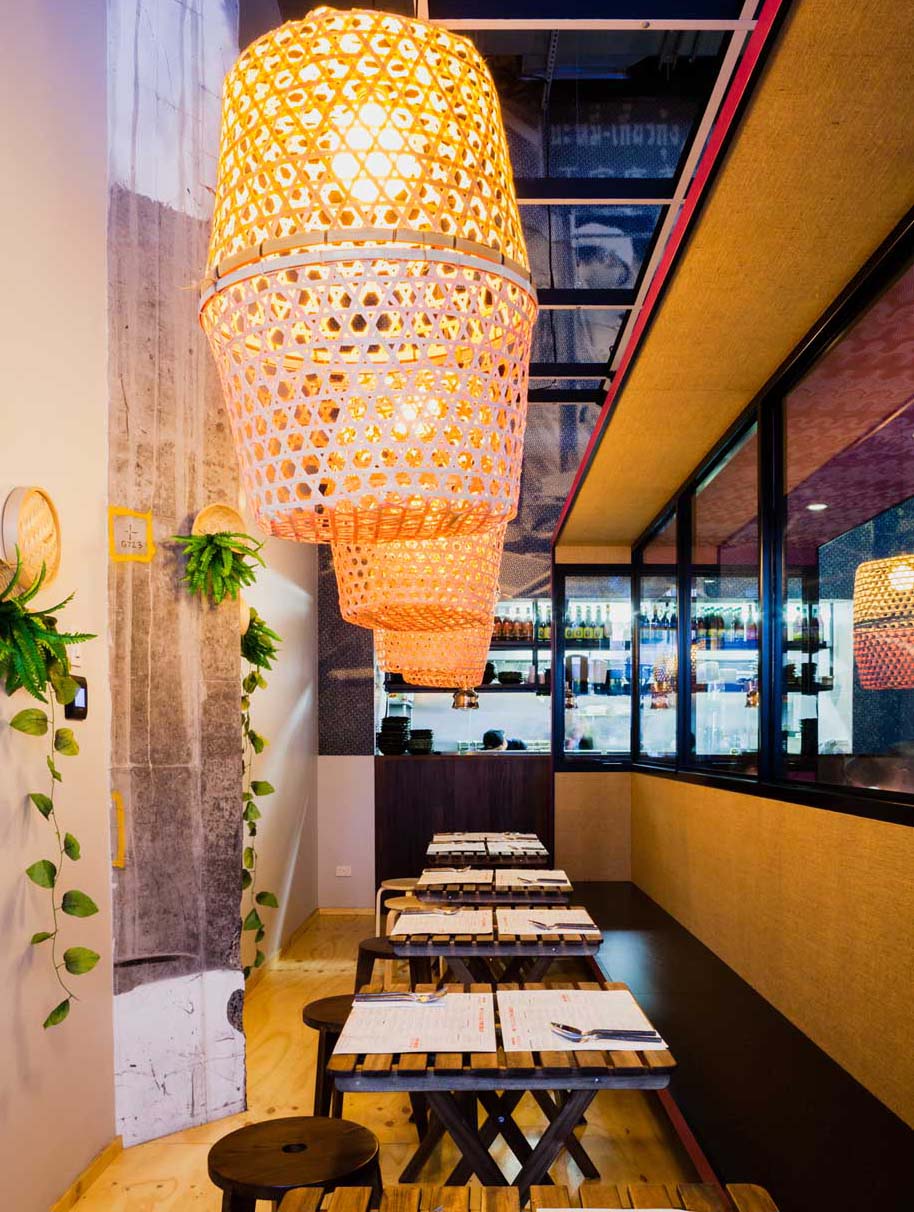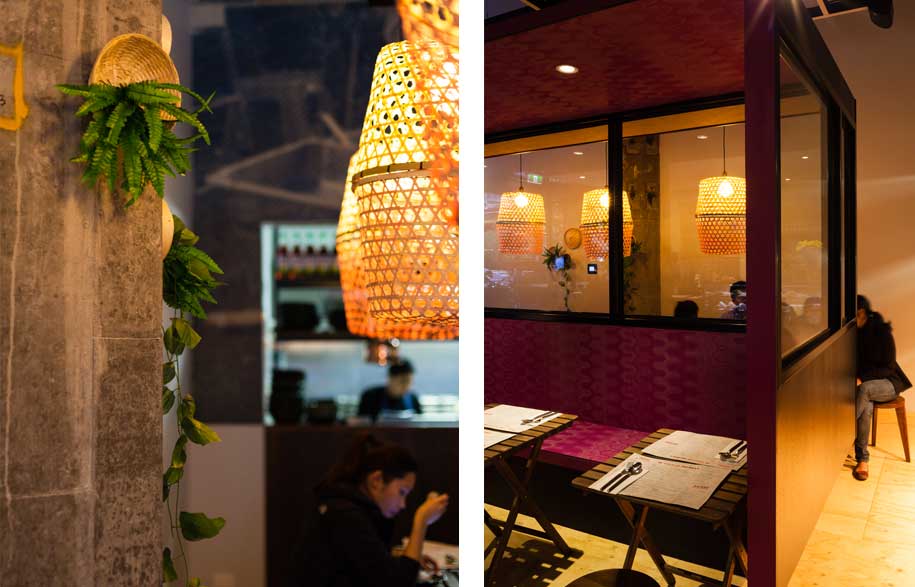 Q: Can you highlight some of the stand-out specs within the fit-out?
I was really excited about the custom central seating unit. Bright pink Missoni Bolon (representative of local plastic fabrics) was used to wrap the internal of one side and hessian used to clad and wrap the internal of the adjacent side. A comforting and intimate booth shelter where great detailing and design meets elements of the 'raw and rustic'. STM projects (who built Pok Pok Jnr) worked tirelessly with us to make sure that our design was met with perfection as to the specifications. We were thrilled with the outcome.
The custom light fitting pendants which the G.A.B.B.E team actually hand spray painted and hung (two baskets tied together one upside down) one evening, the intent was to reference the baskets used in the markets to catch and dry local fish and other delicacies.
One visual element we wanted to appropriate was a street fruit stall; a Thai lady or man standing behind piles of rambutan, limes, star fruit, durian, mangos and lychees. As you enter Pok Pok Jnr you are immediately faced with trays filled to the brim with fruit, spices and vegetables the cooks use in their daily dishes.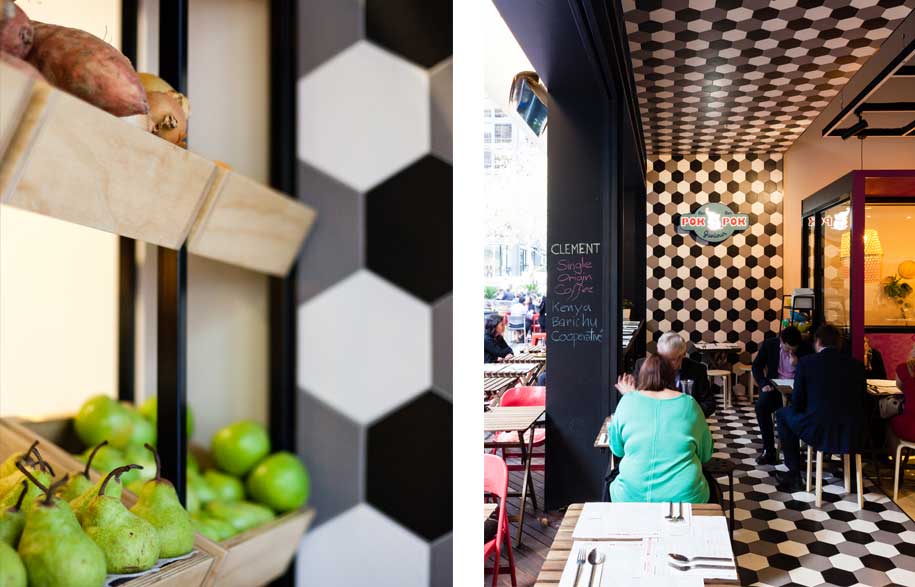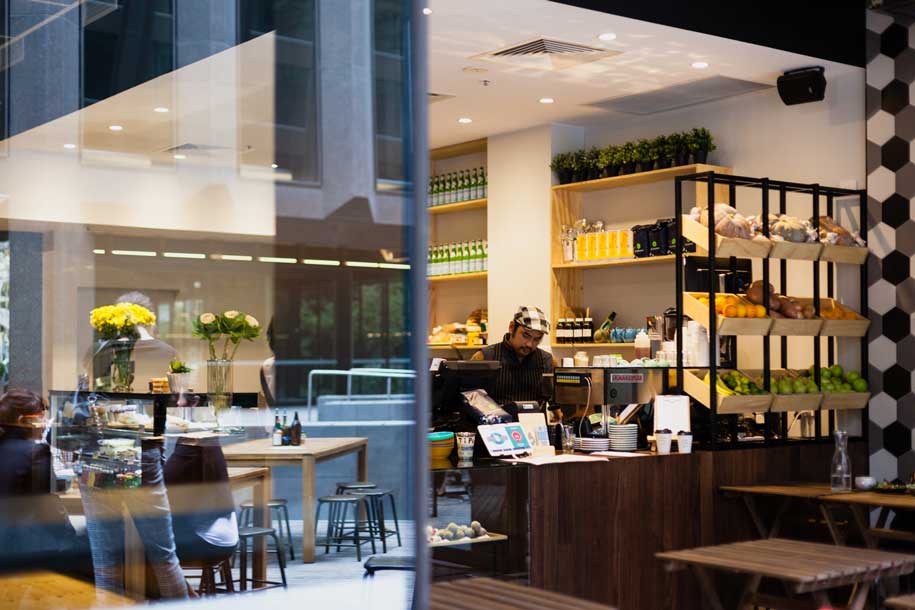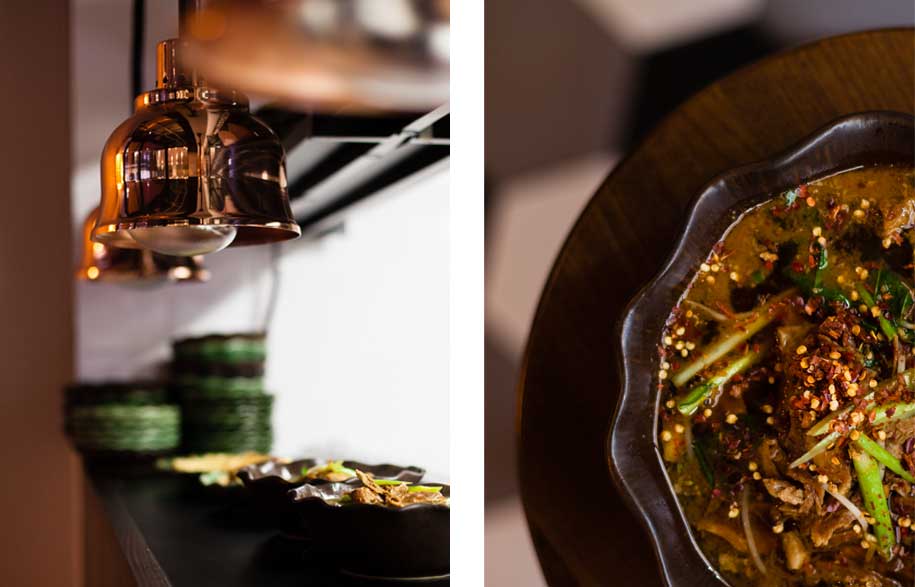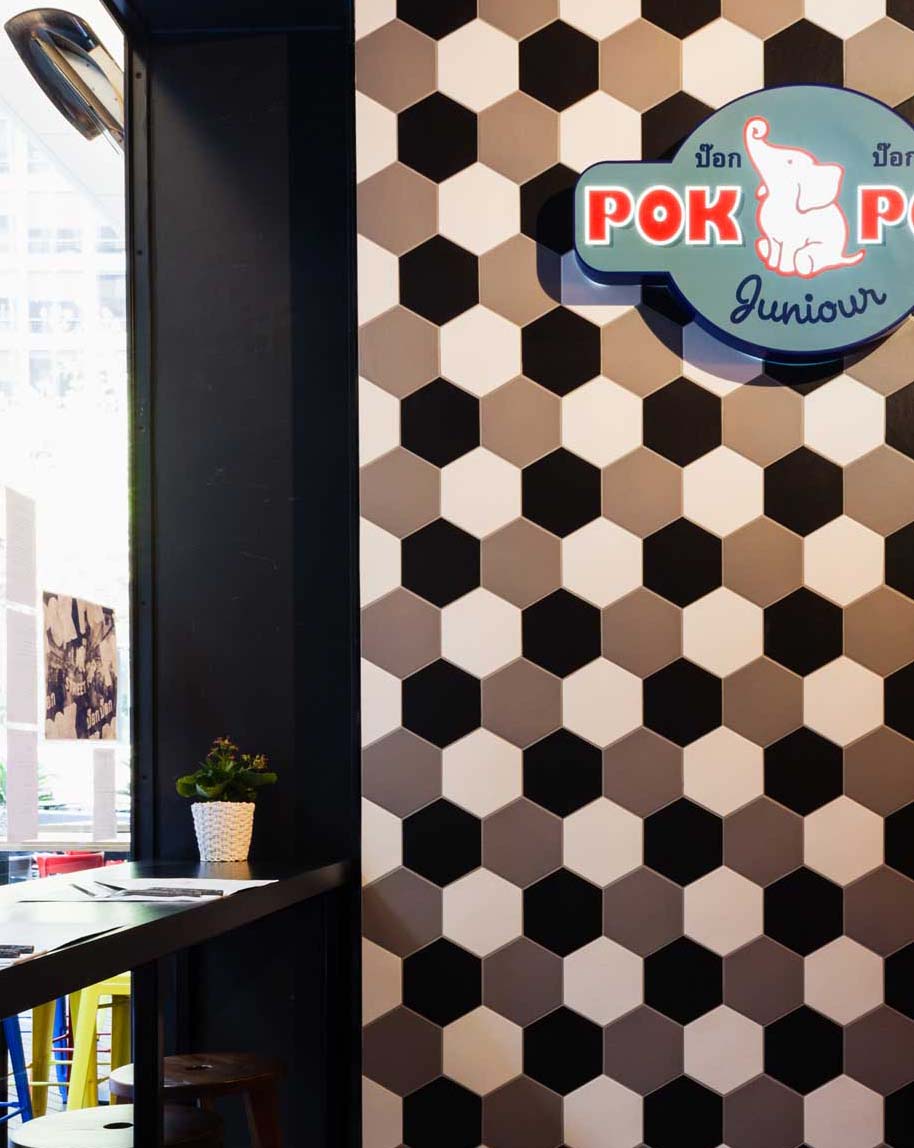 ---
Photography by
Amelia Stanwix
DROPBOX
Interior Architect: G.A.B.B.E
gabbe.com.au
Builder: STM PROJECTS
stmprojects.com.au
Pok pok Junior
pokpok.com.au
Tags: Architecture, Australia, cafe, fitout, Interior Architecture, Interior Design, Melbourne, restaurant, retail, Thailand
---