The guest rooms at Perth's newest five-star hotel take their design inspiration from the city's heady decade of excess when gold embellishments and bottomless champagne were the hallmarks of a thriving business scene.
Architect and QT Perth guestroom designer Shelley Indyk conceived the richly decorated and opulent rooms – with jewel-like colours drawn from local landscapes – to transport guests away from everyday concerns.
"You may go to a hotel to experience something unique, so it needs to be different from home, and QT Hotels each have their own quirky design intent," Shelley says. "With Perth, we used marble on the bathroom walls and floors, and gold and brass accents throughout, to create a sense of opulence and luxurious spaces."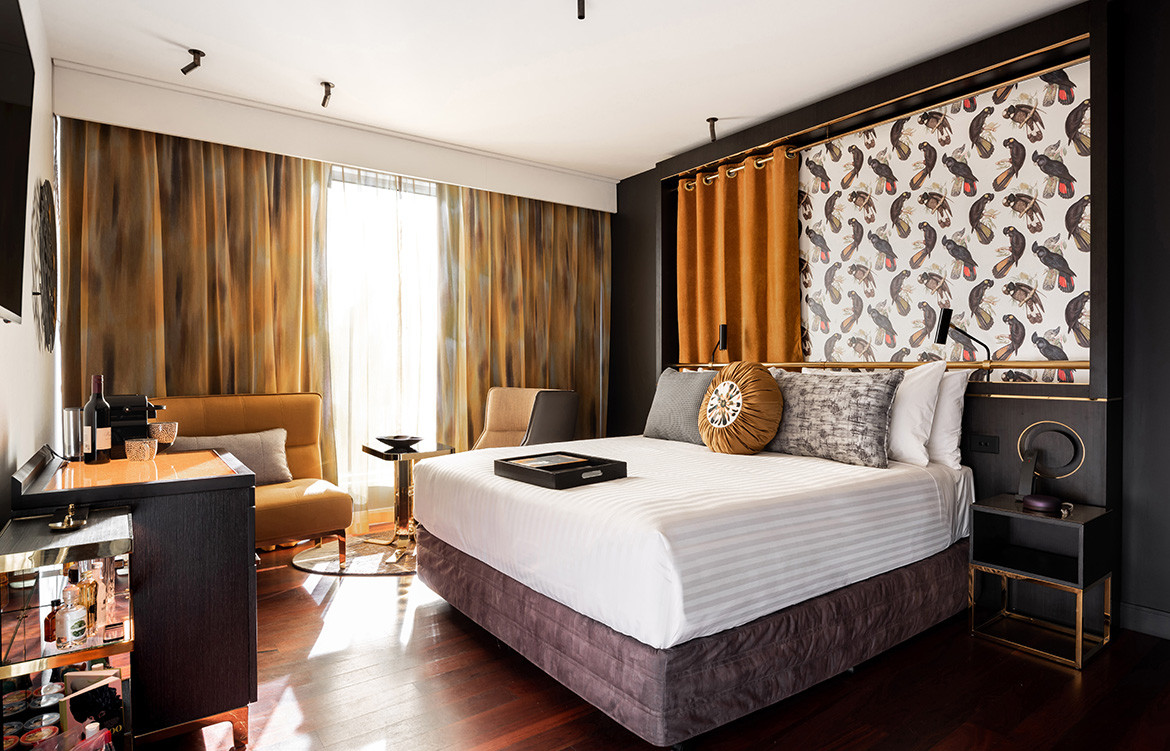 The journey to the rooms is intriguing: step out of the lifts into dark and moody hallways that combine jarrah floors, a custom carpet runner, dark panelled walls and heavy timber doors.
Over the threshold, the jarrah flooring continues but the luxe levels shift up a notch. The rooms feature rich textures such as velvet curtains and plush upholstery to soften the marble and brass.
And the rooms feel spatially opulent thanks to sliding panel doors that reveal the glamorous bathroom areas. These are divided into semi-private and private zones with black-framed glazed doors that echo the joinery in the room; the use of these dark materials helps to blur boundaries between the two spaces.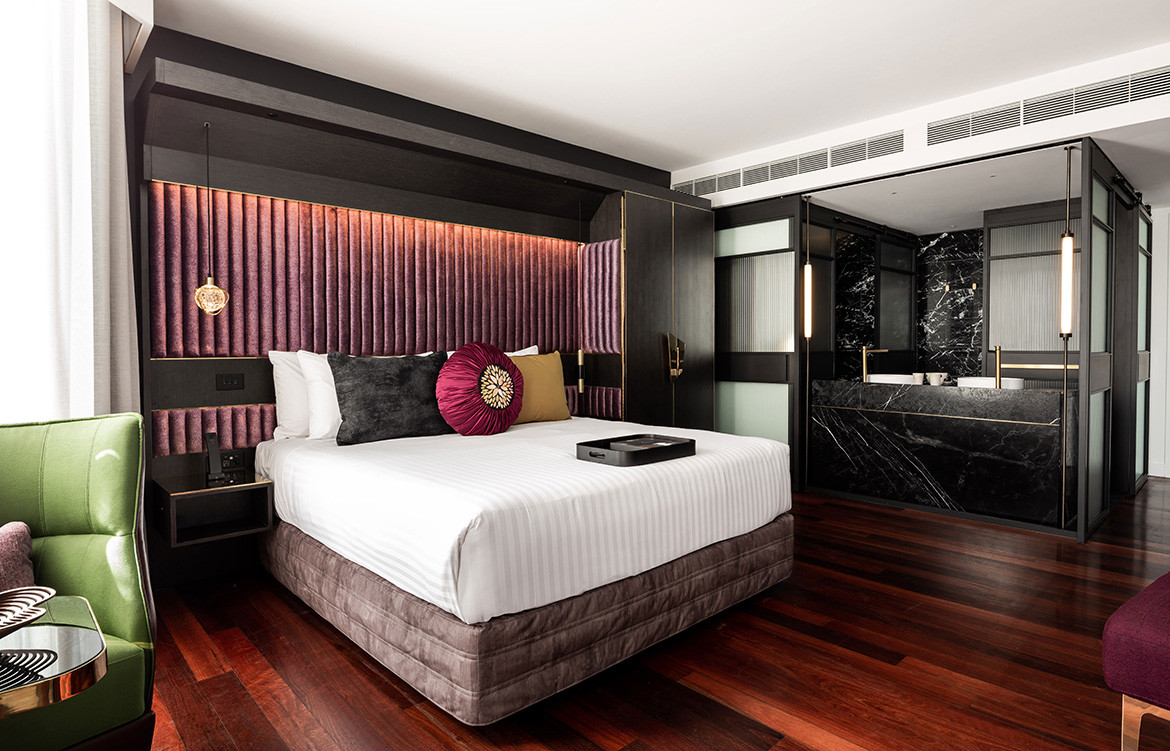 Throughout the rooms, Shelley and her team designed all of the individual pieces, from the statement bedheads to the bespoke inbuilt joinery lighting. No aspect has been overlooked and every detail provides another opportunity to impress guests.
She specified two colourways: one that combines emerald green and deep mauve, derived from the grapes and vines that made this south-west region famous among wine lovers; and a grey and gold pairing, which riffs off the state's former gold-rush fortunes.
Shelley says she chose colours and soft furnishings that would withstand and counteract Perth's notoriously bright daylight that streams in via floor-to-ceiling windows.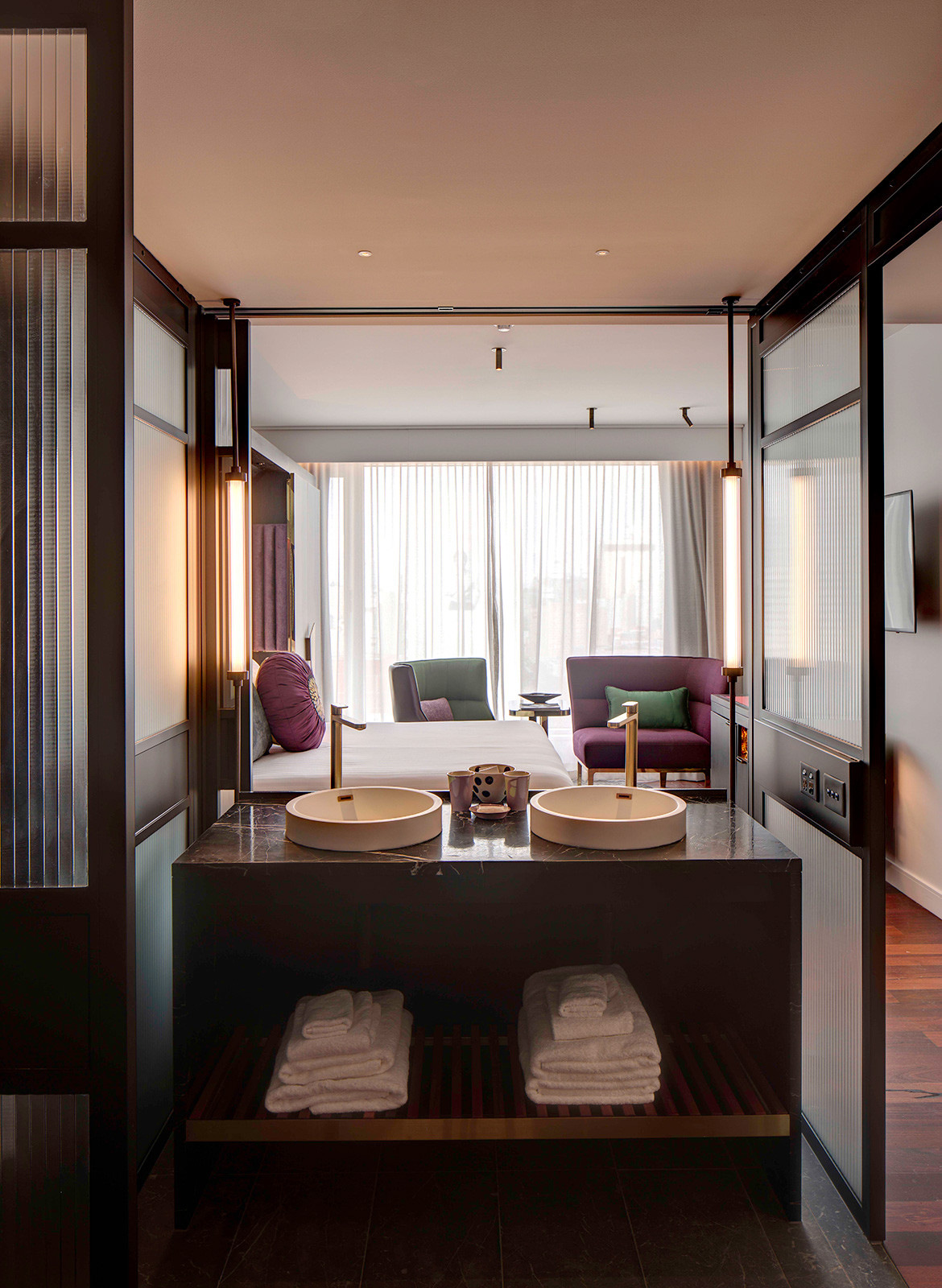 "The light is strong in Perth, and you feel the impact of that, especially on the western rooms," she says. "We didn't have much input into the architecture but we did use sheers that help to soften the light but still allow guests to see beyond them."
From these sumptuous spaces that overlook and celebrate a city shaped by mining-led boom-and-bust cycles, it's easy to be transported to another time and place, even if only for one or two nights.
Indyk Architecture
indykarchitects.com.au
QT Perth
qthotelsandresorts.com
Photography courtesy of QT Perth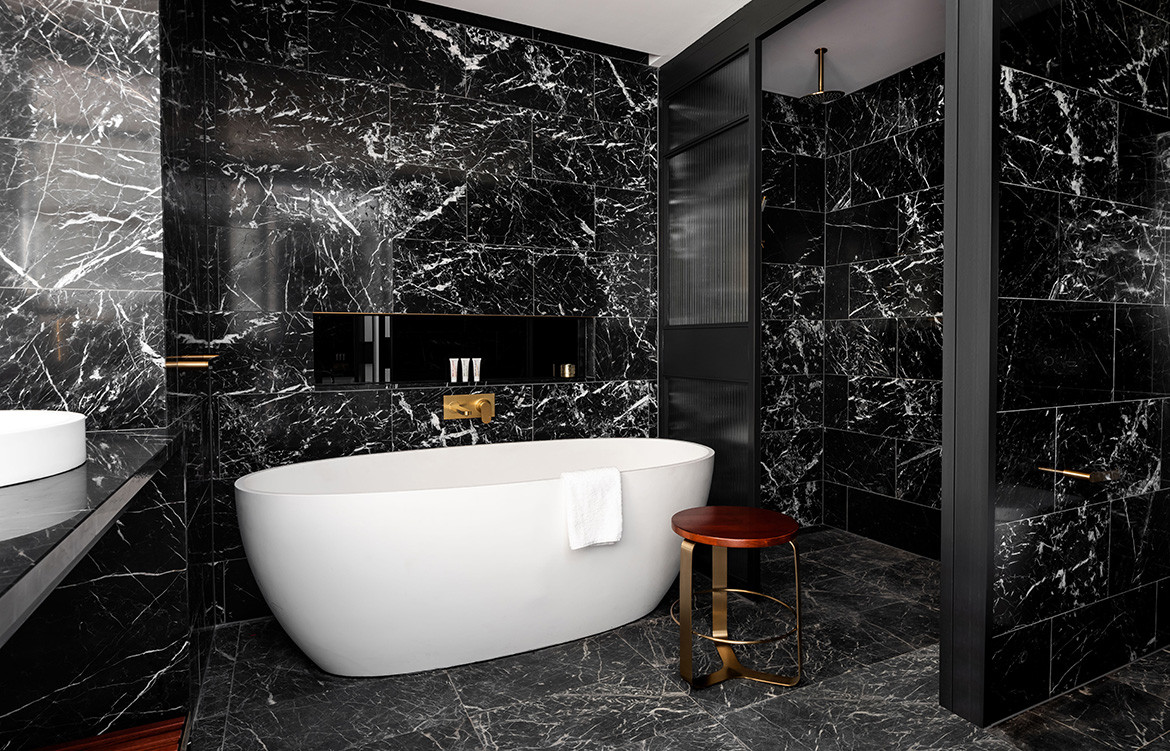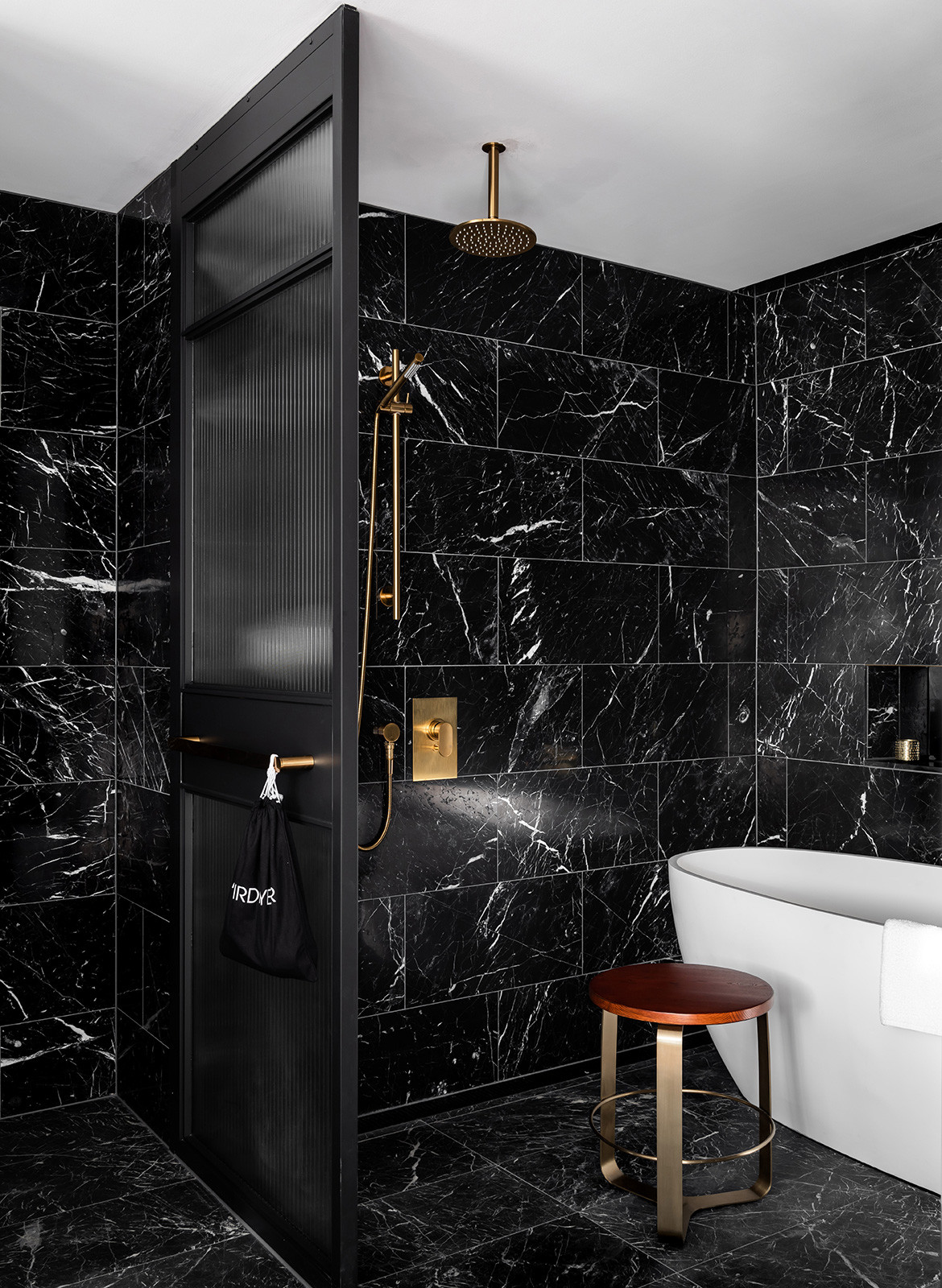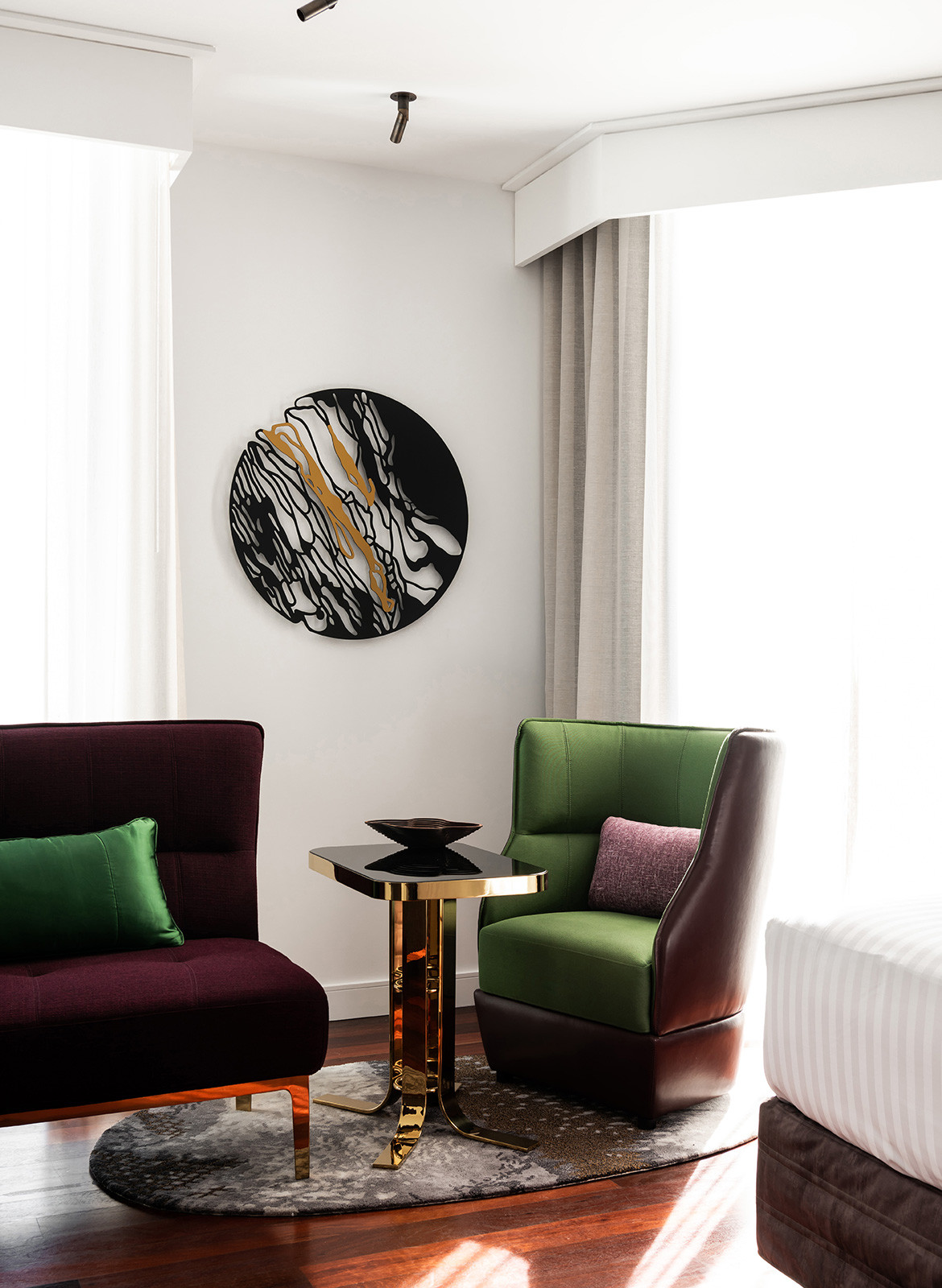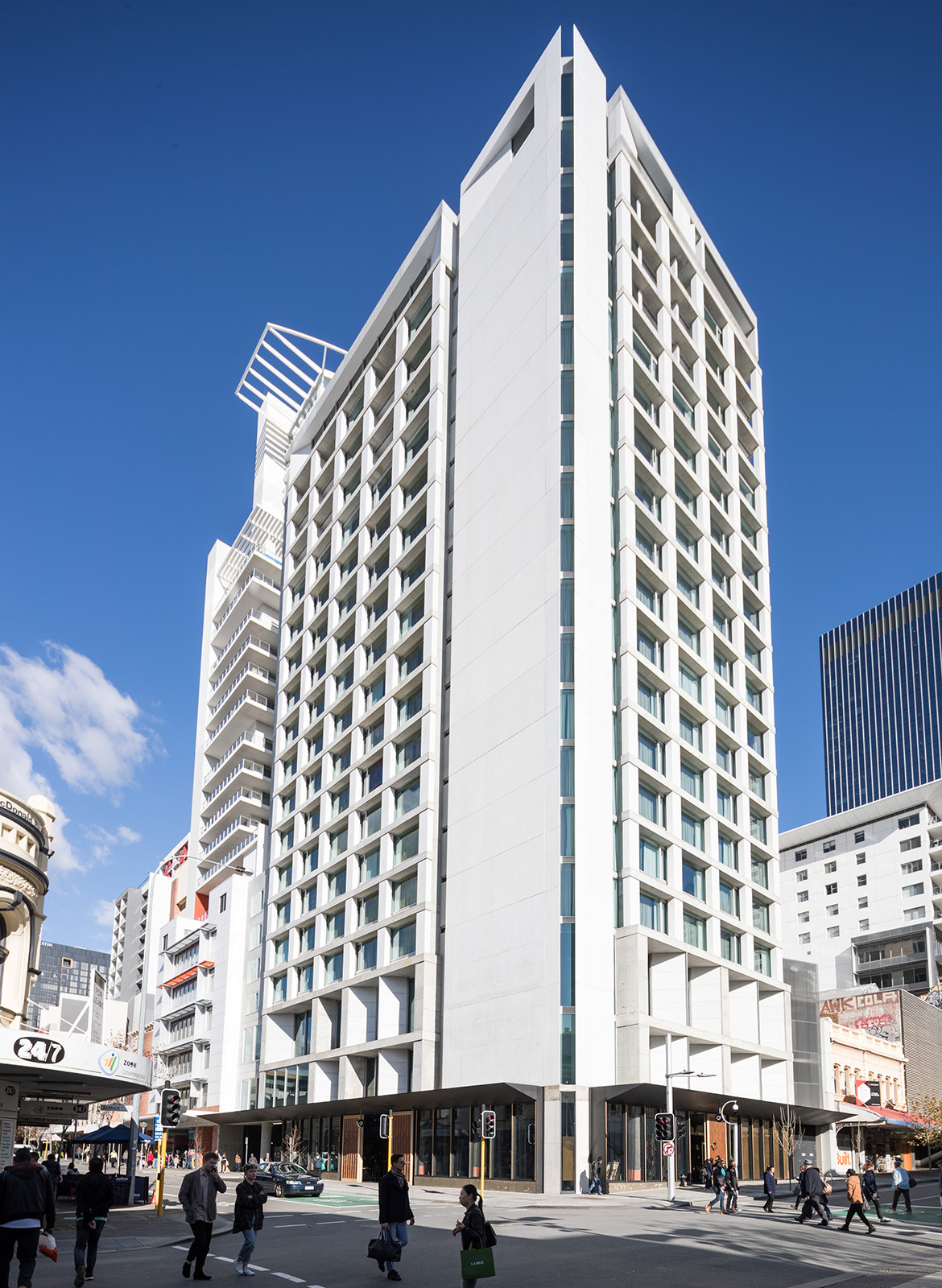 We think you might also like QT Melbourne.
Tags: brass, design hotel, five-star hotel, Indyk Architecture, Interior Design, Jarrah, Jewels, marble, Perth, QT Hotels, QT Perth, Rachael Bernstone, Shelley Indyk, Velvet
---