Byron Bay is that quintessential little piece of Aussie beachside paradise. It's a small New South Wales coastal town popular for its surf beaches, music festivals and colourful mix of bohemian nature lovers, shrewd developers, holidaying backpackers and fun-loving creatives. It's also where Brazilian architect Thais Pupio set up her practice, Thais Pupio Design, after relocating to Australia 11 years ago. Florianópolis, where she used to live in the south region of Brazil, shares the same sub-tropical climate as Byron Bay and so the move was undoubtedly a strategic one. Thais is adept at producing highly efficient yet humble environmentally responsive residential architecture and the same design principles that drive her projects in Brazil also drive those in Australia.
It's an expertise not lost on her recent clients, a husband and wife with three grown children who wanted a guest house next door to their own home. "They know I'm Brazilian and came to me with a sense that I could create something tropical in both appearance and feel," says Thais. "They didn't want anything too rustic – or anything that looked like a beach shack – but it did need to be inviting, earthy and modern."
Generous glazing, including strategically placed louvres to facilitate ample cross ventilation, ensures a strong connection with the outdoors.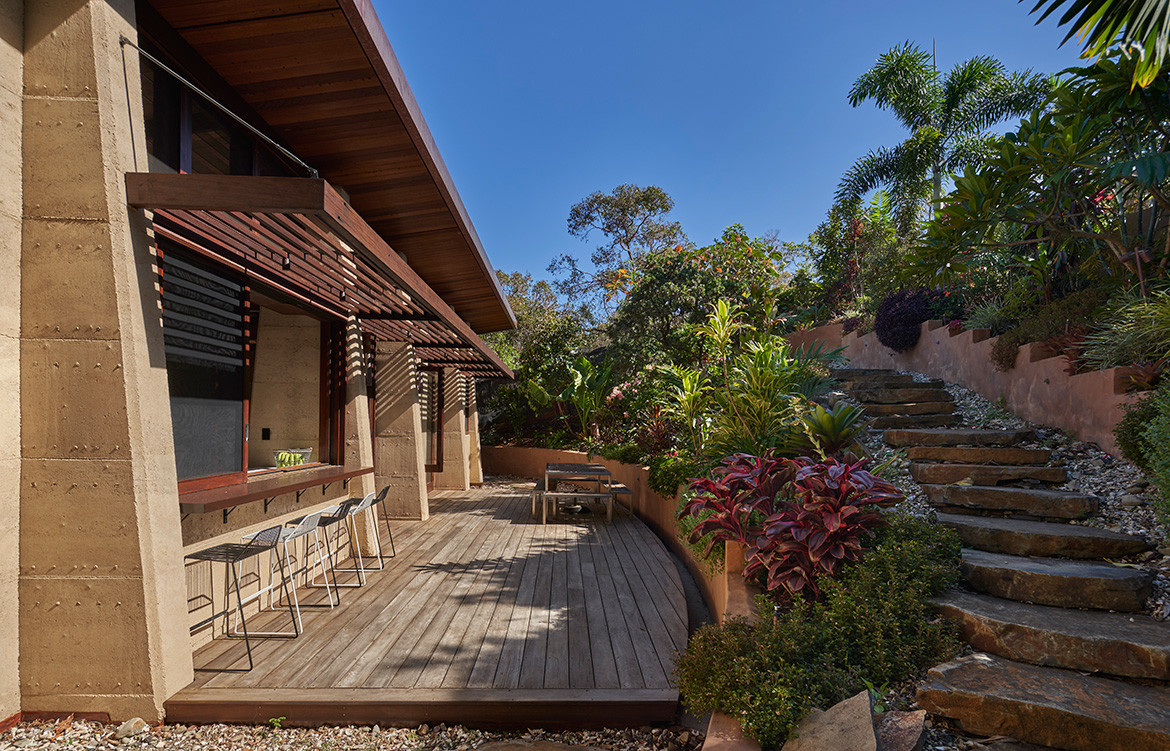 An ordinary house built in the 1980s already occupied the property and the idea was to dramatically re-work it. The new two-bedroom residence needed to be low maintenance and conducive to entertaining large groups of friends and family. More importantly, it needed to retain the original footprint and not encroach on the clients' lush garden; their pride and joy. As Thais explains, "They also wanted this established garden to become a part of the house, which just wasn't the case with the former dwelling. So I needed to connect to the landscaping without imposing on it." Resolving how best to frame views of the garden soon became the priority, along with Thais' desire to create a serene, immersive experience for anyone sitting inside and looking out.
Generous glazing, and strategically placed louvres that facilitate ample cross ventilation, ensures a strong connection with the outdoors. As does the kitchen's breakfast bar, which is positioned on the deck beneath the large window. Oversized eaves at the front and rear extend the house into the garden, this outreach truly embeds the structure in its natural surrounds while also protecting it against the area's big rains. Internally, bedrooms, two ensuites and a powder room/laundry are positioned to the side to give over as much of the house's relatively compact 124-square-metres as possible to the living areas. The kitchen, dining and lounge are in turn open plan and, together with the multiple full-height glass doors and clerestory windows, encourage that unobstructed connection with the outdoors that feels effortless.
The rear of the property abuts a national park and bushfires are a concern, so a fireproof material like rammed earth was a logical choice.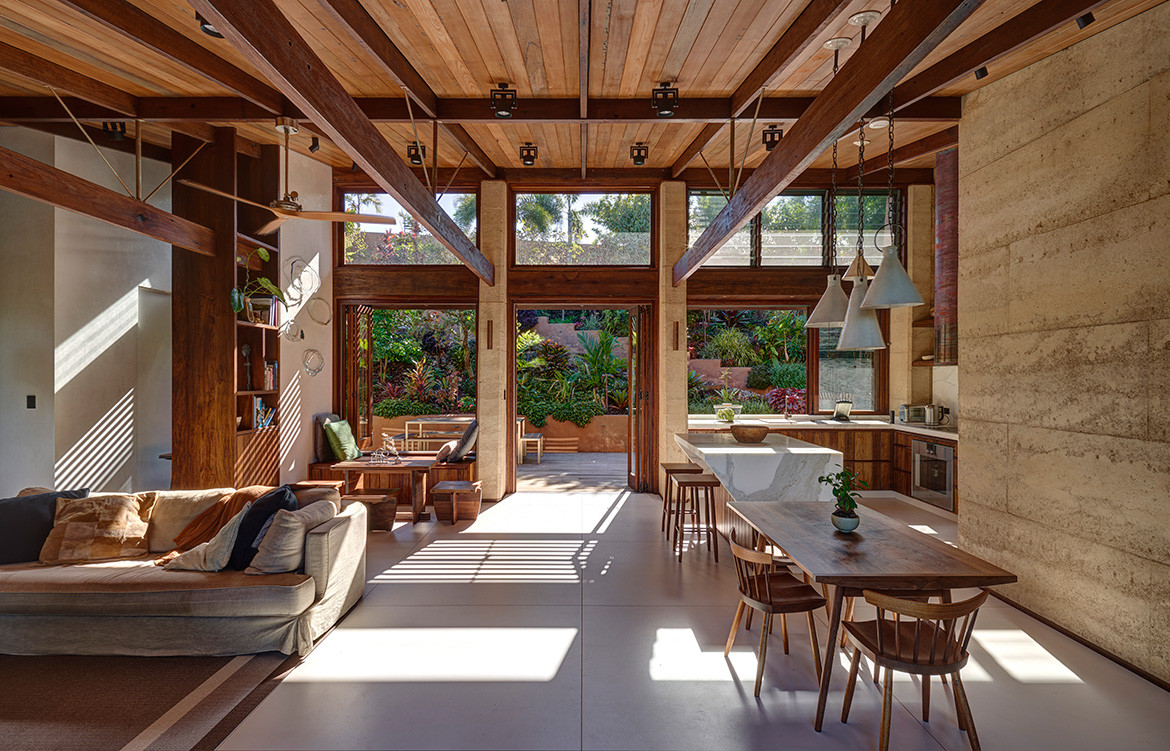 The beauty of Thais' scheme rests in its simplicity and the architect is quick to champion a low-tech design approach. "It's not a high-tech house and was never intended to be," she states. "Architectural innovation doesn't mean a home needs to be run by remote control. Nowadays, we're innovating if we're thinking about our impact on the earth and for me, innovation means using the simplest techniques, principles and materials. You can live modestly and easily, but still live in a beautiful house that's well designed."
This home, like all of Thais' projects, is informed by questions of environmental impact. What long-term effect will it have on its natural setting? How can it be sustainable without taking anything away from its location? Her resulting palette and decision to use rammed earth – an ancient building material she was very happy to discover the clients' were likewise passionate about – offers a positive response. Its selected aggregates were sourced from a nearby quarry and compressed on site to form all but three of the building's robust walls. The material itself has a low embodied energy and is low maintenance and – together with recycled timber used for the ceiling and cross beams – gives the home its most compelling design expression.
"The clients wanted something earthy but not dark and I also wanted it to be light and warm," says Thais. "In this respect, the raw materials and raw colour palette works, while also communicating well with the natural environment." The rear of the property abuts a national park and bushfires are a concern, so a fireproof material like rammed earth was a logical choice. Not only does its high thermal mass and durability meet the brief, but it allows for a healthy house too. For Thais, knowing her clients and their friends and family are living in a home that breathes, constructed from a non-toxic and non-polluting material is an achievement of which she's incredibly proud.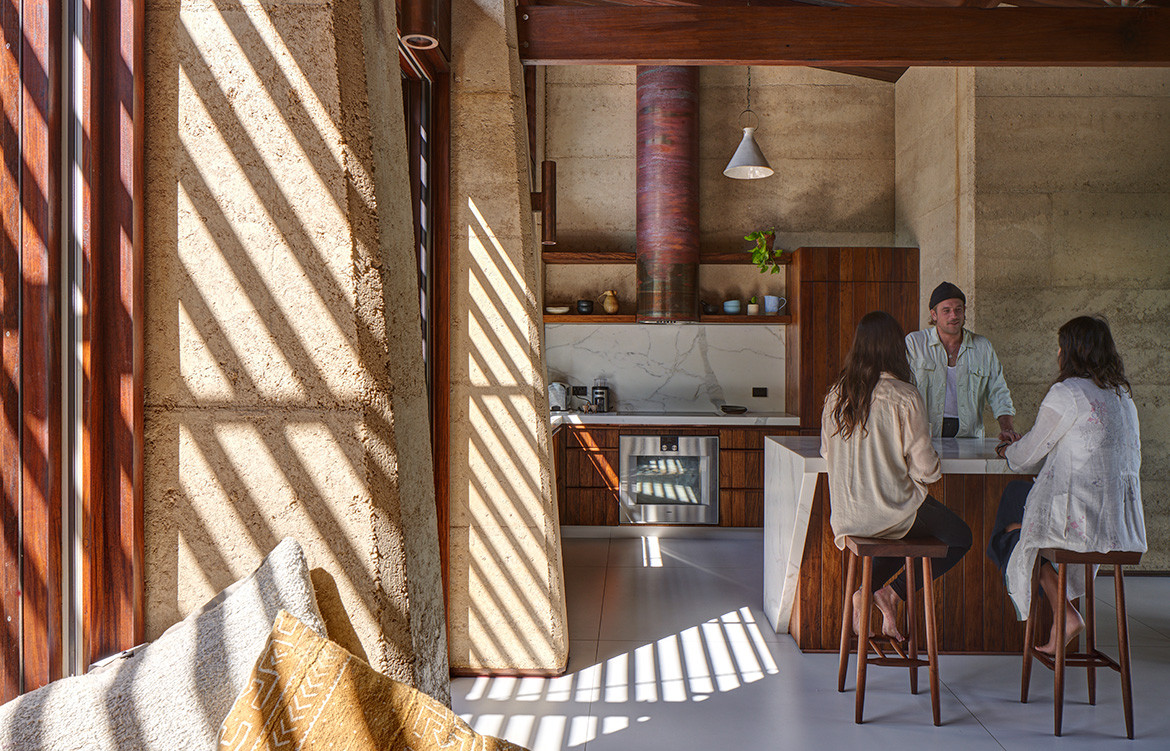 To complement the rammed earth and timber palette, Thais incorporated custom copper detailing that provides visual accents throughout and together with bespoke joinery lends a handmade element to the design. The kitchen's exhaust fan, bedroom doors and all the flashing will patina nicely over time, highlighting the timber's rich maple hue and delicious surface imperfections of the rammed earth. A white marble island benchtop and splashback in the kitchen breaks up the earthy colour palette, as do the ivory-coloured floor tiles, which adds freshness to the interior's overall scheme.
This is a relaxed, comfortable home that also very much appeals to the imagination. Guests feel like they could be in a hidden villa in Mexico, a weekend getaway in Brazil or a retreat in Thailand, such is the design's highly evocative nature. The fact they're in Byron Bay isn't too shabby a realisation either. Thais has created an exquisitely masterful study in passive design, sensitive to context and mindful of environment. And although her architecture is respectful and polite when it needs to be, it's also bold, with an unapologetic confidence. As she reflects, "I like the idea that I can bring awareness to a way of living that embraces the use of simple passive design principles and smart, healthy materials. I'm hoping this house can be an example of that."
Thais Pupio Design
Photography by Michael Nicholson
Dissection Information
Rammed earth walls from Rammed Earth National
Porcelain floor tiles from Artedomus
Timber windows and doors from Duce Timber Windows & Doors
Recycled timber on decking, ceiling and roof structure with copper roofing
Pivot doors in copper with finishes from artist David Kas
Corian finish for walls and vanity at ensuites
Marble splashback and kitchen bench top from Custom Stone Solutions
All cabinetry custom made of solid timber from P C S Cabinets
Dining table, chairs and stools from George Nakashima Woodworkers, Philadelphia
Woven artwork custom-made locally by Zimmi from Weaving Nature
Decorative items and ceramics from Uscha at Newyrbar Merchant, Byron Bay
Handmade ceramic pendants from Natalie Page Studio, Philadelphia
Copper wall lamps and pendant from Creative Lighting, Byron Bay
Spot lights from Kreon
Tapware, showers, hooks from Brodware
Carved stone basin sourced in Bali
Concrete tub in powder room from Slabshapers
Copper rangehood from Qasair with art from David Kas
Appliances from Gaggenau
We think you might also like this rammed earth extension by Steffen Welsch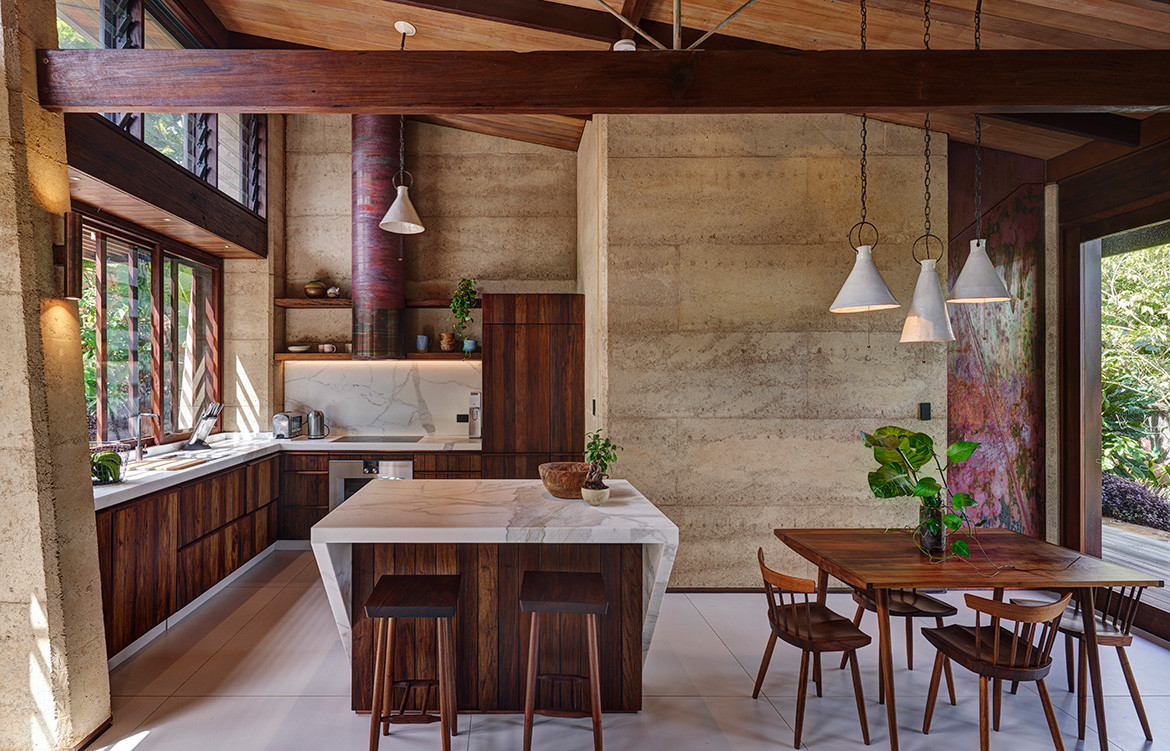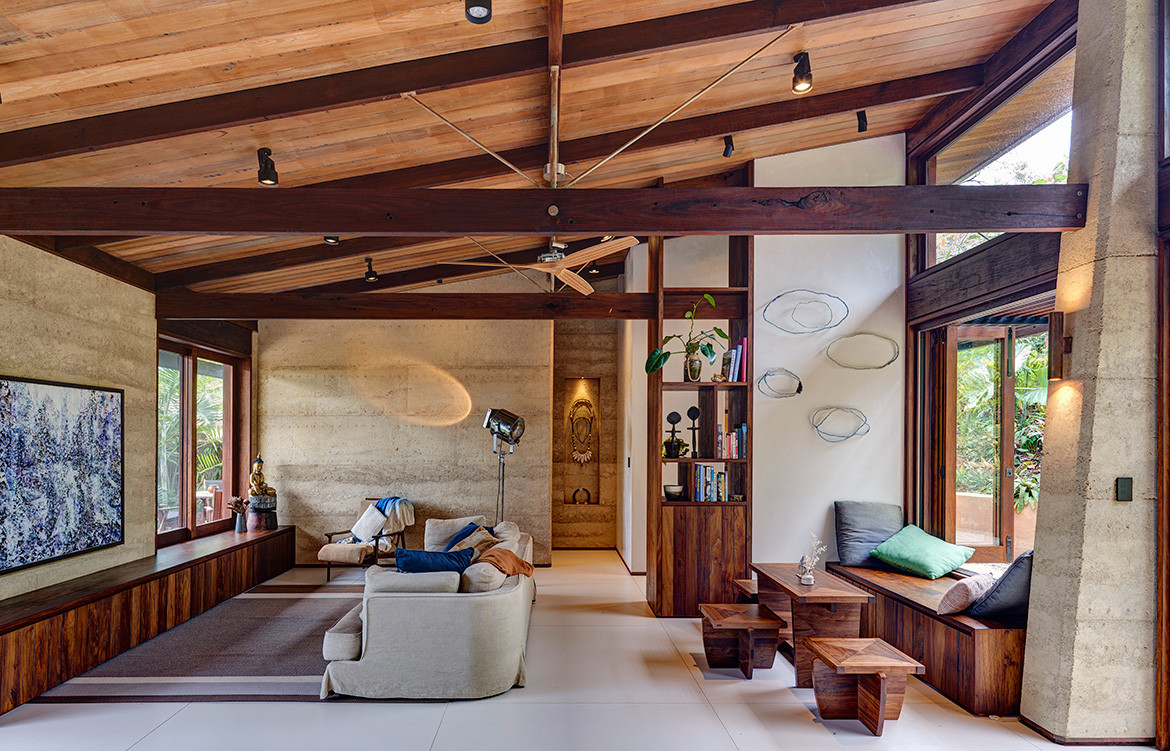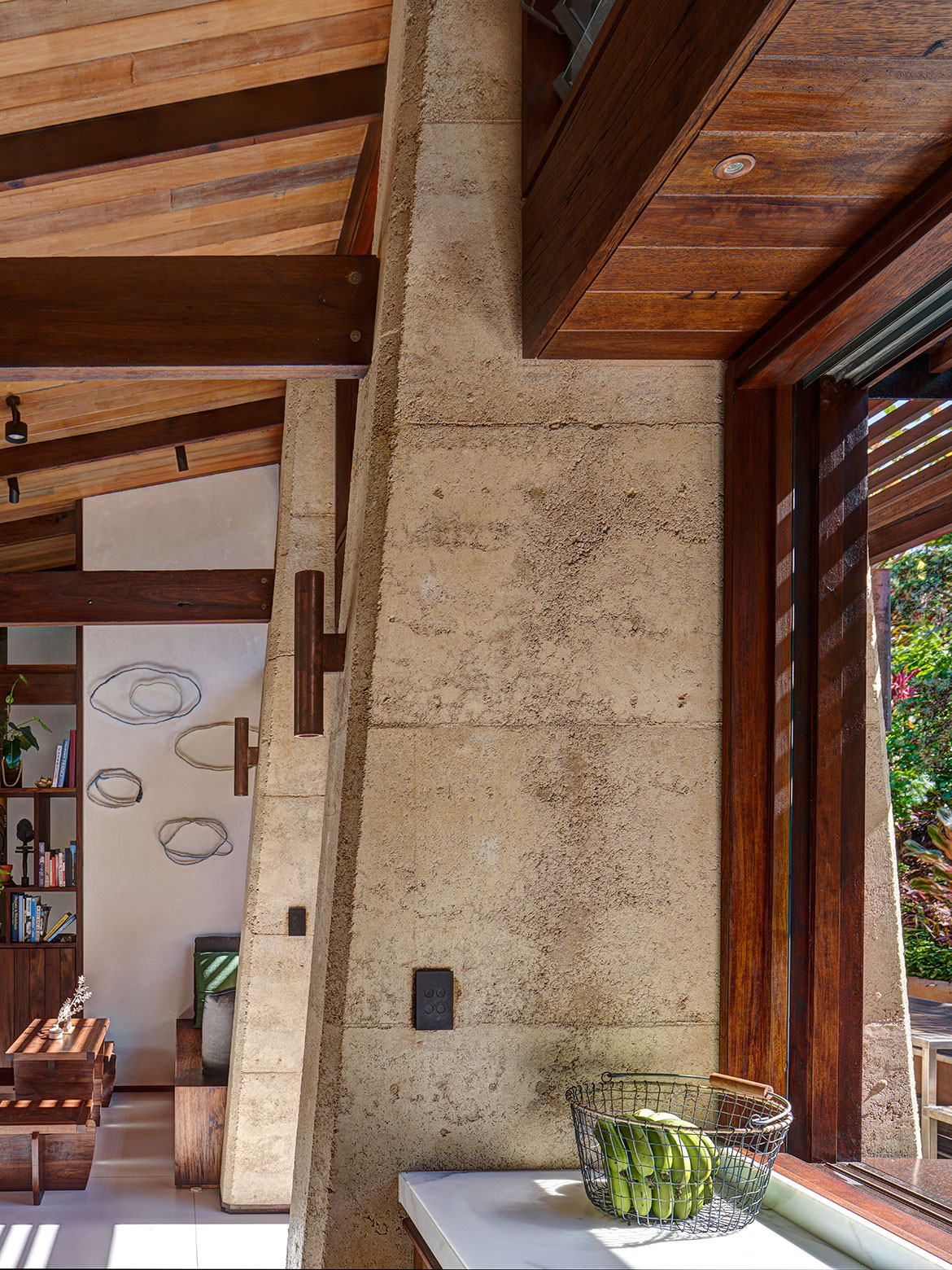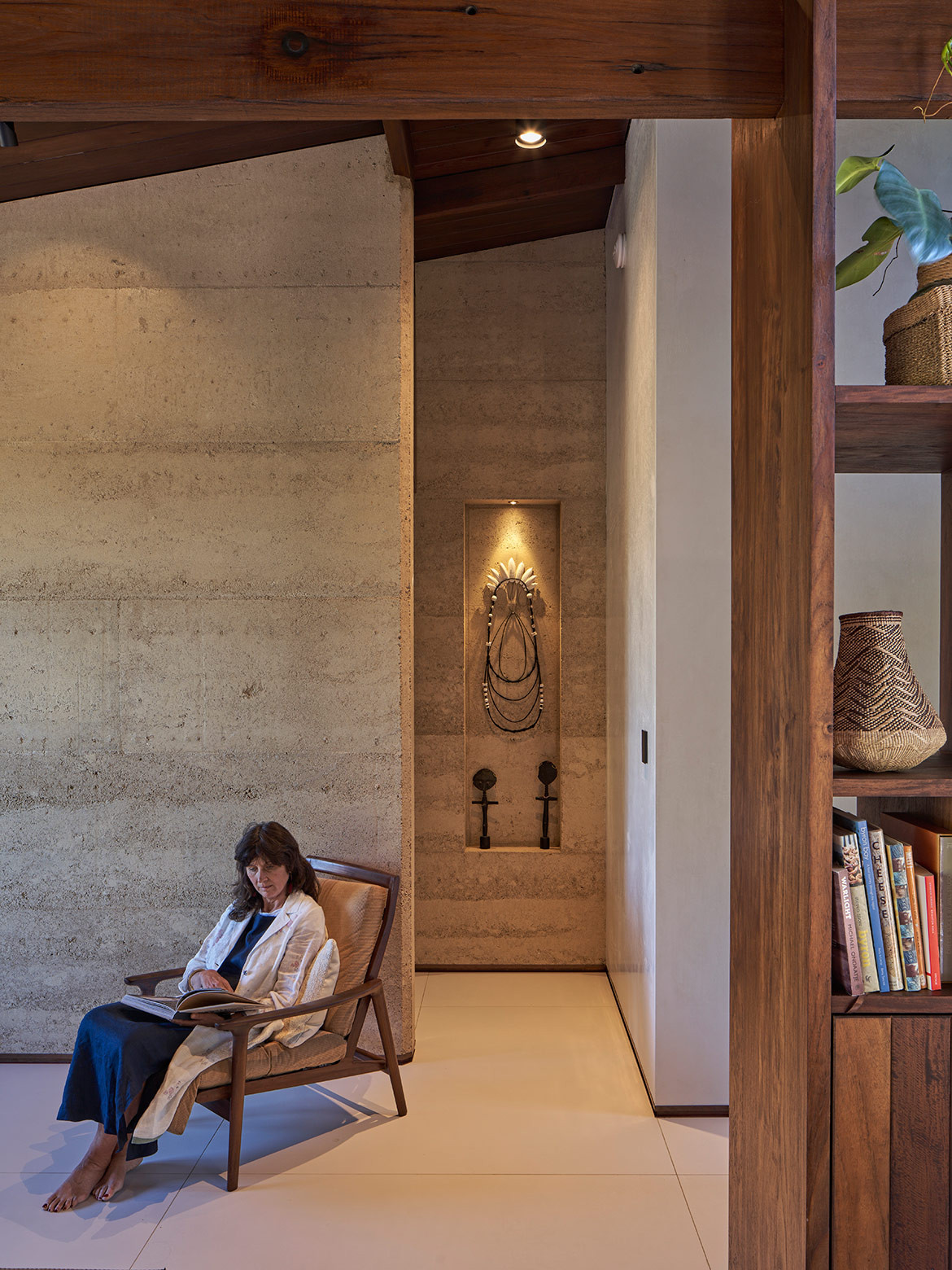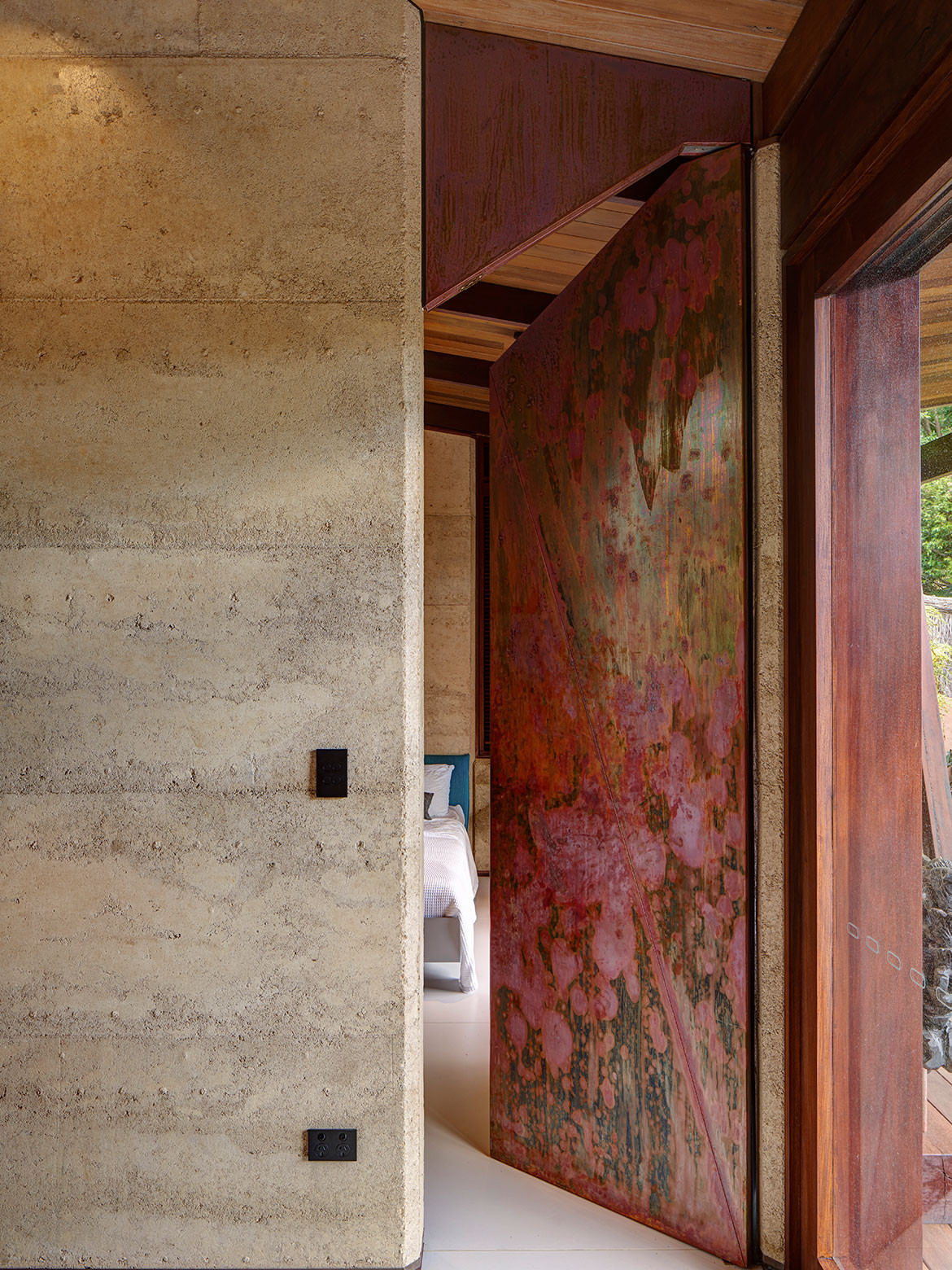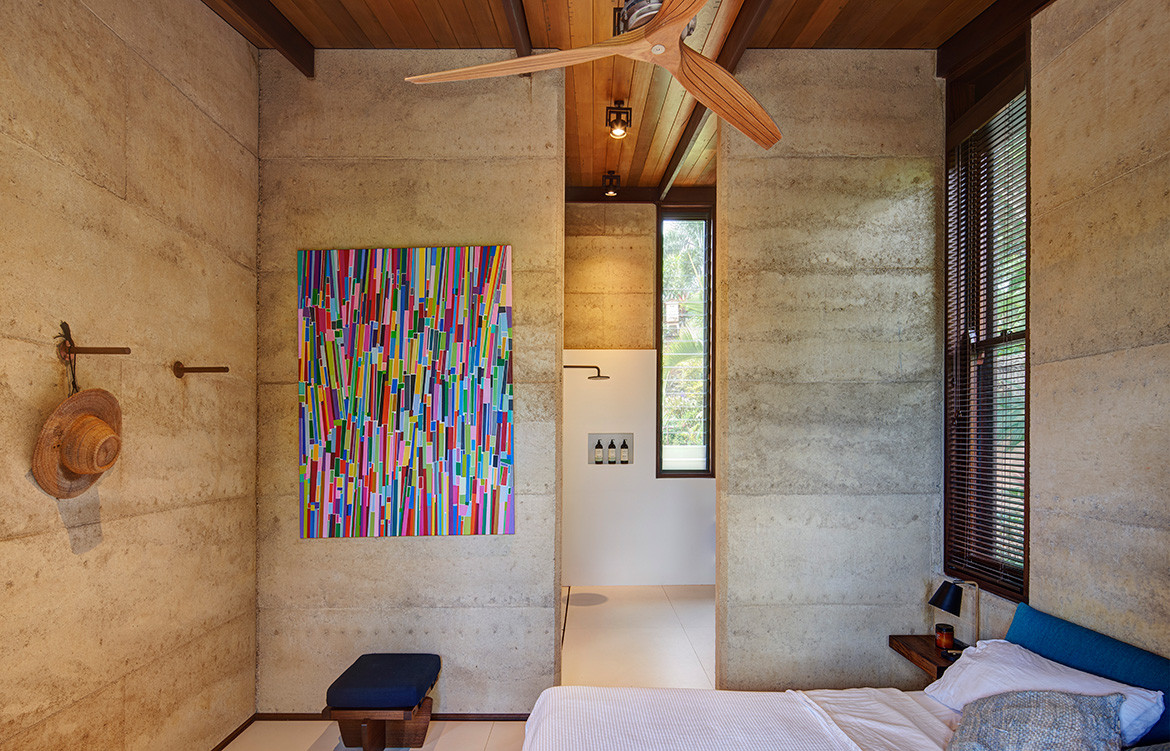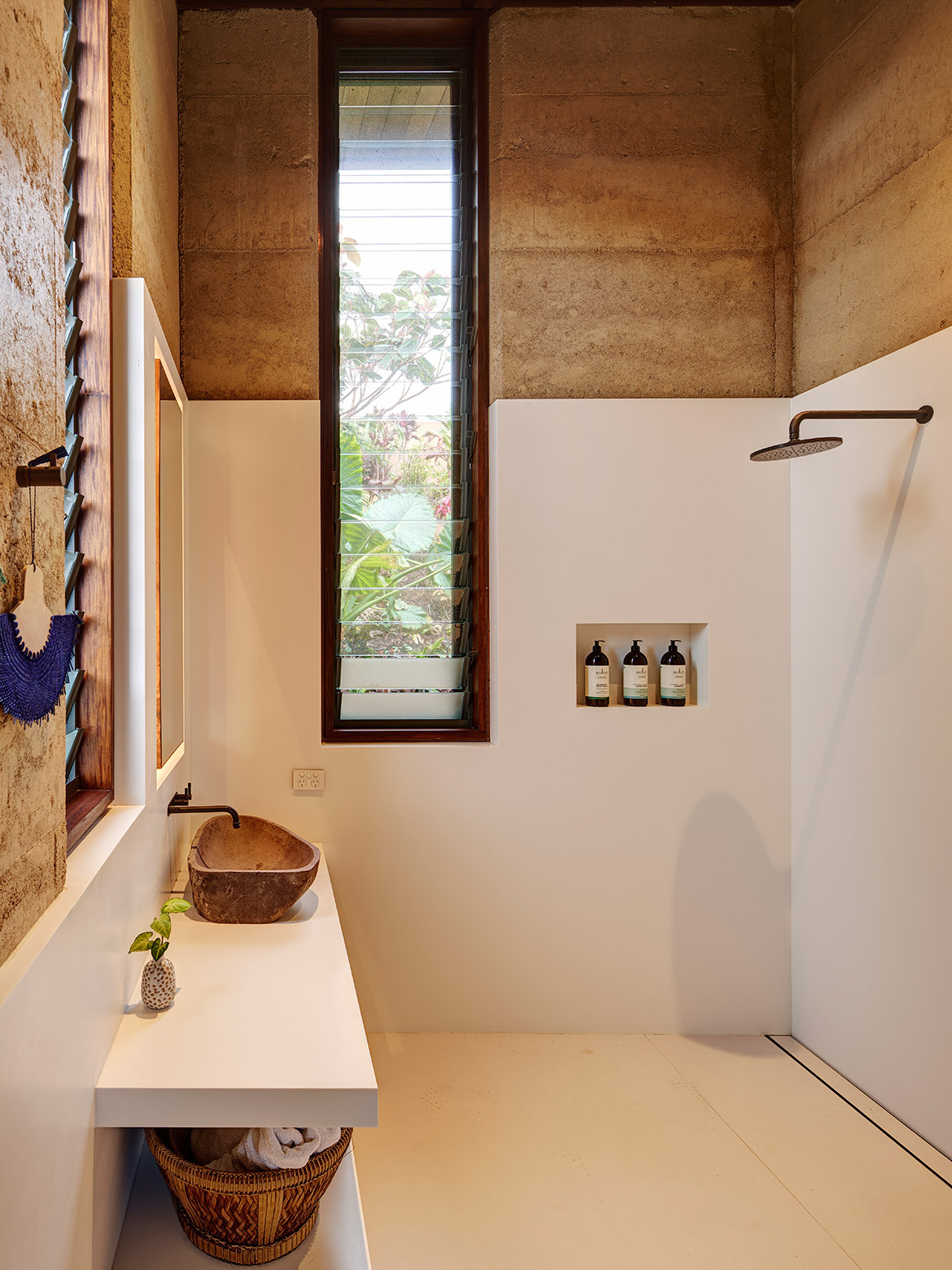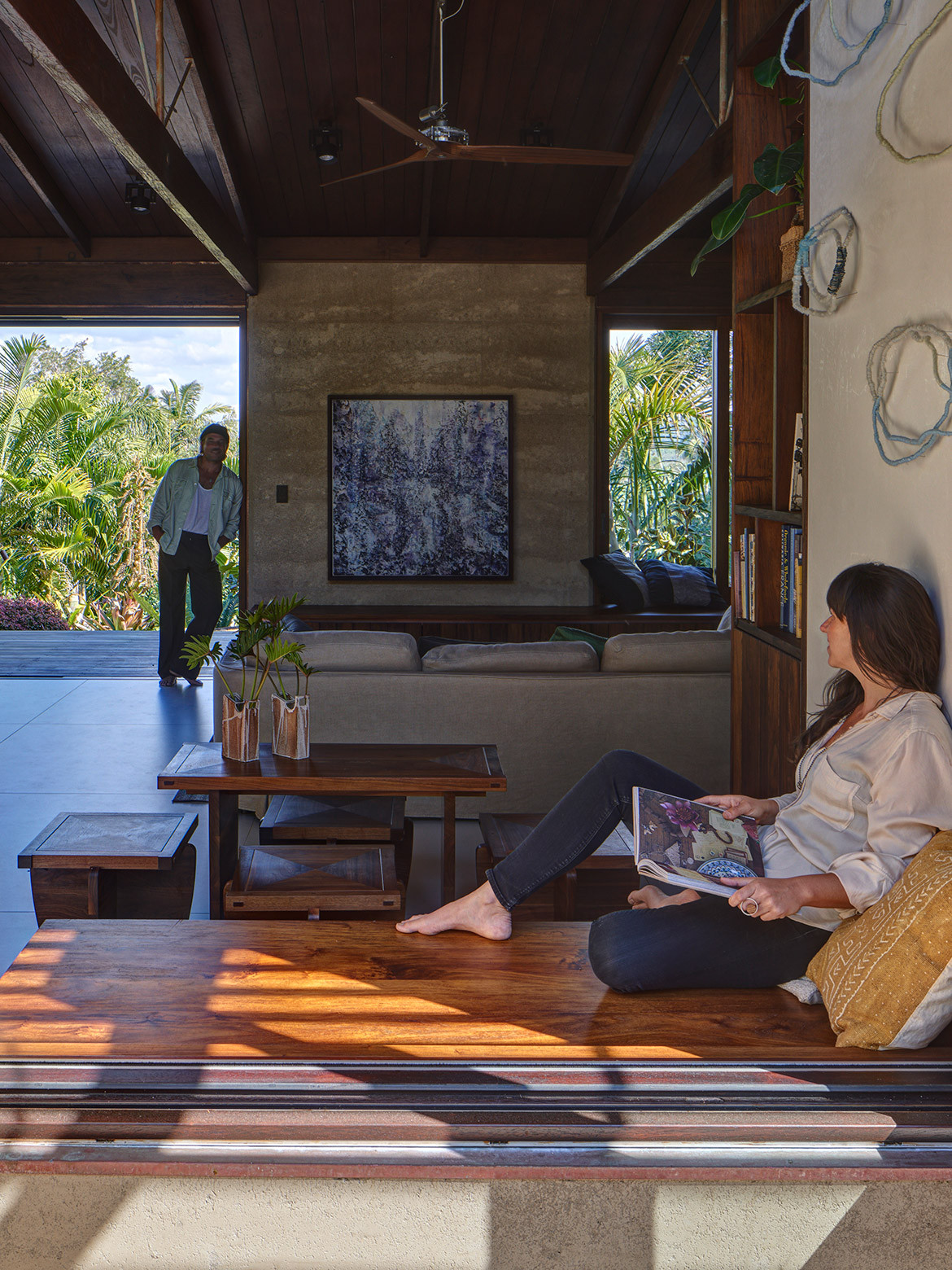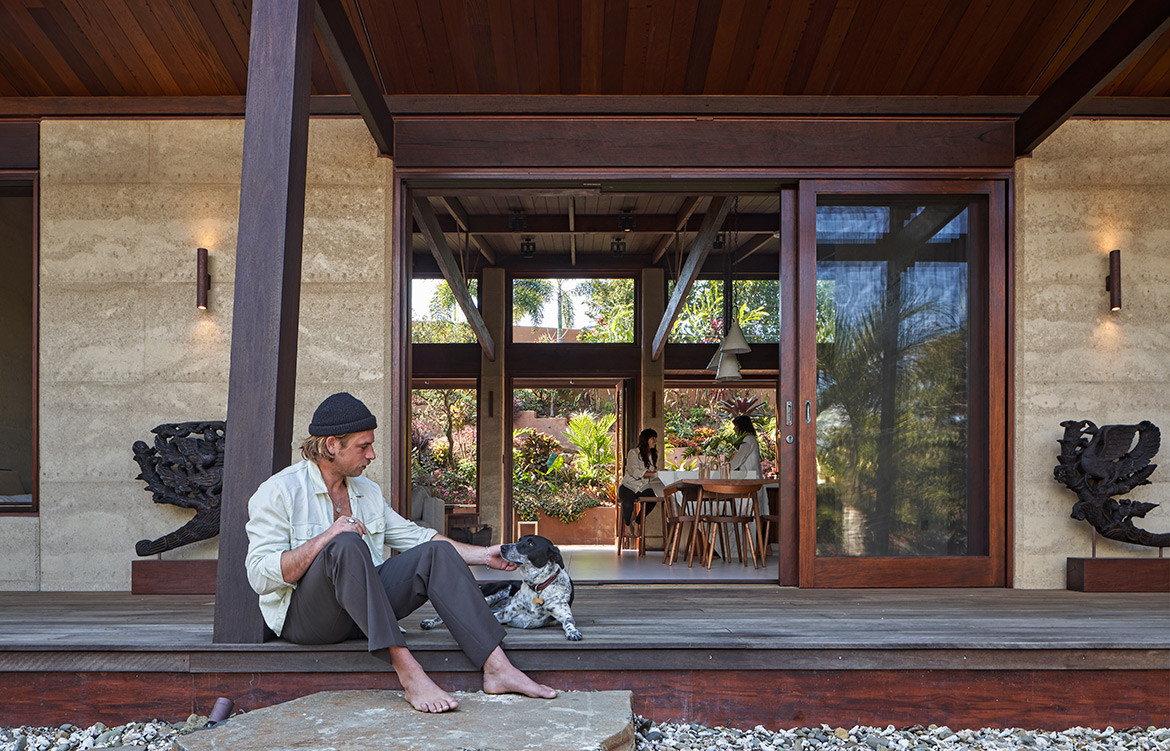 ---