In Brisbane where the humidity is high and winter is but a footnote on the seasonal calendar, subtropical architecture abounds. Developer and asset owner Aria Property, with architect and interior designer Bates Smart, has taken a progressive approach to contemporary residential living shaped by climate and modern social and environmental values, to create Rivière.
This 13-storey residential building, housing 124 apartments, is very much the embodiment of its Kangaroo Point location in Brisbane. The architecture of the building personifies the geometric form of the nearby cliffs, its dynamic façade creating a shadow play with the bright (and early) Queensland light.
Its climate-responsive, subtropical design approach puts emphasis on cross-ventilation, reduced energy consumption, and site orientation that maximises views to the river and city skyline.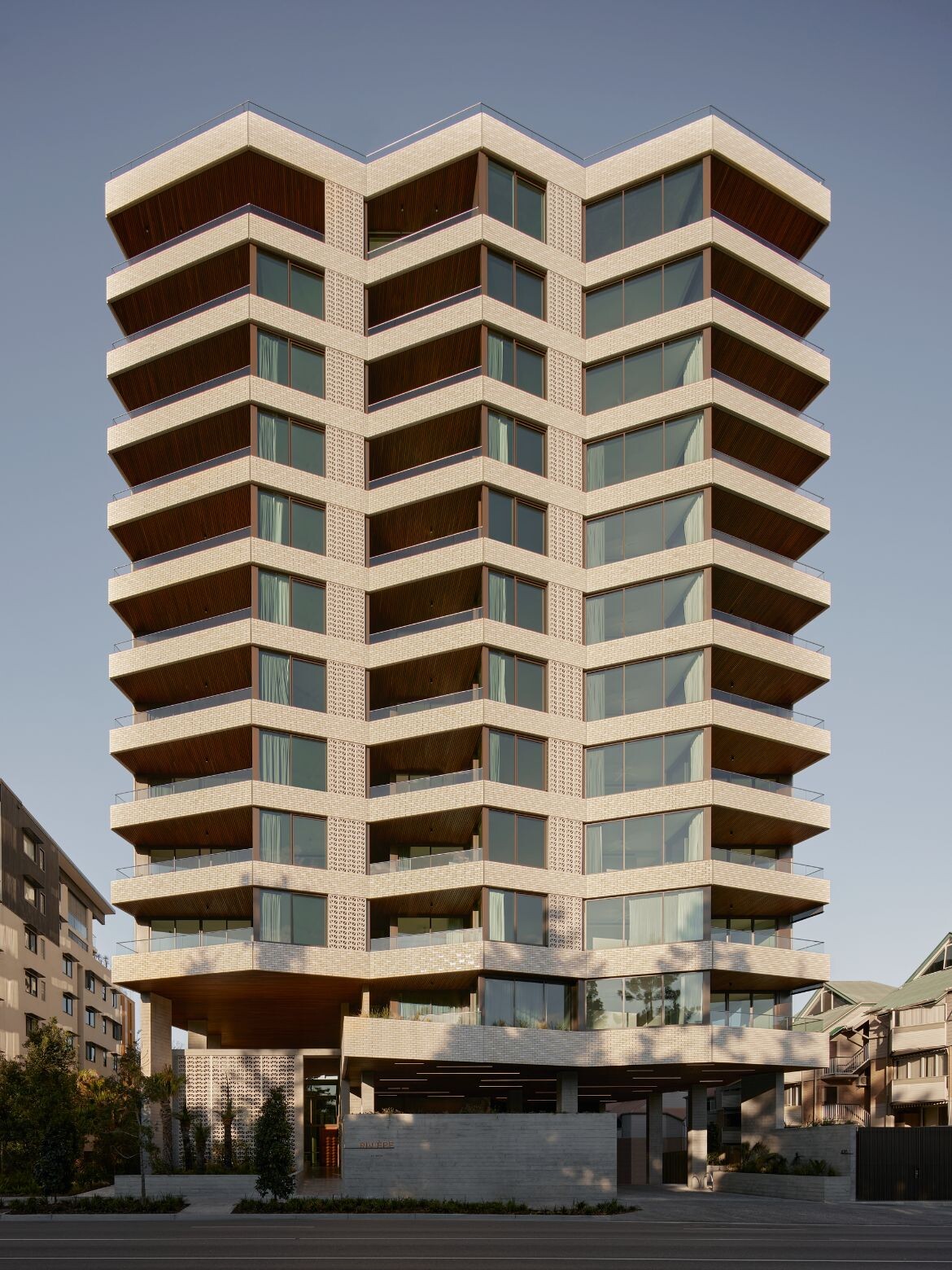 Bringing substance and meaning to Rivière's masterful design is the development's commitment to pillars of sustainability, community and liveability. This we see play out through plentiful native plantings (executed by local landscape architects RPS Group); solar-powered residences and common amenities – thanks to solar panels that cover 90 per cent of Rivière's rooftop surface; and premium-designed residences and resort-style amenities that put the emphasis on comfort and inclusivity (with particular emphasis on spaces that are multi-generational spaces and compliant with the Special Disability Accommodation design code).
Brent Liddell, development director at Aria Property, notes that Rivière houses nearly 2,000 square metres of landscaping. This encompasses generous planter boxes integrated into the building's façade so that each apartment has views out to plantings, with the city skyline beyond. There are also positive conservation aspects associated with Rivière's specific choice of native flora (as opposed to tropical) and this includes the "greatly reduced amount of water use".
"Instead of the ubiquitous tropical resort-style gardens, we developed a native, grassland and forest-inspired landscape that enhanced the project's connection to its natural surrounds," says Vicki Barclay of RPS Group.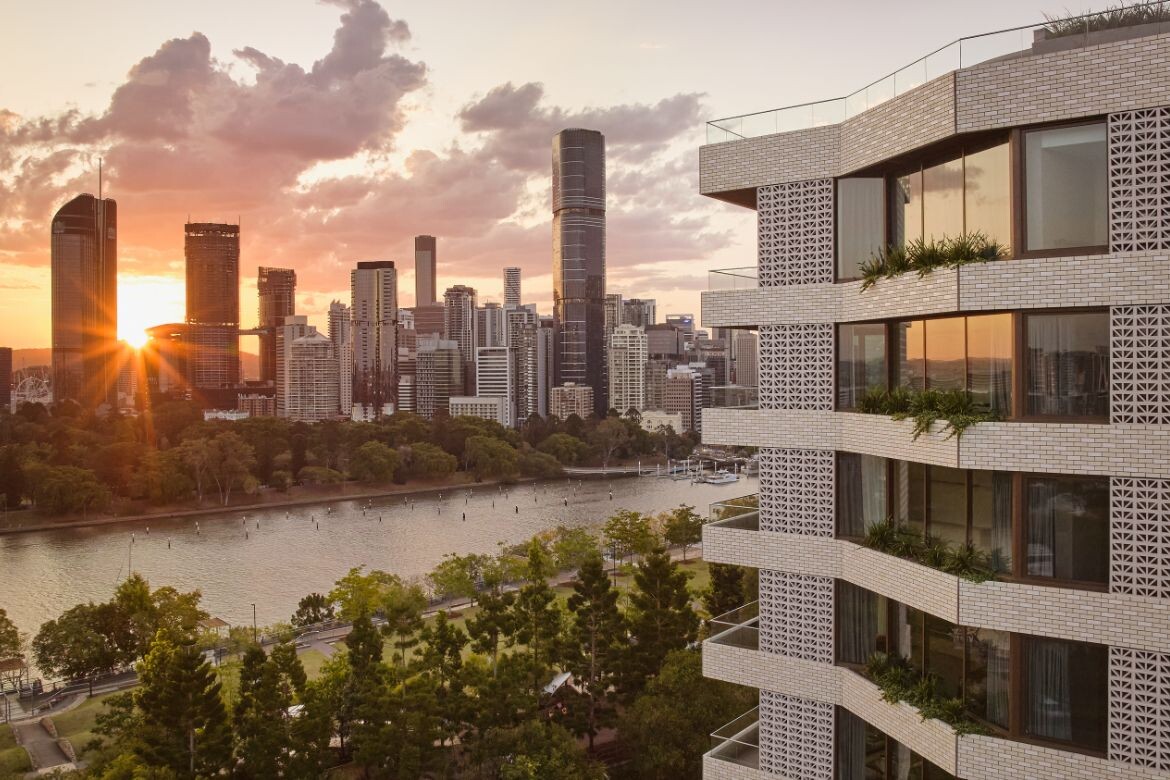 Among Rivière's numerous sustainability initiatives is its naturally ventilated corridors and residences – no small feat, architecturally speaking. "The architecture and interiors were planned and designed to leverage the best qualities of Brisbane's subtropical climate, with indoor and outdoor spaces that can be enjoyed year-round, copious access to natural light and fresh air and highly resolved building and space orientation," says Brenton Smith, director at Bates Smart.
The apartments' entries feature perforated screen doors which feel robust and shielding in weight and size, while remaining porous – subtly connecting residents to the outer corridor and inviting in that cross-breeze that brings cool relief on a particularly humid day. Smith also points out the "elegant metal grilles, located on the top of the doors, [which] encourage air flow and complement the screen doors".
A subtle recurring motif is the breeze block sunscreens that occur around the building, shielding each apartment from direct sunlight; they also bring natural ventilation into living spaces as the window or sliding door is drawn back.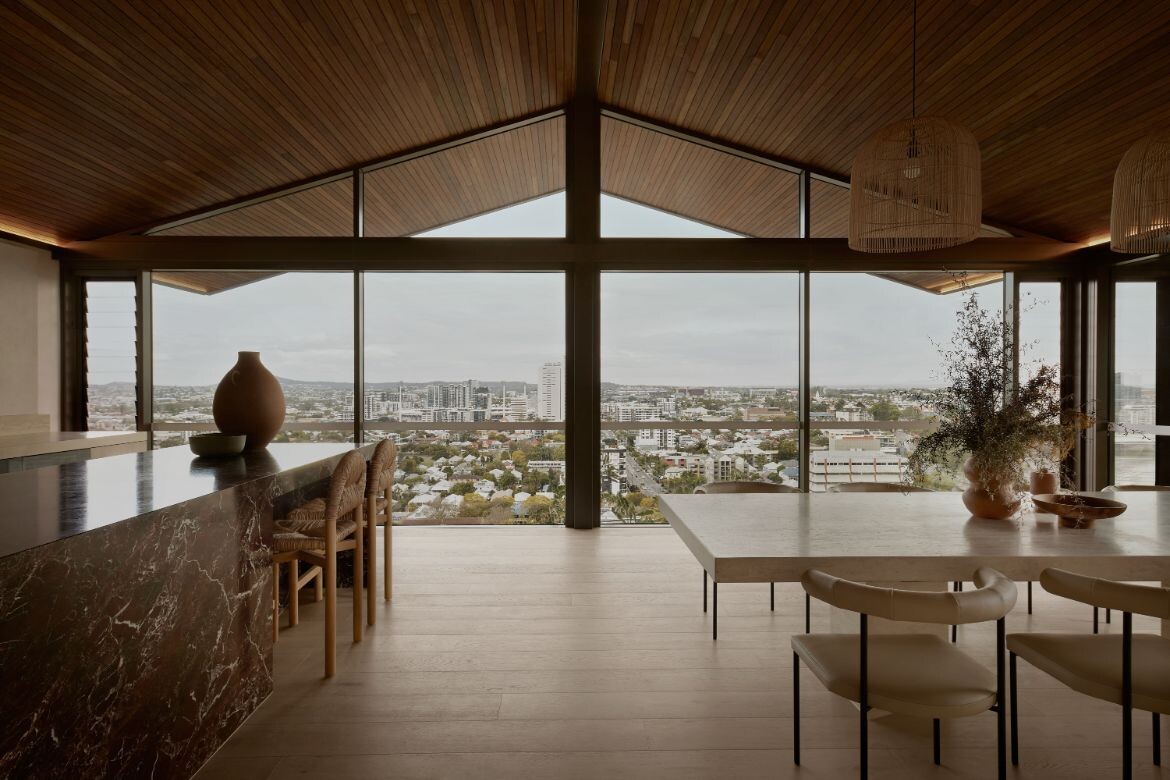 In the apartments, refined elegance comes to the fore. Space is cleverly planned and maximised to benefit the resident. In the penthouse residences, in particular, the main bedroom is configured to encompass a large walk-in-wardrobe, ensuite and centralised vanity space – not to mention views that open straight out into the city beyond. There is a generosity to both interior space and amenity that is heightened by the ability to retreat behind your bedroom door and enjoy the wealth of comfort in delicious solitude.
Bates Smart has paid careful attention to the residences' interior material palette, which focuses on enduring, quality materials that carry with them a sense of tactility. These include finishes of terrazzo and premium joinery.
With community and liveability at its core, Rivière has filled its ground floor and rooftop with common areas that are "more akin to a hotel… they feel like an urban retreat: relaxed, approachable spaces that feel like an oasis in the city", says Smith.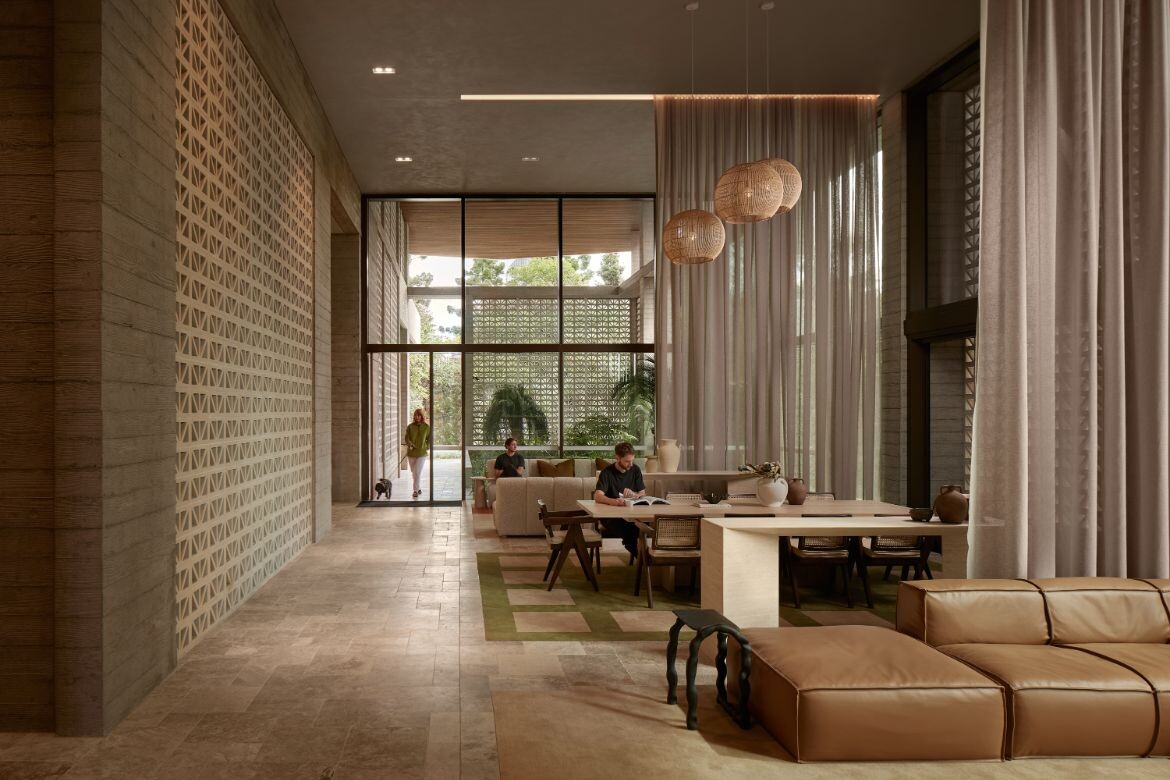 "The ground plane is designed to be permeable and connect indoor to outdoor… to foster a sense of meandering," he says. The lobby exemplifies this approach, with its garden journey and spacious lounge that doubles as a workspace, encouraging community among residents.
A quick elevator ride up to the 13th level brings you directly to the Technogym-equipped gymnasium and open-air infinity edge pool, the latter designed to resemble a natural rock pool. "The pool is meticulously crafted with travertine tiles pieced together as a mosaic, to reference the stone pattern of the nearby cliffs," says Smith.
It all comes together in a warm and inviting way: Rivière is fashioned as an urban retreat for a contemporary inner-city dweller seeking a progressive approach to luxury that embraces modern values of social and environmental responsibility.
Aria Property
ariaproperty.com.au
Bates Smart
batessmart.com
Photography
Cieran Murphy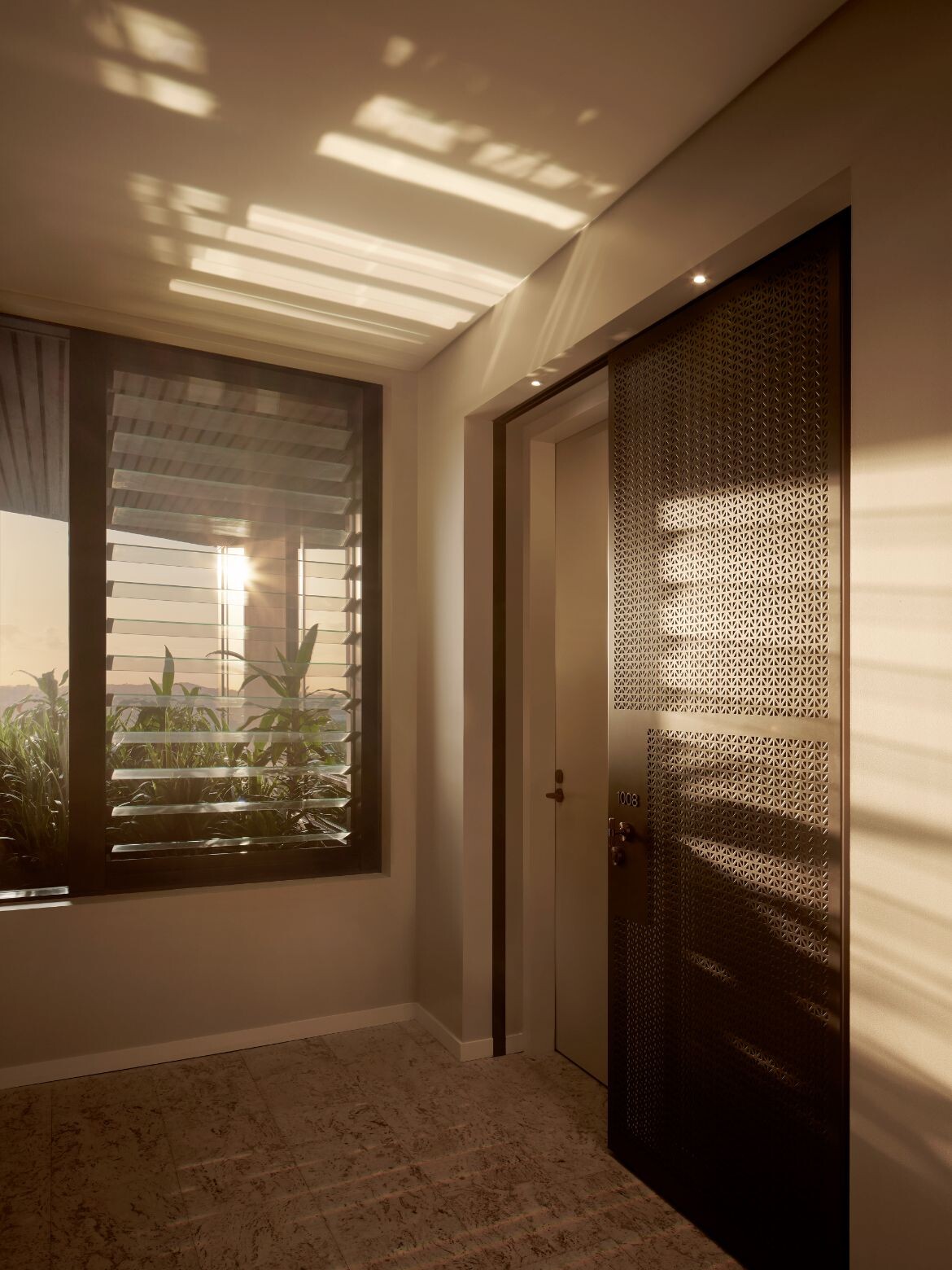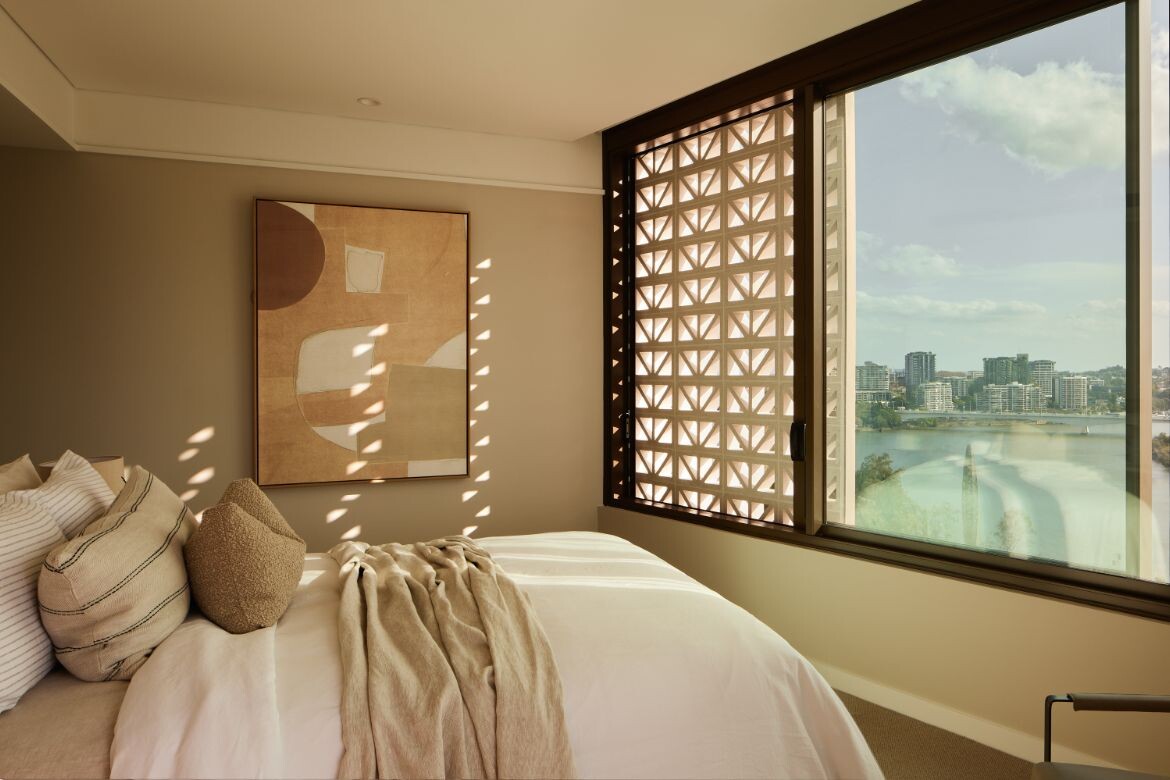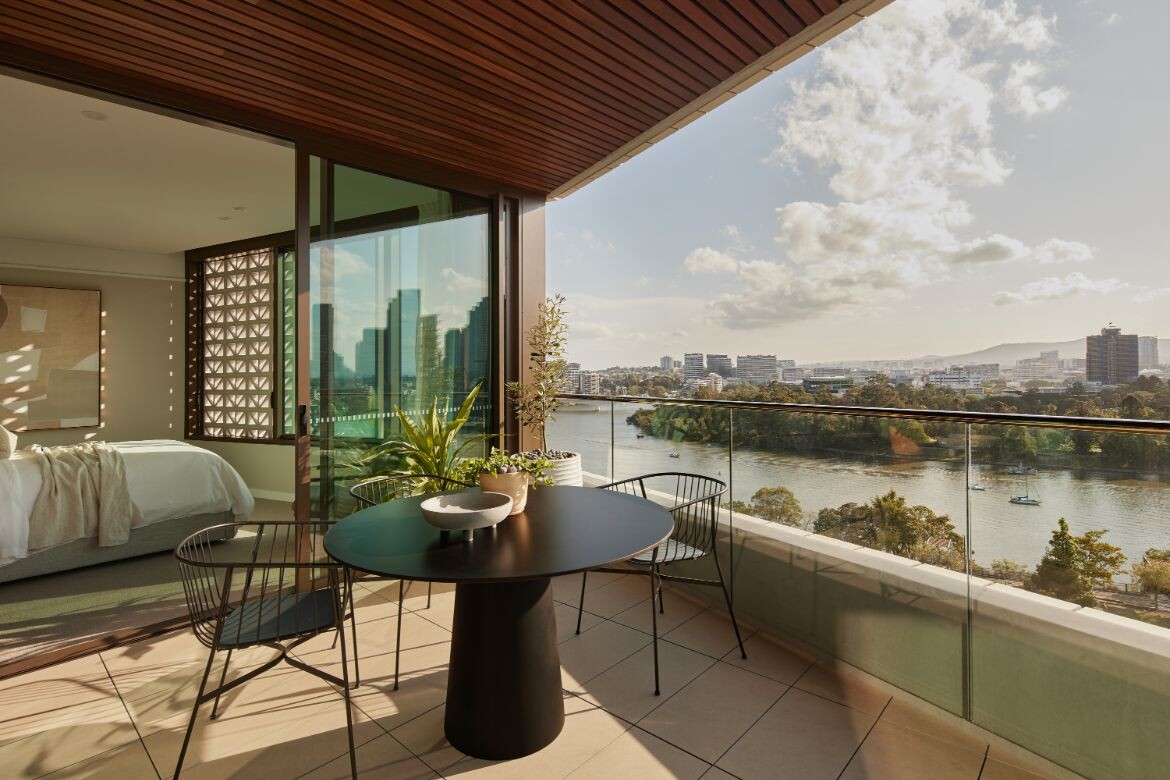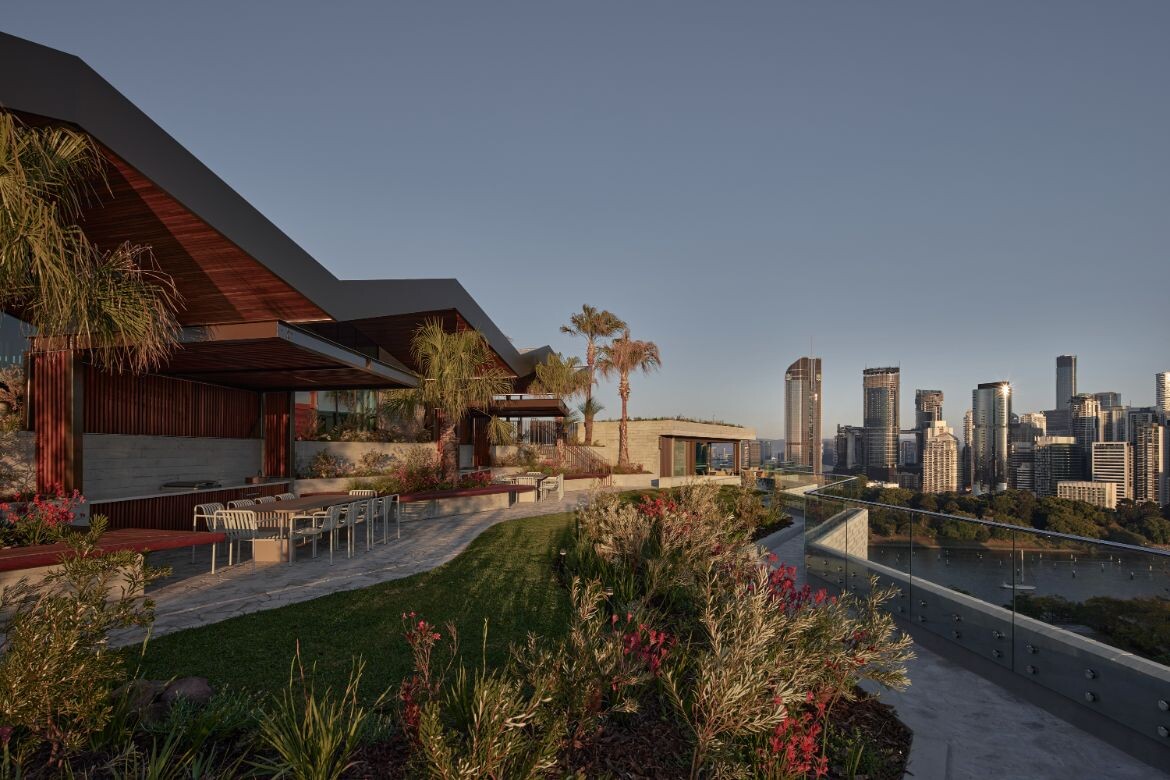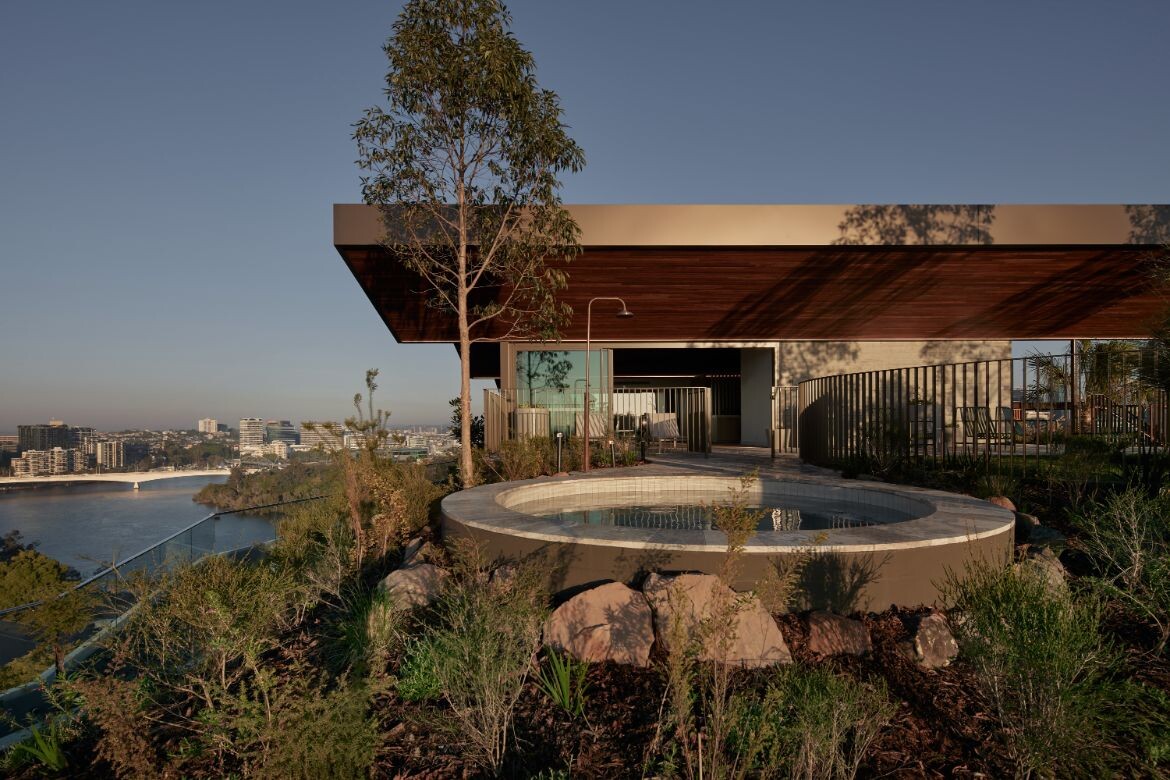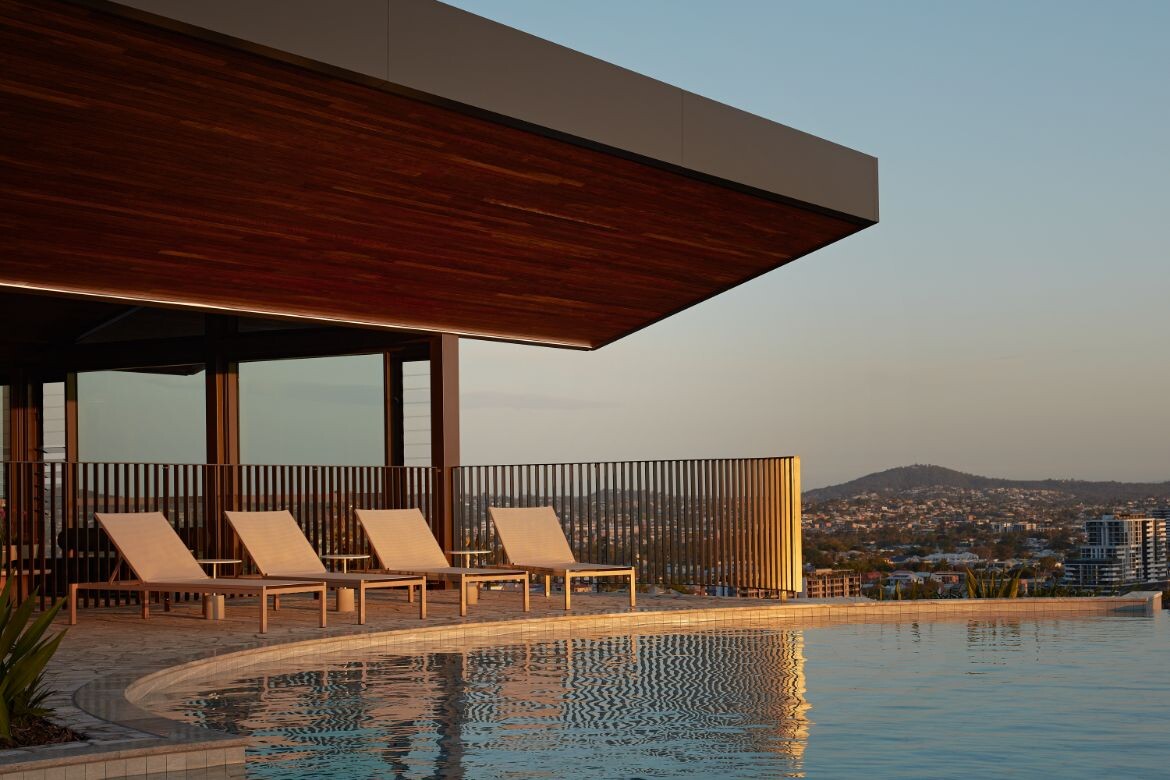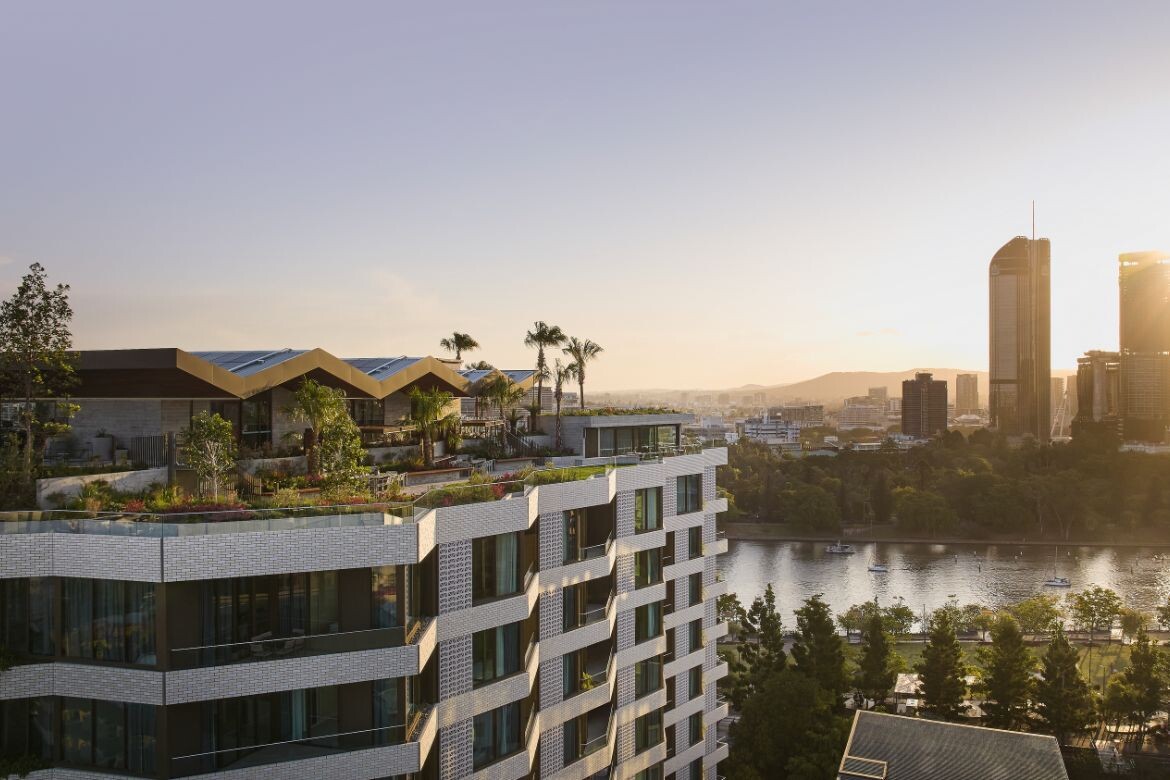 ---