The design of west-facing houses often produces distinctive solutions as architects seek to maximise natural light while limiting heat gain from the afternoon sun. At Screen House by WARC Studio, timber-batten screens extend around the rear addition to shield the interior from the high summer sun.
Screen House is home to a family with three young children. They engaged WARC Studio to update their detached weatherboard Edwardian house in Camberwell, Victoria. WARC Studio designed a rear extension to create more living space, improve circulation through the house and provide for a swimming pool and landscaped areas. "The design solution focused on the interaction with the garden and outdoor space, while managing the potentially harsh western aspect of the site," says Andrew Wilson, director of WARC Studio. "Windows, cabinetry, walls and ceilings were also strategically placed to unveil views and openings to the outside."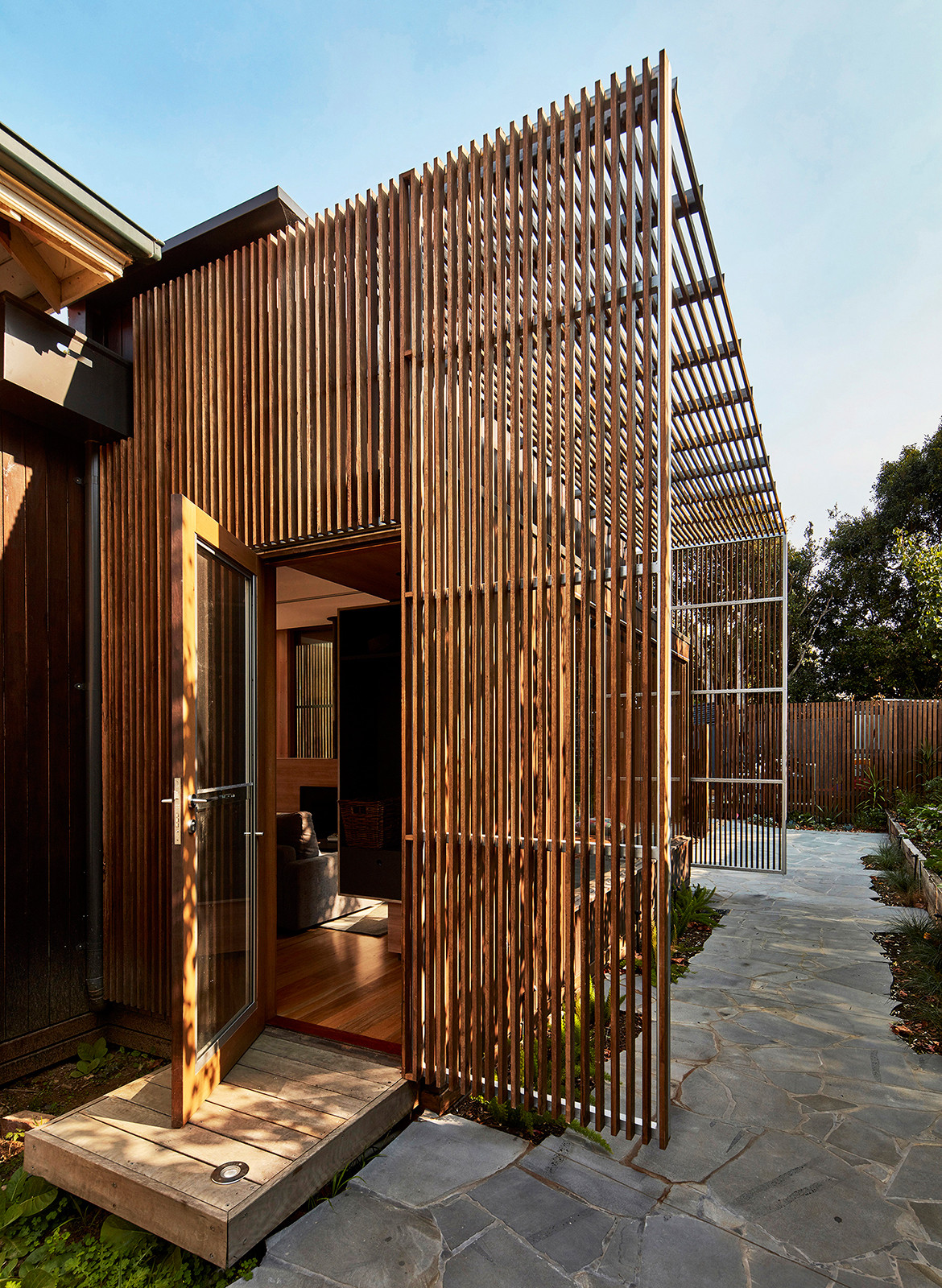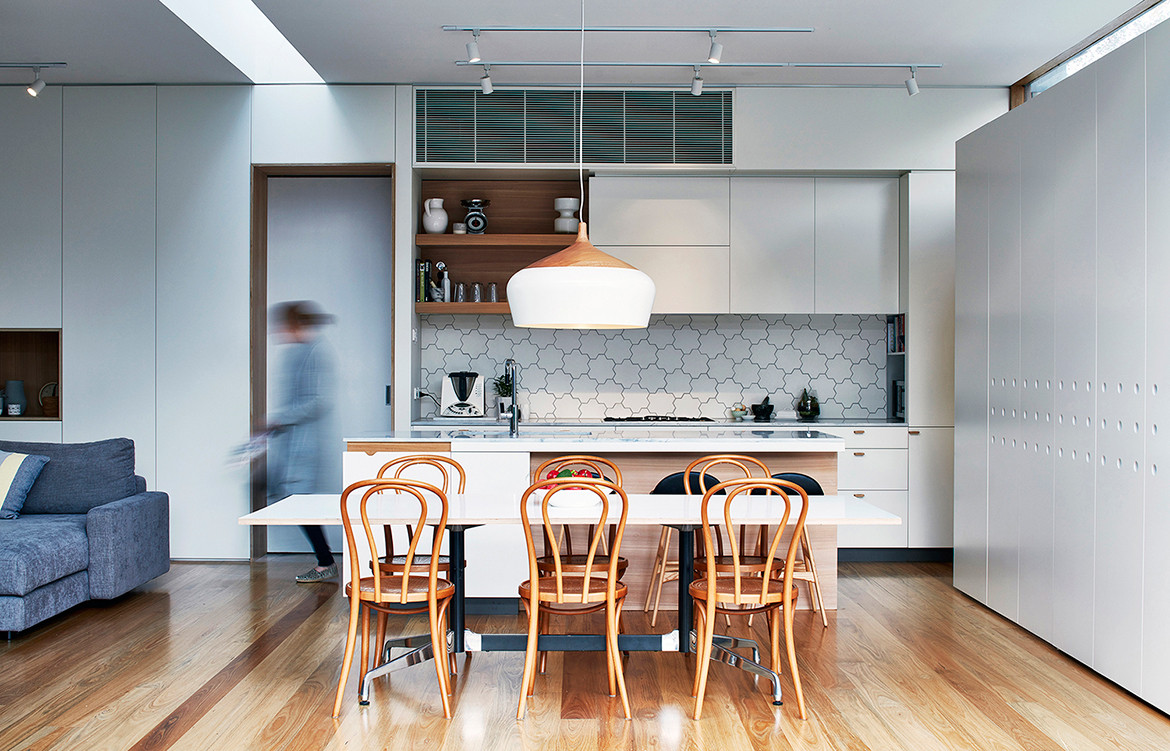 There is a view of the rear garden through the corridor from the main entrance. Bedrooms and a sitting room are in the front, and the addition stretches beyond the sides of the original house. The kitchen and dining area face west to the deck and swimming pool, while the living area has a view to the north. High-level windows in the kitchen provide views of the neighbouring trees, and a skylight through the centre of the living area brings sunlight deeper into the plan.
Bi-folding timber-batten screens clad the exterior of the addition and extend beyond the living area, as if framing the view in and out. An awning covers the deck to provide a shaded outdoor area and obstruct sunlight inside the house. "The timber hardwood screens mitigate the northern and western sunlight while maintaining views and visual surveillance of the pool area," says Andrew. "They can be opened to maximise the afternoon sun during winter as well as enabling maintenance to the façade."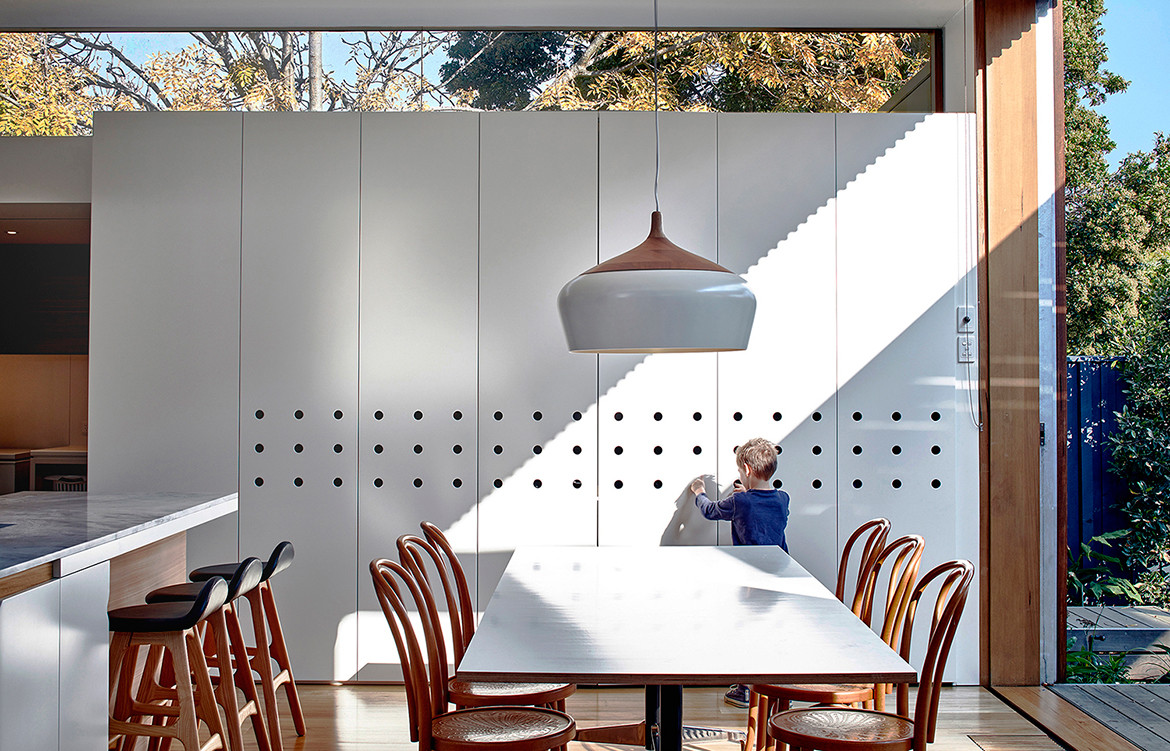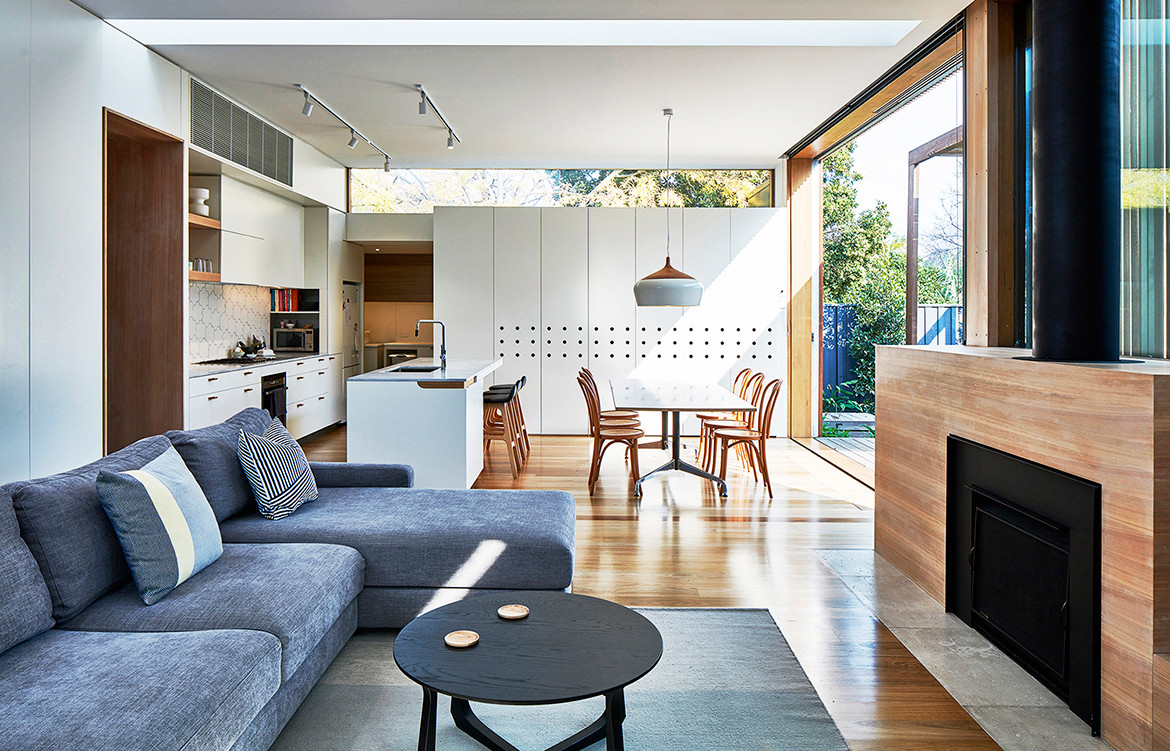 The white and timber palette provides a warm and natural atmosphere inside. Joinery in the living area frames the garden view to the north, provides storage and bench seating and wraps around the fireplace. "Framing the views to the garden was instrumental to the design, and the cabinetry is an integral part as its inherent depth enhances the framed view," Andrew says.
Small functional features double in providing decorative interest: recessed shelving breaks up an otherwise plain wall of cupboards, and finger-pull holes in the joinery create a simple graphic. "They are far more interesting than ubiquitous handles or recessed pulls, and they are also excellent at enabling ventilation to cupboards that include electrical appliances," says Andrew.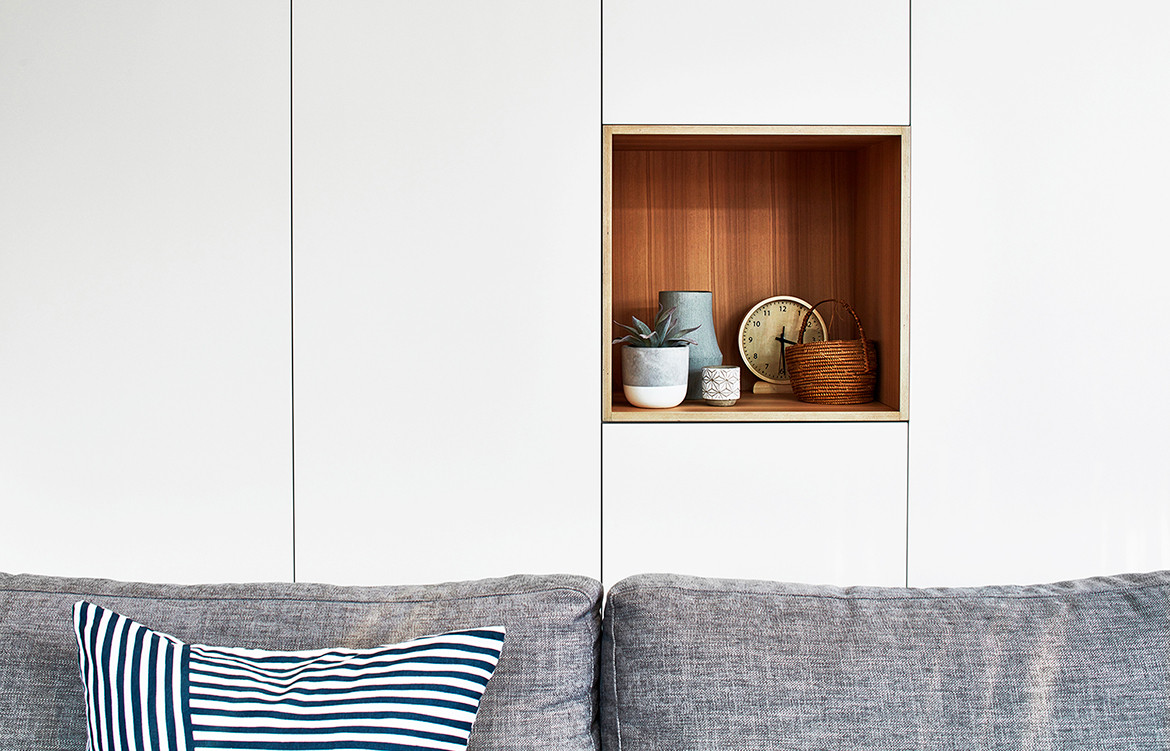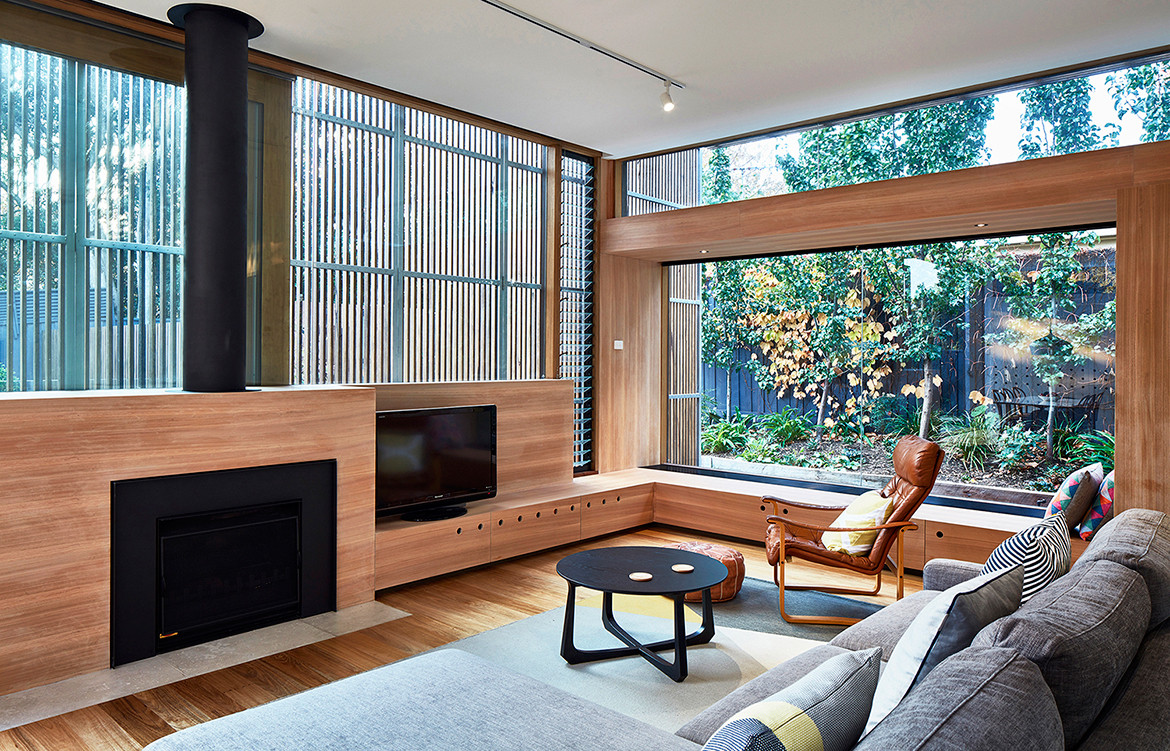 While Screen House effectively blocks the western sun, it is still filled with light and warmth and offers views and glimpses of nature throughout. "There is an immediacy in the connection between interior and exterior spaces, and the dappled light that filters through the screens creates a softness that is alluring," Andrew says.
WARC Studio
warc.com.au
Photography by Adam Pocock
Dissection Information
Timber battens and Shiplap weatherboards from Radial Timbers
Timber stain to batten, weatherboards and timber windows from Quantum Aquaoil
Timber floorboards from Blackbutt
Satin waterbased floor polish from Bona Mega
Stone benchtops in Elba Marble from Artedomus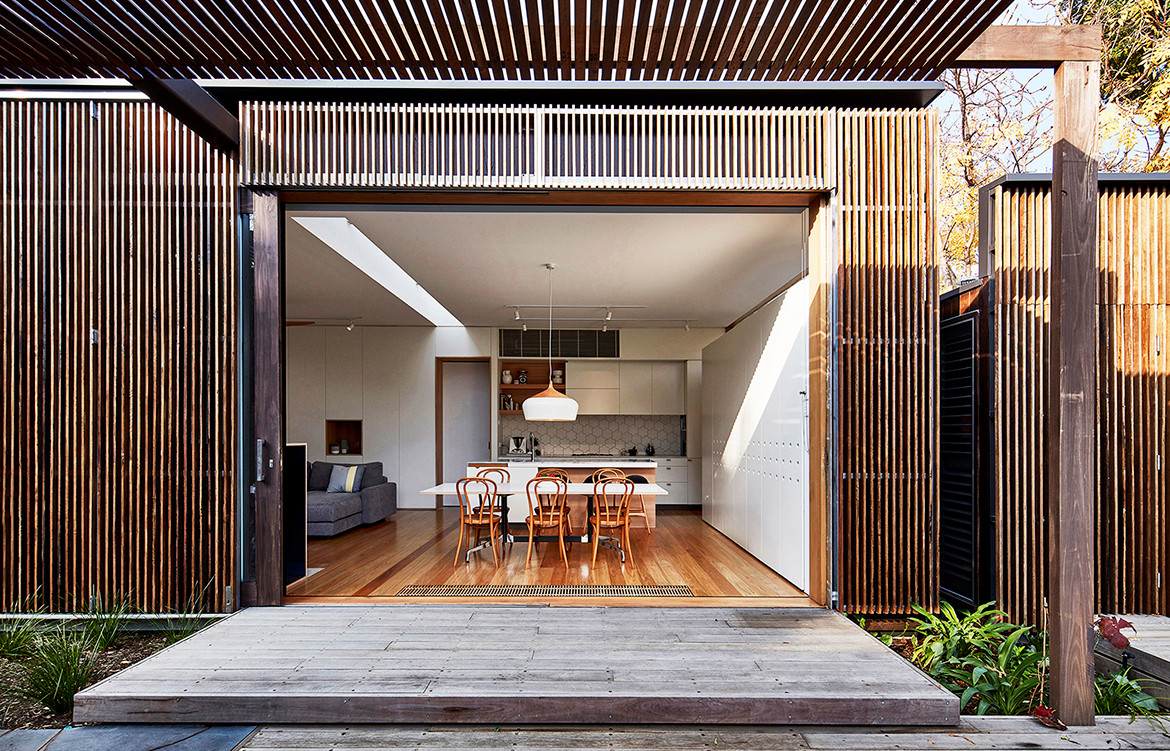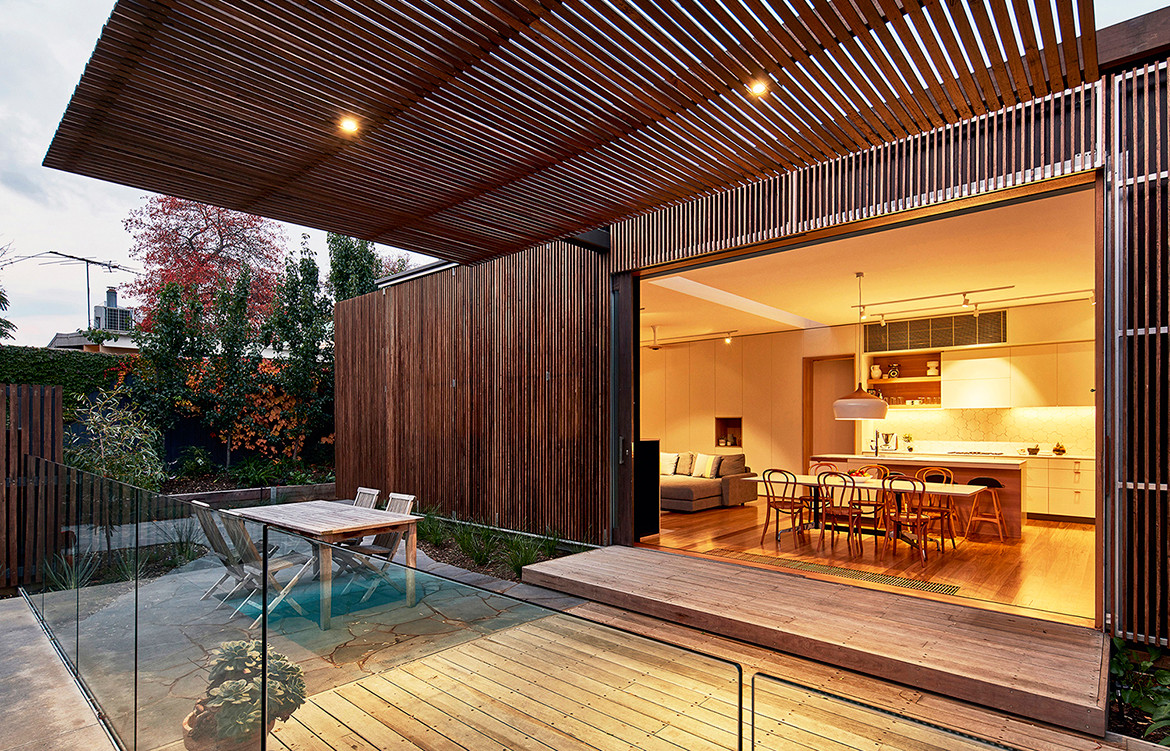 We think you might also like Split End House by Mártires Doyle 
Tags: Adam Pocock, Andrew Wilson, Architecture, design, Edwardian, Melbourne, residential, Screen House, Screens, timber screens, victoria, WARC Studio, weatherboard, west-facing houses
---