It's the site that came with baggage. Not only is it divided by a sewerage main, but its narrow street and crammed streetscape of turn-of-the-century cottages made it unappealing. It comes as no surprise that the block had been on the market for several years before a new owner (and builder) stepped up to the challenge, and in collaboration with EHDO Architecture, built a functional house that successfully bridges the gap between the old and the new.
The building design of Silver Street House had to cater for a semi-retired couple and the comings and goings of their adult children. The result is a unique floor plan that has a strong relationship with the outdoors, with the ground level dining, kitchen and living areas designed to open onto a landscaped courtyard, allowing a seamless connection to the outdoors.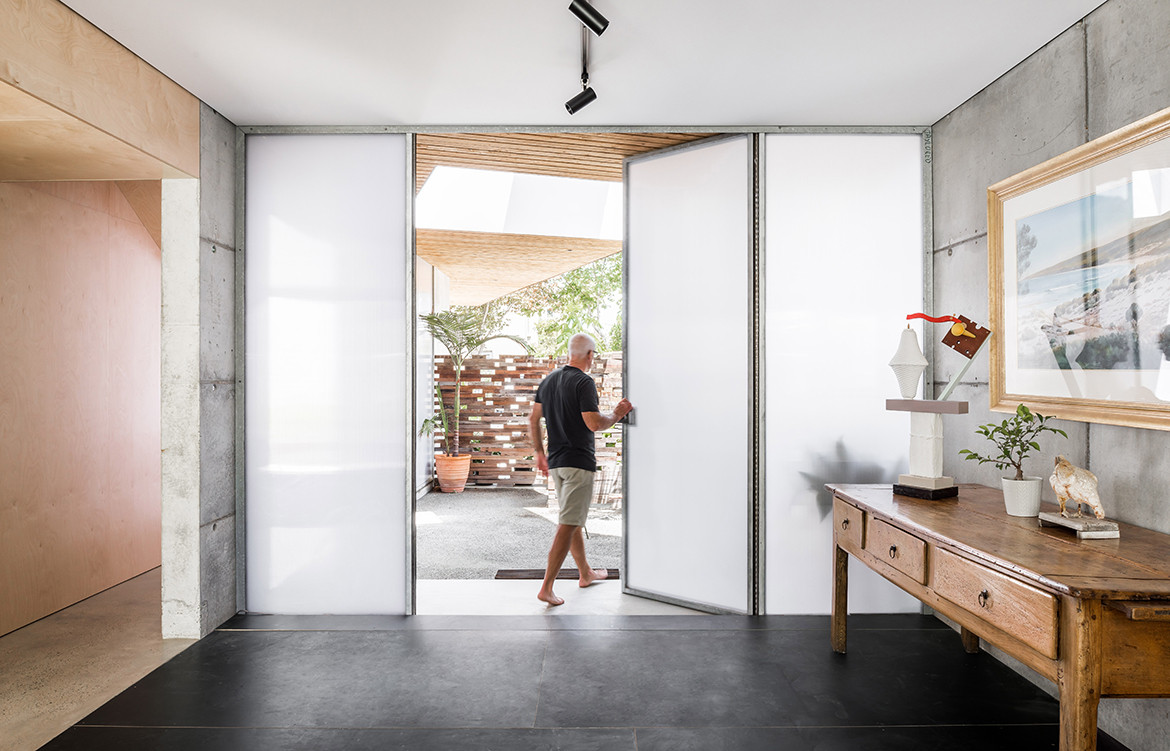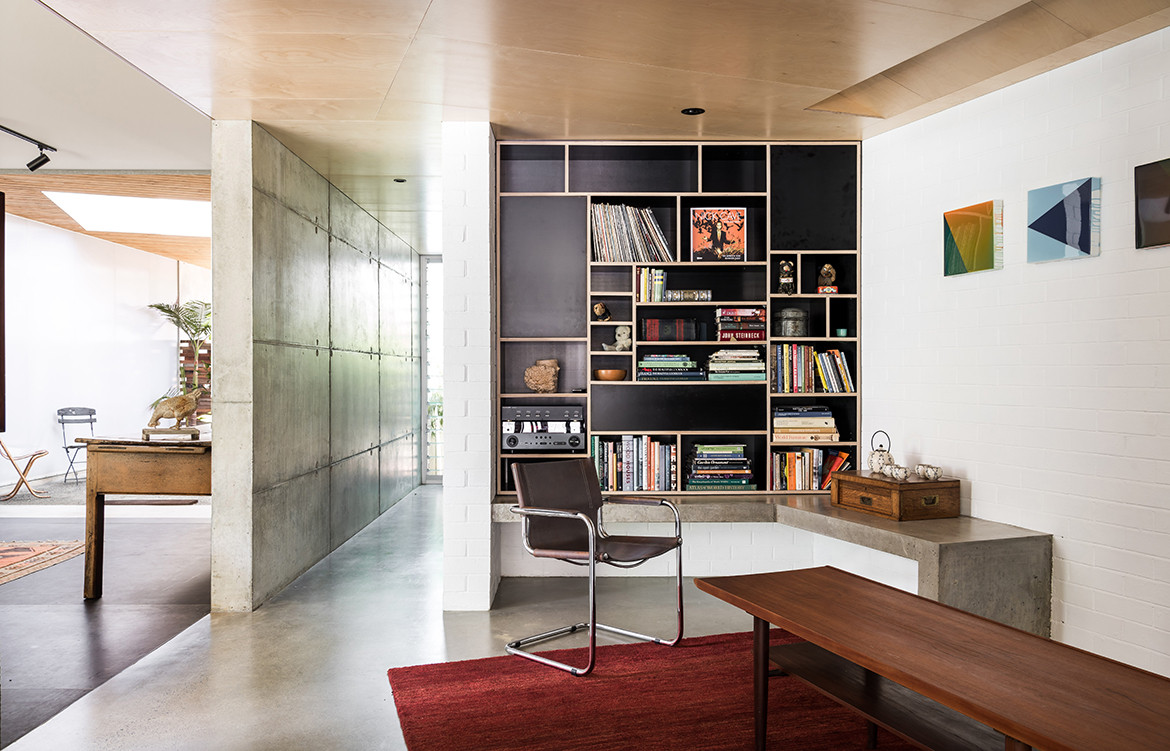 "The skills of the owner, particularly carpentry and gardening, were key to the design," explains Dimitri Kapetas, director and designer of EHDO Architects. "The landscaping binds the project together and adds to the passive solar performance, cooling and cross ventilation of the building through ponds and deciduous plantings."
A holistic design approach was taken to limit the impact on the environment and create a functional and lasting home that embodies a pared-back simplicity. Selected materials are authentic and durable, with off-form concrete, brickwork and Australian Cypress, chosen for their organic aging abilities.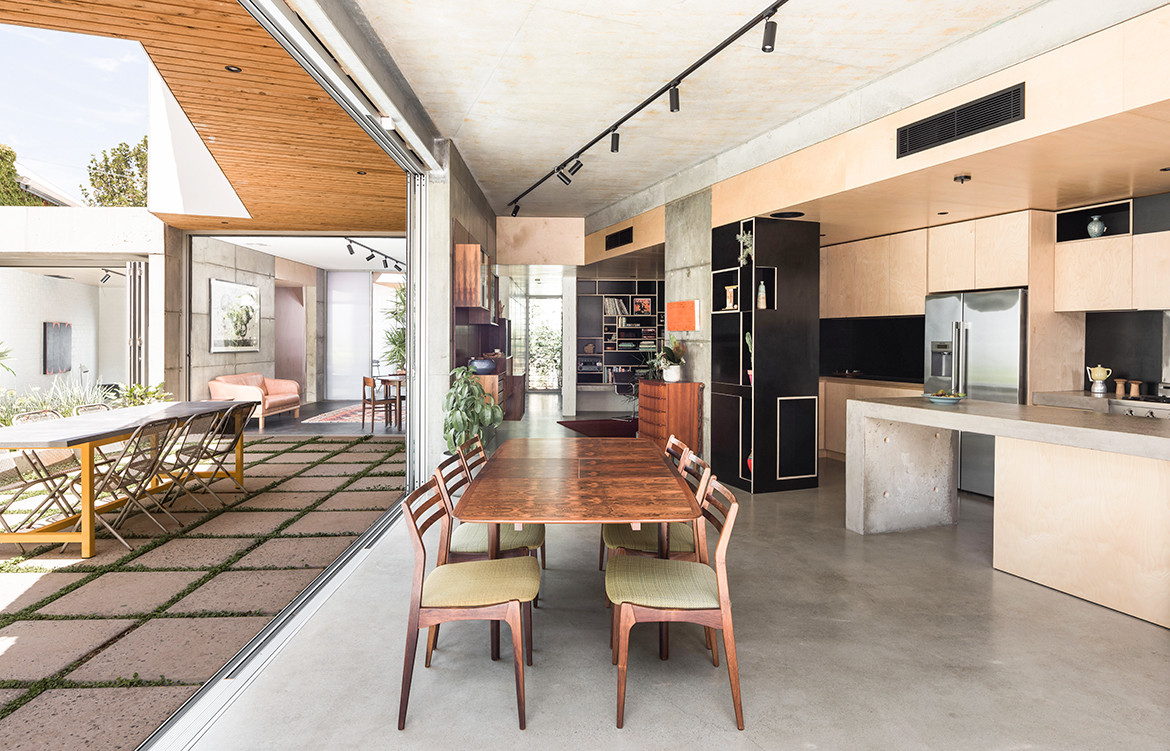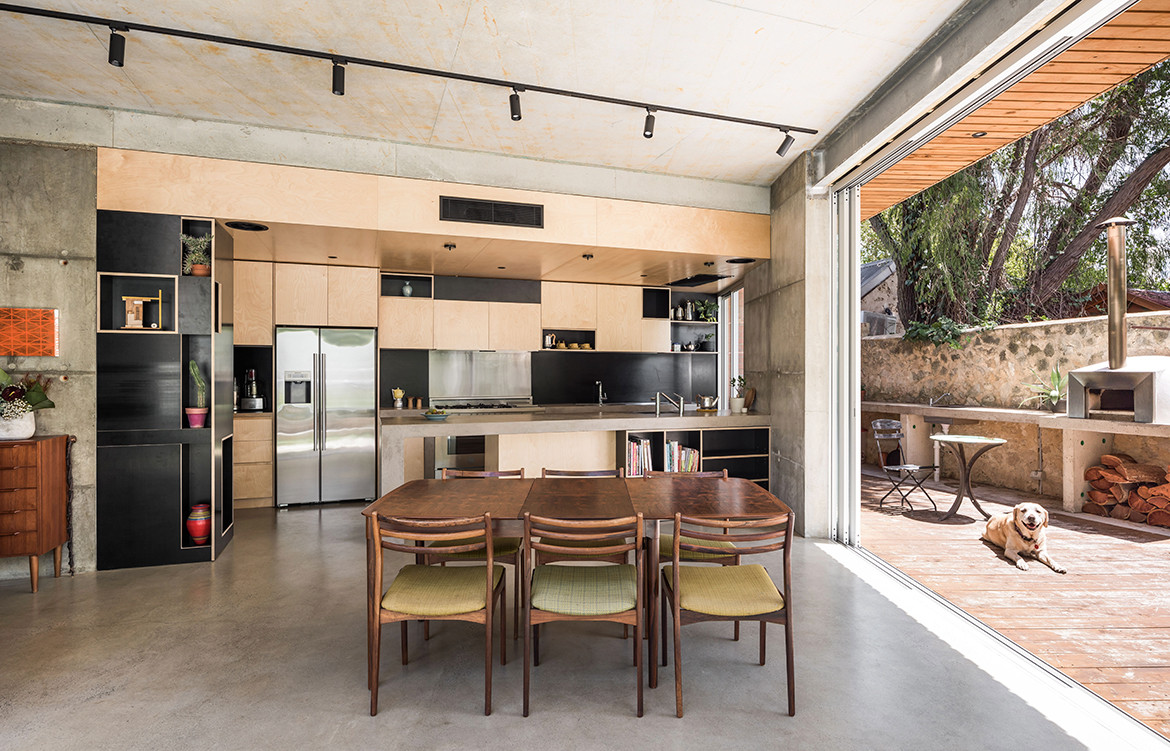 "Materials requiring minimal maintenance eliminate a need for additional coatings and associated costs. As an added measure, remnant tins of house paint were sourced from the tip and used to paint internal walls," explains Dimitri.
Internally, old and new are drawn together with the integration of warm and natural materials and the owner's love of mid-century furniture, while oversized folding windows and opaque walls add to the spacious aesthetic, still maintaining privacy.
"The sunken lounge is a special place, cozy and warm with natural light. It's private and yet connected to the garden and the gentle sound of the pond," says Dimitri.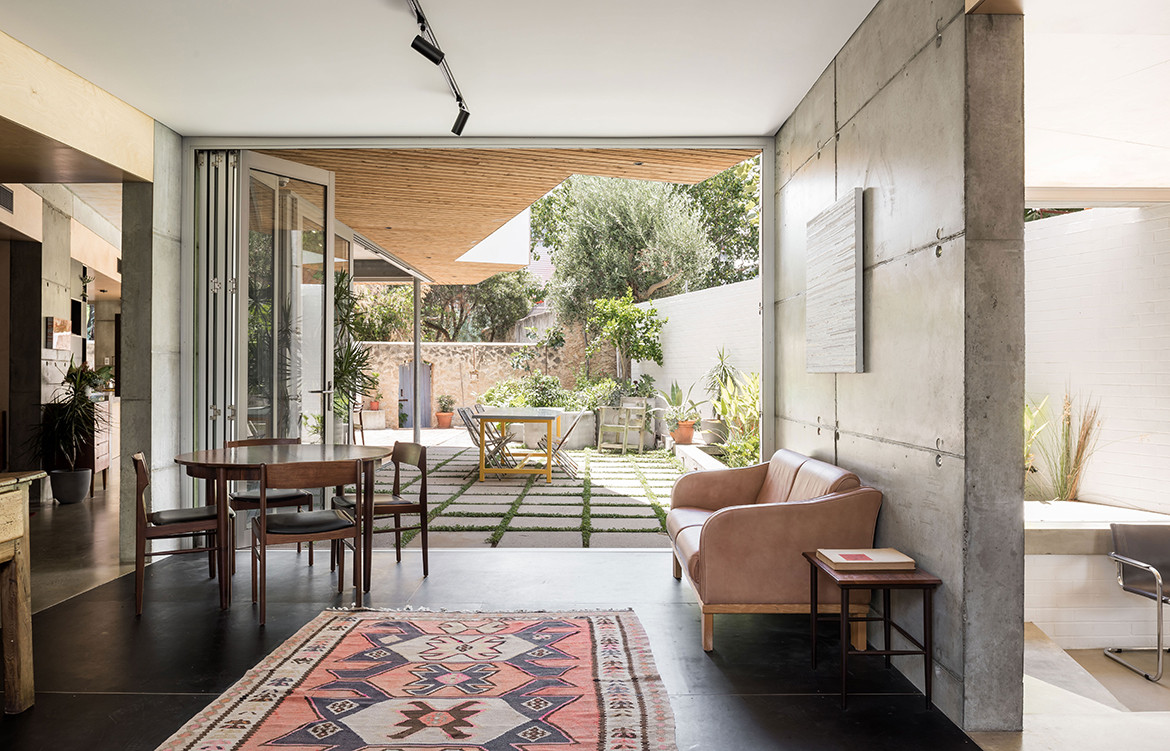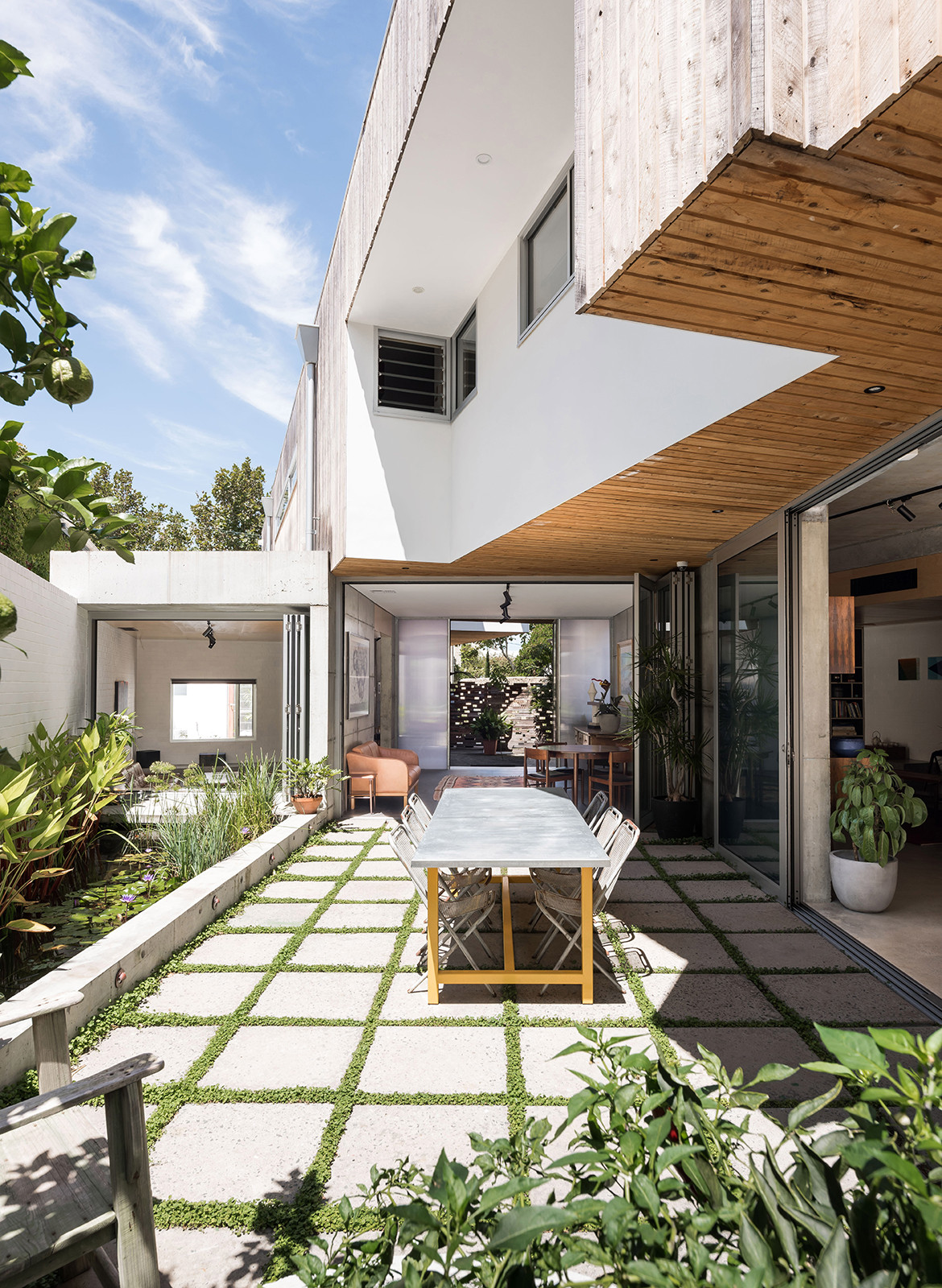 Concrete is a major design feature, both inside and out, with the concrete staircase a prime example. The visually interesting staircase leads to the upstairs living and bedroom, which has a connecting courtyard that acts as a hidden sanctuary.
"Projections of this [upper-level] mass shade the ground level, minimizing the need for mechanical cooling. The thickness of the walls and window reveals are enhanced by deep box awnings, offering further protection from the summer sun and privacy from neighbours for its occupants," explains Dimitri.
EHDO Architecture
ehdo.com.au
Photography by Dion Robeson
Dissection Information
Classing from Frenchams Australian Cypress
Insulated wall panels from Pro9
Microcell panels from Danpalon
Concrete from Mian Concrete
Track lighting supplied by Lightcube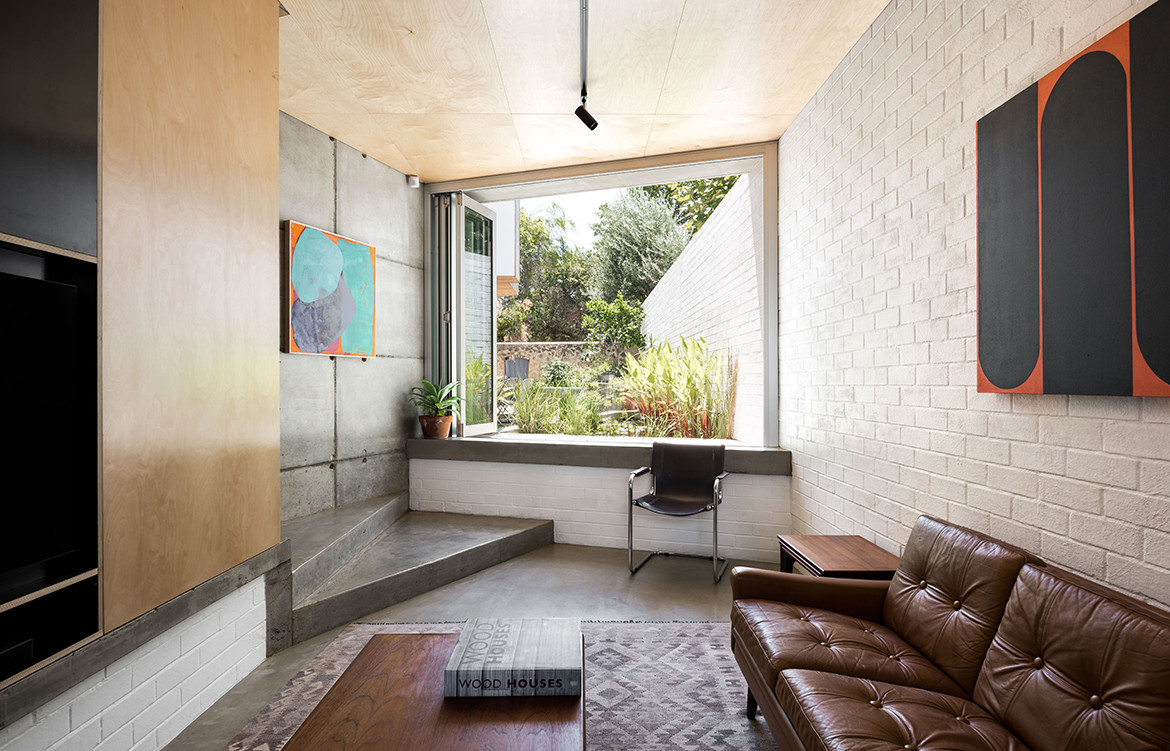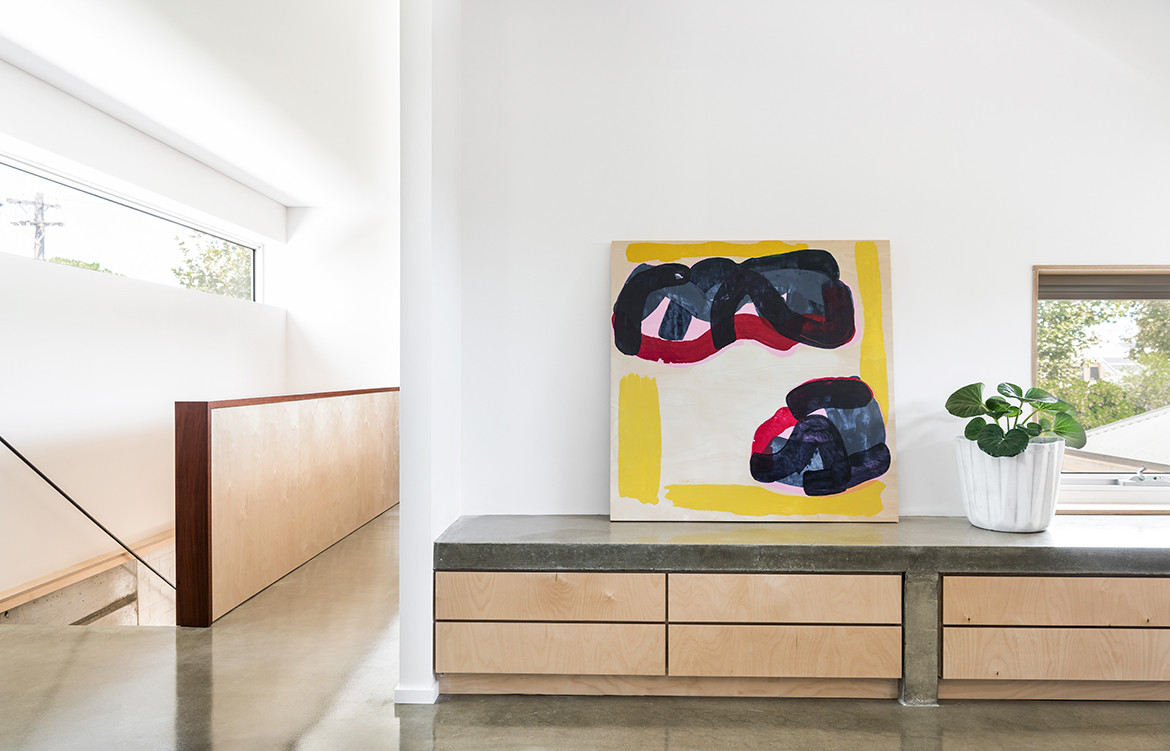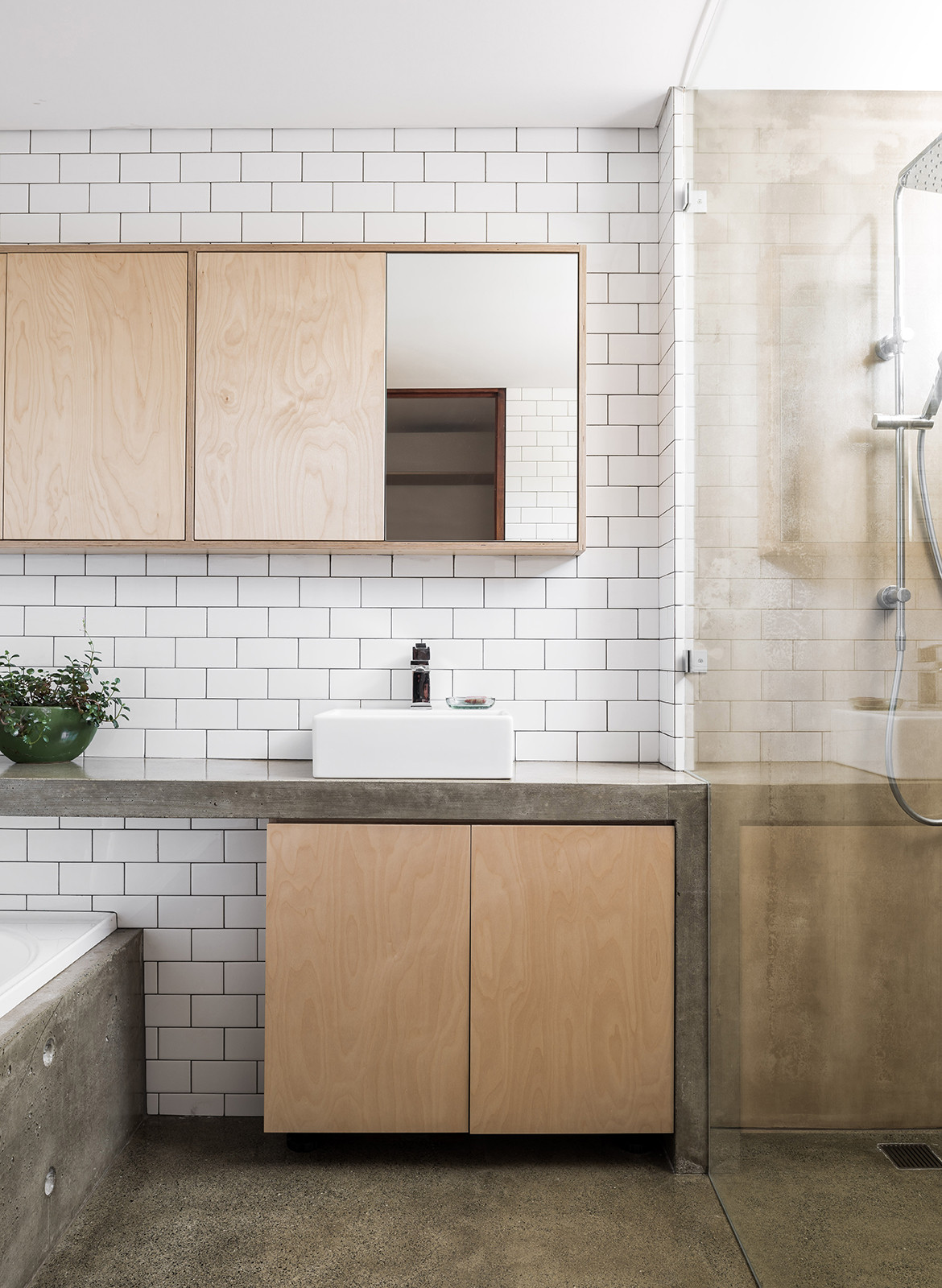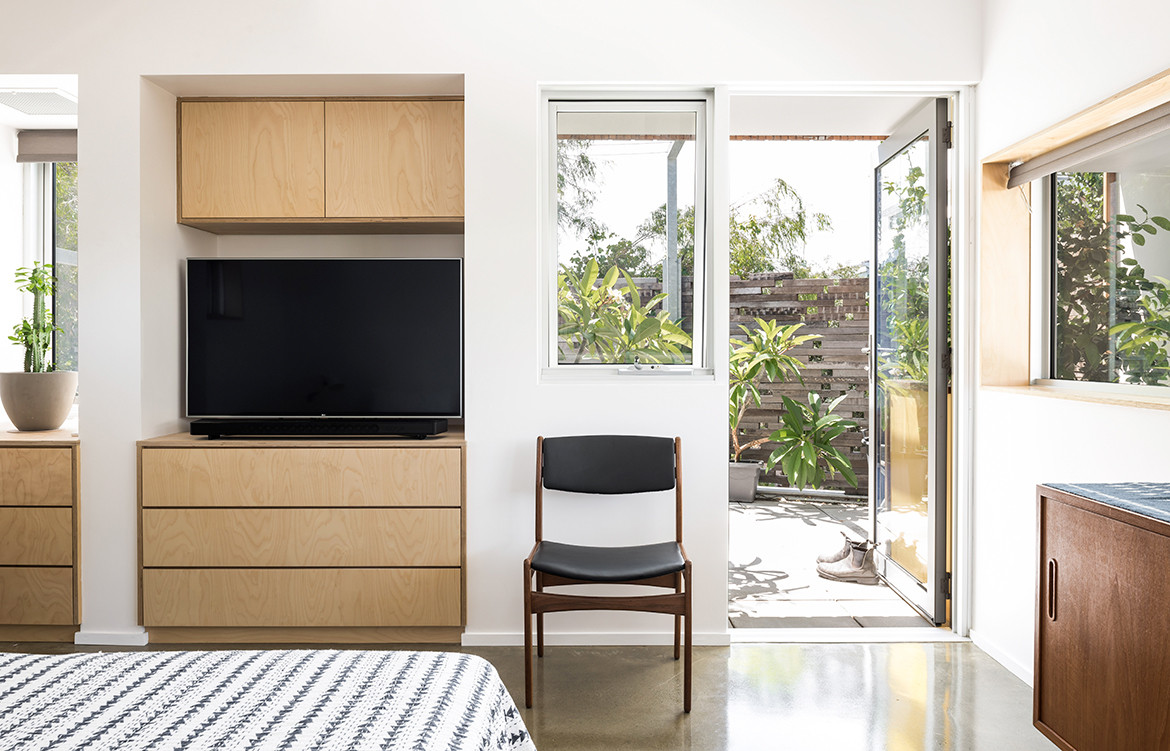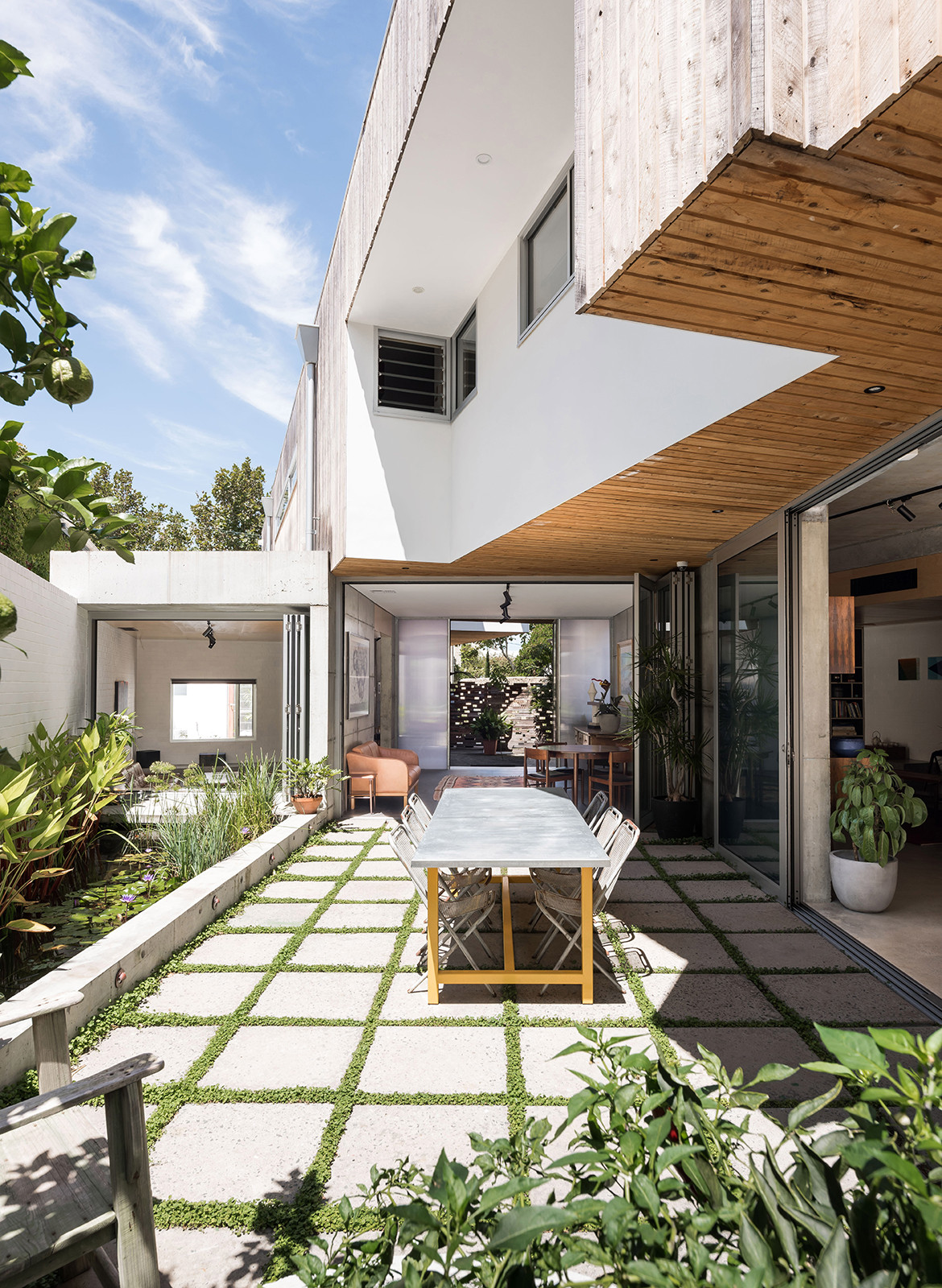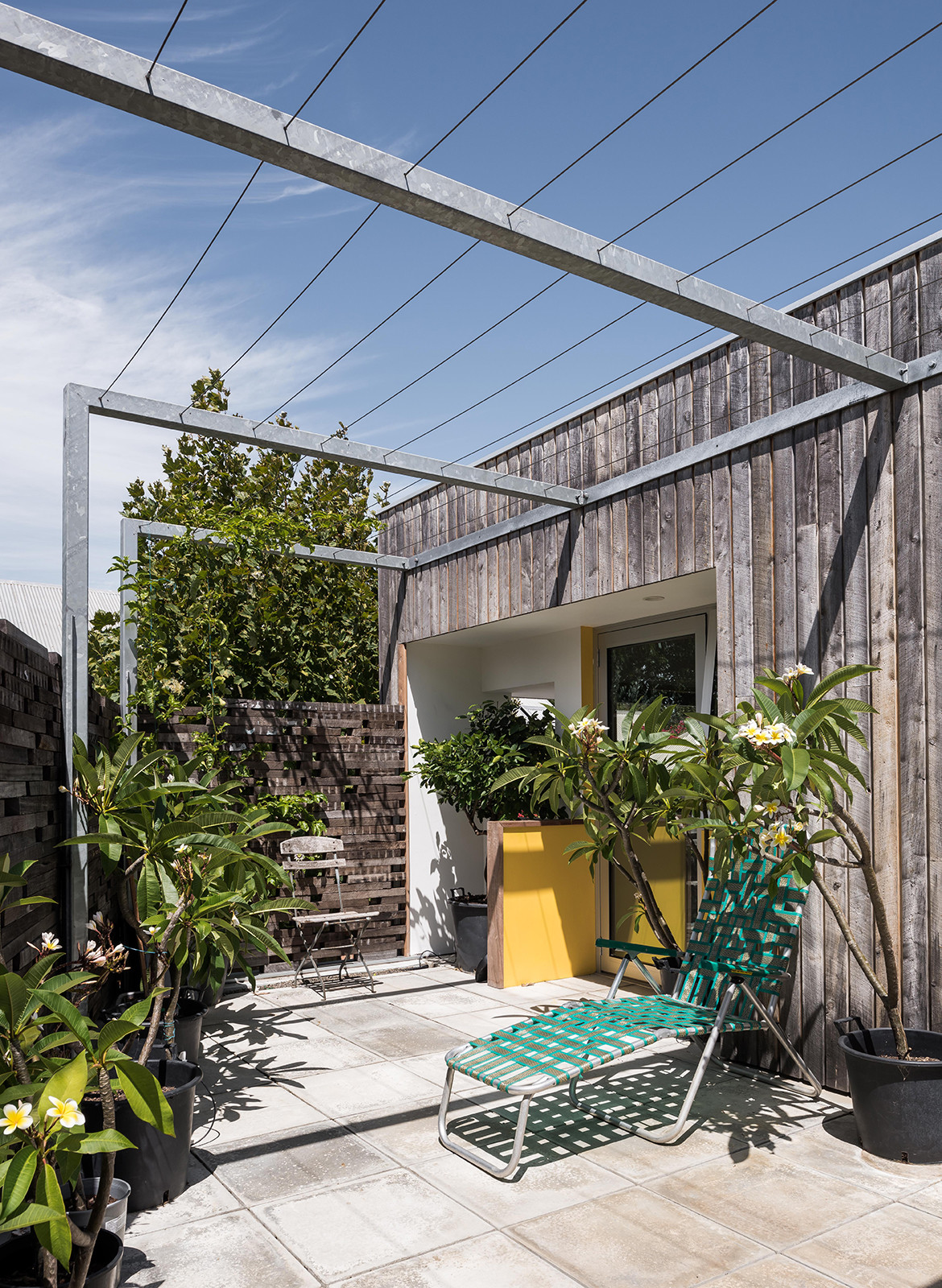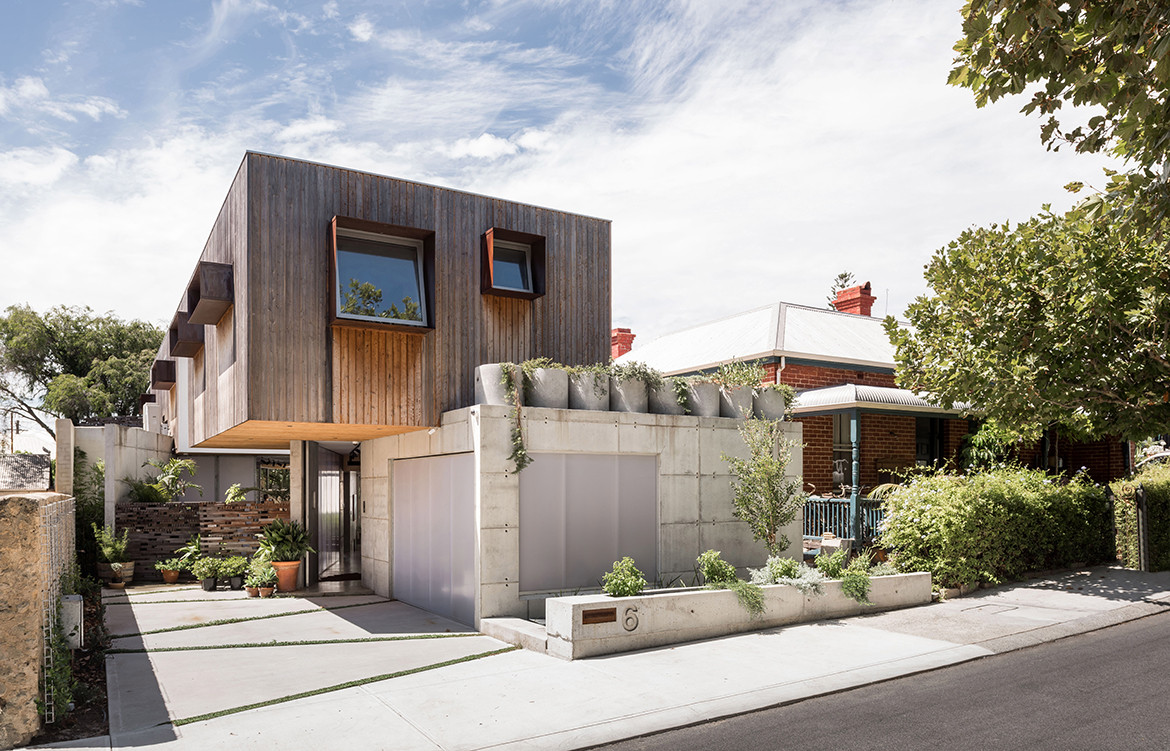 We think you might also like this Design Hunter profile on EHDO Architecture
Tags: Clare Ryan, concrete, Danpalon, Dimitri Kapetas, Dion Robeson, EHDO, Fremantle, Frenchams Australian Cypress, Kelsey Jovanou, Lightcube, Mian Concrete, Perth, Pro9, Residential Architecture
---