Entering Swine & Co. is a dramatic progression from a detailed art deco street façade to bright, triple height interiors in original cream travertine. While the recent fit out is certainly commendable, in the case of this grandiose arrival the credit goes to the building's original incarnation as the Bank of NSW, designed in the late forties by Architect Bruce Dellit. The site's function, of course, has in the meantime changed, however the offerings are no less rich.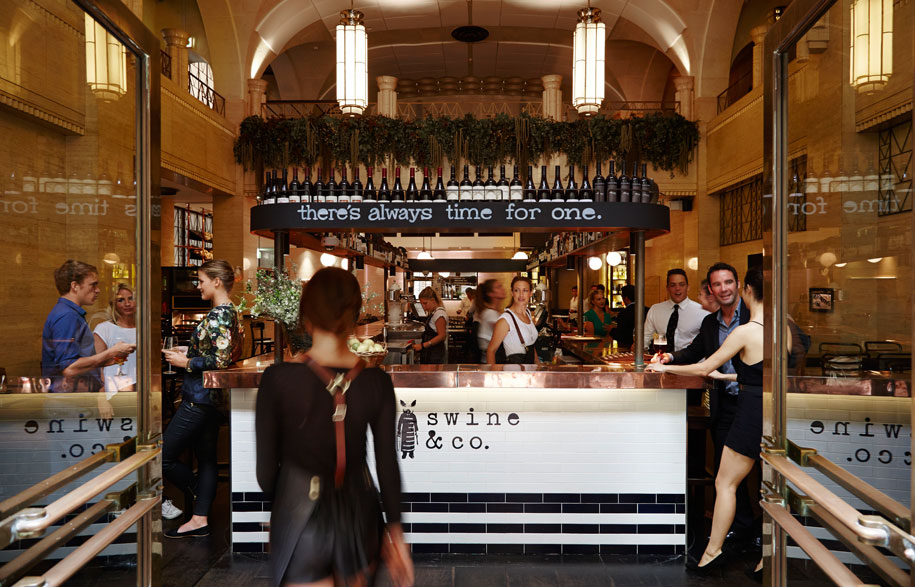 Interior Design for the project Melissa Collison was presented with a brief for a brassiere style restaurant suitable for both a quick lunch and a special occasion.
"We needed a space that would primarily entice the areas 'weekday locals' – corporate customers looking for a business lunch or evening meal. As well as catering to the business diners we were also trying to appeal to a wider community by providing a bustling venue to grab a drink with friends, family and colleagues after work," says Collison.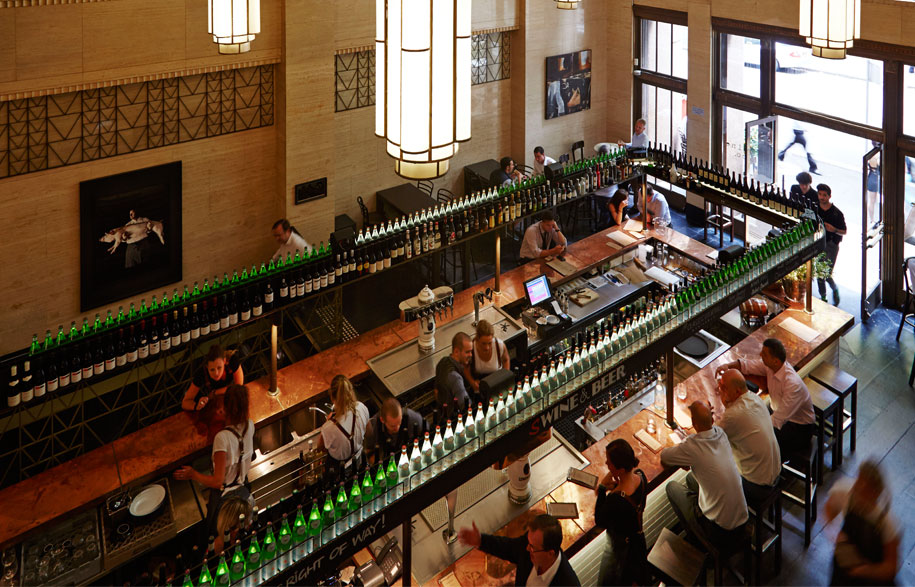 In response, the venue was divided into distinct areas, spanning bench seating, casual dining, mezzanine booths and a more formal downstairs dining room.
Arranged in an open plan, the island bar on the ground floor acts as a fulcrum from which bench seating and dining spaces radiate. Overhead are rich, brass and milk glass deco pendants which embrace the movement of the active space and guide the eyes to upper level mezzanine.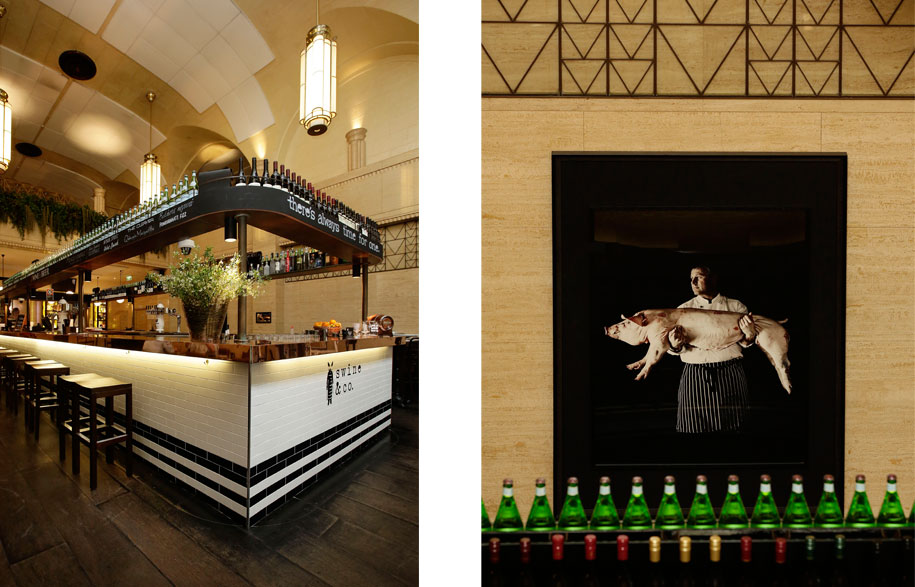 Collison's holistic approach unifies brassy amber tones and bold geometric décor to accommodate for the different modes of dining across levels. The atmospheric changes reveal a much welcome contrast between spaces that hint at the historical heritage in the rich display of interiors.
Here, what were once bank teller stalls have now been incorporated as lounge bar booths in the original brass, glass and travertine. These subdivide the space and present a quirky, clever way to incorporate the space's previous function into the bar experience.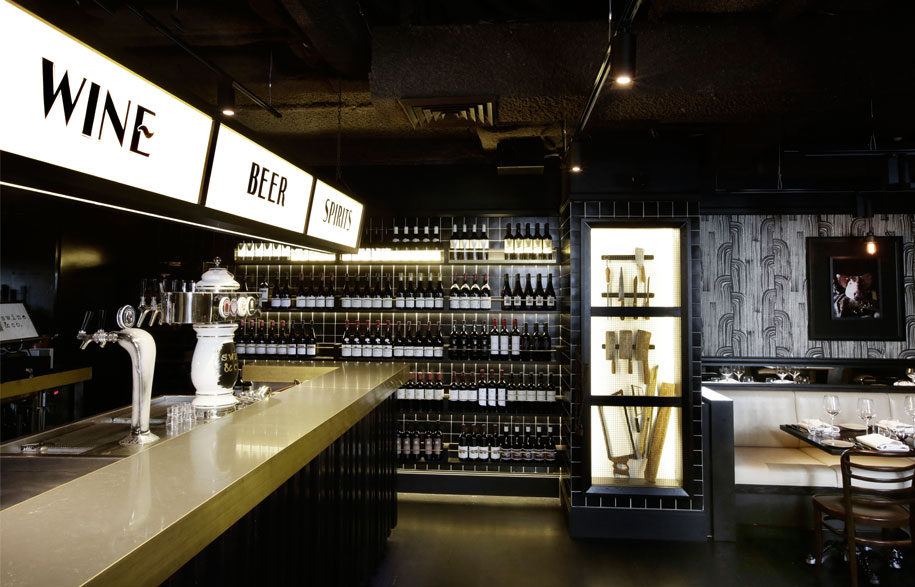 "The heritage listing of the site meant we were restricted from touching the architectural fabric of the building – but why would we want to when the rich existing travertine provided a luxurious setting to our venue?" Collison muses.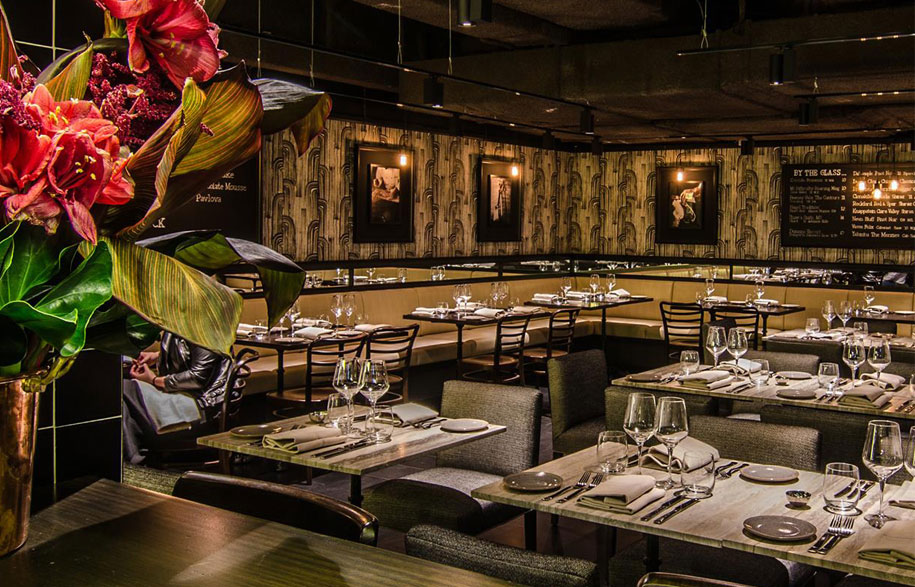 The downstairs dining room is sensuous but strong with a sense of fun in the unusual detailing of pigs. References to the client's German heritage and memories of his father (a butcher, naturally) generate an almost cellar-type space with vintage knife-cabinets on display.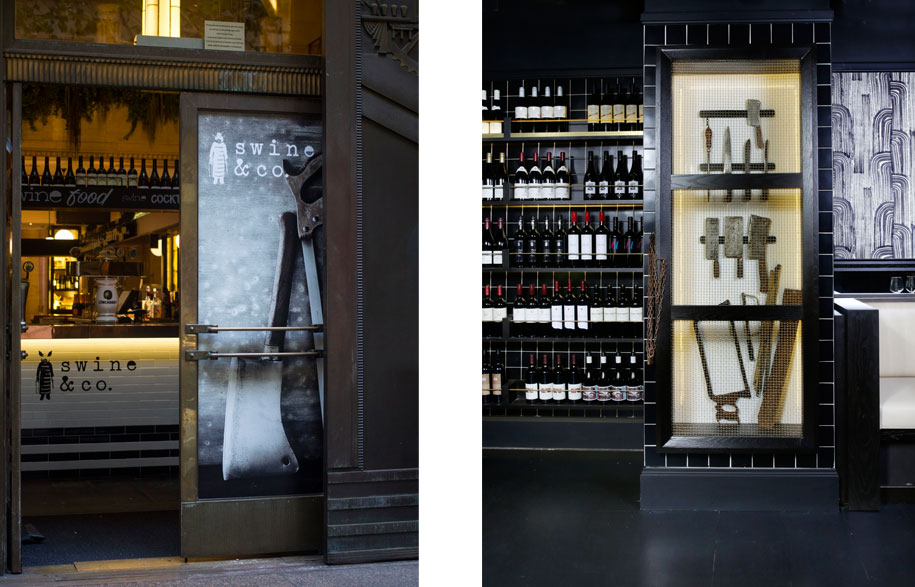 This distinct contrast between the voluminous and light-filled space of the bar and the intimate closed proportions of the lower ground dining room was intentionally elaborated.
"This dichotomy allowed us to create two very distinct moods between the two spaces, one vibrant and grandiose and the other intimate and almost secretive, with a dramatic transition between the two by way of small curving stair." explains Collison.
Swine & Co.
swineandco.com.au
Melissa Collinson
melissacollison.com.au
Photography: Anson Smart
ansonsmart.com
Tags: Australia, bar, Interior Architecture, Interior Design, restaurant, Sydney
---