Finding a patch of dirt to build on is becoming extremely difficult in Melbourne, particularly in the inner city. However, husband and wife – and recent parents – Jesse and Seada Linardi found an unlikely sliver of land in Collingwood. Jesse, a director of DKO Architecture and Seada, director of SLAB, worked with their friend and developer Michael McCormack, director of Milieu Property. "We wanted to build a family home, testing ideas that would be more challenging for clients," says Jesse. "We didn't set limits from the start. It was simply putting our ideas out there and seeing what could be achieved," adds Seada.
Once a double garage for an adjacent Victorian building, the entire site is a meager 75 square metres. Building one townhouse on such a site would be commendable, but two? The other constraint within this site was that only one elevation, orientated to the west, would receive full sunlight (other elevations are impeded with neighbouring properties). Fortunately the site just "squeezes in" to a commercial zone, with the neighbouring properties zoned residential. "We couldn't have reached this height if the site was just a few metres to the north," says Jesse.
However, given the proximity of neighbouring residential properties, the couple was mindful of creating visual bulk.
The couple lives in one townhouse, with Michael originally intending to live in the other. However plans changed – as they're often wont to do – and the Linardis' new neighbour is architect Michael Drescher, a fellow director of DKO Architecture. "The two are slightly different, but you could say they 'read' as one building," Jesse notes.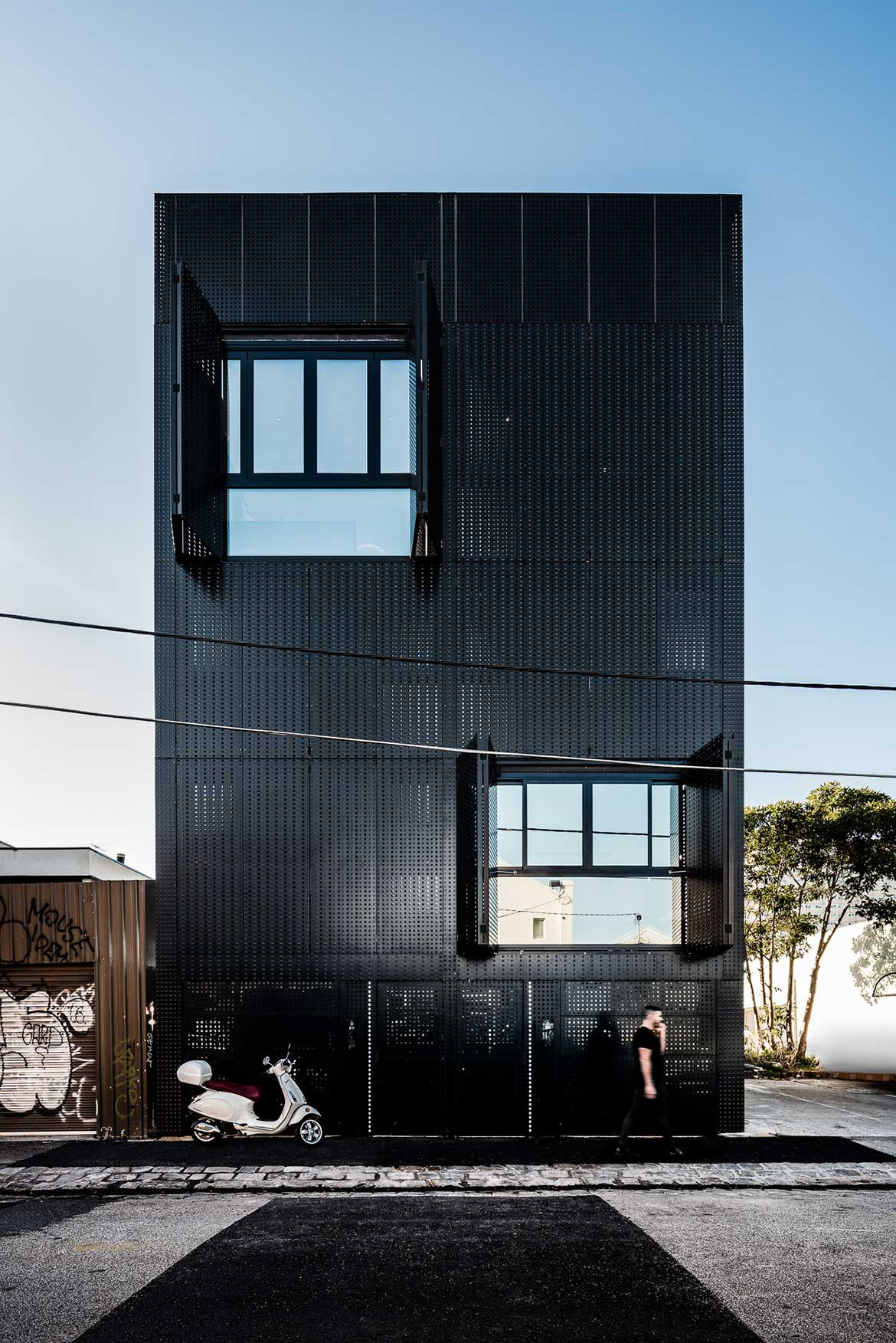 Perhaps the only marker that there are two homes rather than one is the strip of LED lights framing each doorbell. Each one is programmed to display different colours so there's no confusion for guests finding the front door. However, behind the black powder-coated perforated steel façade (enveloping all four elevations) are six levels, each one identical in footprint. "This is far from the open-plan living arrangement you find in most homes. This place is more of a 'hamburger plan', with each level providing a different filling," says Jesse.
With the gritty urban streetscape featuring a mélange of building types, from warehouses and apartments to Victorian cottages, the Linardis decided on pursuing a more abstract form of architecture; something that didn't resemble a conventional house. Each level comprises a four-by-nine-metre floor plan, with a stairwell and adjoining lightwell/breezeway offering light and ventilation throughout each level. "We could have gained a few extra centimetres by not having the lightwell, but we wanted to have air continually circulate," says Seada.
Given the dimensions, there wasn't sufficient room for a lift. "Having a lift would have lost us about one tenth of each floor plate. And climbing stairs every day is a great way to keep fit," she adds. While many might be puffed out by the time they reached the rooftop garden with its plunge pool, the Linardis tend to spend most of their time oscillating between the upper levels, particularly the kitchen and living area on the fifth level.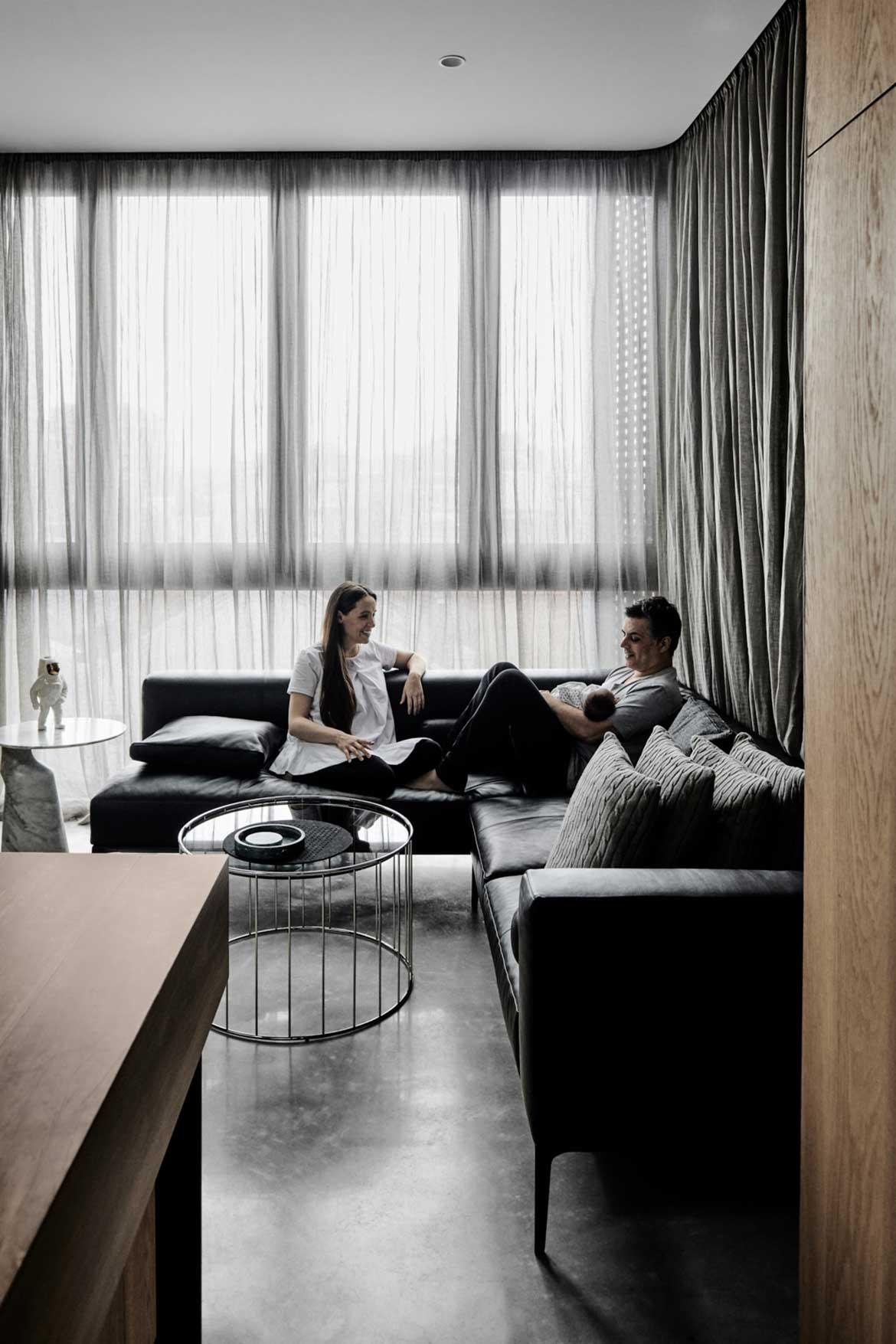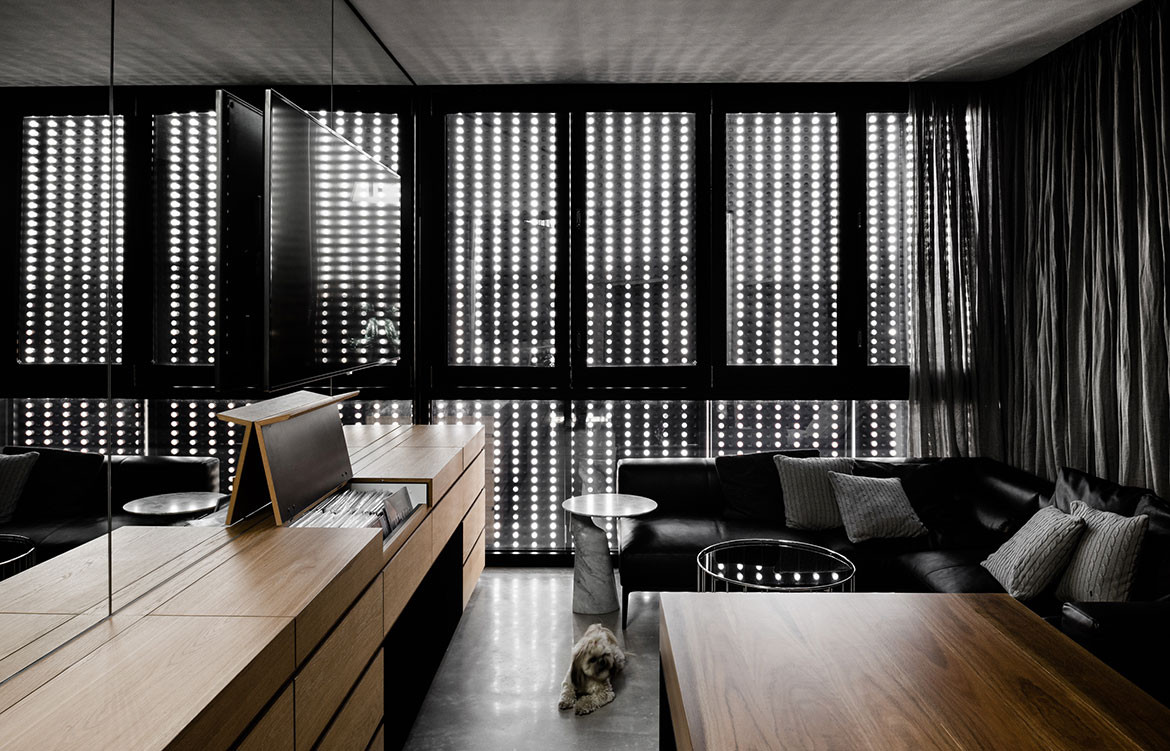 At basement level there is the media room/guest bedroom with an ensuite and fold-out bed concealed behind one of the cupboards. At ground level is the garage and entrance. A second bedroom and bathroom can be found on level one, with the main bedroom and ensuite located on the floor above. "We spend most of our time around the kitchen bench, particularly on the weekend. We both love cooking," says Seada. "It's truly an event, not just serving up a meal. Jesse will generally put on his records [there's a built-in record player in the style of the 70s that allows the vinyl to be flipped over] while we're chopping up vegetables." One of the many nifty design features is the treatment of the kitchen, with its steel dining table piercing what the couple refers to as a chopping block. The timber block — often used to chop food — can be wheeled away to allow the dining table to be fully expressed and accommodate up to eight people.
While the house can be closed down during the colder months of the year, with three-metre-wide perforated steel shutters featuring on three levels to the western elevation, during the warmer months it can be opened completely with both the shutters and generous western glazed windows pulled back. "Even when you leave the shutters closed, there's still the dappled light coming through," says Seada, who included additional layers of block-out blinds and sheer curtains for each level.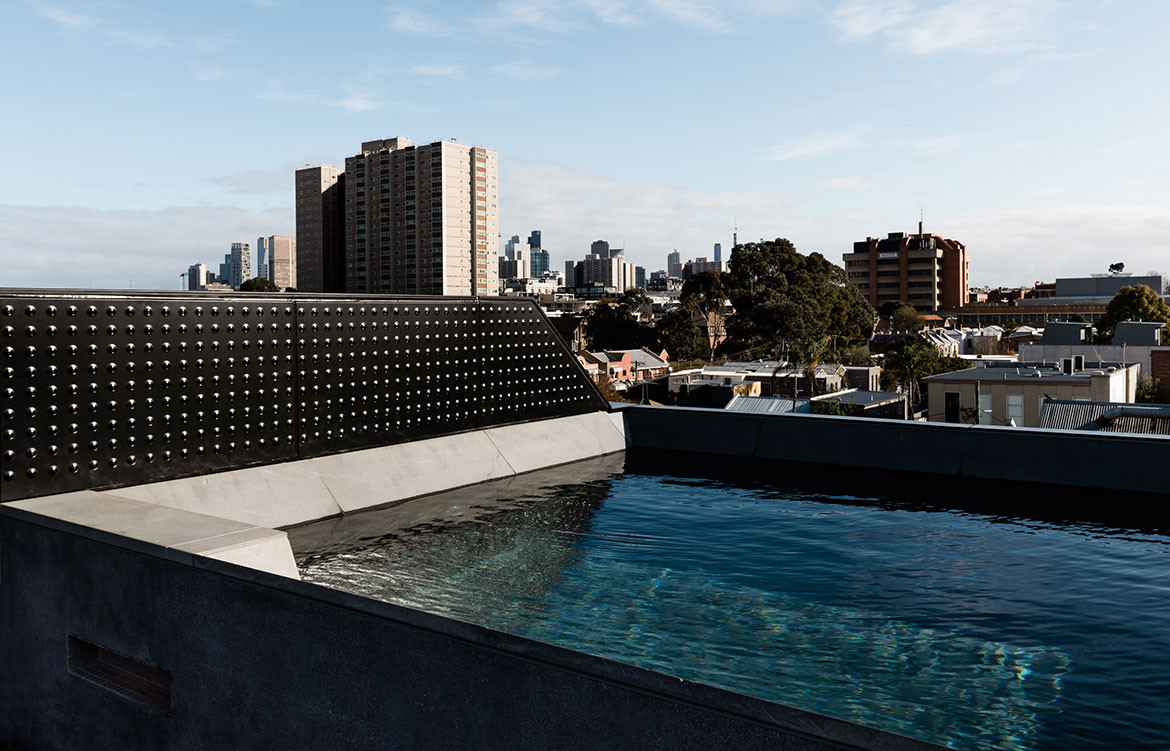 Although there's no back garden or balcony, there was sufficient room to include a rooftop garden. Offering views of the city as well as the Dandenong Ranges – on a clear day at least – this impressive backdrop makes the effort of climbing every step worth it! And rather than just a few pot plants dotted around the terrace, there is also a plunge pool. "We use this space as though it's another room, particularly as it's only one staircase away from the kitchen," says Seada. Jesse and Seada aren't thinking about life in their old age. They have a more conventional beach house at St Andrews Beach on Victoria's Mornington Peninsula and Jesse's mother lives in a four-storey house without a lift. "She never complains. You just use the spaces differently," says Jesse.
The Linardis' townhouse isn't just a gimmicky idea to slow down traffic, although many strolling past take the time to reflect on what they're looking at. But the residence also shows what can be achieved when architects think outside the box and take risks to deliver truly great architecture.
DKO
dko.com.au
Slab Architecture
slabarchitecture.com
Photography by Tom Blachford
Dissection Information
Custom solid hardwood removable kitchen bench/chopping board from Eco Timber.
King size master bed from Cobram Kitchens & Cabinets.
Curtains by Lovelight.
Walter Knoll Jaan Living Sofa from Living Edge.
Minotti Caulfield Coffee Table from dedece.
Poltrona Frau Ilary Monolithic Coffee Table and Cassina Cab Chairs from Cult.
Tom Fereday Parisi Outdoor Table and Chee Outdoor Chairs from Space Furniture.
Timber veneer kitchen & study pedestals by owner.
B&B Italia Cratis Rug from Space Furniture.
Lighting throughout generally by Sphera Lighting.
Rooftop lighting by Davide Groppi
Concrete floor from Concrete Colour Systems.
Precast concrete wall finish from Cement Concrete & Aggregates Australia.
Blackened custom steel bench joinery from Life Space Journey.
Italian Royale Marble stone wall and bench and splashback from CDK Stone.
Timber Veneer joinery throughout from George Feathers & Co.
Custom made stair steel stringer with blackbutt hardwood from Pondeljak Engineering.
Mild steel flat bar balustrade from Milieu Built.
Joinery from Cobram Kitchens & Cabinets.
Melamine joinery from Laminex.
Marble mosaic floor tiles from Signorino and Artedomus.
Mirrored walls from Viridian.
Timber floor from Royal Oak Floors.
Ceiling & wall paint from Dulux.
External powder coated aluminium façade, bi-fold screens and aluminium sliding screen from Euting Pty Ltd.
Rooftop pool by Laguna Pool.
Home theatre system from Carlton Audio Visual.
Light well & external steel planter box from LVDI.
Blackened steel joinery and door handles from Life Space Journey.
Induction cooktop, range hood & oven from Gaggenau.
Integrated dishwasher from Fisher& Paykel.
Refrigerator from Liebherr.
Kitchen accessories throughout, pivot Sliding kitchen door, and foldaway side mounted single bed and queen size bed lift from Hafele.
Tapware from Gessi, Rogerseller & Brodware.
Basin from Agape & Parisi.
Sink from Franke.
Rooftop outdoor pool shower from Brodware.
Turntable joinery and whiskey bar from client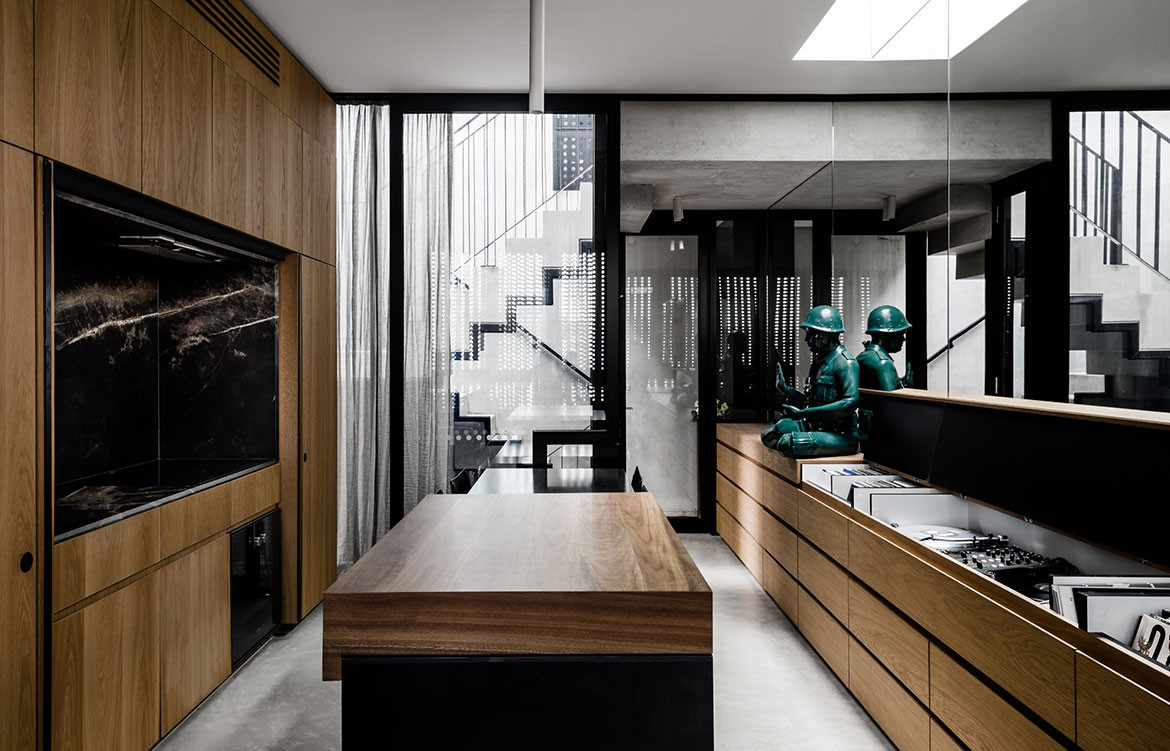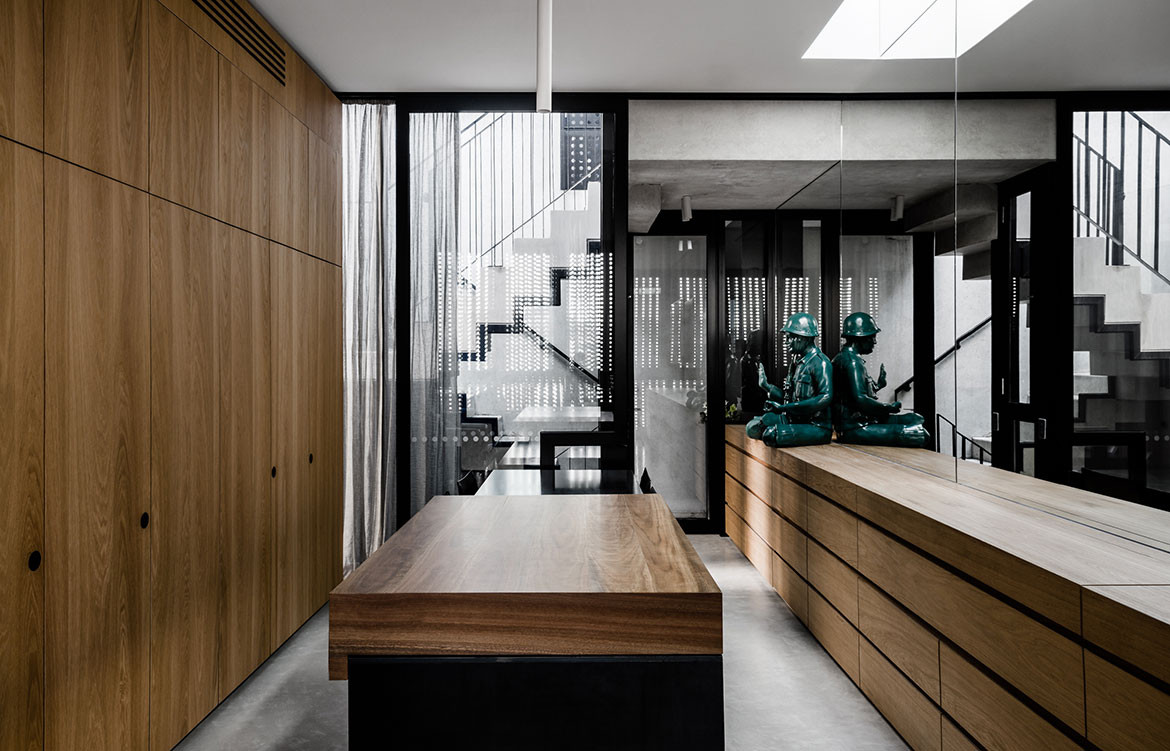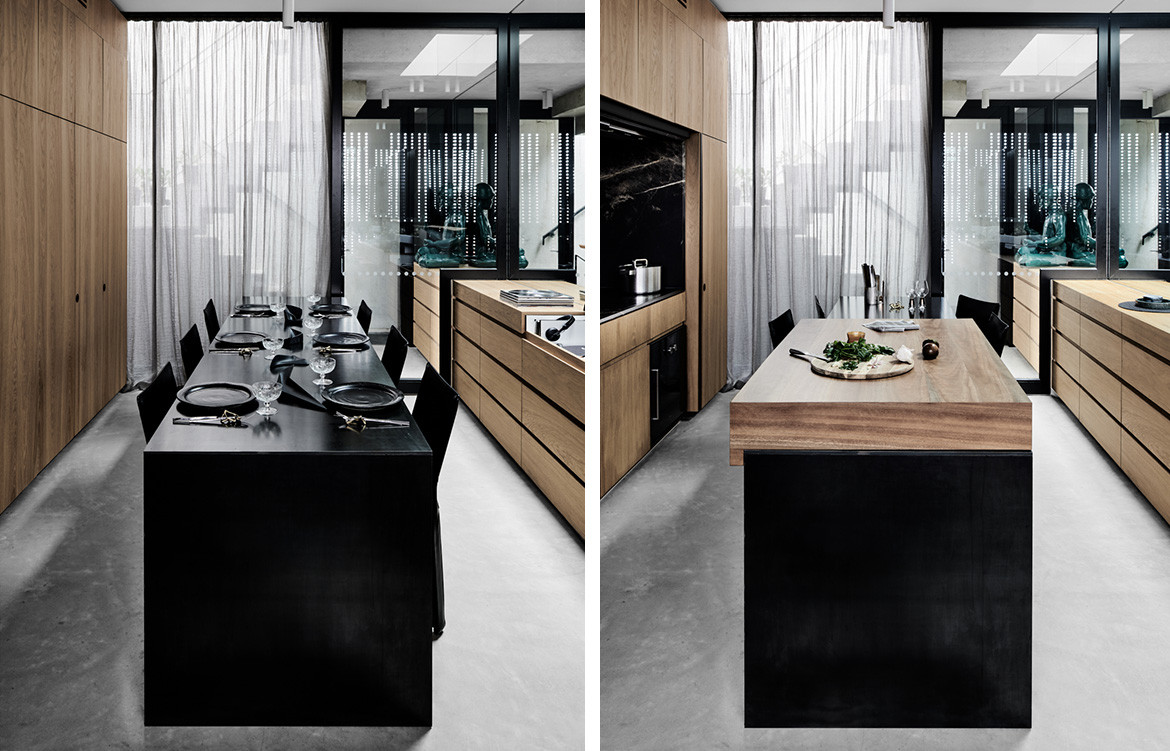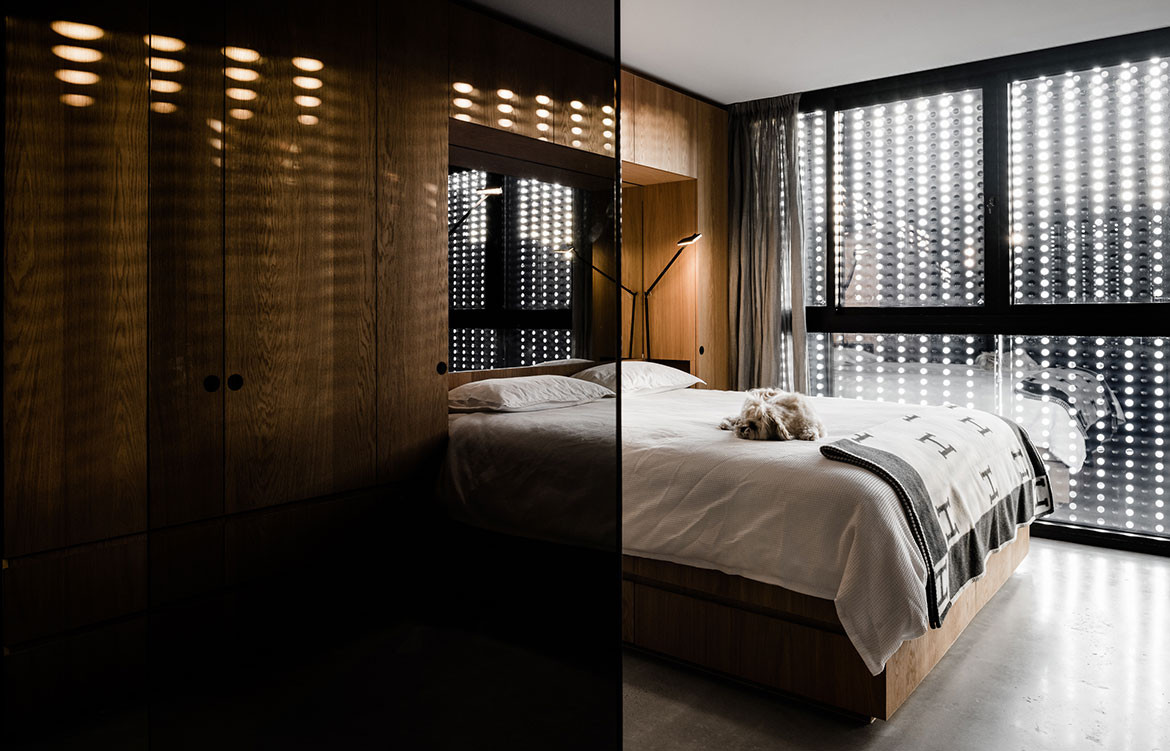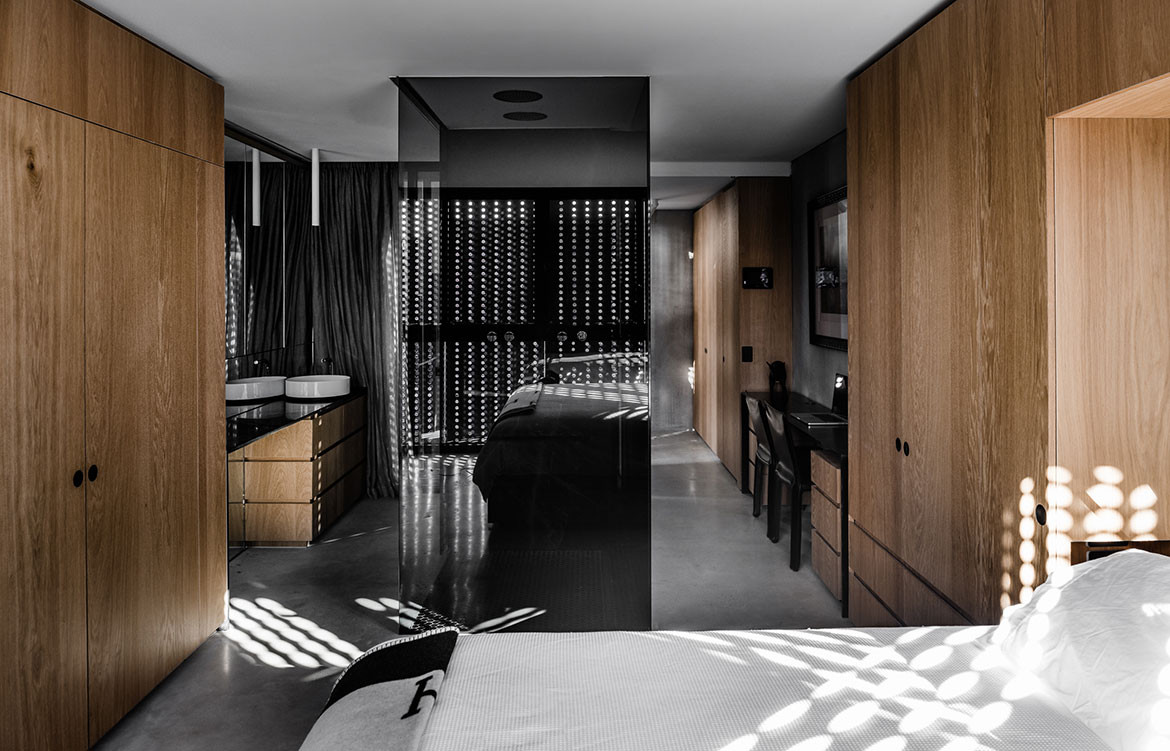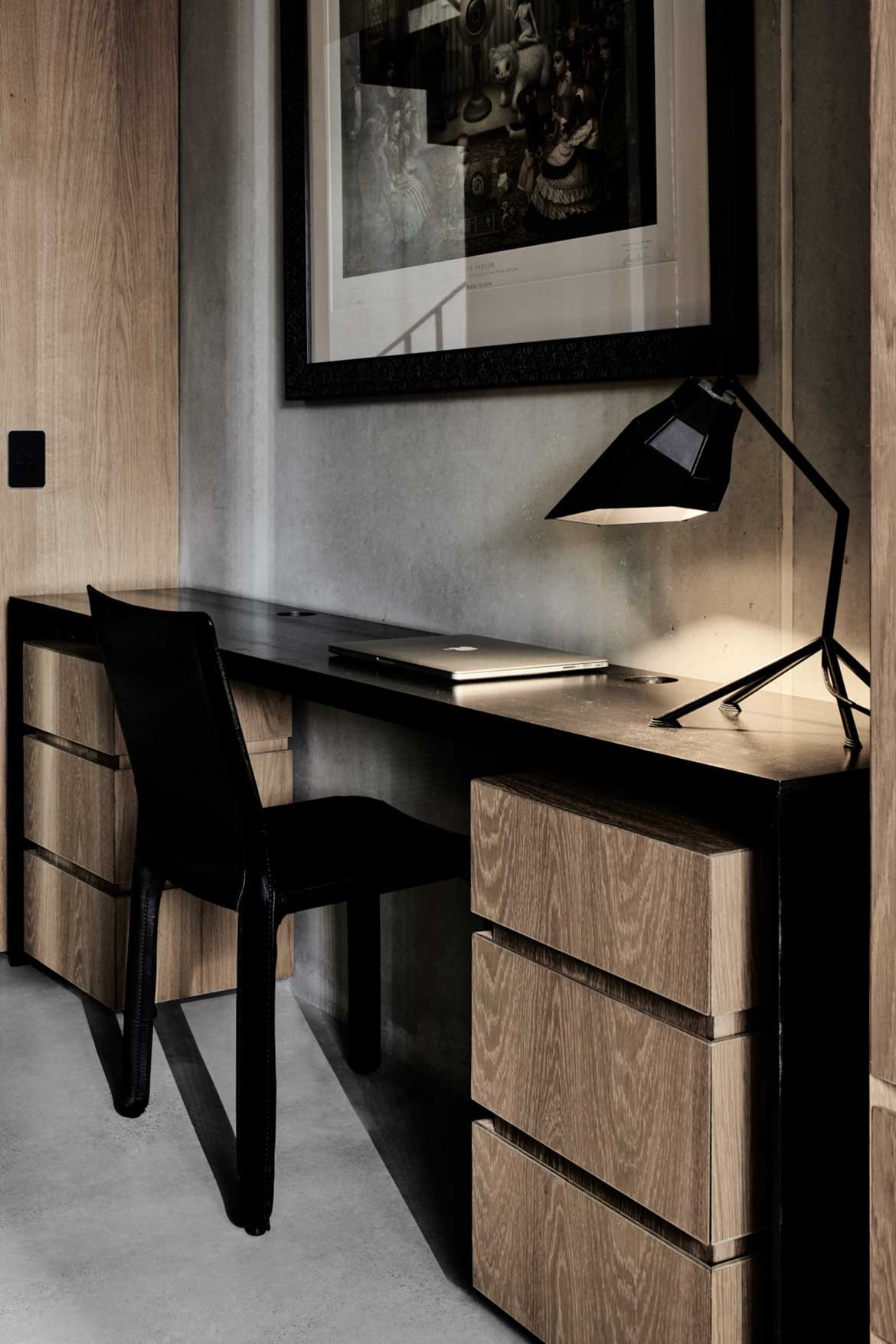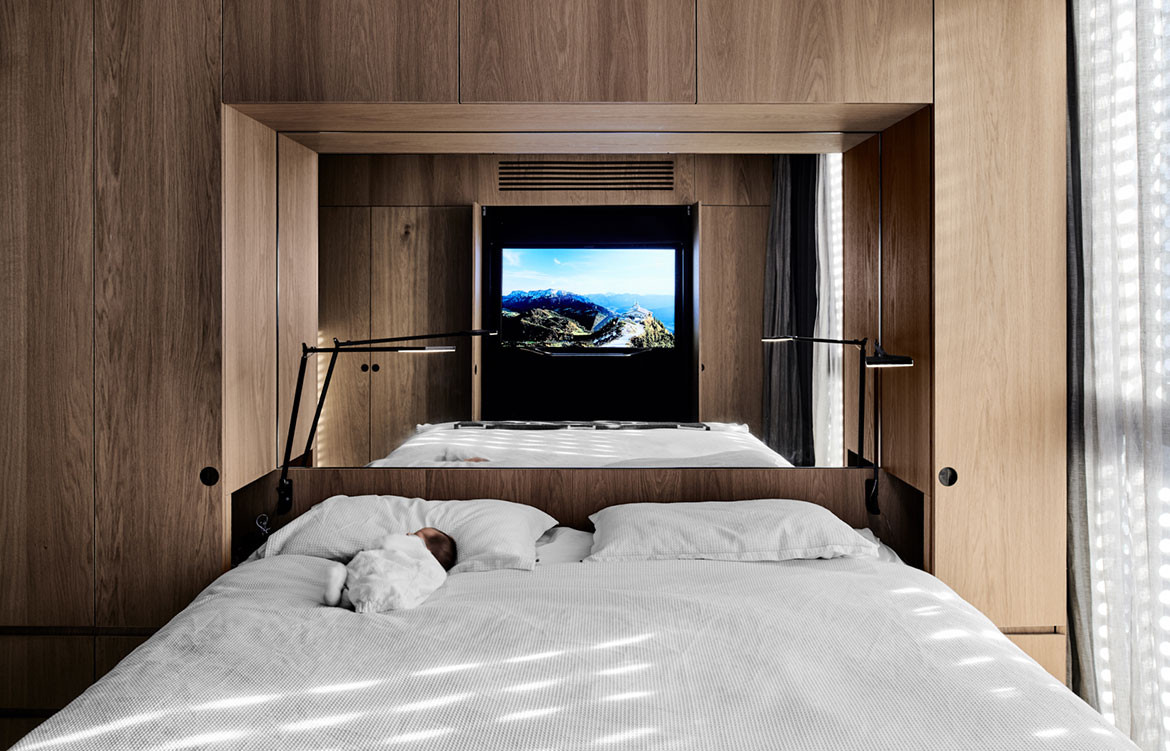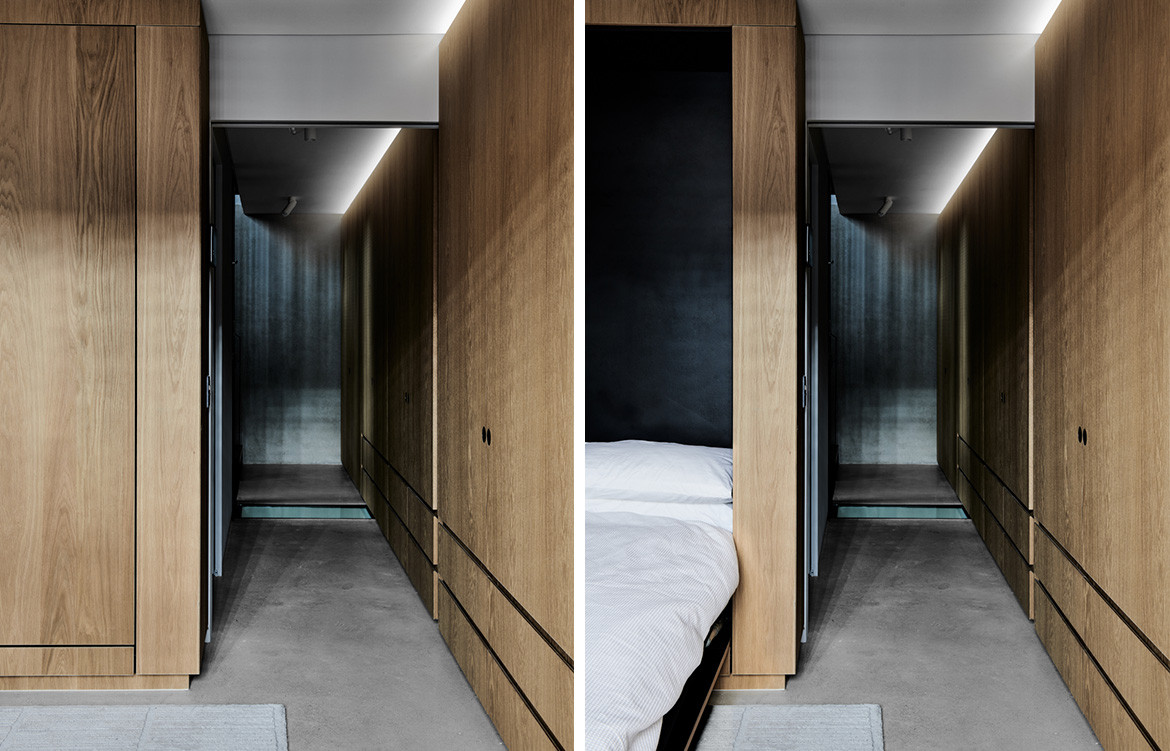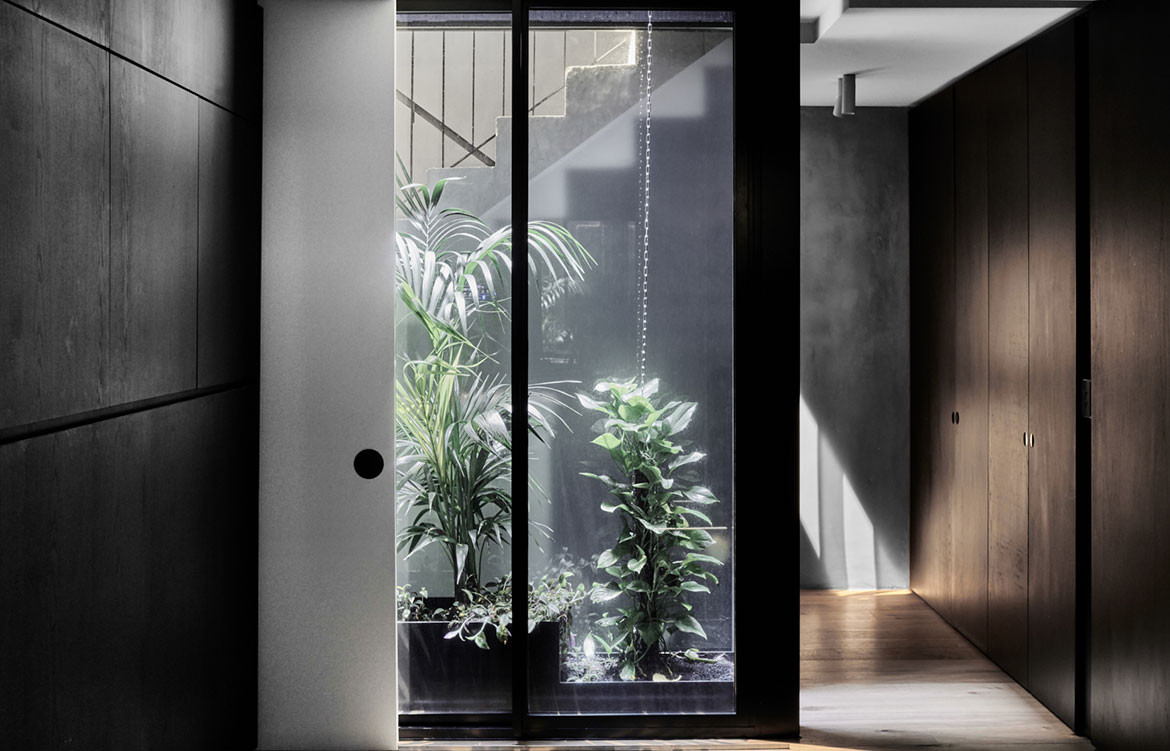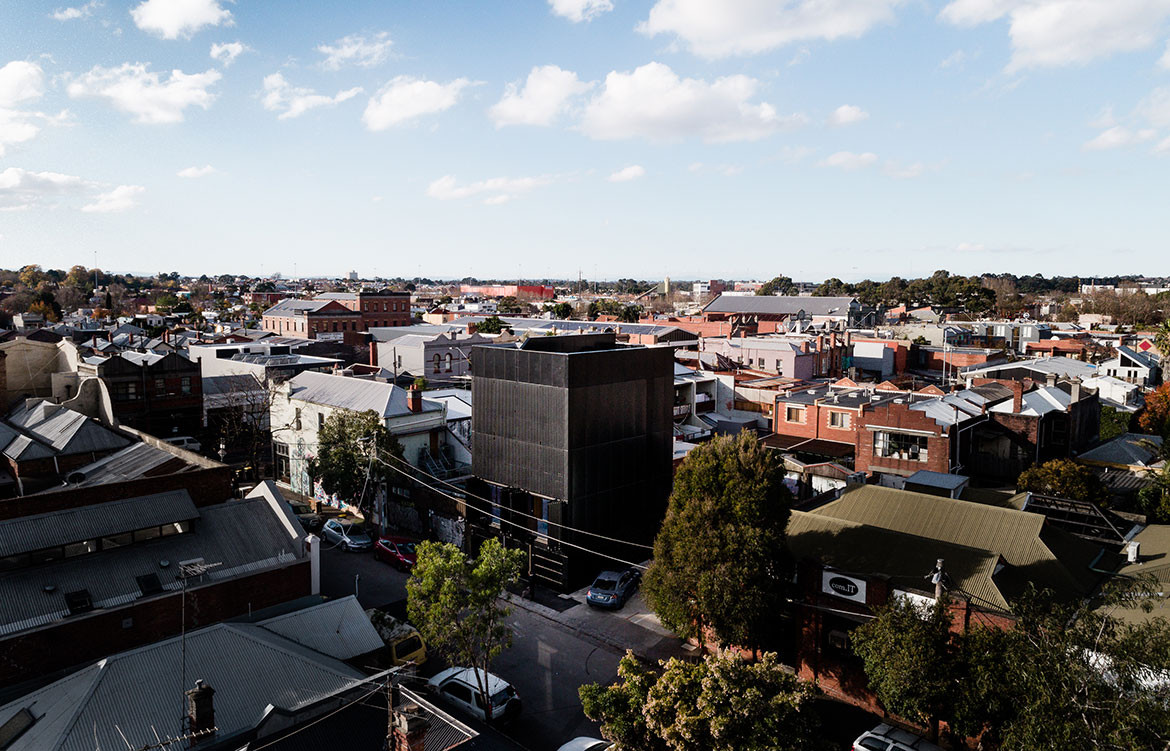 We think you might also like A Private Family Sanctuary By Carter Williamson Architects
Tags: Agape, Artedomus, B&B Italia, Brodware, Carlton Audio Visual, Cassina, CDK Stone, Cement Concrete & Aggregates Australia, Cobram Kitchens & Cabinets, Concrete Colour Systems, cult, Davide Groppi, Dedece, dko, Dulux, Eco Timber, Euting Pty Ltd, Fisher & Paykel, franke, gaggenau, George Feathers & Co, Gessi, Hafele, high density living, inner-city, jesse linardi, Laguna Pool, laminex, Liebherr, Life Space Journey, Living Edge, Lovelight, LVDI, Melbourne, Milieu Built, Parisi, Pondeljak Engineering, rogerseller, Rooftop pool, Royal Oak Floors, Seada Linardi, Signorino, Slab Architecture, small living, Space Furniture, Sphera Lighting, Tom Blachford, tom fereday, townhouse, Twin Townhouses, Viridian, Walter Knoll
---