Villa in the Palms is a sprawling four-bedroom house in the tropical coastal state of Goa in India. In designing the villa, Abraham John Architects preserved the existing landscape, creating a series of volumes that protrude between, wrap around and sit alongside 19 towering coconut trees.
"Villa in the Palms appears almost village-like, nestled between 80-year-old coconut trees and nearly invisible from points further up the approach road," says Alan Abraham, joint principal architect of Abraham John Architects. "The fact that the trees have existed for decades gives the house a very rooted presence."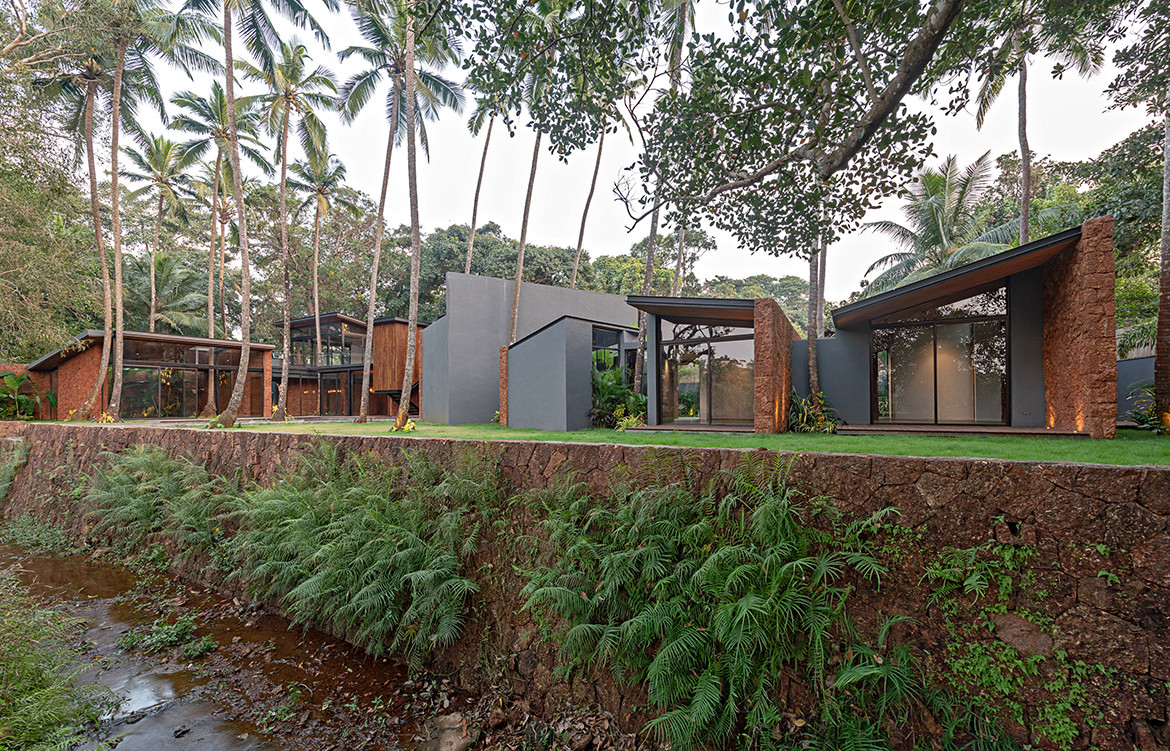 Home to a family of four with two teenage children, Villa in the Palms is comprised of a series of volumes carefully designed between and around the trees to avoid their removal. Decks, passages and bridges connect the fragmented buildings and meander over water and garden, like a traditional Goan village. Local laterite stone walls anchor the building to the site and have a rusty-red, textured appearance that further embeds the house in the landscape.
There are views from every room without sacrificing privacy. The house is approached from a private road, and the front entrance opens to a deck between the living and dining area where the view widens with every step. The living, dining and kitchen overlook the deck and pool, while the sky-lit living room has an internal garden and glass-enclosed coconut tree.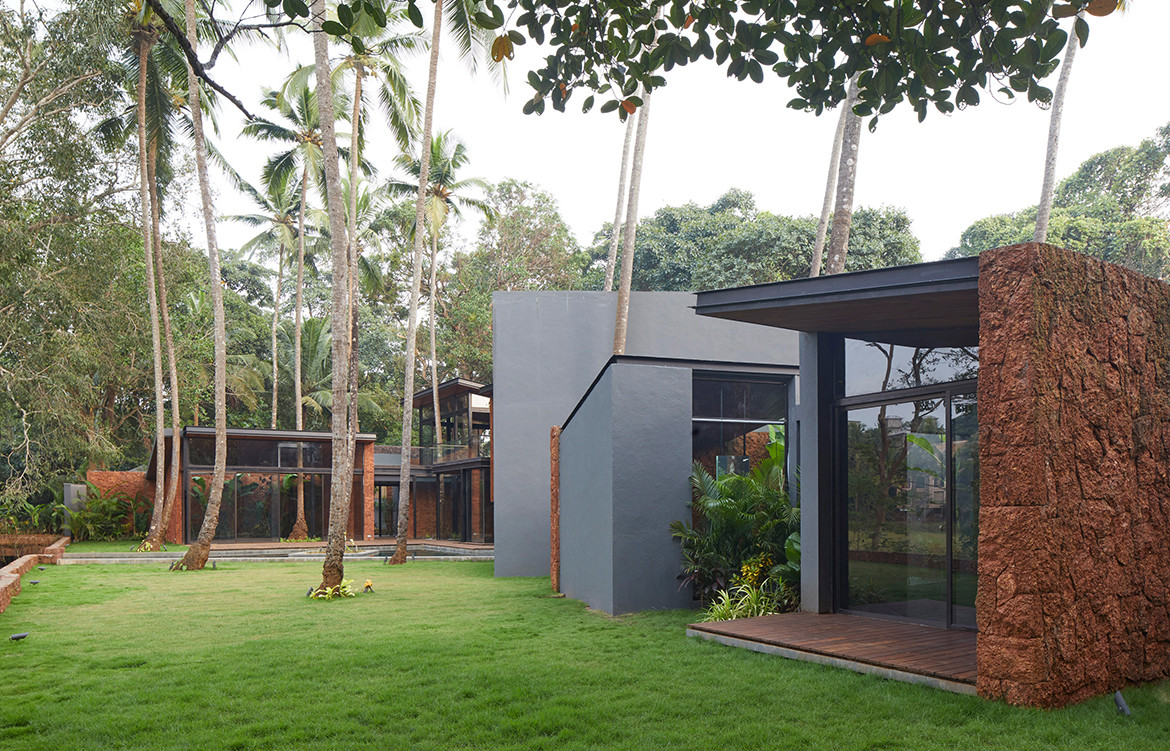 An infinity pool separates the living areas from bedrooms, which are located separately between the trees. "The bedroom abutting the pool has a slit window along the floor that enables the ripples of water to reflect onto the ceiling. The last bedroom features a serene indoor-outdoor bathroom where light and shadow create everchanging landscapes," Alan explains. Each bedroom has its own ensuite, rear garden, front garden and internal courtyard. Upstairs is a family room, study and master suite with views across the garden and neighbouring field.
Local features of traditional Goan architecture are referenced in the building design, including the pitched roofs and screens made from 100-year-old recycled teak wood. The roofs pitched at different angles emphasise the disconnected nature of the building and visually integrate it in the landscape. Rainwater is harvested from the interstitial roofs, while the laterite walls provide thermal mass and privacy.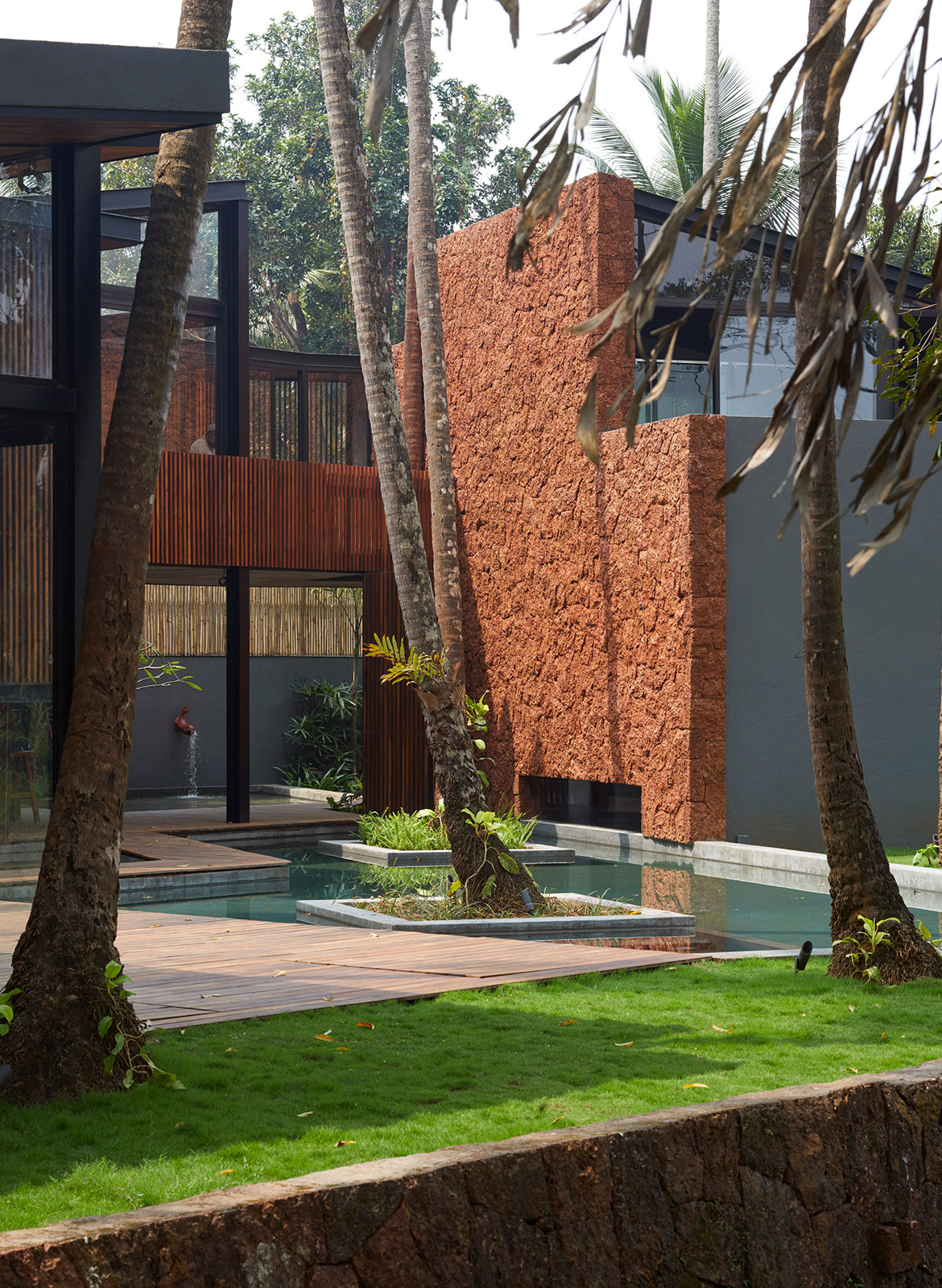 Villa in the Palms expresses Abraham John Architects design approach to connect architecture with nature. As boundaries are blurred between inside and out, and the coconut trees dictate the footprint of the house, Villa in the Palms becomes embedded in the landscape, bringing architecture and nature together as one.
Abraham John Architects
abrahamjohnarchitects.com
Photography by Edmund Sumner, Atul Pratap and Alan Abraham 
Dissection Information
Local laterite stone walls
Steel and concrete superstructure
Poured concrete and reclaimed-teak wood floor
Bespoke pieces and items handmade on site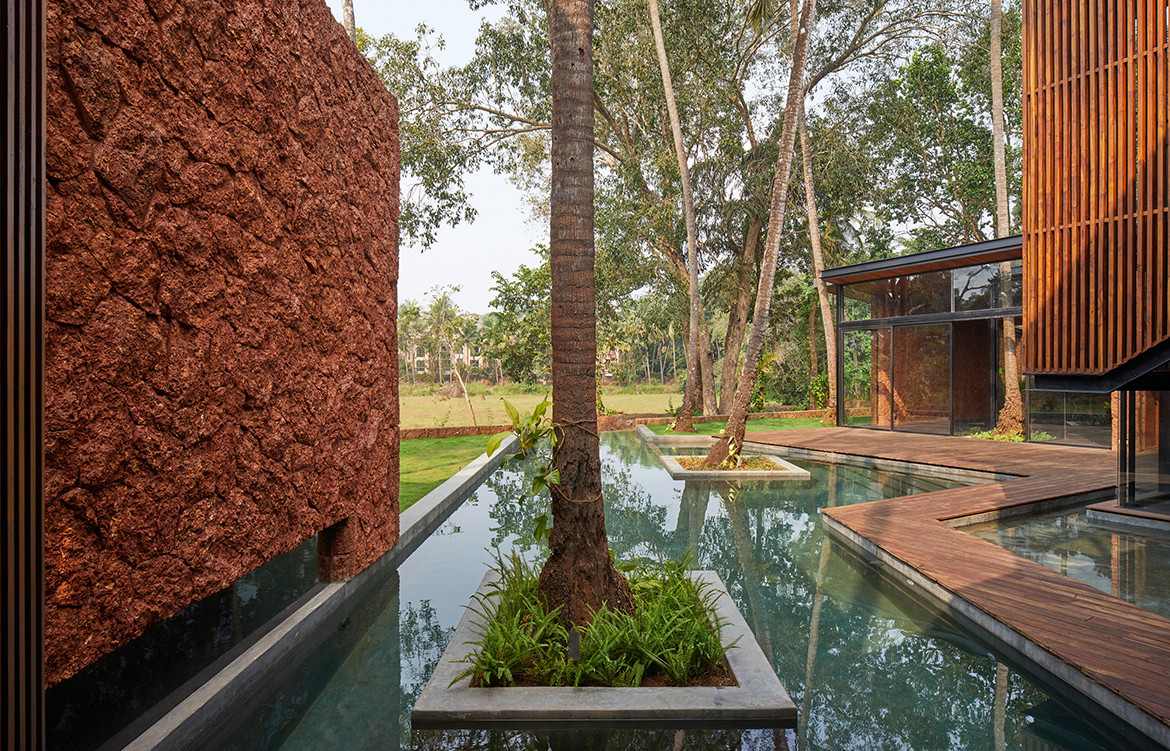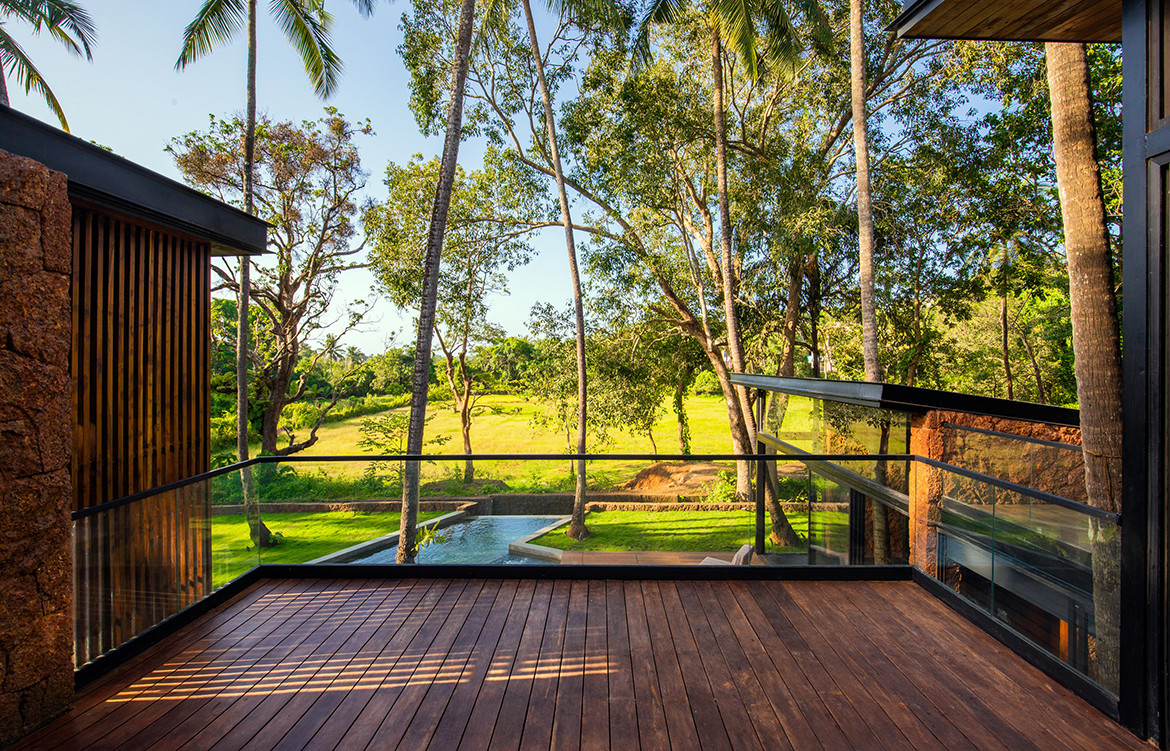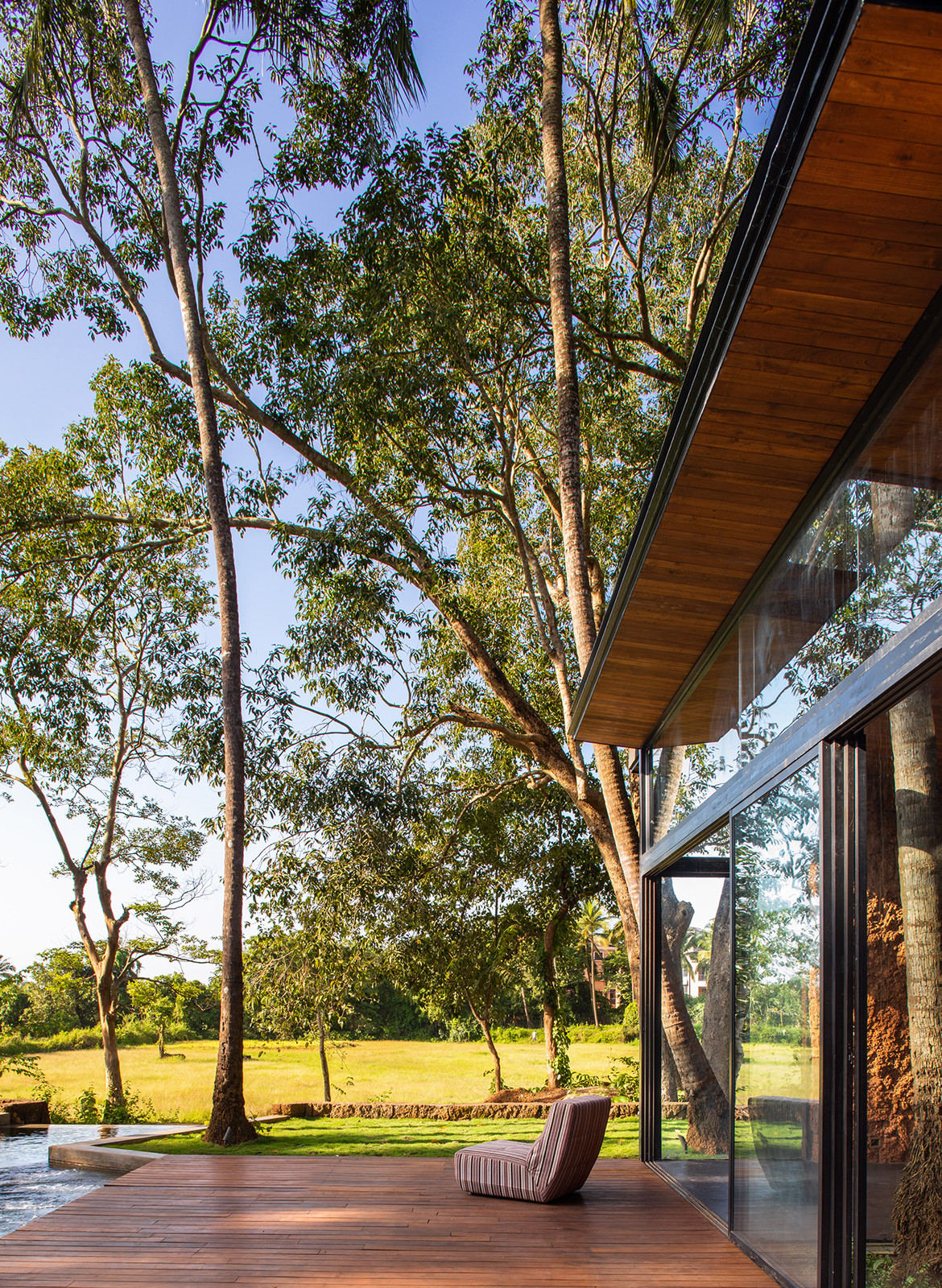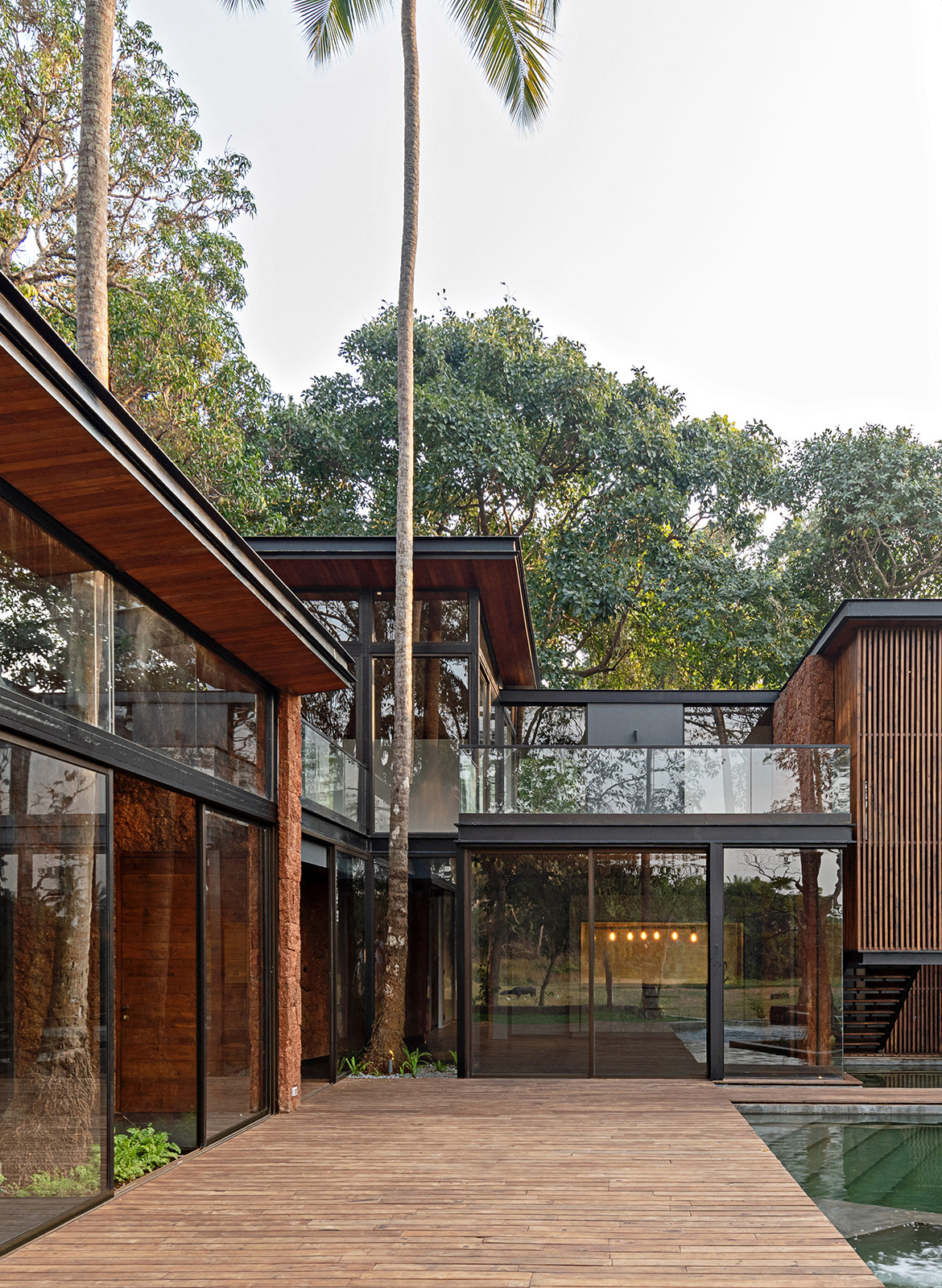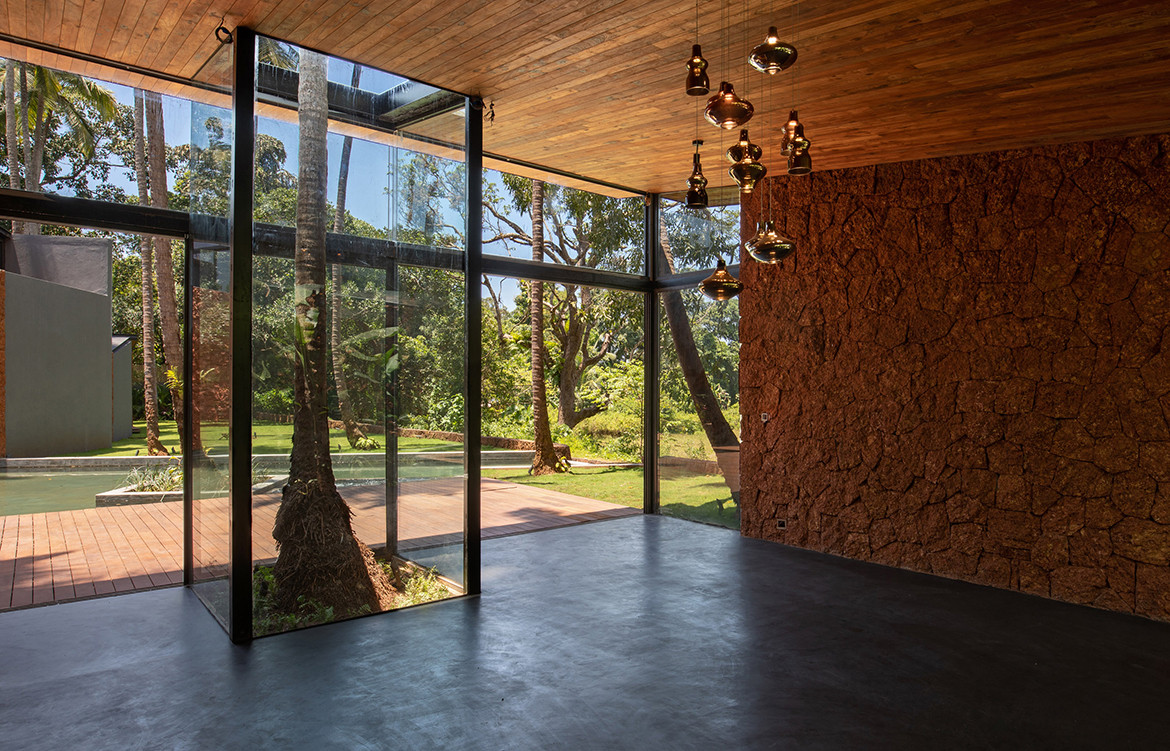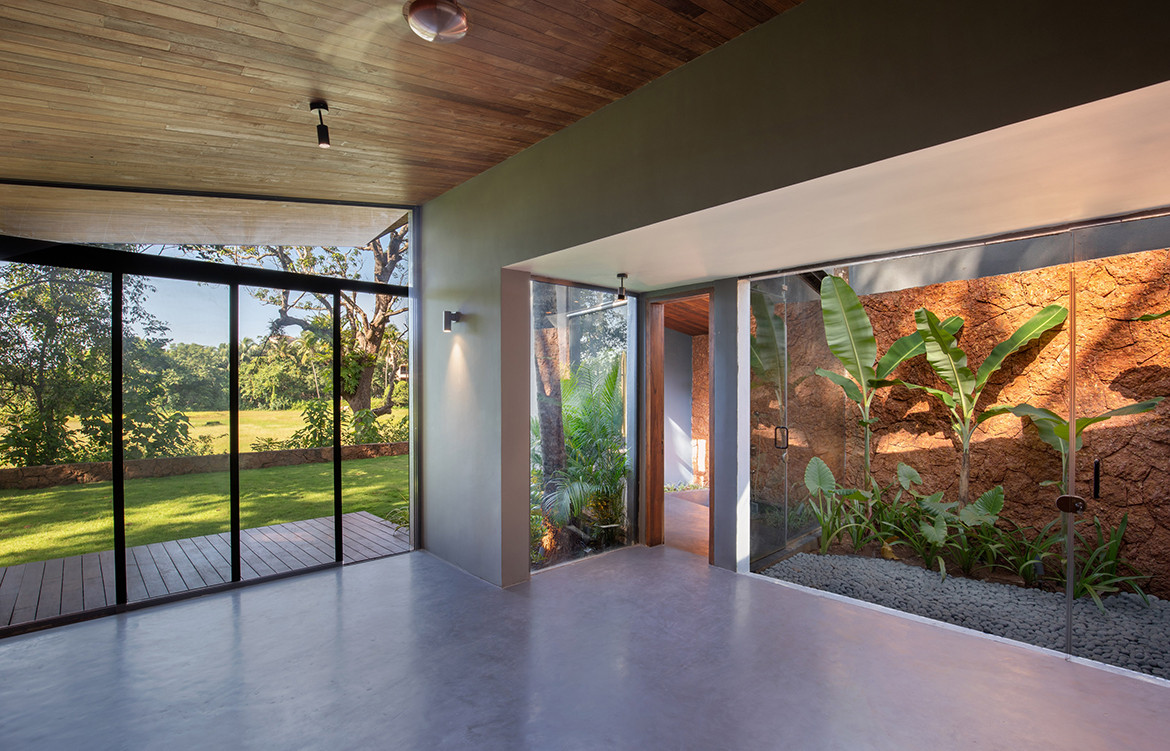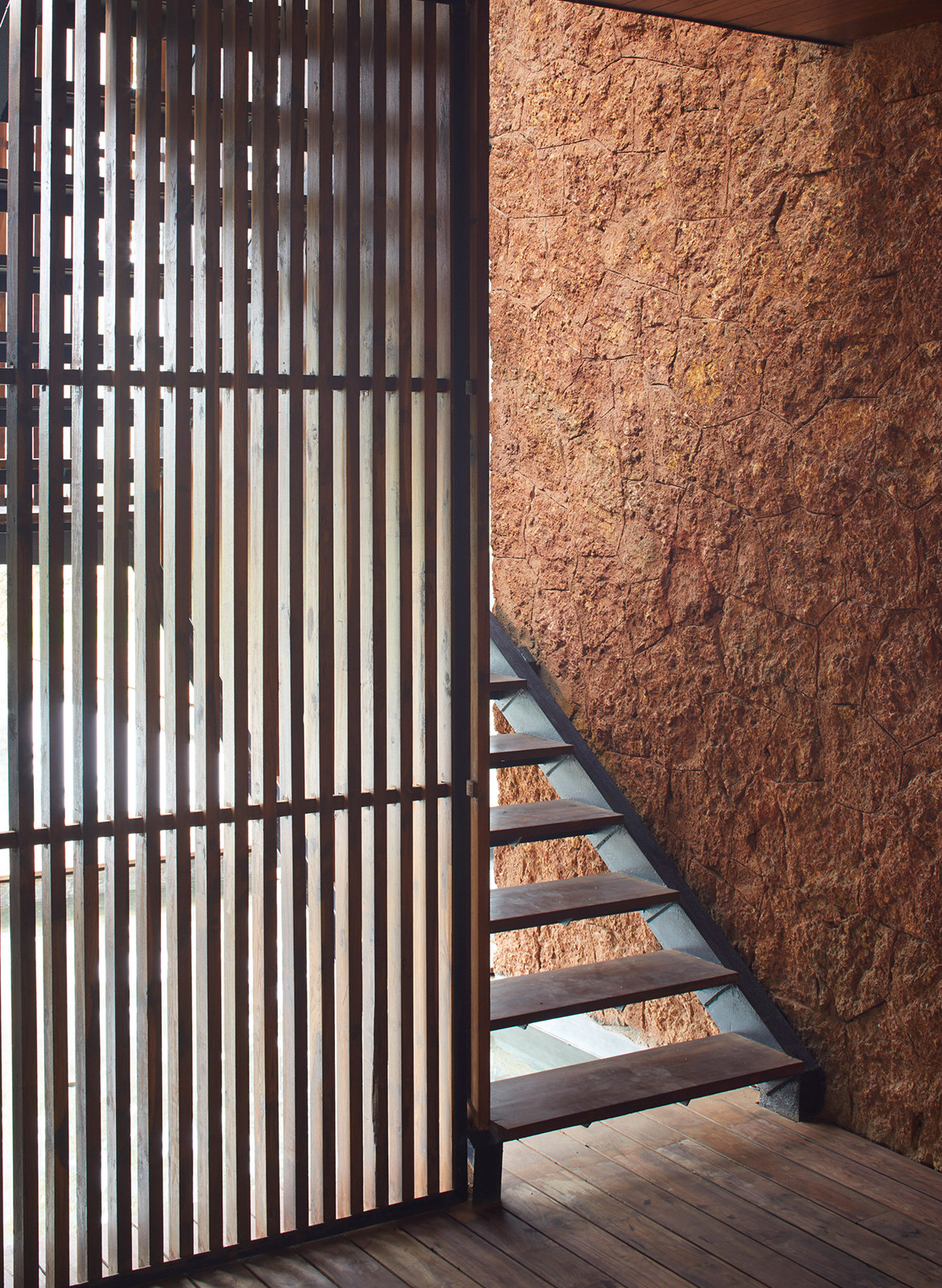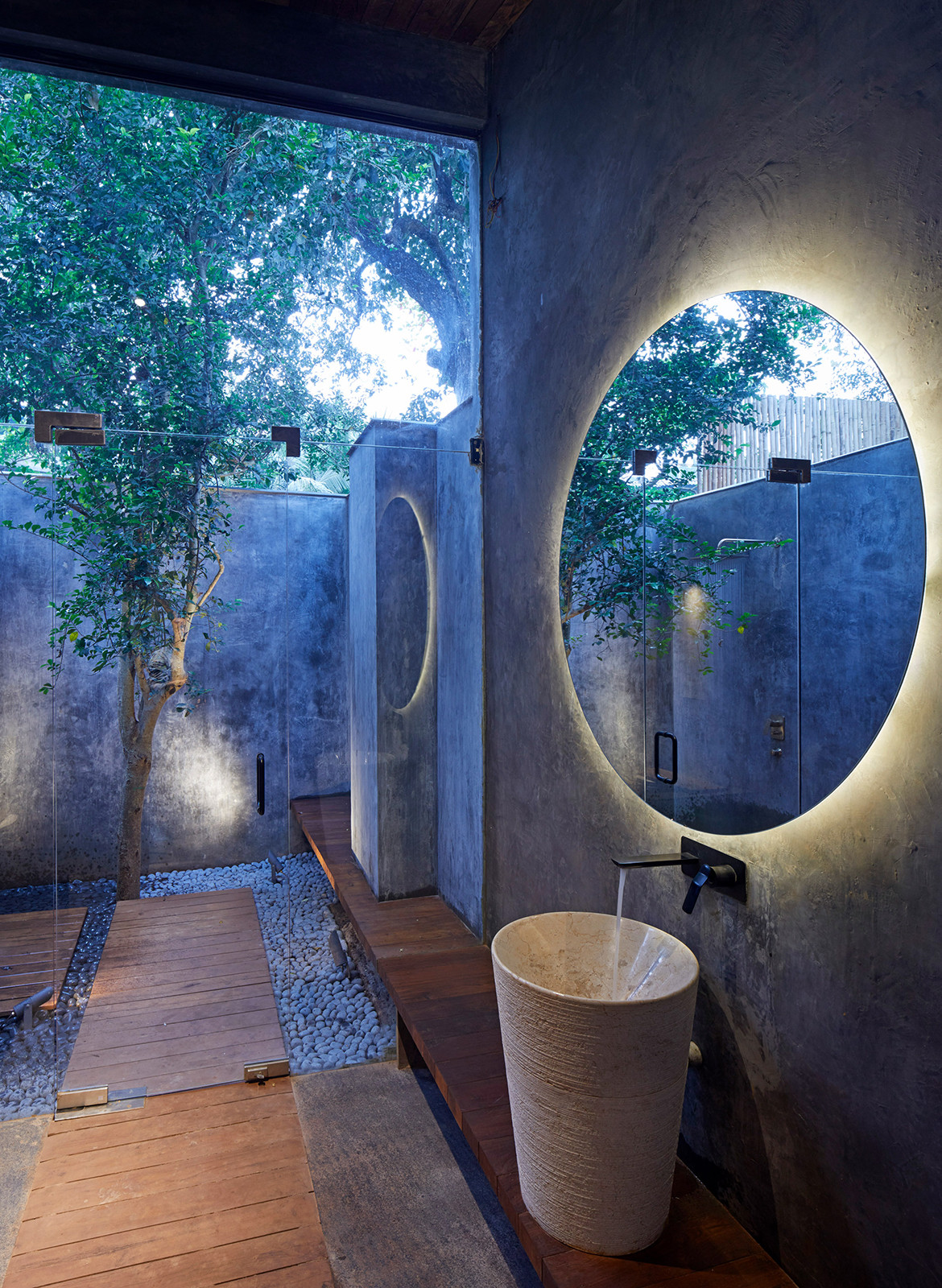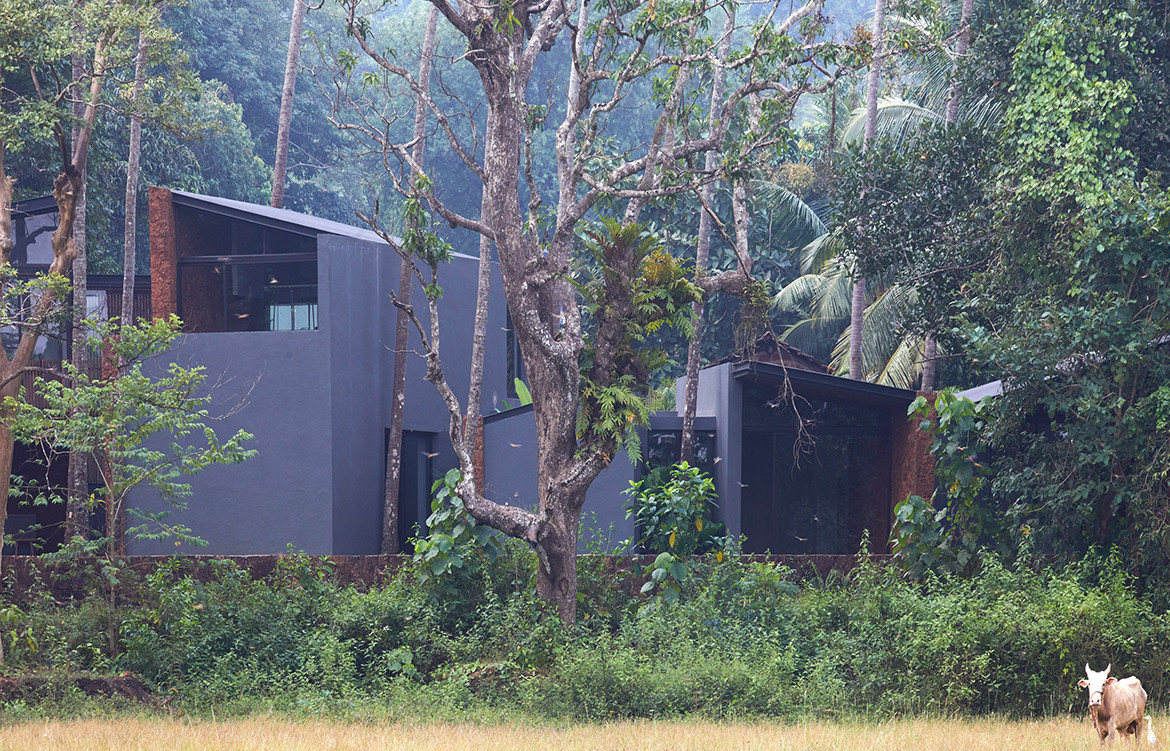 We think you might also like The Kumaon by Zowa Architects
Tags: Abraham John Architects, Alan Abraham, Architecture, Atul Pratap, Edmund Sumner, Goa, India, landscape, Residential Architecture, Villa in the Palms
---