The bathroom as personal retreat is a narrative that never grows old. It's the one space within the home offering spa-like sanctuary, where the worries of the day can literally be washed away. As such, architects and designers necessarily spend a considerable amount of time getting everything from the layout to the aesthetic just right. A functional bathroom environment that works for the client depends on good design.
For Thomas Mckenzie, Principal of Melbourne-based architectural practice Winwood Mckenzie, functionality is one of the most important considerations in the smallest room in the house. "A great bathroom should be effortless to use and maintain," he says. "So every fixture, fitting and material needs to be thought about to ensure that."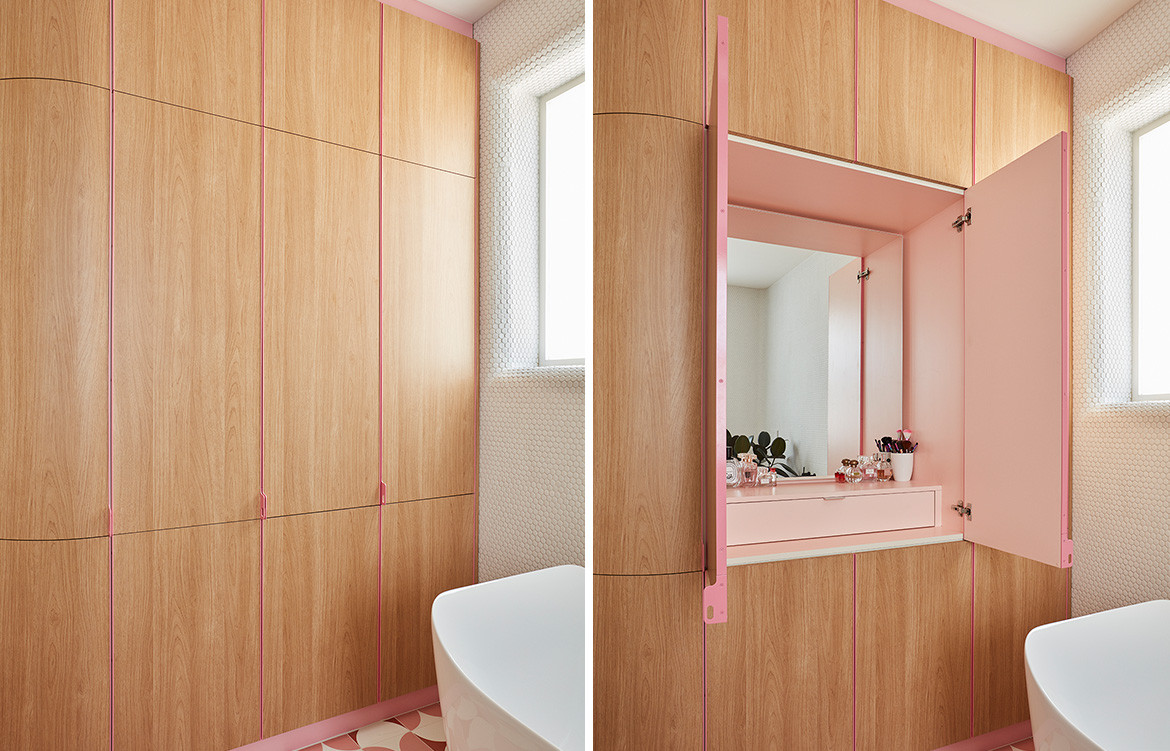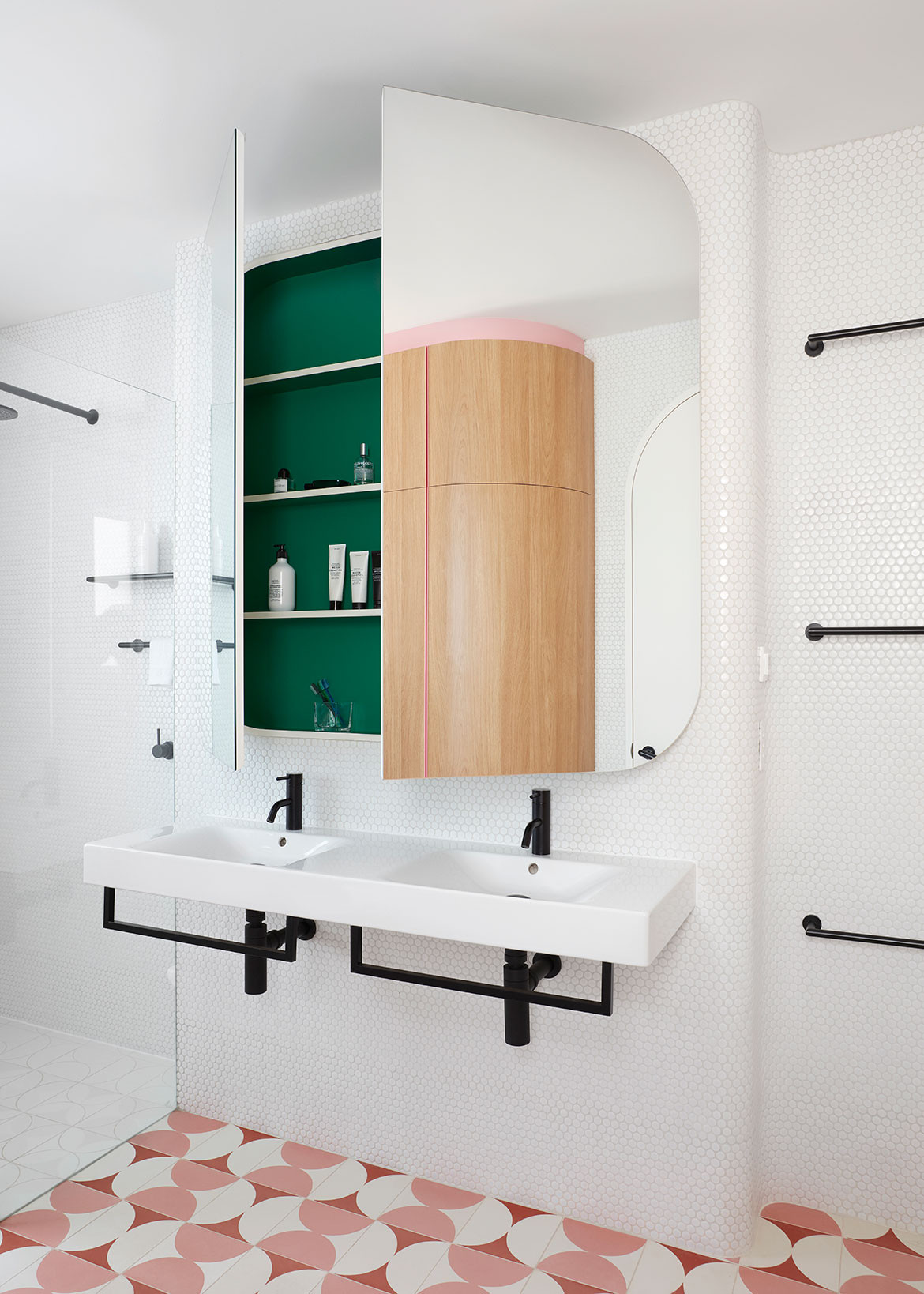 His recently completed bathroom for Art House, a 19th century two-storey terrace, exemplifies this and is outstanding in both form and function as a result. Best expressed in the joinery, the hard-working timber unit houses plenty of storage and a surprise soft pink vanity with make-up lighting and drawer. The pink works as a playful accent within an otherwise neutral space, applied to the joinery's exterior trim and featured in the India Mahdavi-designed cement floor tiles. These are in turn the perfect complement to the white penny rounds that wrap the room's curved corners.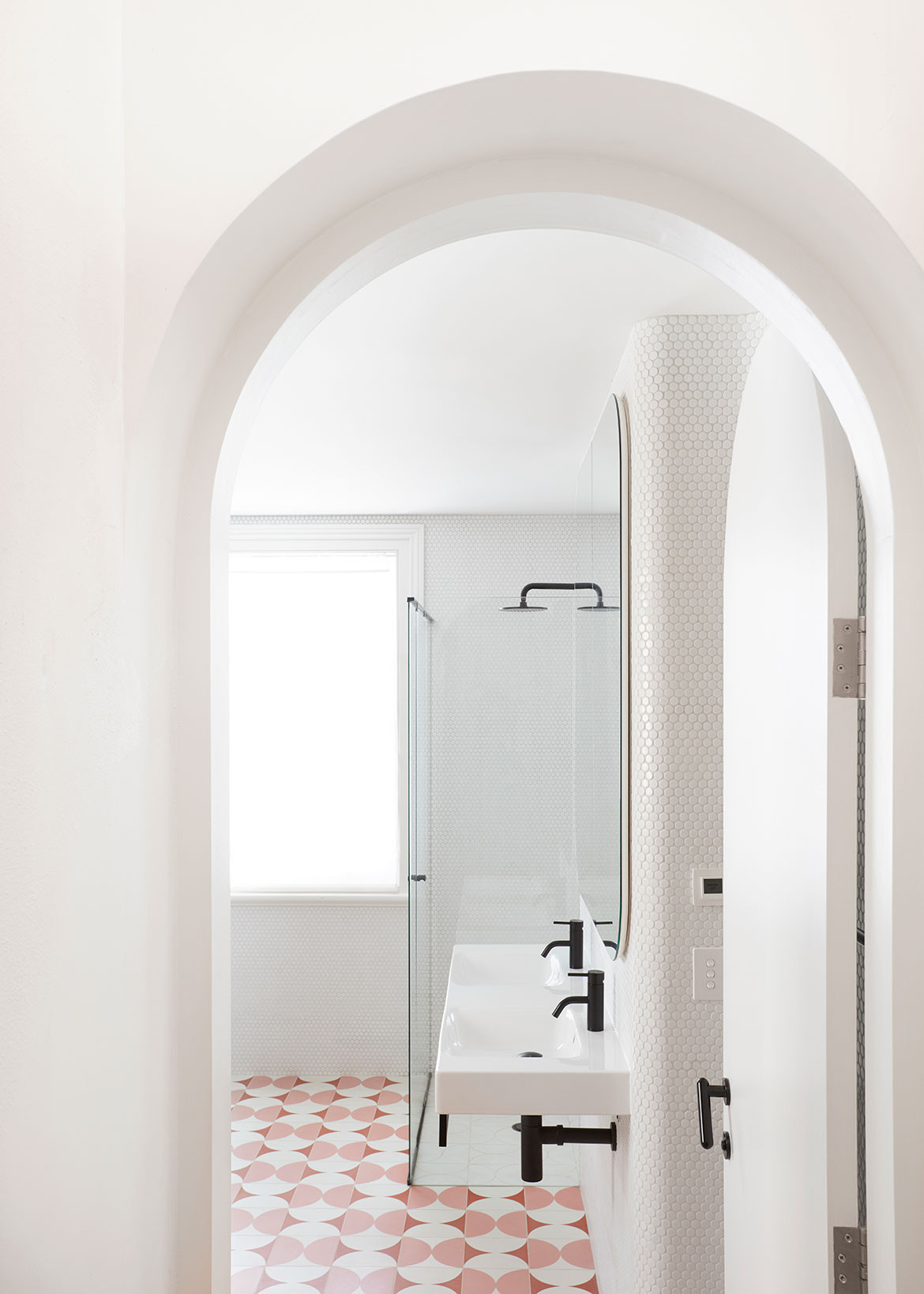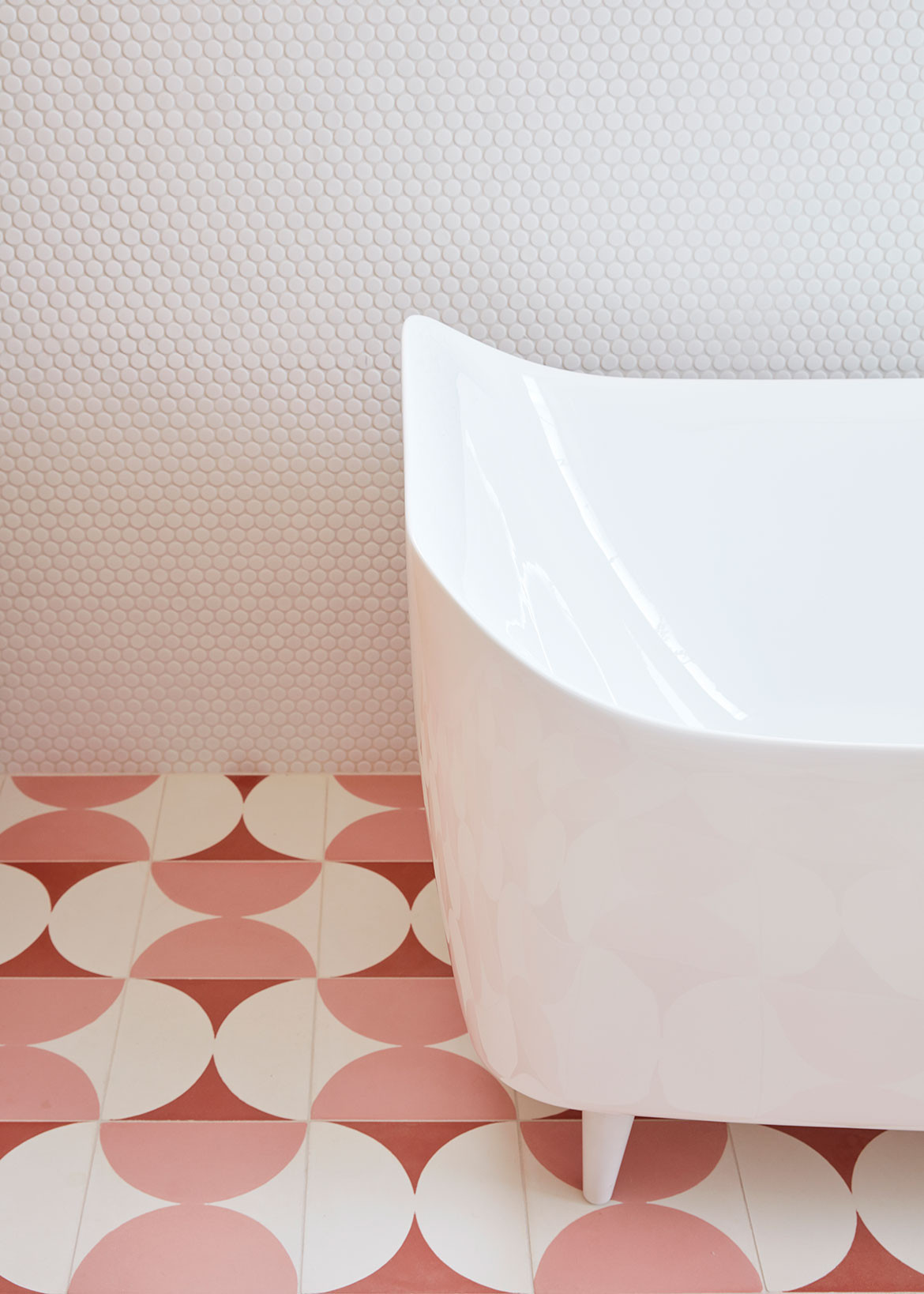 "The design's semi-circles, circles and arches are a response to the arches and cornices in the original house," explains Thomas, in reference to the concept's predominant motifs. "And we've created a space within a heritage house where the crafting of the elements within that room makes for a kind of contemporary ornament." Indeed, the material palette is highly textural, creating visual interest from every angle. But for all its good looks, the space is also extremely practical, with the materials specifically selected for their hard-wearing, easy to maintain surface finish.
In the bathroom of Northcote Residence, another recently completed renovation by Winwood Mckenzie, the design is minimalist, but no less impressive. Blue terrazzo flooring wraps the walls and also forms the inbuilt joinery, producing a singular, cohesive aesthetic. Clean lines and crisp edges make the small space easy to manoeuvre and Thomas' choice of blue for the terrazzo has a calming effect. "It evokes ideas of pools, change rooms and bathing. The rest of the house is neutral and so the bathroom was a space to create something with a more unique character," he says.
While these bathroom designs appear decidedly different, they share a commitment to craftsmanship and materiality that translates into incredibly atmospheric interiors. Regardless of size and scale, Winwood Mckenzie has delivered two custom bathroom spaces that are as user-friendly as they are sophisticated and high-end.
Photography by Sean Fennessy (Art House) and Tom Blanchford (Northcote Residence)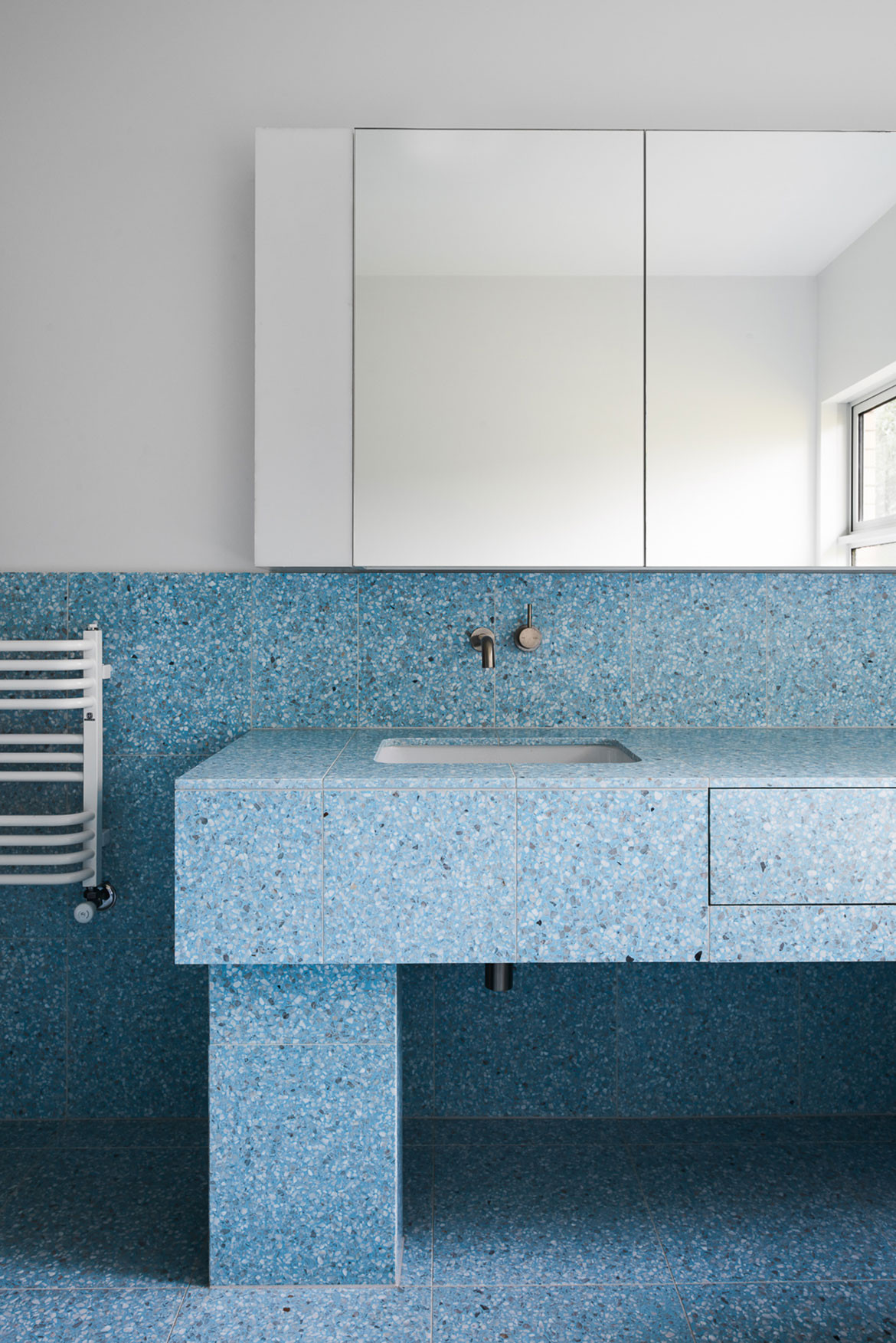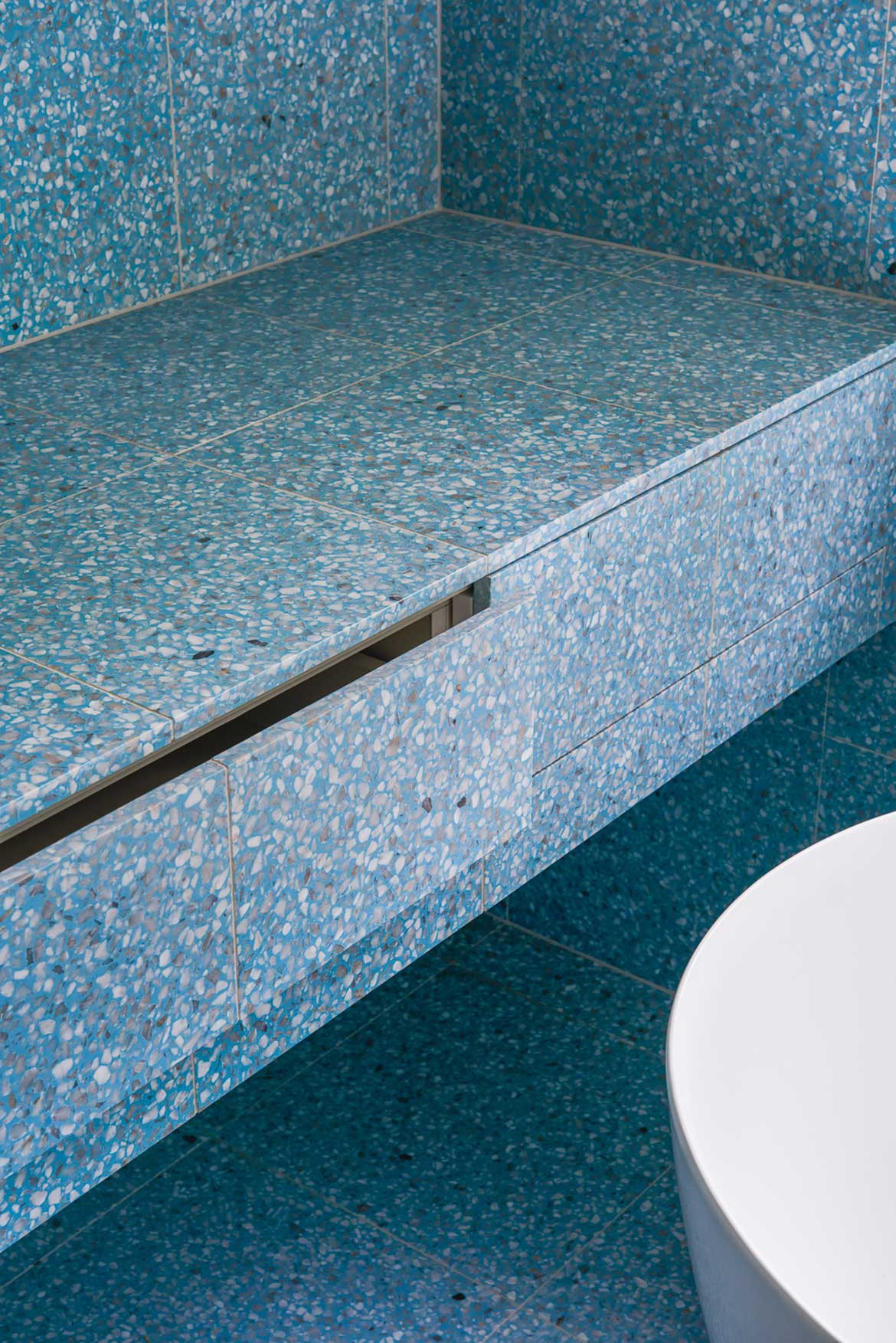 We think you might also like to read about the Archier x Lindsey Wherrett collaboration
Tags: art deco, bathroom design, leanne amodeo, minimalist, Sean Fennessy, terrazzo, Thomas Mckenzie, Tom Blachford, Winwood Mckenzie
---