Artificial Intelligence has already made significant inroads into our daily lives, notably in the form of digital voice assistants like Apple's Siri and Amazon's Alexa that respond to our requests though patterns of learned behaviour. It was only a matter of time before the tech giants in this space made a play for kitchens and bathrooms, the most functional of our domestic environments. In the these areas, multinational heavyweights like Sony, Bosch and Kohler are leveraging their technical know-how to create domestic products that promise to save us time, aid the elderly and incapacitated, and create radically new bathing and gastronomic experiences.
Sony have earmarked the culinary arts as one of three primary focus areas in the field of machine learning, with the lofty aim of creating new tastes and aromas through the artificial manipulation of the molecular structures present in food. Whilst the outcomes and impact of these early stage developments remain to be seen, the Sony A.I. Cooking Unit, launched in 2019, certainly gives us a clear indication of how A.I. will influence how some of us may cook in the not-too-distant future.
Sony's marketing campaign presents an almost-autonomous kitchen: a sleek, white, linear island unit that houses a multitude of kitchen utensils. Some of these mimic existing products (hand mixers, for example), while others are entirely innovative, like a watertight glass cover that washes food directly on the countertop (without the need for a sink); a heated vacuum covering for cooking; or a robotic metal rod which heats items in lieu of a stovetop. A sanitised and temperature controlled countertop is also equipped with sensors that detect when a wine glass is empty – consequently providing a menu of drinks from which to choose.
A.I. could study the way we live and adjust the space in which we live to make our day-to-day more comfortable, easy, and ultimately more sustainable for our planet."
Given the capabilities of such a system, Sony also foresees the creation of a robotic kitchen to help elderly and incapacitated people prepare meals at home.
Samsung's Bot Chef is another cobot (a collaborative robot) with a highly-flexible robotic arm that is capable of a multitude of everyday kitchen tasks, these include chopping, lifting and pouring upon request. "We predict that A.I. will be increasingly used in the home, and will change the lives of people with movement or communication disabilities like motor neuron disease, Alzheimer's and paraplegia," says Ana Sá, a senior associate at Woods Bagot. "The beauty of A.I. is that it can teach itself, predicting events and taking actions based on patterns it detects."
In the bathroom, Kohler are leading the way with the Numi Intelligent Toilet with KOHLER Konnect. This all-singing, all-dancing, hands-free toilet provides users with the opportunity to personalise every aspect of their experience. From ambient, multi-hued lighting to wireless music, to heated seat and foot warmer functionality this toilet also offers customised cleansing functionality. Whilst not strictly fitting into the A.I. category, the toilet's voice controls satisfy a wide range of user commands. There's already an updated version on the market, along with Kohler's other "smart products" which include a voice-enabled shower, mirror and bathtub, all of which are designed to perform everyday functions and more bespoke requests, like precise temperature control.
It could be some time before many of these products will become available – and affordable – but Australian designers are aware that integrating these applications into the residential setting could help reach greater sustainability and accessibility goals. "Most of us our inherently lazy in our home," adds Ana. "Whilst well intended in matters of sustainability, we tend to leave lights on, never quite optimise the underfloor heating, waste food, stack the dishwasher poorly, pick the wrong wash cycle. Wouldn't it be nice to know that all these task were optimised through A.I.? A.I. could study the way we live and adjust the space in which we live to make our day to day more comfortable, easy and ultimately more sustainable for our planet. Add to that the opportunity to assist those with special needs, and it becomes even more appealing to an ageing western population."
Illustrations by Julien Posture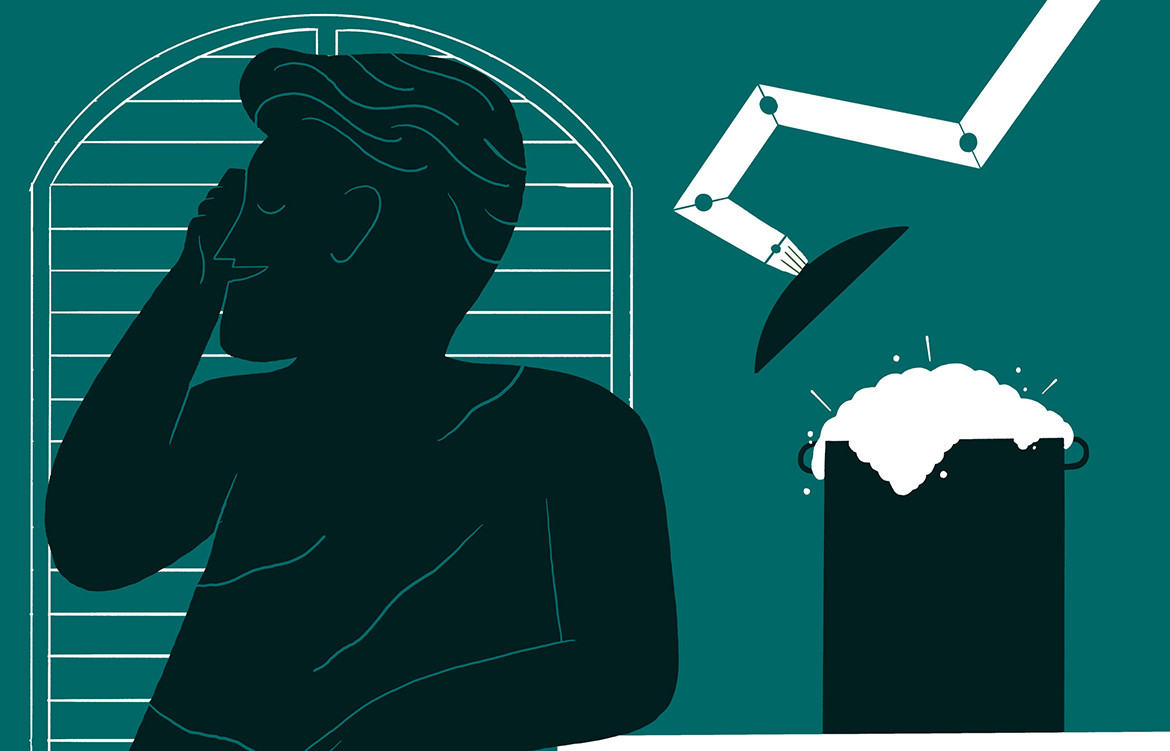 We think you might also like
---