Caroma's story traces back to 1941 when Charles Rothauser, a South Australian with an inventive spirit, invented the world's first all-plastic, one-piece moulded cistern. Designed to combat rusted brass fittings caused by the corrosive nature of Adelaide's water, Charles' plastic cistern sowed the seed for what was to become the successful business that is the Caroma we know, love, and live with today.
Over 75 years on and research, collaboration, and a focus on delivering smart, sustainable bathroom solutions continue to be the engine that drives Caroma's product design and development. Though Caroma products are renowned for their simplicity of form, beneath the surface lie complex design decisions, meticulous engineering and a relentless pursuit of quality. This is a testament to the brand's ingenuity and intimate understanding of what Australian's need and want in their bathrooms; intuitive, unencumbered, and world-class design solutions with an ever-fresh aesthetic appeal. Always creating with the future front of mind has placed – and kept – Caroma at the forefront of bathroom design and innovation.
Since 1984, Caroma has led the way in regards to delivering water-efficient bathroom solutions. Beginning with introducing the dual flush solution to the Australian market, Caroma went on to continuously and iteratively work toward reducing flush rates. In less than ten years, these efforts saw an almost a fifty per cent improvement in flush water efficiency. Not one to rest on its laurels, Caroma's commitment to minimising water consumption in the bathroom didn't stop there. In 2007, Caroma launched its first WELS 5 Star Toilet Suite with an integrated hand basin, and in 2011 the brand introduced its ultra low-flow energy and water efficient showers.
Though these significant feats in pursuit of more sustainable bathroom solutions are admirable in isolation, Caroma's contributions to the bathrooms of today, tomorrow, and into the future, do not end there. The brand is also responsible for gracing bathrooms across Australian with the concealed cistern in 2009 – an insightful recognition of a growing consumer desire for bathrooms to become more of a design consideration than spaces that served pure utilitarian function.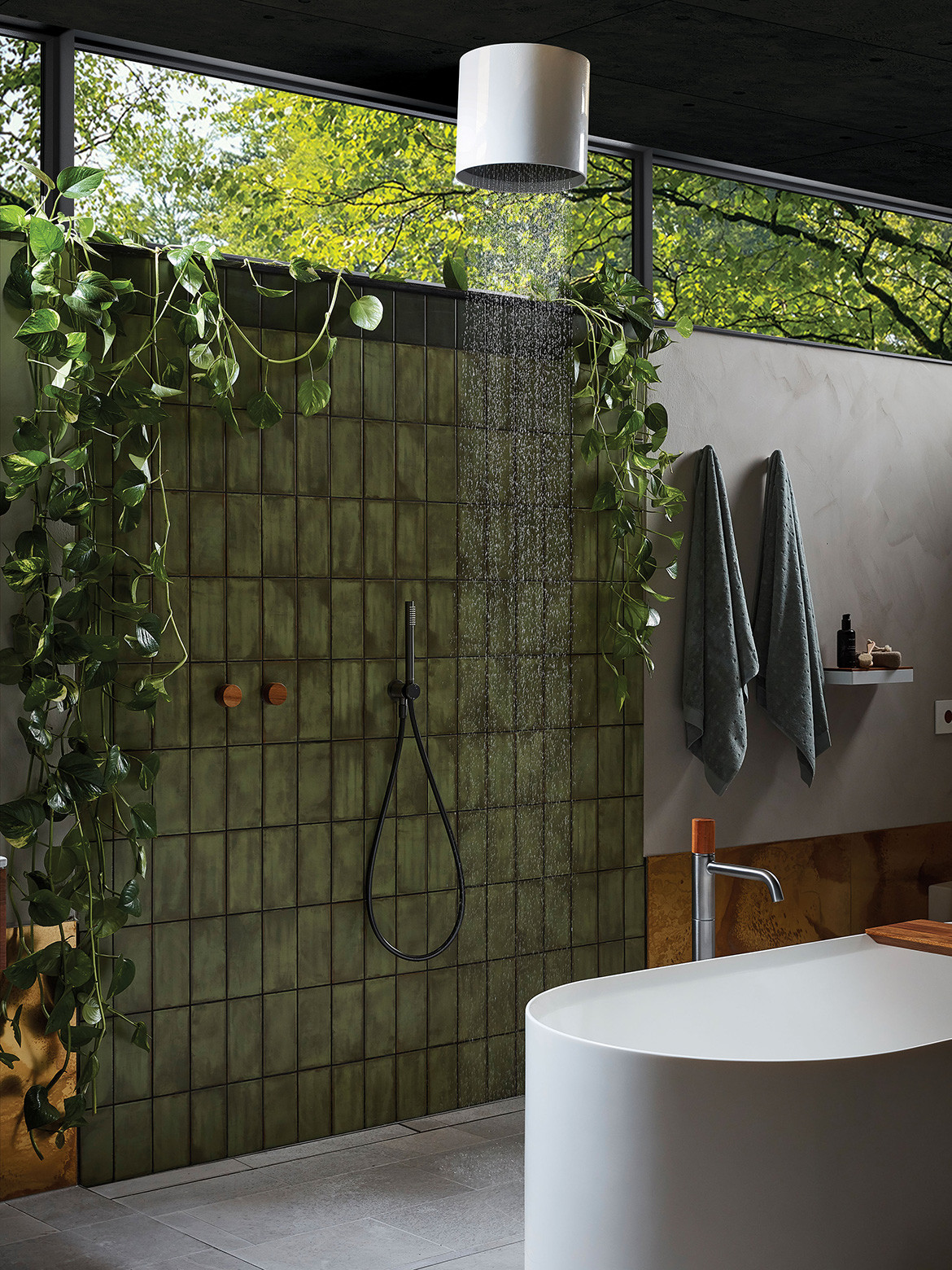 In recent years, this changing notion of the role of the bathroom in residential design has gained momentum. Traditionally considered as separate entities from the rest of the house – and therefore often becoming an afterthought in design – bathrooms are being increasingly valued as spaces of sanctuary, personal ritual, and retreat. Such an esteemed role within the house as a whole naturally calls for holistic consideration of bathroom design in relation to the design aesthetic of the rest of the house. Hot on the pulse of this organic evolution of attitudes and behaviours, the most recent milestone added to Caroma's long legacy of progressive bathroom design is the launch of its Elvire Collection.
Marking a new frontier for the brand, the Elvire Collection comprises a full suite of bathroomware products from big ticket, hero pieces like a standalone bathtub, wall hung vanity and basin options and a rain shower with shroud; to tapware and hardware that crucially reinforces the design aesthetic; and finally to bathroom accessories. Heading up the design and development of the collection was Luke Di Michiel, one of Caroma's lead industrial designers. Throughout his fifteen-years-and-counting as a valued member of Caroma's design team, Luke has worked closely with industry groups to design dedicated, care-focused bathroom solutions that combine functional requirements with current design trends. His secret to success? Designing with and for local architects and designers; a curiosity in the changing patterns and behaviours of use in bathroom spaces; and maintaining a uniquely Australian design ethos.
"I'm constantly inspired by my fellow designers," Luke shares, "while we bring different experiences and influences to the design table, at our core is an Australian design ethos grounded in practical, functional and sustainable design principles." The release of the Elvire Collection marks the beginning of a new era in bathroom design – not only for Caroma, but also for architects, designers, and homemakers alike; one where bathroom spaces are designed with a harmonious balance of form, function, and beauty. And if the brand's history is anything to go by, there is plenty more to come from Caroma in the future creation of smart, inspiring, and beautifully designed bathroom solutions. What will they bring us next?
Caroma
caroma.com.au
We think you might also like to see more of the Elvire Collection 
Tags: australian design, bathroom design, bathroom solutions, Caroma, Elvire Collection, Luke Di Michiel, Smarter Bathrooms, sustainable design, water conservation
---