Jeff Provan works with some of Melbourne's leading architects and designers. As one of the names behind residential developer Neometro, his inner-city apartments have collaborated with names such as MA Architects, Clare Cousins, BKK, KPDO, Carr, Fieldworks, Common Ground and DesignOffice to name a few. And he is currently working on a coastal residential developement with Robert Simeoni, Edition Office, Wolveridge, MAArchitects, Kosloff Architecture and Aires Mateus.
So, it was not surprising that his main home, a Victorian terrace in a heritage precinct in Albert Park, was a collaboration with MA Architects, Clare Cousins Architects and of course, Neometro.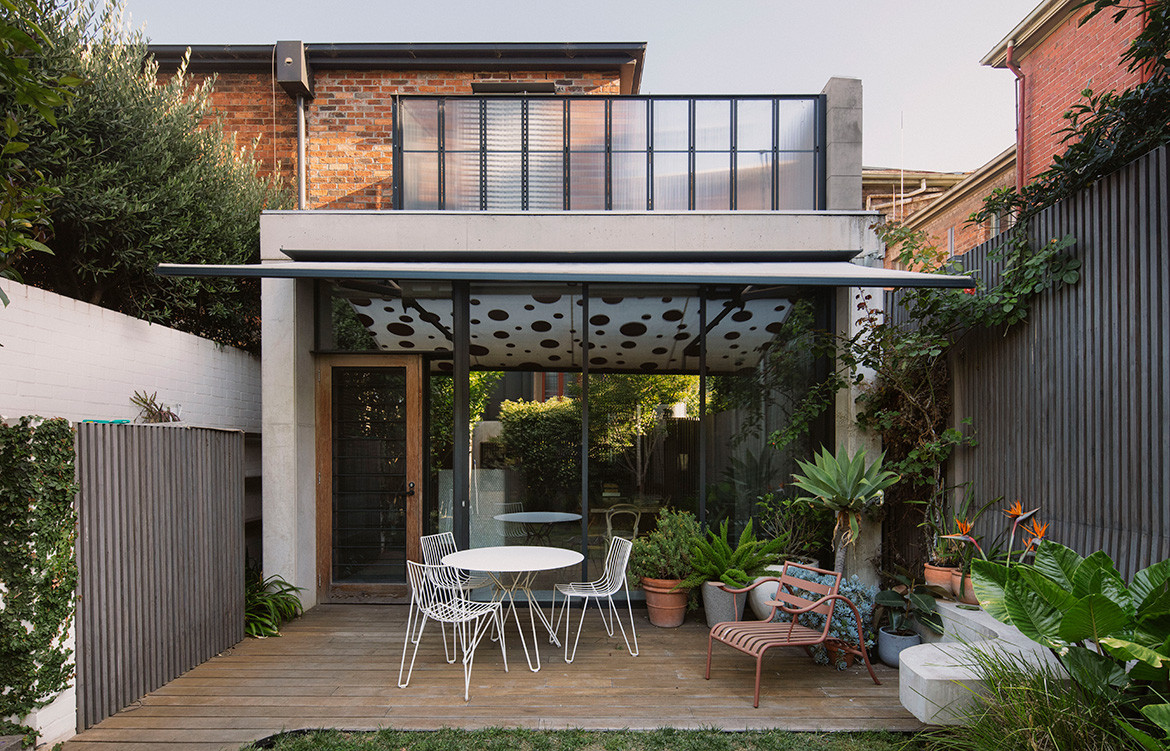 Jeff Provan and his wife Mariko collaborated with two architects when renovating their Albert Park home
Established in the mid-1980s, Neometro began by developing townhouses in laneways in suburbs on the city fringe – Richmond, South Yarra, St Kilda and later, Fitzroy. One of his first homes, located in West Hawthorn (sold in the early 1990s) was certainly memorable. "I think it was the punchy Bougainvillea front door that most will recall," says Jeff, who initially completed an engineering degree at RMIT University before studying architecture for a couple of years. What Jeff didn't learn at RMIT, he has certainly crystalised over the decades.
But wearing a developer/client 'hat' requires a slightly different skillset to renovating a terrace in virtually original condition.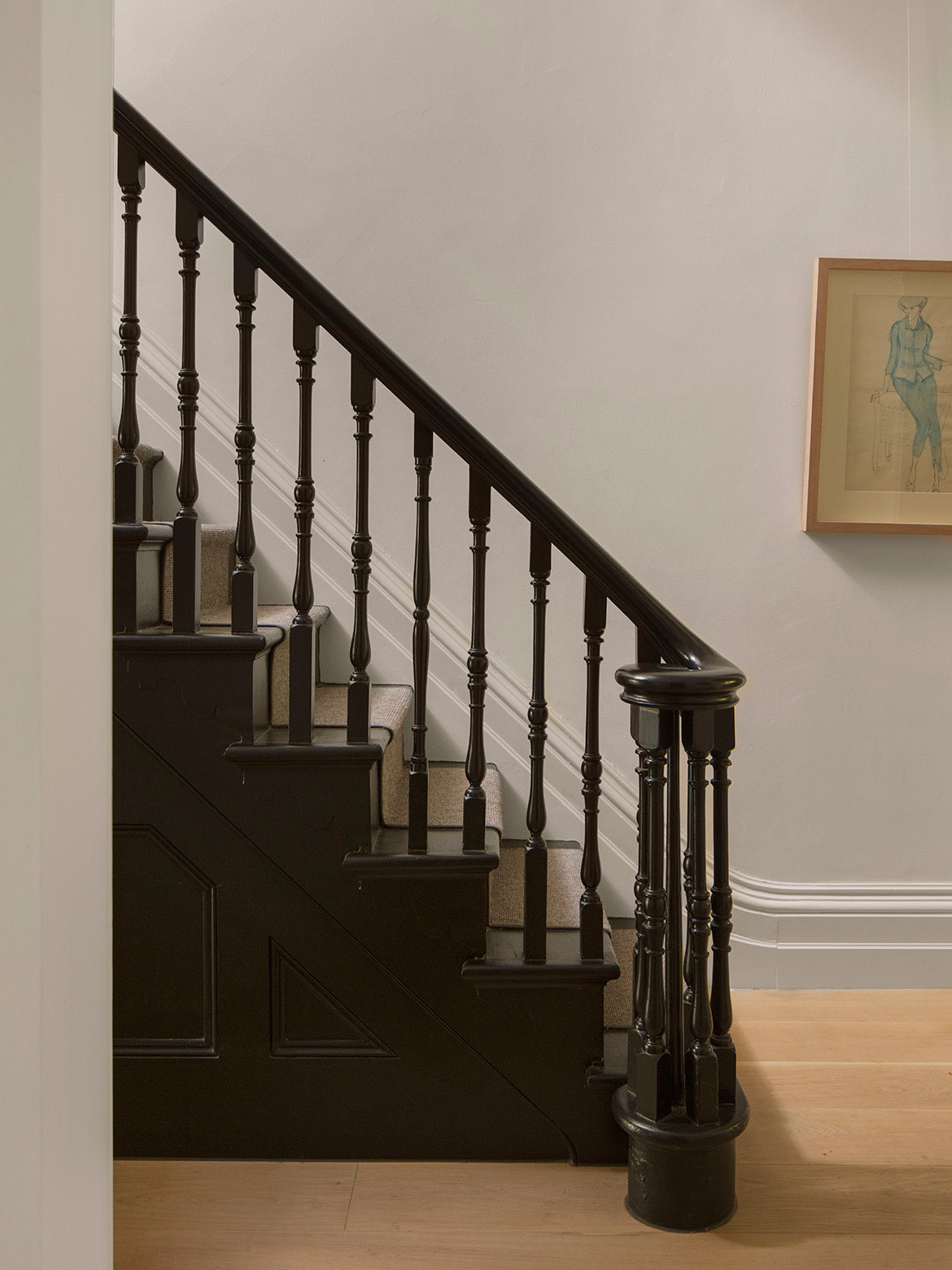 The original balustrade is one of the elements alluding to the original home
While the front part of the house was retained, together with the bedrooms and bathroom on the first floor, the former rudimentary extension was replaced with a brutalist-style living, dining and kitchen area.
The Albert Park house, now designed for a couple of empty nesters, is beautifully layered with objects and artefacts found on travels, many from Japan where the couple regularly visit.
Rather than the typical glass-box solution to the north-facing garden, which has been done by landscape design studio MUD OFFICE, the extension is chunky with a gentle barrel-vaulted concrete ceiling and concrete-rendered masonry walls. And rather than one open-plan space, the kitchen, scullery and pantry are concealed behind a raised tiled island bench at one end and a timber battened wall at the other.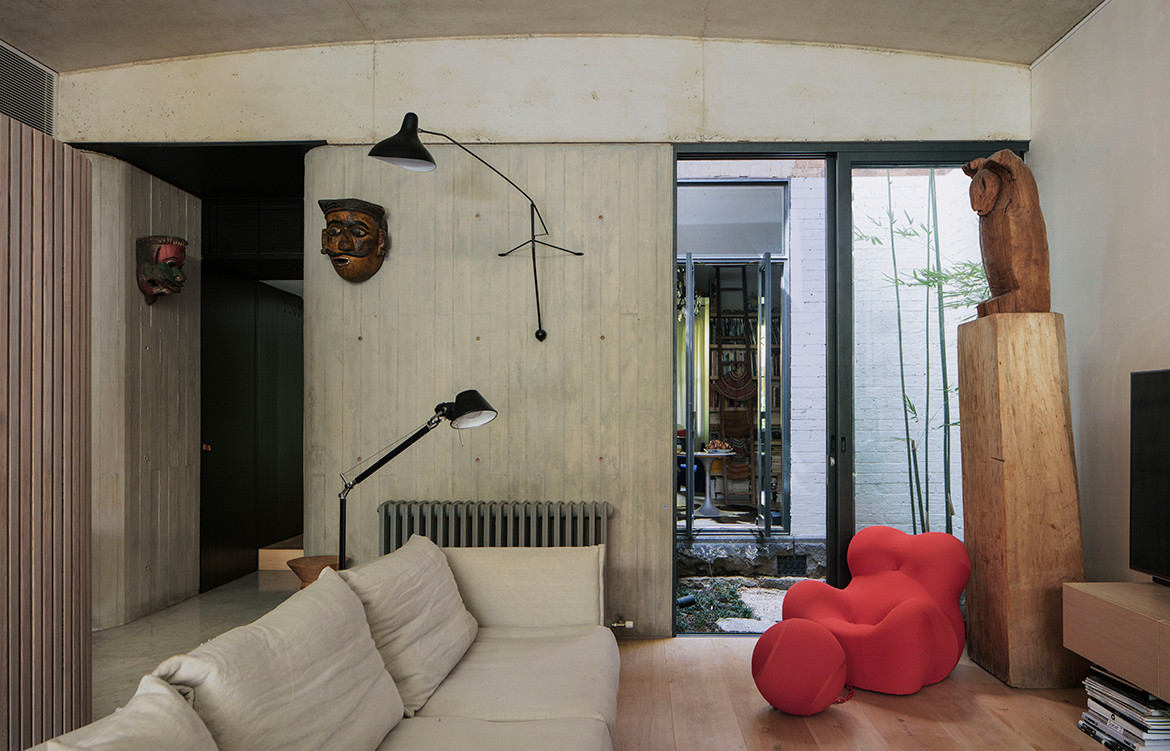 The new extension is barrel-vaulted and concrete, filled with personal treasures and art, including Upright Wood Sculpture by Bruce Armstrong
"Mariko and I have found that this allows the dining area to feel more intimate, particularly when you have friends over, creating a 'veil' as the meal is prepared," he adds. The 'knuckle' or 'threshold' between the past, with its turned timber balustrade, and the present, the new wing, was one of the dilemmas in the renovation.
"We wanted to create a sense of expansion at the end of the original passage," says Jeff pointing out the curved concrete walls that 'slip' between the two eras.
Jeff, and those working with him on this renovation, also appreciate his commitment to a strong idea and a love of materials that age gracefully rather than simply losing their sheen after a couple of years.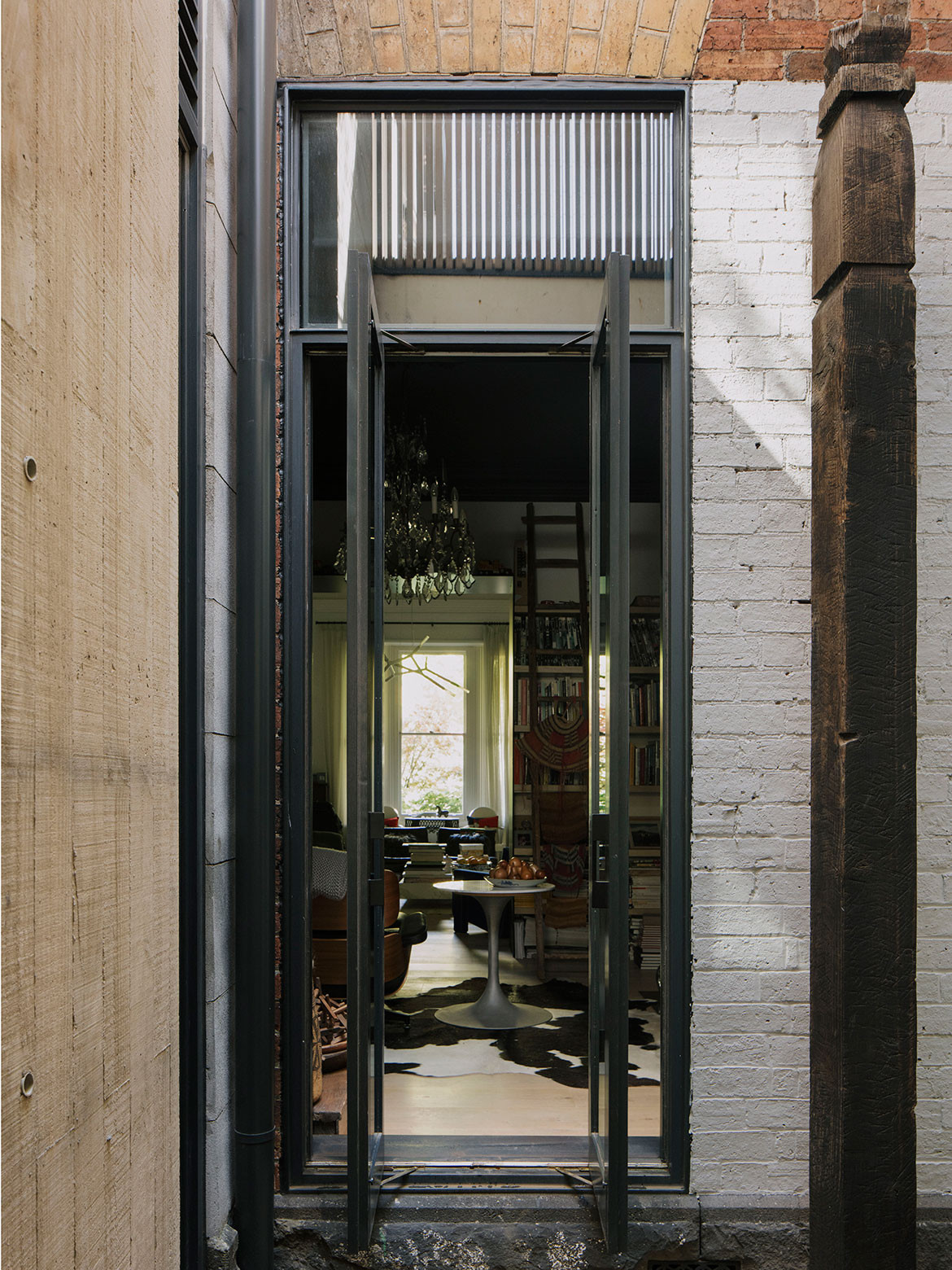 Traditional heritage details have been maintained in some parts
Carrara marble appears on the kitchen splashback, as well as on benches and even on the floor (although timber was used for the living and dining area). "I have a saying that materials should 'wear in' rather than 'wear out', getting better with age and developing their rich patina over time."
"Houses should continually evolve as new things are discovered"
– Jeff Provan
The Albert Park house, now designed for a couple of empty nesters, is also beautifully layered with objects and artefacts found on travels, many from Japan where the couple regularly visit. Each one has their own penchant for certain objects.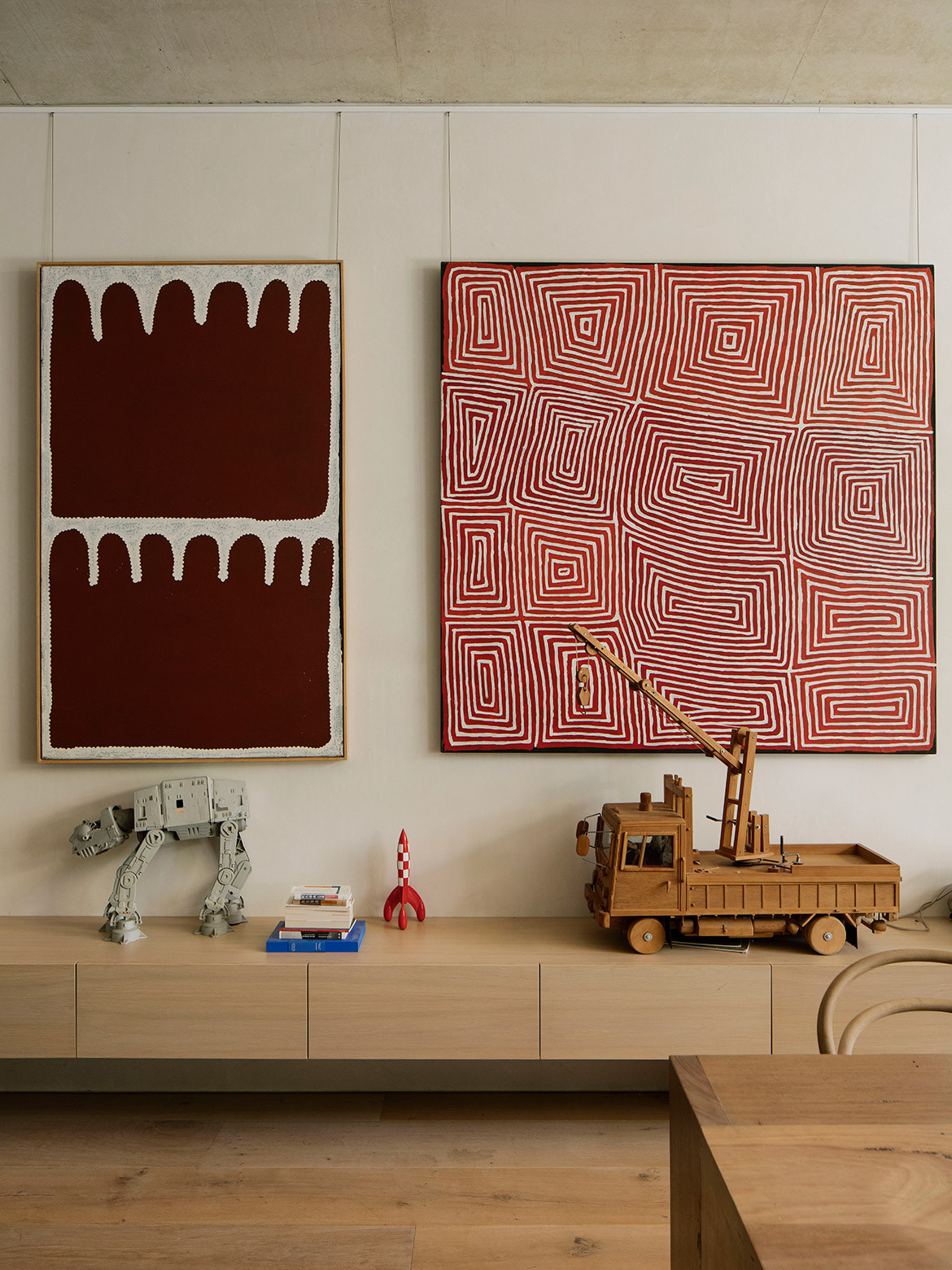 Objects and touches of personality adorn surfaces around the home. Artwork L-R: Untitled by Long Tom Tjapanangka and Tingari Cycle by George Hairbrush Tjungurrayi
Jeff fondly points to a Tin Tin rocket on the timber shelf in the living room, while Mariko owns up to the large Star Wars character on the same shelf. Other objects provide joint pleasure, such as the Indian tribal masks, the numerous books burgeoning on the library shelves or the found treasures displayed on the Kaidan Dansu (Japanese-style storage that has a stepped effect).
Jeff also enjoys collecting chairs, partially as he explains "they're one of the most difficult things to design". Surrounding the dining table is a combination of Thonet and Hans Wegner.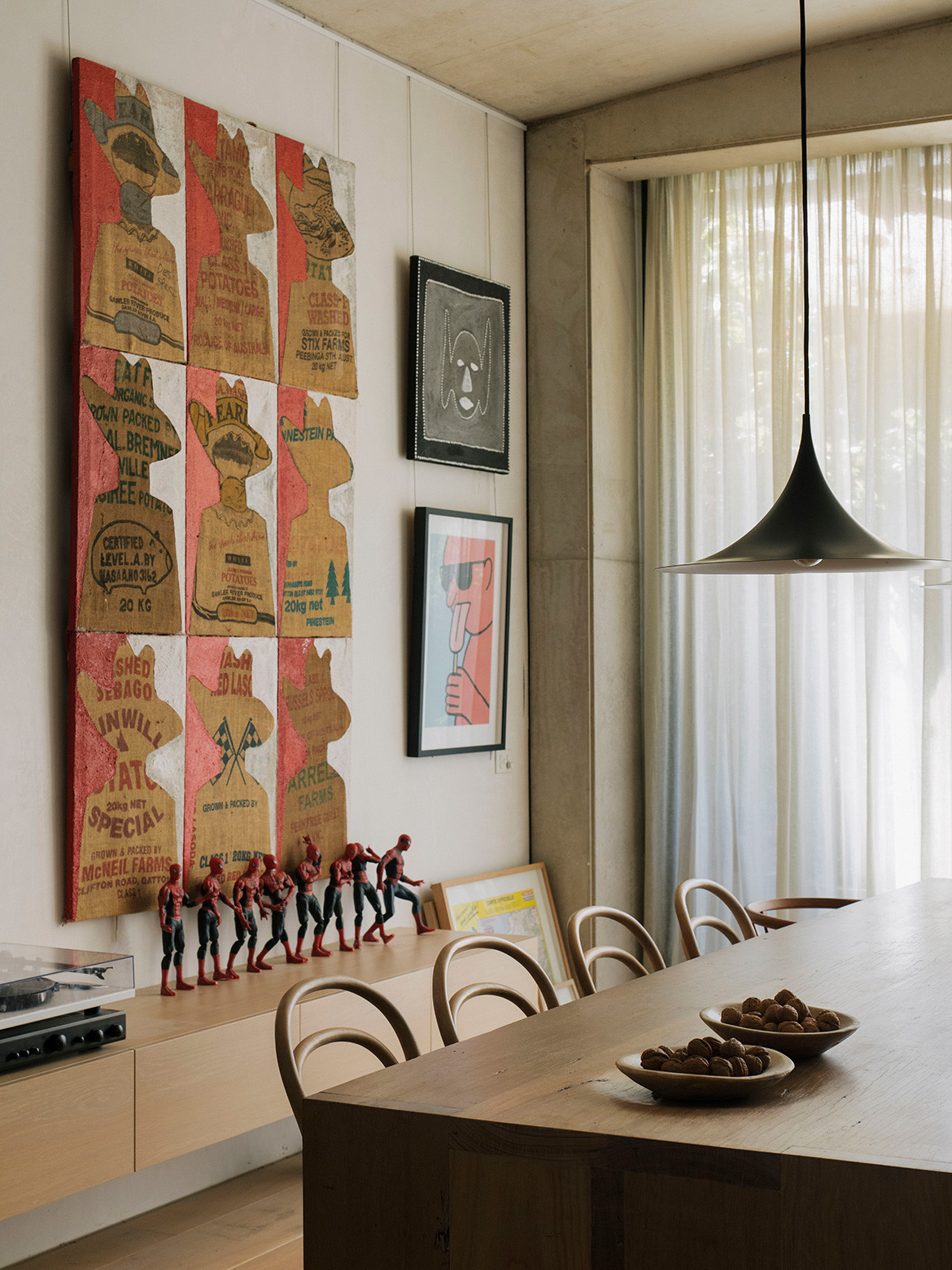 With a passion for chairs, Mariko and Jeff Provan have collected a range of designer pieces. Artwork: Cowboy Silhouettes by Denis Ropar
There's also a side chair by Patricia Urquiola in case an additional seat is required at the dining table, and the whimsical bright red Gaetano Pesce chair is ideal for when grandchildren come over. The large Bruce Armstrong sculpture would certainly also attract their attention.
However, history comes full circle in this home with a chandelier in the library that has moved from the Hawthorn house to the Le Corbusier-inspired house in Toorak (also designed by Jeff ), before finding its resting place here.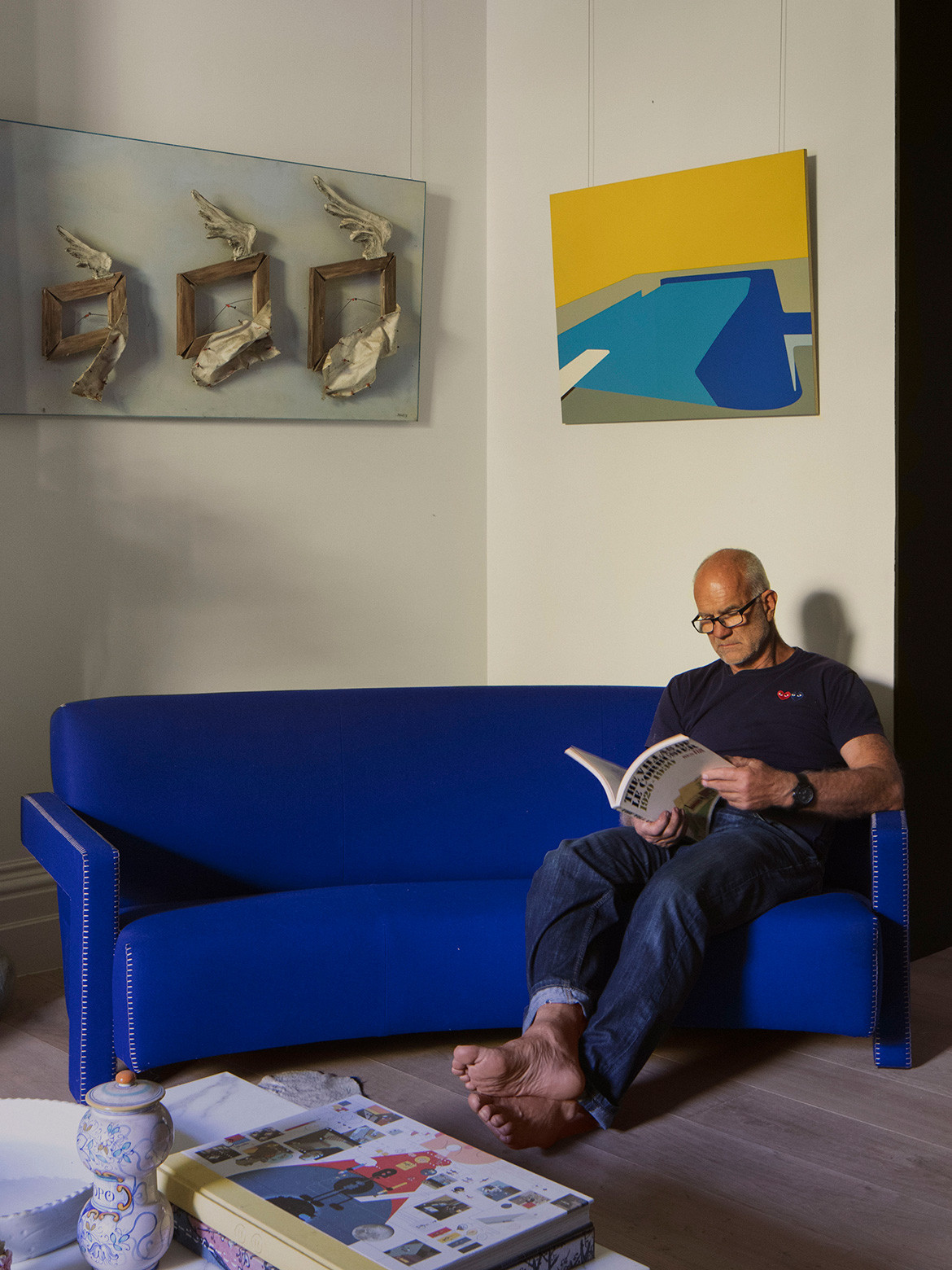 Jeff believes houses should continuously evolve as new treasures are added. Artwork L-R: Wings by David White and Without a Splash by Matthew De Moiser
"Houses should continually evolve as new things are discovered. It's certainly not static," says Jeff, whose passion for architecture is only rivalled by his love of cycling along the beach front, extending for miles. "I had to be near water. That was a given," he adds.
Neometro
neometro.com.au
Photography by Ben Hosking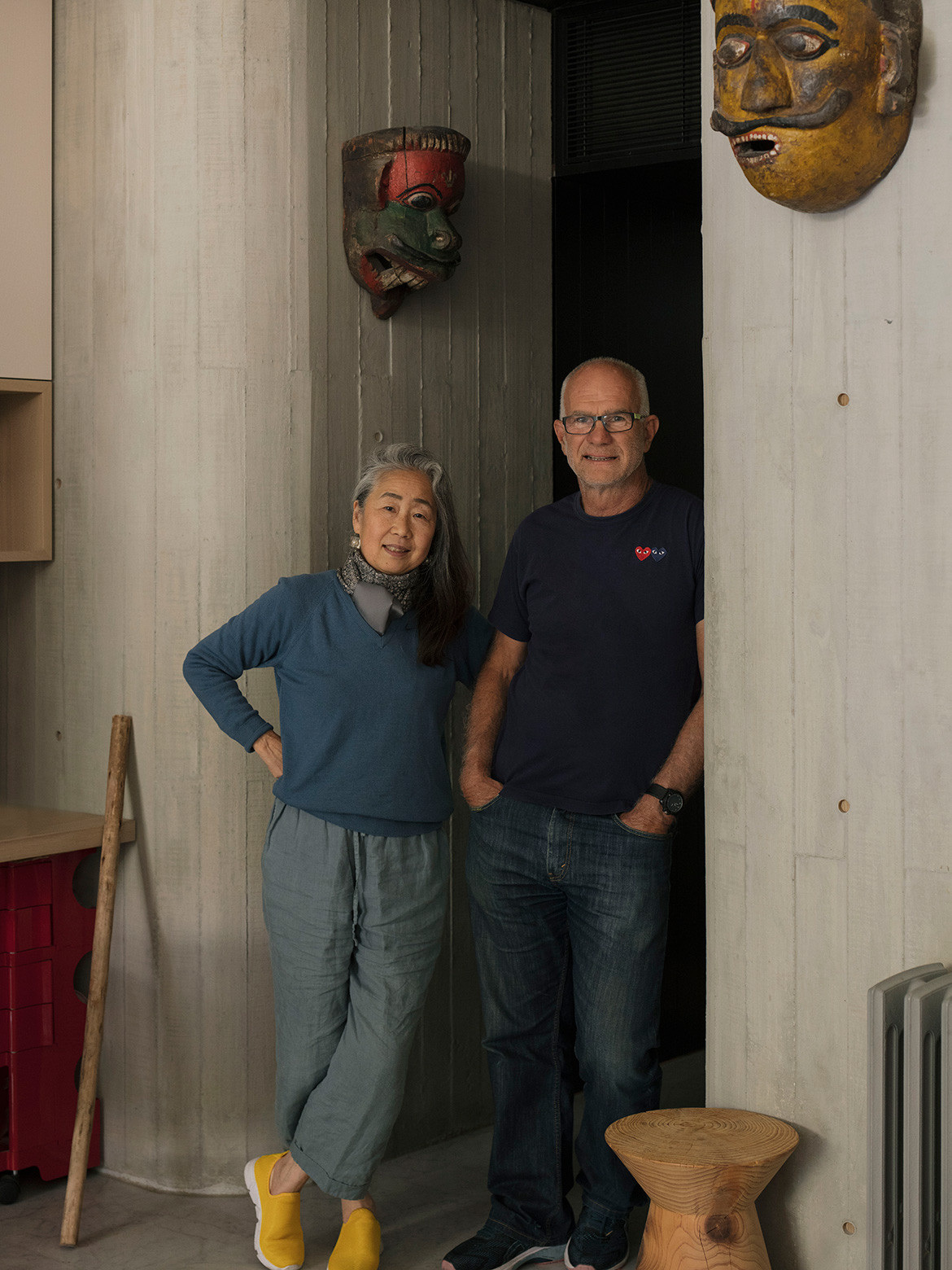 This story first appeared in Habitus #50, the Anniversary Special issue, March-June 2021
We think you might also like to see artist Hedy Ritterman in her natural habitat
---