From first glimpse, their home is not anywhere near the vernacular of an Australian beach house. Rather, it is a layered and stacked configuration of six and a half shipping containers that isn't modernist and referencing shipping.
True to Ross's design intent, the home is a practical solution which, while expressed materially, is not shouting its origins. Container Build (who were wonderful throughout) was originally tasked with the construction, however, they limited their engagement to sourcing the containers and cutting out all of the openings.
"They saw my moodboards and said, 'Look, guys, the way we treat materials and our material selections available … we think you need to do this yourself'. I'll never forget that day… thinking holy shit, we've gone from a utilitarian simple container, to building a house ourselves," Ross shares.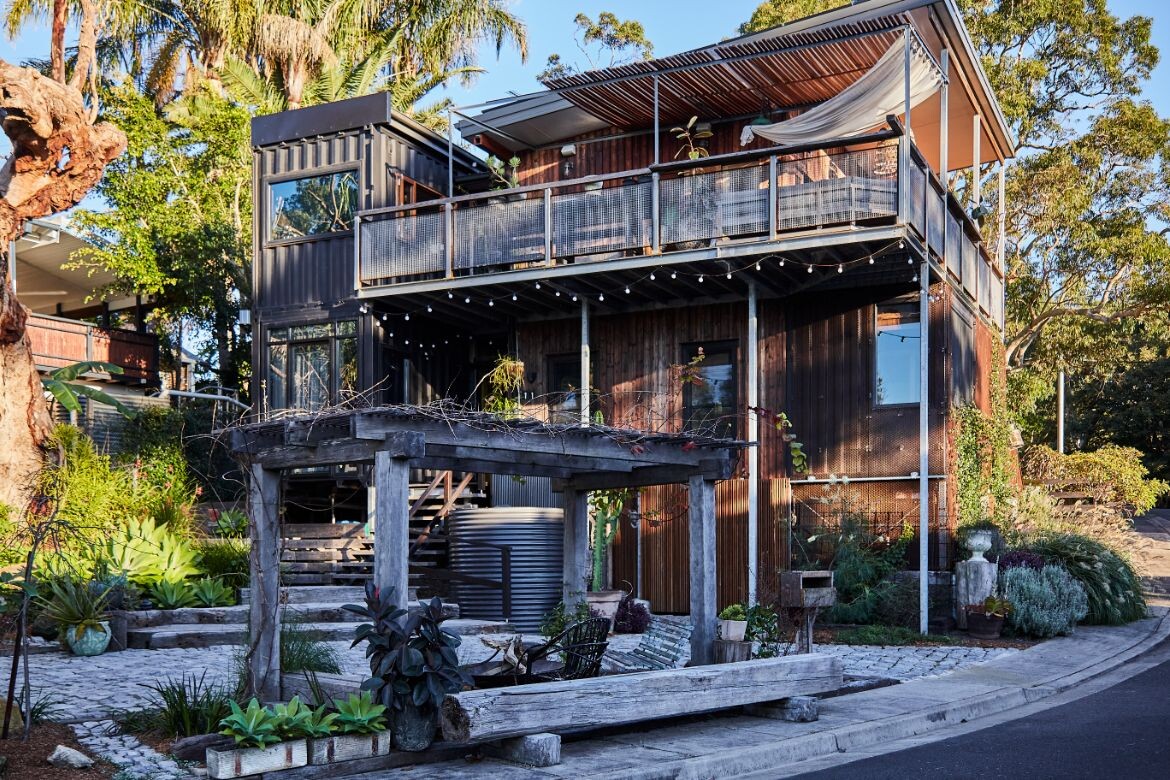 And good thing. Having met her partner in the theatre, where they worked together on large productions, such as Priscilla Queen of the Desert and The Producers, there is an imbued theatricality to their home.
Lister continues to work in the entertainment industry on movie productions such as the upcoming Planet of the Apes, while Ross has shifted her interior design business from Sydney to work from home. That theatricality is played out in the interior of their home where layered textural nuance and tonal shifts are orchestrated for dramatic effect.
"There's so much emotion that can be unlocked in an experience like theatre, that we can draw on a little bit of the everyday, that bit of magic, a sense of the unexpected – things not being what they seem. They're all arenas that activate the senses and make a difference in how you create an atmosphere," says Ross.
Dark and moody tones are generally not seen in beach houses, but under Ross's tenet of "don't be afraid of the dark", those moody shades are alive with sumptuous depths. Dark timbers, lead benches, antiques and industrial collectables are layered with moments of bright colour and exceptional lighting.
"The feeling of the intangible that people walk in and feel. That translates from theatre to the interior principle of creating most of your atmosphere through lighting, and making a big emotive impact through really simple layering of lighting or textures," says Ross.
The pair's collection is similarly interwoven throughout the home with heavy-timbered machinist benches, fabulous lamps and strange unknowable objects given pride of place.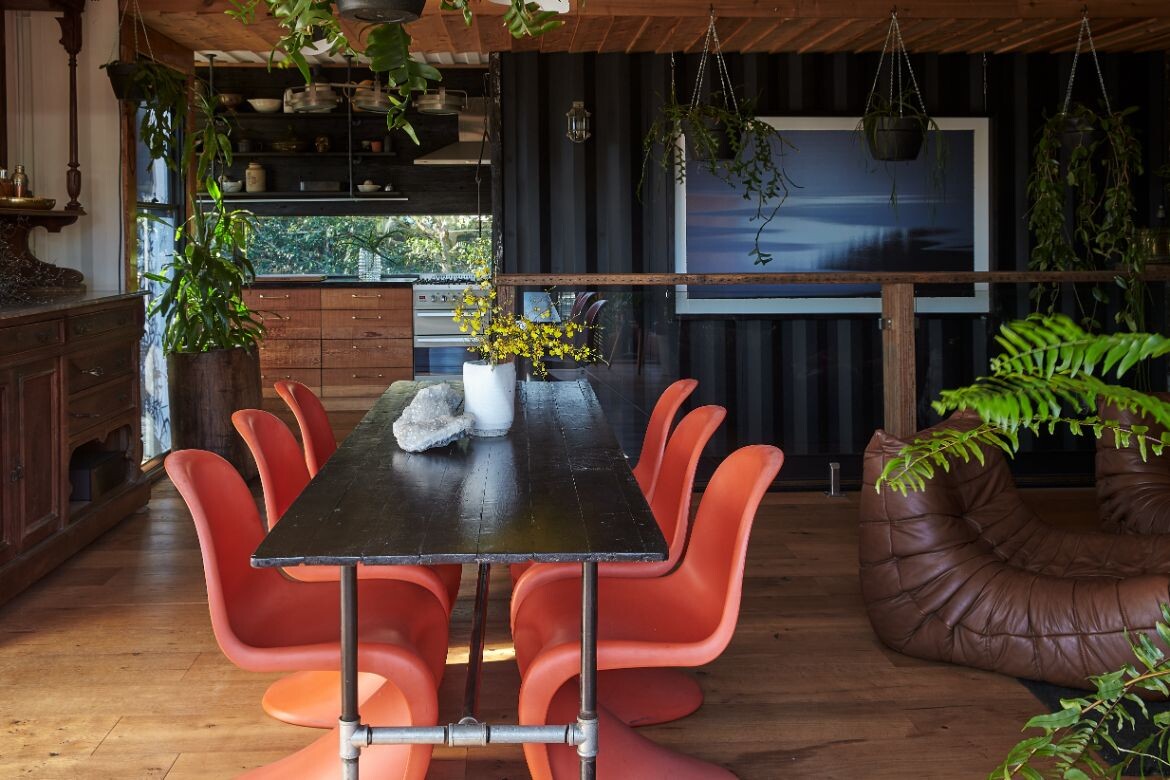 "Jimmy and I have a genuine love of industrial history and heritage, and we love big, heavy shit," says Ross. The pieces themselves are both eclectic and surprising, with a large op shop found painting of a tiger, for example, dramatising a quiet nook in a connecting hallway, while a whole suite of Togo lounge elements in antique leather defines the main living area.
A set of Verner Panton's Stacking chairs in red are paired with a dark timber industrial table with articulated extendable legs.
Steel and timber are similarly loved, Ross having collaborated with steel makers to create bespoke barn doors and a contemporary take on parquetry floors using grey face timber.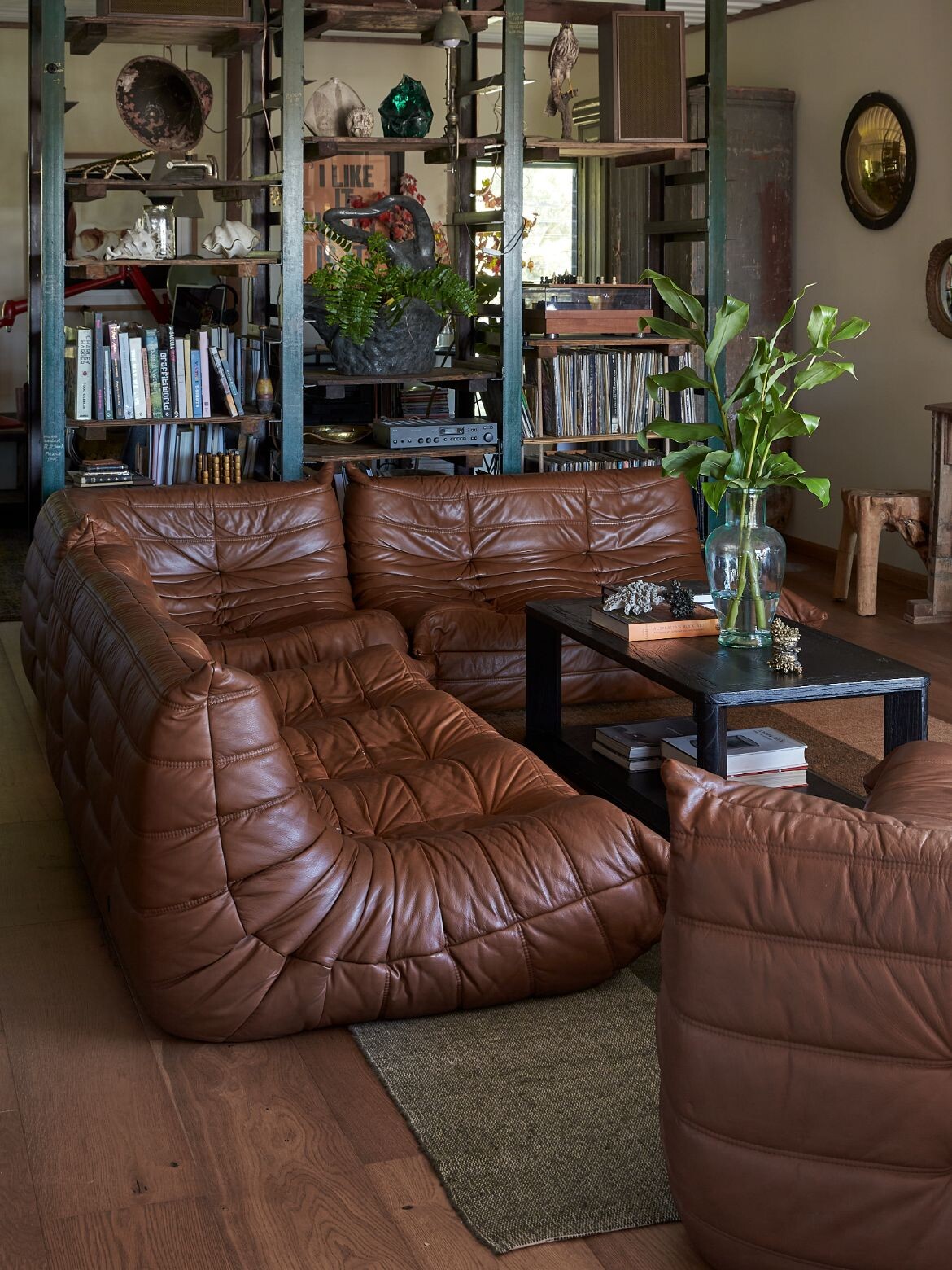 Giving love to sidelined materials, such as end-of-line products or reclaimed timber, is another key driver for Ross, who has used her home's materiality to forge a juxtaposition of physical and emotional life.
"In terms of our chosen materials, when you get to sit back and look at your own palette, most products in the house that we used were discontinued. So there are two lines of thought: one is steel, timber, leather, glass, stone and honesty; and the other is the weight of all of those materials sitting with sunshine, lighting, music, energy. There's a really lovely, foundational thing happening," she says.
Foundational is a good word for Ross, with every aspect of the home the result of deep thinking about what home is and what that means to the planet. "It was important to show the container concept through a sustainable lens," says Ross, who has only clad the interior of the containers where insulation is needed.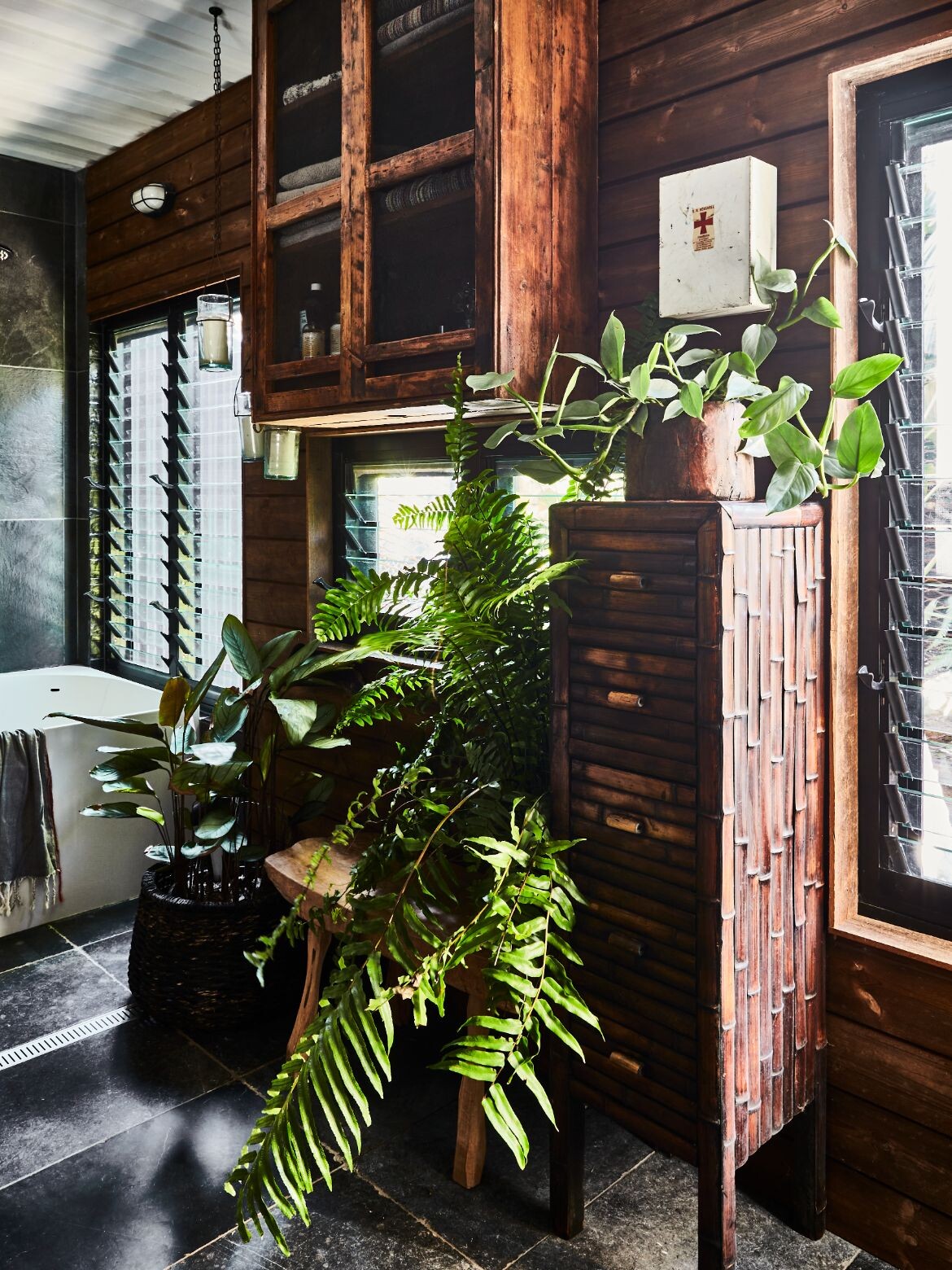 Additionally, Ross set herself the task of achieving a fabulously liveable interior for an incredibly reasonable budget, through a real commitment to resourcefulness. To this end, online marketplaces, tiles that were left over from building projects and thousands of op shops and auctions were searched and incorporated into the project.
.
"There are two lines of thought: one is steel, timber, leather, glass, stone and honesty; and the other is the weight of all of those materials sitting with sunshine, lighting, music, energy. There's a really lovely, foundational thing happening."
.
Then came the kitchen: "I've designed plenty. And I know the material palette that any client would go for. But we used railway sleepers. Our whole kitchen wall is heavyset, inch-thick sleepers that are painted black. It's not about feeling like it's not expected. It's that it feels alive. Because timber is alive."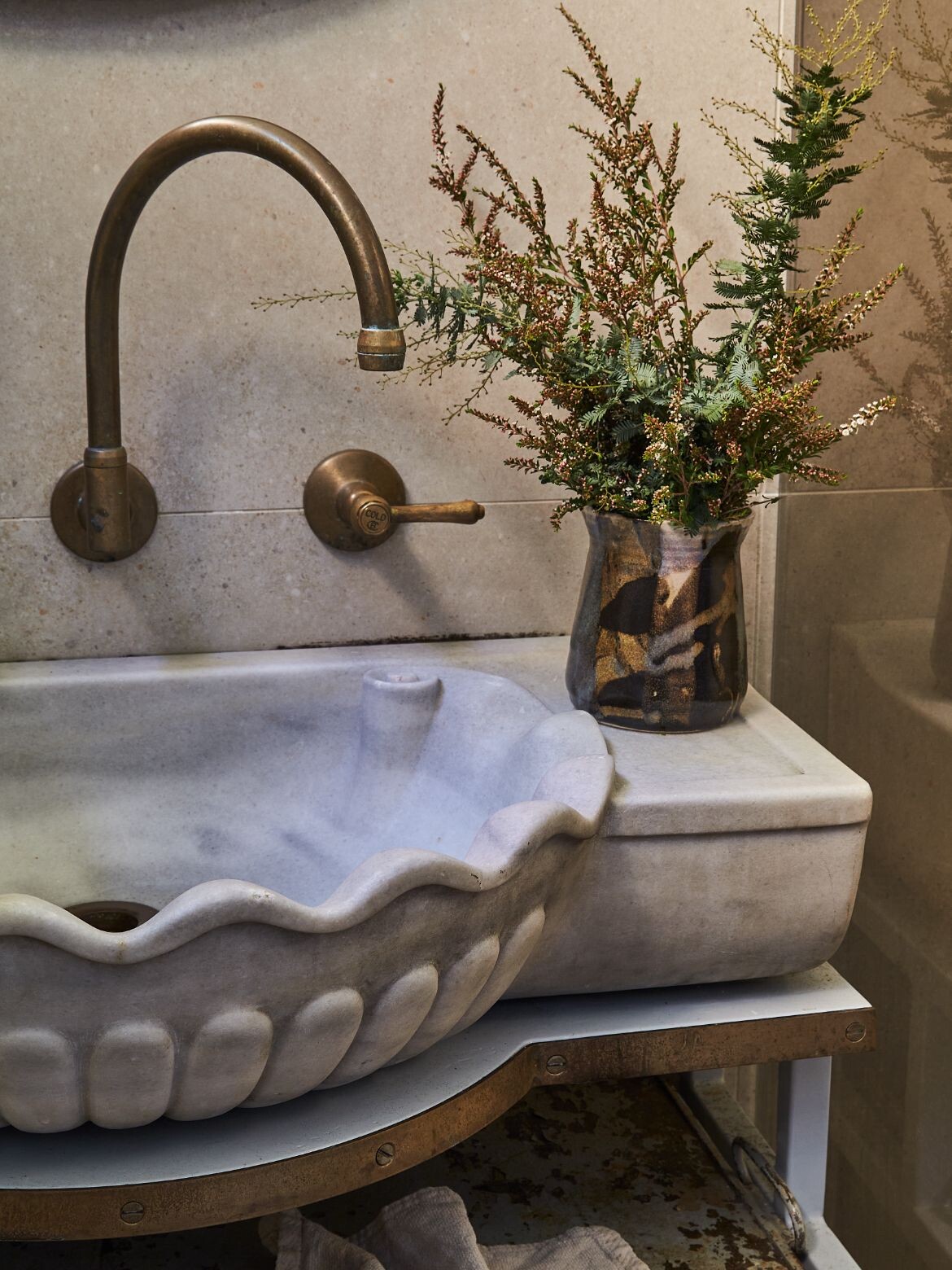 Moreover, the kitchen doesn't feel heavy or out of step with the house. Rather, it is a continuation of the home that makes sense and is wholly inviting. As Ross explains: "We have a lot of people in the community that come in and feel welcome, they feel comfortable. And that's the greatest success of the house for me."
Theatrical, rich and decidedly alive, the home of Kelly Ross and her family is just what you would hope for from this exemplar designer and sustainability champion.
Project details
Interior design – Kelly Ross
Photography – Sue Stubbs
This story originally appeared in issue #56 of Habitus, the Coastal Living issue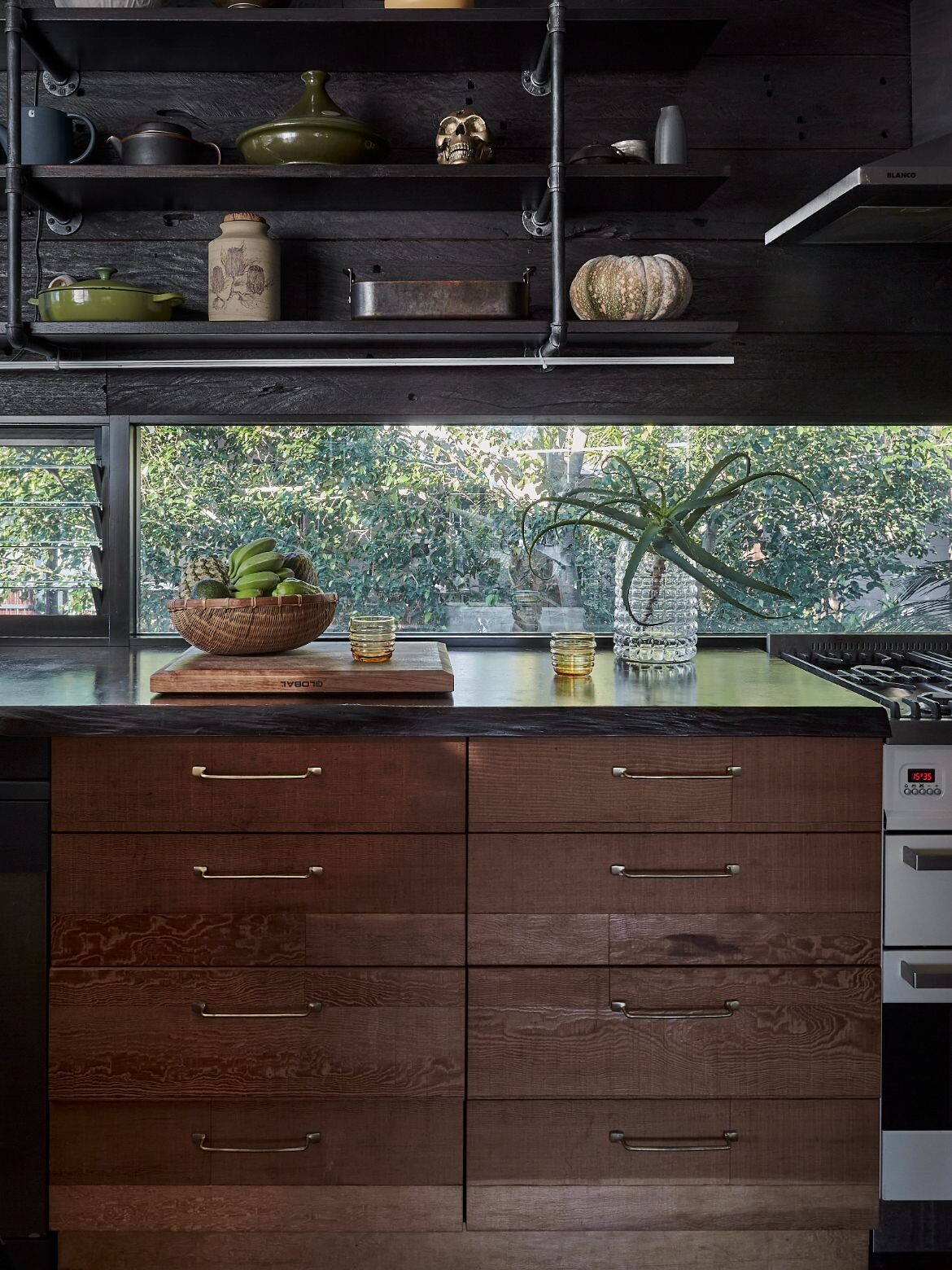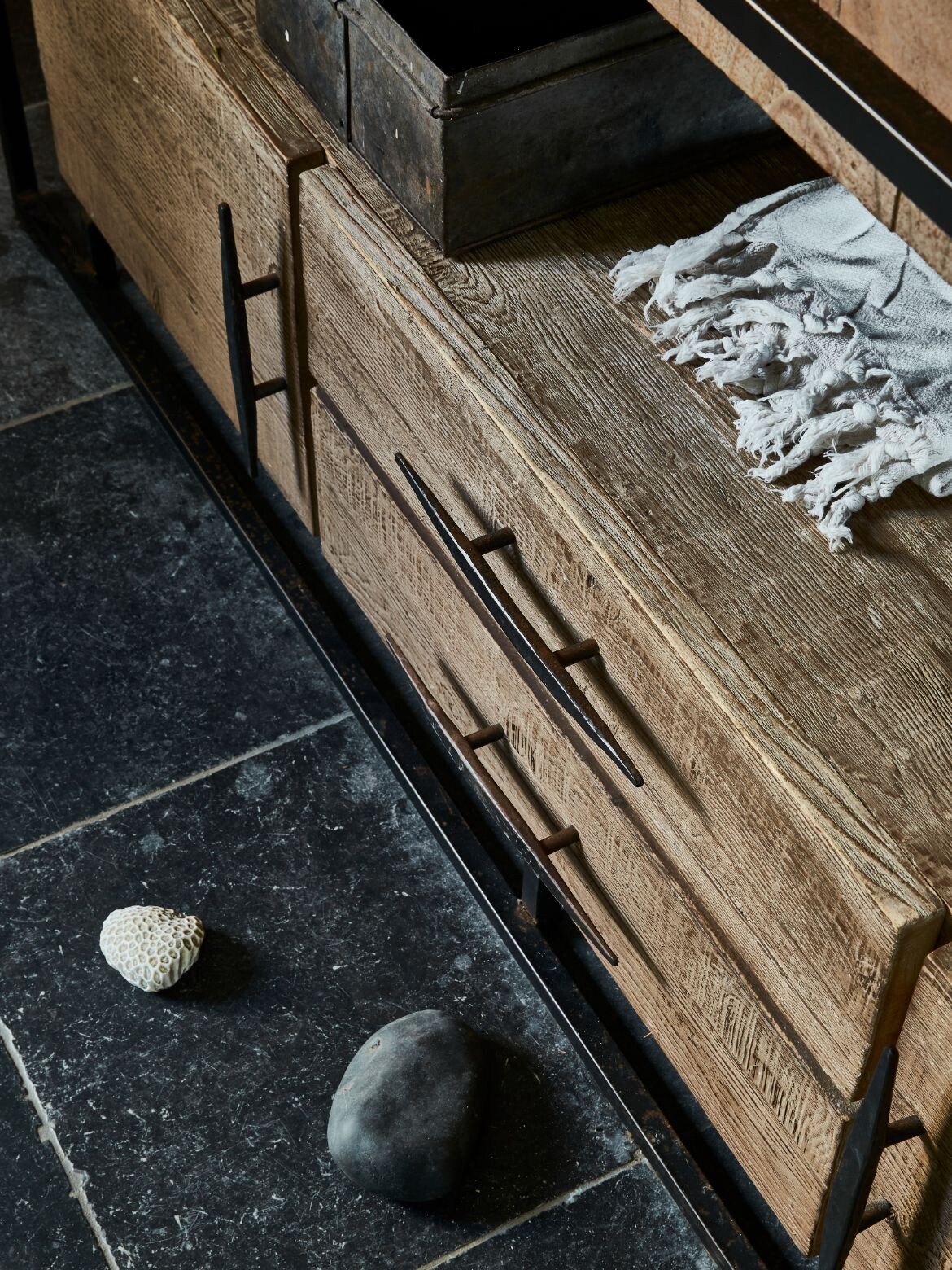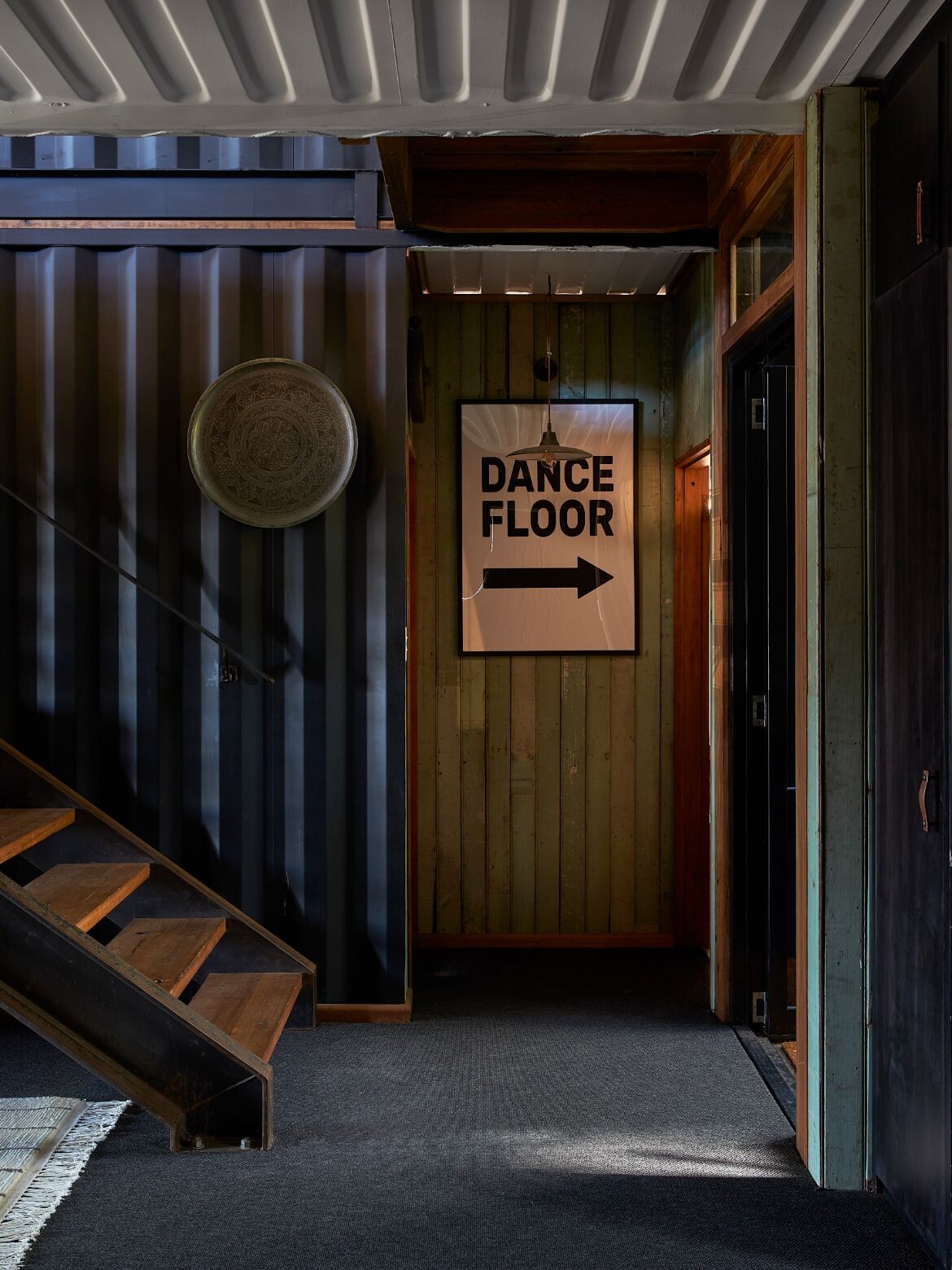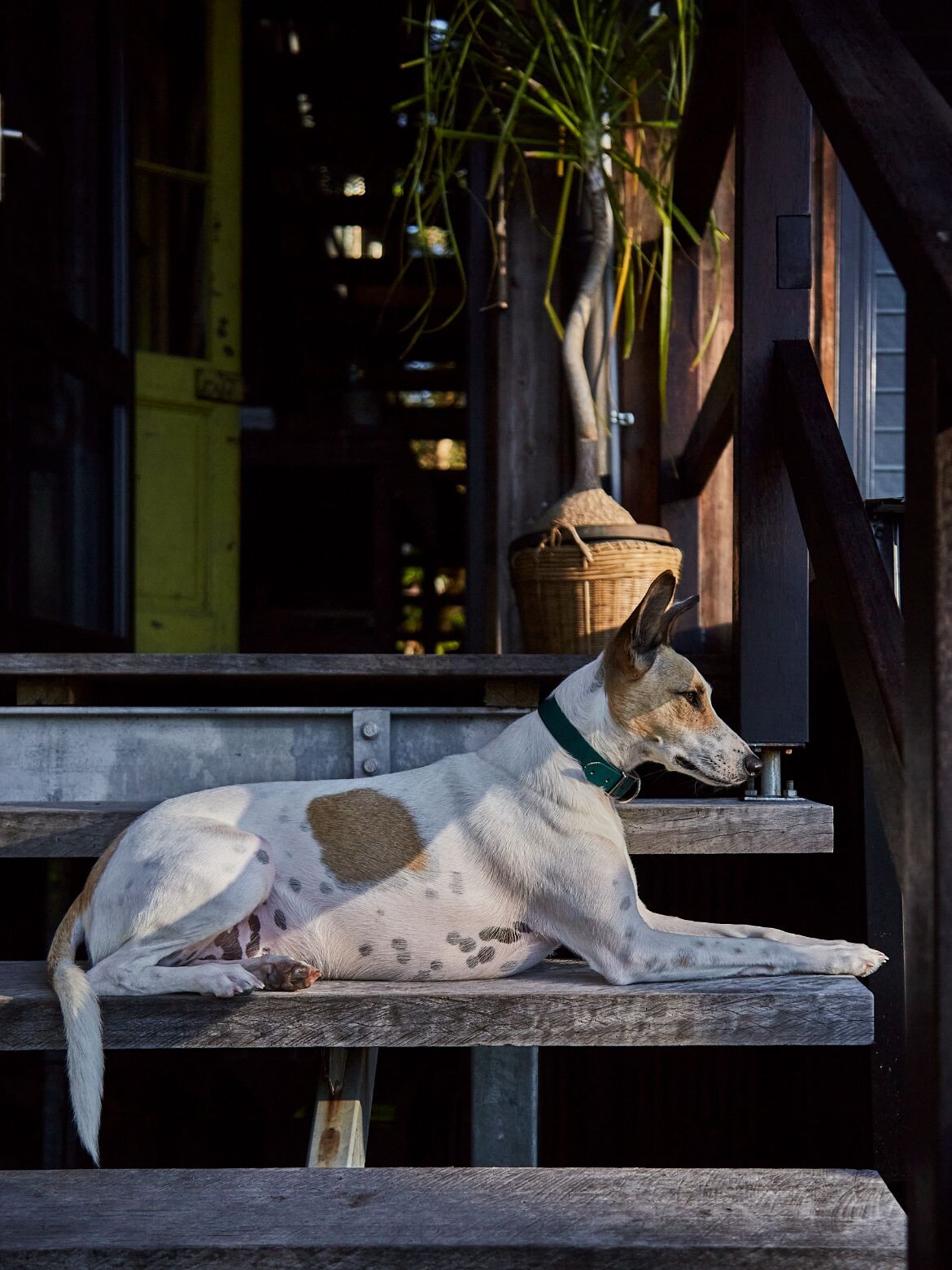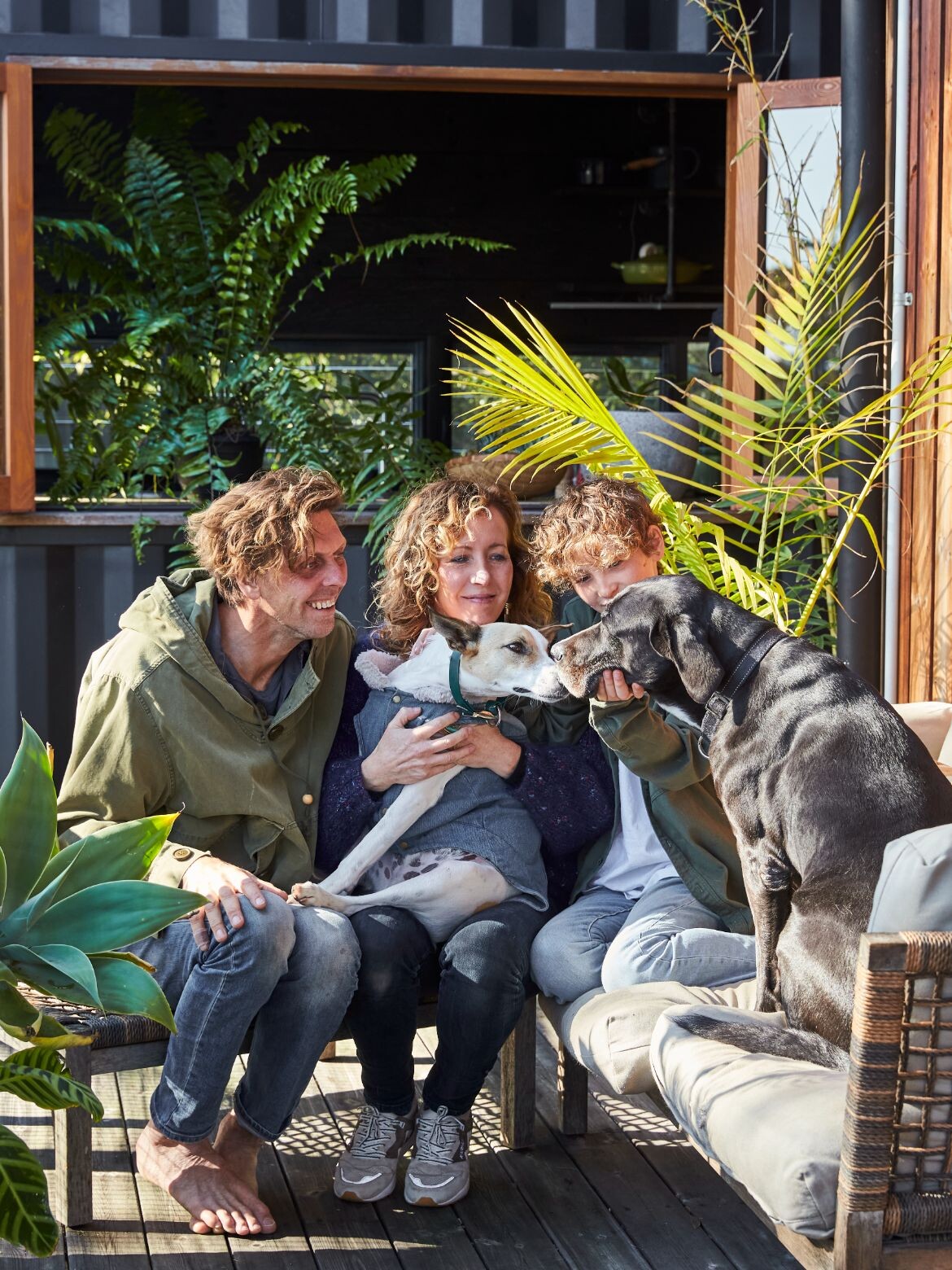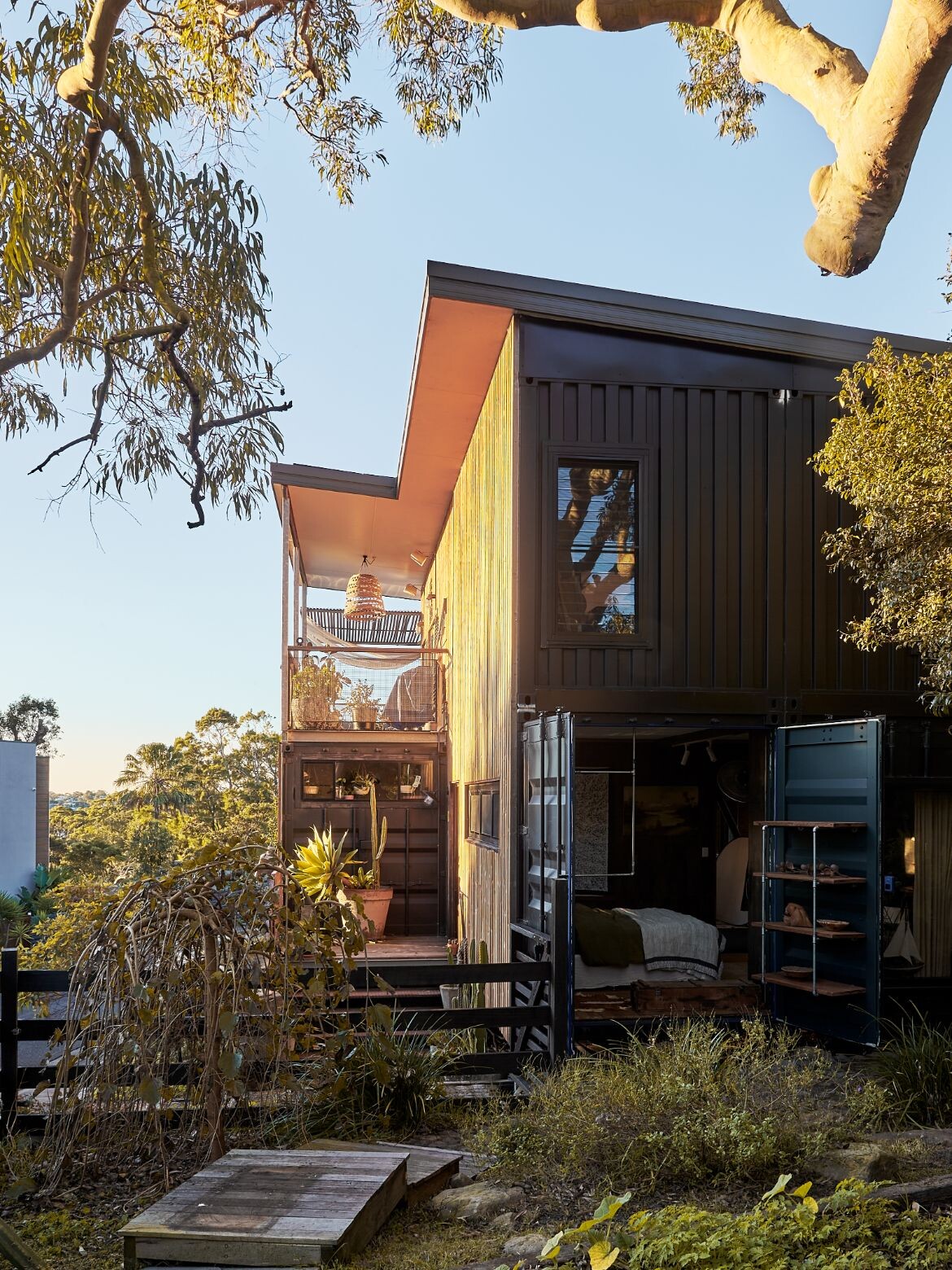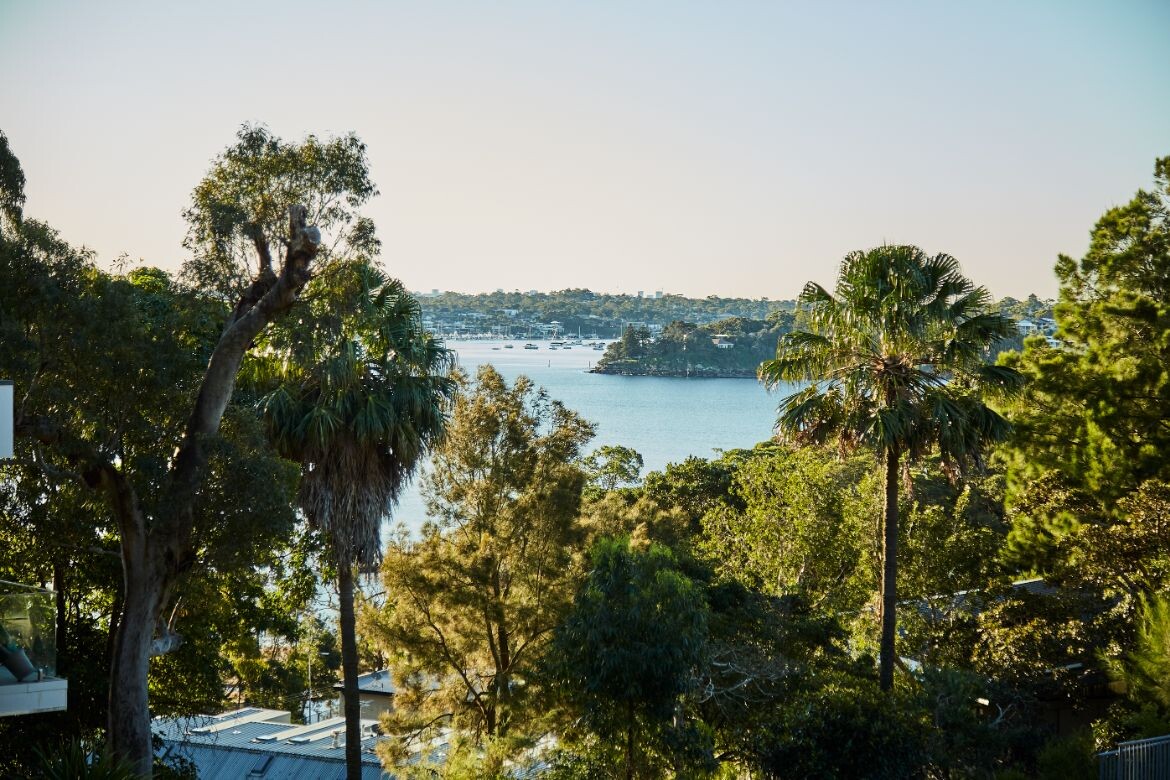 We think you might like this story on Kelly Ross' Jean General Store.
---