Born in Ipswich, Queensland in 1934, the architect and one-time jackaroo, Gabriel Poole has died at the age of 85. A man of great humility, Gabriel transformed not just architecture in Queensland, but in Australia, as he pioneered a 'regional' architecture which responded to the climate, materials and culture of its place, not to mention the specific character and needs of the people who would live and work in his buildings.
Gabriel studied at Queensland Technical College and the University of Queensland. He worked for prominent Brisbane architect, Robin Gibson, before a stint in London and later in Sydney. But Gabriel's career was otherwise focussed on Queensland's Sunshine Coast and he has been credited with establishing the informal Sunshine Coast 'school' of architects (celebrated in Peter Hyatt's 2001 book, Local Heroes) which included Lindsay and Kerry Clare who worked with him before establishing their own practice based on similar principles.
In the 1970s, Gabriel established his own practice, Atelier-Two-Designs, in partnership with John Mainwaring and together they explored the new regional architecture. Later, in the early 1980s, he established a private practice in partnership with his artist wife, Elizabeth, the Gabriel and Elizabeth Poole Design Company. Together they pursued an architecture of place – lightweight houses that integrated with their landscape and with minimal impact on the environment. Their work included developing flatpack pre-fabricated systems for units and other residential types.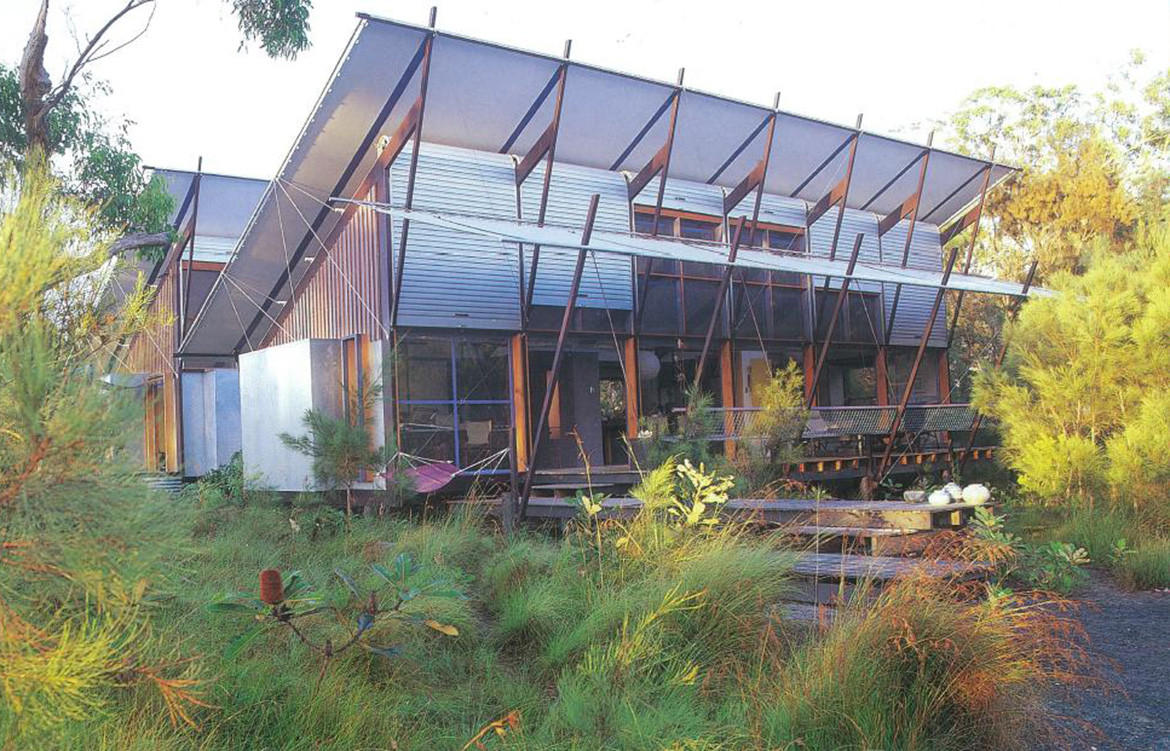 Gabriel Poole House, Lake Weyba
In 1990, Poole's Eumundi House won the RAIA Robin Boyd Award and the Queensland Chapter Queensland Innovation and Robin Dods Awards. In 1998, Poole was the RAIA's Gold Medallist.
In more recent years, the Pooles worked on low-cost, affordable and modular design, emphasising practicality and appropriateness in, for example, multi-generational housing and aged care design.
Practicality and simplicity were always feature's of Gabriel Poole's design. In an important respect, his practice was an ongoing research project with the aim of developing structures, construction techniques and employing materials appropriate for the climate and landscape, as well as serving the specific purposes of the building. However, the aesthetics were equally important. The houses of Gabriel and Elizabeth Poole were crafted as beautiful objects in the landscape. At the same time, though, they were also shelters – refuges for those who lived in them, generating meaning and sustaining life.
We think you might also like Tess Pritchard House by Max Pritchard Gunner Architects
Tags: Australian Architect, Elizabeth Poole, Eumundi House, Gabriel and Elizabeth Poole Design Company, Gabriel Poole, Queensland Architecture, responsive architecture
---