There's a natural curiosity around architects' own homes and a sense of satisfaction when they live up to expectations. As one of South Australia's finest, Tess Pritchard champions elegantly resolved environmentally responsive residential architecture as a co-director of Max Pritchard Gunner Architects, the respected practice her father founded over 30 years ago. She recently designed her own home, which she shares with partner Michael Venning, in the Adelaide Hills and it's all we hoped it would be.
The two-storey house is located on a steep site with a large bisecting easement, which determined its positioning. As a result, the floor plan is stretched out across the block in line with the contours to minimise cut and fill to the site, as well as being angled to maximise winter sun. The garage sits at the top of the block and a bridge spans the easement by way of connection to the house's upper level. "It's a lovely feeling living in the treetops," says Tess. "And although we wanted to be as connected to nature as possible, it was important we minimise disruption to the landscape. So we retained almost all the existing trees and revegetated the garden with native plants."
Building up instead of out kept the home's footprint small.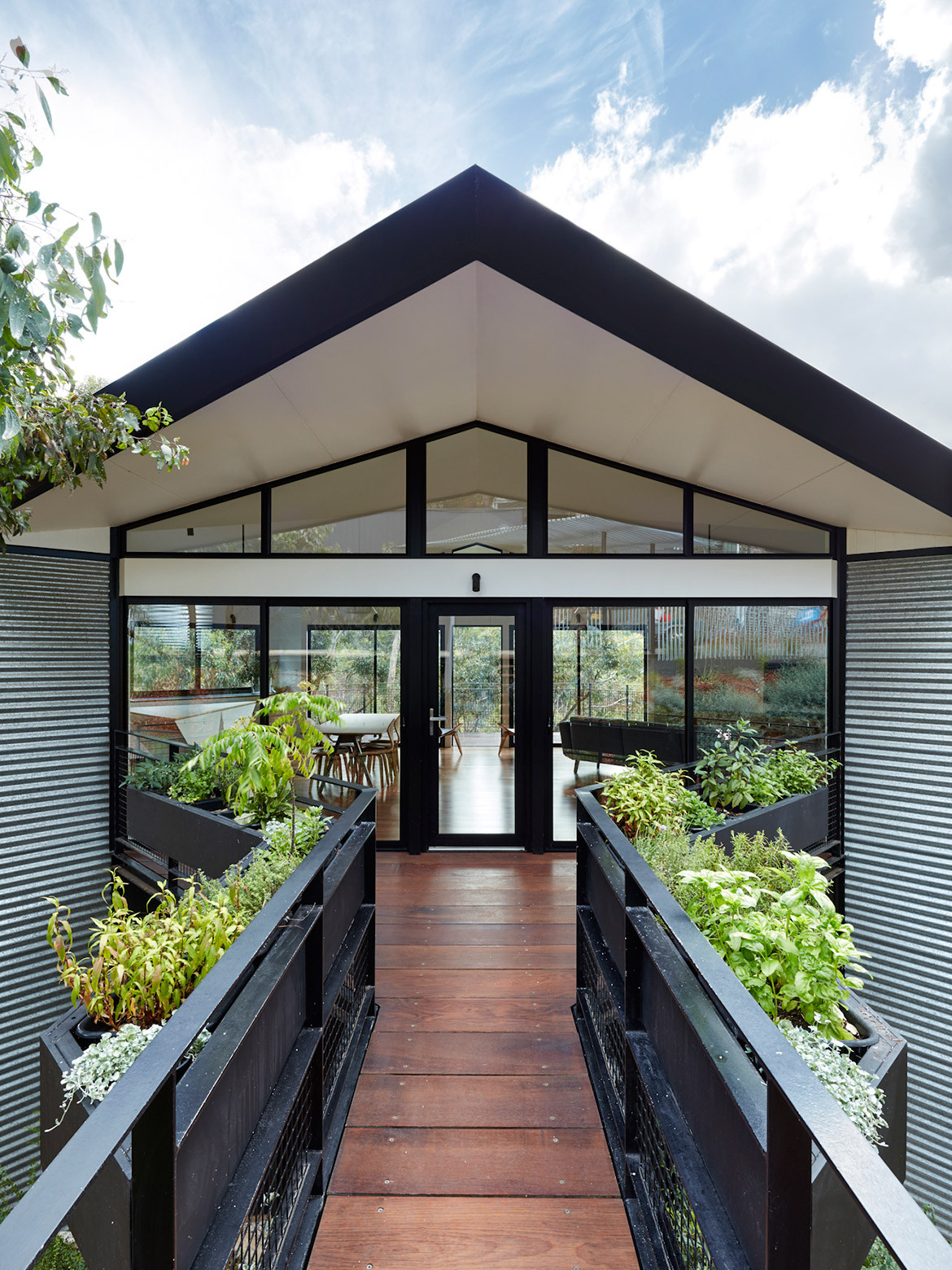 Building up instead of out kept the home's footprint small and the roof's folded planes and extended corners visually lightens the two-storey volume. Tess chose galvanised steel for the home's exterior because she's always loved its textural qualities and the way it looks within a bush setting. As she explains, "The light and shade of the steel's corrugations provide a beautiful backdrop for the foliage. I wanted a house that was dynamic, but that didn't compete with the surrounding landscape." The industrial choice of cladding complements the adjustable external venetians too.
Internally, the roof's origami-like folds are mirrored in the living areas' ceiling. The fresh white palette is punctuated by black fittings and fixtures and maple-coloured timber flooring. "Spatially, our main focus was to achieve a light, open kitchen, dining and lounge because it's where we spend most of our time, so we wanted them to feel generous and inviting. The three bedrooms and bathrooms are downstairs and although they're somewhat more modest, they're still perfectly comfortable," says Tess.
"It's a lovely feeling living in the treetops."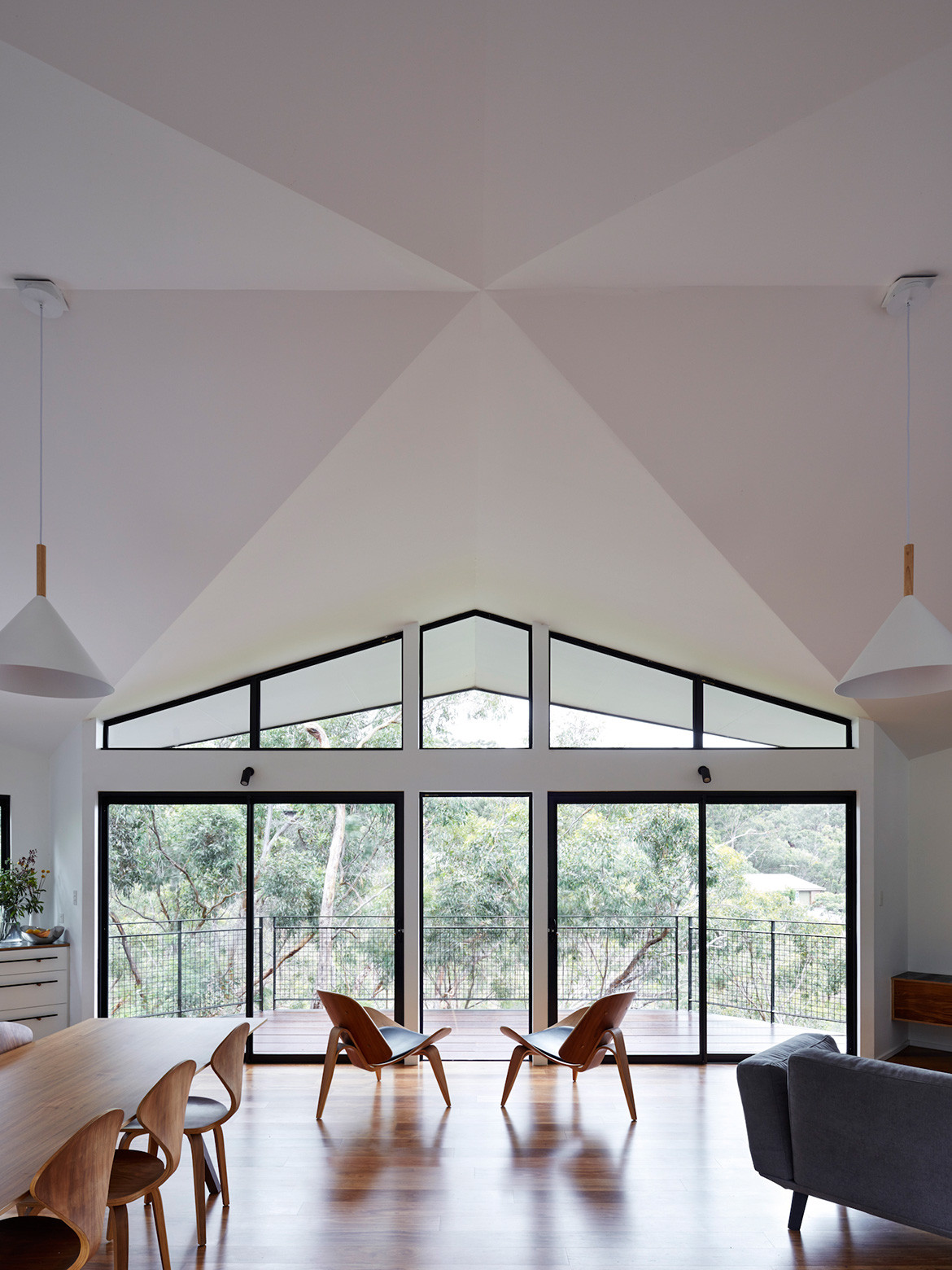 As the heart of the upstairs living areas, the kitchen draws friends and family to it, due to its angular configurations and dramatically sculptural island. Michael, who is a skilled metal fabricator, created the bespoke feature (along with the stairs, external bridge balustrades, joinery handles and entry canopy), which sparks genuine curiosity and appeal. This is a home that resonates for its strong sense of place and sensitive treatment of that place via a design that is as robust as it is refined.
Max Pritchard Gunner Architects
mpgarchitects.com.au
Photography by Sam Noonan
Dissection Information
Blackbutt engineered flooring by Parmate
Galvanised steel cladding by Revolution Roofing
Tiles in Brooklyn Ash from Beaumont Tiles
Adjustable external venetians by Maxim
Bespoke hardware and fixtures by Michael Venning
Ceiling fan by Beacon Lighting
Light fitting by Havit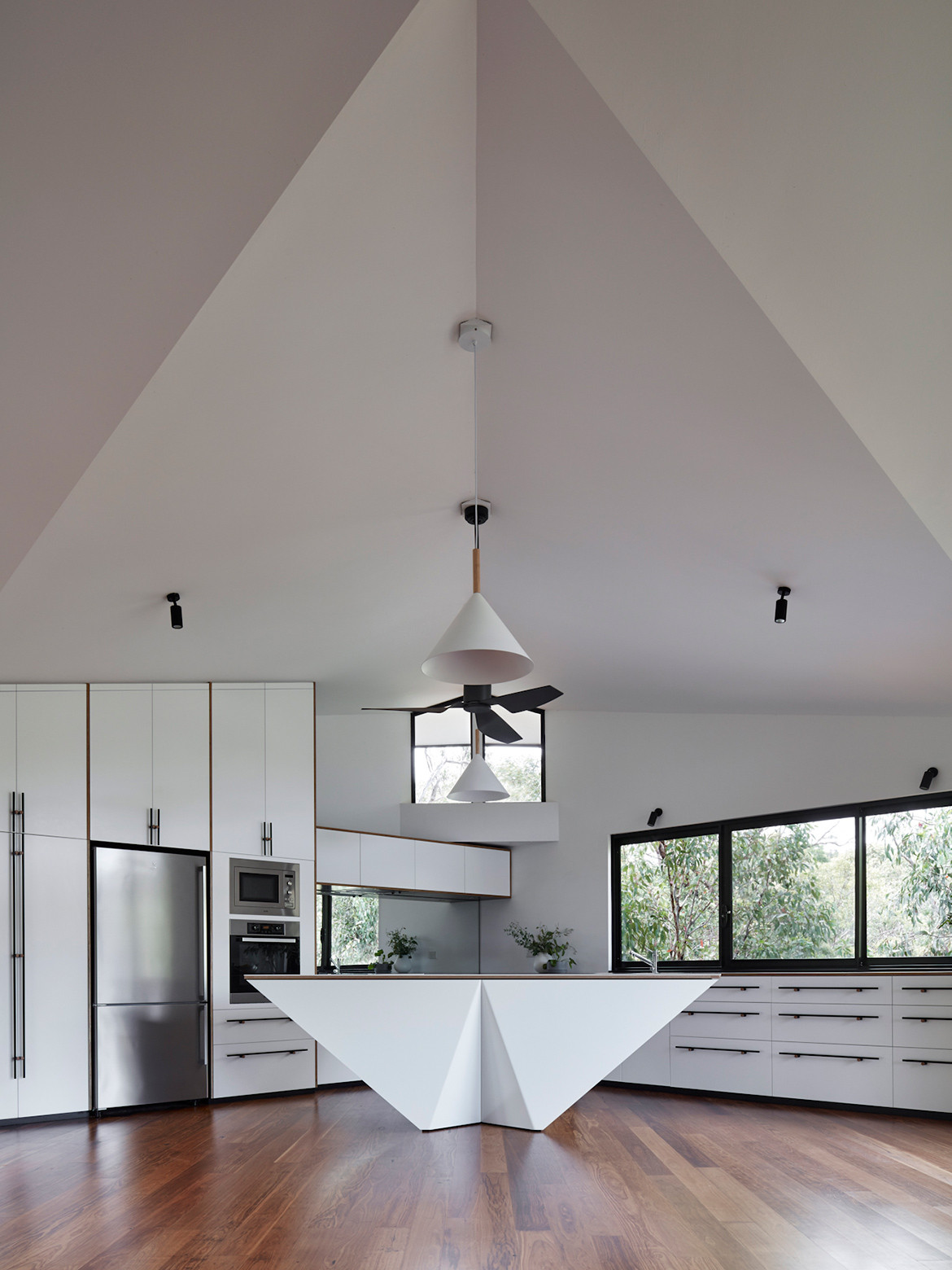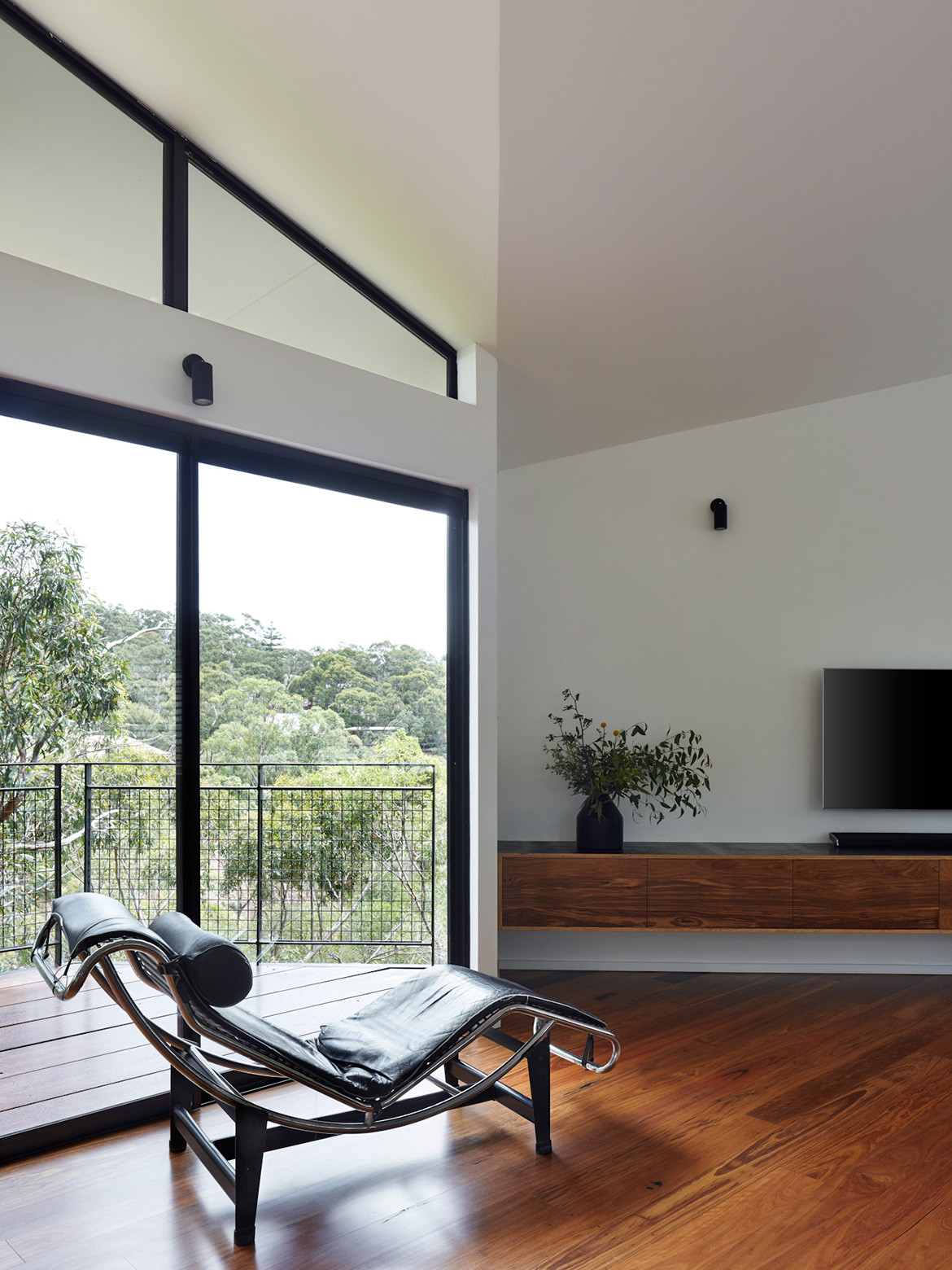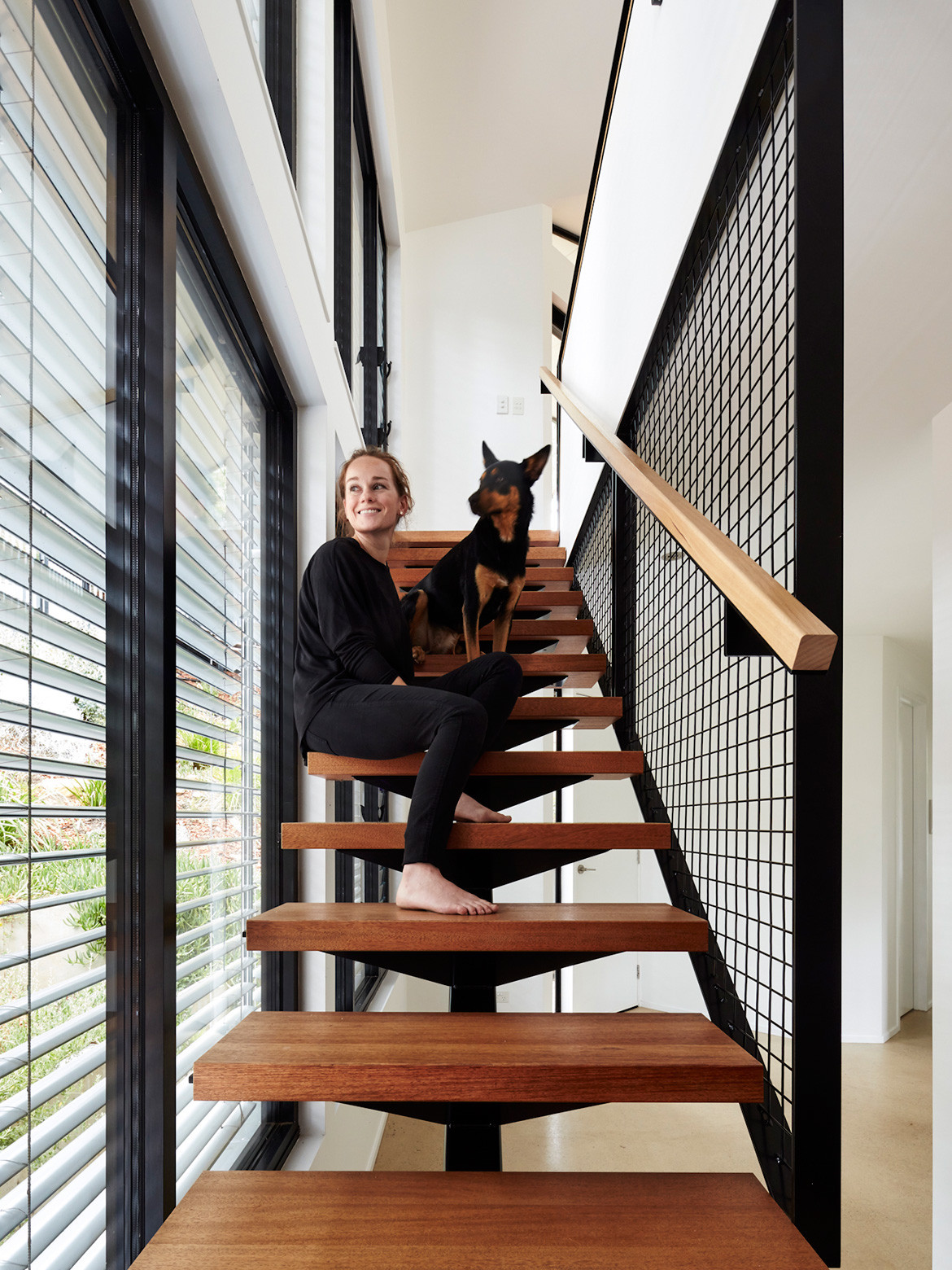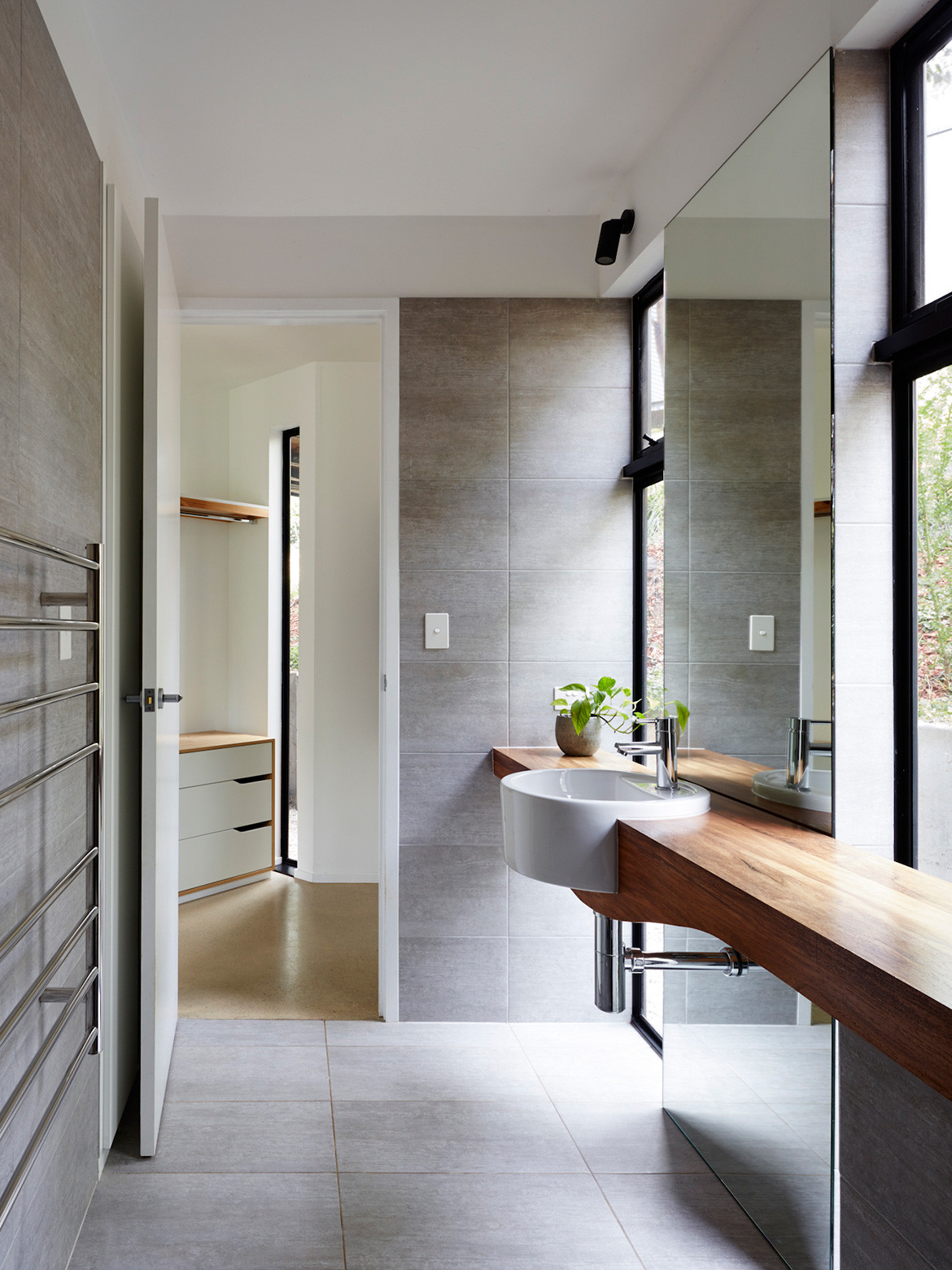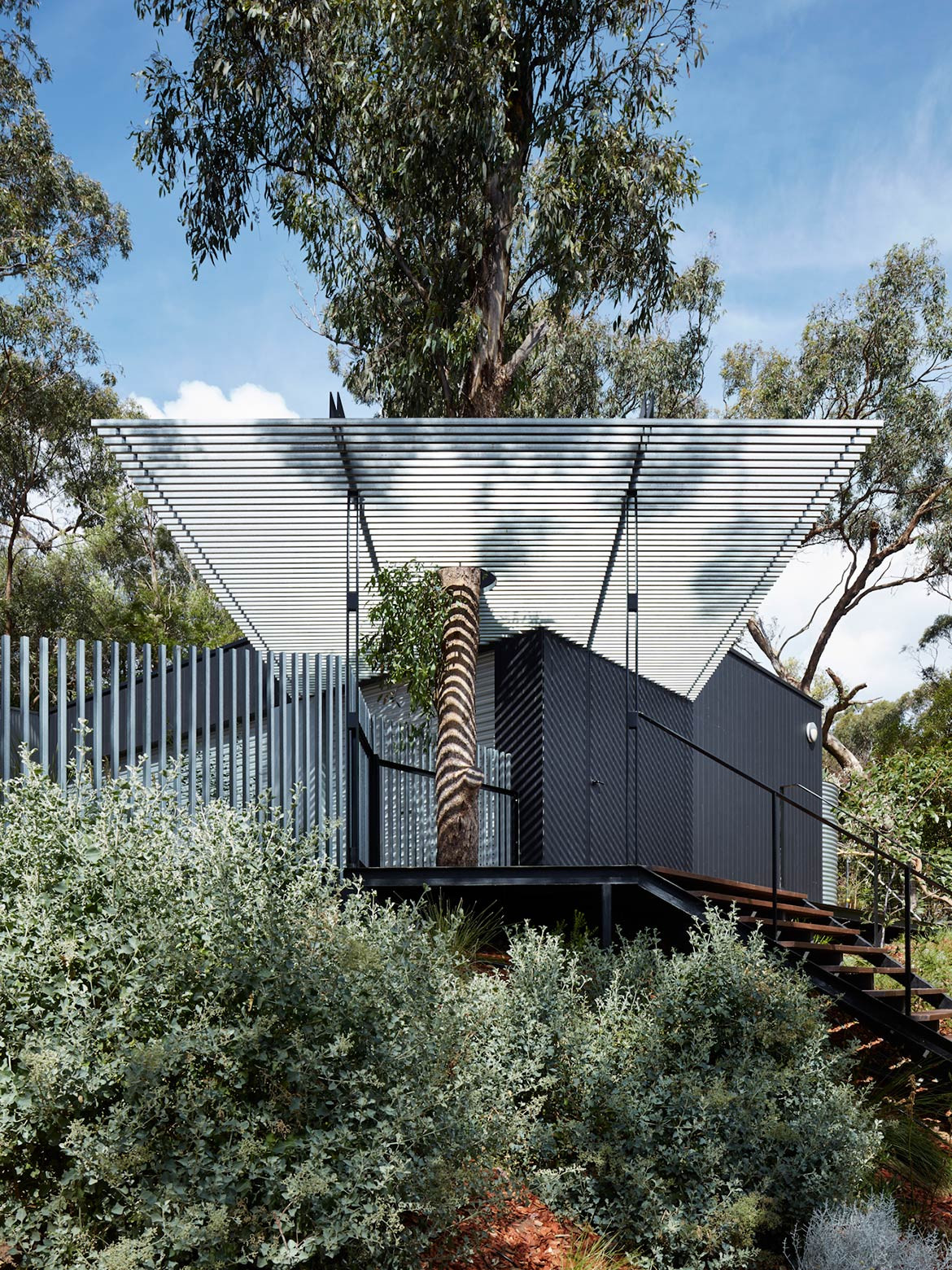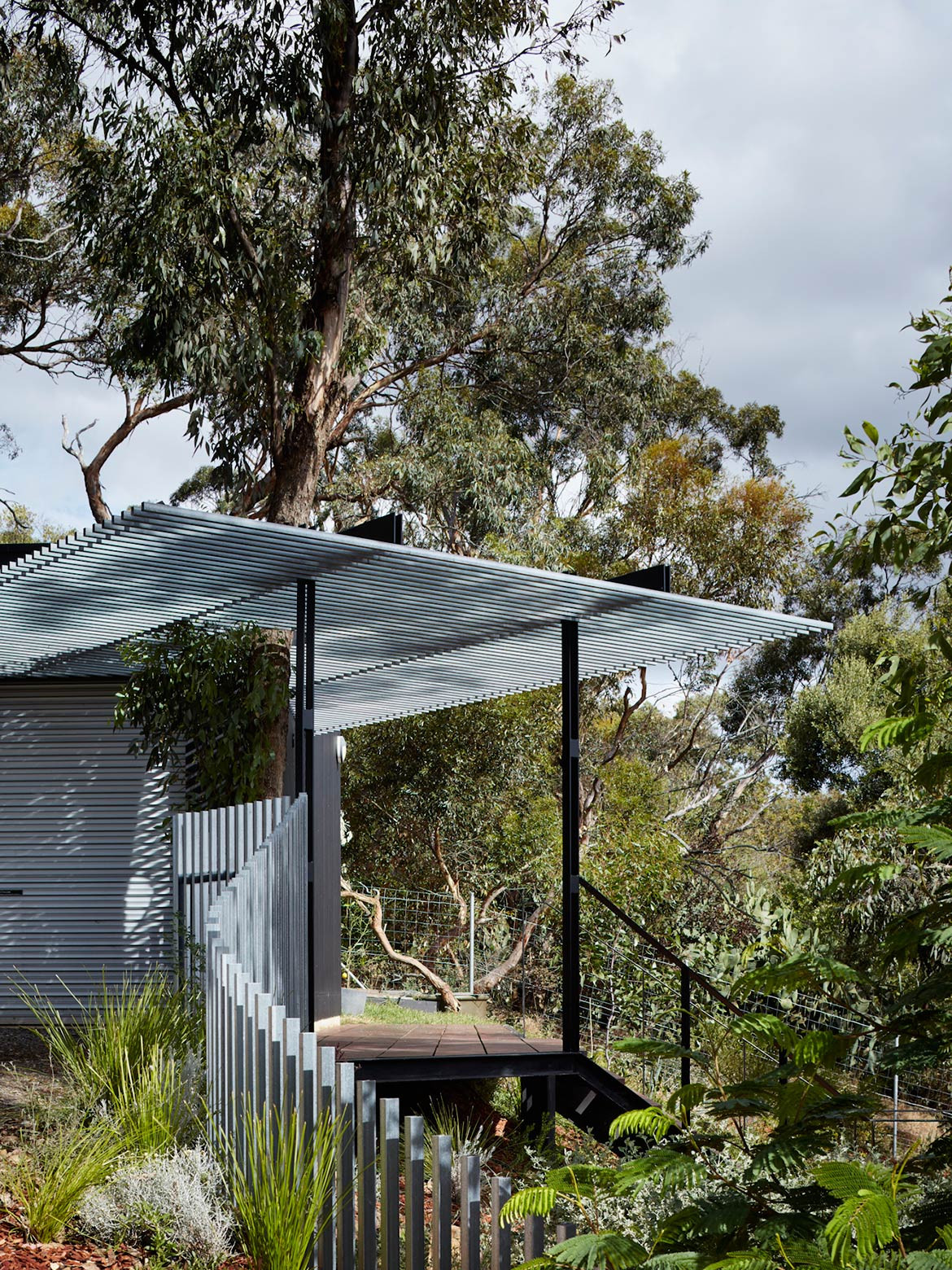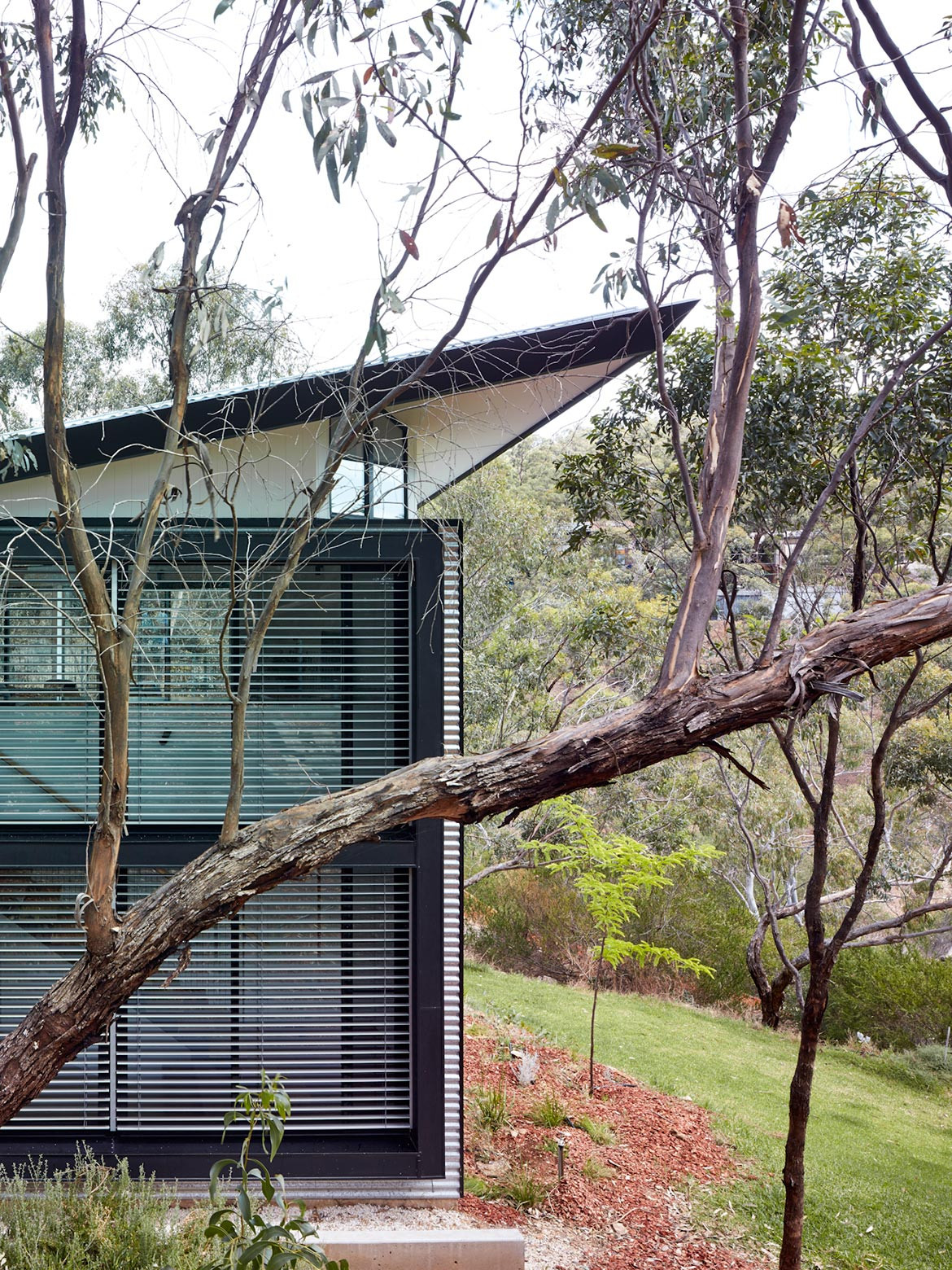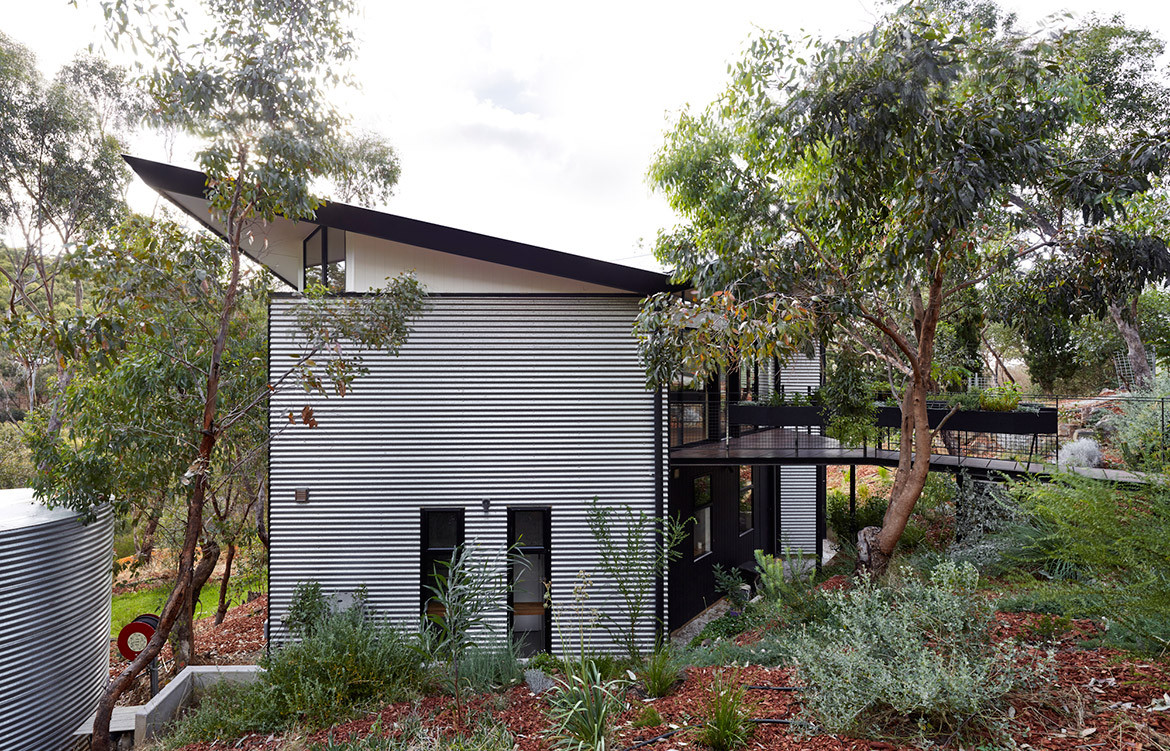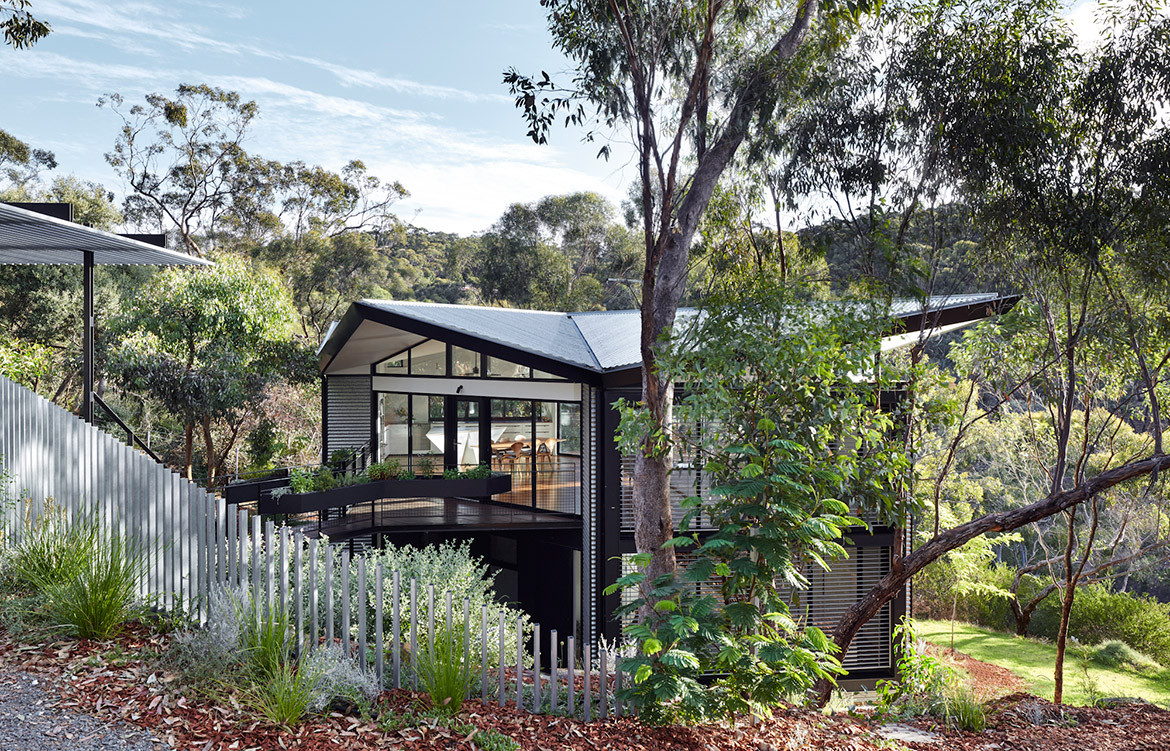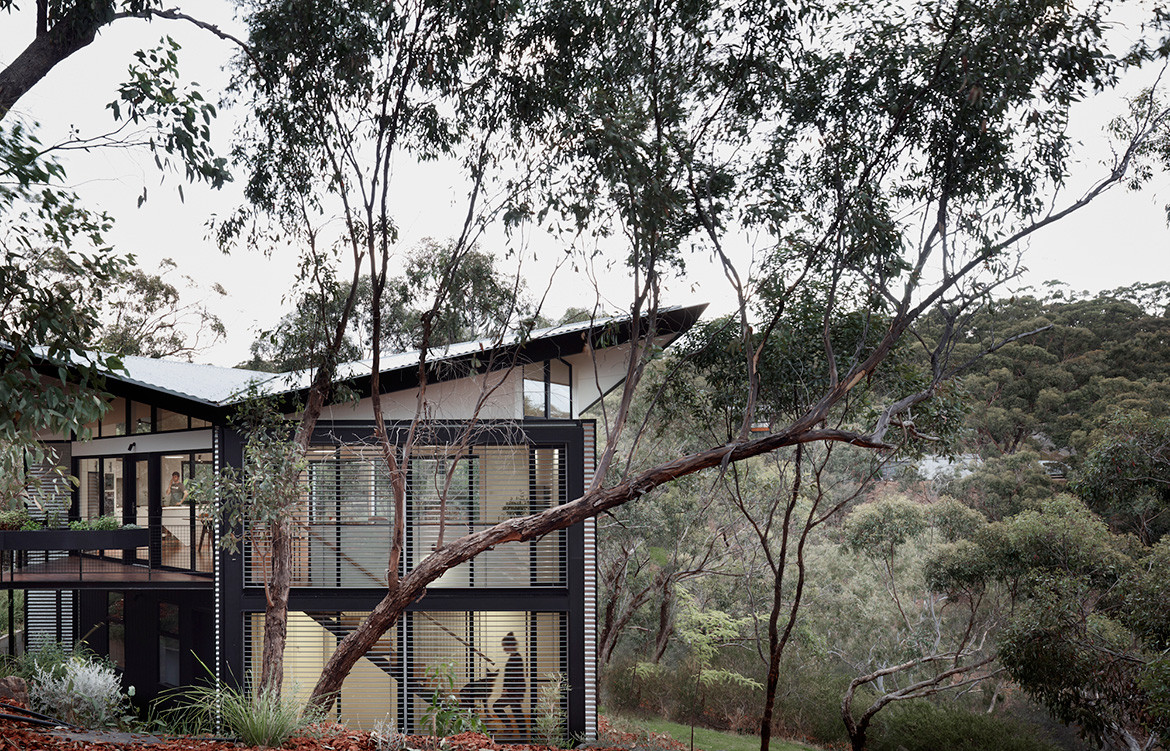 We think you might also like Exoskeleton House by Studio Takt
Tags: Adelaide Hills, Beacon Lighting, Beaumont Tiles, Havit, leanne amodeo, Max Pritchard Gunner Architects, Michael Venning, Parmate, Residential Architecture, Sam Noonan, Tess Pritchard, Tess Pritchard House
---