Milan Design Week (Salone del Mobile Milan's Fuori Salone) is all about immersing yourself in design, and there's no better way to do so than to explore the site-specific installations and exhibitions located across the city.
This year's event – the first post-COVID Milan Design Week to be held at the usual April dates – felt even busier than usual, which was reflected in the endless queues. But, the wait was well worth it to discover exciting new talent and visionary creations by the industry's best.
Read on to discover our pick of the best installations at this year's Milan Design Week.
1. Beyond the Surface by SolidNature
SolidNature's first solo show at Milan was set in the gardens of Spazio Cernaia and titled Beyond the Surface. The gardens hosted a series of whimsical installations – from a fruit and cheese-laden stone table, to a series of sculptural artworks and seating.
The highlight, however, was a dreamy underground cavern designed by Ellen Van Loon and Giulio Margheri from architecture firm OMA. Visitors descended down a colourful staircase crafted from different stones to discover a sequence of rooms that evoke the process of processing and manufacturing marble as a sensory experience.

2. Rossana Orlandi
The Rossana Orlandi design gallery is always a highlight during Milan Design Week, and the 1,765-square-metre (19,000-square-foot) former tie factory in Milan's Magenta district has launched the careers of many emerging designers.
This year, the maze-like space and courtyards were transformed into a wonderland of design delights – Draga & Aurel exhibited a colourful collection of resin furniture and lighting; atelier oï PRIVÉ created an installation of collapsed glass pieces with dynamic lighting that created a mesmerising play of light and shadow; and Argentinian-born Australian designer, Alexander Lotersztain, of Derlot presented Tsukiko, a crafted paper and timber lamp that evokes the beauty of the moon.
3. Bocci Apartment
Canadian brand Bocci, which is known for its incredible glass lighting, has long seen Milan as a second home. During this year's Design Week, they opened their first permanent location in the city, an apartment in an early 20th-century building in Zona Vincenzo Monti where they can show pieces in an intimate residential setting.
The dramatic interior showcases new and classic pieces from Bocci – including the impressive 118 pendant light and the 1.1 shelving unit – alongside pieces from partners and collaborators, such as Knoll, Henrybuilt, ClassiCon, De La Espada, and e15.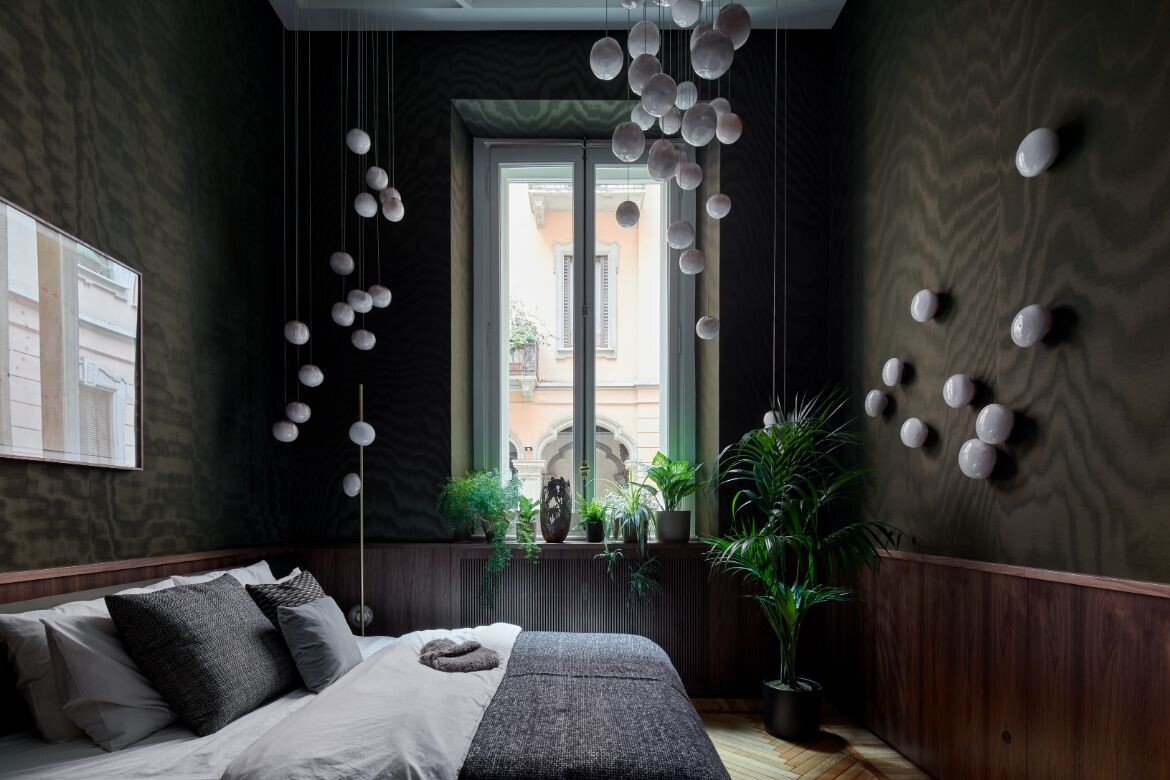 4. Trame by Stark
The theme for this year's Fuorisalone was "Laboratorio Futuro" – and Italian visual production company Stark definitely understood the brief. Located at the Civic Aquarium in the Brera Design District and designed by architects Alice Buroni and Gloria Lisi with Alex Buroni, Trame was an interactive visual and sound installation influenced by the physical gestures of visitors in the space. The ever-changing visuals – accompanied by an interactive synthetic soundscape by composer Paolo Bragaglia – was a bit like being immersed in an artwork.
5. Shaped by Water by Google
One of the week's most popular installations was Shaped by Water by Google Design Studio in collaboration with artist Lachlan Turczan. The first room featured large steel "water bowls". Each vessel emits a resonance in response to the movement of visitors through the space, creating a dynamic pattern of ripples and movements on the surface of the water.
In the second room, this concept was taken to the next level as visitors were invited to recline on a circular sofa and watch the play of light and shadow created as water reacts to the sound waves of a specially choreographed piece of music and is reflected onto large disks overhead.

6. Triennale Milano
The Triennale di Milano is another annual highlight of Milan Design Week – a museum of design that this year spanned from an in-depth history of Italian design classics, to a faithful recreation of part of Ettore Sottsass' Casa Luna set amidst a room adorned with graphic studies. One of the most surprisingly beautiful exhibitions, however, was Our Bamboo, a showcase of how bamboo has been used historically and exploring how the potential of traditional craftsmanship can be paired with contemporary design sensibilities.
7. Six Acts – My Circuit by Michael Anastassiades
Flos took an innovative approach to attracting people to their installation at the flagship store in Corso Monforte, progressively opening one of the six stages of the installation each day of the week. Each "act" featured a performance by set designer and director Fabio Cherstich with maroon-clad performers acting out everyday scenes, from playing chess to lounging.
Flos lamps were suspended from the ceiling using Anastassiades' innovative electric track system, My Circuit, which allowed the lighting to move around within the gallery-like space. Flos is available in Australia through Living Edge and Euroluce.

We think you might like this article about Danielle Brustman's experiences at Stockholm Furniture Fair.
---