The Edge 2013 featured over 38 finalists, with a the judging panel of: Jan Henderson, Associate Publisher Archmedia; Lisa Green, Editor Australian House and Garden; Marc Schamburg, Director Alvisse and Schamvburg / Zenith Interiors; Ross Didier, Didier and Scott Lewis- Curator
Commercial Award Winner: Ash Allen, with Dollop Light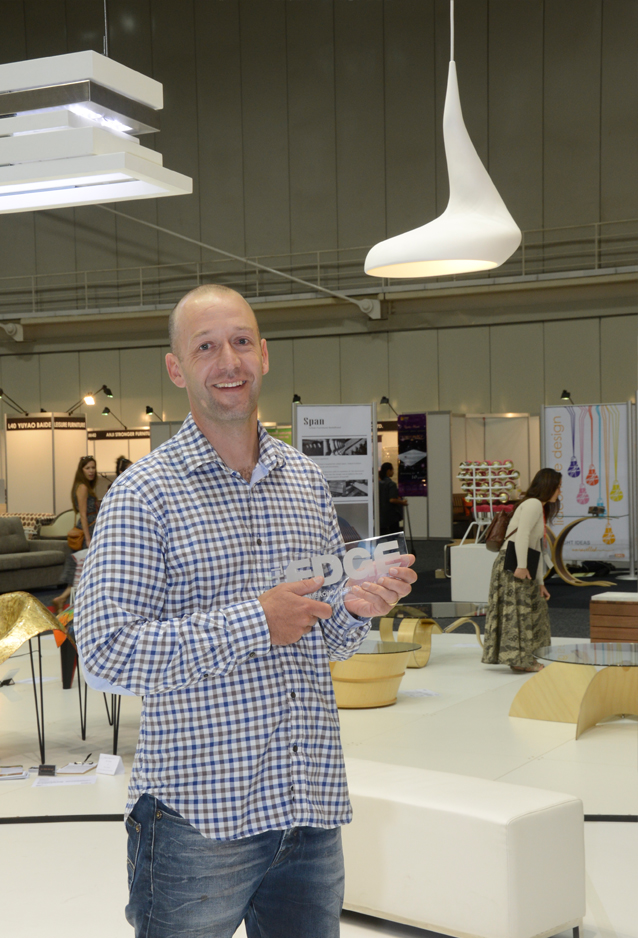 Ash Allen is based in Victoria. He has a Bachelor of Engineering / B. Arts (1996) and an MBA from La Trobe University (2003). Described by the judging panel as a "mature talent", Ash exhibited at the London Design Festival in 2012 and has been invited to be part of the International Contemporary Furniture Fair in New York in May this year.
'Dollop' is an organic pendant light made from earthenware slip casting, aesthetically inspired by a dollop of cream dripping off a ladle. The Low wattage LED light source in this piece is cleverly obscured from direct sight, by light bouncing off the highly reflective, glazed internal surfaces. It embodies Ash's design philosophy of intuitive elegance and simplicity.
Green Award Winner: Toby Nowland, with Fold and Peg Stool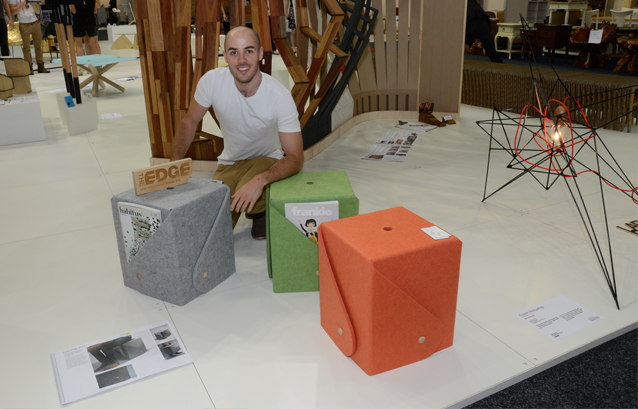 Toby Nowland has a Bachelor of Design (Product Innovation) from the University of South Australia, and is currently completing a Masters in Design.
Toby's 'Fold and Peg Stool' was described by judges as a "smart use of sustainable material".  It is made from EchoPanel, a material produced from recycled and recyclable PET. It's constructed with a flat panel and timber pegs made from Tasmanian Oak. No adhesives needed! The fold around 'tabs' become pockets, where magazines and newspapers can easily slide into, increasing the stool's usefulness.
Student Award Winner: Ben Brayshaw, with Clam Chair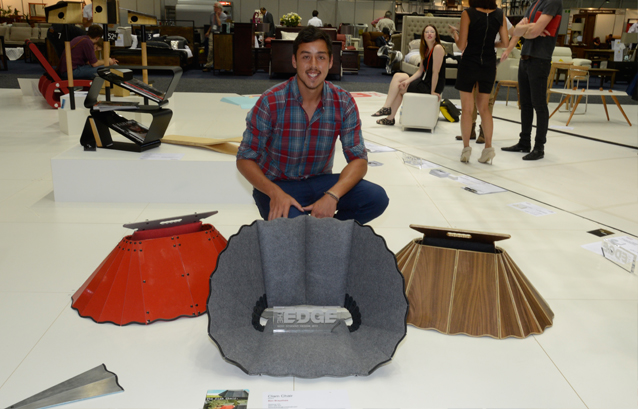 Ben Brayshaw is a student in the  Associate Degree in Furniture Design at RMIT.
Inspired by the shell, Ben's 'Clam Chair' opens and closes, with the inside padded with 19 small cushions. The Chair can be folded allowing people to carry the chair with them and is ideal for the park or beach. It is made from American walnut veneered hoop pine, plywood, flexible PVC and woollen felt upholstery.      
The chair also recently won the Australian Furniture of the Year Student Design Award for Victoria and Tasmania
Concept Award Winner: Stephanie Ng Hui Sien, with Halo Light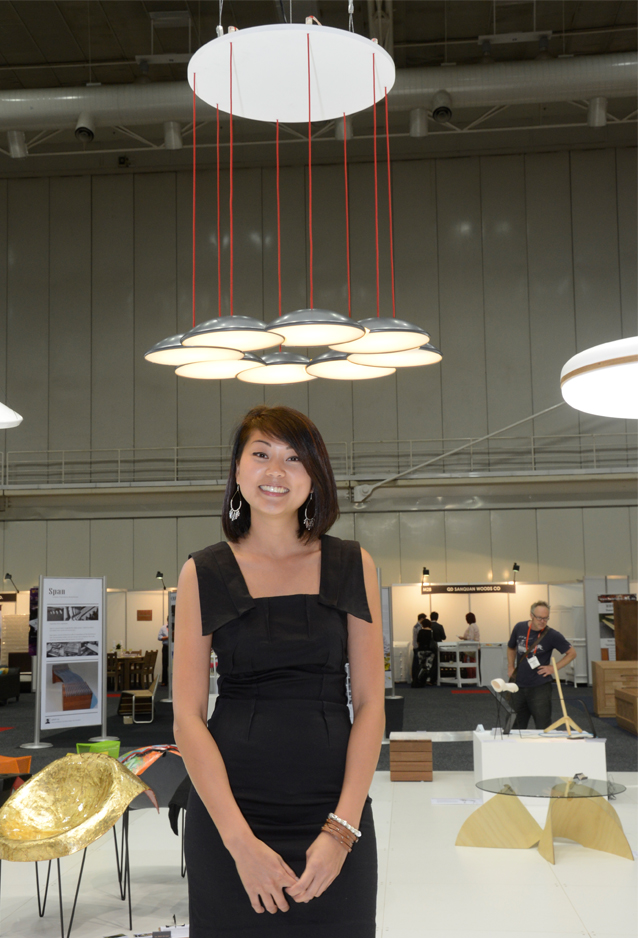 Stephanie is an industrial designer with a Bachelor of Design (Industrial Design) from Swinburne University of Technology, Melbourne. She also has a diploma in product design from Limkokwing University of Creative Technology, Kuala Lumpur.
Made from Polyurethane Resin, Halo light functions as a modular lighting system that can be configured in a variety of shapes and sizes. Described by the judges as "versatile and innovative".
---