This long, narrow late Victorian terrace house in Melbourne's North Carlton appears relatively understated from the outside. Part of a row of early 20th century terraces, Station Street House is only the home's first floor, partially clad in black zinc, which suggests an architect may be involved. Designed by leading Melbourne architect, Robert Simeoni, the house (home to a couple with two teenage children) offers a sense of calm reflection not normally associated with inner-city living. "We wanted to make the internal spaces feel intimate, in contrast to the regular foot traffic on the pavement," says Robert Simeoni.
He approached this renovation as a series of 'moments': quiet pockets to gravitate towards within the home that allow the family their own spaces, as much as coming together. Julian, the owner, comments: "What attracted us to Robert's work initially was his clean and minimalist design."
Very little remains of the original house. From the moment one passes the threshold, there is a realisation that the Station Street House is no ordinary terrace renovation. The long passage, for example, features dark-stained timber walls and floors, with the party wall painted in a colour described by Robert as 'pitch' (black). "Traditional terrace corridors," he says, "often referred to as 'shotgun corridors', tend to pull you through with period detailing, and they're often dotted with skylights."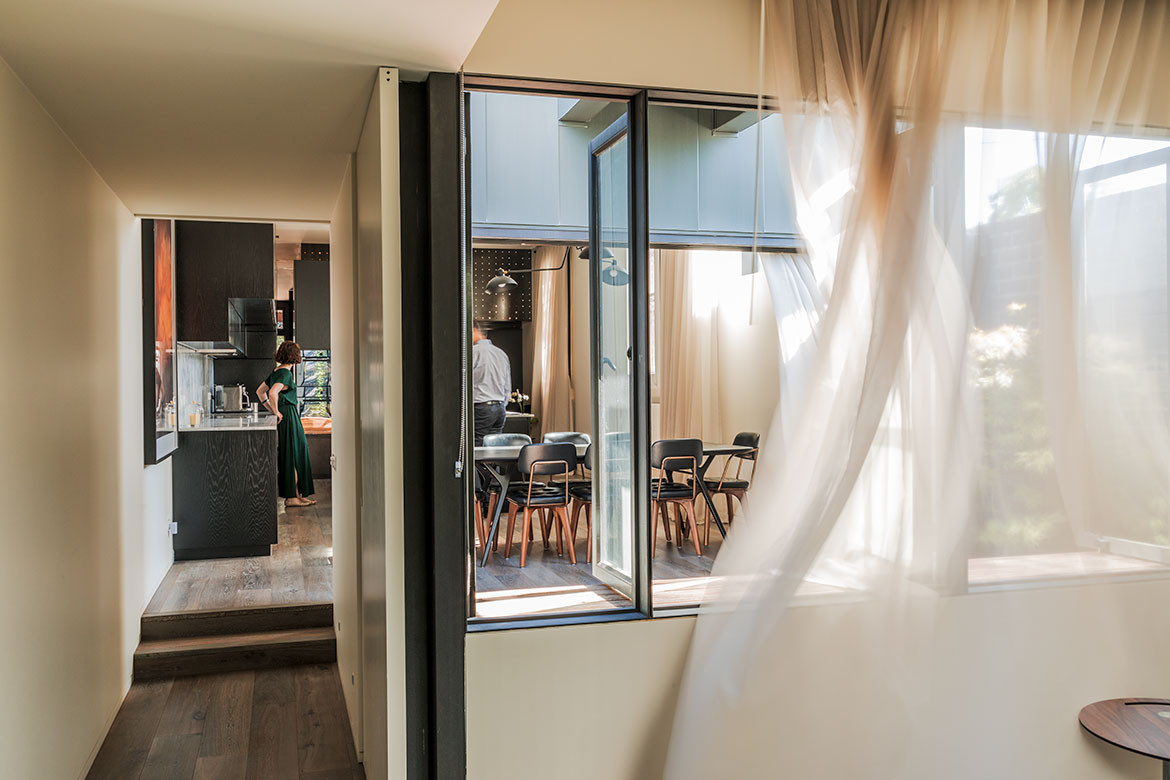 Robert saw this passage not only as a corridor that accesses the main bedroom and guest powder room, but also as a moment to take stock and leave the outside world behind. At the end of the passage, there is another pocket with mild steel bookshelves which creates a 'veil' to the open plan kitchen and dining area. As with the corridor, the ambience, through the selection of materials, is relatively dark and sombre. Dark-stained oak kitchen joinery, marble benches and splashback complement the Oak floor. And although the home's side elevation is orientated to the north, there are curtains on window brackets that open in a way not dissimilar to a Victorian shutter. "I wanted to eliminate the glare from the northern light, but was also keen to create a softer feel to these spaces," says Robert, who took a similar approach when designing the high brick northern wall that encloses the internal courtyard. "It's about giving spaces a more intimate feel, while still allowing for vignettes through the home. The Station Street House courtyard acts as an interstitial space connecting the kitchen to the separate living area."
As the Station Street House is virtually a new build, some of the difficult aspects associated with Victorian homes, including staircases with high and narrow treads, could be eliminated. In this case, access to the children's two bedrooms and bathroom is via a mild steel staircase punctuated to allow both natural and artificial light (at night) to animate the journey. The staircase also allowed Robert to include a study nook on the way up. "This is obviously steel," he points out, "but in the right light it takes on a different, almost softer, feel."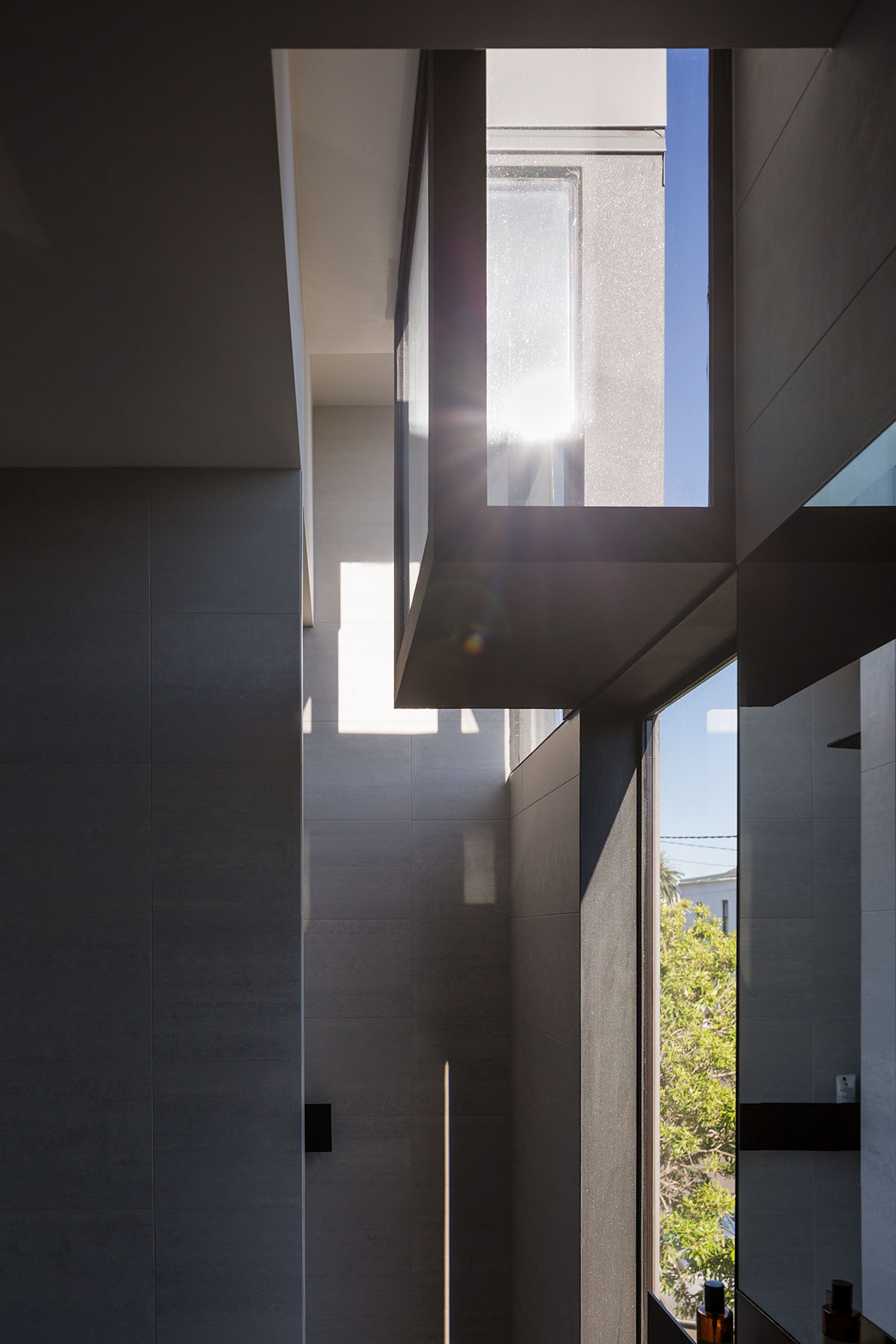 While the owner's brief wasn't stylistically driven (read presentation of tear sheets from magazines), Robert was given a pragmatic brief, one that included three bedrooms, the main with an ensuite and walk-in dressing area. There was also the request for a separate study, a zen-like space that would allow one of the owners complete privacy. Accessed from a bridge on the first floor, this 'sound booth' becomes an 'oasis'. "Despite the prominent corner position," says Julian, "Robert has created a sense of tranquility and retreat. It provides a sanctuary from which to explore the surrounding vibrant inner city."
For Robert Simeoni, this renovation is more a series of moments. "The spaces have a certain complexity, but there's also that sense of discovery, of something beyond." For this writer, fortunate to visit this home, these architectural features are not only masterfully handled, but create truly magical and memorable moments.
Robert Simeoni Architects
robertsimeoniarchitects.com
We think you might also like other projects from Habitus House Of The Year