Setting the scene of Bar Lucia in Potts Point is a Madrid-style experience of warm hues, soft lighting and elegant proportions. For designer Imogen Reed, the principal of her relatively young practice IJR Studio, the space needed to be "moody, even a little ghostly or ethereal, without being oppressive".
Moreover, she was tasked with working with the legacy of a previous iteration, where as much as possible would be reused or repurposed.
To this end, the lighting was addressed immediately with much of the existing lighting decommissioned and re-specified in preference of a low and very large chandelier. Coupled with the checkerboard flooring, soft dado line and a large arched entryway, the bones were set to deliver a layered and textural interior: "I wanted to cultivate a sophisticated warmth that capitalised on the character of the building, and in so doing give Bar Lucia a distinctive personality of her own," says Reed.
Occupying the ground floor of a grand Victorian Terrace on Kellett Street, the tones are on the warm side of buff to give a pinkish glow to the interior. Reed has been at pains to make her references to Spain oblique with mood carrying the suggestion rather than motifs.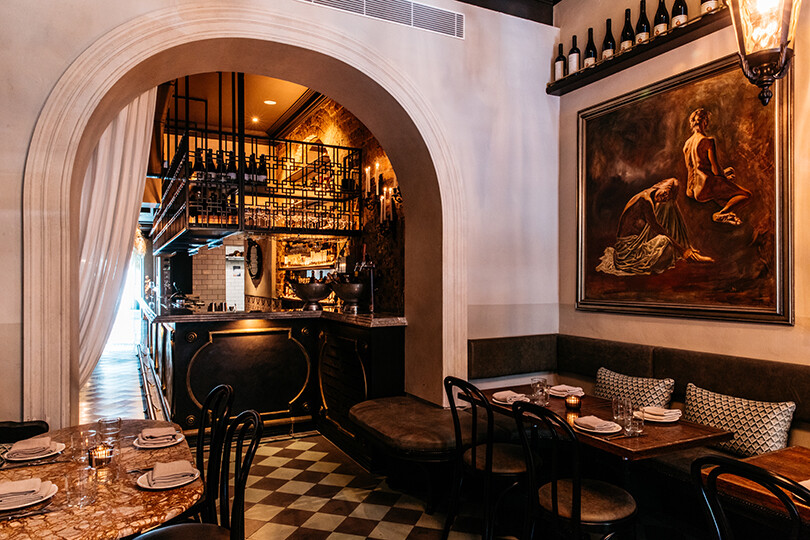 To this end and drawing on her experience in the Australian auction industry, a collection of paintings in dark timber frames are hung salon style throughout. "I'm besotted with the rare and unusual and love to incorporate character pieces if the brief calls for it, which this one certainly does," says Reed.
Pairing the artworks with classic Thonet bistro chairs and warm blush marble tables, Bar Lucia starts to feel both familiar and of another world. "With classic Bentwoods, you can't really go wrong, but I wanted to incorporate an ode to the owners' portfolio. Subsequently, the prints are Latin American in essence, without being too obvious. It was my hope that the use of geometric shapes and texture would kill two birds with one stone as they speak to that Victorian era as well," says Reed, who was particularly pleased with the custom marble table tops. "I feel like they've really elevated the luxe experience of the space," she says.
Over the bar is the most overt Spanish reference with an ornate black steel rack. Somewhat pre-existing from the previous tenancy, Reed stripped the rack of the internal layer to allow the latticework greater definition. It is in fact unrecognisable and sits well as a feature above the black and slightly ornate bar.
A large and elaborate black framed fireplace adorned with an antique Victorian overmantel mirror holds centre stage in the main dining area: "I wanted to really amplify that Gothic opulence typical of the Victorian decorative style," says Reed, who has used mirrors, and lighting to optimum effect throughout.
Moreover, in celebrating the Victorian nature of the building, the practical aspects of the design incursion, such as the bar, tables and chairs, become harmonious to the whole. Pushing this line further, Reed had added a large Victorian window to the rear dining room.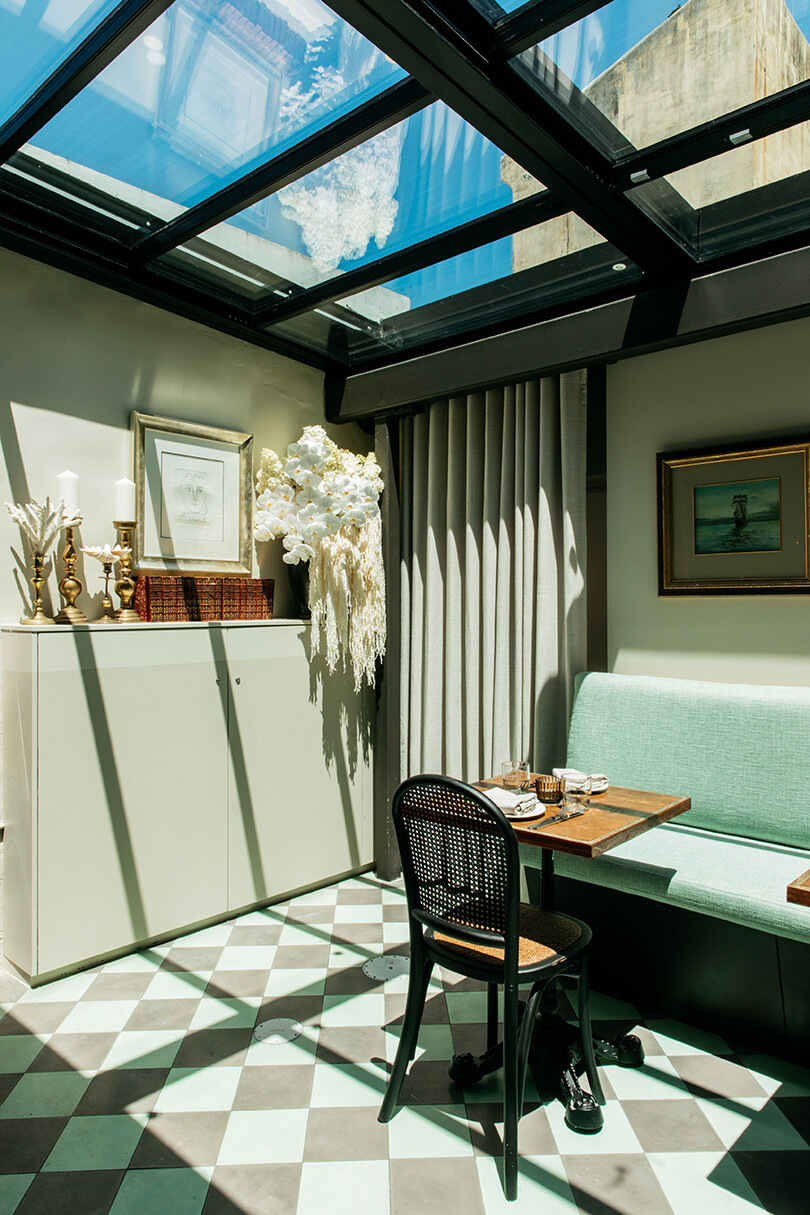 With the introduction of the aforementioned window, the rear dining room is positioned as an outdoor "Glasshouse" dining experience, with its pre-existing operable glass window ceiling. The green and black checkerboard tiles have been softened with complementary green upholstered banquettes, while the whole is fringed by unusual dried floral arrangements ranging from a cascade of white amaranth to the spikey masses of cabbage-like flowers. "I wanted to extend the antiqued aesthetic to the rear dining area to really reiterate that we're speaking to that Victorian, bygone era which might be inclined to dine in a provincial glass house," says Reed.
In the shifting world of hospitality reuse and legacy are important considerations for sustainability. No longer is it acceptable to churn and burn, but rather, considered layering and reuse must be key to longevity. Reed's design is both sustainable and appropriate, moreover it has made a complete shift in mood possible without starting from scratch. The result is a beautiful, inviting and enticing interior, where many are bound to while away the hours.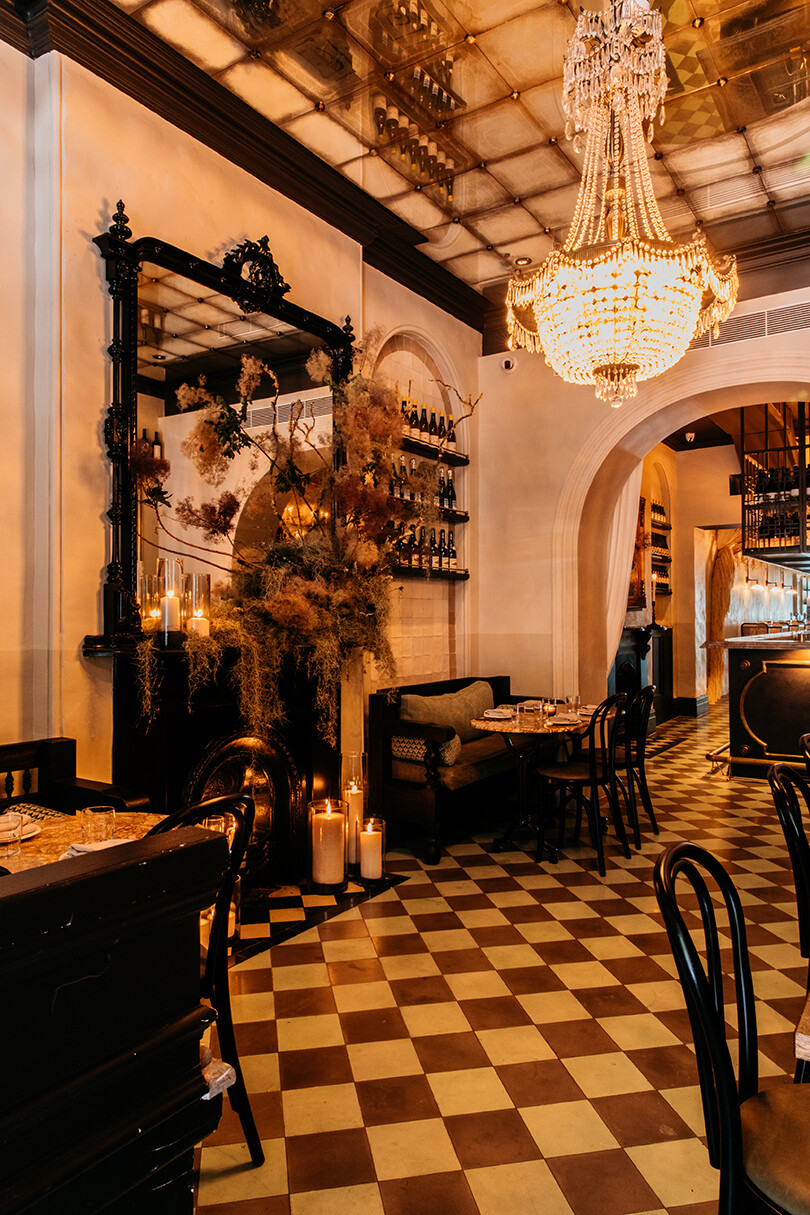 Project Details
Project Name – Bar Lucia
Location – Potts Point, Sydney
Design – IJR Studio
Photography – Kitti Gould
We think you might like this story on Brisbane Bar by Hogg & Lamb.
---