In busy Joo Chiat in East Singapore, a home has been created that provides respite from the bustle of the city, as well as a place to entertain family and friends. Sandalwood Condo is situated in a vibrant suburb that is abuzz with old-world coffee shops, retail, restaurants and colourful conservation shophouses and it is a little oasis in the midst of all the streetside activity.
Designed by Parenthesis Studio, Sandalwood Condo is sophisticated and refined, cool and detailed with an expert spatial plan that allows for flow and room to move. The client, a young professional couple with two dogs, required a home with a studio aesthetic.
The premise was formerly a three-bedroom apartment however, the new design is now open plan with areas that can also be screened when privacy is required. Principals of Parenthesis, Molina Hun and Sujono Lim have designed a home that encompasses all facility but also has that something extra – style and panache.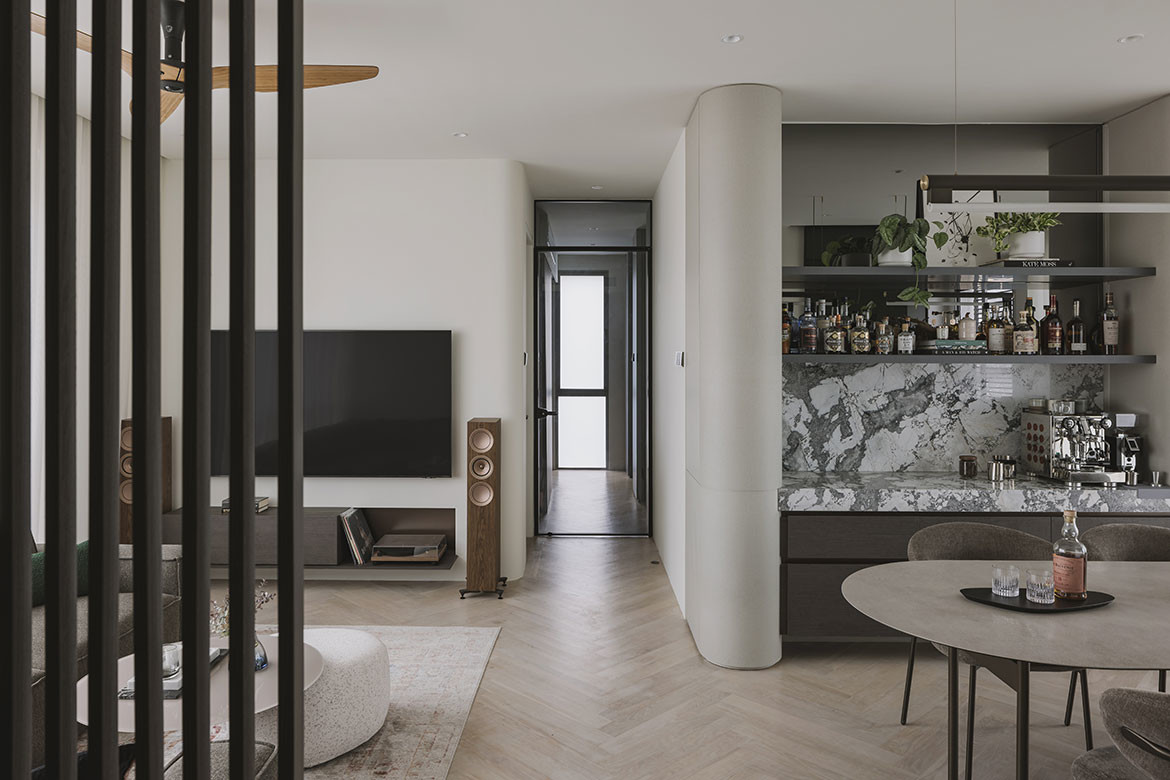 The redesign of Sandalwood Condo now constitutes a splendid grouping of private and public areas with main bedroom suite and large kitchen adjoining a dining and living space and powder room. A balcony is accessed from the dining area and the main bedroom.
This is a home that is elegant and bespoke, with modern furnishings and a muted neutral colour palette. The softest of greys predominates on walls and ceilings and there are accents of dark grey on feature walls and the darkest brown in soft furnishings. Underfoot is a limed herringbone patterned American oak timber floor and hard surfaces include marble and quartzite, Dekton and Silestone that adorn counters and benchtops in the kitchen and bathrooms.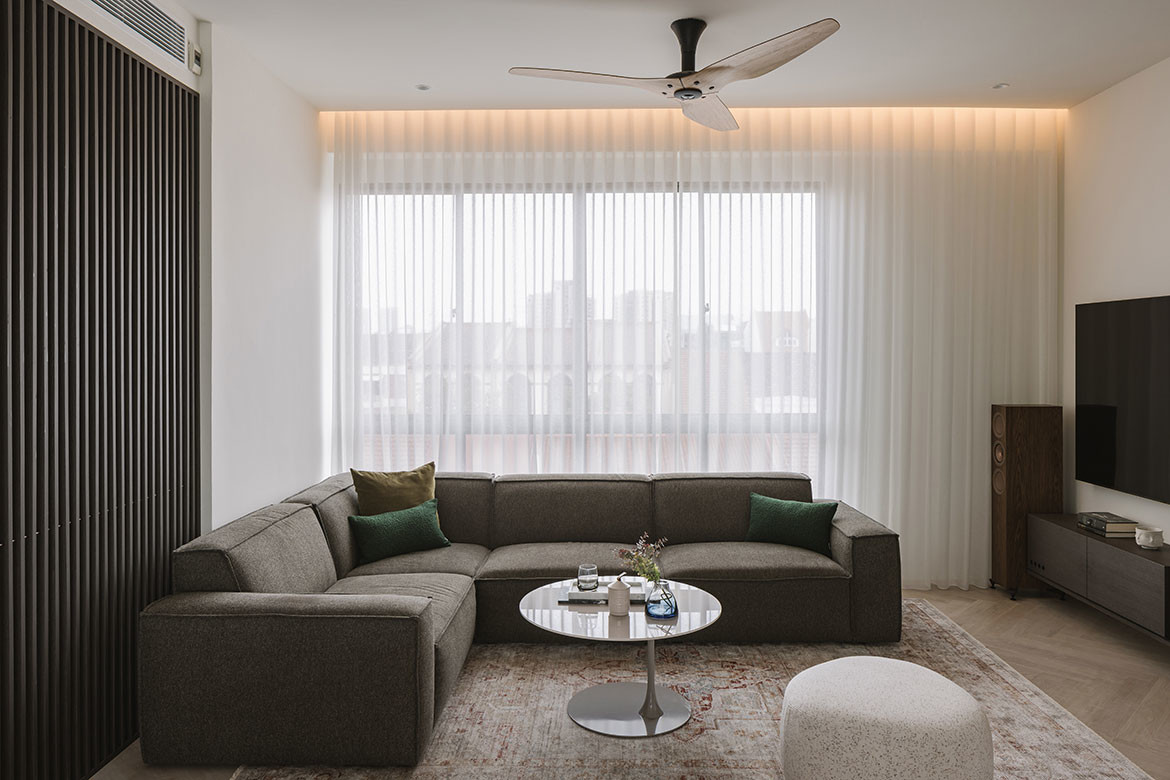 The kitchen is dark and this adds a certain drama to this ubiquitous of areas. A large full-height sliding glass door provides privacy but can also transform the area into a dry kitchen that connects to the dining room. Marble has been utilised in the countertop on the inset cabinet in the dining room and the white and great veining becomes a focal point within the apartment. This countertop becomes the perfect place for a morning coffee or to organise drinks and services the long timber table surrounded by comfortable chairs where guests relax. The area is complemented by white filmy curtains that help diffuse the light contributing a softness to the hard surfaces.
The Living space has been designed simply as a place to relax and a vertically-slatted timber screen helps to separate this space and affords privacy from the entrance.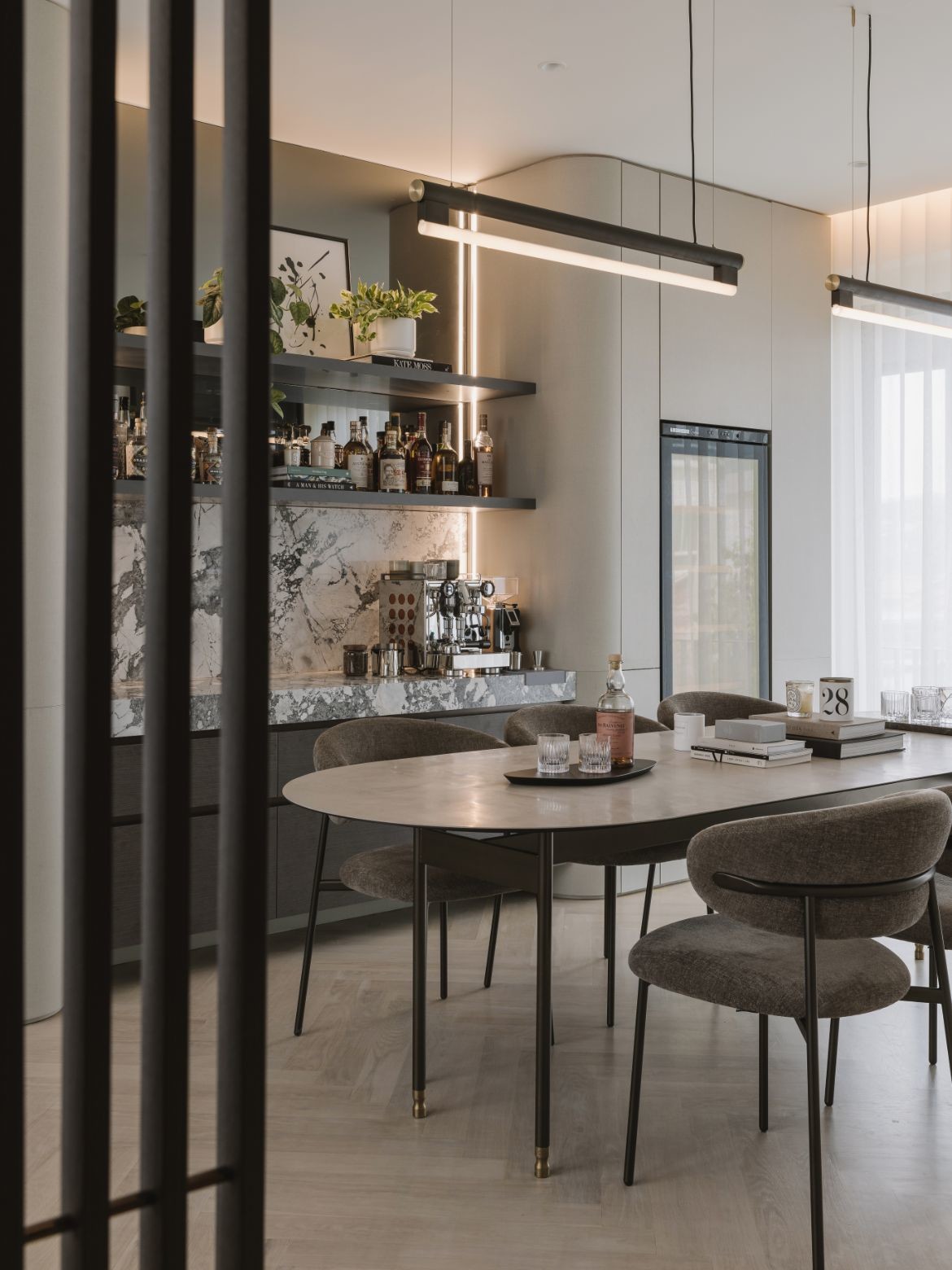 The main bedroom suite is luxurious, not only through amenity but with a generous circulation space. The walk-in robe and dresser offer convenience, and aside a sliding glazed door to the bathroom, there is a cabinet that displays handbags. Mindful that transparency provides the perception of spaciousness, glass shelving has been employed to separate the shower area from the vanity.
Sandalwood Condo has been designed for particular clients and to meet their unique brief. Contemporary and clean, the interior is a sanctuary of good taste and thoughtful design.
This is a home that supports well-being by providing space to relax and thrive within a busy metropolis. Parenthesis Studio has created a little oasis in Singapore that enhances life and is certainly a delight for the eye.
Parenthesis Studio was nominated in The Prodigy category of the 2022 INDE.Awards.
Project details
Interior design – parenthesis.studio
Photography – Daniel Koh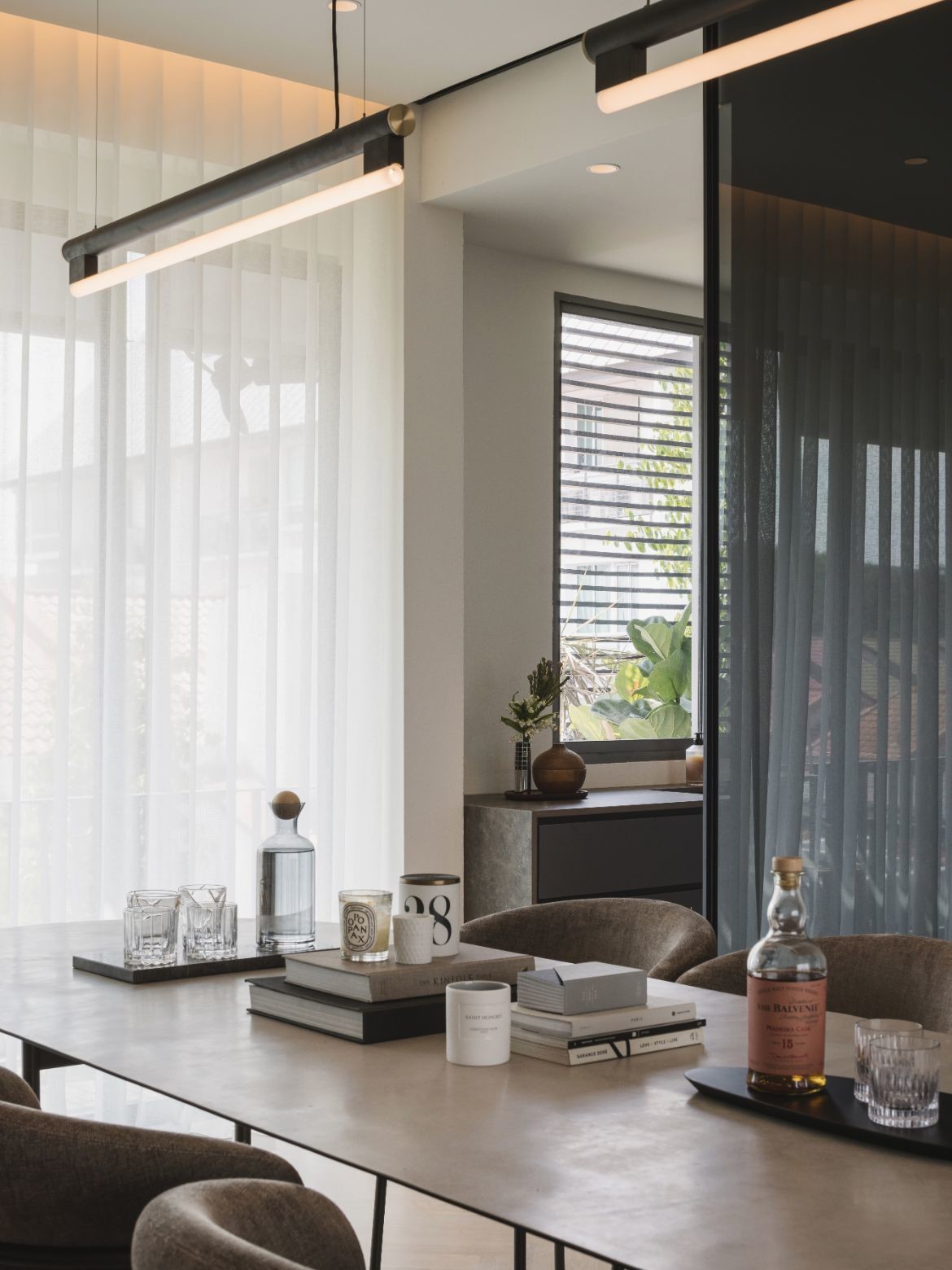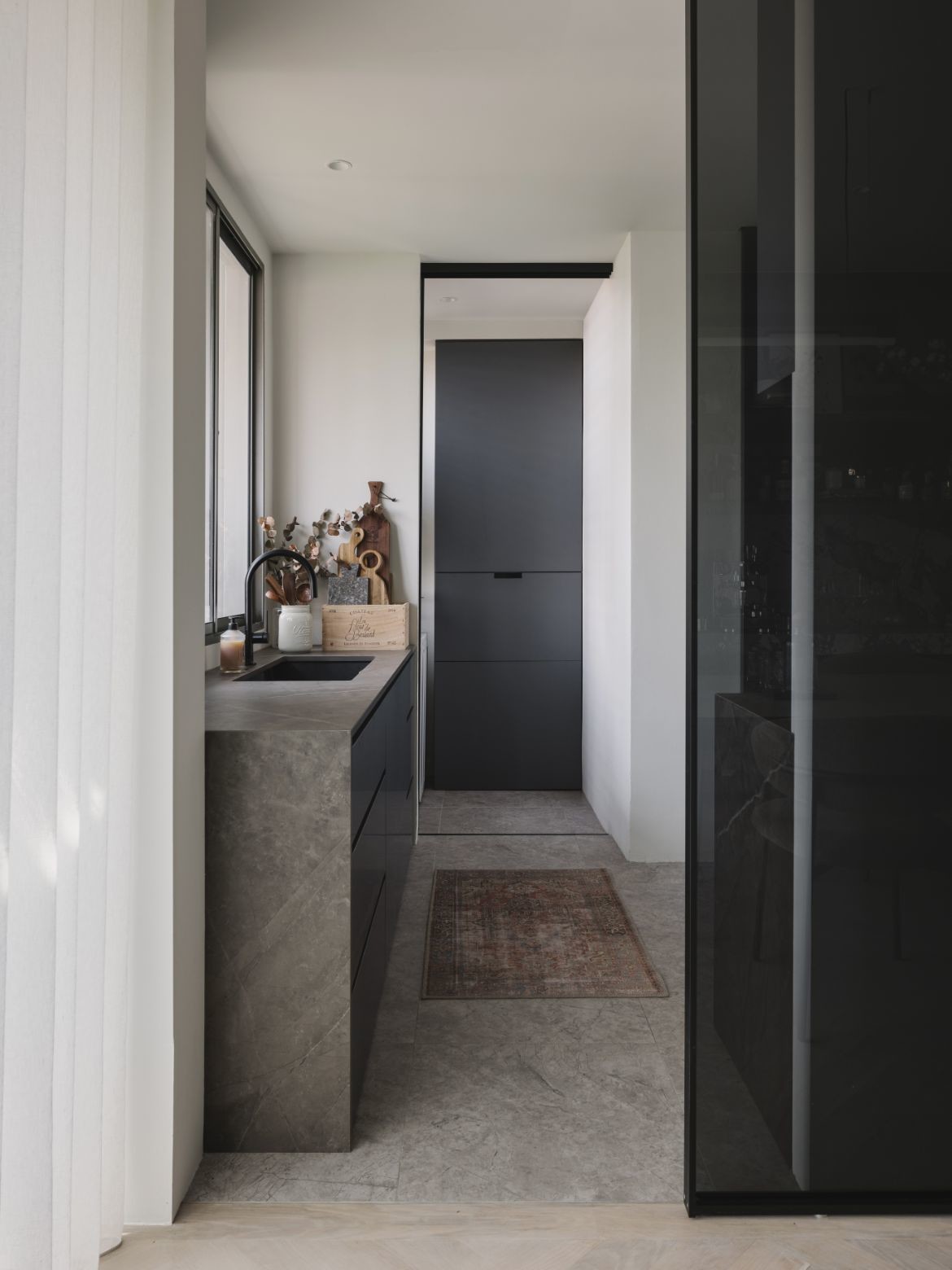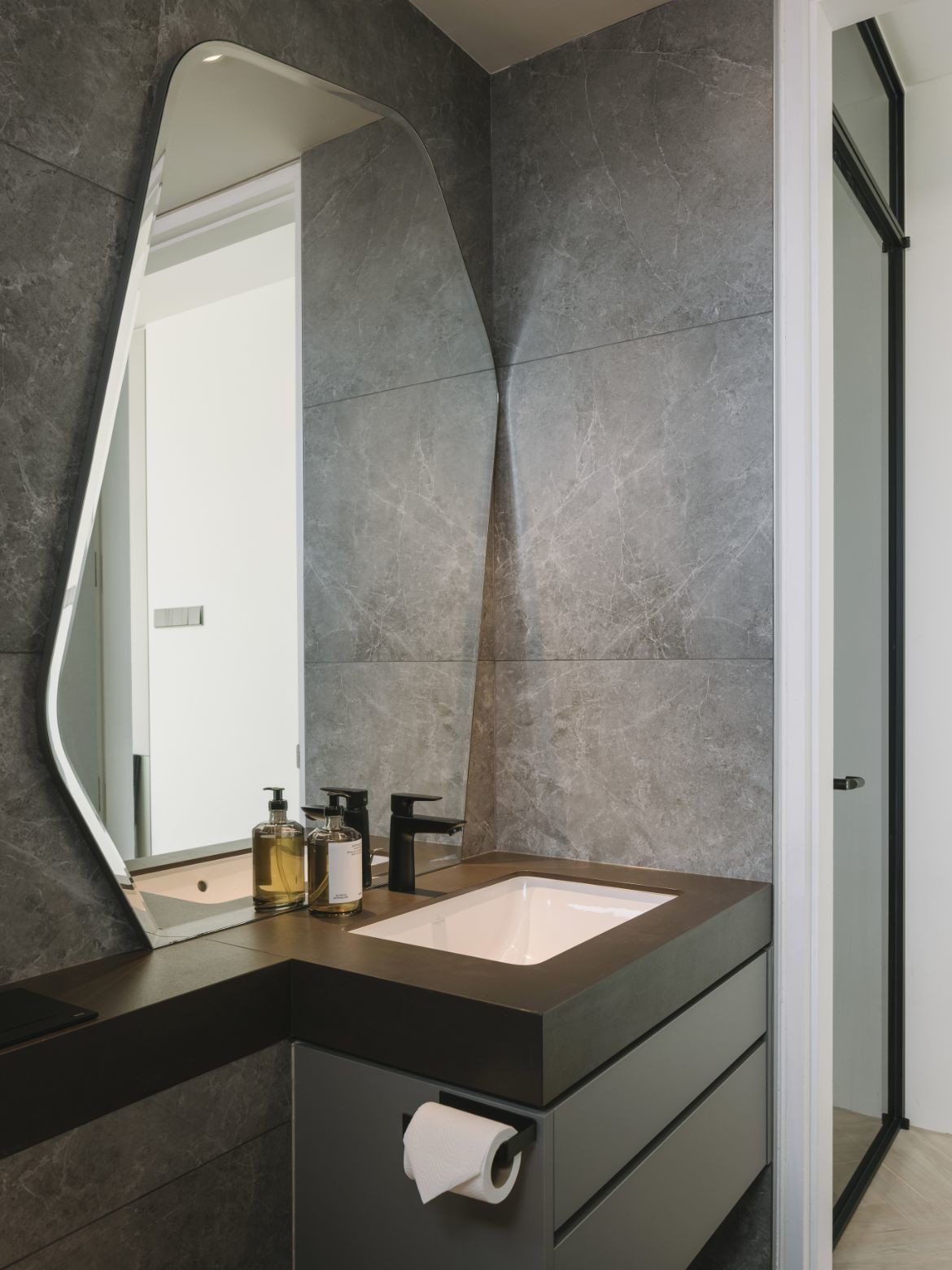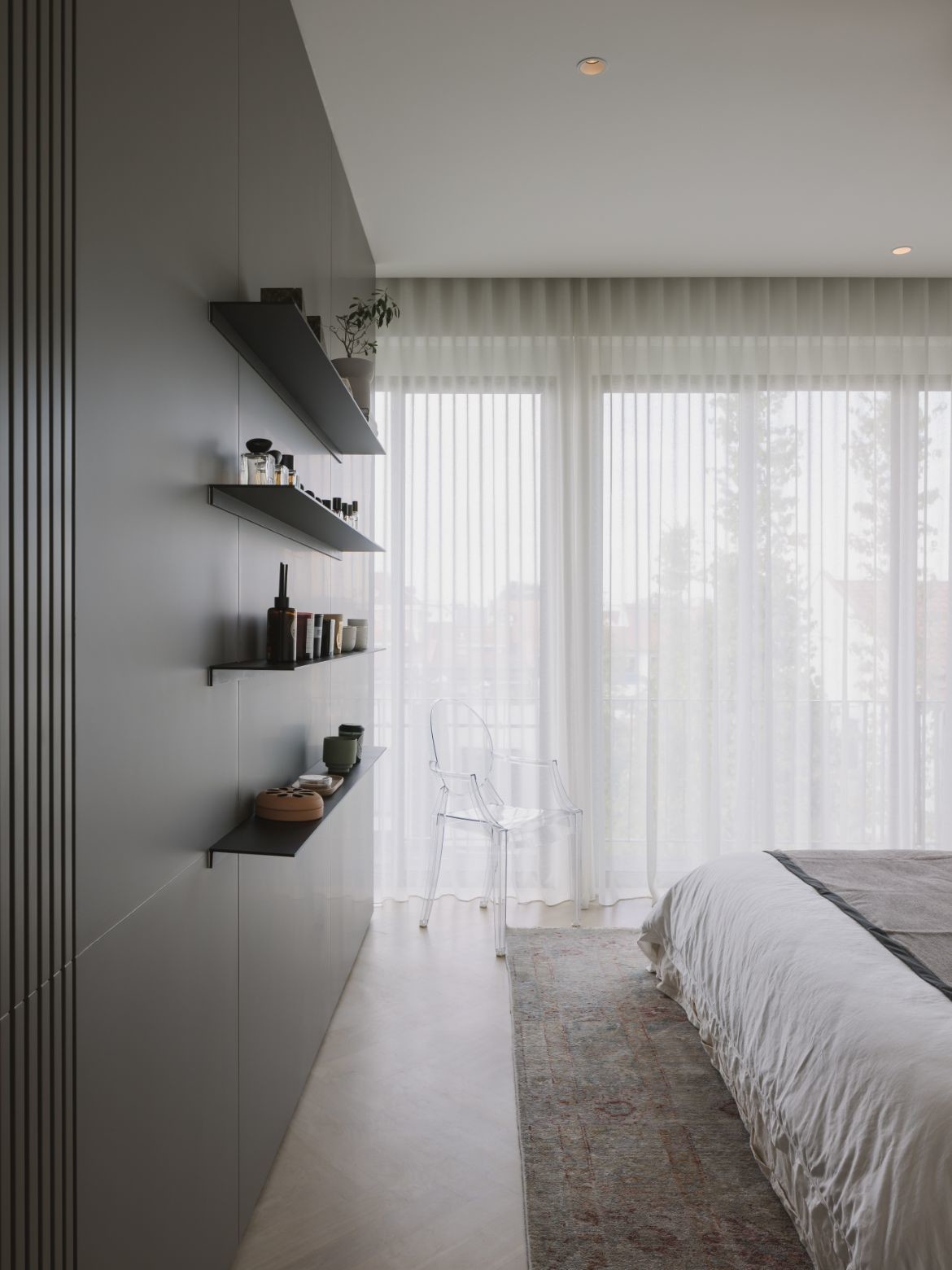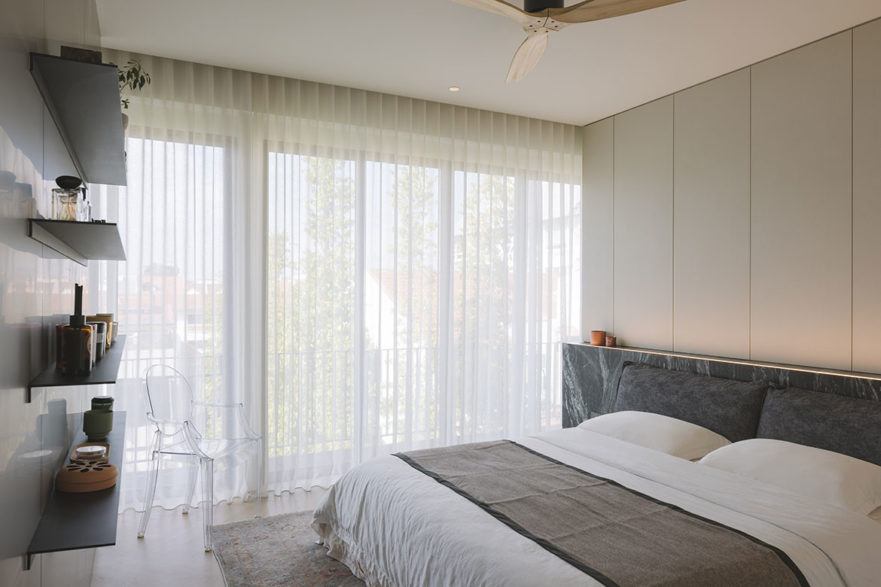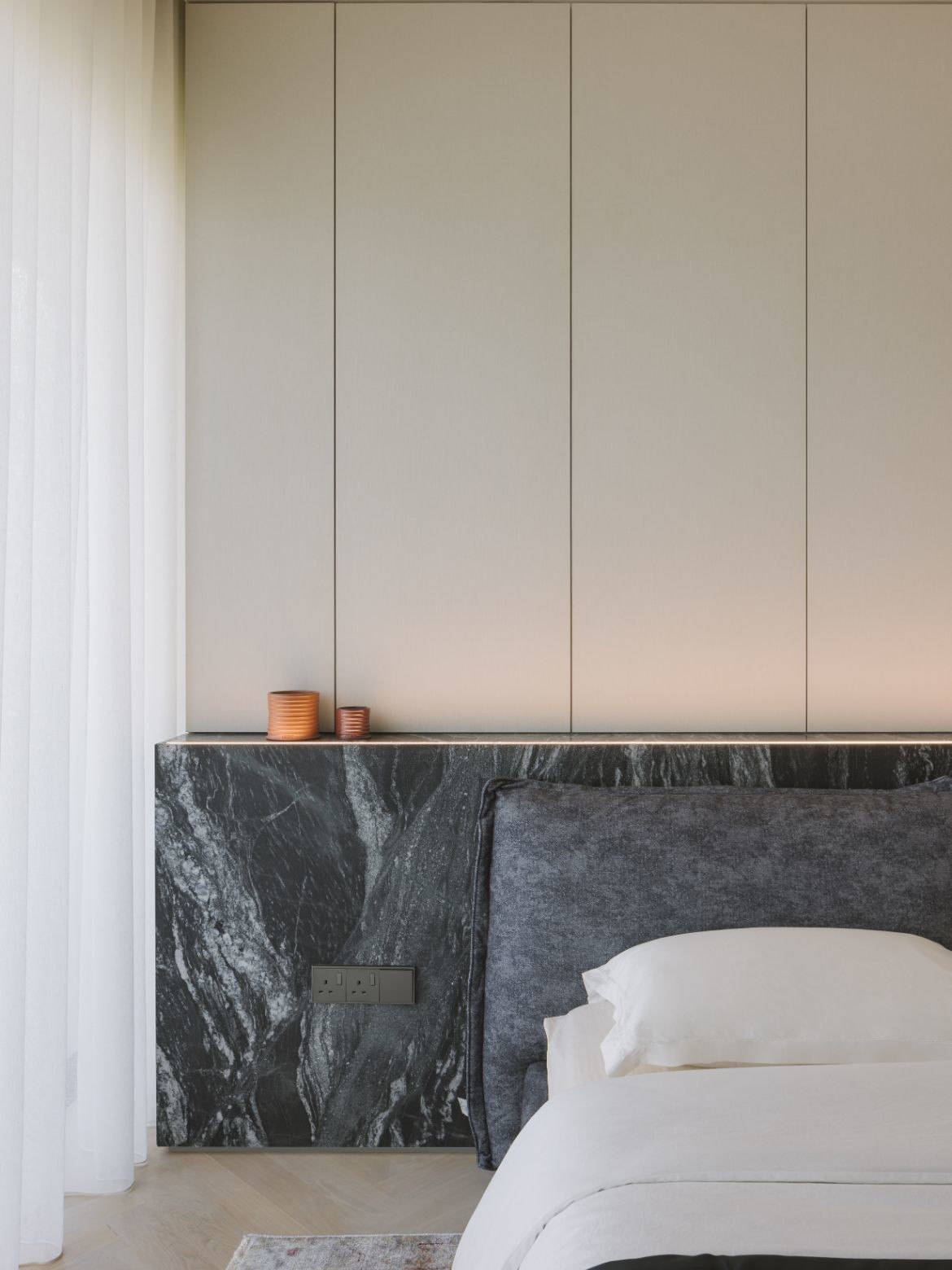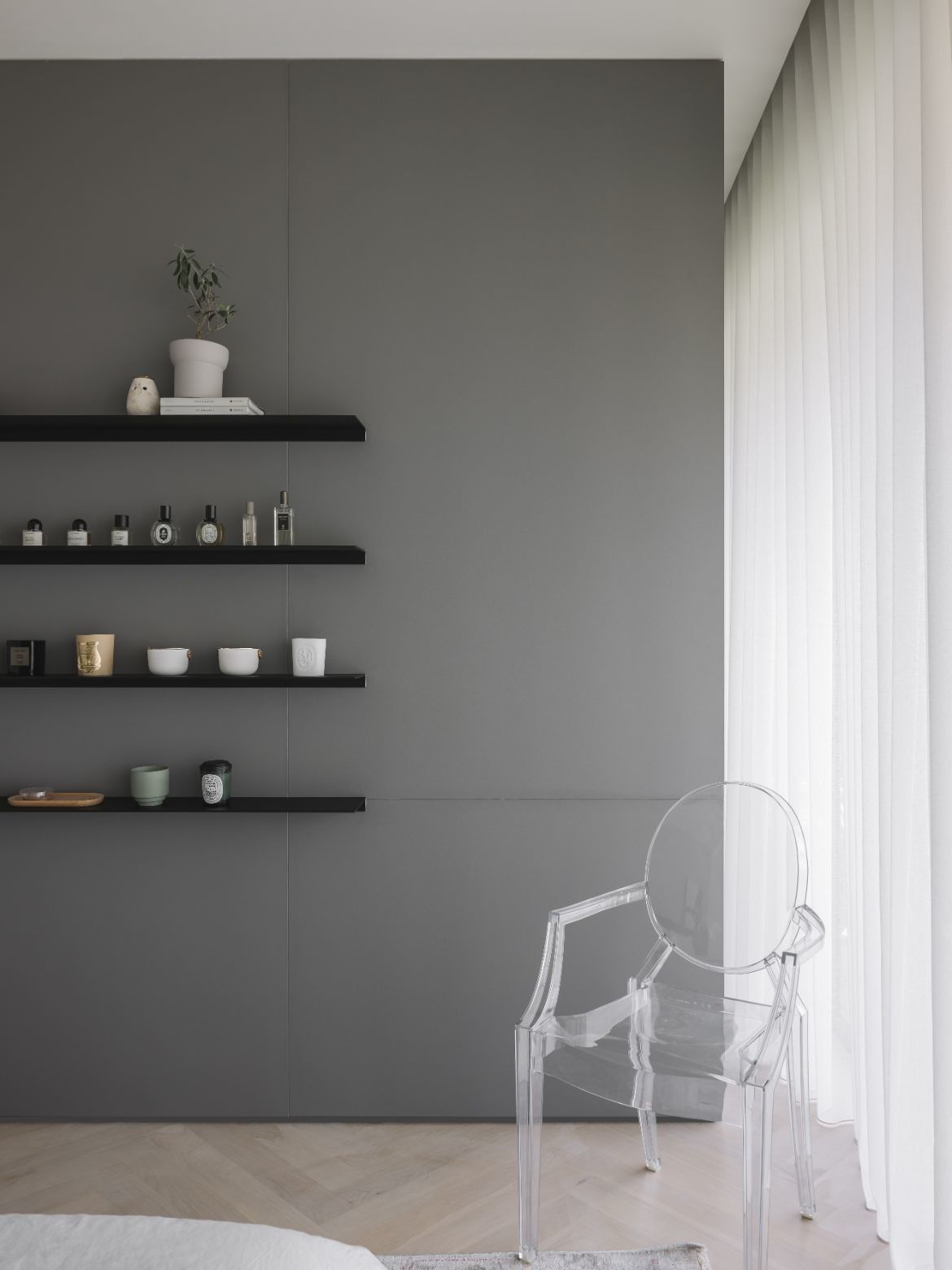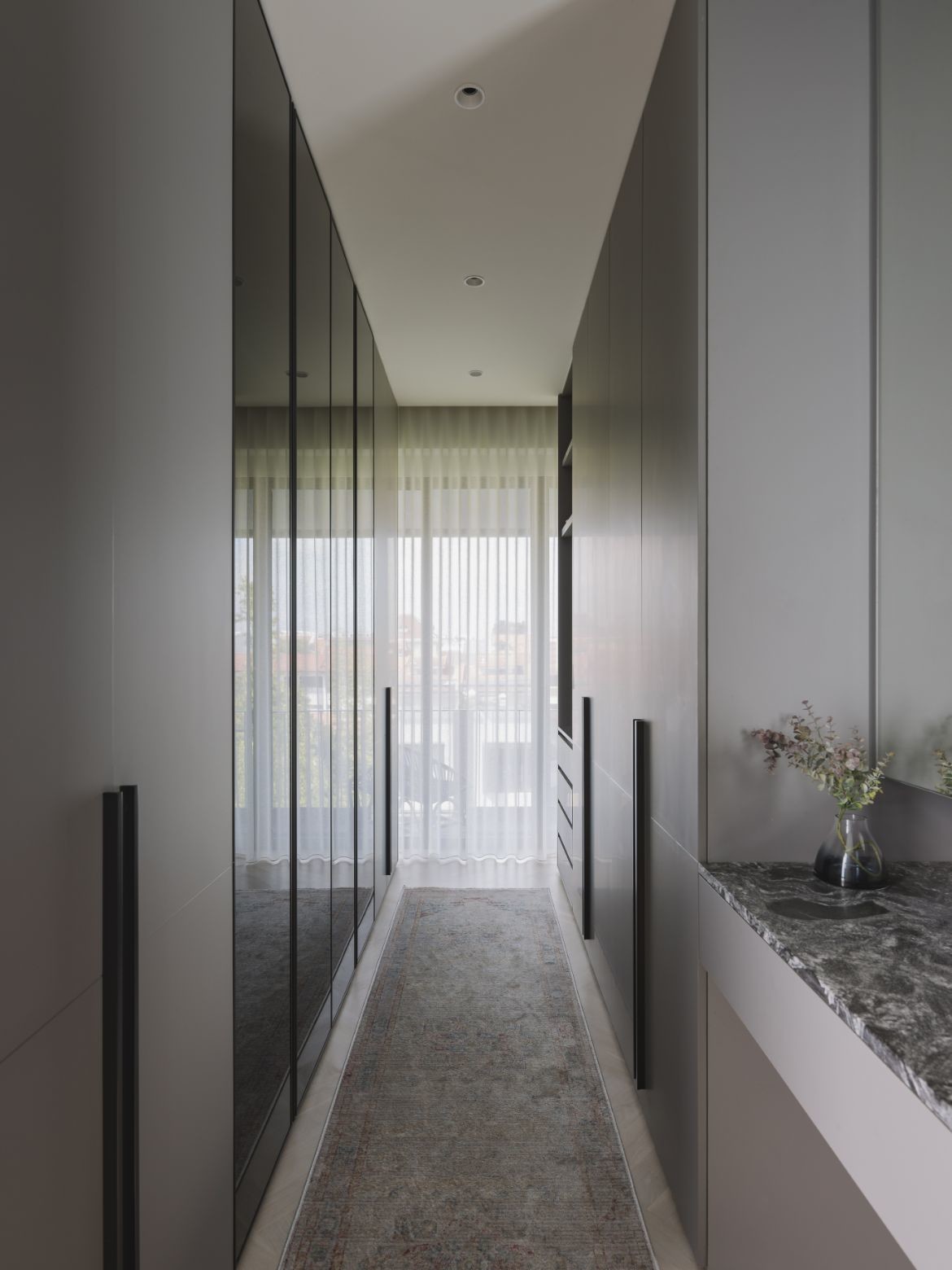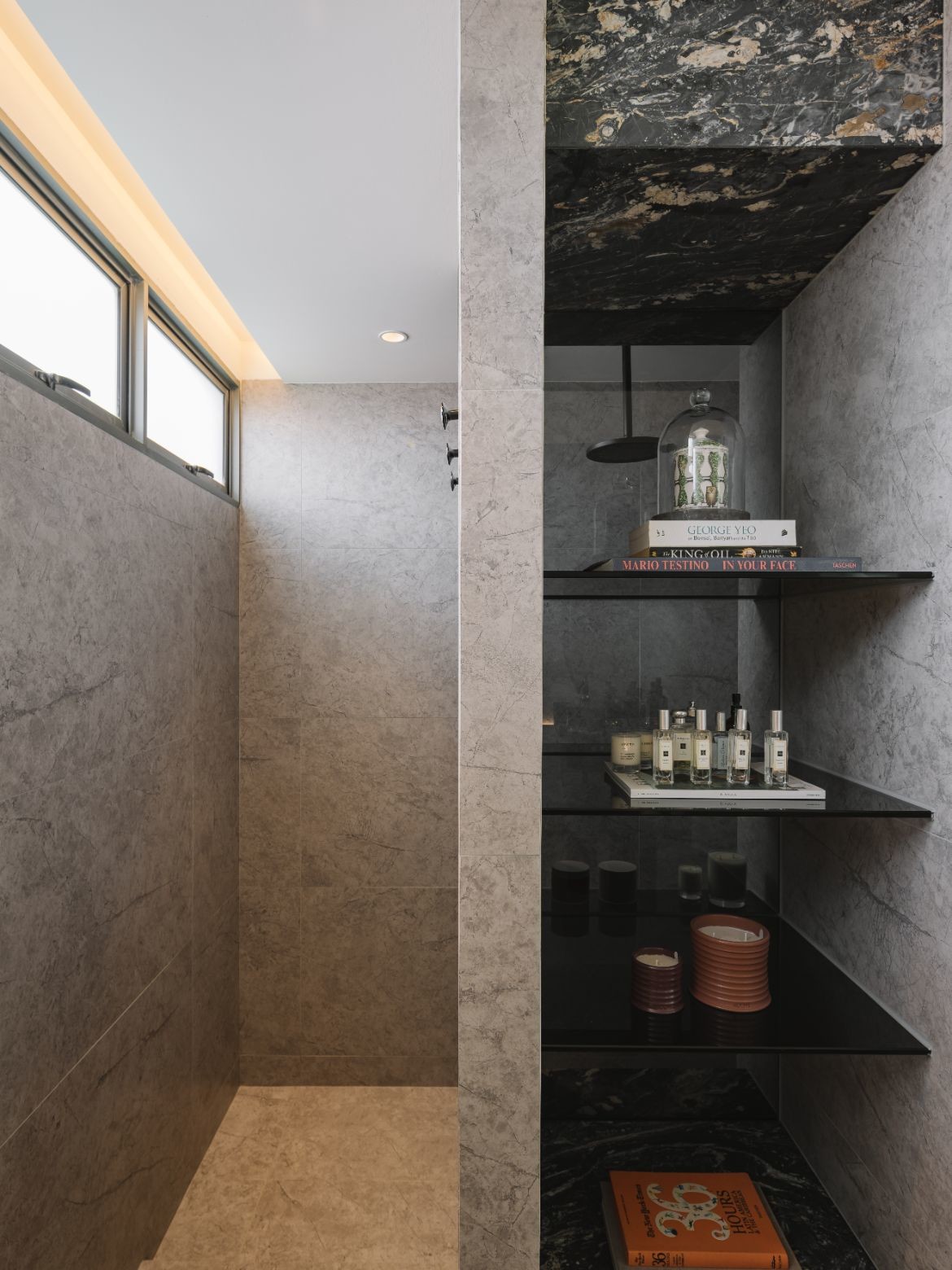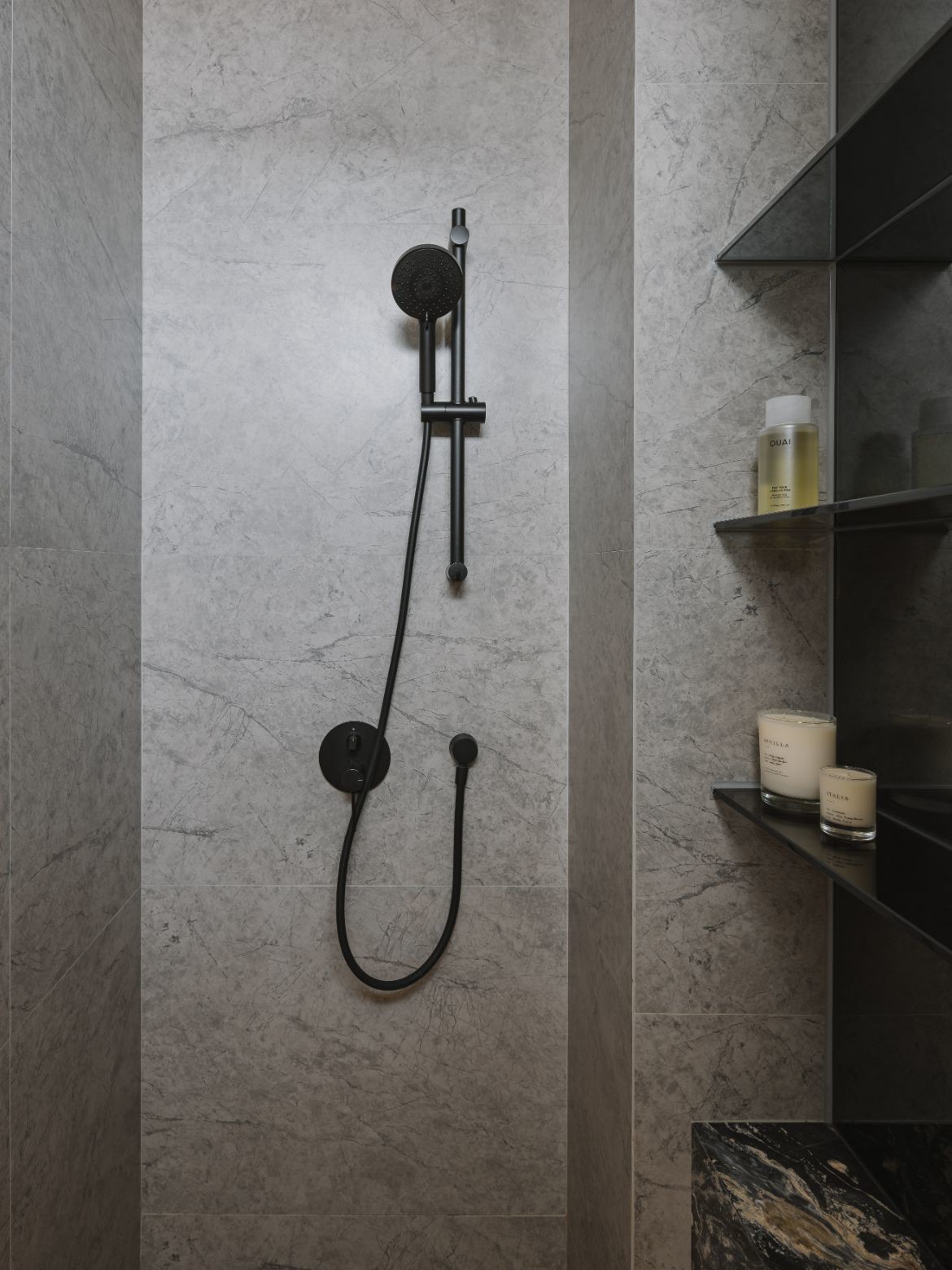 ---