Referencing Le Corbusier's L'Esprit nouveau of aesthetic refinement, the redesign of this apartment in Singapore's Sherwood Towers physically pares back excess in favour of visual and physical clarity. In doing so, the interior is now focussed on the extraordinary exterior views which bring the outside world into the interior visually enhancing spaciousness, ventilation, natural light and a sense of spatial fluidity.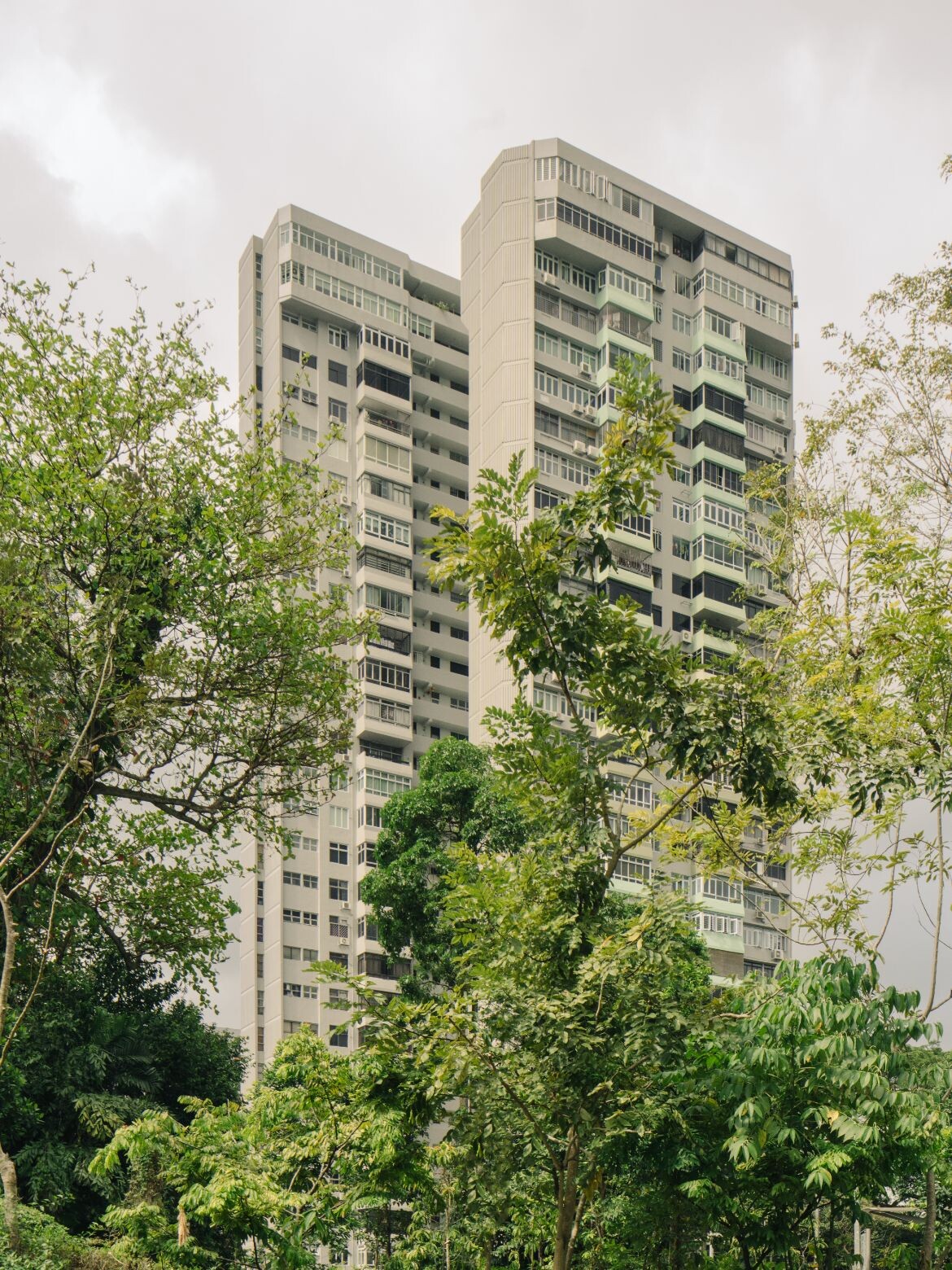 In keeping with this stance, Corbusier's Universal Style is quoted through colour and form delineating spatial use without truncating circulation or flow. As such, colour is essential to this project with coloured portals framing views, as well as layered colours used to shift perspective and direct the eye through the space to the views. Geometric and line motifs provide additional scope for the introduction of colour in a playful manner that counters the buildings' brutalist form with whimsy. Moreover, what was once a series of dark spaces, is now opened through the centre to read as an enfilade of sequential open living spaces focused towards the panoramic views.
In Singapore, where Brutalist architecture has lately been seen as the poor cousin of more conventional Colonial architecture, there has been a reticence to restore these spectacular buildings: "Singapore's Brutalist buildings compared to the meticulously restored colonial shophouses often fall into disrepair given the issues of shared ownership of common facilities with many owners thinking that selling their units collectively is a better financial bet than investing in upgrading. While most may believe that Brutalist buildings may not be as conventionally pretty as shophouses we at SPARK feel they are a better expression of Singaporean identity because they embody a true socially collective architecture," say Stephen Pimbley, Wenhui Lim, Jessica Leong, Athira Radakrishanan and Christine Sherin Lim, the SPARK project team.
As such, it was important to create a living interior that celebrated the building's form while creating a space that would mirror the owner's love of colour and design. With sliding doors that switch wall aspect from artwork to television, the apartment has a gallery ambience suited to the clients' collection of art, design objects and iconic furnishings.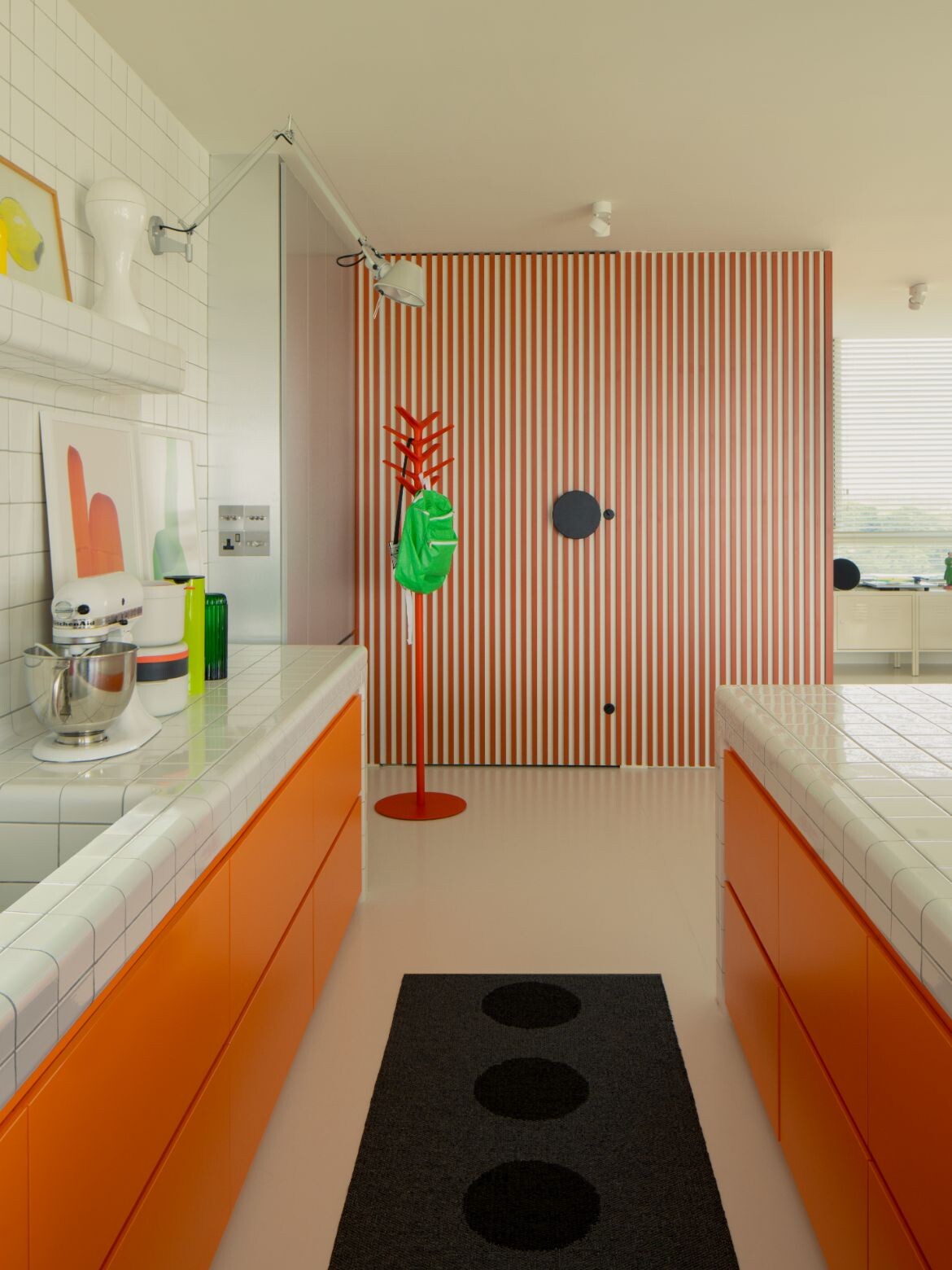 Bringing light into the home was paramount and cleverly realised with a wall of glass bricks replacing what was a solid wall at entry. In making this change, the entrance now glows at night and floods the home with natural light by day, which reads as a striking and spacious threshold to frame the interior gallery.
A wall of white square tiles with a curved tile format used for the edges of the kitchen bench and island, frames the kitchen with luminous, bench-long, orange drawers to the inner side and canary yellow square drawers to the outside.
It is breathtakingly striking and speaks directly to Corbusier's use of colour blocks. This is compounded by the position of the island falling short of the kitchen bench so that both colour blocks are seen when viewed from the lounge and dining areas. In the open plan arrangement, the client's contemporary and mid-century furniture is well balanced by a red batten screen overlaying utility walls and Teressa Moorhouse's Polar Bear Rug for MUM's.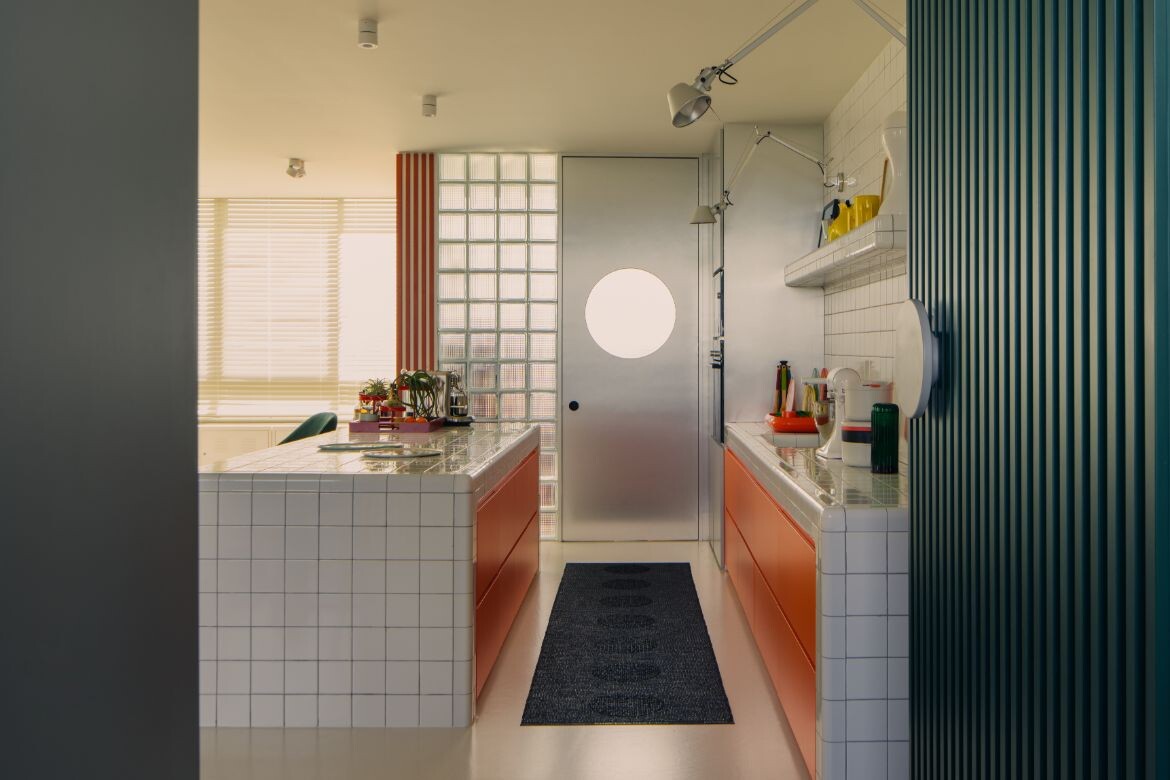 "Loose furniture and rugs are favoured over traditional sofas and 'typical' living space arrangements for flexibility and constant adjustments, consistent with the owners' view that a home is a space for creative self-expression and freedom," says the Spark project team.
As such, a selection of large colourful rugs are playfully rotated throughout the home. These include a large semi-circle of yellow which is occasionally placed to meet the yellow drawers of the kitchen island. A large orange geometric rug is particularly striking in the lounge, where its vibrancy changes the mood exponentially.
Colour blocked gallery walls slide to reveal new colour blocks. The walls of mint green and sage in the lounge area, for example, separate (right to right) to reveal the canary yellow wall of cabinetry in the bedroom. Conversely, when separated left to left, a corridor is revealed with a wall of yellow laminate framing a door with a porthole, in the same hue (laminates throughout are by WilsonArt, Panaplast and EDL). When both are opened the entirety of the bedroom is revealed to be faced with a wall of yellow punctuated by doors and cabinetry.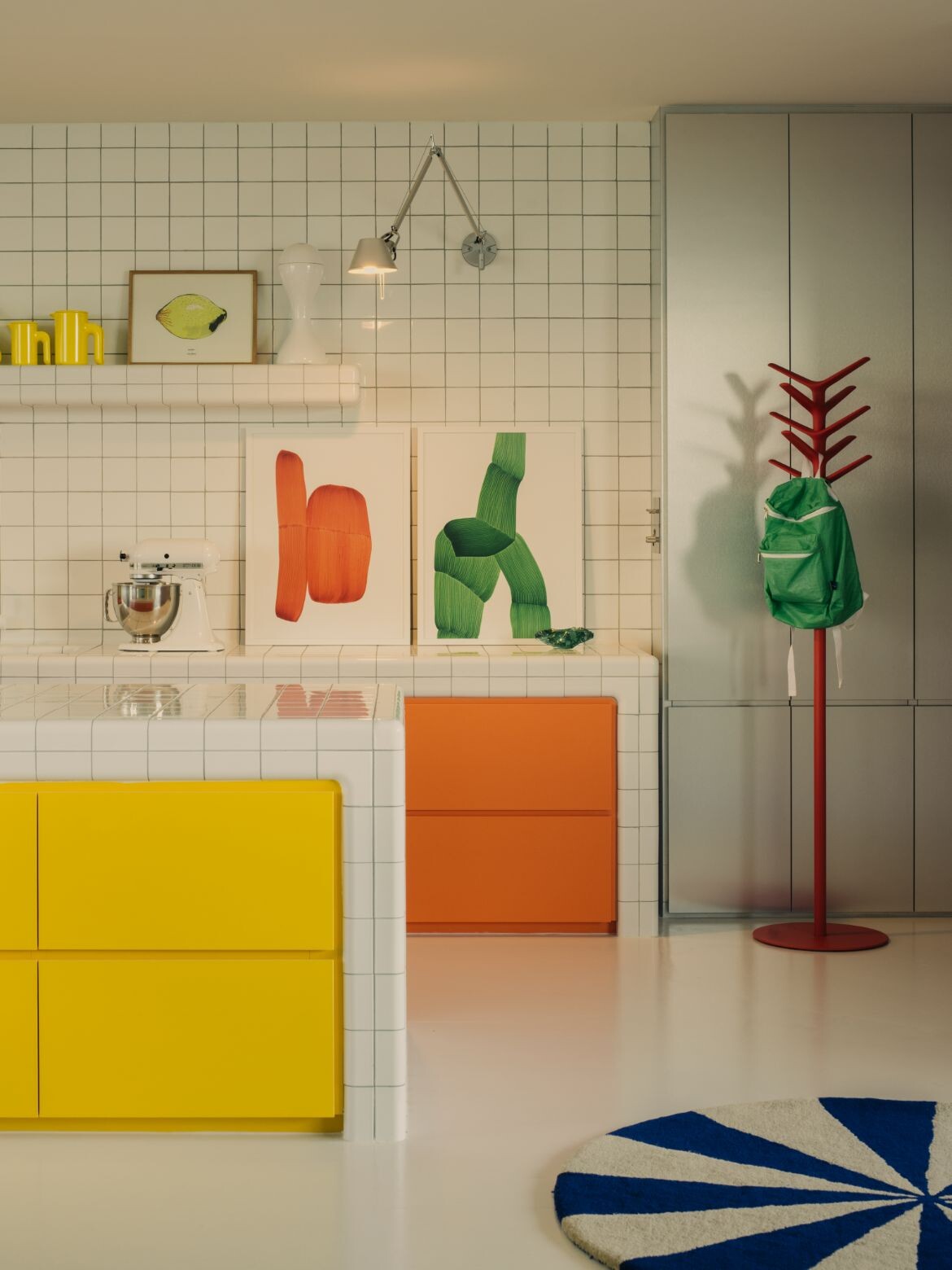 The bedroom layout is exceedingly clever with the door to the right leading to the walk-in robe – colour blocked in deep teal green – with red furniture to the entrance side and a single purple chair within. A port-holed door in the cabinetry opens to reveal a bright red inner side and a large cuff of red framing the entrance to the ensuite.
The square tiles are used here from floor to ceiling for the left and right walls, with smaller square tiles in deep green used for the floor and end wall (Hafary + Unlimited Enterprises). A red lacquered pedestal with a suspended round and lit mirror and black basin is countered by a long red-lined aperture stretching along the length of the double shower. A second bedroom is colour blocked in pale blue and Kelly green.
This is an exceptional apartment design that entirely meets its owner's needs. The colours are outlandishly good with strength and scale considered and delivered without truncating space. In reshaping the interior architecture, the designers have aligned the apartment to contemporary living in a way that reinforces the architectural ethos of the building. Just brilliant.

Project Details
Interior design – SPARK
Photography – Khoo Guo Jie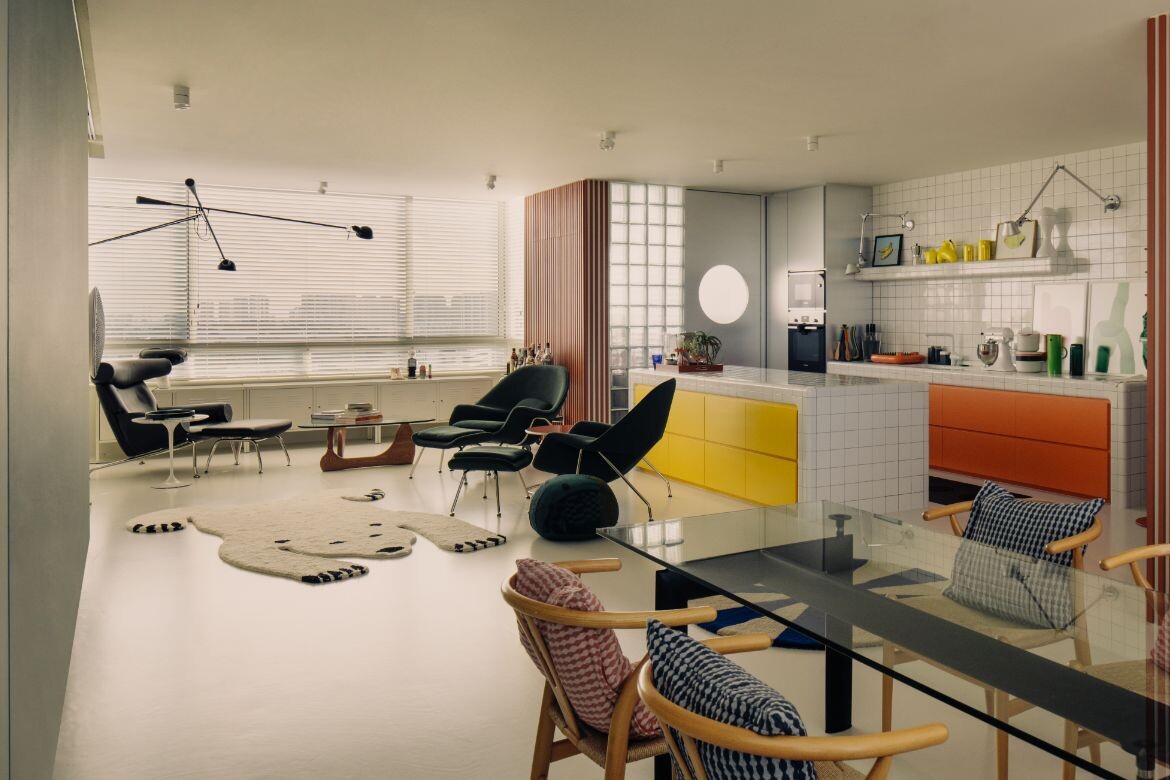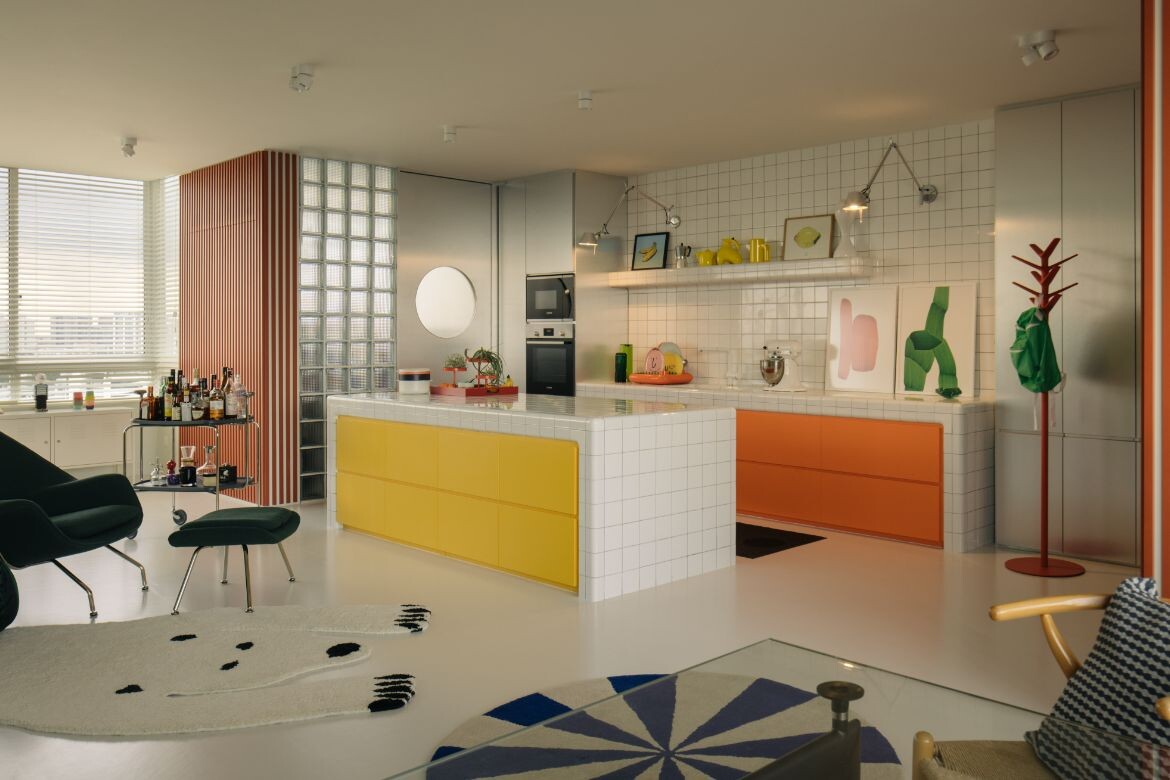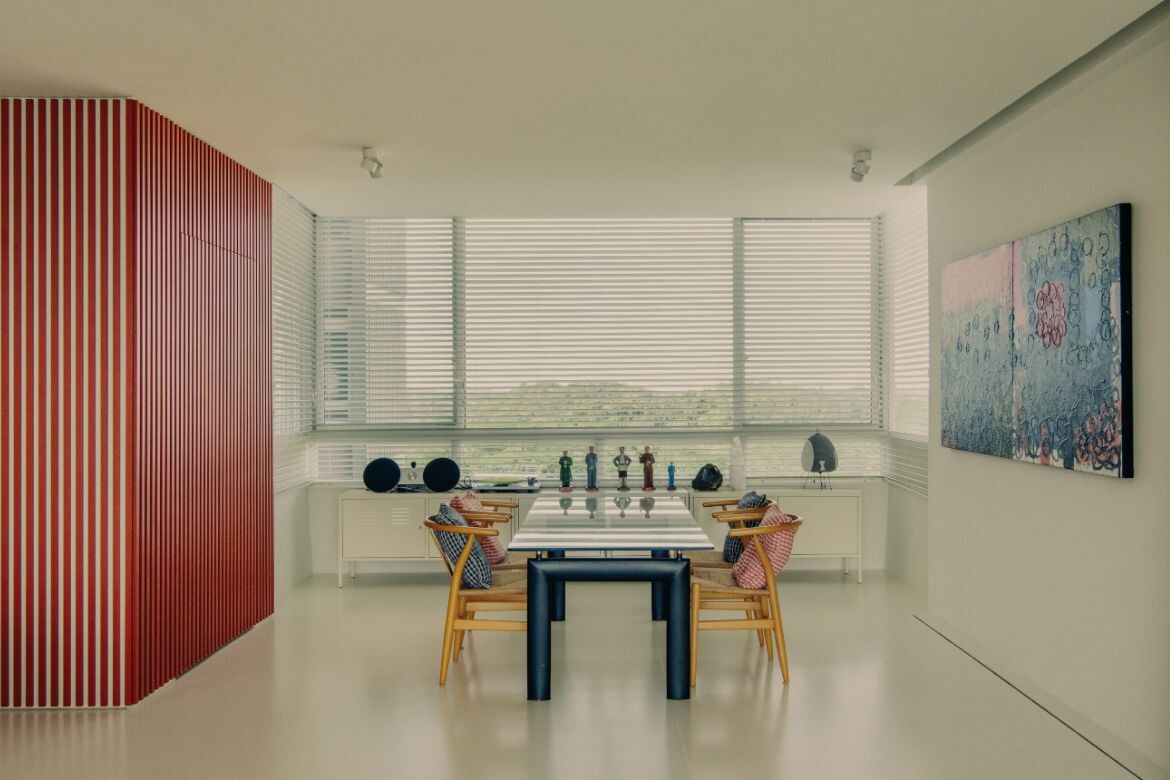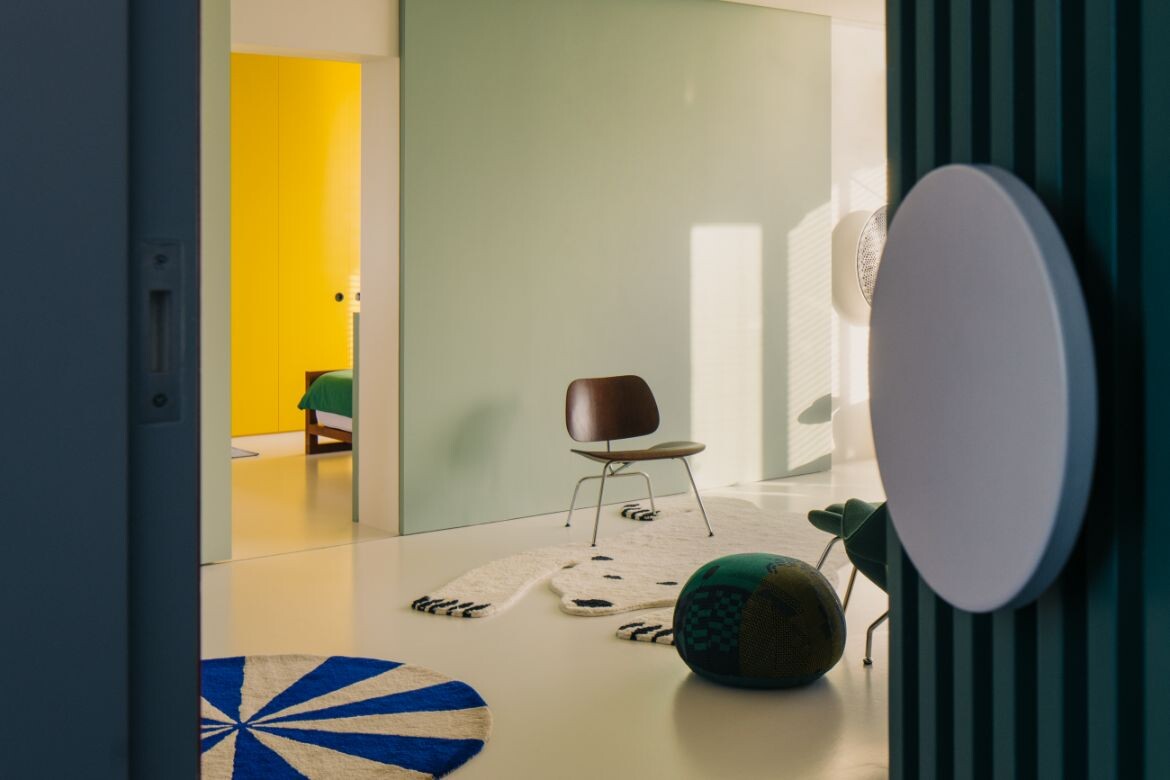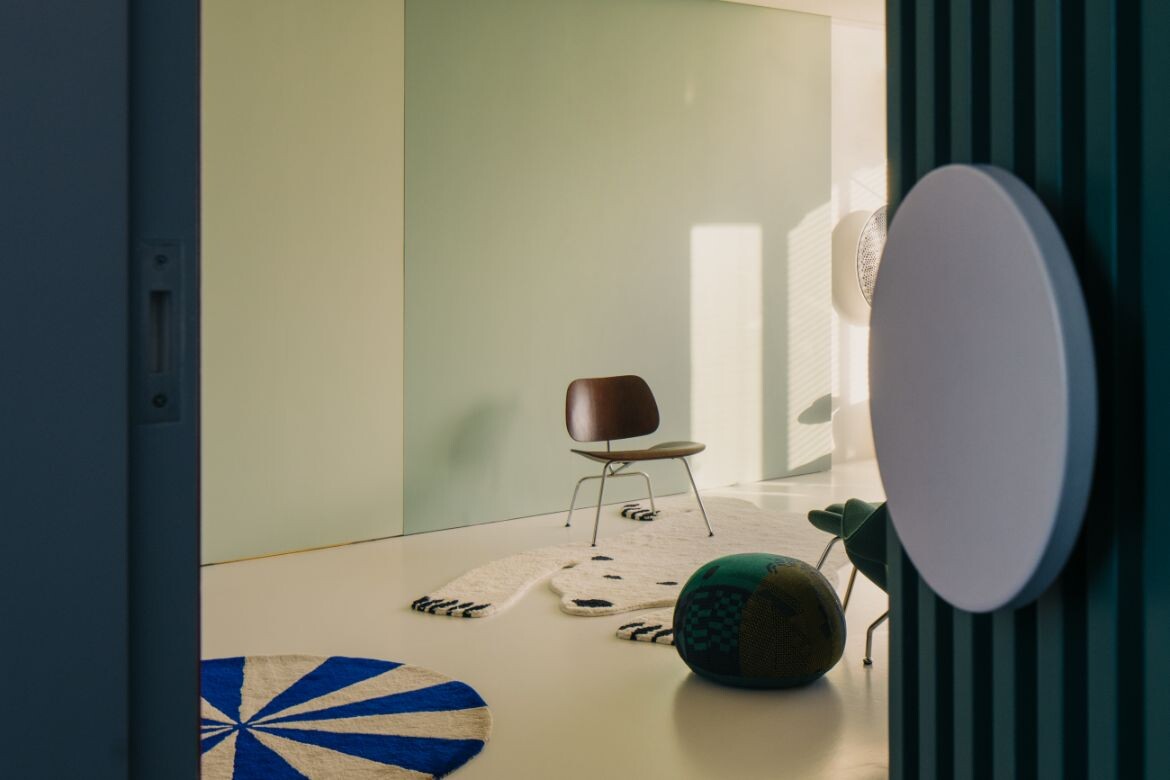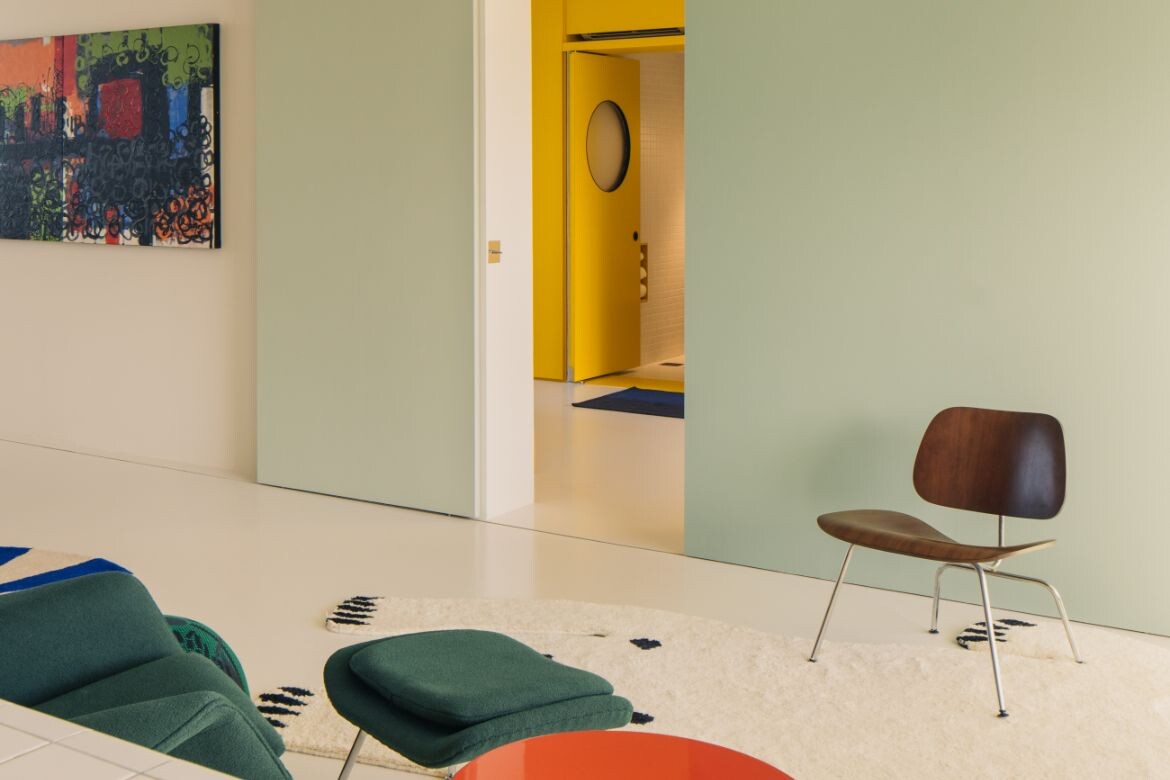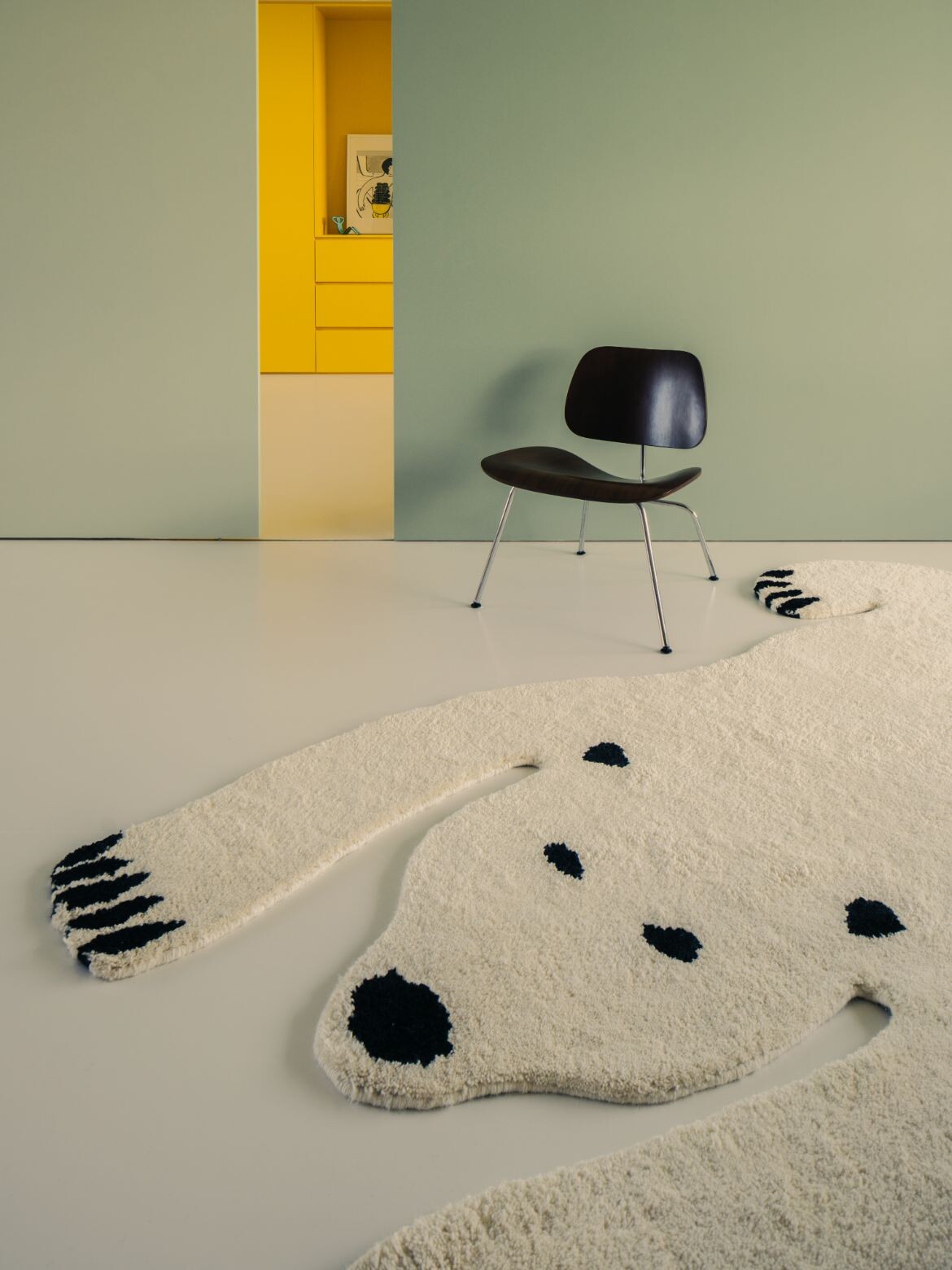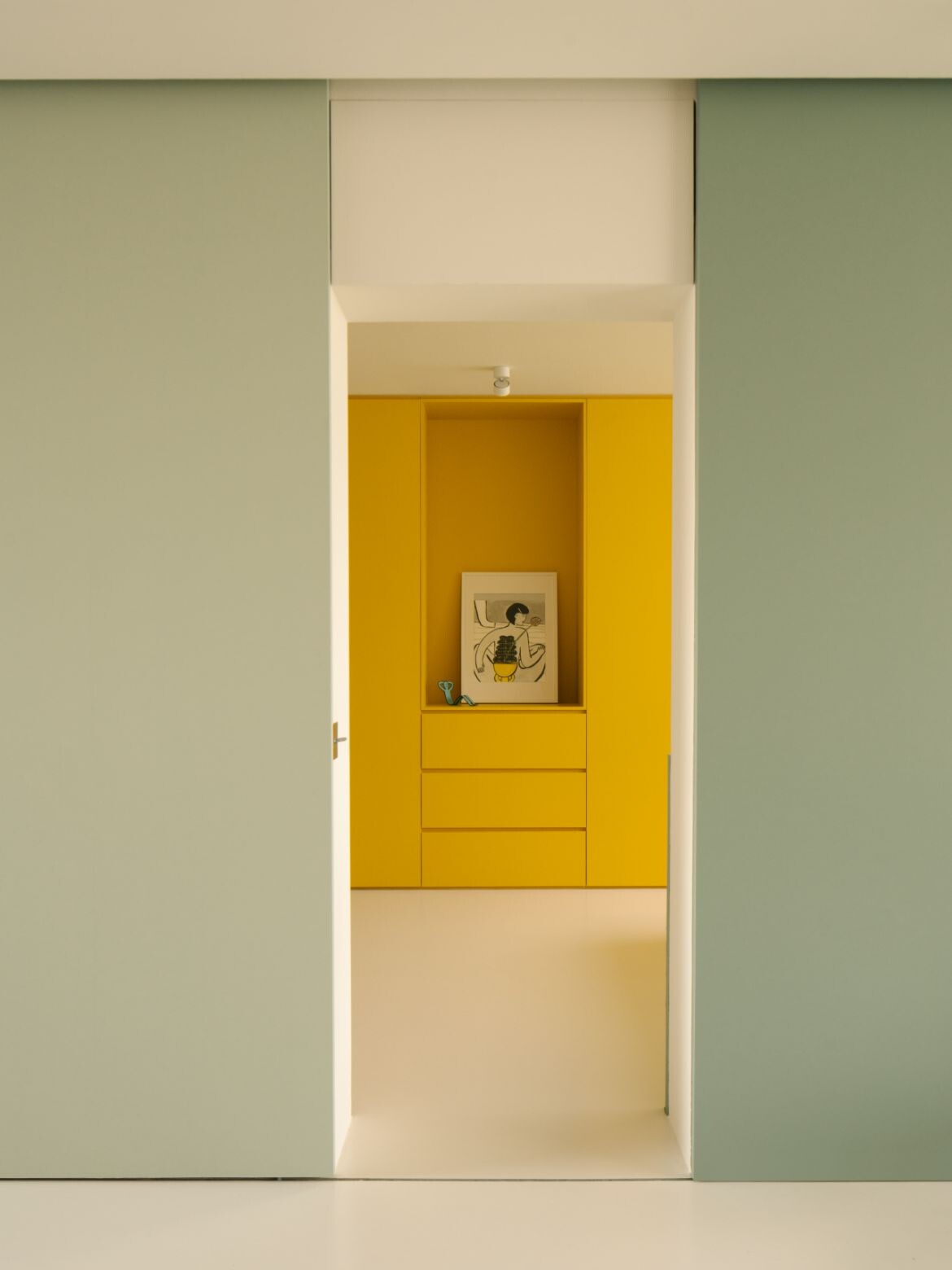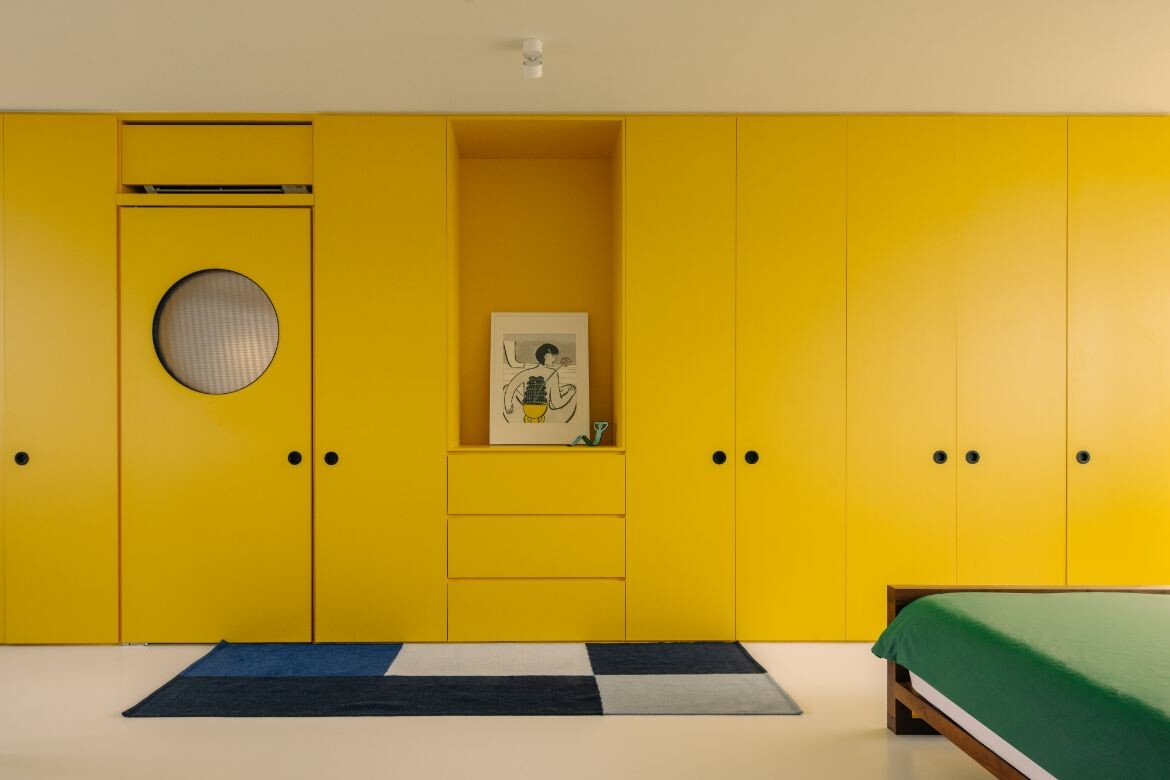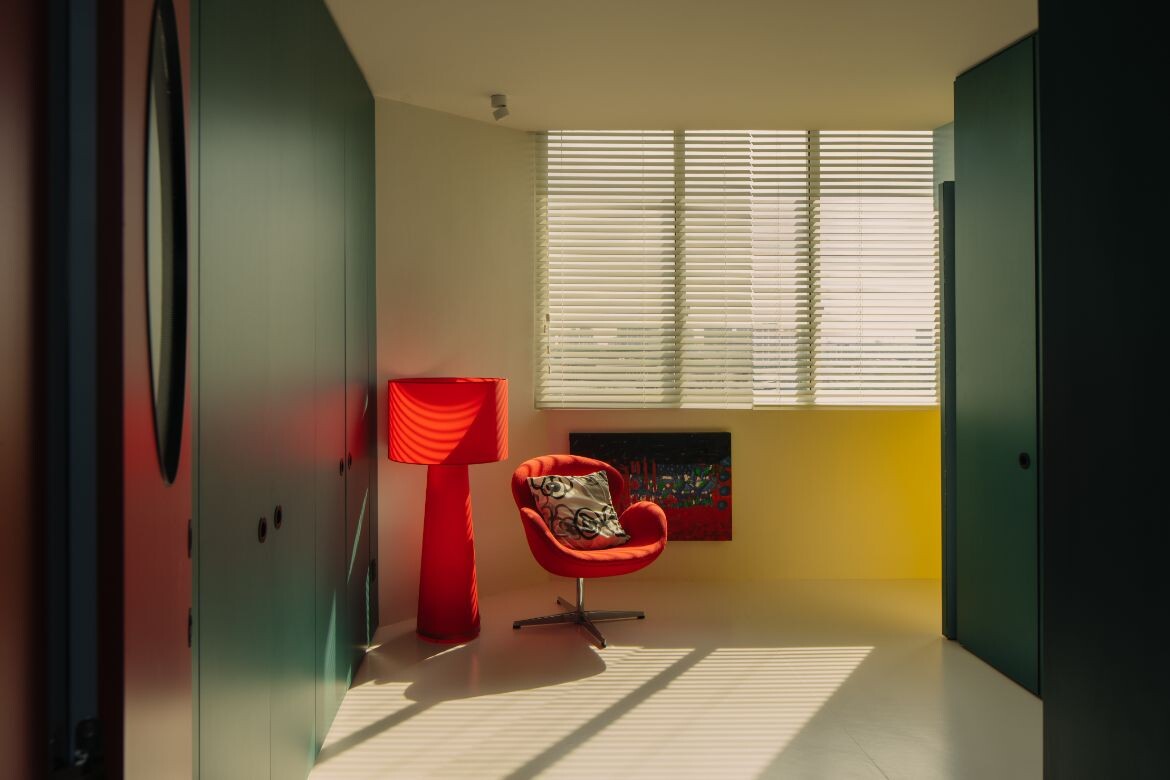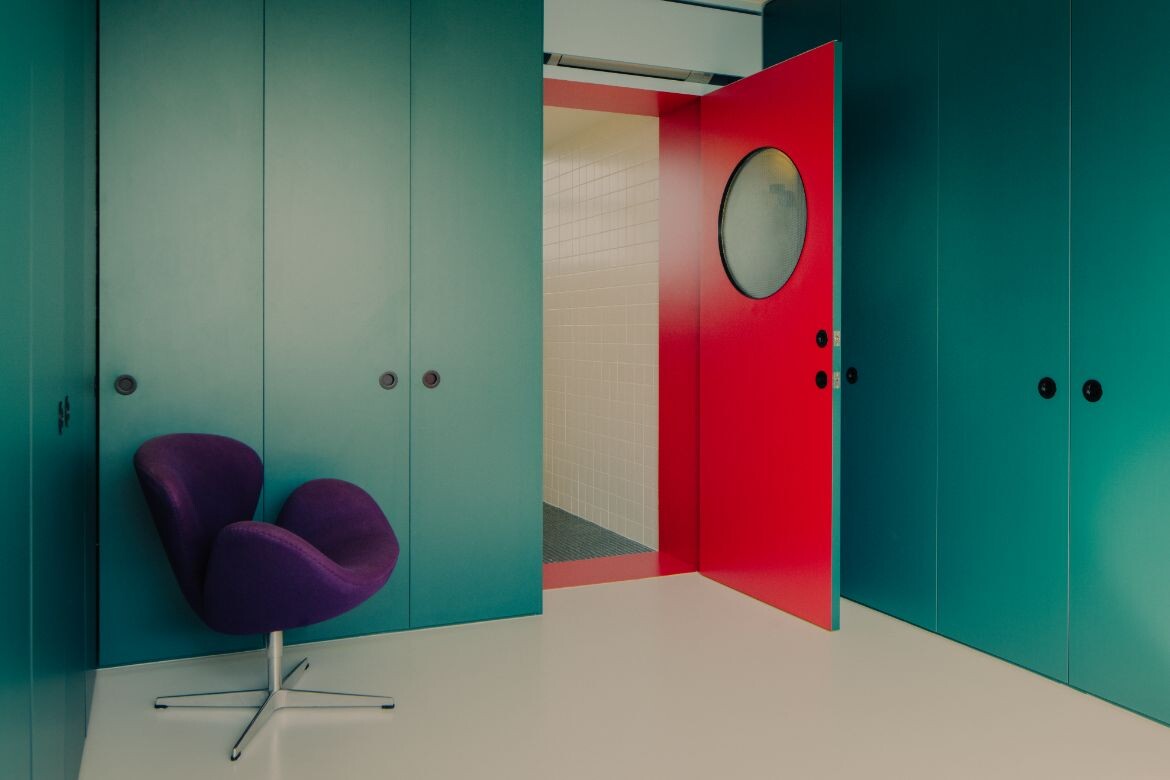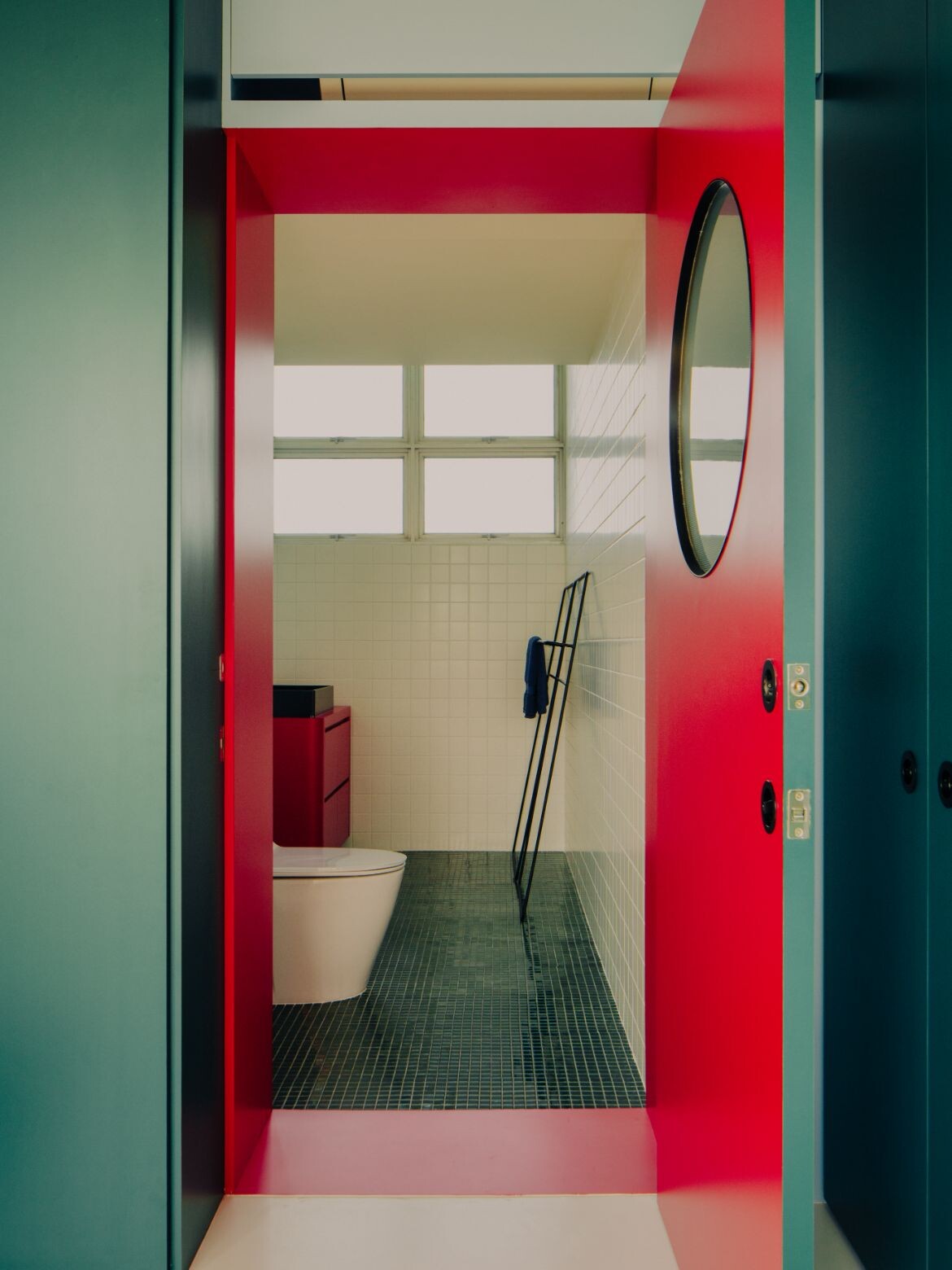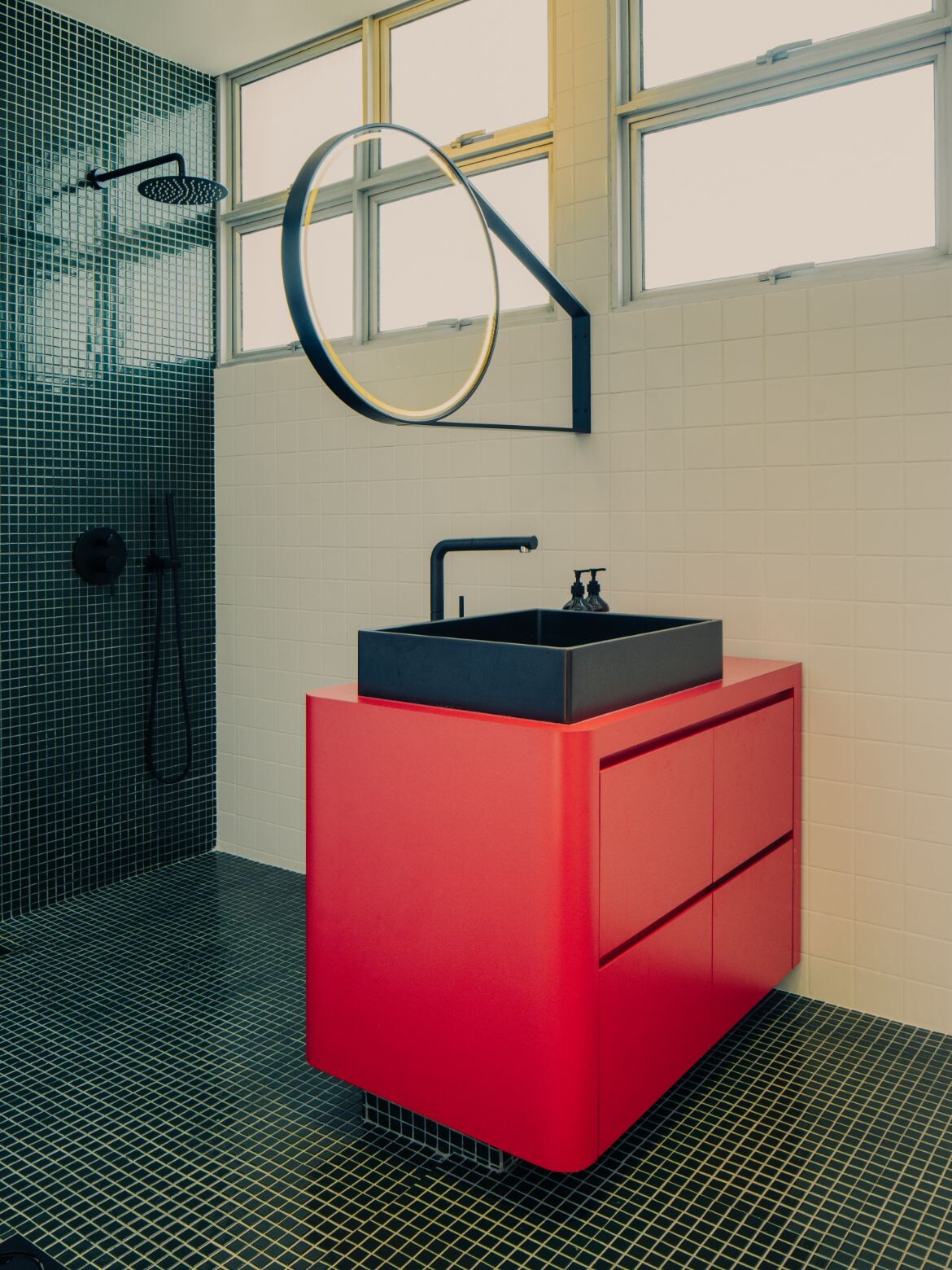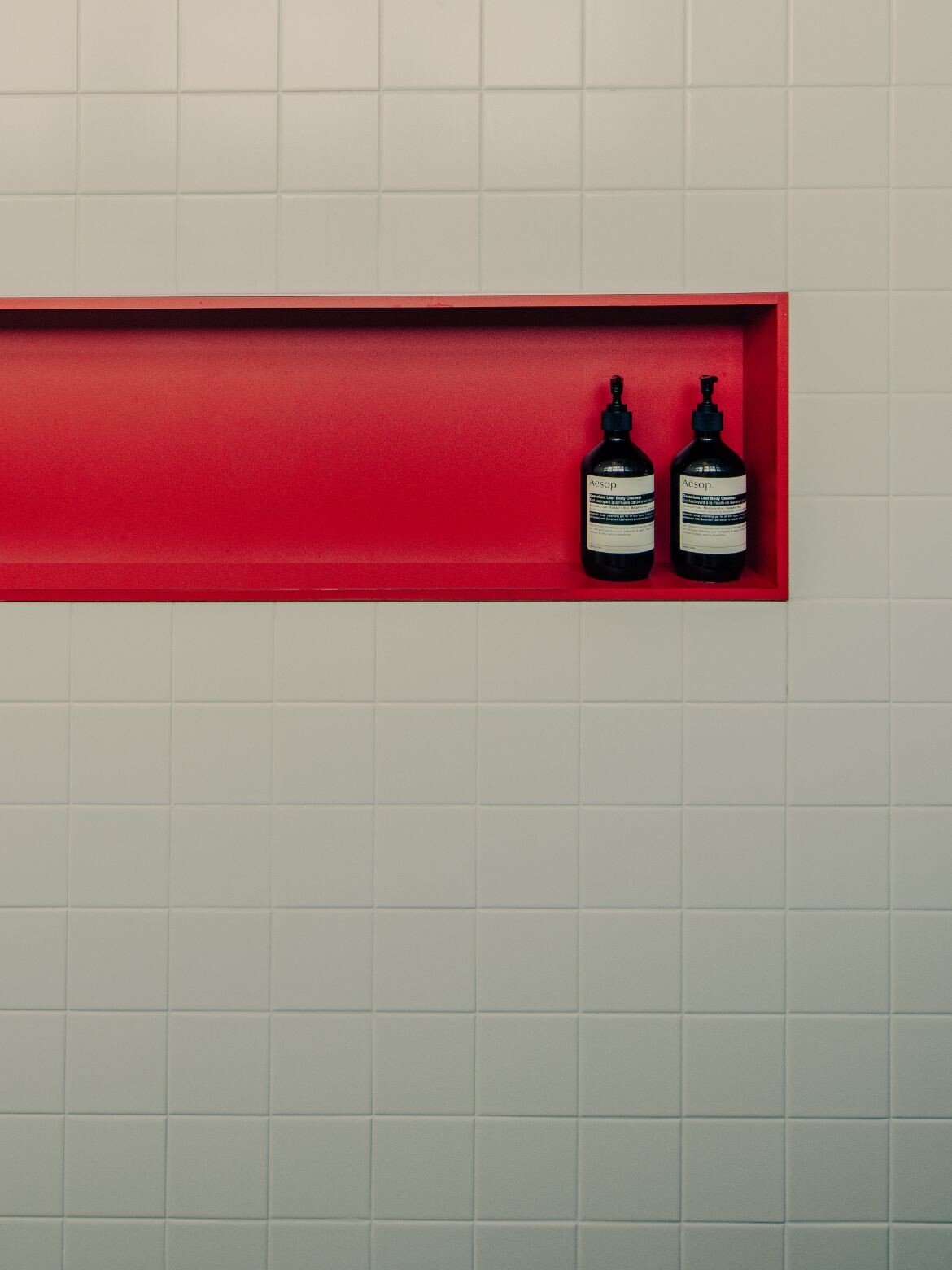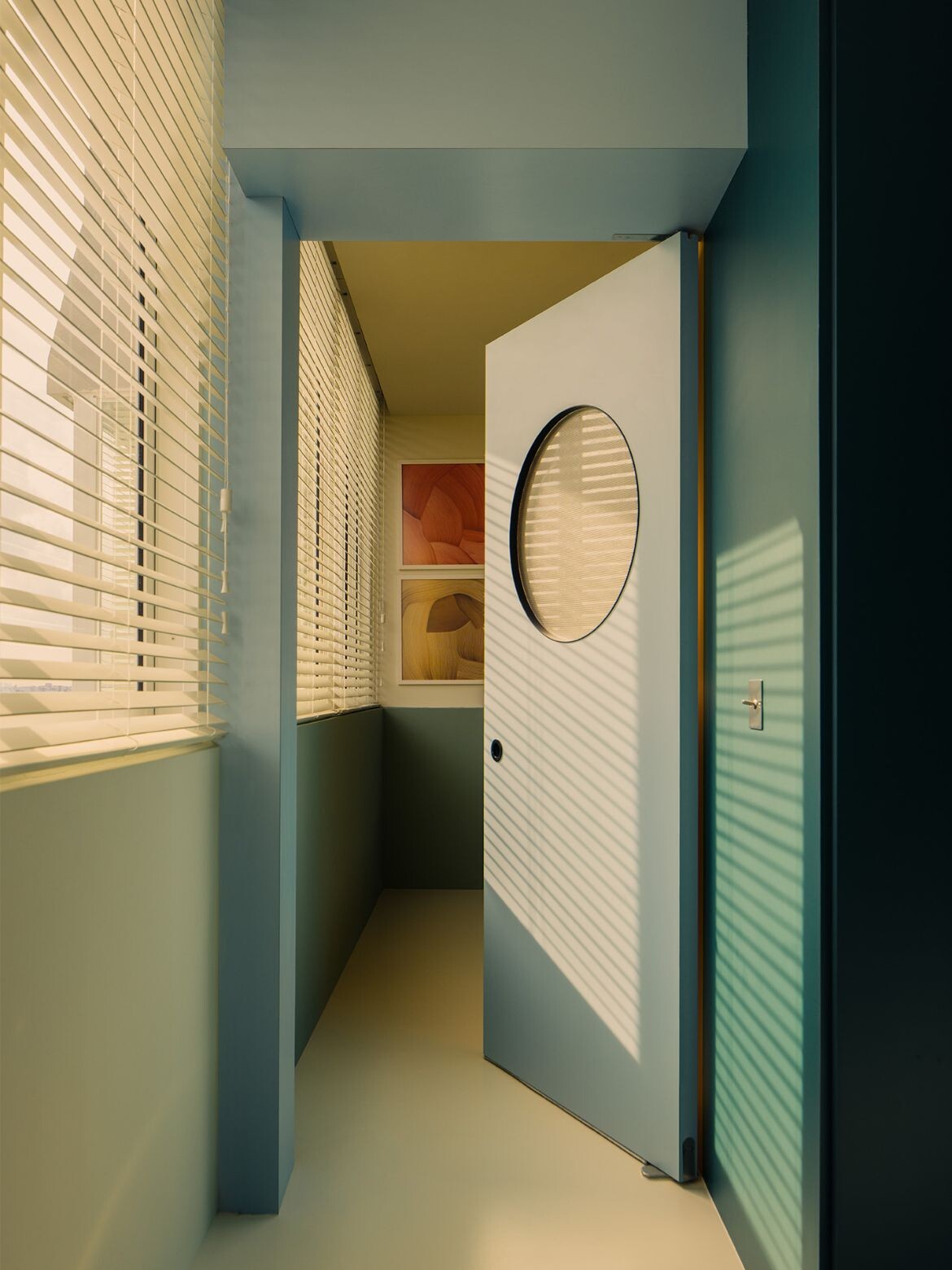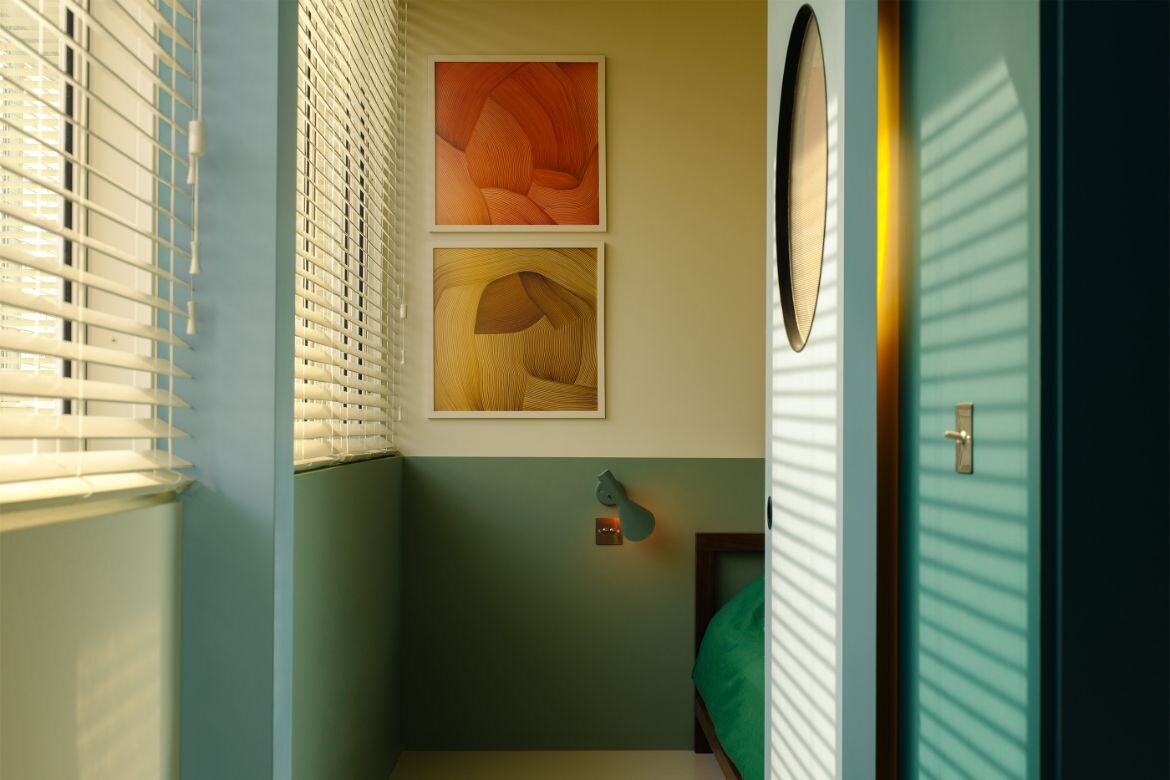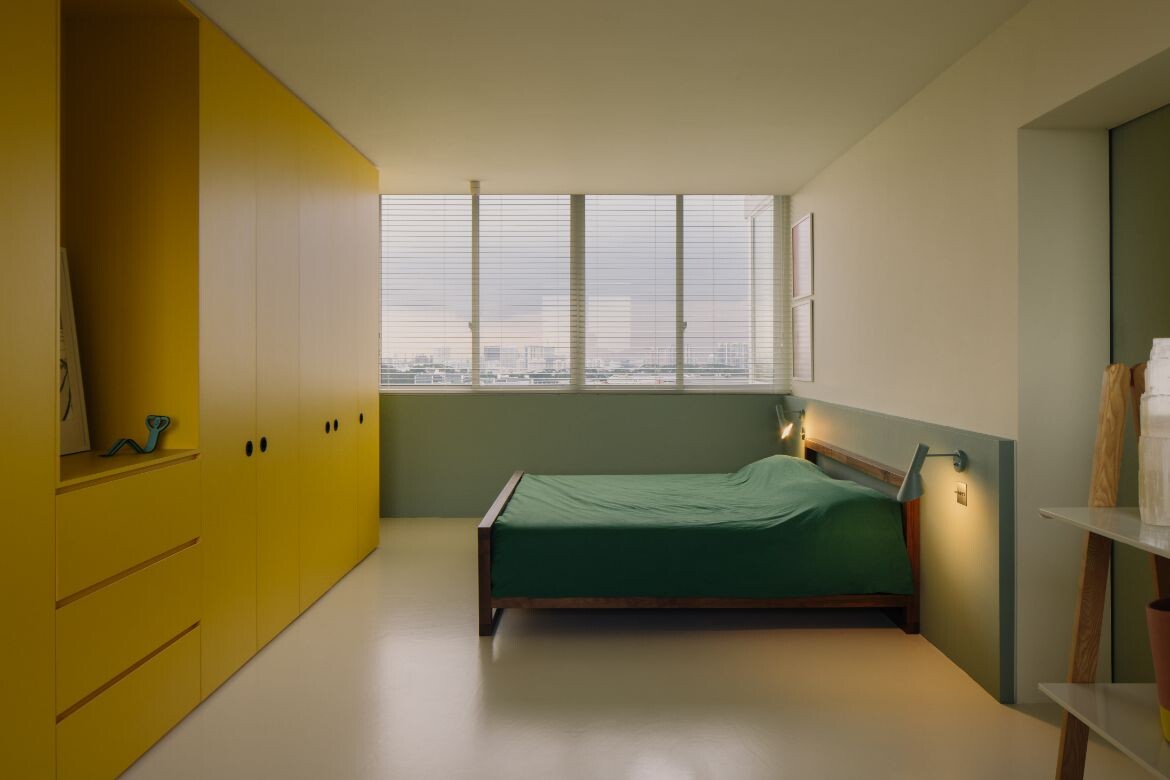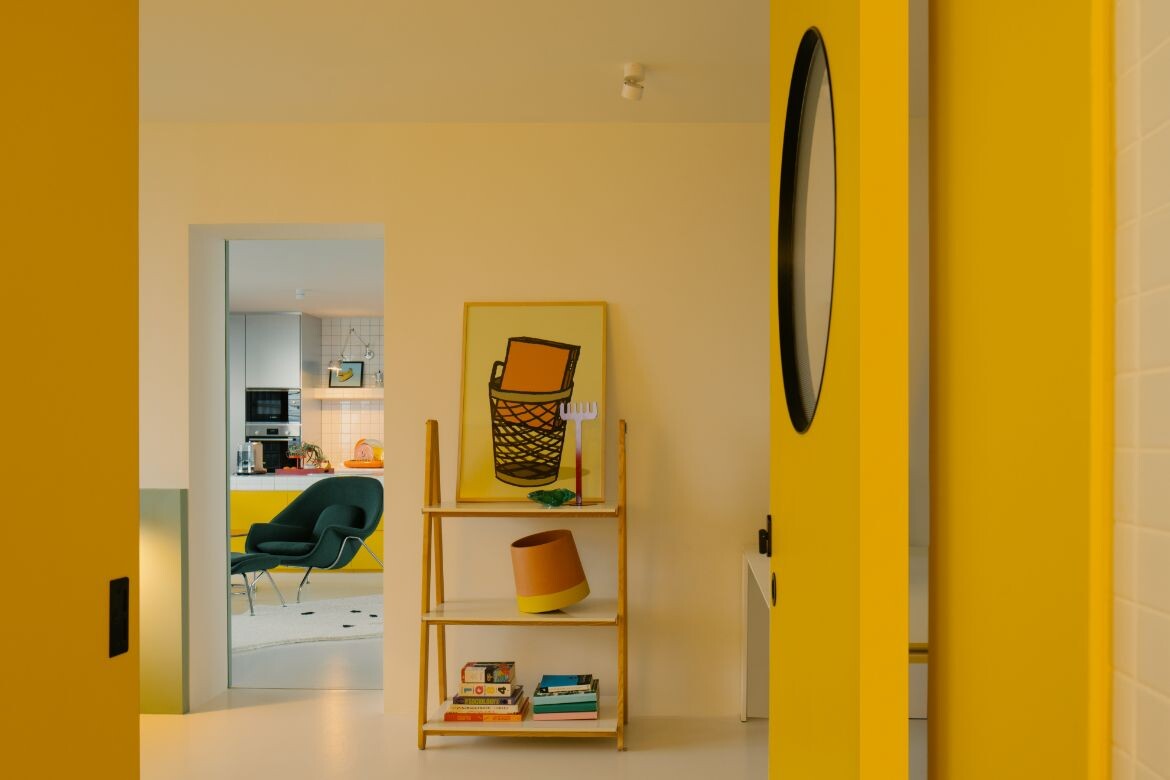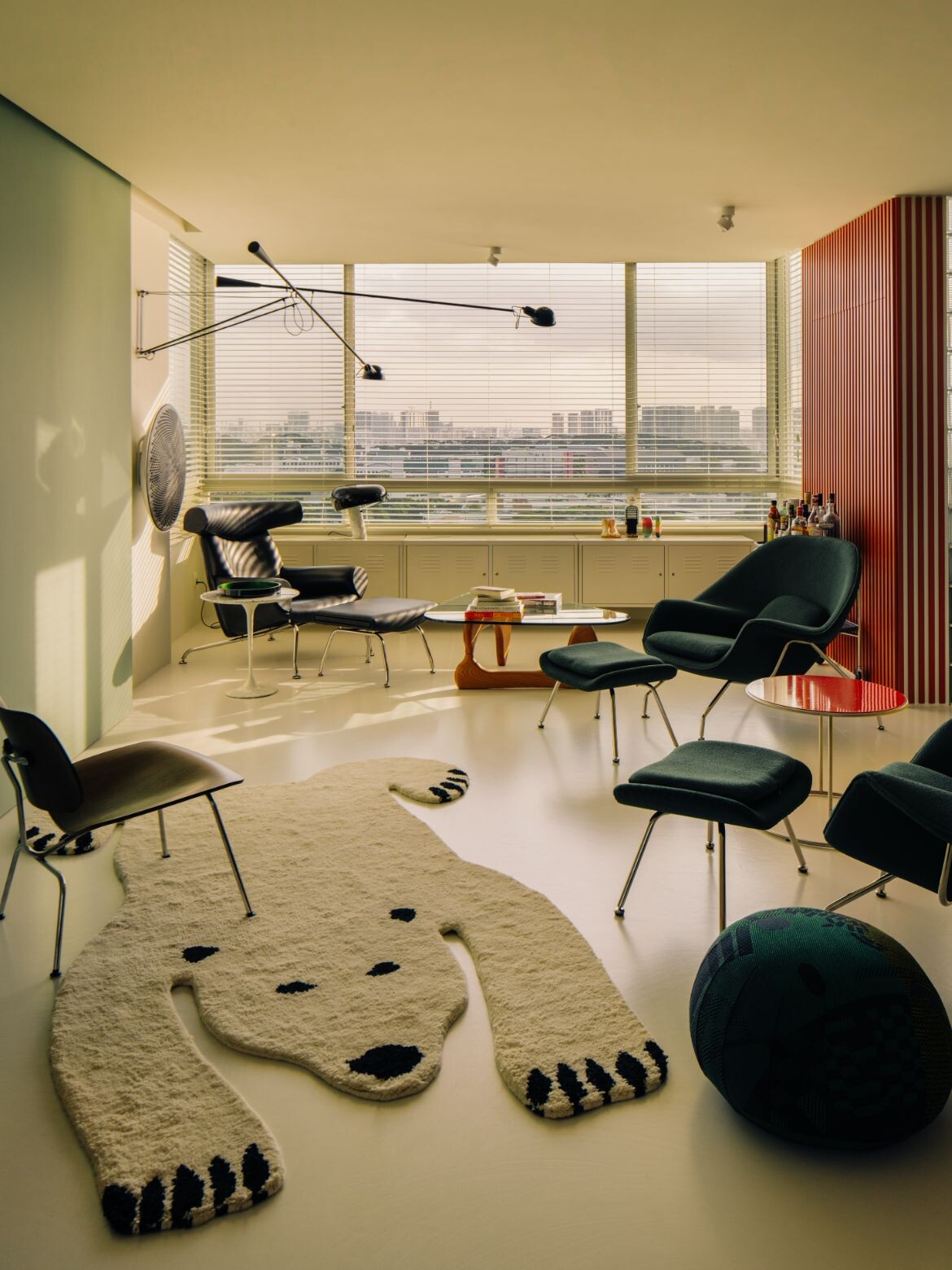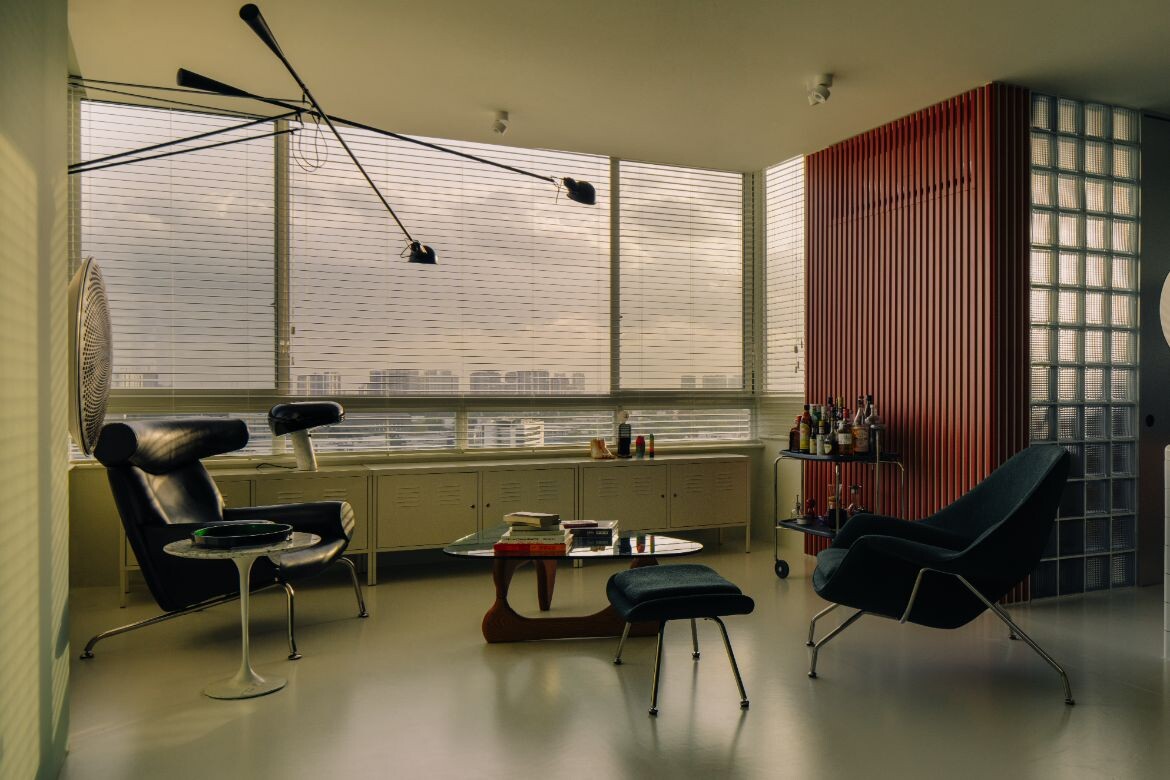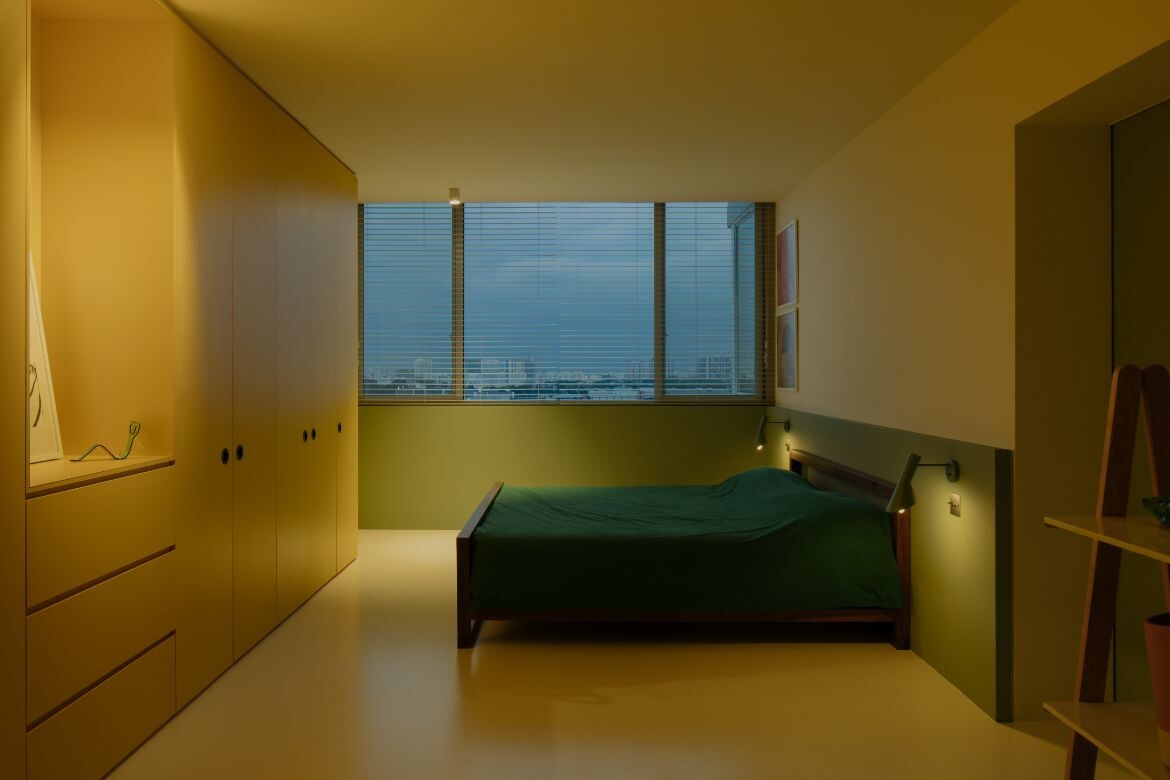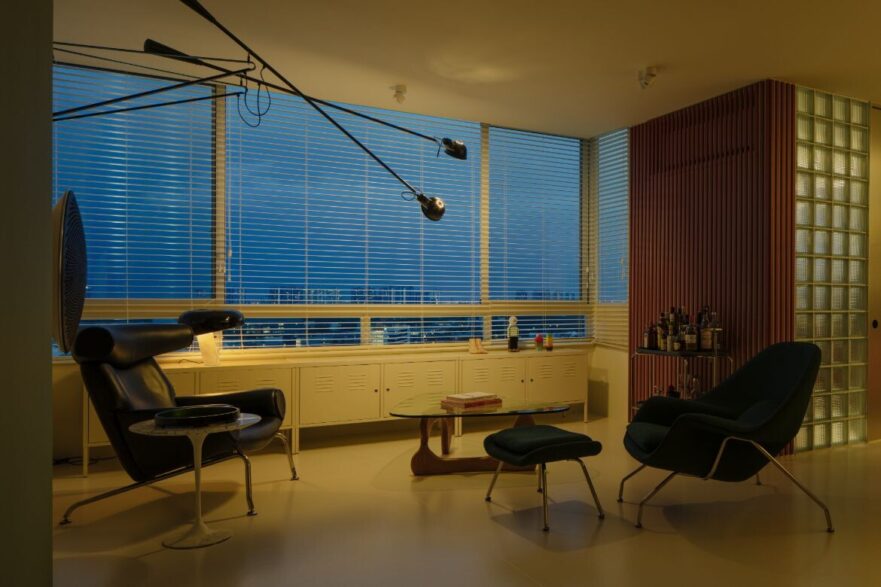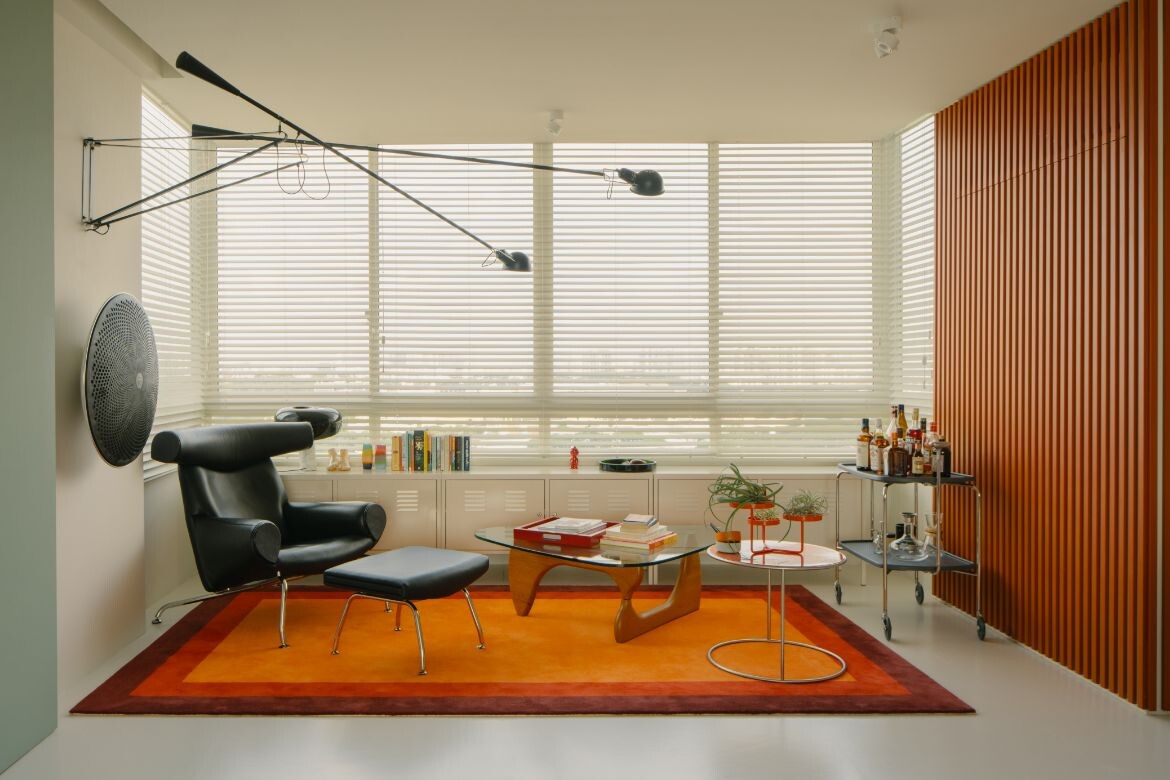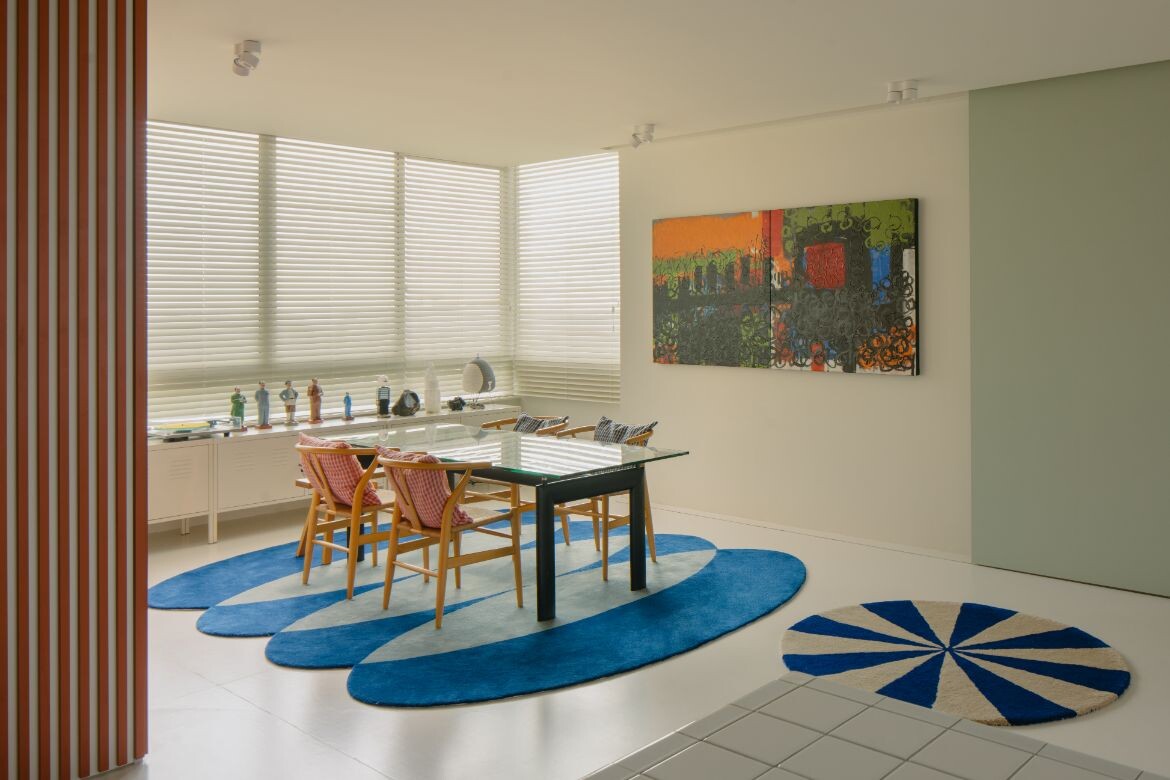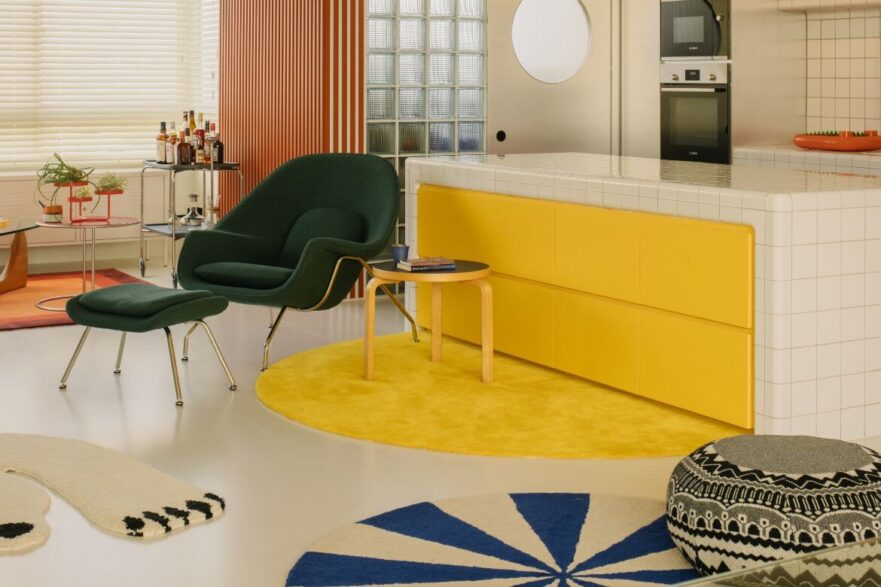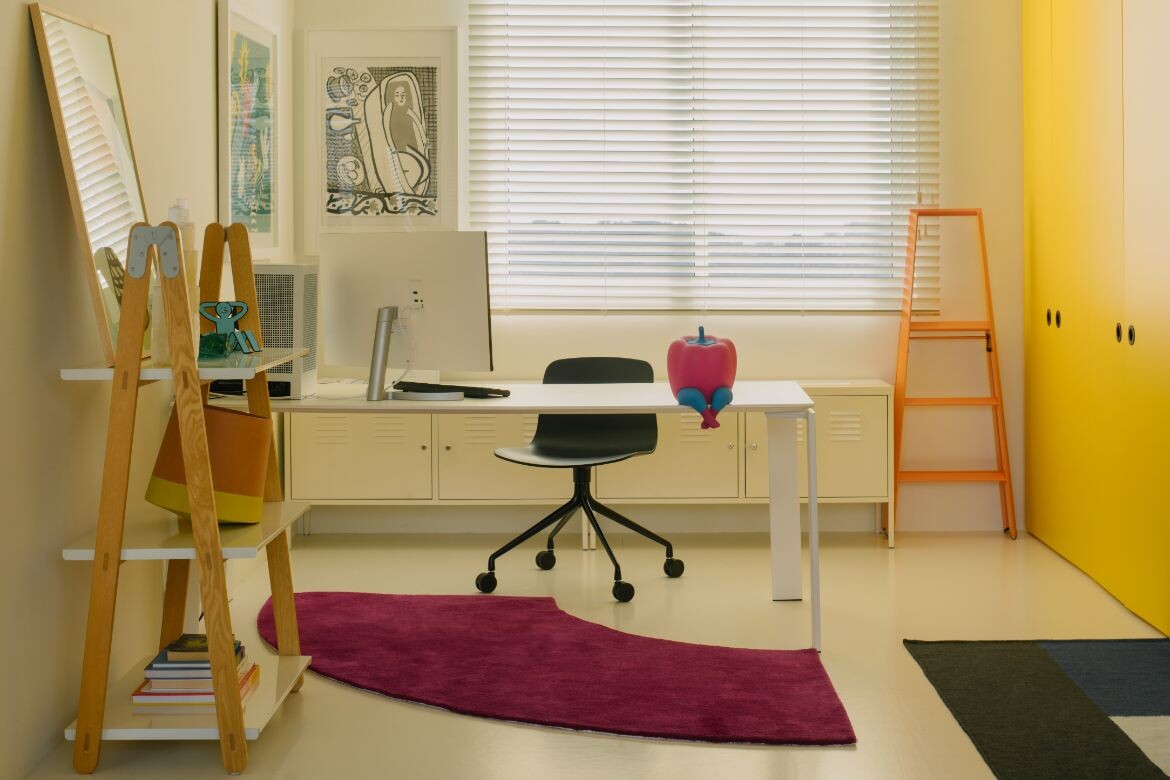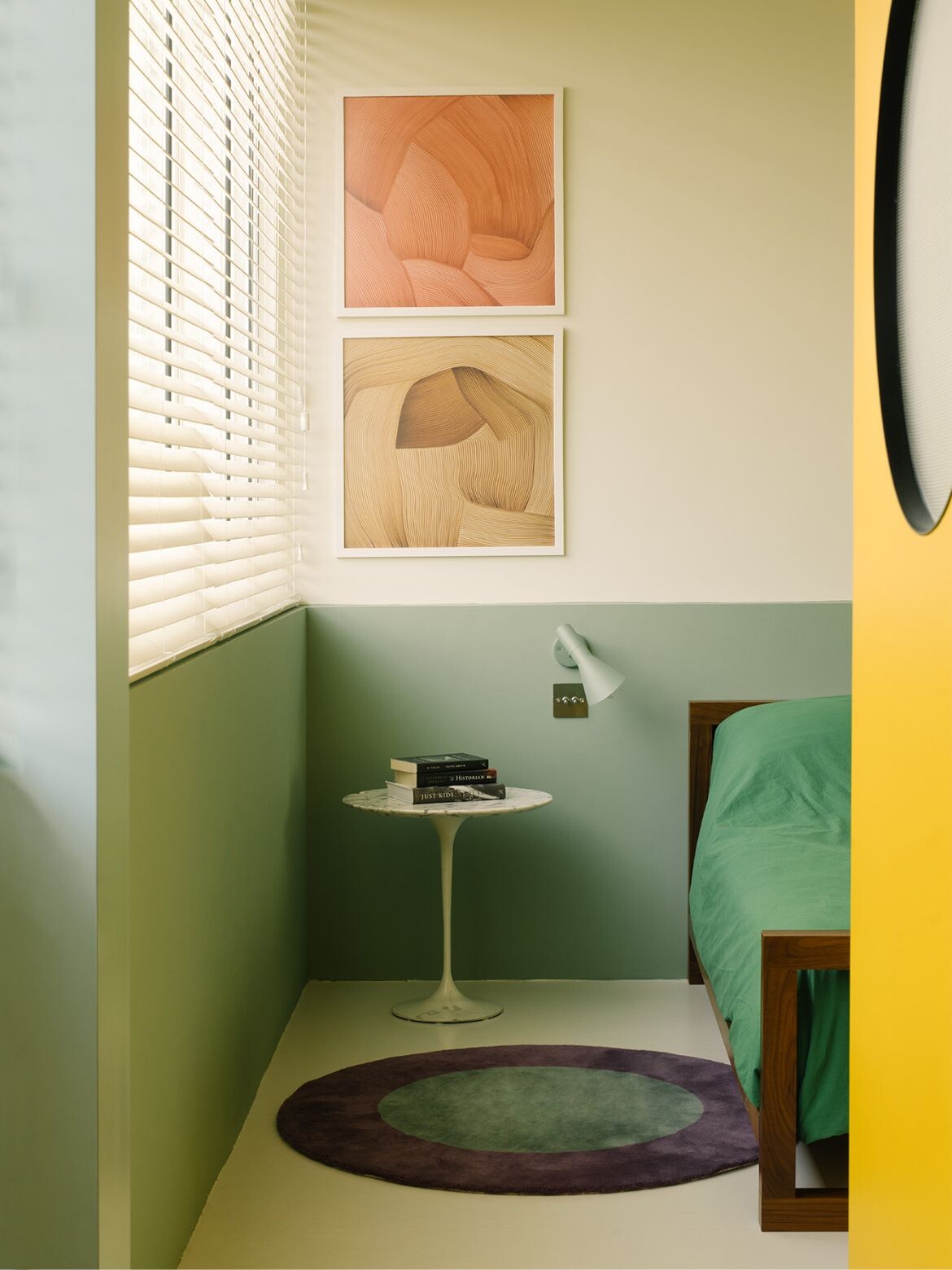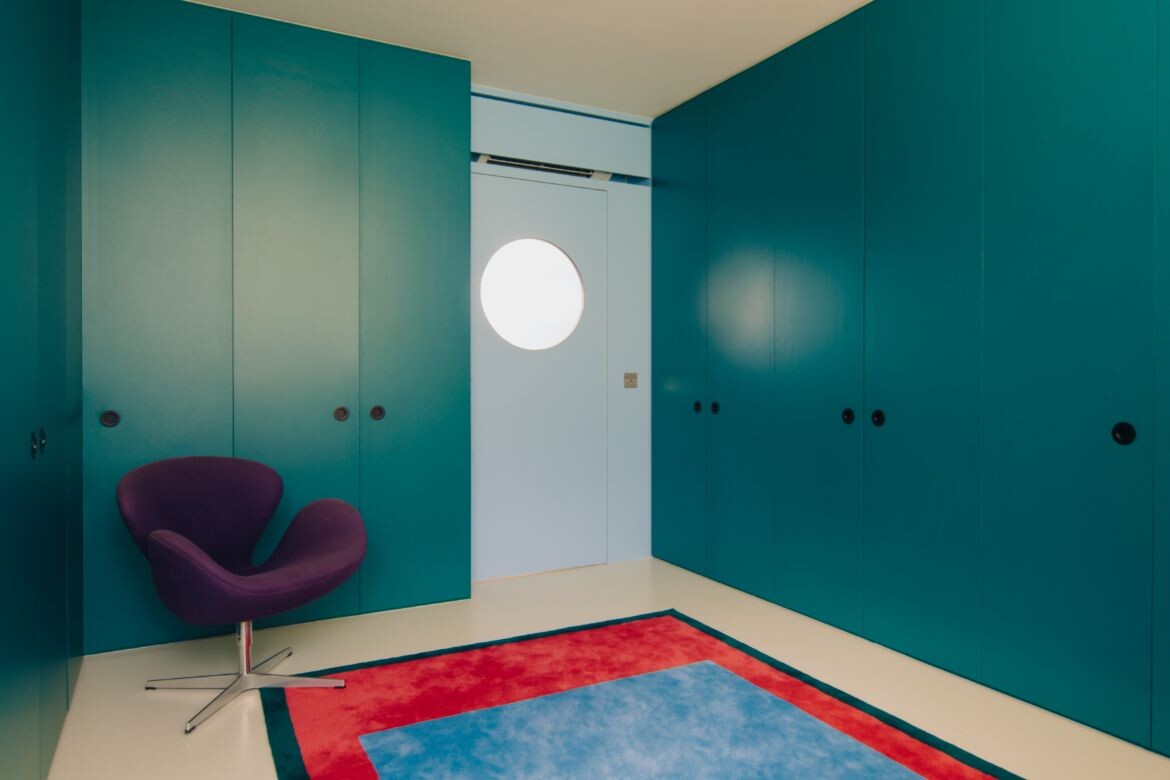 ---