A few weeks ago, Sydney-based furniture and object designers, DesignByThem, travelled to Melbourne to preview its latest collection of products for 2022. Over four days, guests visited the pop-up showroom in Collingwood to feast their eyes on the latest offerings from the dynamic furniture business.
Celebrations were absolutely in order as 2022 also heralds 15 years in the Australian design industry for the company, which has claimed its place as a heavy-weight supplier of innovative and creative furnishings.
Along with the opportunity to catch up with Sarah Gibson and Nicholas Karlovasitis, Co-Founders and Designers, DesignByThem, it was the perfect time to introduce three new Australian designers who are collaborating with the brand.
Gibson comments, "There were so many things that excited us about this event. We have a great following in Melbourne and it was really nice to finally meet people we've been emailing for years. It's been a few years of not being able to hold events or travel so we wanted to make this a big show where clients could get an exclusive sneak peek at new designs as well as physically see some of the best sellers."
With a new cabinet from Elliat Rich, rugs by Danielah Martinez, room dividers by Rhys Cooper and an all-timber stacking chair by Gibson Karlo, there was literally something for everyone.
For Gibson and Karlovasitis, beautiful form and bold colour have always been key drivers in its offering and this collection did not disappoint. With rich reds and saturated yellows, cobalt blue and soft pastels highlighting the lines of each object to perfection. Of course, sustainability is inherent to all products and DesignByThem is at the forefront of initiatives to create, develop and manufacture with integrity.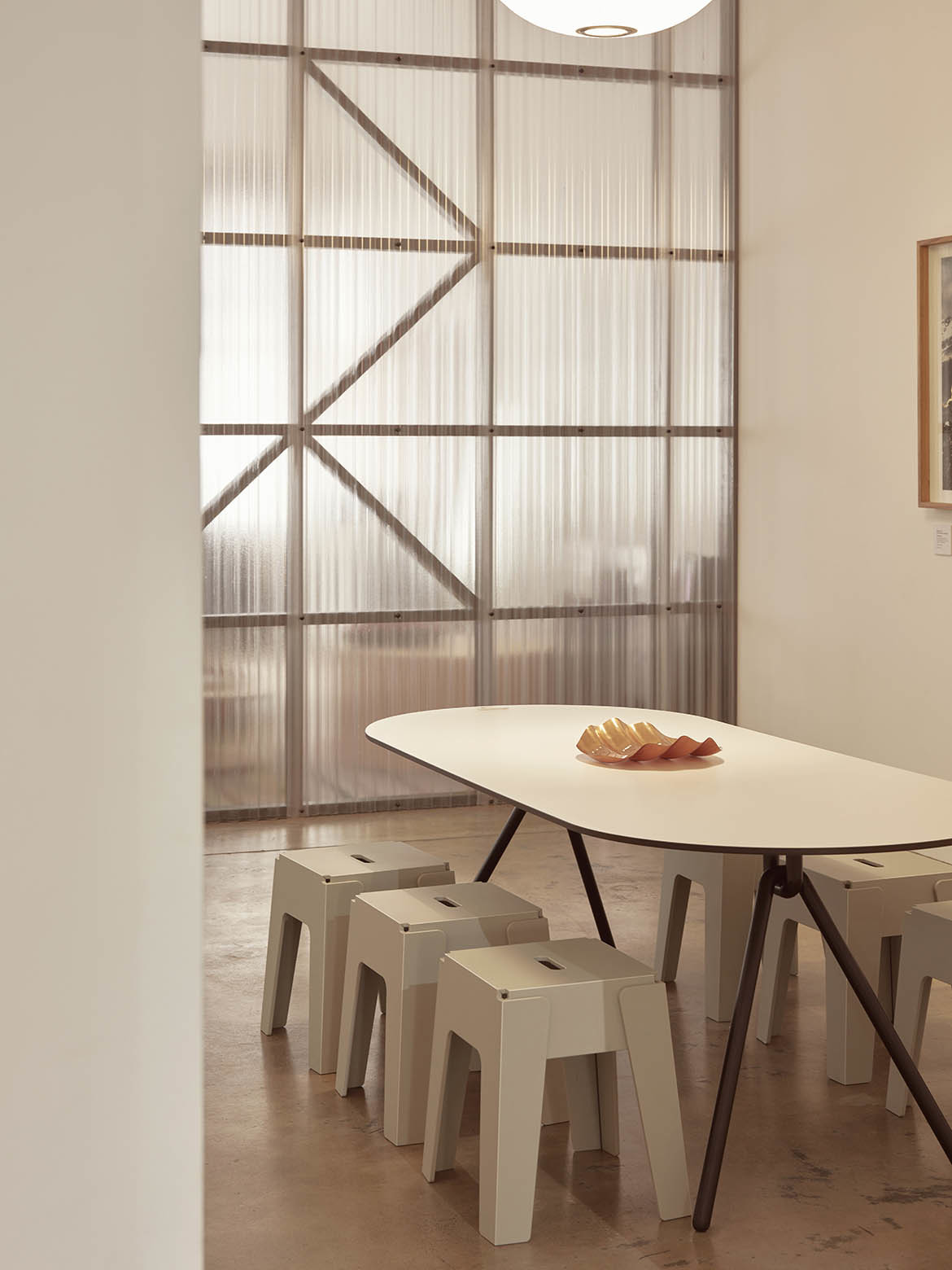 In Show+Tell and new for DesignByThem was a range of rugs. Deep diving into the world of silk and wool, the rug collection is unusual with striking shapes and beautiful colour combinations that are just that little bit different.
Danielah Martinez collaborated with DesignByThem to produce the range which is certain to be a hit if you're looking for a signature piece. In fact, every inclusion on the floor was a stand-out and encapsulated creative endeavour at its best.
The exhibition also showcased releases that could not be seen in person by interstate designers during the last few years, including the award-winning Olio Armchair by Christina Bricknell and Gibson Karlo, Sundae Lounges by Jason Ju and August Lounges by Gibson Karlo.
"User feedback is an imperative part of the design process. Being able to hear the thoughts of our client's pre-release of these products is incredibly helpful for us. It's been great working with the new designers who come from all different design disciplines and crafts. We're super excited to have them on board and to add these new product categories to the collection," explains Karlovasitis.
With Show+Tell, DesignByThem definitely made an impression that will assure the success of the business for at least the next 15 years! Always at the forefront of creativity, DesignByThem is again leading the pack with style and finesse.
DesignByThem
designbythem.com
Photography
Sean Fennessy
---