An Organised Life was founded by Beck Wadworth in 2013 in an effort to bring elegance and sophistication to the organisation of our busy lives. The brand offers a small selection of minimalist stationery (calendars, diaries, notebooks) and downloadable templates.
For 2021, An Organised Life has collaborated with Ontario-based artist Elissa Barber for a bespoke and limited range of diaries, calendars and notebooks. We were able to speak to both Beck and Elissa about how the collaboration came about, what the process involved, and their favourite pieces.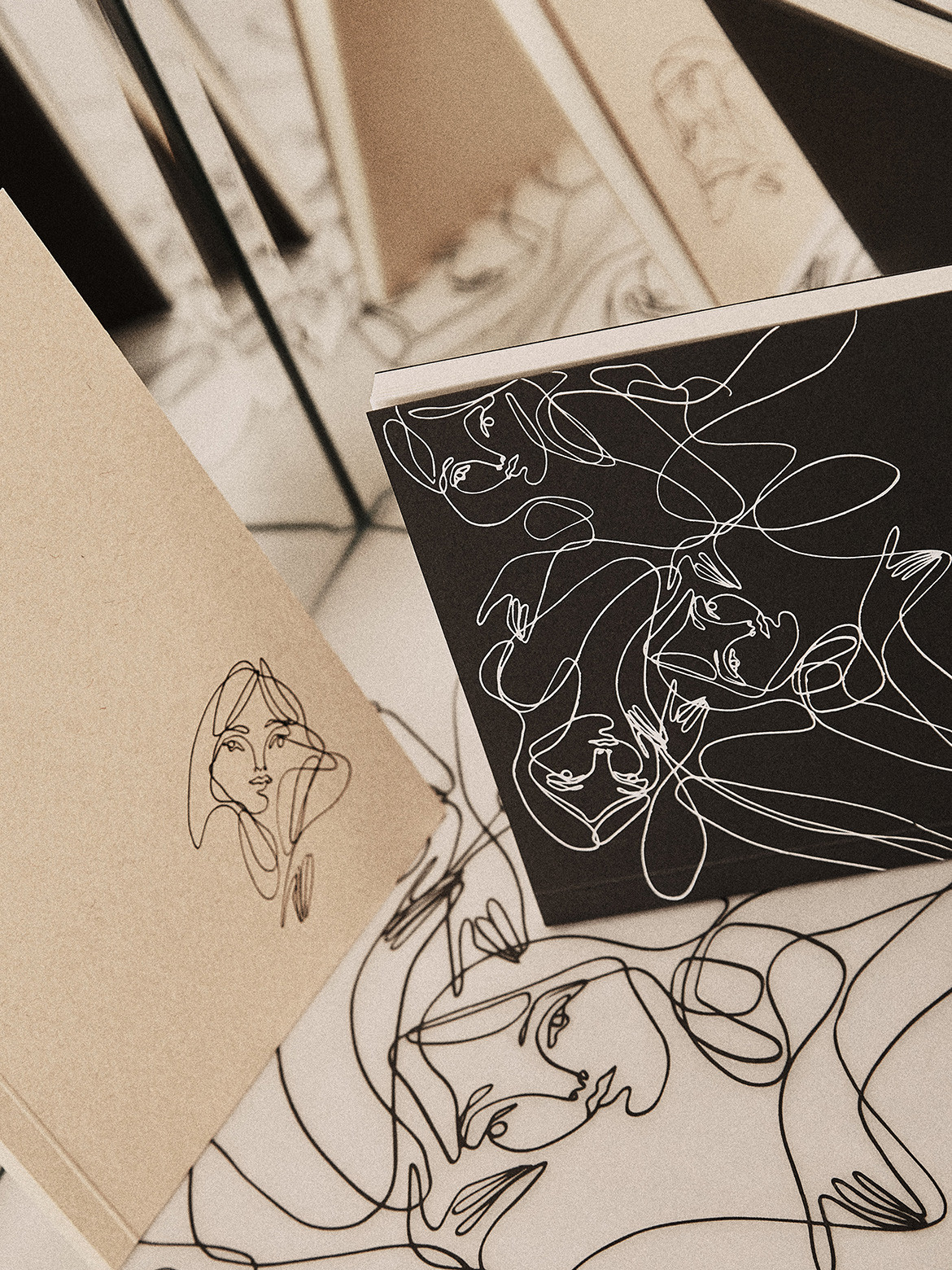 Beck, tell us about the AOL range.
BW. The new 2021 Collection includes a variety of functional diaries and calendars. To sit alongside our best selling collection this year we have also launched a brand new limited edition artist collaboration that expands into paper notebooks, vegan leather notebooks, diaries & calendars that feature beautiful single line illustrations by Elissa Barber.
My goal whenever I design a product for An Organised Life is to make them functional yet aesthetically beautiful. Form meets function. This is one of our points of difference as a brand. We want to help organise busy lives.
In our 2021 Diaries & AOL x EB Diaries you can expect to find educational pages dedicated to how to make the most of your diary, how to write a solid to-do list you will actually tick off and a thorough goal planning section with helpful tips. The diaries also include budgeting pages, yearly and monthly calendars, and a space every Monday for your focus / goal each week.
Is 2021 your first collaboration? What made you want to do something different?
This is the first time I have ever collaborated with someone specifically on diaries and calendars. Our past collaborations as a brand have been focused on Notebooks or new products like our Together Journal x AOL Wedding Planner. However when I discovered Elissa Barber on Instagram, I fell in love with her work and all I could think about was how beautiful it would look on the cover of our diaries or on a wall calendar.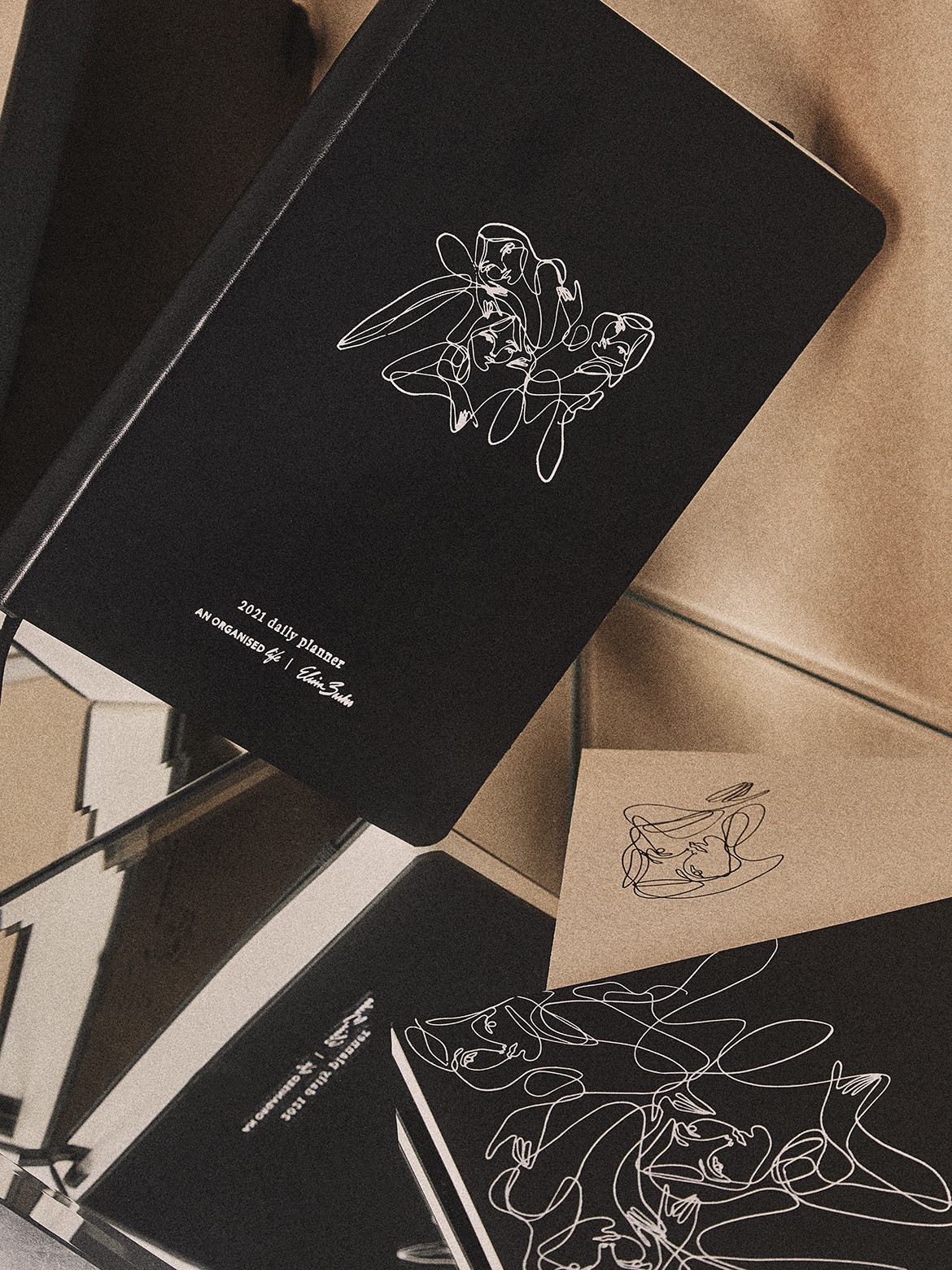 Tell us about working with Elissa.
We didn't know each other personally but followed each other on Instagram: I adored her work from afar. As I said, whenever I saw her work I constantly imagined it on a beautiful diary or notebook cover. One day, I decided to mock up a design of how I envisioned the artwork to look on AOL stationery. I reached out to Elissa and sent the mockup. We jumped on a call and got a long on a personal and professional level. Our values and love of minimalist design became clear and we decided to move ahead. I think because we both had such a clear vision of how we saw the collab from an aesthetic point of view, everything has been seamless and a 'dream' collab. It's nice to bring our two worlds together.
How did the range develop to the final designs available today?
To be honest, it was very straightforward. Elissa loved the original mockups I sent through and we tweaked a few cover designs throughout the process. I wanted Elissa to feel comfortable and confident with the final designs and the whole process. I respect her work so much. Being me, (and living on separate sides of the world) I spammed her with lots of informative emails on timelines, updates, and more so that she was across every single detail! I wanted the process to be as easy as possible for her.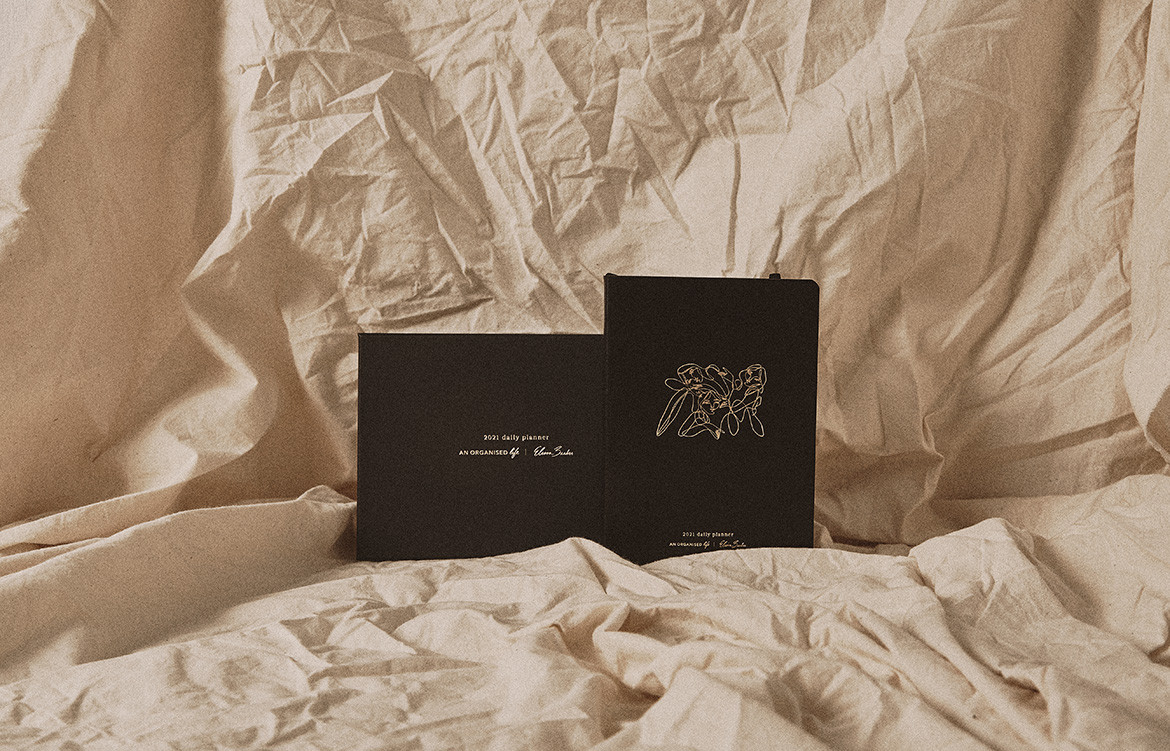 How do you use pieces from the AOL range?
Each of our products has been designed with a purpose in mind – our Gratitude Notebook was created for journaling, our diaries are created to manage your workload, schedule and year and our vegan leather notebooks have been designed for putting pen to paper in your own way – drawing, note-taking, to-do lists, manifesting, doodling, goal setting & more.
Personally I use a variety of AOL products. My Daily Planner is used for goal setting, budgeting, managing my schedule & workload. I utilise a lined Vegan Leather Notebook (Monogrammed of course) as my personal journal. I have a blank Vegan Leather Notebook for sketching and note-taking new ideas for An Organised Life products. And on my desk I also have an A4 Weekly Notepad for when I'm working on a certain project and want to manage that task a little separately.
What pieces from the collection will you be taking into 2021?
Definitely a 2021 A4 Daily Planner (Gold & Monogrammed). I love having a day per page and I love how much space this diary gives me.
Secondly, I'll be using an Elissa Barber x AOL Lined Vegan Leather Notebook for my 2021 personal journal & one of the beautiful paper notebooks (I can't decide out of the beige or black for project planning!).
In my home office I love having a Wall Calendar as well and I think my eye is set on the Elissa Barber x AOL A2 Calendar in White. I can see that looking beautiful framed on the wall as a functional piece of art.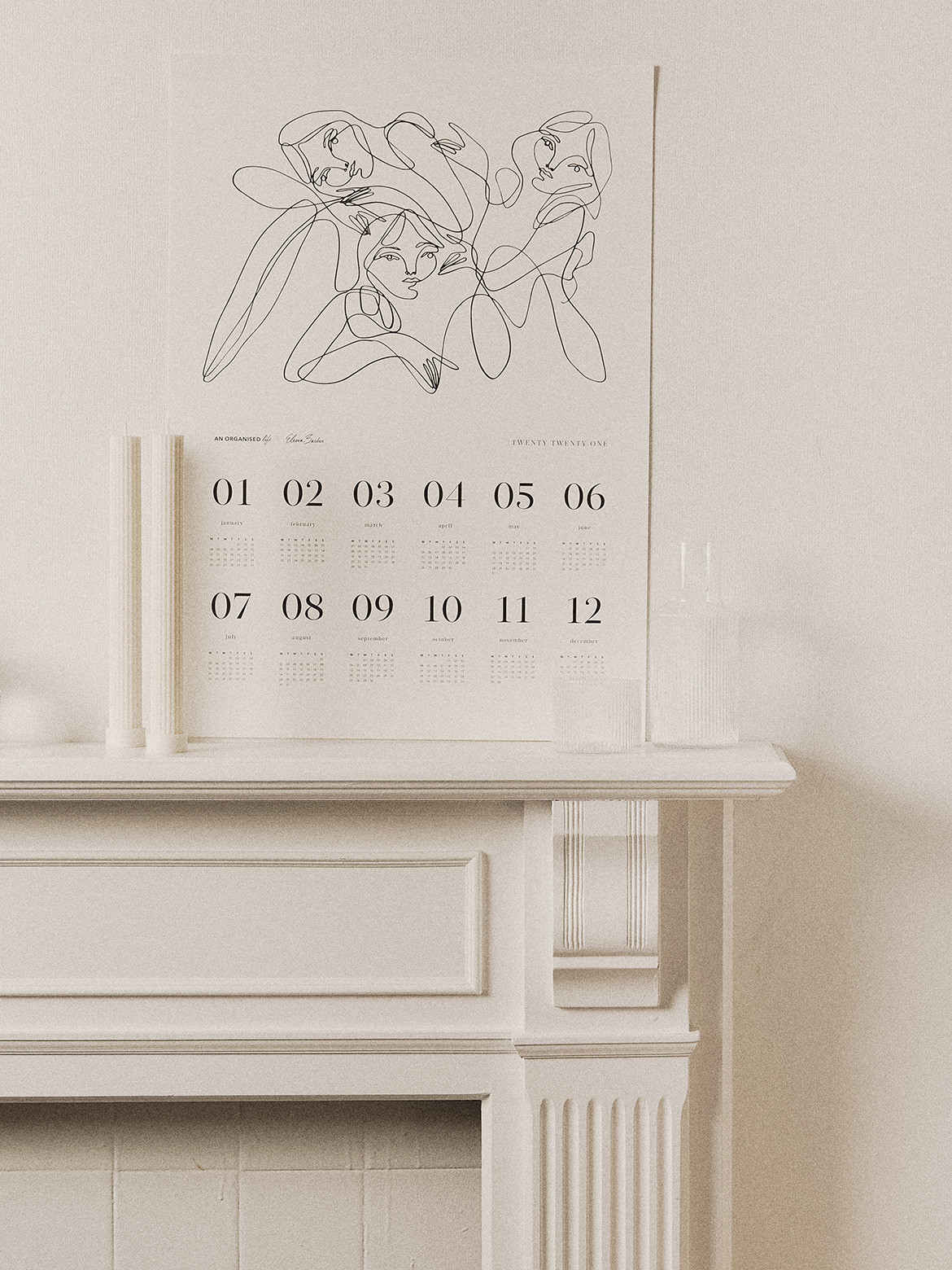 Elissa, for those who are unfamiliar with your work, tell us a little about yourself.
EB. I studied art (with a focus on drawing) for five years but did about ten years of solid life drawing as an extension to this and it allows me to draw and distort the figure using a continuous line confidently and consistently. It is the foundation of what I do.
My recurring use of three female figures as subject matter has personal significance but three is also a symbolically loaded number that represents themes that resonate on a universal level with a broad spectrum of women. For example, the idea of self-reflection on the passage of time – past, present and future – gives the viewer an access point to my work but still leaves room for interpretation. Working in different mediums keeps me excited about creating as the process is completely different from one to next. As someone who is pretty prolific in my output, the back and forth from drawing to printmaking to collage to ceramic works and (less now but more in the past) to painting builds momentum, a natural emergence of themes and draws constant inspiration from my own art practice.
What drew you to An Organised Life?
I'm constantly making notes, striving to be more streamlined and organized and am drawn to putting pen to paper over reaching for my phone for these things. I've also been a fan of Beck and AOL before she reached out so it felt meant to be. We share a love for timeless and minimal aesthetics.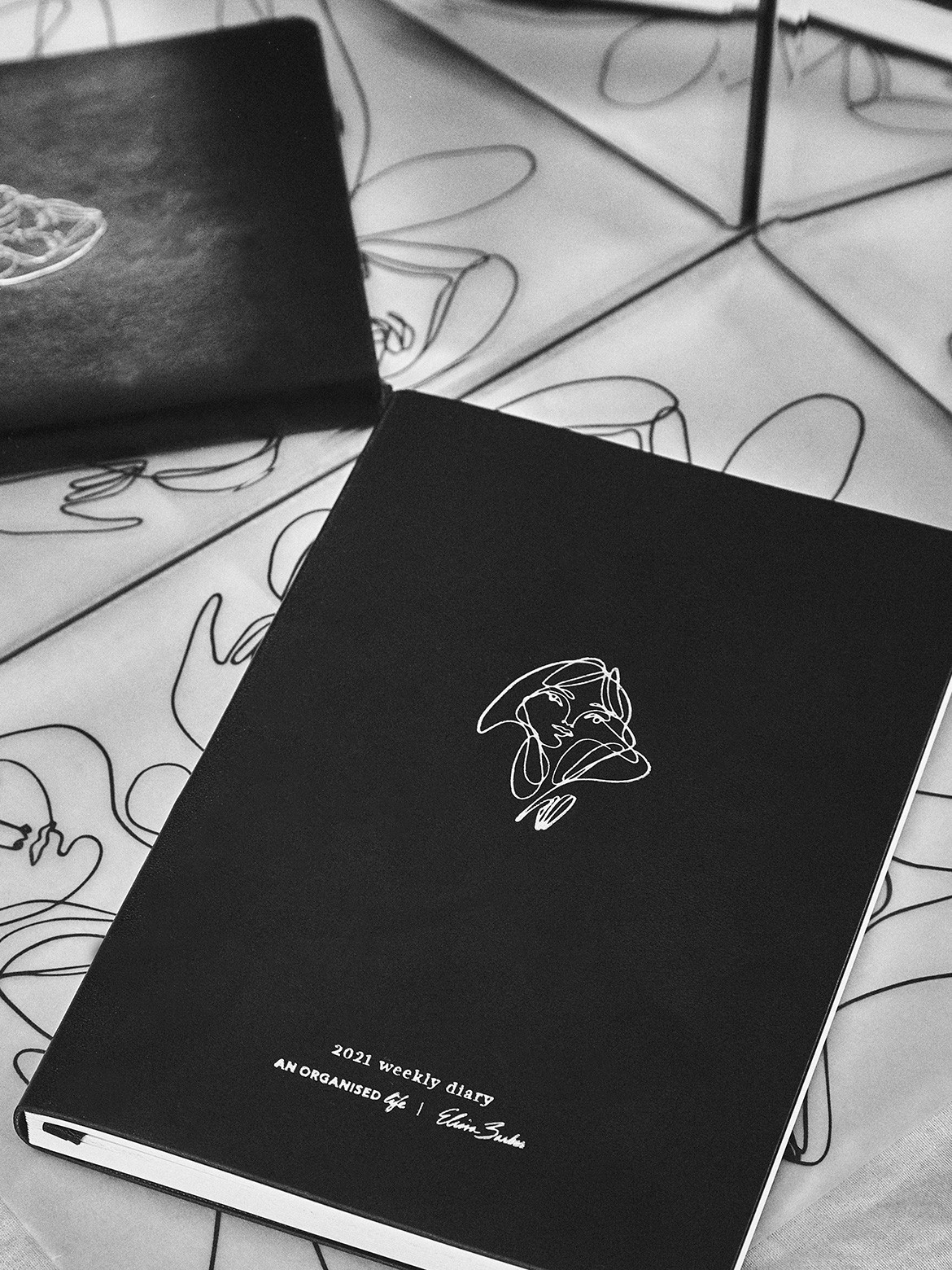 How did you find the process of collaboration
Though regularly approached, I'm not one to readily license my work and am hesitant to collaborate but the opportunity to lend my work to something that is so functionally relevant in my life was pretty opportune. Working with them has been lovely – fairly effortless on my end (which I needed, I have my toddler home with me full time right now) and actually just really exciting and impressive. Everything Beck sent over was a "yes!" and seeing the quality and attention to detail first hand when the samples arrived was thrilling.
What pieces from the collection will you be taking into 2021?
Definitely the Daily Planner and blank notebooks (both vegan leather and paper) but I will also be gifting pieces from across the collection this holiday season.
An Organised Life
anorganisedlife.com
Elissa Barber
elissabarber.com
Photography by Holly Burgess
We think you might also like this Design Hunter interview with Pip Vassett of IN BED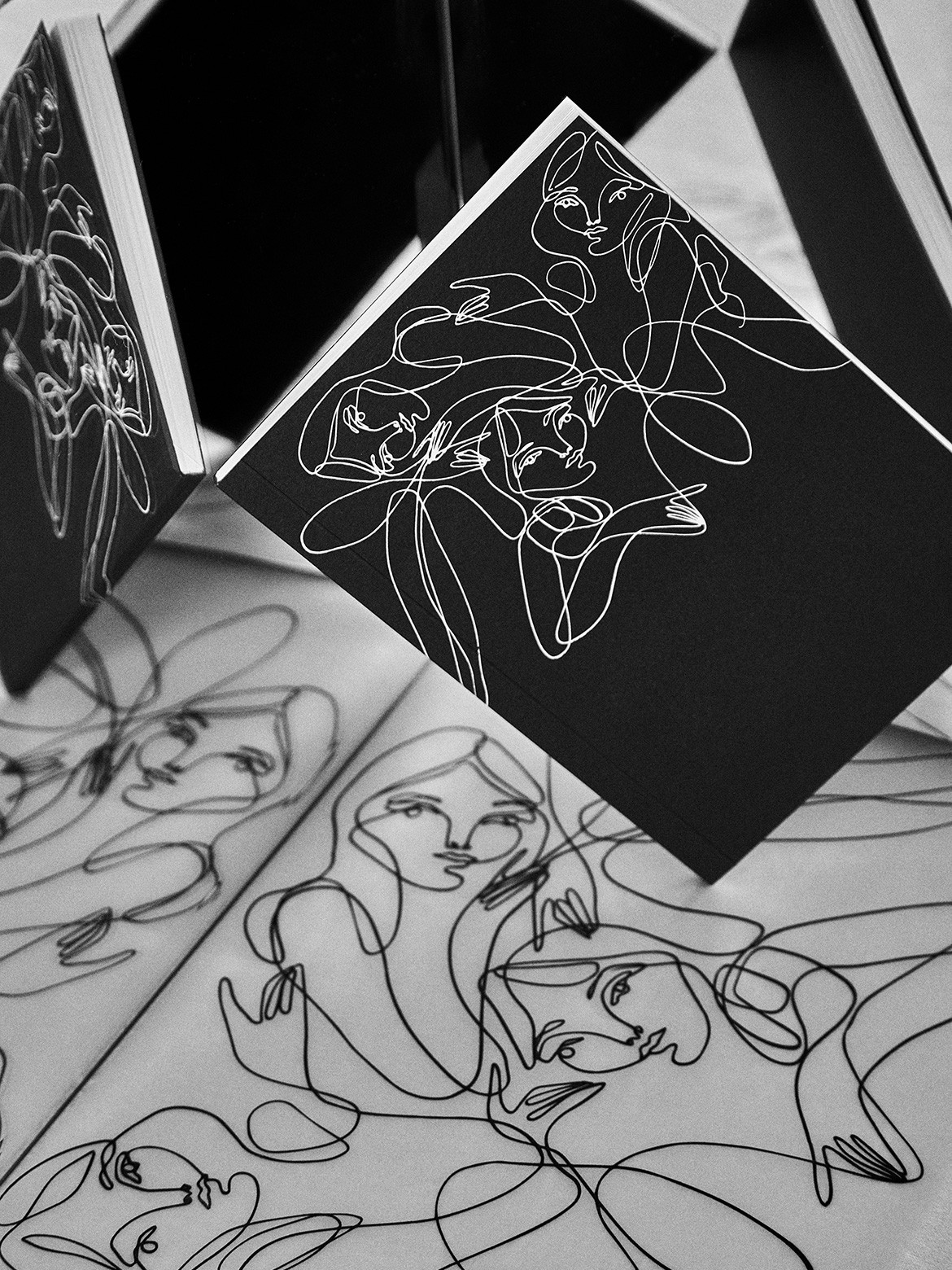 Tags: An Organised Life, AOL, Artists, Beck Wadworth, Designer Stationary, Diaries, Elissa Barber, entrepreneur, Holly Burgess, local design, single line illustrations, stationary, Year Planners
---