As far as design influences go, Europe has an undeniable hold over Australian trends. This is as true of our bathrooms as it is of fashion and interiors, yet when it comes to Australian bathroom design, there is something uniquely antipodean about its expression.
The bathroom's evolution from outhouse to inner sanctuary, for instance, has not been exclusively Australian by any means. In recent years, bathroom spaces across the globe have been elevated to serve the higher purpose of a place in which people seek not just cleanliness but retreat and rejuvenation. This has introduced an element of luxury to bathroom design unlike ever before.
Similarly, Australia has followed Europe's suit in terms of designing for spatial efficiency. This, of course, has eventuated in accordance with the increasing density of living, and the consequential shrinking of living spaces – a phenomenon that began in Europe long before making its way to Australian shores. With floor space coming at a premium, best practices for bathroom design have changed universally, with the goal of freeing up as much floor area as possible (even if somewhat redundant). The demand for even just the illusion of more space has been a driving force behind the increasing popularity of bathroom elements such as free-standing baths and floating vanities.
What is perhaps the most distinctive element of Australian bathroom design is the country's unique relationship to its natural environment, and the extent to which a sense of proximity to nature informs the perception of luxury in residential spaces. This is expressed by Australian architects and designers in a plethora of ways, but perhaps most universally by means of organic shapes and forms, materiality, and biophilic design principles.
Organic Shapes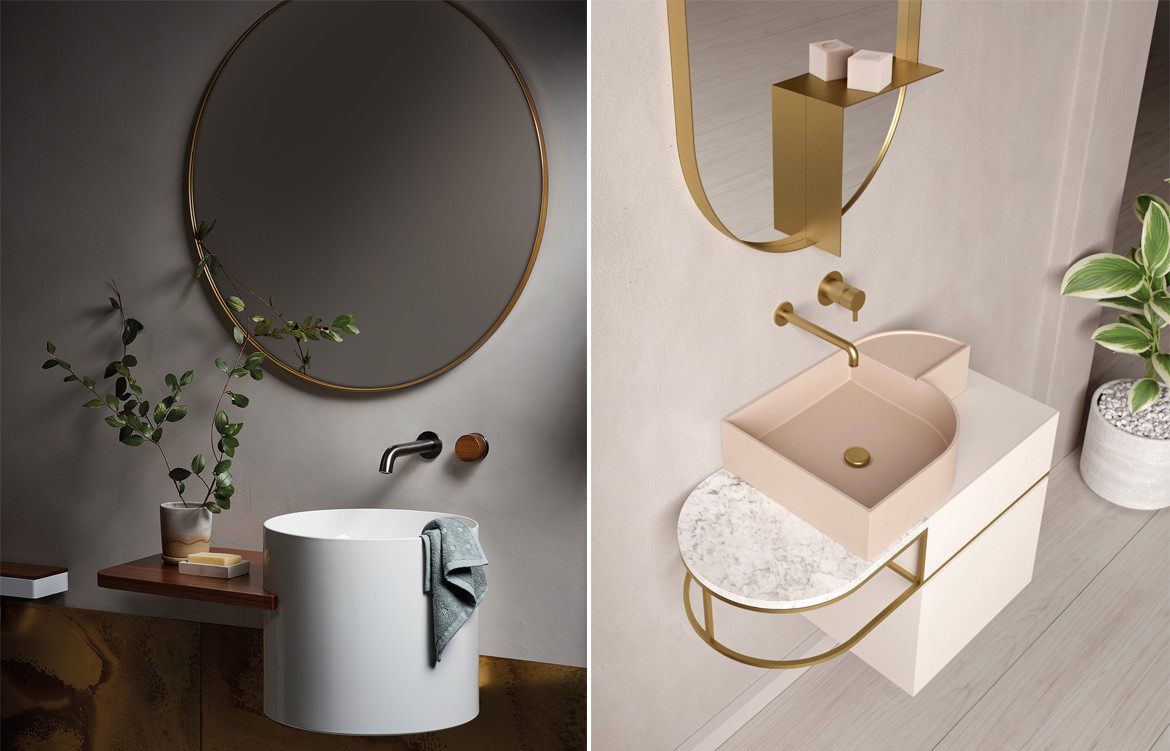 Like colours, shapes are perceived predominantly on a subconscious level. Though only on the brink of our awareness, the geometries of a space can have a profound effect on its overall atmosphere. When it comes to Australian bathroom design, a preference for organic shapes and forms tends to take precedence over the angular geometries favoured in European bathroom design. The juxtaposition of the two basin designs depicted above is a prime example of the different flavours of geometry preferred in European versus Australian bathroom design.
On the left is a basin and mirror setting from Australian bathroomware brand Caroma's Elvire collection, characterised by the soft, continuous curve of a circle. In contrast, on the right is a basin and mirror from illustrious European bathroomware brand, West One Bathrooms' Nouveau collection. Inspired by the art deco design aesthetics of the early twentieth century, the Nouveau Basin features curved lines abruptly bisected by hard edges.
Materiality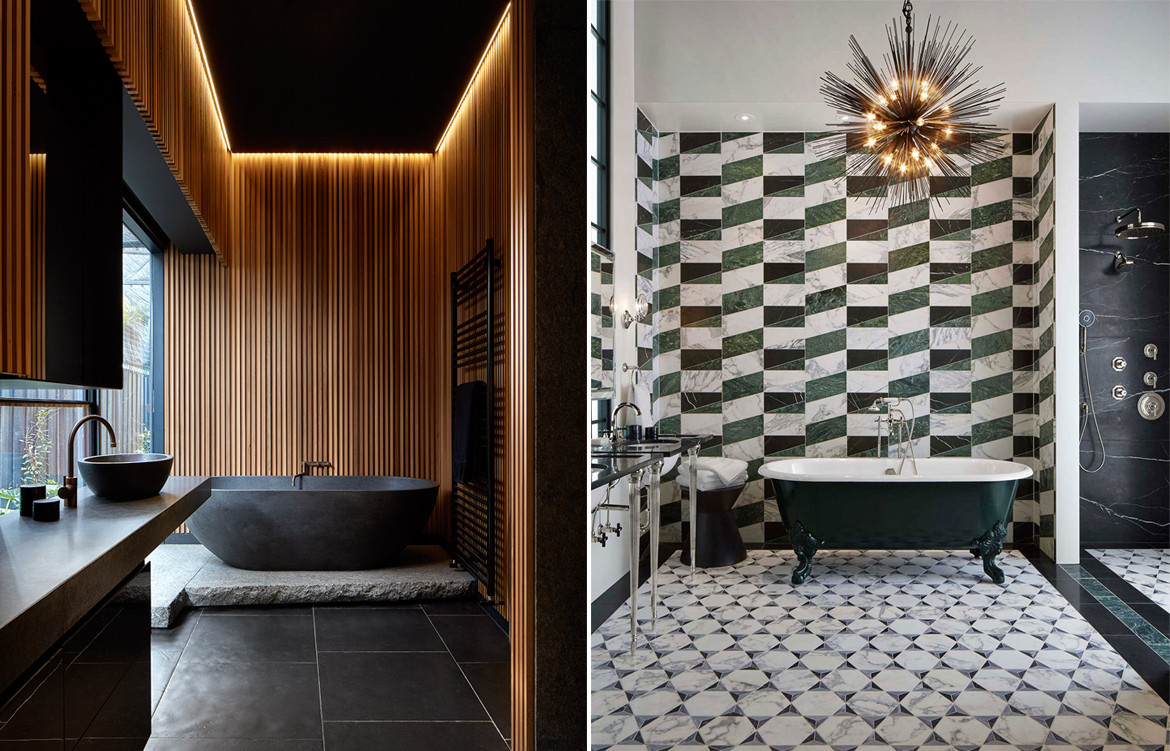 Materiality is another distinguishing feature of Australian bathroom design – namely, the antipodean preference for the au naturel. Exemplary of this is the stark contrast between the two bathrooms above: one straight out of Splinter Society's Elwood House in Melbourne, the other straight out of the catalogue of West One Bathrooms.
The bathroom of Elwood House by Melbourne-based architectural firm, Splinter Society, features an egg-shaped bath sat upon a dais of natural, raw-edged stone, surrounded by striking timber-panelled walls. Meanwhile, in the bathroom showcasing West One Bathrooms' Kelly Wearstler-inspired Ann Sacks Liaison Mosaics, stone is designed out of its natural beauty and into something else entirely, striking in its own right.
Biophilic Design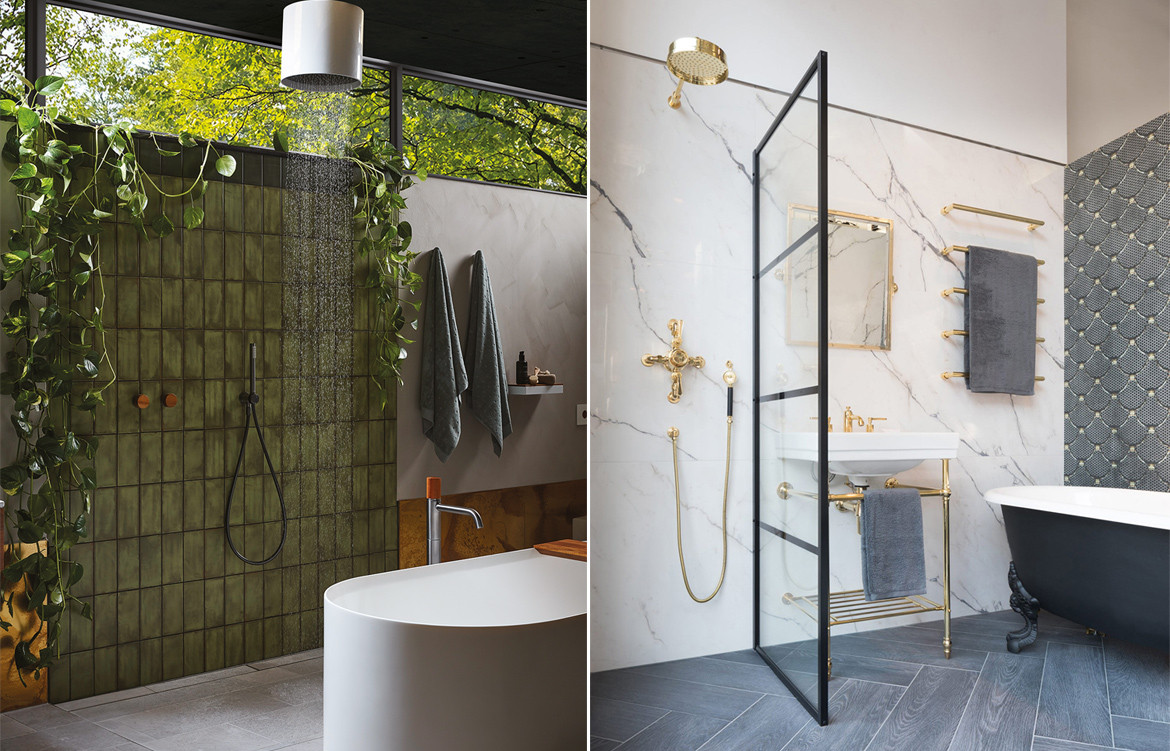 Biophilic design speaks to the intricate relationship between human wellbeing and our environment – specifically how the connections between built and natural environments influence our overall sense of wellness. In seeking to strengthen connections to nature, architects and designers employ a variety of methods including access to natural light, fresh air, visual connections to outdoors, as well as the use of organic colours, materials, and shapes.
Being blessed with its sub-tropical climes and verdant, oft coastal, scenery, Australians have an innate affinity to their natural surrounds – arguably more so than those living in less-fortuitous environs. This constant search for opportunities to blur the boundaries between outdoors and in presents itself in the bathroom as much as any facet of Australian residential design. Comparing the two bathrooms above, it doesn't take much to assume which is an example of Australian bathroom design and which is representative of European bathroom design trends.
On the left, an image taken from the Elvire display at Caroma's Flagship showroom in Sydney pictures a bathroom inspired by nature. Green wall tiles are framed by an organic growth of foliage, while an overhead shower rains down from above, evoking the sense of natural falls. Accents of Tasmanian blackwood enhance the holistic effect of striking a harmonious balance between outdoors and in. In contrast, the bathroom depicted on the right – again an elegant example of design by West One Bathrooms – evokes its own sense of luxury, without a hint of nature in sight. Here, timber accents are replaced with gold; green wall tiles replaced with marble; and the bath is perched up on regal feet, harking back to a traditional kind of glamour.
Stepping back from aesthetic trends and being guided by the innate antipodean connection to the outdoors was one of the founding principles behind the design and development of Caroma's Elvire collection. This insight is indicative of a brand and design team who heralds and intuitive and meaningful understanding of its audience – a quality well worth inciting anticipation for what they'll do next.
Caroma
caroma.com.au
We think you might also like these bathrooms that benefit from a connection to outdoors.
Tags: Australian bathroom design, bathroom design, Biophilic design, Caroma, case study, Elvire, Elwood House, materiality, Residential design, Splinter Society, West One Bathrooms
---