Muuto has long believed that good design starts with the individual. To this end, the brand has made a habit of – and built a business from – handpicking the brightest contemporary design talent in Scandinavia and giving them the freedom to express their unique perspectives through quotidian objects. Marking the beginning of the Muuto Spring 2020 design collection, the brand has released the fresh fruit of two such collaborations – one with none other than the emerging talent of Earnest Studio; and the other with acclaimed Danish designer Thomas Bentzen.
Founded by American-born, Rotterdam-based designer Rachel Griffin in 2012, Earnest Studio is a design practice operating in the spheres of furniture, lighting, and accessories. This is the first collaboration the emerging designer has embarked upon with Muuto, making her perspective one of the freshest additions to the brand's esteemed portfolio of design talent. Earnest Studio's debut designs for Muuto Spring 2020 include the Post Lamp Series and the Kink Vase.
Available in floor and wall variations, the Post Lamp Series is imbued with forward-thinking functionality, graphic expression, and contemporary, minimalist design aesthetic. "The Post Floor & Wall Lamp came from the idea of exploring the flexibility of a magnetic joint, giving the user the freedom to position and dim the lamp's lighting units according to individual needs," says Rachel, "Designed with a sculptural expression, simple lines and refined finish, the Post Floor & Wall Lamp represent a new perspective through their graphic character and forward thinking functionality."
Equally sculptural in expression, the Kink Vase is a fresh take on the typology of the classic vase. Created through digital manipulation of simple shapes, the design combines an appreciation for modern technology with traditional ceramic craftsmanship. "The graphic and playful appearance of the Kink Vase—combined with its double opening, which suggests a new way to arrange flowers—infuses its surroundings with joy," says Rachel on the piece.
Expanding on the existing Cover family of furniture designed by Thomas Bentzen for Muuto Spring 2020 sees the release of the Cover Side Chair. A nod towards the archetypal design and Scandinavian traditions, the Cover Side Chair is a stackable, lightweight wooden chair. chair, combining Scandinavian materiality with forward-thinking craftsmanship. With a sturdy oak frame, curved seat and partial armrest, the Cover Side Chair has an inviting expression through its extensive comfort and a strong ethos while taking up only little space in the room, whether in use or when stacked.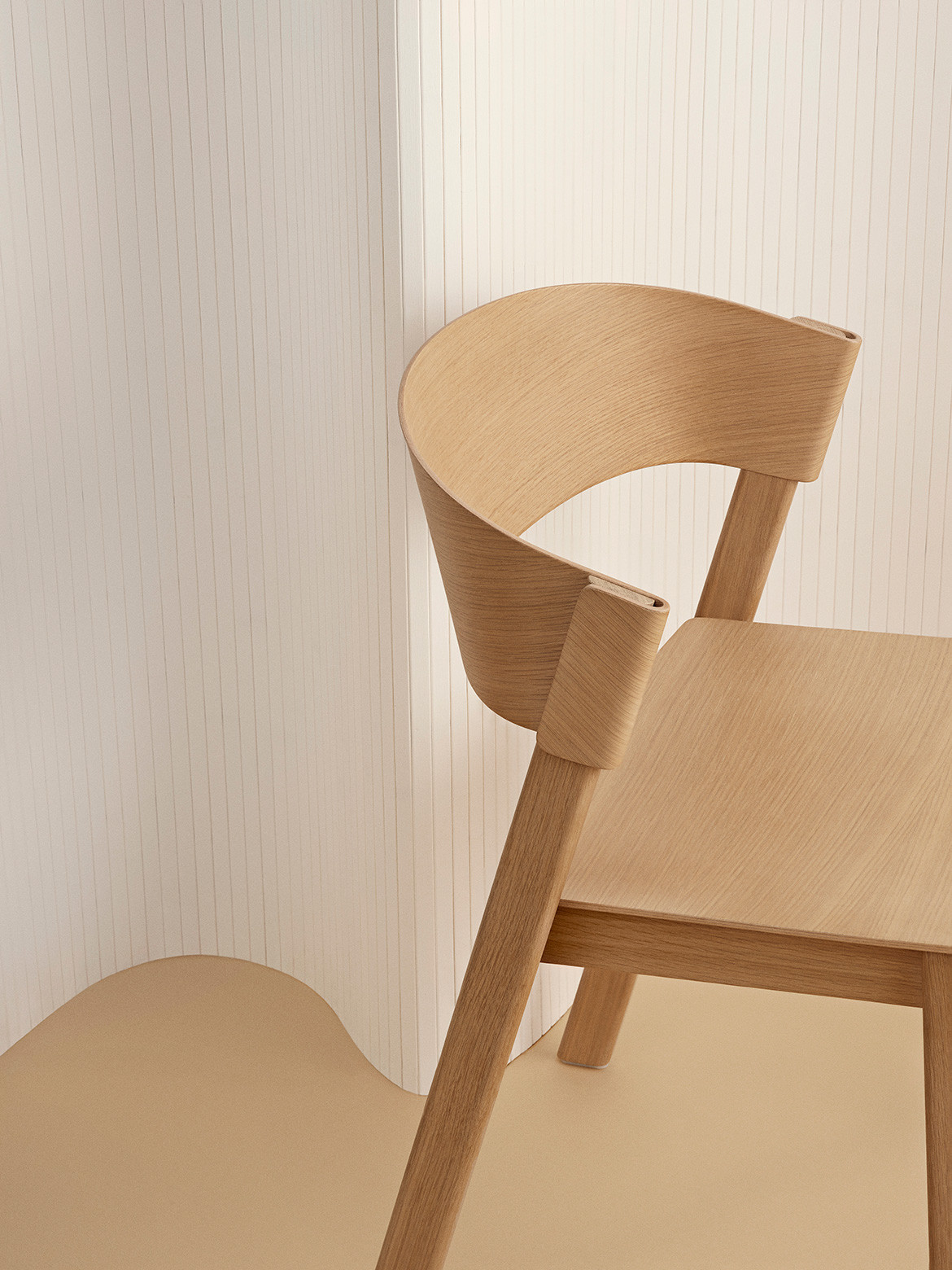 Accompanying these Muuto Spring 2020 additions is the introduction of new colours to the Visu and Nerd chair collections, as well as an environmentally-friendly, water-based lacquer option for Muuto's Visu, Nerd, and Fiber chairs.
Muuto products are available in Australia through Living Edge.
Muuto
muuto.com
Living Edge
livingedge.com.au
We think you might also like Artisan Australia
---