Interior Design in Australia has come a long way in recent years and is finally gaining recognition as a valuable profession. This cultural shift was in large part pioneered by the famous Australian interior designer Marion Hall Best, who advocated for the understanding of interior design as the creation of a specific and evocative atmosphere (rather than decoration alone).
The term 'interior design' did not even exist at this point – the practice was referred to simply as interior decoration. The majority of work in the field was limited to arranging department store windows and other small-scale endeavors. Best's efforts to popularize interior design in Australia paved the way for independent professional designers to make names for themselves, a fight later undertaken other famous Australian interior designers such as Sue Carr, who worked to prove that architecture and interior design have equal merit in the creation of an environment. Read more about Carr's incredible career here.
While it may be tough for beginning Australian interior designers to break into the international market, there are a few renowned figures on the global design stage; notably, Alwill interiors, Doherty Design Studio, YSG Sydney, Alicia Holgar, and many more. Australian interior designers do not subscribe to one all-encompassing style and many have cultivated their own unique design fingerprint.
Overall, however, there does seem to be a recent trend towards naturalism and a return to vintage influences, perhaps as a result of the extensive time spent indoors during the pandemic. Find below a detailed overview of Australia's top ten interior design companies, counting down to the most famous. For more information on Australian firms, have a look at this little black book of interior designers.
10 Best Interior Designers Australia
10. Studio Tate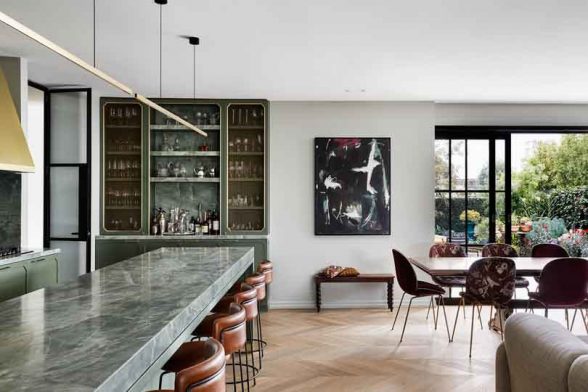 Studio Tate is a renowned Australian interior architecture practice which focuses on maintaining the balance between design and individuality. Studio Tate's creative approach to making functionality playful has granted it much recognition in the field, becoming known as one of the top Australian interior designers. Studio Tate has won such prestigious awards as the WIN Award, Interior Accessories (2018) for their Green Gables project, as well as making multiple shortlists for various IDEA, Dulux and Dezeen Awards.
For a comprehensive list of their professional achievements, see here. Studio Tate's most well-known projects include the Malvern Residence, a private home pictured above, and the iconic Holiday Inn Werribee.
09. Mim Design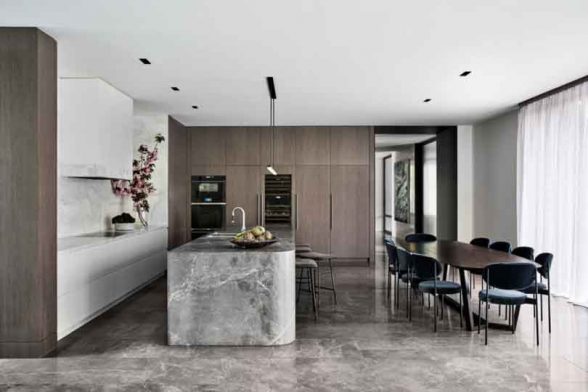 Mim Design is an upcoming design and architecture firm based in Melbourne with a diverse portfolio of high-end residential, custom multi-residential interiors, commercial and corporate projects. Mim Design is known for its creative approach and attention to detail, and has been commended for its flexibility in adapting to client needs. Several of Mim Design's projects have been shortlisted for the AIDA, including the Delaney Residence, MAH Residence, Landream and Lexus Pavilion. For more information on Mim Design and their upcoming projects, find their website here.
08. Fiona Lynch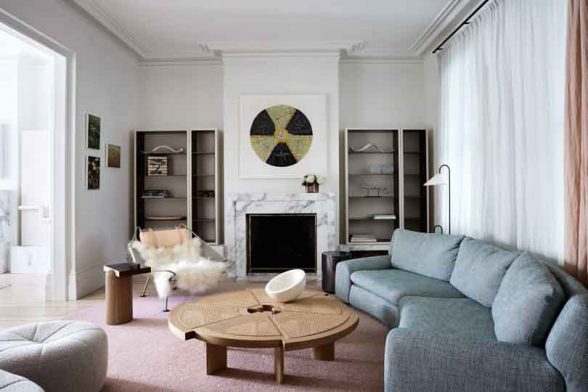 The design office of Fiona Lynch is committed to creating an emotive atmosphere, paying particular attention to texture, colour and lighting. This approach has been taken with all of Fiona Lynch's projects across a range of disciplines, from residential to commercial. The blend of natural and sculptural materials as well as a spirited minimalist style separates Fiona Lynch from the majority of Australian interiors and cultivates their distinctive style.
This style has been recognized privately and professionally, with the most recent awards attributed to Fiona Lynch including; Female Designer of the Year (Design Anthology Awards 2021), Commendation for Hospitality Design (Australia Interior Design Awards 2021) and Top 200 Design Influencer (AD Germany 2019). Their best received project is the CicciaBella Parramatta, which won them the 2021 AIA award, and the South Yarra residence, pictured above. A detailed overview of these projects and many more can be found on the Fiona Lynch website here.
07. Hecker Guthrie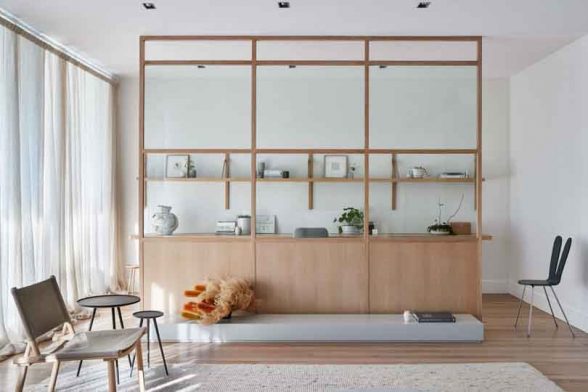 Hecker Guthrie is one of Australia's leading design firms with a diverse portfolio of multi-disciplinary projects ranging from hospitality, residential and commercial sectors. The philosophy of Hecker Guthrie is to create beauty over extravagance, prioritizing feelings and atmosphere instead of just superficially appealing furnishing.
The firm has been internationally and domestically recognized as a powerhouse in modern architecture, winning the 202 AIA for Retail Design and shortlisted for the Best Hospitality Design, The Wellness Space, and the Best Residential Design – all just in 2020. The best known project of Hecker Guthrie is the retail Script Skincare design which won their 2020 AIA, as well as the Maddox Fit health club and the Darlinghurst apartment, pictured above. Find more information about upcoming projects here.
06. Flax Studio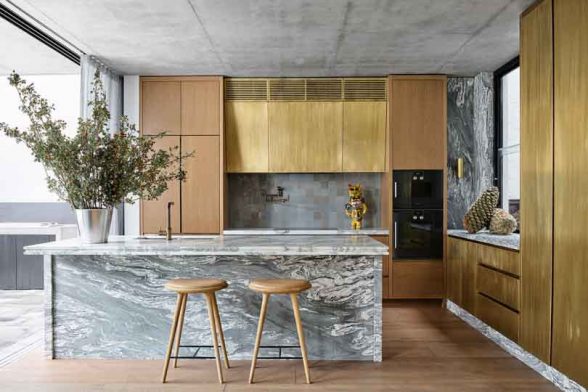 Flack Studio is another multi-disciplinary studio with a broad range of projects. Dedicated to expressing personable and bold designs, Flack Studio uses lighting, furniture, textiles and fittings to convey elegance and modernity. Flax Studio has received much acclaim as one of Australia's leading interior design firms, announced as IDEA Designer of the Year in 2021, and awarded both Best work with Colour and Best Residential Interior at the 2020 Belle Coco Republic awards.
A Flack Studio project also featured on the cover of Vogue Living 2021, featuring a house designed for the well-known Australian pop artist Troye Sivan. Flack Studio have 14 upcoming projects primarily in Australia, though they have a project in Los Angeles set for completion in 2023. For more information, take a look at their website.
05. SJB Interiors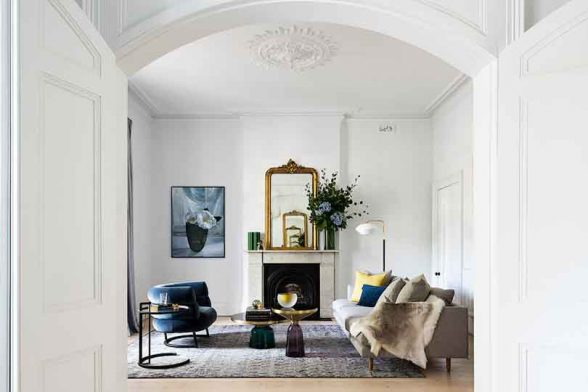 SJB Interiors is a powerhouse of Australian interior design, focusing primarily on projects in hospitality. However, SJB will occasionally undertake a residential or commercial fit-out, such as the breathtaking Clark house pictured here. SJB Interiors commit to sustainable solutions specific to the environment of their projects, and place a strong emphasis on intelligence, practicality and vibrancy.
In 2017, SJB won the award for Residential Decoration for a Private Residence (AIA) and was shortlisted for multiple other awards in 2018 including Hospitality Design, Installation Design and Beach House for Residential Decoration. Five other projects were shortlisted in the Residential Design category, including the Clark house. Their best known projects – many of which were the nominated projects for these awards – include the SJB Sydney Studio, the UNSW Bookshop, the Hermitage, Emerald City Residential, and many more. For the project overview and a detailed list of notable SJB endeavors, view the website here.
04. Woods Bagot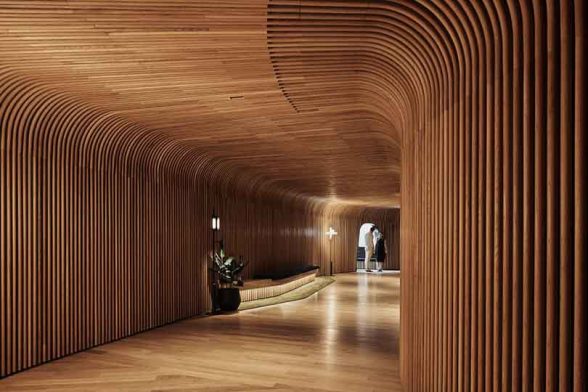 More than a century after its founding, Woods Bagot remains one of Australia's most prominent figures in interior design. Undertaking large-scale commercial and hospitality projects, the practice has extended its reach globally with major projects now completed in China, Abu Dhabi, America and the U.K – to name just a few. The project pictured here was a daring admission to the Sculptform statement showroom designed by Woods Bagot. Read this article on the process and design aspects of the showroom for more information.
Woods Bagot prides itself on encompassing a vast range of styles, refusing to be confined into a niche market, and has won multiple awards such as; the AIA Award for Residential Architecture (with projects The Crest and 537 Elizabeth Street) and the NSW Architecture Award for Interior Architecture (project CBA Axle), both just in 2020.
03. Hassell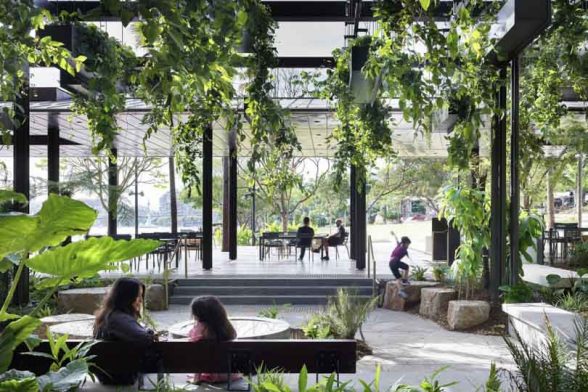 Hassell has perhaps one of the most extensively diverse portfolios in this list, all tied together with a commitment to contemporary exploration. With studios in Sydney, Melbourne, Adelaide, Brisbane and Perth (as well as internationally) Hassel projects are always undertaken with attention to research, technology and experience to build an inclusive and sustainable future. Hassell places emphasis on responding to the developing challenges of modern life – globalization, climate change, digitization etc. – in an original and creative way.
The recipient of the Lloyd Rees Award for Urban Design three years in running, Hassell has been the subject of much recognition especially in recent years for projects such as the North West Metro, Harold Park, and the Darling Harbour Public Realm. The UNSW Electrical Engineering Building received the Educational Architecture award and Sixty Martin Place has been commended across Commercial Architecture and Urban Design. These are just small instances of recognition in the vast professional career of Hassell; find out more about their commendations on their website.
02. Bates Smart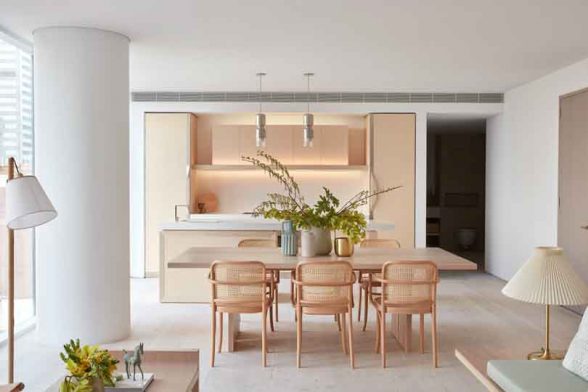 Bates Smart is a multidisciplinary firm encompassing interior design, architecture and strategic services all across Australia. Their core design philosophy aspires to create projects that are beautiful, innovative, and deeply specific to the client's needs. Bates Smart projects are future-proof, planned to the utmost detail, and seek to revolutionize practices of architectural design in a contemporary landscape.
Recent awards attributed to Bates Smart projects include: the AIA (National) Architecture Award 2018, the Property Council of Australia, Innovation and Excellence Awards, Victorian Development of the Year 2018, and the AIA (VIC) Public Architecture Award 2018 – all for one building; the Bendigo Hospital. Another of the most acclaimed projects undertaken by Bates Smart is 35 Spring Street, Melbourne, which won the AIA (National) Architecture Award, The Frederick Romberg Award for Residential Architecture – Multiple Housing 2018, and the AIA (VIC) Residential (Multiple Housing) Architecture Award 2018. See more of their developments at their website.
01. Carr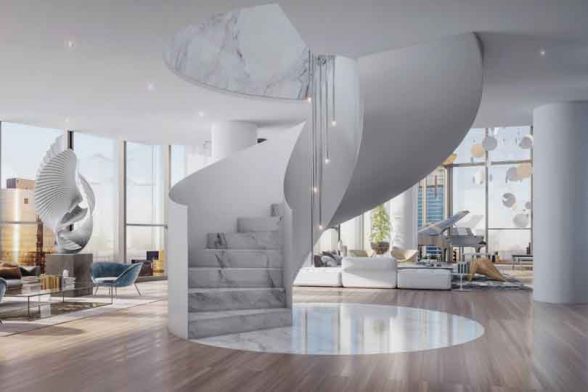 Carr, a Melbourne based design firm which has been operating for over five decades, has undoubtedly earned the title of Australia's most famous Interior Design practice. It was founded by Sue Carr, recognised earlier as one of the pioneers of modern Interior Design and named one of the 100 Women of Influence in the 2016 Australian Financial Review's award programs. Carr has recently unveiled a new design philosophy; 'Dynamic Restraint.' The concept encapsulates Sue Carr's commitment to change and progress, and the role played by décor in fostering human connection. Read more about Sue Carr's dedication to philosophical design here.
Known for calm, understated and thoughtful designs, Carr have been the recipients of multiple prestigious awards including the Australian Interior Design Award for Hospitality Design (2019) for the United Places Botanic Gardens project and IDEA Best Overall Design Project (2017) for their groundbreaking sustainable hotel Jackalope. For more insight into what Dynamic Restraint means for future Carr projects, view the website here.
---