The most common type of garage flooring is concrete (usually polished). However, there are a variety of options available. Garage floors are under heavy strain over the years with the wear and tear of cars coming in, parking, and leaving. Early garage floors were made from gravel or packed dirt, but this was quickly replaced by concrete during the 20th century.
Concrete is one of the most durable materials available in modern construction, making it an especially effective flooring material for high traffic areas like garages. Other materials with a similar resistance to wear and damage include epoxy flooring, stone flooring, vinyl flooring, rubber tiles, and even reinforced rubber carpets or mats.
Every one of these materials has its unique advantages and disadvantages. There is no one-size-fits-all material for garage flooring; you will need to choose a flooring material that is tailored to your situation. For instance, vinyl flooring is not as strong as the other materials and will work best for low-traffic garages. This is ideal for people who live in cities and do not use their cars every day. However, someone who drives to work every day will benefit from a more durable material such as stone, epoxy or polished concrete.
The typical Australian house will have a garage floor made from concrete. Adelaide, Brisbane and Perth all follow this trend. In the future, this may not be the case. Non-traditional floor coverings such as interlocking tiles, vinyl, and even porcelain are gaining popularity across the nation. They are also becoming more widely available – high quality options for garage floor tiles and flooring rolls are now often available in chain homeware stores such as Bunnings.
As the move towards an environmentally friendly lifestyle becomes more urgent and people drive their cars less often, the garage becomes something of an opportunity space. Here is how to use it to the fullest.
Garage flooring Australia: The best garage floor ideas for a cheap renovation
7. Specialized carpet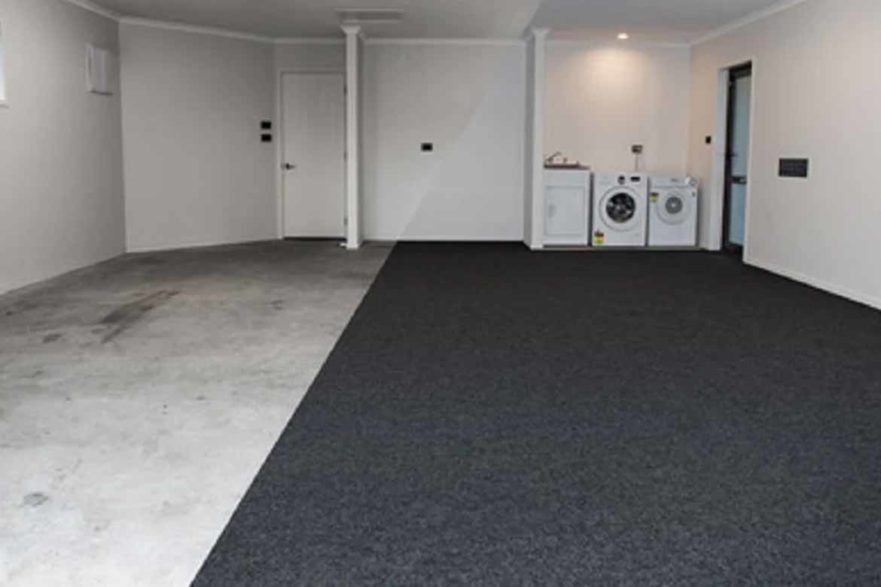 Standard carpet is one of the worst flooring materials you could possibly install in a garage – and yet people try it every year thinking they will save money by using leftover carpet from other rooms. Do not do this. Standard carpet is not designed to withstand the pressure of tyres and will wear away very quickly. It is also an extreme fire hazard as fluids from the car will soak into the carpet and turn your garage into a tinderbox.
However, certain types of carpet are strong enough to withstand garage use. Outdoor carpet is durable, impermeable, and fire resistant. It is made from polyester, nylon, and polypropylene synthetic fibres. However, not all carpet will be suitable for a garage. Make sure to research thoroughly beforehand. Carpet is also a good option if you are considering converting your garage into a storage unit / rumpus room in future.
6. Porcelain tile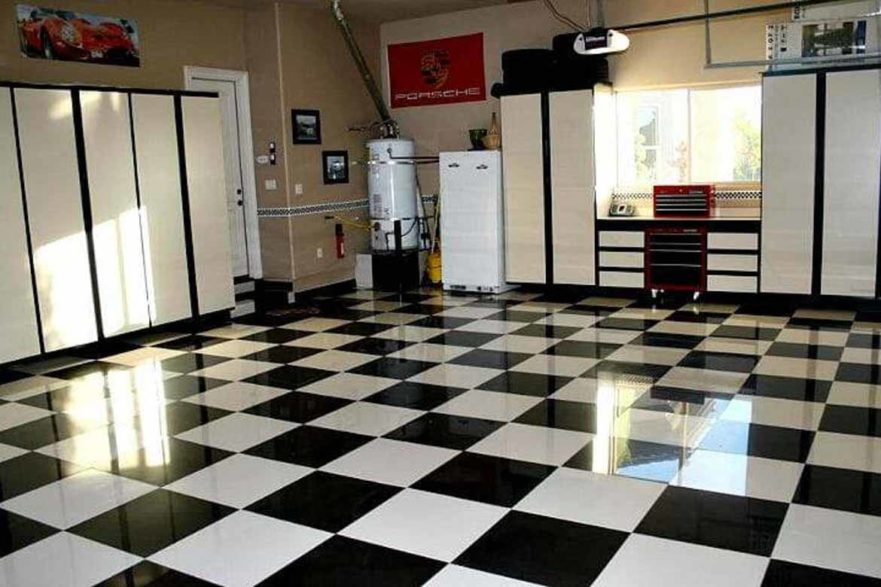 Porcelain is not one of the first materials that comes to mind when you think of a sturdy floor. However, it is becoming more popular. Porcelain flooring is actually quite durable; it is often used in commercial and industrial areas and especially ones involving vehicles.
Porcelain is the lowest maintenance flooring material and has an extremely high density, making it impervious to moisture. Porcelain tile is luxurious, safe and reliable. You can buy porcelain in various patterns such as the checkered design pictured above.
Porcelain usually costs between $1-$5 per square foot in Sydney, so it is not the cheapest material – but if you keep your eye out for a bargain you are sure to find some affordable porcelain in high qualities.
5. Vinyl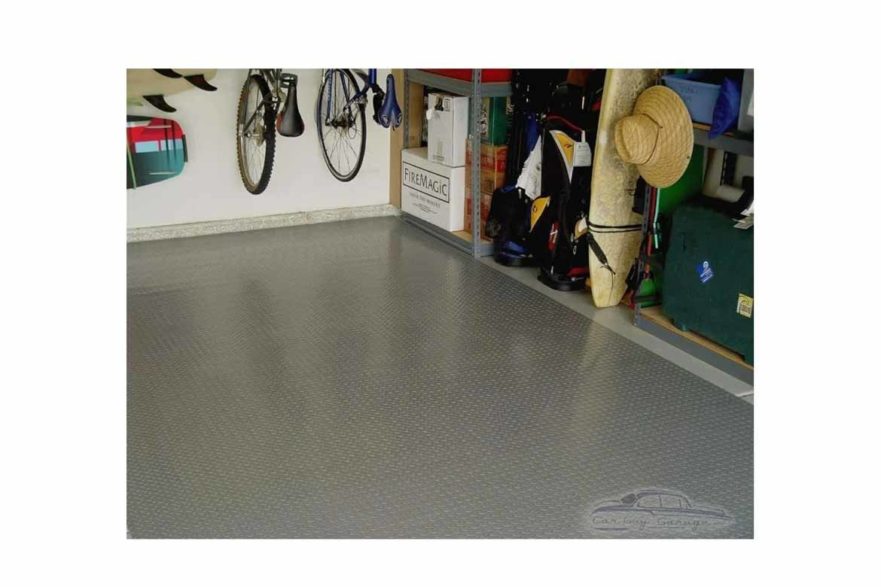 Vinyl flooring is made from PVC (polyvinyl chloride plastic). Vinyl flooring is flexible and comfortable underfoot. It is also highly customizable and can come in a range of prints, including natural-look vinyl floors such as timber, marble or stone.
Vinyl is not as strong as the other materials on this list, so it will not suit every garage. However, vinyl flooring will work well in any low-traffic garage. To fortify it for garage use, vinyl needs to be coated in urethane – make sure you buy enhanced vinyl like this as standard vinyl will wear out quickly under the demands of garage flooring. Vinyl flooring usually costs between $25-35 per square metre in Melbourne.
4. Rubber tile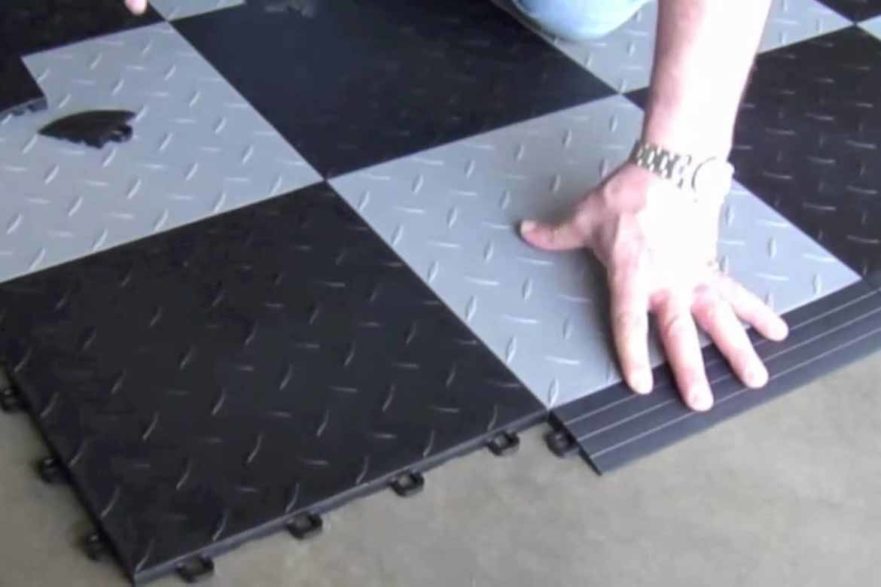 Commonly used for gym flooring, rubber tile is one of the easiest and safest types of flooring to install. It is an excellent option for the average DIY-er as rubber tiles usually come in interlocking patterns which can be arranged at will. They are usually inexpensive, at $15-65 per tile (and no installation costs!).
Rubber tile is also low maintenance and will withstand just about any climate without taking on damage (rubber tile is completely waterproof). It has non-slip properties, making it a safe option for those at fall-risk, and it is has very simple maintenance requirements. Rubber tiles are most commonly installed over concrete floors, but they can be placed over any type of sub-floor with ease.
3. Stone flooring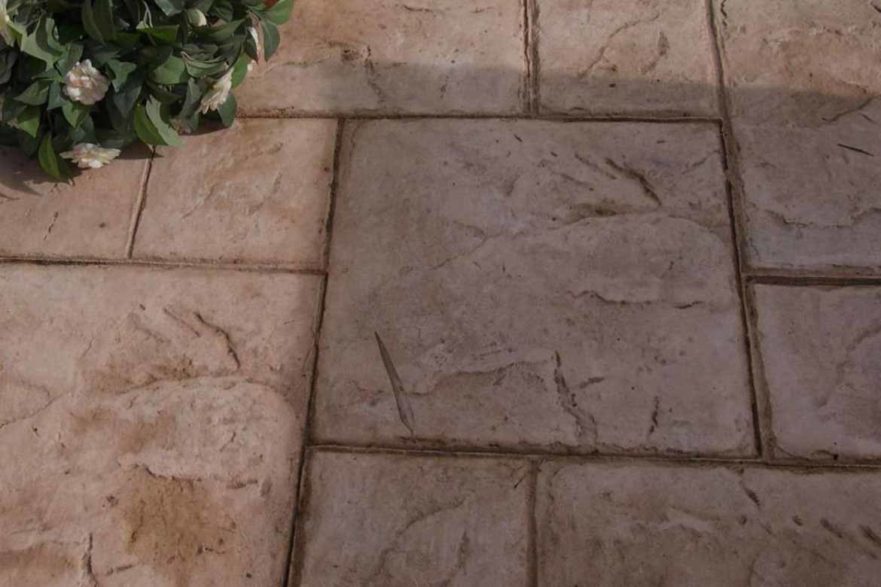 Certain natural stones are ideal for garage flooring. Materials like graphite and sandstone are sturdy enough to withstand the strain of garage use – however, they are far more expensive than other materials.
If you have the budget to install natural stone in your garage, this is definitely a good idea. Stone flooring will last for decades and brings aesthetic value that no other garage flooring style can hope to compete with.
2. Epoxy flooring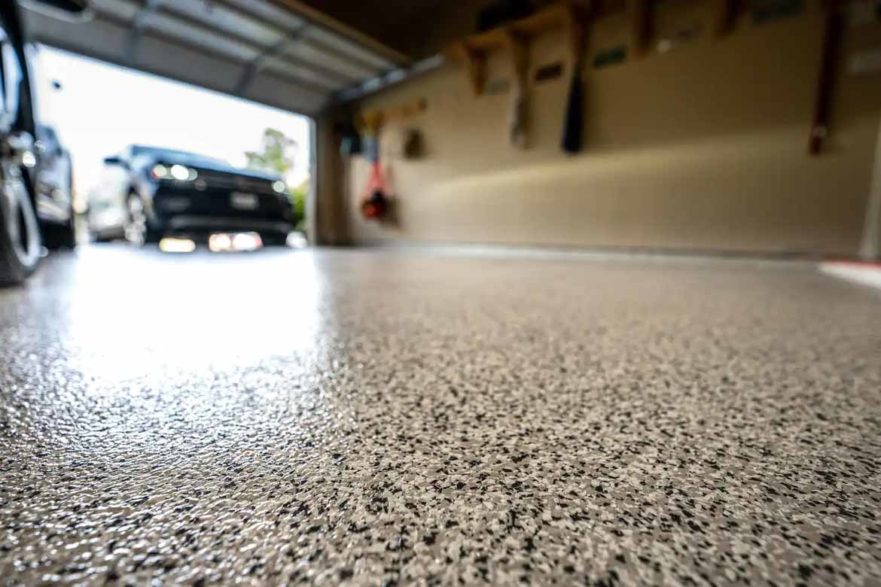 Epoxy flooring is any floor coated with a protective layer of the substance epoxy. This substance is made from polymer resins and hardeners which will fortify the floor against damage. Epoxy flooring usually costs around $30-$35 per square metre and it comes in a range of styles such as natural stone, timber, marble, patterned and concrete.
1. Polished concrete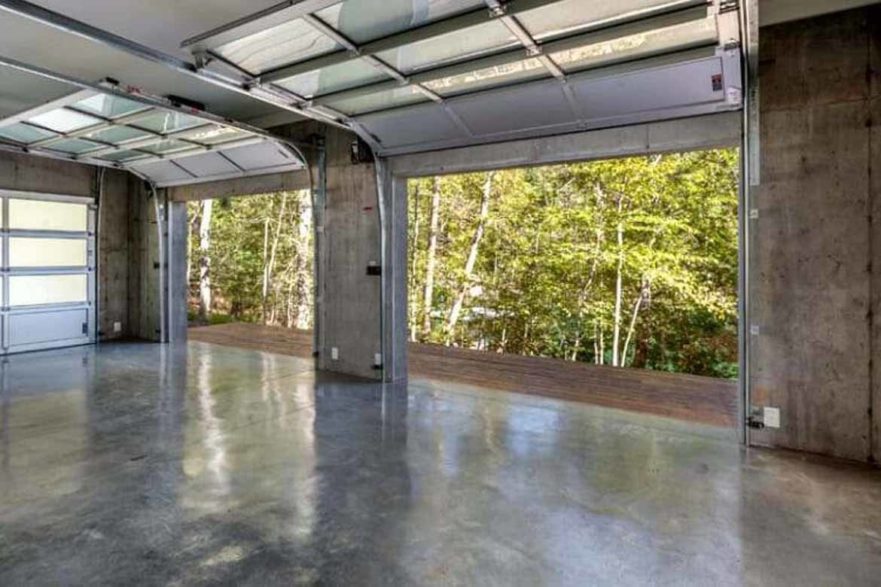 Polishing concrete is a process of grinding, treating and polishing concrete floors with resin-bond diamond. It is typically an industrial flooring method because of its durability, which is exactly what makes it so suitable for garage flooring. There are many different types of polished concrete floors available, including stained and patterned concrete. Polished concrete is fairly expensive initially, but the money that it will save over the years by not requiring maintenance or repair speaks for itself.
---