Once upon a time, a bathroom had no need to be much more than utilitarian by design. But in this age defined by what we appear to be, just how much have the bathrooms of Instagram – or more broadly, bathrooms of social media – affected the way we understand design and bathroom design?
All of a sudden, a bathroom's palette of colour and materials means just as much – if not more than – its storage solutions and primal functionality. Take these three bathrooms of Instagram by means of example;
Nagatacho Apartment, Adam Nathaniel Furman
Designer Adam Nathaniel Furman has taken Instagram – aka the world – by storm with his vivacious use of colour, pattern, and materials. This bathroom for an apartment right in the heart of Tokyo's government central, Nagatacho, is certainly no exception. The epitome of a bathroom designed to become one of the most iconic bathrooms of Instagram, Adam Nathaniel Furman's bathroom for Nagatacho Apartment is a hyper-aestheticized celebration of the senses, and of every day domestic life.
A palette of pastel colours, natural and artificial materials, and an open and interconnected layout with gathering at its heart, combine to create a voluptuous interior world of perfectly poised, gentle deviance.
Materials are celebrated for their sensuality, and their effect on the imagination, rather than their origins, so translucent plastic artificial marbles sit next to the highest quality hand-finished spruce, which is in turn next to the highest quality hand-made porcelain handles, which in turn are next to beautifully glossy nylon fixtures, hand-made carpet next to vinyl, and exquisite textured wallpaper next to semi-matte plastic wall finishes. The Nagatacho apartment is an experiment in the euphoric connoisseurship of colour, texture, material and form in the theatre of the quotidian, a space that elevates the client's daily rituals and communal activities into a space of continuously seductive aesthetic delectation.
Kangaroo Valley Outhouse, Madelaine Blanchfield Architects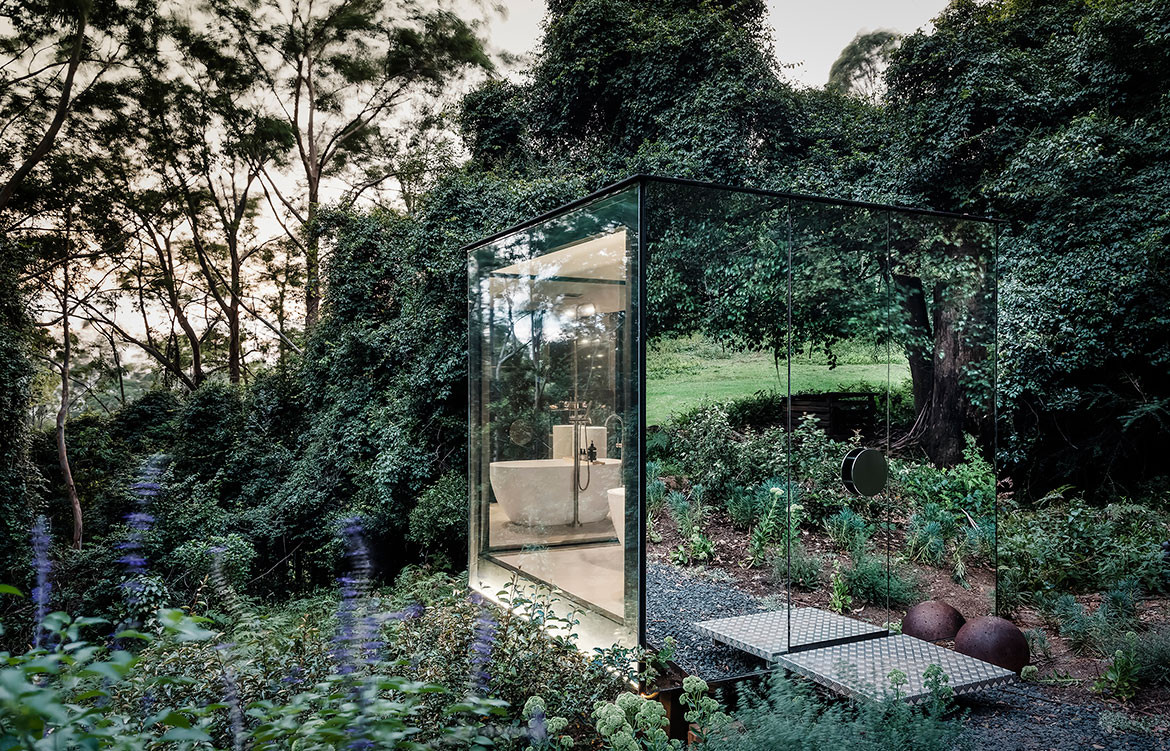 In stark contrast to Adam Nathaniel Furman's loud and proud bathroom design for Nagatacho Apartment, this bathroom design by Madelaine Blanchfield Architects is designed to disappear.
The Kangaroo Valley Outhouse is a bathroom in the bush which services a small cabin for overnight stays. The concept was to separate the bathroom from the cabin and mimic the experience of camping. The outhouse is situated low on a hillside about 30-metres from the accommodation and accessed via a pathway though dense landscape. It is a mirrored cube elevated above the existing ground and nestled in vegetation.
The outhouse structure completely disappears during the day. It reflects the lush landscape and only the subtle lines of the cube's edges are visually legible. When in the bathroom the walls are all glass and there is no impediment to the view of the surrounding landscape.
Surry Hills Penthouse, SJB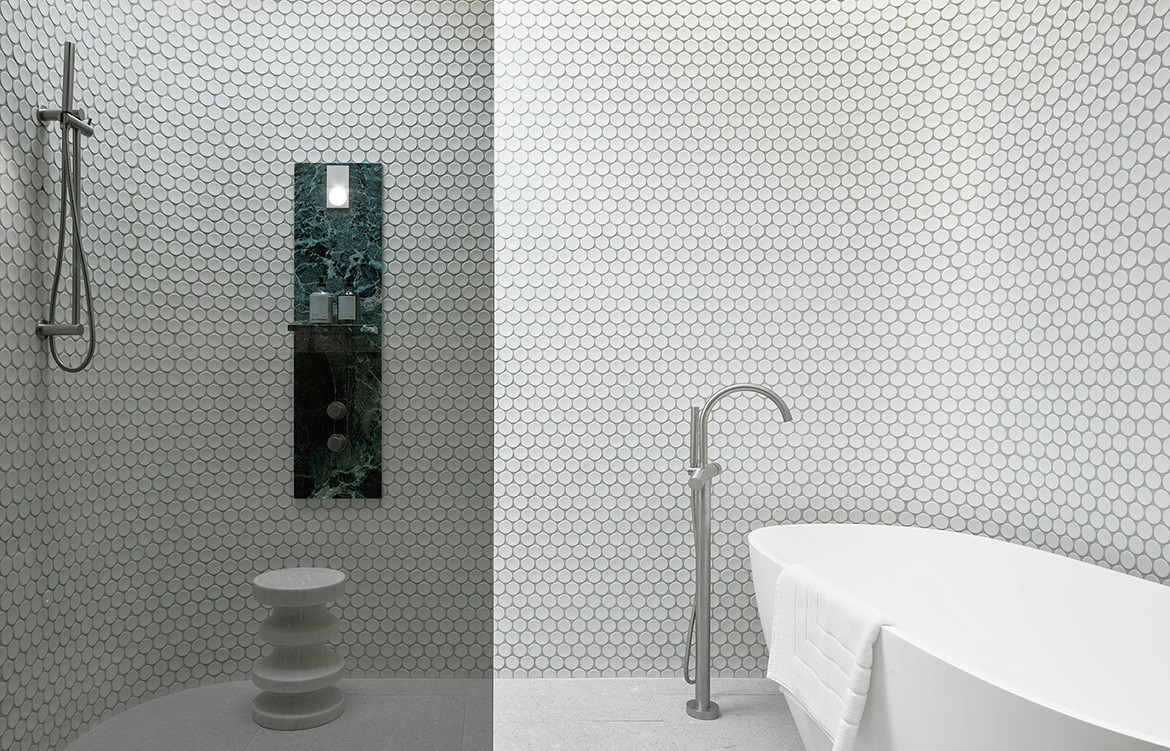 Weaving a new precinct into one of Sydney's most historic inner-city suburbs, Surry Hills Village is a new mixed-use development offering a variety of apartment types, office, hotel and specialist retail alongside restoration of the existing heritage building on the site. At the heart of Surry Hills, the development aims to capture and celebrate the suburb's vibrancy and variety, referring to its local terrace house architecture, many and varied eateries and bars, colourful people and unique city fringe location nestled between Centennial Park and the CBD.
The penthouse apartments are conceived as private garden pavilions, planned to maximise outdoor connection, with expansive garden terraces, physical separation from adjoining apartments and district views in multiple directions over the Surry Hills rooflines.
A design language that is simultaneously aspirational and bohemian is explored in the interiors – with the bathrooms being no design exception. Much like the design language of the Elvire Collection of bathroomware from Caroma, the material directions of this bathroom draw from nature, referring to coastal greenery and the red earth. Figured green marble, soft grey granite flooring with brick detailing and softly muted timbers provide a cool, refreshing forest mood.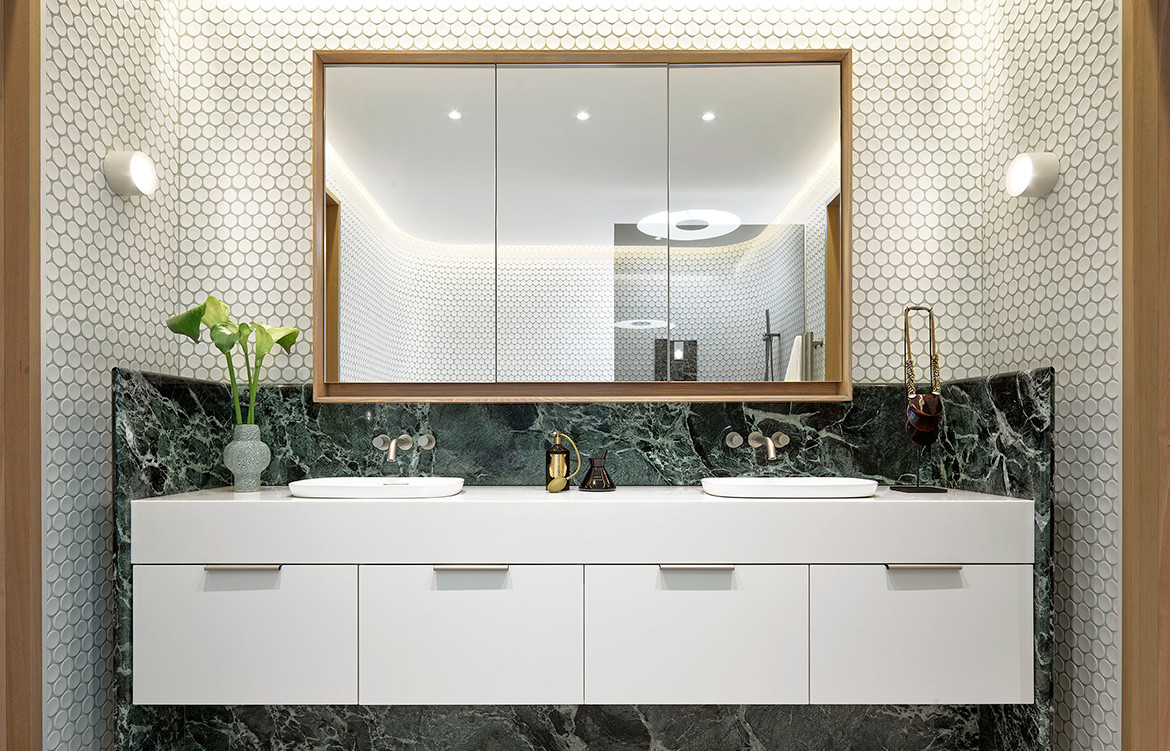 These three case studies of exceptional contemporary bathroom design are testament to the notion that, in the age of Instagram, a bathroom must be so much more than a space for hygiene. Through colour, texture, pattern, and materiality, the modern bathroom becomes a place to which one can escape. These bathrooms of Instagram are spaces of safe haven, self-care, and personal expression – above and beyond personal hygiene.
This article is sponsored by Caroma
Caroma
caroma.com.au
We think you might also like to read about what defines Australian bathroom design
Tags: Adam Nathaniel Furman, bathroom design, Caroma, Madeline Blanchfield Architects, SJB
---