"With the precision and foresight of a sculptor, our project chips away at the stifling 'nice to haves' of home life, leaving behind only the essentials of elegant, functional living," explains Gaurav Rajadhyax, architect and director of R Architecture.
"In designing Humble House, we denote that scaling down need not be synonymous with sacrifice, rather Humble House offers a refined, though unassuming aesthetic that advocates for the joys of stripping away excess and living simply with ease."
Gaurav's sentiment both noble and environmentally conscious, takes shape physically in almost every aspect of Humble House. Despite being sited on a large allotment of 800 sqm, the house itself is modest in size. "In addition, no space is wasted in Humble House," continues Gaurav.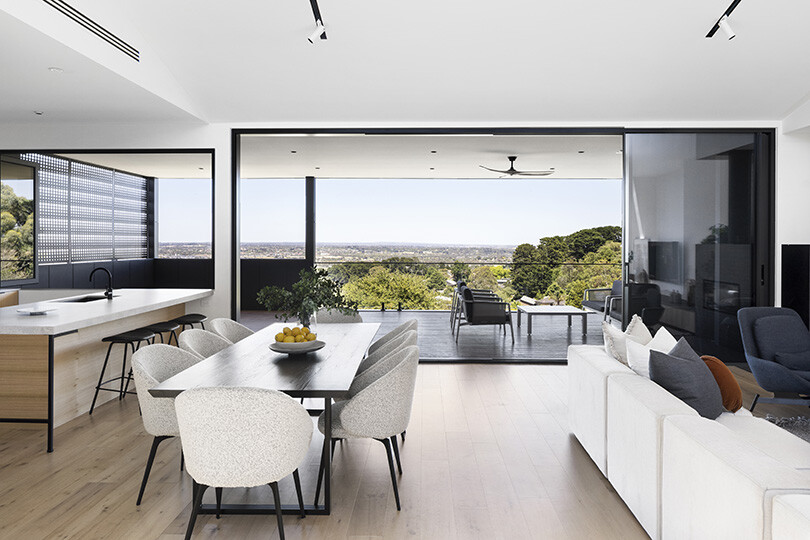 "The interstitial space between rooms presented an opportunity to move beyond generic hallways and curate joyful transition spaces that prompt visual vantage points for admiring views, courtyards and into other areas of the home."
Despite the clients' desire to downsize, a connection to nature and an ability to host guests were distinct priorities as well as a desire to create a home with a courtyard as its nucleus. "Fundamentally, what we wanted to do was capture the lifestyle of traditional Indian homes – which have open courtyards and lots of shared space," explains Nimisha, the client. "And because it's a warmer climate, we're used to lots of sunlight. So we wanted to incorporate those aspects in the design."
Drawing on their clients' cultural heritage, the design concept embodies the fundamental tenets of traditional Indian homes, which include being open to the elements, incorporating generous entertaining space, and pavilions punctuated by a series of internal courtyards. "Strategic, angled placement of three fit-for-purpose wings ensures privacy from neighbours while using rooms or courtyards, yet their orientation allows visual and audio connection within the home to be retained," adds Gaurav. "The project allows our clients to enjoy the perks of an urban life, while sheltering them from the hustle and bustle of it while at home."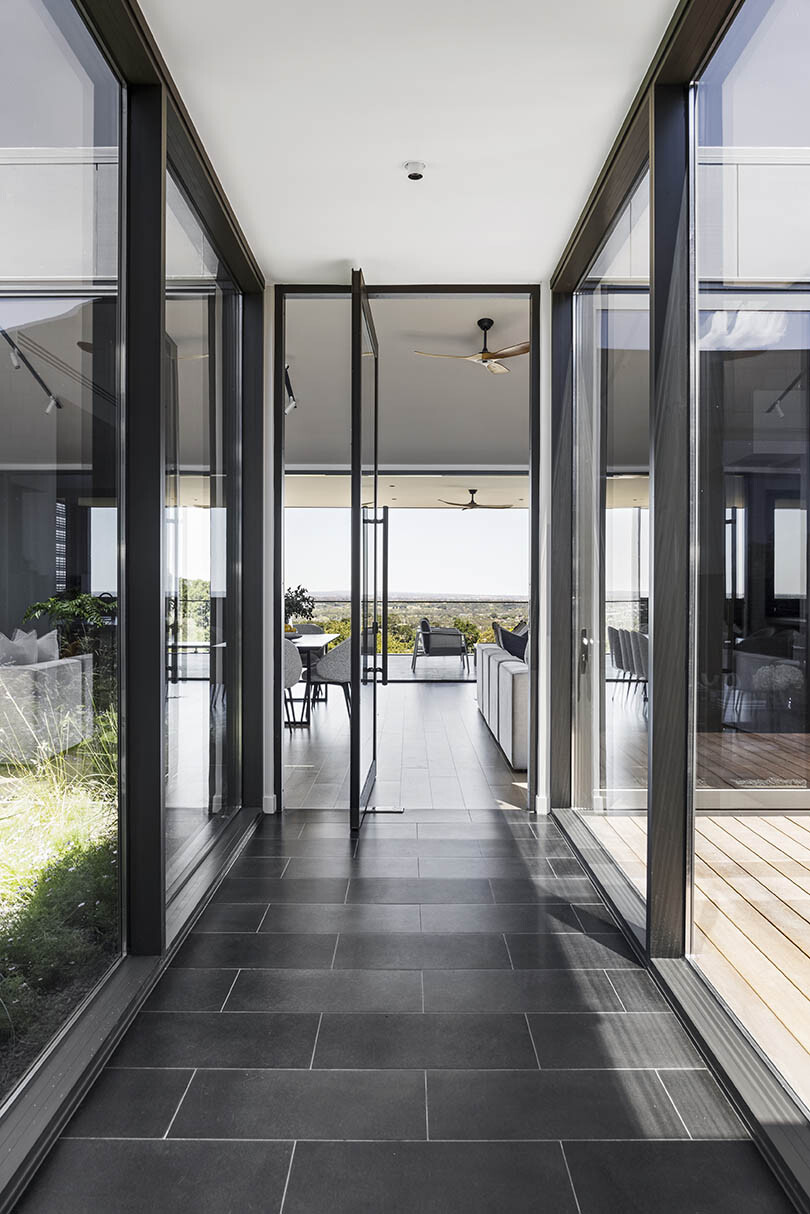 To cater for all entertaining eventualities, the team located the kitchen/living space alongside a generous outdoor terrace, which effectively doubles the size of available space. "Framed by perforated aluminium screens, and with fully operable windows in a charcoal powder coat, the outdoor space is suitable for enjoying in all seasons," continues Gaurav. "Here the threshold between indoors and out is carefully designed to be virtually non-existent."
This has been achieved with glazed sliding doors and folding servery windows create an authentic experience of indoor/outdoor living. In addition, the house maximises its orientation and views of the horizon with double-glazed Belle skylights that usher in natural daylight.
Another seamless resolution, entails the deft way in which the R Architecture have handled the challenge of working on a steeply sloping site. Given that the house was anticipated to be the clients' forever home, accessibility throughout was key. "What begins as a ground floor entrance seamlessly transitions to an elevated first floor," explains Gaurav. "Although the steep landfall meant it was not possible to have an entirely single floor home, strategic spatial-mapping ensured unimpeded access to and from bedrooms, bathrooms, kitchen and living — the areas in which 90% of the day is spent — minimising stair use."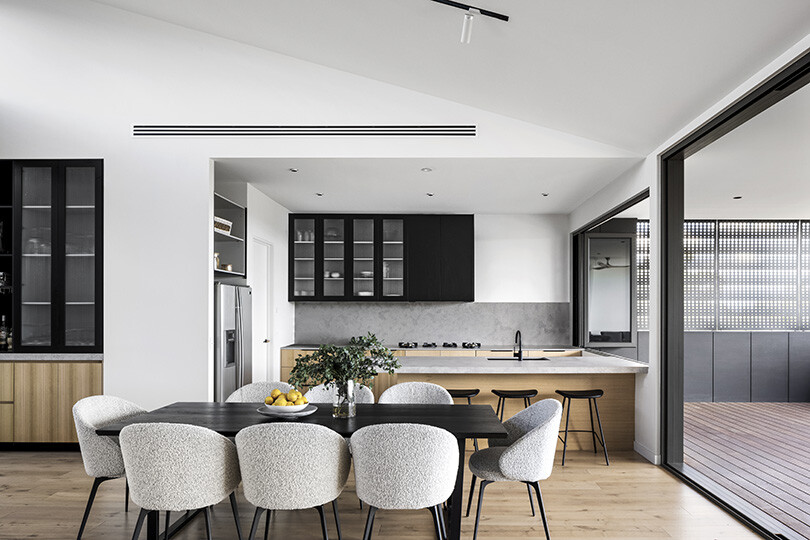 From a materials perspective, Humble House achieves the same goal, with a classic flow from outside to the interior. External Spanish black slate shingle cladding spills indoors, combining with abundant greenery to enhance a feeling of openness from within, while also stitching pavilions together. "To celebrate the client's ceramic works, the interior spaces create moments to celebrate the art made in the studio," adds Gaurav.
"Pared back, sophisticated furnishings that complement a restrained material palette, makes space for decorative design to be sentimental and creative." The restrained (and low-maintenance) palette of robust steel and glass surfaces are juxtaposed by the warmth of timber, exuding an atmosphere of humility and honesty.
"From the sense of expanse created by the skylights of the paved walkway, to the courtyard voids between pavilions that burst with clusters of wild flowers, the lines, light, and reflective properties of materials used provide a connected, dynamic experience in every nook of the project," Gaurav concludes.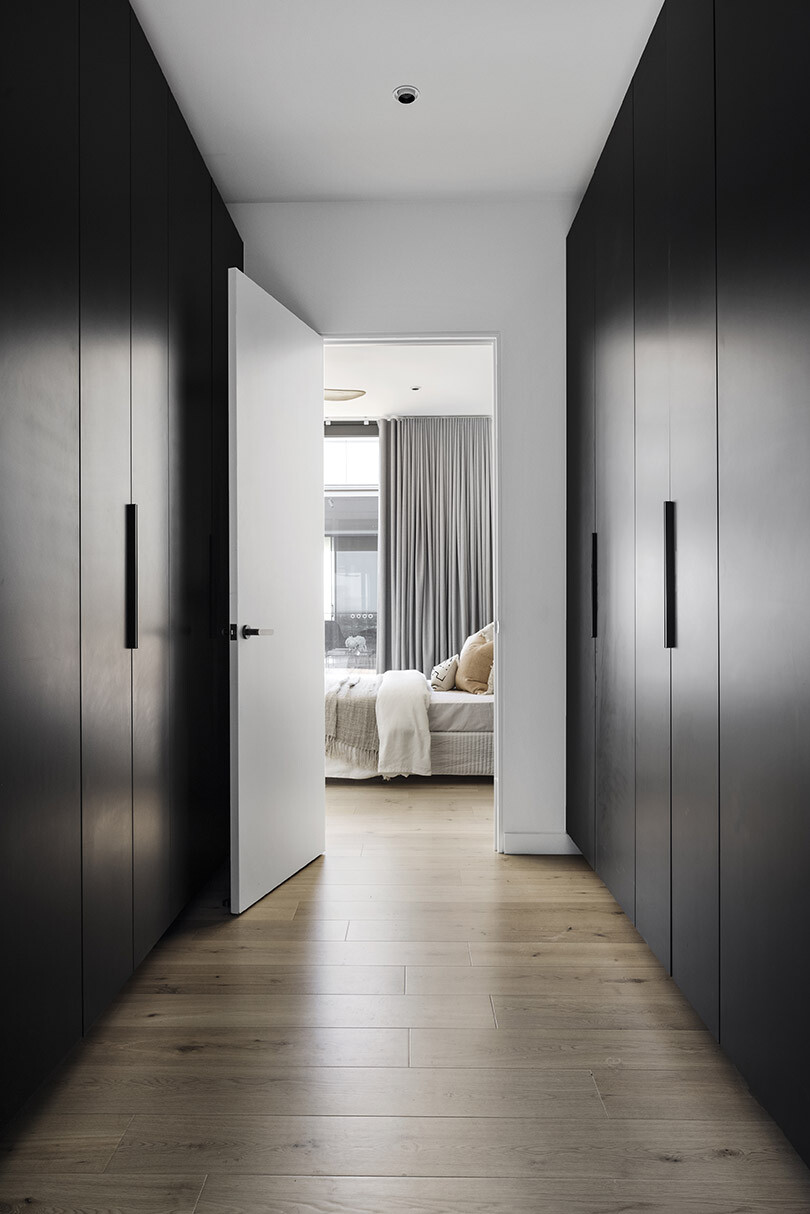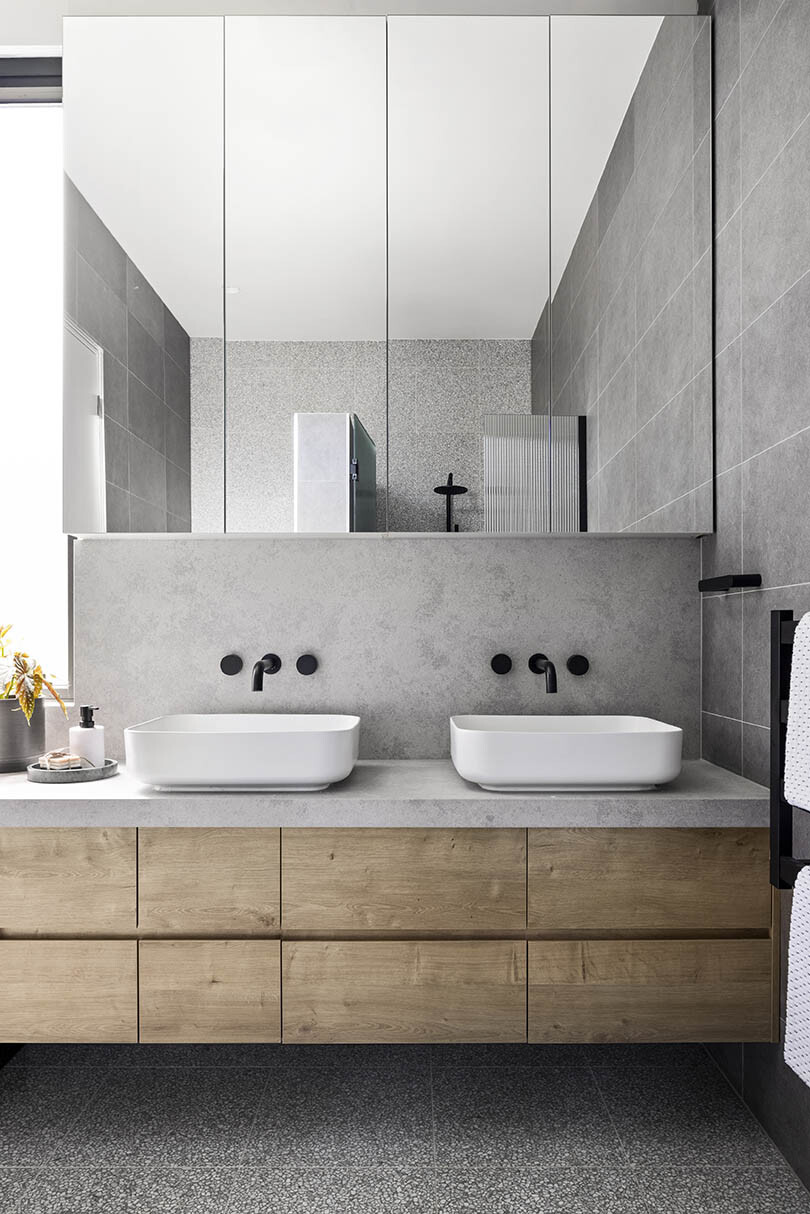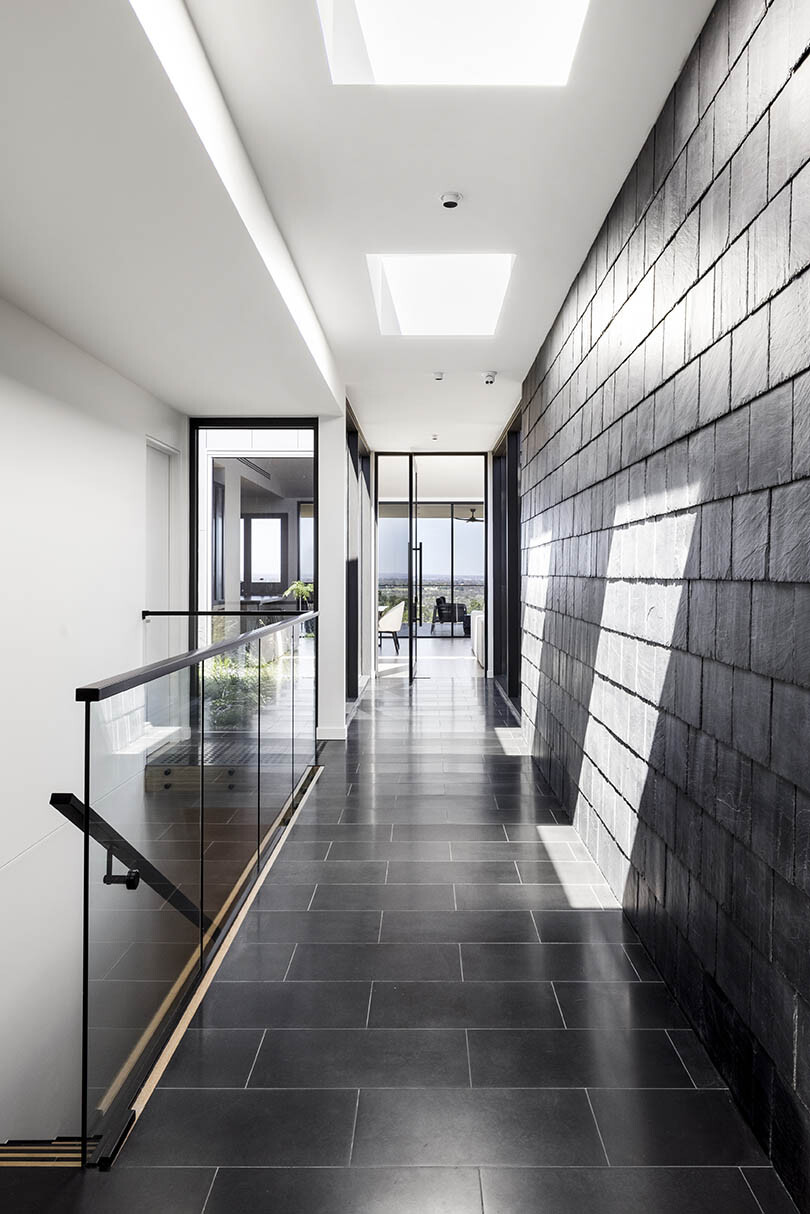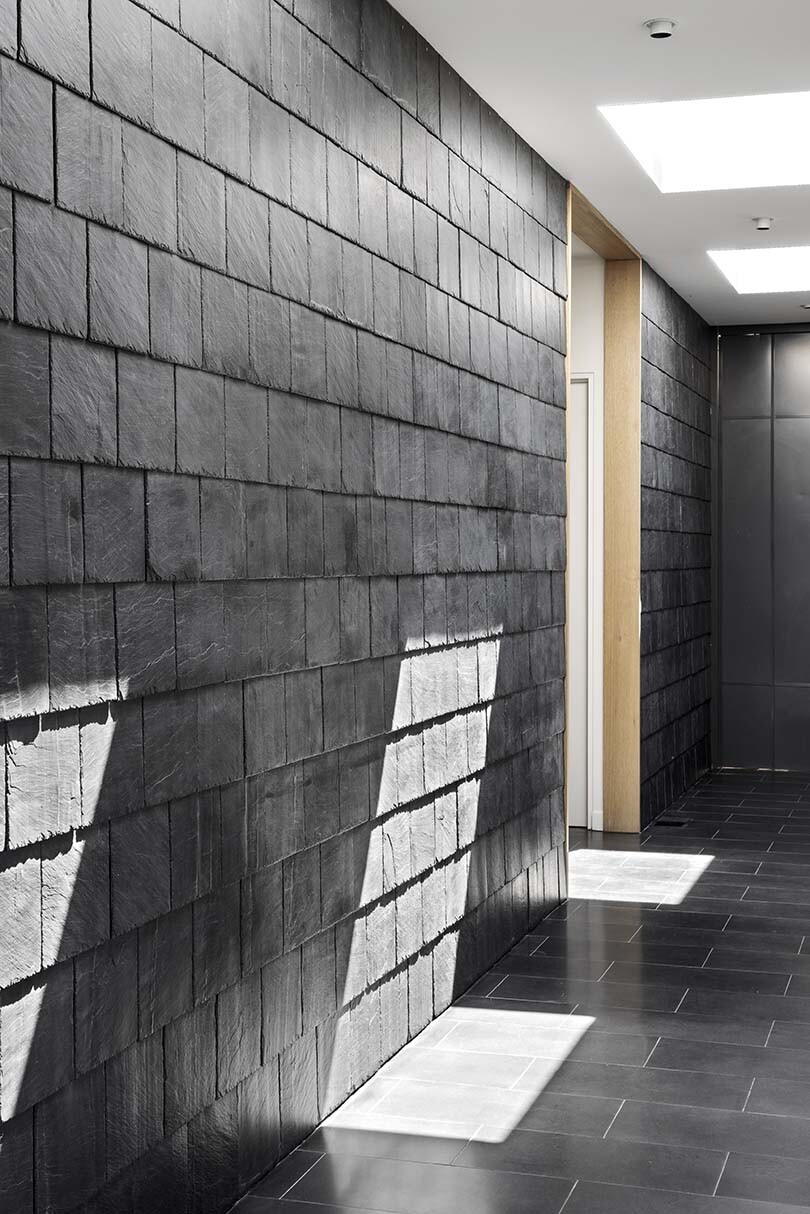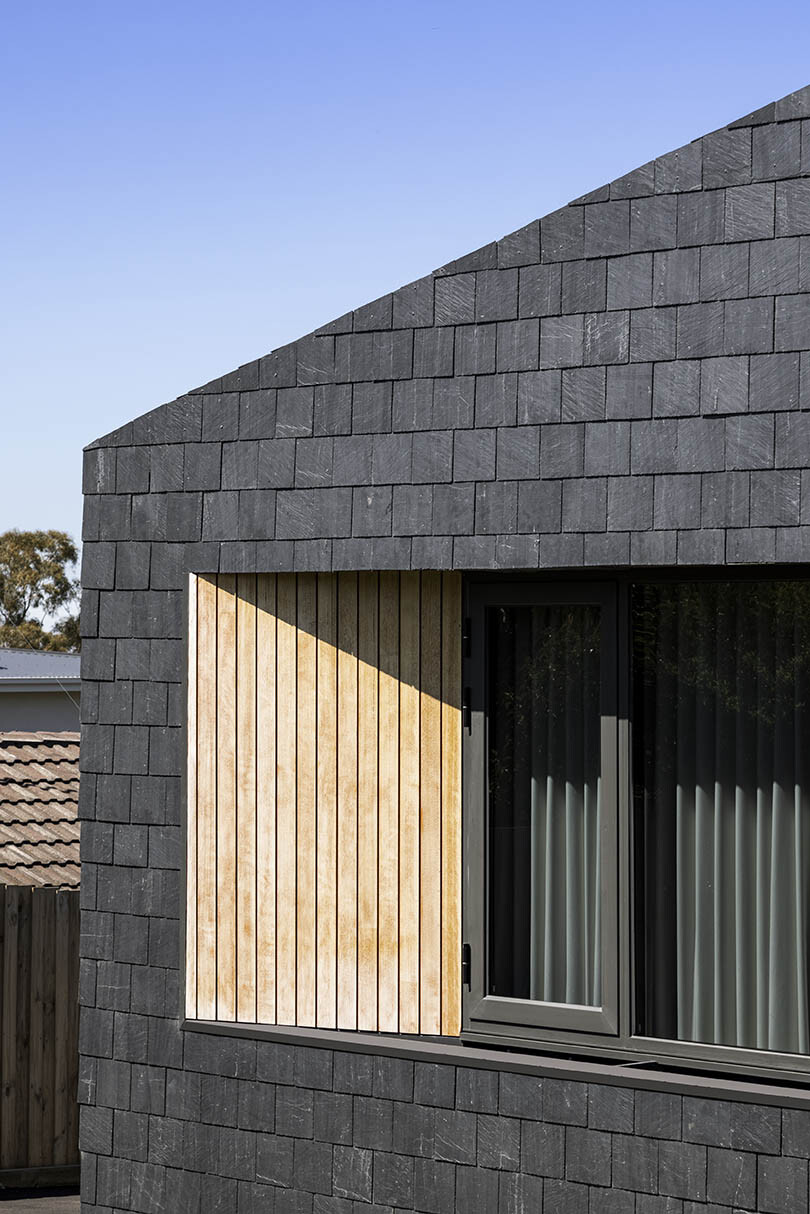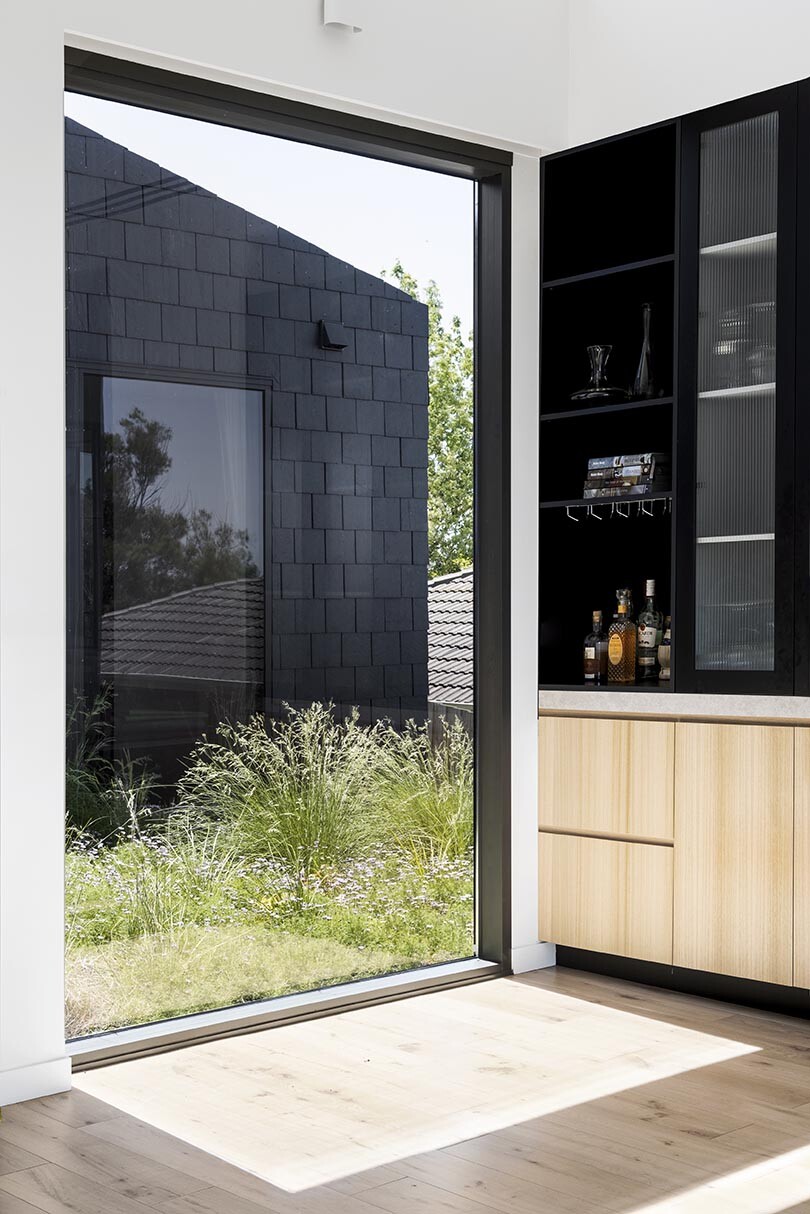 Project details
Architecture & interiors – R Architecture
Photography – Dylan James
We think you might like this home by Modscape
---