"The brief was to maintain our quintessential NZ lodge aesthetic whilst also adapting it to the South East Queensland locality," says Josh Beagley, Rodd & Gunn executive general manager of hospitality.
With architecture by Pennant & Triumph (Auckland, New Zealand) and interiors by the Rodd & Gunn in-house visual brand communications general manager, Nik Rush (in collaboration with Pennant & Triumph), the brand has stayed firmly on track.
Housed in a magnificent Queenslander, the flagship blends local design and the raw, pure forms of nature found in the brand's home country, New Zealand. Here, core materials and finishes synonymous with the brand have been revisited to connect existing venues in New Zealand with this new venture in Brisbane.
"The Rodd & Gunn brand has a deep connection with nature; it is at the core of the brand. Therefore, we use only natural materials such as stone, wood, leather and natural fibres throughout the site," says Beagley. To this end, American oak wood has been used extensively for floors, walls and occasionally ceilings.
Large, square form furnishings in timber with natural upholstery, wool rugs, brass detailing, and tan and olive leather, create the aesthetic basis with a wall of Australian rock, giving monumentality to the whole room. Access to the balcony and breezeblocks allow a cooling breeze to flow through the venue.
In fact, the design is wholly cognizant of its sub-tropical climate, and while the aesthetic is 'lodge', the architectural form is a direct and appropriate response to the environment, locals and tourists alike. "The venue boasts exceptional natural light and greenery throughout, tying into the al fresco lifestyle of South East Queensland," says Beagley.
Set over two levels, the ground floor posits an elevated dining experience, with a corner bar, banquette seating, dining room, and passage to the retail space. The juncture between dining and shopping is seamless, with textures and materials continuous from one to the other. The upper level is more relaxed with a bar, private dining room, cocktail room and access to the large wrap-around balcony and panoramic views of the James Street strip.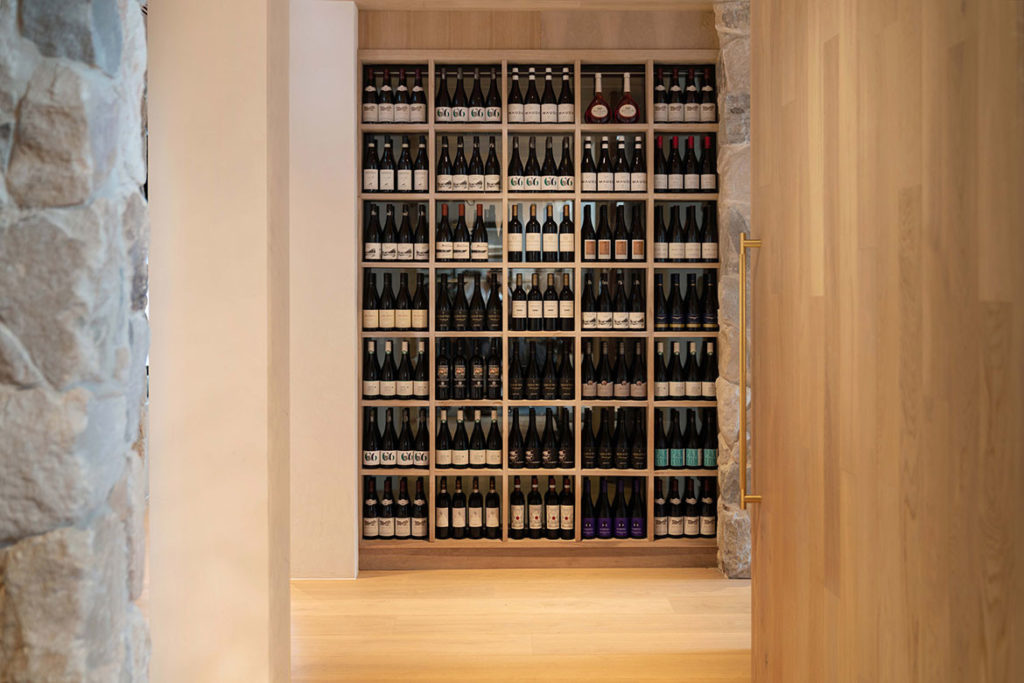 The size of the venue allows for 150+ guests, catering to everything from a casual cocktail (perhaps the signature Vodd & Gunner) to dinner to larger, personalised events. It will, no doubt, be successful as a stand-alone enterprise. The menu and wine list are exceptionally well-considered and representative of the calibre of expertise the brand is putting into the project. Who could resist 'wagyu of the moment' and all that exceptional New Zealand wine?
The motivation to move into the hospitality space, however, is to endorse the retail experience as both positive and unique. "It is more than transactional where our guests are invited to shop then sip, or sip then shop. This creates a deeper connection with the brand and gives Rodd & Gunn a perspective, a lifestyle," says Beagley.
"As an experiential retail destination, these flagships have been overwhelmingly positively received from our existing customer base as well as attracting new customers to the brand." As Beasley explains, we can certainly expect to see more venues opening from this group. "This is one of the key pillars in Rodd & Gunn's strategic direction, creating flagship destinations for our customers to immerse themselves in the Rodd & Gunn lifestyle."
Project Details
Architecture – Pennant & Triumph
Interiors – Rodd & Gunn
We think you might like this story about a Melbourne restaurant that is impressing with its flair
---